Name: Anita Bell ~~~~~~~~~~
Sun-Apr 22, 2012, 8:29 am - HHS Time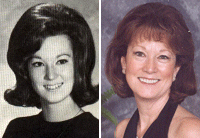 Maiden: Harmon
Class: 1969
City & State: Fair Oaks, Ca
Message: Hey guys - is your old Pendleton looking a little shabby these days? Or did you just miss out on getting one all together? Well, check out this website. And ladies -keep in mind that Father's Day is only a couple of months away. I know it's not exactly summer attire but...
Beach Boy Pendleton Shirt
Shirts As Worn By The Beach Boys - Free Shipping.