Hawthorne Time and
Temperature

Home | 60's Slang | Alumni List | Car Talk | Cougar News | Feedback | Hangouts | Memories
Recollections | Reunions | Street Scene | Teachers | Tributes | Vietnam | What's New | Keyword Search
Another 50's classic Roy Hamilton
<!-+++++++++++++++++++++++++++++++++++++++++++++++++++++++++++++++++++++++++++++++++++++++++++ +++++++++++++++++++++++++++++++++++++++++++++++++++++++++++++++++++++++++++++++++++++++++++++->
---

---
<!-++++++++++++++++++++++++++++++++++++ADD BELOW THIS LINE++++++++++++++++++++++++++++++++++++ +++++++++++++++++++++++++++++++++++++++++++++++++++++++++++++++++++++++++++++++++++++++++++++->
Name: Cindy Whittaker () on Saturday, April 27, 2002 at 13:12:01
E-Mail: cindycwhittaker@aol.com
Maiden: Whittaker
Class: 1976
City and State: Gig Harbor WA
Message: Keith I think you're right about it being Ed Paul. He had a panel van and used to give us rides to school. His garage was converted to his bedroom and everyone used to hang out there and uhhhhh read books, fill out college applications, and discuss in length Freud's use of cocaine as therapy, and as Pink Floyd played on the stereo we wondered aloud about his disdain for most music... But I thought I read in the paper that the crime involved cocaine (do you see the Freud connection?) and Columbians and it was a drug dealer that he killed. And didn't it happen around 1981? (Sloey the last couple of emails aren't getting through to you so hang tight and retribution will be your's!)

---

Name: doris () on Saturday, April 27, 2002 at 10:50:11
E-Mail: raydori@mindspring.com
Maiden: donaldson
Class: '57
City and State: TF ID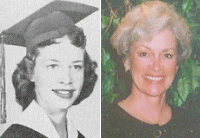 Message: HEY JOHN! Whatchu doin' there today!!!??? Dontcha know this is Saturday forcryingoutloud!? Are you NOT riding in the wee small hours now that the Sloe One is on the mend and you've got all this energy you just know what to do with? What gives!?? Gosh! It seems like some of the old-timers (no, John, NOT as old as I!!!) who used to put their two cents in here at CT are MIA ... or let's hope it's "action" that's causing them to miss. Let's hear from you Cougs! Miss ya! Backus, Walter Honey, Judy Wudy, MoMo, Hoodman (although I have to tell you, Robin, LOVED your post with the Sloe One's new bike!!!!), and the list goes on! SPEAK!

---

Name: Gina () on Saturday, April 27, 2002 at 00:38:06
E-Mail: Lyoness_8@yahoo.com
Maiden: Black
Class: 80
City and State: Pasadena, CA
Message: Oh boy, Cheryl! I know EXACTLY what you mean!! My parents moved to a new house and I got to help. I got to "move" my dad's 66 Mustang! I am only the 4th person to drive it since he bought it, new, in 1966. I felt like that girl that would cruise the beach! The wind through my hair and the sun on my face! I actually laughed....and meant it. Of course, Dad, gave me the house key so I could "go straight home", but.....YEAH, RIGHT!! The power and roar of the V8...VVVRRRRUUUUMMM!!! Needless to say, Mom & Dad got home way before me. I told them they could leave my sisters the new cars...I want the MUSTANG!!!!!!!!!

---

Name: Dan Johnson () on Friday, April 26, 2002 at 23:08:10
E-Mail: wch1ispink@aol.com
Class: 77
City and State: Sherman Oaks, CA
Message: Brian Wilson 5/11 @ The Roxy. Hey Wade, I remember your "OU" decal on your HHS football helmet.

---

Name: ROBERT TITTLE () on Friday, April 26, 2002 at 23:07:42
E-Mail: RRTAA@AOL.COM
Class: 1967
City and State: EL SEGUNDO, CA
Message: I GRADUATED FROM HAWTHORNE INTERMEDIATE. I WAS IN MR. HARRICK'S SEVENTH GRADE CLASS. THEN ATTENDED HAWTHORNE HIGH FOR A FEW MONTHS BEFORE I MOVED BACK EAST. I MOVED BACK TO THIS AREA IN 1969. I WOULD HAVE GRADUATED WITH THE CLASS OF 1967. I HUNG AROUND WITH MIKE ANGLE, PHIL ARNOLD, LINDA CASTER, CONNIE JAX, ETC. IF ANYBODY REMEMBERS ME, PLEASE E-MAIL.
Hey Robert, Welcome aboard. I hope you find a bunch of your old buds.
---

Name: Cheryl Nicocia () on Friday, April 26, 2002 at 22:35:02
E-Mail: chernico@cvc.net
Maiden: Christensen
Class: 62
City and State: KENO,OREGON(ontheriver)

Message: Hey all you "car guys", a week ago I was up in Myrtle Creek Oregon, visiting my good buddy Tonya's brother Dewey Hobson (along with Tonya and hubby Steve) We were helping him do a little remodeling on his new place up there. Well he has the bitchinest car. It is a RED '66 Mustang GT Coupe. AND he let me drive it. I gotta tell ya, I fell in love. Tonya and I tooled around town like we were hot stuff. Loved every minute of it. I WANT THAT CAR !!!! Anyway, it IS for sale. I tried to talk the Grappa Man into buying it for me for my birthday, but he bought me a new scroll saw instead. :o( If anyone out there is interested in that HOT little RED Mustang, just email me and I will sadly give you the details ......Cheryl
VERY COOL Dewey. I want it too.....
---

Name: Keith D. Jones () on Friday, April 26, 2002 at 21:37:58
E-Mail: cmi50@yahoo.com
Class: 76
City and State: Honolulu, HI


Message: Aloha Big John would be honored to accept the award. I have been so busy getting this show together that I have been real boring. But I do have planned a seven week vacation with my kids. I want to take them to Africa on a photo safari. Has anyone out there done that and was it real fun. I just think that it would be neat. Anyway I think the killer of Hawthorne was my friend Ed Paul (we weren't that close) who killed his girlfriends dad and cut him up and buried him all over the place. I heard it was the first (at that time) of a person being accused of murder without a body. I think they found a finger. If any Cougars are in Hawaii over the Memorial Day weekend be sure to get ahold of me. I will get you weekend passes to my show. I'm checkin in almost everyday but as I said I have been pretty boring lately. I did have a dream that I was walking down the strand one day when all of a sudden I got ran over by someone on a bike. When I looked up it was Jimbo and he looked back at me and smiled and then proceeded to run over me again and again and as I laid there with tire tracks all over my body he stood over me and handed me his card and told me to call him he would represent me. So other than that wait till after my show and I will write more. Till then I'm really proud of this website and everytime I see a name I recognize I immediately remember what they look like and start remembering the good old days. Mahalo Nui Loa Keith
All right Keith. Good to hear from you boy, and we'll wait until after your show for another great story. And "my jello knew louie" to you too.
---

Name: Jill McFarlane () on Friday, April 26, 2002 at 18:24:23
E-Mail: jillmcfar@aol.com
Class: 1977
City and State: Mission Viejo, CA
Message: Wow, JB, nothing gets past you. I meant to say hearse-like. But you knew that, huh? Once again, I hope all you Coug's have a nice weekend.

---

Name: WADE GREASBY () on Friday, April 26, 2002 at 17:49:22
E-Mail: MA MANAGEMENT
Class: 73
City and State: HB,CA
Message: DEAN, THE GANG I WAS IN DURING MY YEARS AT HHS HAS ACCOMPLISHED MANY GOALS SINCE OUR HEYDAY. MOST,IF NOT ALL HAVE AT LEAST A BA/BS. THERE ARE SOME OF US WITH A MASTERS. YES, I WOULDN'T HAVE KNOWN WHERE THE HHS LIBRARY WAS, BUT I'VE SEEM TO HAVE FOUND THE RIGHT ROAD ON MY JOURNEY THROUGH LIFE. I ENJOY THE MEMORIES OF ALL THE PEOPLE I MET AND GREW UP WITH AT HHS. THIS WEB SITE IS AN OUTSTANDING WAY TO KEEP IN TOUCH WITH ALL WHO GRACED THE HALLS OF HHS. SLOEY, TAKE CARE. TALK TO YOU ON MONDAY. COUGS, HAVE A GREAT WEEKEND.

---

Name: Bob Brophy () on Friday, April 26, 2002 at 15:39:28
E-Mail: rbrophy8@cox.met
Class: 63 Serra
City and State: Phoenix Az
Message: Got an e-mail from St. Joseph's. They have a new web lite. It is sjsalumni.aol.com. They are trying to put togaether a reunuion in 2 yrs. for the 75 annaversary of the school

---

Name: Jill McFarlane () on Friday, April 26, 2002 at 15:34:07
E-Mail: jillmcfar@aol.com
Class: 1977
City and State: Mission Viejo, CA
Message: Regarding Dean's post about infamous people from Hawthorne, I do remember a rumor going around about some kid who went to Hawthorne, but whose name I don't recall who allegedly killed his dad and buried him in the backyard. This kid had long hair (I know who did'nt in the 70's) and drove kind of like a hearst-like truck. I like Sloey's new bike, it has everything you could possibly need or want, however, I did not see where the first aid kit should go. It should also have a 911 push button for those close encounters with sand. Hope everyone has a nice weekend.
...."and drove kind of like a hearst-like truck" Jill, would that be a newspaper truck?
---

Name: Dean Morris () on Friday, April 26, 2002 at 13:14:43
E-Mail: dmorris@stanfordalumni.org
Maiden: TuriGuilianowasBetrayedintheEndbyaBestFriend
Class: 72
City and State: WineCountry USA
Message: Enza, You're much too charitable in your observations. Some of us had time for the books until 5 and then lived the good life in the night (well not like Greasby and his gang who never saw the inside of the Hawthorne Library- study/social hall). Nostalgia is fun, but carpe diem or something like that. It ain't over until it's over and there's a long way to go before that happens!
OK, enough cliches. Let's talk about something fresher than Sloey's sore ass, which is yesterday's news. How about a Friday quiz to get things rolling? Who was the most Infamous person in Hawthorne History? Do we have any psychos, felons, immortal losers like Marjorie Knoller the SF dog mauler lady?
Be creative!
I would have to say it's Keith D Jones. He's done darn near everything from playing the bass to being stuck on the chairlift at China Peak with Kathy Lynch to getting his head stuck in a bike rack to lifting a giant screen to the top of a car by himself to Mr Olympia to running on the bottom of the ocean with boulders. Keith, where have you been?? We miss your stories, man.
---

Name: Wade Greasby () on Friday, April 26, 2002 at 10:31:07
E-Mail: Soonerborn,Calbred
Class: 73
City and State: HB CA
Message: Lets get to the rat killin'. I know that when a lawyer talks it costs the listener $100. So I can feel the EMT's pain about having to listen to and showing empathy to a person in Sloey's situation. That house call was pretty costly. I really enjoyed Robin's version of the "Husker Mobile". Though I must admit that everything in Nebraska is RED, I think Jim that you were confusing the John Deere's color of green to the meat wagons RED that were called to apply medical assistance to the fallen Husker supporter and his bike. God knows there are only two things that are green, John Deeres and Money. Now from a sentimental side. Even Sooners can be forgiving to fallin' comrades in battle. Remember we're also Cougars and 20-10 is old news. Just be ready for this year. When I'm up there in MB/HB I'll stop by and pull up an ear of corn and we'll talk about the oil well in my back yard over some of cuzzin' Barry's moonshine. Take Care Jim.

---

Name: Tressa () on Friday, April 26, 2002 at 08:54:16
E-Mail: tressas@criterionmachineworks.com
Maiden: Gerkin
Class: 61
City and State: Tustin, CA
Message: Hey all you Jimi Hendrix fans. Byron Bordeaux and The EXP Band is doing a tribute at the House Of Blues in Anaheim on May 8 @ 9:00 PM. My husband manages this band (Byron is also a personal friend) and they are great! If anyone is interested, I have tickets...just e-mail me!

---

Name: Gomez () on Friday, April 26, 2002 at 06:28:03
E-Mail: konniesmith@attbi.com
Maiden: Honduras
Class: 1972
City and State: Great Northwest
Message: Kelley... I saw some UFO's at the Olympics once. It was better than anything at Griffith Park. Isn't that right William Scott??

---

Name: Enza Nicocia () on Friday, April 26, 2002 at 03:01:43
E-Mail: antiquenza@aol.com
Maiden: marriage, me?
Class: '72
City and State: Laker Land!
Message: I know you guys are not fond of the Lakers, but, you have to admit that the game Thursday nite was good. I do believe that the Lakers are going to 3-peat. I just wish that they wouldn't be so violent. It's getting to look a lot like football, with all the tackling going on!
Ok, I want to say this web site has me getting to know an old friend, Dean Morris. We had a couple of dates back in our Senior year, but did not make a connection. Through our recent emails, I have gotten to know him, and I think I let one of the "good guys" slip through my fingers. (I'm always a day late and a dollar short!) So, thanks JB1, for all your efforts on this great site. It's never too late to re-connect with old friends or acquaintances. HHS had some great people that really excelled in both athletics and academics, and Dean is one of them! My hat goes off to all the girls and guys that "stuck" to the books, and saw the big picture, and went the distance with their education. I really admire that, because at 17 yrs. old, I was NOT thinking "education", I was thinking of having FUN! It takes a LOT of discipline and sacrifice to obtain a degree. And some people went beyond 4 yrs. of college to get even more education. I admire and respect you all for persevering to obtain your ultimate goal!!
Oh, one more thing. I thought I felt the ground shake right around the time Sloey kissed the concrete in Hermosa. I remember roller skating on the very same stretch of bike path. The sand scattered on the path made it real hard to stay upright. But, I think that back in the 80's I "bounced" better. I wouldn't dare try that today, (I'm sure I would break in a million pieces!!) I admire you John, for still having the energy and desire. Like the Nike ad says, "JUST DO IT"! We should all take that advice!!
Thanks Enza, but Sloey didn't bounce. I was more like..........well, did you ever accidentally drop a watermelon?

Wish I had furthered my education too. Things would've been lots easier.
---

Name: Kelley () on Thursday, April 25, 2002 at 23:12:18
E-Mail: k.k.currie@att.net
Class: 67
City and State: Coos Bay, Oregon
Message: While looking at Paco's pics..I seemed to see something stange in the Bandon sunset picture..Could that be a UFO..Wow Petey this will be a first for bandon...When i lived at Aunt Laverns in the late 60's early 70'. there was a place on the ranch where we decided UFO's had used as a landing spot..Chris do you remember that..this picture might be the proof we need....Hi Mini

---

Name: Sherry Wingo () on Thursday, April 25, 2002 at 17:04:44
E-Mail: dscwingo@pacbell.net
Maiden: Peppers
Class: 1964
City and State: Haw. Ca.
Message: Robin, that scooter special was quite funny. It's good to laugh as I read cougartown. I miss the anticks of Judy. She always made me laugh.

---

Name: GLoria () on Thursday, April 25, 2002 at 15:48:18
E-Mail: Gpork3@aol.com
Maiden: Valencia
Class: 76
City and State: LV NV
Message: LAURA, let me clarify. Yes, I did know you. And I do remember you. I am just sorry I didn't get to spend more time with you and know you better. You are quick witted and have a great sense of humor. (Hmmm, perhaps you were too threatening back then.) But, it's never too late and now I am enjoying you on feedback!

---

Name: JIM SLOEY () on Thursday, April 25, 2002 at 14:46:33
E-Mail: littlecompanyofmaryroom1212.com
Maiden: thanksrobin
Class: 66
City and State: torrance, ca
Message: Well I was just taken to Little Company of Mary hospital in Torrance, see I told you I was hurt. They think I have fractured 4 ribs on the right side and 4 more on the left. I couldn't breathe about 20 minutes ago so we called 911. They quickly ruled out a heart attack [lawyers don't have one, they said] and upon a review of activities they were certain it was a delayed reaction to the bicycle accident, that I must have been in shock. Upon further questioning the medic asked what I was doing when it began to hurt. I said I was reading Cougartown and saw the feedback by my dear friend Robin Hood [that was a 20 minute conversation] when I suddenly had these pains from laughing so hard and fell out of my chair landing on the floor on the right side, as I struggled to get up the first thing I saw was the "new Bike" and again i was so weak from laughter I again hit the floor this time on the left side. Keep it warm Robin, it may be a few weeks.
Could be a lawsuit here.......
---

Name: Robin () on Thursday, April 25, 2002 at 13:53:21
E-Mail: ScootersRUS.com
Maiden: EnoughisEnough
Class: 60
City and State: RB,CA

Message: Fellow Cougars...I have never seen such disrespect for a brother, than in the last 10 or so days of the "lets slam Sloey" campaign. Forget the concrete crushing...What about Jim's pride?? I can't say that I have been proud to be a Coug as of late, so I decided to direct this anger into actions to keep my buddy on the strand. This was a challenging project but nothing is too good for Jim. As you can see safety and convenience were the themes, and our test run this morning could not have been more sucessful. A couple of changes for the phase 2 model will be a red (Husker)seat and a larger cooler to accomodate John and Dans breakfast. Enjoy my good buddy...:o)
Before we let Jim ride it, it'll need a ROLL BAR.
---

Name: LGW () on Thursday, April 25, 2002 at 13:48:18
E-Mail: lgeelew@yahoo.com
Class: 76
City and State: Upper CA
Message: Hey Gloria, the problem is, you DID know me. So did a lot of others. But I'm so subtle, I quickly fade from memory, like a dark maroon shirt left out in the sun too long . . .

---

Name: private eyes () on Thursday, April 25, 2002 at 13:10:15
E-Mail: none
City and State: Hawthorne
Message: okay...Paco..got ya now..the latest pix showing you and Mr.Roberts is a classic...but there should be a caption...I see he's on the phone....it should read..."Hello..Police...I'm being stalked. In fact the guy's got his hand on my shoulder right now. He's followed me all over the golf course. CAn you come and get him..NOW!!!"
Please leave your name on feedback, thanks.....
---

Name: Tom Burroughs () on Thursday, April 25, 2002 at 12:52:17
E-Mail: ARizTom@webtv.net
Class: 1958
City and State: Prescott AZ
Message: Hold it just a darn minute! How did we get from talking about bicycle riding to slandering one of the Sooners most revered coaches?? The bakery in Roths market was owned by a family named Eudaulph. Probably spelled wrong? Fantastic bake goods! TB from AZ

---

Name: JIM SLOEY () on Thursday, April 25, 2002 at 12:28:21
E-Mail: GREASBYITWAS20-10.COM
Maiden: CORNHUSKER
Class: 66
City and State: LINCOLN, NE
Message: Wade, Wade, Wade. If you are going to tell the story at least get it right. It's not green its red, like everything in Nebraska, even the John Deeres. You remember the saying, I'd SOONER be dead than not be RED! And it comes with a picture of your Cuz, Barry Switzer too. His picture is on the tires' tread.

---

Name: Dan Johnson () on Thursday, April 25, 2002 at 11:32:19
E-Mail: wch1ispink@aol.com
Class: 77
City and State: Sherman Oaks, CA
Message: Attention Ernie Curcio (aka EJ Curse, HHS '77) fans. Tonight, EJ Curse will be on "Charmed" 9pm Thurs. on the WB (channel 5 in LA) Don't blink or expect him to say anything. He plays an evil bodyguard in the Underworld & you get to see him die.

---

Name: Wade Greasby () on Thursday, April 25, 2002 at 10:31:29
E-Mail: Wadekath@juno.com
Class: 73
City and State: Huntington Beach, Ca
Message: The folks in Nebraska are sending Sloey a catalog of new bikes with "Huskerbacker" on them. Each bike has four wheels, is painted green, and comes equipped with an enclosed cockpit to protect the operater from any hazards. The words John Deere are painted on the side. There is even a picture of Uncle Tom Osborne on the specially marked bikes. I wonder how word got back to Lincoln? Good riding Jim
OK, I confess, I sent the story to the Lincoln C of C.
---

Name: doris () on Thursday, April 25, 2002 at 09:32:27
E-Mail: raydori@mindspring.com
Maiden: donaldson
Class: '57
City and State: Twin Falls, ID

Message: Okay ... for some reason I started thinking of that old market on the corner of Hawthorne Boulevard and El Segundo ... ROTH'S MARKET. Is anyone out there old enough to remember that???! They had the greatest bakery! THE BEST, bar none, custard pie! Mmmmm! There was a restaurant, eventually, on the corner across El Segundo Blvd on Hawthorne Blvd ... what was it's name? It was still there in '59, maybe longer. And what was on that corner, John, before the restaurant!??
The restaurant was Ivy's Coffee Shop owned by Ivy and Bob Schmid. I wish I could find a better picture of Roths Market. I know I have one somewhere. Thanks Doris for the memory flogger.
---

Name: Sandra A. Perez () on Thursday, April 25, 2002 at 00:48:46
E-Mail: kanela_1@pacbell.net
Maiden: Perales
Class: 1988
City and State: Encinitas, CA
Message: I lived in Hawthorne from 1975-1986 and have very fond memories. I miss all my friends and hope everyone is doing well. Venancio, Sameer, Kathy, Nestor, etc. This is a great site and it has brought back many memories!
Thanks for checking in Sandra
---

Name: Cecilia (Ceci) Conklin () on Thursday, April 25, 2002 at 00:28:35
E-Mail: ceconklin44@hotmail.com
Maiden: Conklin
Class: 62
City and State: Victorville, CA

Message: Hi John: This is the first time I have been to the web site in a long time. My e-mail address and other information has changed since I last had contact with you. Back in June of 2001 I became seriously ill, almost bit the dust as my kids say. Rockwell decided to put me on Medical Retirement and I hate it, oh well, these things happen. New information which will change again this year: 16850 Jasmine Street, #F-7, Victorville, CA 92392, (760) 243-3004, ceconklin44@hotmail.com.
Will contact you again later. Have fun!
Ceci
Hi Ceci, We've been trying to find you among others. Please go here to add your personal info and please check in on our reunion page above. Good to hear from you again and we'll see you in July.
---

Name: RICK TRULLINGER () on Wednesday, April 24, 2002 at 23:30:06
E-Mail: TAPPLEFISH@QNET.COM
Class: 1973
City and State: MT. WHITNEY FISH HATCHERY
Message: HEY ,IF YOU GUYS GEY SLOEY A NEW BIKE BE SURE TO INCLUDE SOME OLD TRADING CARDS AND A CLOTHES PIN SO HE WILL HAVE THAT REVVED UP SOUND.
He already has that on his bike now. It is SO embarrassing.....
---

Name: Sharon Webb () on Wednesday, April 24, 2002 at 22:14:17

E-Mail: myrtwebb@centurytel.net
Maiden: Wetmore
Class: 1962
City and State: Columbia Falls MT
Message: It has been a long time with a lot of water under the bridge
Hi Sharon, I remember you, and glad you finally found us. Hope to see you at our 40th in July.
---

Name: Jill McFarlane () on Wednesday, April 24, 2002 at 18:19:46
E-Mail: jillmcfar@aol.com
Class: 1977
City and State: Mission Viejo, CA
Message: Wade, I like that comment about the pancake guy at the beach, and the lawyer fees, etc. Pretty funny stuff. Sloey, I guess this is something that is going to haunt you for awhile. Could someone get Sloey a new bike with training wheels on it? Hope everyone is having a good week.

---
If you have comments or suggestions, please email me at jb1@cougartown.com