Hawthorne Time and
Temperature

Home | 60's Slang | Alumni List | Car Talk | Cougar News | Feedback | Hangouts | Memories
Recollections | Reunions | Street Scene | Teachers | Tributes | Vietnam | What's New | Keyword Search
Another 50's classic Roy Hamilton
<!-+++++++++++++++++++++++++++++++++++++++++++++++++++++++++++++++++++++++++++++++++++++++++++ +++++++++++++++++++++++++++++++++++++++++++++++++++++++++++++++++++++++++++++++++++++++++++++->
---

---
<!-++++++++++++++++++++++++++++++++++++ADD BELOW THIS LINE++++++++++++++++++++++++++++++++++++ +++++++++++++++++++++++++++++++++++++++++++++++++++++++++++++++++++++++++++++++++++++++++++++->
Name: Patrick H. Goeckner () on wednesday, april 24, 2002 at 15:06:09
E-Mail: patgoeckner@hotmail.com
Class: 61
City and State: Chicopee, MA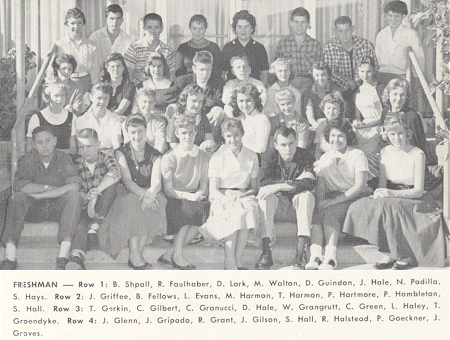 Message: Hello Cougars! I attended Hawthorne High my freshman year 58-59 the year we took the Pioneer League championship. I was one of the few who lettered varsity my freshman year and was allowed to wear the Pioneer League championship jacket that year. Seems like lifetimes ago now. Many years ago I lost my year book. If there is any way to obtain another copy at this time please let me know.
Hi Patrick, and welcome. Man, you were a BIG FROSH weren't you. I think your outta luck on that yearbook but here's a picture that might take you back..... WAY back.
Hope this helps a little.
---

Name: Tom Burroughs () on Wednesday, April 24, 2002 at 12:28:58
E-Mail: ARizTom@webtv.net
Class: 1958
City and State: PrescottAZ


Message: Sad note, Bob Taylor 1958 passed away monday after nearly a years battle with cancer. Bob has been my friend since we were 10. He will really be missed by this Coug. Precious this life, each & every day a gift! Having said that, that old black station wagon will again be in Tustin at church on Sun. morning, so Dean you be sure & look me up & say hi. I hear that ocean calling me! TB from AZ
Yes time is precious. Be with your loved ones while you're both still here.
---

Name: Patty Valencia () on Wednesday, April 24, 2002 at 10:26:37
E-Mail: pvalencia2@aol.com
Class: 1974
City and State: PVE, CA
Message: Just yesterday I was down at the southern end of the bike path and they are STILL talking about the accident. You guys really made an 'impression'!
On cool words from the past, I can't remember which movie I was watching but it was from the late 60's/early 70's era - and I was having a hard time understanding the lingo! It all seemed so much clearer then.
What do you mean "you guys"?? It was Jim that did the damage to the sidewalk and took out 4 feet of the retaining wall
---

Name: Wade Greasby () on Wednesday, April 24, 2002 at 08:42:16
E-Mail: Wadekath@juno.com
Class: 73
City and State: Huntington Beach,Ca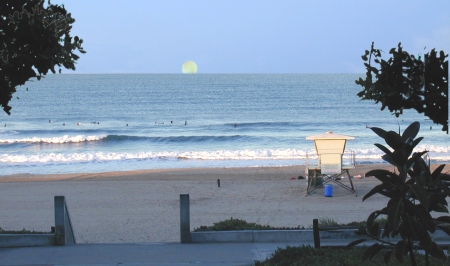 Message: Don't know if the last message made it through, the telegraph lines were down on my side of the Orange Curtin. My sons a I ventured up to 2-6 this past weekend and took in the view. My youngest,Garrett age 7, never wanted to leave. "This is the best beach, can we just stay here and call mom to come later." My other son, Matthew (11), was in the water full tilt boogie for four hours. "Dad, the waves break better here than HB. Mom can hold dinner tonight." The only reason the boys came out of the water was a guy was selling pancakes. Said he had to pay his lawyer's fees and fix a bike. 2-6 is still the beach that Bebop said would never die. This is where an all class reunions should be held. See ya Jim.
Some things never change.....
---

Name: Gomez () on Wednesday, April 24, 2002 at 05:44:56
E-Mail: konniesmith@attbi.com
Maiden: Honduras
Class: !972
City and State: Salem,Oregon
Message: Willie Lump Lump, Sloey and Kelley will find you. The radar they can pick up off the Davidson's ears is amazing these days. As for Morris.....
HUH??
---

Name: JIM SLOEY () on Wednesday, April 24, 2002 at 00:19:38
E-Mail: johnneverletadropofthesyrupgetaway.com
Class: 66
City and State: redondo beach, ca
Message: John only got his syrup on his pancakes and thereafter well you can see, it wasn't his eyes. In the words of that former Dodger Terry Forrester, "A waist is a terrible thing to mind." Mini?
Now THAT'S funny. Anyway, when are we gonna stop lying about eating these pancakes and actually HAVE A STACK?? I haven't had anything to eat since lunch yesterday
---

Name: Cindy Whittaker () on Tuesday, April 23, 2002 at 20:05:15
E-Mail: cindycwhittaker@aol.com
Maiden: Whittaker
Class: 1976
City and State: Gig Harbor Wa
Message: I don't know what you're talking about. I know nothing about any pictures of pancake-eating bike riders. It wasn't me... I wasn't there! Those weren't my gloves... that wasn't my rare "impossible to trace" gun! Where's my lawyer? John, I think you had syrup in your eyes!
Jim, are YOU her lawyer??
---

Name: JIM SLOEY () on Tuesday, April 23, 2002 at 18:54:35
E-Mail: fallingonyourbikeislikegettingyourhead stuckinabikeracknobodyforgets.com
Class: 66
City and State: REDONDO BEACH, CA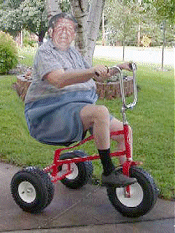 Message: Jill I thought it was POW, TUMBLE, SLOEY SKIDS! John has lost both his riding compadres. He is looking for replacements, he is fun, entertaining, helpful, energetic, in short he is like a new puppy except he is house broken. Anyone wishing to spend an hour with John riding bikes early AM, he is flexible, please respond.
Thanks Cindy Whittaker, for the picture..... that's pretty much what I look like too. Ask Janet
---

Name: Gloria Herlosky () on Tuesday, April 23, 2002 at 18:22:07
E-Mail: Gpork3
Maiden: Valencia
Class: 76
City and State: LV, NV
Message: Laura Geele, I wish I had known you in high school..you crack me up! I meant to say that a long time ago, especially after the Keith post from Hawaii. (The one with the tourist falling and the inappropriate comments that followed.) I remember Patty's fall when she was 18. It was pretty ugly, but she milked that wound for a good month or two, so it was well worth it! TTFN

---

Name: Jill McFarlane () on Tuesday, April 23, 2002 at 16:46:54
E-Mail: jillmcfar@aol.com
Class: 1977
City and State: Mission Viejo,CA
Message: Paco, was'nt Hub furniture on Imperial Hwy? or am I mistaken. I probably am mistaken. Hope everyone is having a good week so far. Glad to hear the city is cleaning up after the biker guys. I think poor Sloey is suffering from PTSS. Ok, for those of you who don't know what PTSS stands for, it is Post-traumatic stress syndrome.

---

Name: JIM SLOEY () on Tuesday, April 23, 2002 at 13:05:36
E-Mail: gradersroadcrewsandrepairs.com
Class: 66
City and State: the strand maybe soon, ca
Message: The repairs have nothing to do with the slip, fall and tumble. Most of the work is being done on or about Marine and the old Cougar stomping grounds of 26th [2-6 man] on the bike path.
Scottie? I got no email! See Big Kel's last post! Don't become a Morris!

---

Name: Howard "Paco" Duran () on Tuesday, April 23, 2002 at 11:56:42
E-Mail: doo4usc@aol.com
Class: 61
City and State: Lake Forest
Message: The pic you posted of Janet with her Acme Escort reminded me of a salesman who worked at Hub furniture. I got 4 rooms for $199.00, I think it was Danish modern...
That could have been him. His name's Pat Hub.
---

Name: Neil Andersen () on Tuesday, April 23, 2002 at 11:45:53
E-Mail: sumerset@aol.com
Class: '62
City and State: Dallas, OR
Message: Where has all the time gone? In today's newspaper they claim that Sandra Dee is turning 60. Say it ain't so Joe.
Sandra Dee will always be 18.....
---

Name: JIM SLOEY () on Tuesday, April 23, 2002 at 00:36:20
E-Mail: mininewversawus.com
Maiden: oneof2little old women
Class: 66
City and State: Not always the strand, ca
Message: hey Scottie Davidson, I know you are out there, people talk. Send me an email at sloeylaw@msn.com.

---

Name: Big Kell () on Monday, April 22, 2002 at 23:08:17
E-Mail: k.k.currie@att.net
Class: 67
City and State: Coos Bay, Oregon
Message: Mini, I'm watching you!!!!!

---

Name: LGW () on Monday, April 22, 2002 at 23:07:39
E-Mail: lgeelew@yahoo.com
Maiden: Geele
Class: 76
City and State: Los Altos, CA
Message: Took the boys to Hawthorne for spring break last week and we noticed, when visiting the beach at 26th street, the numerous back-hoes, bulldozers, and teams of caltrans workers repairing the Strand. We were all impressed that they got out there so quickly to fix the concrete damage from the accident (and until I saw the repair crews, I thought the stories on feedback were exaggerated).
Jim, do you want to field this one?
---

Name: Gomez () on Monday, April 22, 2002 at 21:13:59
E-Mail: whatabitchenweekend.com
Maiden: Smith
Class: 1972
City and State: Salem, don't inhale 'em
Message: I was at work the other day and used the word BITCHEN to describe my FAR OUT weekend. I guess styles and music go full circle but not GROOVY old slang words. FAR OUT was another favorite. We did keep the word COOL and DUDE and that's WICKED. Peace.
FER SHURE!!!
---

Name: carole ferruccio () on Monday, April 22, 2002 at 21:06:25
E-Mail: isahighcarole@yahoo.com
Maiden: anderson
Class: 60
City and State: lake isabella, ca
Message: I think this is the first time one day has gone by and no new feedback so I thought I'd just thank the people who emailed me re Hawthorne Intermediate and also a very nice person who let me know about the many cougs who live in the Lake Isabella area. thanks for being out there and taking the time to email.
carole
Thanks Carole
---

Name: Deano () on Friday, April 19, 2002 at 09:27:44
E-Mail: itsinthe65list
Maiden: hopenot
Class: 65
City and State: Tustin
Message: j.b. thanks for the info, you're right about the fine machine of tom's next time i'll camp out next to it just to say a quick hello,by the way i hope you and sloey are feeling better and the pavements fixed so the rides can continue.
Thanks Dean, We go another way now, as Jim gets too emotional when we ride by all the broken concrete.
---

Name: Dan Johnson () on Thursday, April 18, 2002 at 20:15:47
E-Mail: wch1ispink@aol.com
Class: 77
City and State: Sherman Oaks, CA
Message: Hey Tammy, when you see Linda can you convieniently forget the Russ Painter/"So Happy Together" story? (Ironically, the other day I started singing "Imagine me and you" and my two year old answered "I do"

---

Name: Linda Reynolds () on Thursday, April 18, 2002 at 16:32:27
E-Mail: linrey@yahoo.com
Maiden: Jones
Class: 62
City and State: Chatsworth, CA
Message: Dear Cougars: It is with a sad heart that I let you know that another Class of 62 Cougar has passed away. Mary Hage Silver died three weeks ago from complications of the heart. Her husband, Gilbert, called to tell me after he received an invitation to the Reunion. Her family and friends will miss her.

---

Name: Tammy Tagami-Reeves () on Thursday, April 18, 2002 at 11:48:04
E-Mail: r2t2@msn.com
Maiden: Tagami
Class: 76
City and State: El Segundo, CA

Message: Haven't been here for a long while...but as soon as I started reading, I saw a familiar name from many days gone by...Nina Lococo--how are you? I hung out at Eucalyptus park as a kid too. I still see Cheryl Cota and her sister Linda. I'll let them know you remember them. What's funny is that during college, I worked for Hawthorne Parks & Rec., wore those ugly blue shirts which created the worst tanlines ever! and got to hang out with really great kids at every park in Hawthorne. What a job...getting paid for playing with kids, becoming the carom queen, taking lanyard keychain art to a new high, and honing my epicurean talents in the creation of that time-tested dish--hobo stew (major yuck!). Things really do come full circle. Take care.

---

Name: WADE GREASBY () on Thursday, April 18, 2002 at 11:08:17
E-Mail: WADEKATH@JUNO.COM
Class: 73
City and State: HUNTINGTON BEACH
Message: THE SEA LIONS THAT SLOEY SAW THE OTHER DAY HAVE RETURNED TO HUNTINGTON AFTER THEIR RECON MISSION. I UNDERSTAND THAT A REPORT HAS BEEN FILED WITH CAL TRANS ON A NEW BY-PASS ROUTE THROUGH HERMOSA TO MANHATTAN TO ALLOW THE BMX TEAM OF SLOEY INC. TO USE THIS NEW THRU-WAY SO AS NOT TO SLOW OR INVOLVE ANY OTHER CYCLISTS FROM HEAD LONG COLLISIONS OR DELAYED TIME WHILE EMERGENCY PERSONS TEND TO THE WOUNDED. WITH THIS NEW ROUTE, THERE WILL BE CONCESSION STANDS AND A TURN OUT VIEW SECTION FOR OBSERVING THONGS AND STRINGS. THE SEA LIONS ALSO REPORTED THE DOUGHBOYS ARE DOING THEIR BEST TO CO-OPERATE WITH PORT AUTHORITIES ABOUT FEEDING REGULATIONS. GREEN PEACE HAS ALSO BEEN IN TOUCH IN CASE OF ANY HARPOONING. DON'T BE SURPRISED IF THIS SUMMER BRINGS AN ORANGE COUNTY INVASION BACK TO 26TH STREET. THEY HAVE CLOSED 40 MILES OF MOTHER OCEAN DOWN HERE AND US SALT WATER COUGS, BEHIND THE ORANGE CURTAIN, WILL BE BUSTIN' OUT TO CATCH A WAVE OR TWO AT OUR OLD HAUNT.I HOPE THE RETAINING WALL WILL BE IN OPERATION BY THEN. GOOD LUCK JIM.

---

Name: JIM SLOEY () on Thursday, April 18, 2002 at 10:25:31
E-Mail: ridelikeweeatslowly.com
City and State: the strand baby
Message: Let's see Greg Lamonde, Lance Armstrong and now...Carl Rilling. Training plan? We don't need no stinking training plan. Our job is to get out of the way before all the real riders cruise the path at 50 mph after 7:00 am. Carl when you get down here let us know, we'll try to do a reenactment.

---

Name: Bob Brophy () on Wednesday, April 17, 2002 at 23:13:52
E-Mail: rbrophy8@cox.net
Class: Serra 63
City and State: Phoenix Az
Message: Hey Carl Rilling. Saw your post. one question. Who ran, you or the mustang.

---

Name: BOB FAULKNER () on Wednesday, April 17, 2002 at 21:41:05
E-Mail: UPSBUBBA@HOTMAIL.COM
Class: 63
City and State: GARDEN GROVE
Message: HEY CHERYL, I USED TO "HANG" WITH DEAN ALSO, AL LAMB LIVES IN HUNTINGTON BEACH. ARE YOU RELATED TO TONYA ???? HOPE THIS HELPS. GOOD LUCK.

---

Name: DJ () on Wednesday, April 17, 2002 at 17:03:56
E-Mail: wch1ispink@aol.com BR>Class: 77
City and State: Manhattan Beach, CA
Message: 4/20 Earthday @ Polliwog Park Manhattan Beach, CA. There may not be a lot of Cougs there, but I will be! Which One's Pink? now at 1:00 p.m.

---

Name: Carl Rilling () on Wednesday, April 17, 2002 at 16:00:24
E-Mail: cycleist@earthlink.net
Class: 59
City and State: Orygun City, Ore
Message: John B. I would pay big bucks if you have a photo of your barrister friend when he, Biffed,balled,schmucked,snorked,yerked,doinked,munched,hunted moles,dug for worms,chewed for mud,nose surfed, tasted the trail,cement tattoo,sidewalk sandwich,rode the nose hoe,or used his face brake. Every police officer working or retired would pay for a copy of the "barrister on his butt". Not funny that Jim went down but ya gotta admit the photo would sell. When I visit my family in LA I always bring a couple of bikes. I have been down on the bike path or into the sand more than I would like to admit. Ladies in thongs don't help either. From what I gather you two are not training but talking. I will put together a simple training plan so by Sept.02. you will be crankin it about 25mph on the flat between Redondo and Santa Monica. The area around Hermosa is the worst. Like when you have to walk and not ride. So many fat stations in that half mile. To have a great training ride leave your money at home. And always wear your helmet. In 1996 I was on a training ride, crankin about 28/30mph and was left turned by a Mustang. My helmet, even though it broke into two pieces saved my life.
(No Jim, it was a hit and run no law suit) S I G H..
Bleedin Dodger Blue and always a Cougar..
Hey Carl, Didn't mean to ignore your post but I was right in the middle of company. Man, those adjectives are FUNNY, and all pretty much say it all about how Jim went down for the count. I will start bringing the camera and try to document the action from now on.
I'm not too sure about that 25mph thing, as Jim and I look like the Pillsbury dough boy and the Michelin man coming down the bike path. We're about as streamlined as a couple of White Freightliners.

When you come down, please feel free to come on our morning talk though.
---

Name: JIM SLOEY () on Wednesday, April 17, 2002 at 14:32:22
E-Mail: iwouldpaycashtoseebiggarycry.com
City and State: the strand
Message: Yesterday John and I were lucky to see 2 Sea Lions at the about first Street in Manahattan Beach. Today there was a report that a surfer had been attacked by such an animal on Sunday. We're carrying mackerels now. Today one of us got on the web cam, http://www.eatgoodstuff.com/strandcam/index.html at 6:39. As you can see he was waiting for me, I don't ride nearly as fast as I use to ride after the FALL. Gary if you want a REAL tear jerker try hardball with Keanu Reeves; his bad acting won't stop you from crying on that one, great movie.

---

Name: Myk () on Wednesday, April 17, 2002 at 11:12:23
E-Mail: glmykkanen@juno.com
City and State: brea ca.

Message: Its good to Know I wasn't the only old cougar to cry watching the ROOKIE!! I spent the whole night trying to tell my sweety you can't rest your arm for 20 years and throw the ball ten MPH faster than ever. If this was possible Ron Baldwin(class of 62) would be making a come back!! COUGS go see the movie
Hey Gary, The thing that got me was he NEVER warmed up. No wonder his arm was toast when he was young.
Great movie, regardless.
---

Name: Janet Burkett () on Wednesday, April 17, 2002 at 00:55:56
E-Mail: jmburkett@att.net
Maiden: Humphreys
Class: 62
City and State: Mission Viejo, Ca


Message: So John, where's the rest of those missing 62 reunion pictures?? Wasn't there one of the Grappa Man hunk and what about the lovely Sandy Tully Perry and her Jim? And of course, our own Gordy Bell who hasn't changed a bit in 40 years! Also, speaking of cougars who have made a mark, how bout class of 60's Glenn Oclassen who started a very successful co, Oclassen Pharmaceuticals? Glenn and I worked together for years at another pharmaceutical company without realizing we had gone to the same high school together. Didn't realize it until about 5 or 6 years ago. Now THAT'S a small cougar world! JB2
Small indeed....
---

Name: Tom Burroughs () on Tuesday, April 16, 2002 at 23:43:41
E-Mail: ARizTom@webtv.net
Class: 1958
City and State: Prescott AZ


Message: Carl Blomsterberg Sr.,kind, generous, will be greatly missed by this Coug. I spent many nights at their house as a teenager. Thought of him as my dad. Carl Jr was my best man when I married. Was very close to that family.A little over 10 years ago a friend & I did a 1000 mile bicycle trip starting from the Blomsterberg home in northern Ill. He was truely a world class chef, & a wonderful man, I will miss him. Sounds like there is some help needed on this bicycling thing. I have a lot of experience in this area & would be glad to help out before someone gets really hurt!! It may be just a matter of getting in shape & sharpining up the old reflexes. Sounds like the emphasis is being put on the eating & not the riding, or am I miss reading this? Yes that was my car in Tustin on Sunday at Church. I have a friend that attends that Church & she asked me to go with her. You may see that car there quite often in the future, so be sure to say hi. I'll tell ya these Cougars are everywhere. Thanks for the kind words JB
TB from AZ
Hey Tom, Glad you're still out there and glad too that you're going to Church.
---

Name: ROJO () on Tuesday, April 16, 2002 at 22:19:05
E-Mail: I-DY-HO
Maiden: YOU KNOW
Class: NONECANBEATIT(EXCEPTMICHAEL)
City and State: WHERETHEBLANKETLAYS.COM
Message: Hey fellow Cougs my last post on feedback was an errant try to be humorous. Failed miserably! That done, I still have to answer Robin Hood!!!! No Robin I really don't know who got the first varsity letter in our class. 1960, that would be probably someone related to...ooh..ooh..I KNOW! KEVIN BACON! ....NO?...Marsha Edwards?...Well I'll bet it was our own MR HOOD! Varsity Track! Right? 1957? I give. Who was it?
Robin Hood!!?? It had to be an Archery Letter.
---

Name: ROJO () on Tuesday, April 16, 2002 at 22:04:15
E-Mail: I-DY-HO
Maiden: YOU KNOW
Class: NONECANBEATIT(EXCEPTMICHAEL)
City and State: WHERETHEBLANKETLAYS.COM

Message: Hey fellow Cougs trying to make amends from my last post on pg 473 or 474. I can't remember ...I'm old!!!!...But hell aren't we all. Myk, you young whipper snapper glad I didn't try to punch you in the arm as a Senior as I used to do when you were a little punk. Lets see? I was 6'2" 165 when I was a Sr. You were 6'0" 185 as a Frosh! I was paid back one night

---

Name: Cheryl Nicocia () on Tuesday, April 16, 2002 at 19:44:58
E-Mail: chernico@cvc.net
Maiden: Christensen
Class: 62
City and State: Keno,Oregon(ontheriver)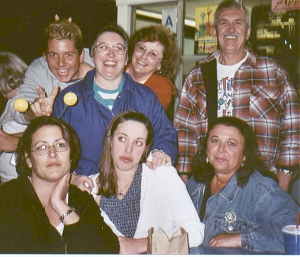 Message: Hey Bob, here is my contribution to "Cruise Night" pics. (we finally had the film developed) And speaking of 63ers, Grappa man and I got to visit with an old friend, Dean Williams c/o 63, last week. He asked me to see if anyone out there knows the whereabouts of 3 classmates. Bill O'Brian, Alva Lamb, or Gary Dunn. Email me if you have any info. Thanks,
Cougar Ball Lady.
Come listen to a story bout a man named Jed, poor mountaineer barely kept his fam.......
---

Name: BOB FAULKNER () on Tuesday, April 16, 2002 at 18:26:03
E-Mail: UPSBUBBA@HOTMAIL.COM
Class: 63
City and State: GARDEN GROVE
Message: HEY ALL OUT THERE, DOES ANYONE KNOW THE WHEREABOUTS OF WILLIAM "FLOYD" RIGGIN CLASS OF 63?????????. WHEN IS THE NEXT CRUISE NIGHT?? AND WILL THEIR BE A POSTING OF THE LAST ONE?? THANKS
Hey Bob, The next Cruise Night will be about the first or second weekend in September and I will post it at least a month before. No, there won't be any pics from the last Cruise Night (I forgot my camera).
---

Name: Cheryl Nicocia () on Tuesday, April 16, 2002 at 18:14:34
E-Mail: chernico@cvc.net
Maiden: Christensen

Class: 62
City and State: Keno,Oregon(ontheriver)
Message: Hey Linda, the checks in the mail. :o) (it's snowing like crazy right now)

---

Name: JIM SLOEY () on Tuesday, April 16, 2002 at 13:38:00
E-Mail: forgetchasingambulancesbicylesmaybebetter.com
Class: 66
City and State: Always the Strand, Ca.


Message: Patty the Statute began to run when you were 18 and probably expired against the governmental agencies 6 months after that, against Cynthia and her boyfriend, one year from your 18th birthday. Against anybody from Cougartown who makes fun of you or me, it is open season. Last Friday wasn't my first accident on the path, more later.

---
If you have comments or suggestions, please email me at jb1@cougartown.com