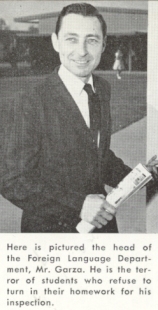 Ray Garza was my father.
I want you all to know much he loved being a teacher, and how honored he was to have touched your lives.
When we were little, he would tell us about his day at 'work'. We thought teachers lived at school, had no families or houses like normal people, so our dad couldn't possibly be a 'real' teacher. That cracked him up, and he went along with it. We got older and realized teaching at Hawthorne High was his 'real' job and his joy.
With his boundless passion for teaching and learning, our dinner conversation was a trip, lots of laughter, word games, etymology, conjugation, Spanish and Latin, comparing grammar, spelling, idiomatic meanings and usage of language, prefixes, suffixes, etc. We talked about Ancient Rome, Harpies and Togas. Dad showed us his students' wild drawings of harpies, (an assignment he gave his Latin classes), and what was up with the Toga Parties? Mom made togas for him to take to school. It was so funny.
A talented, self-taught pianist, mosaicist, gardener, carpenter, cook, and all around cool cat; (tried all the new dances, did a mean Jerk)?he explored everything: made skateboards and skim boards in the early 60's, bonsai trees, landscaping, designed and built furniture, caught crawdads and frogs, grunion on the beach at midnight with 4 squealing little kids, music concerts, art festivals, we even made paper from the papyrus growing in our yard. True story.
A real teacher, indeed, a very cool guy, a great listener, a Renaissance man. (He would have made me change that fragmented sentence). A teacher at home, too, he impressed upon us, and our friends, the importance of reaching for knowledge. Even when struggling with ill health and life's other challenges, he delighted in teaching and learning.
We have tried to carry on his goofy sense of humor, passion for life, and reverence for learning, and have passed those attributes on to our children and grandchildren. I hope, I know, he shared these qualities and lessons with many of you. Thanks for remembering my dad.
He died peacefully at home in December of 1994, his family by his side.
At his service, with enormous pride, I told the gathering that he had given me the key to a joyous bountiful life, and how these words continue to sound in my heart:
"Always remain teachable."...Ray Garza, 1920-1994
Sincerely,
Laurel Garza
Lomita, California
Mr.
Ray
Garza