Page 348

Hawthorne Time and
Temperature

Home | 60's Slang | Alumni List | Car Talk | Cougar News | Feedback | Hangouts | Memories
Recollections | Reunions | Street Scene | Teachers | Tributes | Vietnam | What's New | Keyword Search
Time to change the music...

Freddy Cannon
---
<!-+++++++++++++++++++++++++++++++++++++++++++++++++++++++++++++++++++++++++++++++++++++++++++ +++++++++++++++++++++++++++++++++++++++++++++++++++++++++++++++++++++++++++++++++++++++++++++->

---

<!-++++++++++++++++++++++++++++++++++++ADD BELOW THIS LINE++++++++++++++++++++++++++++++++++++ +++++++++++++++++++++++++++++++++++++++++++++++++++++++++++++++++++++++++++++++++++++++++++++->
Name: Maureen 'Mo' Trott () on Wednesday, January 17, 2001 at 22:32:04
E-Mail: MoMo90250@aol.com
Maiden: Trott
Class: 1964
City and State: Hawthorne
Message: TO: BOB POORMAN Bob, you tell that Mom of your's to get her (you know what) into CTown, and see what you can do about your Aunt Judy... haven't seen her in years. She and your Mom were good friends with my older sister Frances. We all grew up on the same block. We just need to get some more Sundale people on here (Hear that Ralph & Phil Christiana, Andrew & Tom DeGrazia, John Nix, Don Dye, etc.). Seriously, please tell your Mom Hi and look forward to seeing her name here in CTown. Is she still with Century 21?

---

Name: Lisa () on Wednesday, January 17, 2001 at 21:35:57
E-Mail: ledsea123@aol.com
Maiden: Graham
Class: 67
City and State: Ramona, CA
Message: Petey: I don't ever remember buying a car from Eddie, but that doesn't mean that I didn't. I used to drive a 56 chevy. I do remember buying a 49 ford woody from Linda I think in l968. My brother use to be a drag racer on Hawthorne Blvd and he even had to go to jail for tickets he got on Hawthorne Blvd, and lost his license for years until he got a job with the railroad. I have such fond memories of when my Dad owned the gas station on Rosecrans and Inglewood Avenue. Have a good one. Lisa

---

Name: Susie O'Gorman () on Wednesday, January 17, 2001 at 20:52:15
E-Mail: flashtoo@pioneer-net
Maiden: O'Leary
Class: 61
City and State: Hawthorne,Calif.
Message: Hi, I did not enter my E mail address properly, so if anyone out there would like the correct E mail, its flashtoo@pioneer-net If Mike Shay is out there; please reply. Tim and Ruths computer has been down for three long months, so that is why you haven't heard from us.
Hi Susie, I don't think that email address is correct either. Unless the Internet has just come up with something new, it would be pioneer.net and not pioneer-net

---

Name: Risa () on Wednesday, January 17, 2001 at 20:43:18
Maiden: Manriquez
Class: 77
City and State: Glendale Ca
Message: Bob its me again. Do I feel like a shmuck. I went back a few pages and saw your post(pg;345). Marla is much better. Her husband suddenly died but she and her two childeren are terrific, Kellie 12 and Mike 11. She still plays Pro Volleyball. I just spoke to my mom and the stories just started flowing. Your mom is the best and she was a true friend to my mom. She wanted me to pass it on, Tell your mom that Judy still lives in the same house. Stop by any time. Feel free to pass on my E-Mail address to your mom and I will get the messages to mine..You would just flip when you here all the stuff my mom was telling me..Keep in touch. Tell your mom I send my love..Ris

---

Name: Susan King () on Wednesday, January 17, 2001 at 20:00:56
E-Mail: sueking18@aol.com
Maiden: Bierman
Class: 1974
City and State: Thousand Oaks, CA

Message: Awwww Backus, a little thin-skinned, huh? C'mon, MJB is NOTHING compared to what the Bierman kids suffered!! I can recall even Mrs. Hollingshead (sp?) at Hawthorne Intermediate making fun of my name - Beer can, Beer butt, etc. Speaking of her, does anyone have any scoop? Anyway, I think this is a good segue to a new topic of conversation. NICKNAMES. Don't want any tragic, destroyed my life stories, but does anyone recall their own nicknames or ones they gave to others? I have to laugh because we all still call our best girlfriends by their maiden names, no matter HOW LONG they've been married! Even my own sister-in law-Michelle BuGuy!!! So Baker, let's start with you.....
If I had a moniker like Hollingshead I would be real still.
Well OK......"Bake" "JB" "Baker Man" "Bake a Cake" "Hefty Lefty" "Big John" "Little John" (because my dad was big John) & "Fatty Fatty 2 by 4". That covers all the G rated ones.
---

Name: Risa () on Wednesday, January 17, 2001 at 19:50:08
E-Mail: fivekubes@earthlink.net
Maiden: Manriquez
Class: 77


Message: This is for Bob Poorman..How are you. Do you remember me and my sister Marla..I saw the message about your mom (Jody). Im going to call my mom and tell her about the message, I know she would love to here from her. Could you give a phone number, my mom is not on-line. Tell your mom that Judy is well. If you E-Mail me I will pass on my moms number..Wishing you well..Take Care.

---

Name: Sharon Stowe () on Wednesday, January 17, 2001 at 18:12:50
E-Mail: stowe37@aol.com
Maiden: Ritch
Class: 72
City and State: El Segundo, CA


Message: I thought someone needed to mention this, some current Hawthorne High School band members are traveling to Washington DC to perform with bugle corps at the presidential inauguration...See todays Daily Breeze South Bay section or click here.
So Cool! Congratulations are in order!
ss
Yes, Congrats Cougs on your elite assignment. I know you'll make us proud.
---

Name: Kell () on Wednesday, January 17, 2001 at 12:41:27
E-Mail: peteyisthiswhoihavetoemailyoufornowon.com
Maiden: Currie
Class: 67
City and State: Coos Bay,Oregon by the ocean and bay and slough
Message: This is to Bob Jensen. I stopped listening to AM radio (KRLA,KFWB ETC.)when FM reared it's rock and roll head. about 1964 or 65 KPPC was it for me. Top Ten was dead forever for me after that. But I did love KRLA. I can remember we would actually fight over what station was best KRLA or KFWB. What station aired all the Dodger games my Mom was a Dodger Fan! Man she listened to games until I thought I'd die. Those were the days of Sandy Koufax. Don Drysdale etc. Peace, John thanks for the homecoming pic. Good one,67 we are the champions!!!!!!
KMPC and KFI aired Dodger games.
---

Name: Don Di Tomasso () on Wednesday, January 17, 2001 at 09:02:12
E-Mail: dond@ix.netcom.com
Maiden: N/A
Class: 75
City and State: Torrance, CA
Message: John Baker, I like the drop down data entry options you put on the feedback form...saves time typing...are you usinging a "cookie" for that?
Someone mentioned the Lion's drag strip...whatever happened to Ascot? Any idea when that went out of business?
Don
Don, Ascot has been gone for about 10 years now. Tom Shelley HHS62 and I went to one of the last races in about 1990. No, no cookies here.
---

Name: Bob Poorman () on Wednesday, January 17, 2001 at 07:50:52
Class: '77
City and State: Wayzata, MN
Message: Cheryl Nicocia - I received a snail mail from Mom (Jody Halberg now Weller) that pointed out your "Bob Poorman that sounds familiar" message. She said she was or would be dropping you an email. If she didn't well now you know who mom is and I would guess you've also made the connection to Aunt Judy and Uncle Denny Eldredge. Quite a small world and getting smaller by the day. Although I haven't seen mom out here in CT I think she's lurking in the background somewhere. Now I'll see what I can do about getting aunt and uncle on line. Is CT ready for this?

---

Name: Petey () on Wednesday, January 17, 2001 at 05:41:50
E-Mail: don'tgowherethehuskiesgo.com
Maiden: Honduras
Class: 1972
City and State: Beaver State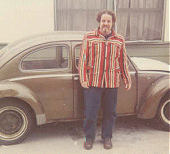 Message: Eddie Lutz sold his Grand Prix to Lisa Graham and bought a VW bug. He always drove like a maniac but with his new toy car he turned into a lunatic with smaller wheels. He said, "the clutch was a waste of time and so were red lights". Ever since Eddie gave me that ride home back in 1970, I became a true believer of the seat belt. And I NEVER rode with him again. Right Chuck?? See you in the future.
Hey Eddie, Nice Shirt Dude........
---

Name: Blake () on Wednesday, January 17, 2001 at 02:56:14
E-Mail: withells@idirect.com
Class: 67
Message: JB It works. The lost Lenny Fein has just contacted me. Nothing like adding 1/10 of a second to an E/T to get them to come out of the woodwork.
Thanx Blake

---

Name: Blake Withell () on Tuesday, January 16, 2001 at 23:11:33
E-Mail: withells@idirect.com
Class: 67
City and State: Tor.Ca
Message: JB. I remember: (there is that word again). "the second thing to go is your memory". I remember Lions Drag Strip in the mid 60s,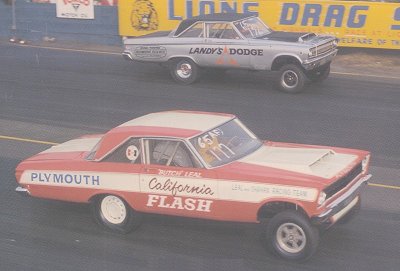 Your rememberance of your friend spinning the valve stems from the wheels of his Mopar was the shape of things to come. In 64/65 the likes of Hayden Proffit and Dick Landy. Began drilling holes in the wheel rims and using sheet metal screws to secure the tire bead to the rim. That was just before they decided to relocate the wheels./Rear wheels behind the front door and front wheels almost touching the front bumper.(altered wheelbase). They began to call it A/FX (A Factory eXperimental), instead of S/S Super Stock.
You being a 409 fan I will relate the only 409 stories I know. Mr Mosher in Auto Shop had a 409 in his drag boat. It had zoomie headers with Colt 45 beer cans capping the ends. He also had a beige Pontiac tow car that you could wax (for a credit). When he was away and we had a substitute teacher, we discovered that the ignition key from my father's 66 Ford Camper Special also operated a donated 53? Mercury in the compound. (I don't think I want to go there). The other 409 story I remember was when I was the tender age of 14 in 1964 My parents had friends who lived in Palos Verdes. Their son's friend dropped by to take him and I for a ride. I recall that I saw the crossed flags on the front fender of his 63 Impala and knew it was a 327. I didn't notice the two small holes above the flags where the 409 insignia had been removed and neither did anyone else on the boulevard that night. All the best Cougs.
Great car stuff Blake......thanks
---

Name: Bob Jensen () on Tuesday, January 16, 2001 at 22:21:15
E-Mail: robertjensen@satco-inc.com
Maiden: stoppedwhenIboughtmyfirstnewcar
Class: 71
City and State: Cheviot Hills, CA
Message: It seems that KIEV 870 AM wants to shed its image as a small-time, small-town Glendale radio station to become a true Los Angeles talk alternative. On January 1, 2001 KIEV changed its call letters to KRLA. Late last year the old KRLA, which was at 1110 AM, switched its call letters to KSPN and dumped its political talk format to air mostly syndicated sports interviews. Does anyone remember when the old KRLA stopped brodcasting music? Can you remember when you stopped listening to KRLA, KHJ and KFWB.
KRLA quit broadcasting music about 2 years ago. In fact I have the last hour of KRLA radio on tape and it was quite uneventful. The last music DJ to be heard on KRLA was Huggie Boy, who went to KRTH the next week. I don't know if he's still there now or not.
---

Name: Mike Backus () on Tuesday, January 16, 2001 at 21:16:40
E-Mail: michael@backusstudio.com
Class: 74
City and State: Eugene, Oregon


Message: Thanks Sue, for pointing out my elementary school nickname to anyone that may have missed it first time around. Rather than get in to a name calling contest with Ms. King (Bierman) I will just point out that not only does "Bier" SOUND like beer, it is in fact the German word for that very beverage. I could point out that beer is nearly always served cold and has a head of foam, but that would be picking a fight. Or at least escalating one.
Onto more important matters. Can anyone from the class of '74 remember whether we had three streakers at our graduation or only two? I can't remember and it has been bothering me for years. I think that the smoke from a fellow grad's hash pipe was affecting me at the time and has clouded my memory. Anyone straight and sober at the time, please reply.
Next time; The story of three friends of mine from the class of '74 who learned that it is not wise to go streaking in the winter. Particularly if your girlfiends are still inside the apartment. They may lock the door and leave you outside buck naked. (If you guy want to remain anonymous, mail those checks).
John, if you want a different picture of me, ask ME, not Sue King! Thanks!
No, this one's fine. In fact did anyone ever tell you that you look alot like a Bierman?
---

Name: Susie OGorman () on Tuesday, January 16, 2001 at 20:52:47

E-Mail: flashtoo@pioneernet.com
Maiden: Susie OLeary
Class: 61
City and State: Hawthorne ,Calif.
Message: If any of my fellow classmates are out there I'd love to hear from you.

---

Name: Jerry Miles () on Tuesday, January 16, 2001 at 19:59:54
E-Mail: jfmiles@pacbell.net
Class: 66
City and State: Fair Oaks, CA

Message: Now Jim, if I were THAT plastered how would I remember? But the truth is the coach made us go straight home after every game and study plays for the next week's game. None of the players would ever indulge in such debauchery. You must be thinking of some one else but I hope you had a good time. I'm glad you couldn't find my ten year picture as I was wearing a brown leisure suit (the only one I ever owned) with a shirt collar that went from shoulder to shoulder. Hey, what can I say? It was the Seventies and I dressed funny.

---

Name: JIM SLOEY () on Tuesday, January 16, 2001 at 18:45:06
E-Mail: THANKSMILES.COM
Class: 1966
City and State: REDODNDO BEACH, CA

Message: Hey Jerry remember that time you got really plastered at one of the after game dances, and I took you home, drove you around for hours till you were not plastered. Remember you told me you were Queer and made me promise not to tell, and I couldn't wait to leave but I promised.......don't worry Jerry I never told anyone. And don't worry I couldn't find any pictures of you either, so I guess I'll have to think of some other way to embarrass you.
Your Straight Friend
Sloey


---

Name: Marsha Hood () on Tuesday, January 16, 2001 at 14:03:08
E-Mail: russellhoodmg@AOL
Maiden: Russell
Class: 64
City and State: Redondo Beach
Message: The picture is Jim Sloey.
YES!! The picture is of our own Disco Jim Sloey at his 10 year reunion. Photo courtesy of Jerry Miles in case Jim wants to retaliate.

Thanks Marsha.......
---

Name: Paco () on Tuesday, January 16, 2001 at 13:46:03
E-Mail: doo4usc@aol.com
Maiden: Just 2 kinds of people in the world
Class: 61
Message: Could that be Debbie's little boy?
Yes, I do believe you're on the right track.
---

Name: Bill Jensen () on Tuesday, January 16, 2001 at 13:21:38
Maiden: nogilatosoiwillsettleforapushup
Class: 63
City and State: The Hills 90250
Message: Yes, we have no gelato today!

---

Name: John Baker () on Tuesday, January 16, 2001 at 10:10:14
E-Mail: jb1@cougartown.com
Class: 62
City and State: Lomita, CA

Message:Speaking of Disco Fever, here's a cool lookin' Cougar. Does anyone out there have a clue who he is? He's a regular in Ctown, by the way, and he sure looks like he could do a mean "Hustle". If you are family, you aren't allowed to guess. Thanks to Jerry for this pic.

---

Name: Judy DeGrazia Blomsterberg () on Tuesday, January 16, 2001 at 09:43:47
E-Mail: JUDYWUDY@att.net
Maiden: stilDOOWOPINfromSaturdaynite
Class: 64
City and State: Torrance, CA
Message: Hey girls!! Sharon Badger McDonald and Sue Bierman King..thanks for keeping CT updated on PROM NITE. Do not be left out as more and more people are added every week as the tickets are purchased. (SHOW ME THE MONEY)
Since Mr. Bill Dana doesn't have the Internet, I have to go after him in person. Seems that a lot of alumni are interested in his being there..so I'm back on my quest. The Jensen boys are onto where I can find another teacher.. the Art teacher, Mr. Williams...and the quest continues. Last note here to thanks John & Annie Rout for the great lasagna dinner & Doo Wop show... Wow, we didn't know Robin Hood could even hit those high notes, or the the boys could "get down" that low. It amazes me that everyone becomes a base while singing Doo Wop. Doo doo do doo doooooooo..
Now, back on track--and I'm off like a prom dress again. Judy on a quest

---

Name: Alan Nelson () on Tuesday, January 16, 2001 at 09:33:01
E-Mail: anelson@rraz.net
Class: '73
City and State: Parker, Az
Message: There are all kinds of "tests" for us '60s and '70s folks, to see if we can "remember" our youth. Well, now that the new millenium is upon us, we can include the '80s into our group of geezers. How many do YOU remember: Remember?? You know what "Psyche" means. You know the profound meaning of "Wax on, Wax off." You know that another name for a keyboard is a "Synthesizer." You can sing the McDonald's Big Mack, Filet-o-fish, quarterpounder,and French-fry song. You know who Mr. T is. You know who Fat Albert is. You ever wore fluorescent, neon clothing. You could breakdance, or wish you could. You wanted to be Hulk Hogan for Halloween. You believed that "By the power of Greyskull, you HAD the power!" Partying "like it's 1999" seemed SO far away. You thought that Transformers were "more than meets the eye." You knew that knowing is half the battle. You wanted to be on Star Search. You can remember Michael Jackson when he was black. You wore a banana clip at some point during your youth. You collected garbage pail kids. You knew what Willis was "talkin' 'bout." You know who said "Rut row raggy" and "Zoinks." You HAD to have your MTV. You actually thought "Dirty Dancing" was a REALLY good movie. You remember when ATARI was a state of the art video game system. You owned cassettes. You were led to believe that in the year 2000 we'd all be living on the moon and Rosie would be doing the housework for you. You remember and/or owned any of the Care Bear Glass collection from Pizza Hut or the Muppets glasses from McDonalds. Poltergeist freaked you out. You carried your lunch to school in a Gremlins, ET, Dukes of Hazard, Knight Rider, Strawberry Shortcake, Pac-Man, or A-Team lunch box. You have ever pondered why Smurfette was the ONLY female Smurf. You know what leg warmers are and probably had a pair. You wore biker shorts underneath a short skirt and felt stylish. You wore your Izod shirt with the collar up. You had a Swatch Watch with the Swatch Guard. You're sometimes tempted to say to people "I know you are but what am I?" Your Lego collection started with the free set from your Happy Meal. You remember when Happy Meals came in a box. You remember when Saturday Night Live was funny. You know who Max Headroom is. You had Wonder Woman or Superman underoos. You know what a "Push Up" ice cream is. You had to come in the house when the streetlights came on. You had to change into *play* clothes after school. You owned, or knew somebody with a Commodore 64. You hated Scrappy Doo. You recorded songs off the radio with your boom box. You wish you had a light saber. Somehow you still know all the words to songs played on VH1's Big 80's. Your arm was full of rubber bracelets. You wore jelly shoes even though they gave you blisters. You have ever said, "Gag me with a spoon." You have ever wondered what happened to Saturday Morning Cartoons. You had to get up to change the channel. You can still sing 1 to 12 from the Pinball machine on Sesame Street. You consider Pig Latin to be your second language If you can identify with at least half of this list then you, my friend, are a "Child of the 80's".
(I remember ALL of these, but only because my kids lived them!)

---

Name: Doris () on Tuesday, January 16, 2001 at 09:21:58
Maiden: Donaldson
Class: '57
Message: HEY JOHN! Questions: What is/are "Pinks Runs"? AND!!! Tell me about "Cruise Nights". Sounds like fun and I want to know if it's feasible for me to partake. THANKS!
Pinks is a hot dog stand on Melrose and La Brea. We used to call it Hot Dog Louies back when I was going to school. When we'd go cruisin', and we were going to cruise Hollywood, we'd stop there for a few hot dogs. Every few months Cougartown has a Pinks run. Everyone cruises in from wherever they live in from the So Bay; Cerritos, Simi Valley, Bakersfield, Thousand Oaks, Mission Viejo, Palmdale, Idaho, etc and we all have a hot dog and reminisce about our HHS days. It's lots of fun.
Cruise Nights are held at Fosters on 120th and Hawthorne Bl. We bring our oldies car, if we have one, and hang out just like the old days. I think that's my favorite Ctown event. Click Here to see pictures of our first Cruise Night.
---

Name: John Baker () on Tuesday, January 16, 2001 at 08:41:14
E-Mail: jb1@cougartown.com
Class: 62
City and State: Lomita, CA
Message: I received the following letter from Catherine Chauncey, Hal Chauncey's wife, last evening:
Hi all...hope you don't mind my writing one letter to all, but I just felt it the best way to let all our good friends know that the "Ol Coach" is layed up for awhile.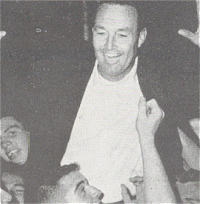 He had back surgery last Saturday. Guess it had been coming on after years of sliding into home, playing football, tennis, lifting, et al. Then on new year's day, he needed to take our propane tanks to have them filled. We usually had them filled by a truck that comes to us. But of course it was a holiday and it was cold. That was the last straw we all know about. At first the Doc thought it was strained muscles, so it was muscle relaxers and pain pills. He kept wanting stronger and stronger pills. It got worse and worse. until by the week-end, he couldn't even stand up. We called the doctor and an ambulance and headed for the hospital for x-rays. Being a Monday, emergency was full, so it took all day and evening to get the x-ray and MRI and admitted into a room. Then it took 3 days to get a neurologist to take a look at the pictures and another 2 before they could get the job done. The doc calls the procedure: posterior lower lumbar interbody fusion with pedicle screw fixation. So now he has nuts and bolts holding his spine together along with a bone graft from his hip bone. That's enough info.
He will be transported Wednesday to a re-hab center. He will live there for a week or two until he can walk and navigate up stairs.
He has been entertaining everyone on the floor with his jokes, cartoons and special x-ray many of you may have been shown along with a made-up story. His favorite nurse calls him "cutie," which he loves! He will be taking our lap top to the re-hab so if you want to e-mail him, he will have lots of time. He is also taking his ham radio, I think a 2 m or is it 220. Oh, well try it. He probably won't see much action for 3 months. Walking will be his best exercise. He'll probably be the tannest one around sitting by the pool! First time I've had competition in that department!
Hope all is going well for every one. Have a great 2001! Cathy
Thanks Cathy for letting us know, and now I say we all send the Ol Coach some ecards and email. Come on Cougs, rehabs are boring, and the Coach needs something to read. Let him know that all of Cougartown is thinking about him. his email is halncathy@earthlink.net
Lets flood him with our get well wishes. I know it'll help him as he's helped us in the past. Thanks Cougs.....
---
If you have comments or suggestions, please email me at jb1@cougartown.com