Page 347

Hawthorne Time and
Temperature

Home | 60's Slang | Alumni List | Car Talk | Cougar News | Feedback | Hangouts | Memories
Recollections | Reunions | Street Scene | Teachers | Tributes | Vietnam | What's New | Keyword Search
For the Texas lovin' Cougs

Buddy Holly
---
<!-+++++++++++++++++++++++++++++++++++++++++++++++++++++++++++++++++++++++++++++++++++++++++++ +++++++++++++++++++++++++++++++++++++++++++++++++++++++++++++++++++++++++++++++++++++++++++++->

---

<!-++++++++++++++++++++++++++++++++++++ADD BELOW THIS LINE++++++++++++++++++++++++++++++++++++ +++++++++++++++++++++++++++++++++++++++++++++++++++++++++++++++++++++++++++++++++++++++++++++->
Name: Raymond Smith () on Tuesday, January 16, 2001 at 01:41:50
E-Mail: Kawabunganorth@juno.com
Class: 1981
City and State: Portland,OR
Message: Saw someone mention the name "Bob's Big Boy". You mean to tell me they are some left in town? I sure hope they're one in the South Bay because I want to get "2" serving of their "Hot Fudge Cake". There is more places I can't wait to sink my teeths into such as the "Red Onion, Dinah's Chickens, The Kettle, Old Venice, and Hanks Pizza" to name a few. Geez, I feel already gaining weight here. Also, those of you who are or knows any of the Class of 81; make sure they have updated not only their e-mails but home address too(forward this to the Main Office at HHS). Marline Olsen is compiling a list to see who is missing so we can get/spread the word out. My nephew was in town last weekend (He's in the 10th grade at Sagus HS)and told me of a story of Leuzinger in a playoff with Valencia(I think) and Leuzinger lost and someone from their stand shot a gun and narrowly killed a 4 yrs old (he got a bullet scatch on his side of head). Makes me all the more glad I don't live down there. But, only time will tell huh? And, for you electric hungry folks, just remember that we don't have a whole lot of snow here so by summertime the river won't be thur the dams as good as we normally have it. I still like/love my 45 mins. showers.

---

Name: Blake () on Tuesday, January 16, 2001 at 00:32:03
E-Mail: withells@idirect.com
Class: 67
City and State: Toronto.Ca
Message: I like stories.
I remember:
Pushing Lenny Fein home in 68 ,after having twisted an axle in his 63 326 Tempest after posting a respectable 14.56 at Lyons. With the 350 Novas looking on with 14.75 time slips.
I remember:
Allan Thompson's 55 Chevy with a 301.
He had it painted at Earl Scheib and they parked it out in the rain before it had dried, he was (upset).
I believe he got a C/O hydro for graduation.
I also remember Allan's cousin (I stand to be corrected) mounted a Chev 283 in the front of a VW bug,
It had a powerglide and a "538" rear end.(good boulevard stuff)
It later was swapped with a fellow cruiser Named Larry Boyce. Larry got the bug and traded the 327 from his 61/62 chev 2 dr.
I understand that it may have been raced as an altered and sponsered by the Service Center in Inglewood. but I have no further info on that one.
I like the war stories!
The statute of limitations is up.
Let the men talk.
Not a war story but I remember Jerry Caron (IHS). He had a 426 wedge in a 63 Dodge. One night we were over on about 87th and Central Av racing "the brothers". That Dodge had so much power, he stood on it and spun the wheels inside the tires, ripping the valve stems from the tubes, and deflating both rear tires IN AN INSTANT. I had never seen that happen before or since. Those guys were pretty cool. They loaned us some old tires and wheels to get home on that night.
---

Name: Susan King () on Monday, January 15, 2001 at 23:38:33
E-Mail: sueking18@aol.com
Maiden: Bierman
Class: 1974
City and State: Thousand Oaks, CA
Message: Well Michael John Backus (MJB coffee as we used to call you to annoy when we were at York) I am so glad to see that you finally posted here! See how easy that was? The ice is broken and you can share some of your own special memories of 118th Street life with the gang. I'm hoping to get some more of the Class of 74 here to share. And don't worry folks, we only had one McQuitty that year! (Just kidding Rick - we love you!) Marilyn Murray Pearson has just pledged to be my date for Prom Night along with Laurie Keahey Johnson (73) and I'm working on Mariann Dowell Patterson to balance this act. There are a few other 74'ers on the prom list - c'mon gang - sign up!! Having missed any other reunions I look forward to seeing my classmates! OK Mike, so are you coming?? (How's that Mrs. Blomsterberg?)
Hi Sue, Glad you're coming to Prom Night........I'll believe it when I have that check in my hand.


Can you send me another picture of Mike? The last one just didn't work very well. Thanks....
---

Name: Chris Prewitt () on Monday, January 15, 2001 at 21:47:15
E-Mail: cjprewitt@juno.com
Class: 1967
City and State: Fullerton,CA
Message: John, you win. MLK Blvd. was Santa Barbara Blvd. See: http://www.lapdgear.com/southis1.html I will return to that site because it looked interesting. Kathie and I took a ride out to Diamond Bar (near the 57/60 freeway interchange)and had dinner at Bob's Big Boy. There is some nostalgia! I need to go back just for a banana split. They sure looked good.
Thanks Chris, I thought it was SB Bl. Bob's sounds good too. I think there's another one out around Burbank.
---

Name: Mickey Mathena () on Monday, January 15, 2001 at 21:43:26
E-Mail: mathena@canby.com
Class: 58
City and State: Woodburn, Or.
Message: Michael Backus, I think you will find there are about a doz cougars in Eugene. As for your suggestion about building HHS II up here, I have a suggested location, Canby Or., home of the Canby Cougars. John, your name sake, John Baker is editor of the local paper. Didn't want to leave you out of the pic. If Cal runs out of electricity, maybe relocating up this way would be the thing to do as we have an established base of HHS Cougars already here.
Great idea.....Thanks Mickey
---

Name: Larry Cuiper () on Monday, January 15, 2001 at 21:40:10
E-Mail: LCuiper@aol.com
Class: 60
City and State: Hawthorne, Ca
Message: Well, with everyone talking about their VW's and brought back many memories of my bugs, we have had two and Darla's first car was a Bug, she drove her little car for 5 years. We still have our 1970 Bus, (transporter), We have it for sale. It is two toned Blue and White, it is in good shape, just needs a little work and a Muffler. This bus is great for the beach. Would be wonderful for a Teenager or a Young Dad!! We have had this bus in our family since the 80's. If anyone is interested please contact: (310) 679-0809. John, Thank you...as Loretta says...Always a Coug
There you go Bug lovers. The perfect beach buggy.
---

Name: Kelley () on Monday, January 15, 2001 at 21:07:02
E-Mail: k.k.currie@att.net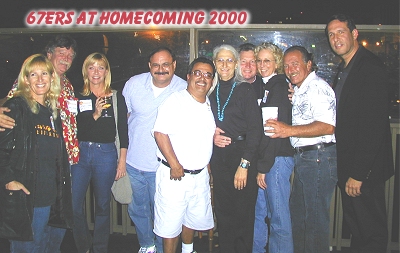 Maiden: Currie
Class: 67
City and State: Coos Bay,Oregon by the ocean and bay and slough
Message: John I don't know where Chuck has been. you might try going to Starbucks on Rosecrans at 9 am any day of the week. He reads. Just no reply. sneaking little guy he is.
Thanks Kelley
---

Name: Jay Curren () on Monday, January 15, 2001 at 20:47:20
Maiden: didnt attend this school
Class: 75
City and State: mobile, alabama
Message: I hope that someone here can help me, im trying to find Eddie Braun class of 79 i think. ive heard that he may have been killed, i hope that this is not true, and ive been told that i may find him around here if you are out there Eddie, call me my num is the same, and ill keep looking around here for you. If he has passed, will someone please leave me a note here with the details and ill check? thanks for the help. Jay Curren
Hey Jay, Eddies email address is eddieand.meg@gte.net --- Glad to help.
---

Name: Sharon MacDonald () on Monday, January 15, 2001 at 20:39:33
E-Mail: rmac@genevaonline.com
Maiden: Badger
Class: 63
City and State: Burlington, Wisconsin
Message: For any Mid-West Cougars looking to book air fare to Prom Night, check out the fare sale at Midwest Express (www.midwestexpress.com). Lets see .... Prom Night tickets, hotel reservations, plane tickets ......seems like we're almost ready!

---

Name: Cindy Colby () on Monday, January 15, 2001 at 19:07:55
E-Mail: cindymcolby@aol.com
Maiden: Maxson
Class: 63
City and State: Laguna Hills, CA
Message: If I'm not mistaken, I believe that MLK Blvd. used to be Exposition Blvd.
Exposition Blvd. is one major street north of MLK isn't it? I still say Santa Barbara Av.
---

Name: Tom Burroughs () on Monday, January 15, 2001 at 18:12:41
E-Mail: TB-Sande@webtv.net
Class: 1958
City and State: Prescott AZ
Message:

Just catching up on Feed Back & noticed Sloey`s little comment? Something to do with Lincoln. Seem`s like that`s where the powerhouse from the (PAST) comes from. I think their called Corn Huskers, or somthing like that? Strange name? Wonder how many National Championships they have? You had to know Jim that SOONER or later we were going to get you? Thanks to Doris Donaldson for remembering my face from school, I think? Thanks to JB for saying I still look the same, I think? Was the old jail & police station across from the Plaza? Thinking about MLK today & thinking MLK Blvd. was originally Lemert Park Blvd?? Anyone remember Soupy Sales doing the old Mouse Twist? Count down to Cruise Night 2001 TB from AZ
Hey Tom, Nebraska has about 5 NC's. Yes, the old Jail and Police station was across from the Plaza, but I thought MLK used to be Santa Barbara Av. See you on Cruise Night dude. Bring a "Ride".
---

Name: Doris () on Monday, January 15, 2001 at 18:02:17
E-Mail: raydori@micron.net
Maiden: Donaldson
Class: '57
City and State: Twin Falls, Idaho


Message: Jack Risner - sorry you won't be at PROM NITE 2001; I suppose I'll just have to make a trip up to Sun Valley sometime to meet you, darn! I don't think I've been up there for 2 of the 4 years I've lived down here in beautiful Twin Falls! And I'm WAY too old for you honey, so I don't think your wife will be jealous that I look you up!

ALSO! Wanted to say HI! to all Cougs this beautiful Monday. Mondays seem a little slow as a rule on feedback and I'm always SO READY to read FEEDBACK on Monday!!! But boy! By the end of the week, everyone has made up for lost time! HAPPY WEEK and let the COUG FORCE be with you! Oh yeah! And JOHN! Thanks for editing the other day ... I truly appreciated it MUCH! Much grass!
No problem Doris....
---

Name: Royal Wm. Lord Jr. () on Monday, January 15, 2001 at 17:46:01
E-Mail: lord@ugsolutions.com
Maiden: Same as above!
Class: 1961
City and State: Cerritos, California


Message: Hi John! How are you doing, good I hope. When are you scheduling another "Pinks Run" or the 3rd "Cruise Night". Let us know so we can plan on it. Talk to you soon. Thank God I'm a Coug! Royal
Hi Royal, The next Cruise Night is April 6th. That's a Friday night before your next reunion on Saturday. The next Pinks Run hasn't been scheduled, but I for one would like it to warm up just a tad.

Thanks Royal.....
---

Name: Jack Risner () on Monday, January 15, 2001 at 16:07:19
E-Mail: rencaj@netscape.net
Class: 74
City and State: Hailey, Id

Message: Doris (and Judy)-No, unfortunately, I won't be able to make the prom for a couple of reasons. #1 is because the first girl I ever kissed was a little cougarette and I don't think I can take the chance (being the easy target I am) of losing my heart to her or another sweet female cougar. It would really tick my wife of 20 plus years off! The other reason is the money. To be really truthful- A friend called just when I was thinking of getting a ticket and purposed a plan for three days of debauchery in Vegas for Super Bowl Sunday and I signed on for that! Oh and another reason-the mirror. I almost forgot, I am ugly and can't dance! I wrote earlier that I used to work in a hospital, Well... my wife could never understand how I could work around all those people that didn't feel well because basically just the sight of me makes her sick...so.. I wish I could make it. The plans that have been discussed so far make it very tempting. Music from any age combined with a great mix of people from a common background and region- What a concept! Plus the work that the folks in the background are accomplishing, is amazing and inspiring. I have learned not to rule anything out entirely, but at this time it doesn't seem likely. I will release some of my good karma in the hopes it finds its way to everyone that is able to attend, for a "really bitchin'" time. PEACE
Hey Jack, Don't let ugly and a non-dancer stop you. I'm both of those and 85 pounds over my high school weight too......AND I'M GOIN'!!! Hey, I'm not saying there aren't any pretty people left, but if we waited for everyone to visit Jack LaLanne and Arthur Murray, no one would see anyone again.


Don't EVER worry about the outside, when it comes to seeing old friends. They want to see what's still "inside".
---

Name: Michael Backus () on Monday, January 15, 2001 at 15:47:30
E-Mail: michael@backusstudio.com
Class: '74
City and State: Eugene, Orygun

Message: I'm starting to think that a replica of vintage HHS should be built in Oregon (sorry, ORY-GUN!) like Disney did with '20s Hollywood in Orlando. We already have most of the people, all we need now are the reconstructed buildings! Special thanks to Sue Bierman, not only for pointing me towards Cougartown, but towards Oregon. I lived in Eugene for ten years without knowing that her brother Steve lives less than five miles from me! It seems that you can't throw a rock in Oregon without hitting a Cougar! Thanks John, for all of your hard work on this excellant and valuable website. I'll be a member soon!
Hi Michael, Thanks for signing in. Whether you're a member or not, you're a Coug and that's what counts most. Please feel free to sign in anytime. And thanks to Sue for spreading the word.
---

Name: Ken Orum () on Monday, January 15, 2001 at 15:38:31
E-Mail: orumoffice@prodigy.net
Message: Help, I'm looking for assistance in locating a former teacher at Hawthorne Christian School.
I attended HCS k-3 (late 60, early 70s) and was wondering if there is anyone here that also attended HCS.
Now that I live in the Midwest and have for 12 years, I recently found out that the school has been torn down. Anyone know what happened (why)?
Does anyone know how to get a hold of any past faculty from Hawthorne Christian School.
If anyone knows anyone from HCS,I would like to get ahold of Mrs Bradley and any classmates that I may have had at HCS.
Strange, how I still remember Mr Pike, but it would really make my day to hear from Mrs Bradley. I went back to the school some 15 years ago to find that she was now an adminstrator and her daughter was now teaching there. I was shocked back then in 1985 or so, when I saw her and she knew me right away, and we shared some special memories. Definitely one of my all time special teachers
Thanks, Ken Orum
OOHHHhhh!! Hawthorne C School is Hawthorne Christian School. See, when you emailed me, I didn't understand that one. Ken, I'm sure someone knows your Mrs Bradley. I do know that Mr Pike has gone on to that big Elementary School in the sky. His son John was living in Vista CA, I think.
The school was torn down to make room for a NEW Hawthorne elementary school that went up on the same property.
---

Name: Elizabeth Estrada () on Monday, January 15, 2001 at 14:44:16
E-Mail: elizabeth@casaestrada.com

Message: I had another Cougar on my massage table last week. Connie (Ostrowski) Bonderson class of '66. She has a sister, Kathie (I think) and two brothers. Joseph Ostrowski wrestled for HHS and graduated in 1969. They will be checking in soon I hope. I have her email address if anyone is interested in contacting her. My condolences to the Buford Family. Love, Elizabeth
Thanks Liz for spreading the word. Look forward to adding their names to the alumni list.
---

Name: Mickey Mathena () on Monday, January 15, 2001 at 13:17:07
E-Mail: mathena@canby.com
Class: 58
City and State: Woodburn, Or.


Message: My sis sent me a few pages from her copy of the alumni directory a few days ago, didn't know such an item existed. How do you get a copy of this? Who is responsible for managing this database? Noticed what looks like a number of errors, even lack of info on some right here on CT.
Man there are a lot of Cougar's up here in Or-E-Gun. Up until a few months ago I thought I was the Lone Ranger. Even noticed from the few pages I received there are even a few other Class 58 alum's up this way.
Hey Mickey, It says in the front of the book that inquiries may be directed to our Customer Service Dept. at (800) 877-6554 or email: inquiry@bcharrispub.com.
On another point, Janet and I were in Home Depot in Mission Viejo this past weekend and ran into another 58er, Tom Bell. Tom is the eldest of the 4 Bell kids (Tom, Gordon, Myrna, and Ginny May). Tom's living in Laguna Niguel, and works for UPS. He doesn't check in too often to CT, but is on the alumni list, so if you remember him, send him an email. He still looks like the day he left HHS too.
---

Name: Linda Dietrich () on Monday, January 15, 2001 at 09:21:48
E-Mail: leonard-linda@juno.com
Maiden: Dawson
Class: 69
City and State: Kansas City, MO
Message: I just got some sad news that we have lost another one of our own. Debbie Anderson Buford just wrote me to say her husband Marvin Buford "69" just lost his long battle with cancer on Oct. 15. I know he will be missed by family and friends. My thoughts and prayers go out to his family.
Thanks Linda.....
---

Name: Don Di Tomasso () on Sunday, January 14, 2001 at 23:57:17
E-Mail: dond@ix.netcom.com
Maiden: N/A
Class: 75
City and State: Torrance, CA
Message: "NUN-THAT SAYS IT ALL! " Ok Judy...that is what you should do for the Prom 2001...have the nuns from St.Joe's handle security... Don D.
new poems - second column

---

Name: DJ () on Friday, January 12, 2001 at 19:15:48
E-Mail: wch1ispink@aol.com
Class: 77
Message: Que Sera, Sera?

---
Name: Ingrid Larson () on Friday, January 12, 2001 at 18:10:23
E-Mail: ingridl@fdgdesign.com
Class: 74
Message: OK - I refuse to be outdone by Dewie Storie. John, the check is in the mail for my membership dues for 2001 (I want a big "3" spinning next to MY name in the Alumni List, too!) But promise me, John, that you won't take 7 months to cash it, like last year's. Love ya MAN!
OK, I promise to cash your check, if you promise me you'll check in more often than every 7 months. Thank you Ingrid
---

Name: Judy DeGrazia Blomsterberg () on Friday, January 12, 2001 at 15:46:54
E-Mail: JUDYWUDY@att.net
Maiden: nun....doesn't that say it all!!!
Class: 64
City and State: Torrance, CA
Message: Well, before JB1 shuts down feedback for the weekend, let me say that all this talk of St.Joe's has given me an idea.. since I'm onto different states for PROM NITE TICKETS.. and always working Calif.. how about any surplus tickets should go as a donation to St. Joseph's school and the old mean nuns can get in on the fun.. I still recall our one and only dance.. those silly nuns thought that after 8 years of keeping the girls and boys apart that we'd actually have a "successful dance" ha ha ha ha ha... hell, we weren't allowed to even talk to them before that night.. what a disaster, not to mention that all the nuns sat off to the side of the parish hall to chaperone. Remember that JOHN BULLY ROUT! So if you really don't want the nuns there again..get your tickets now.. Oh ya, I'm starting to work the 70 - 80's people too... this is much more than Doo Wop..and Rock and Roll.& slow dancing.. we'll get some 70-80's memorabilia in there too.. How about some Saturday Night Fever. Get out your white suits and shoes boys.. put on those platform heels again girls.. and haul out your Italian horn necklace and Mood rings.. comb your hair "just right".. here we go. Stayin' alive--Stayin' alive.
Judy Wudy... (please, please don't let the nun's win) NUN-THAT SAYS IT ALL!
And we'll even throw in a little "Stairway to Heaven" and OK Dan.....a little R Plant and J Page for you too.
---

Name: Blake Withell () on Friday, January 12, 2001 at 15:29:37
E-Mail: withells@idirect.com
Class: 67
City and State: Tor.Ca.
Message: VW Bugs, what a piece of history! I remember Ol' Coach and Dave had one. They use to drop by the Gulf Station at 120th and Aviation where I worked. I don't think they ever had to put gas in it, but they always had to fill up this large air cylinder in the trunk (hood), When I asked what it was for, Coach revealed a set of truck air horns concealed under the front of the car, and remarked," no one gets out of the way for beep beep.
Good one Blake, thanks.....
---

Name: Dan Johnson () on Friday, January 12, 2001 at 15:26:49
E-Mail: wch1ispink@aol.com
Class: 77
City and State: Centinela Valley
Message: Hey, man, don't tag HHS class of '77 with the Saturday Night Fever disco garbage. The Cougar newspaper took a poll of the favorite bands of our class and it was won by RUSH. We were pretty much a hard rockin, disco hating bunch. So if you want to "represent" the late 70s people, put on some KISS, Skynard, Rush, Aerosmith and Zeppelin . . . "dancing days are here again . . . . " BTW, I'm feeding my Aja those phat hard rock licks, which may account for her weight!
Dan....SOORRRRY!!! I thought that would get a rise outta yah bein' a Pinky and all. It'll be OK son. You go over there and sit by Doris and rest.

---

Name: Doris () on Friday, January 12, 2001 at 14:31:16
Maiden: Donaldson
Class: '57


Message: GEE JOHN! Did I sound THAT old?!!! Oh! Don't forget a cane holder for me! And we will get SOME 50's music won't we? I have to admit, I am enthralled with Walter H's memory on subjects of a musical nature; I NEVER had that good a memory! Walter, how far back do you have such knowledge of music? What I mean is does your memory, say, start in the 50's or does it go back to the 40's, 30's ... know what I mean? Are you familiar with music prior to the 50's, is basically what I'm actually trying to ask! And Jack Risner, are you going to attend PROM NITE 2001?
No Doris, I still imagine all Cougs as Seniors.
---
If you have comments or suggestions, please email me at jb1@cougartown.com