Hawthorne Time and
Temperature




Home | 60's Slang | Alumni List | Car Talk | Cougar News | Feedback | Hangouts | Memories
Recollections | Reunions | Street Scene | Teachers | Tributes | Vietnam | What's New | Keyword Search

Honky Tonk Part-2
>Bill Doggett

<!-+++++++++++++++++++++++++++++++++++++++++++++++++++++++++++++++++++++++++++++++++++++++++++ +++++++++++++++++++++++++++++++++++++++++++++++++++++++++++++++++++++++++++++++++++++++++++++->
---

---
<!-+++++++++++++++++++++++++++++++++++++++++++++++++++++++++++++++++++++++++++++++++++++++++++ +++++++++++++++++++++++++++++++++++++++++++++++++++++++++++++++++++++++++++++++++++++++++++++->
Name: Dan Dye () on Monday, February 14, 2005 at 20:44:59

City and State: Torrance, Ca.
Class: 1962
Message: Great Cruise-night, I had a Couger sighting last night at the Grammy awards. Someone from the class of 1960, along with his wife, some of you may know him, you may have seen him on TV. Our own Brian Wilson. I got to shake his hand and talk about the old days when I was a freshman and he was a junior. He was the JV Quarterback and I was his center. Small world.
Dan Dye
No wonder Brian didn't recognize you Dan, he was always looking at your butt.
For all that don't know, Dan is an ex-El Segundo cop, now working security and they only pick the TOUGH GUYS for the Grammys. Dan also still holds the shot put record at HHS. The longest standing track record out there. Anyone want to challenge him today?? The picture above is Dan at Hawthorne Intermediate in 1958 at at least 6 feet. Great Cougar sighting Dan, and thanks for the story AND for being there at Cruise Night 12.
---

Name: Dale Hahlbeck Jr. () on Monday, February 14, 2005 at 18:51:13

Email: Kewldaad47@aol.com
City and State: Corona CA
Maiden: stayed, not spayedHahlbeck
Class: 1975
Message: I think I spelled stayed wrong....
OK if our class can't get our reunion together LETS CRASH THE 76'ers reunion!! Heck they always crashed our parties over the years...its our turn to make fools of ourselves at their gig..I wouldn't mind "Krickrack", Mr. K. Jones, Gloria, Sharon ,Carmen, my sis Val, and Dale Craig buying me a brewski or two to celebrate such a milestone....
And I vote for an impromptu visit in May in Laughlin for a 30th-ish reunion with all PAID members of COUGARTOWN ( a little plug for ya John ) whad'ya say 75'ers lets GET ER DONE!!
Rock Steady ya'll H1 OUT!!
Heck, you can't even make a Cruise Night. Anything for a get-together, Dale.... I say go for it, but my money's on Dale not showing up. You, Keith, and Jim Sloey can find more excuses for not making a function. You must all think you're too fat and if the girls see you they won't like you anymore.
Make a Cruise Night first, THEN we'll talk Laughlin. Rock Steady, Dale.
---

Name: Debra McGregor () on Monday, February 14, 2005 at 17:19:40

Email: DebratMcG@aol.com
City and State: Lancaster, CA
Maiden: Lee (shoulda stayed Lee)
Class: 1972
Message: Happy Valentines Day you sweet cougars. Had a great time at Fosters. I'm lookin' forward to the next one, where it shall be a little warmer - love that summertime! John, thanks again for all your hard work.
Hi Debra, the hard work goes to The Biermans, Kathleen Griffin and Liz for bringing the flan, and Walter Holt for the music. Thanks for being there and I hope you had a great weekend.
---

Name: Debbie () on Monday, February 14, 2005 at 15:45:28


Email: pinkelephant10atyahoo.com
City and State: Del Aire
Maiden: Miles
Class: 1977
Message: Oops, apologies Denean! I thought your tag said '81! Nice to have seen you again after all these years. LOL, I think when the pictures get posted all will see that Jill and Denean are as HHS'S version of Mary Kate and Ashley Olsen. Anyone who can make plans for the next Cougar get together will have a good time, I'm sure.
Thanks Debbie....
---

Name: Robin Kacena () on Monday, February 14, 2005 at 15:24:15
Email: rkacena@glentek.com
City and State: Hawthorne, CA
Maiden: Kacena
Class: 1978
Message: Happy Valentine's Day! Glad I had the pleasure of meeting you. Enjoyed Cruise Night and my winnings (t-shirt and antenna ball). I guess I should of backed my car in and lifted my hood so I could show off what I got on my "97" Ford Taurus, maybe I could of won another t-shirt (ha-ha). I'm glad I dragged Penny Hopper Gallegos with me, she really enjoyed the chocolate soft serve ice cream (she will hate me for this one). Thank you Kathleen for teaching my daughter how to make those keychains. Sue, I told my brother Glen(c/o 74)that I saw you and about cruise night. What memories the El Molinos bring back. Anyone show up after I left from the later 70's?
Hi Robin, Yes, you were one of the BIG winners on Cruise Night. Nice to meet you too and hopefully we'll see you again at the next one.
---

Name: Cindy Colby () on Monday, February 14, 2005 at 13:51:42

Email: cindycolby@adelphia.net
City and State: Seal Beach, CA
Maiden: Maxson
Class: 1963
Message: Princess Doris, Happy Birthday to you, you don't look a day over 39. I hope you have a special day. We love you. Cindy
Happy Bday, Doris......
---

Name: Karen Kuehl () on Monday, February 14, 2005 at 13:16:18


Email: kaymom1999@yahoo.com
City and State: LVNV
Maiden: Graham
Class: 1959
Message: I want to wish my friend Doris, the Princess, HAPPY BIRTHDAY!! And Happy Valentine's Day to all the lovers out there. It's your special day.
Hi Karen Happy Valentines Day to you too.
SOME Cruise Night pics will be up this afternoon. I didn't take that many so if you have pictures, please email them to me. Thanks Cougs....
---

Name: Donald Scheliga () on Monday, February 14, 2005 at 11:51:38
Email: des249@yahoo.com
City and State: West Covina
Class: 1962
Message: Happy Birthday to my Pal Jerry Pat Simpson. I hope you have a great one Pat!Glad you were able to make cruise night. By the way, did you take the trash out??? That's another story. John are you still interested in seeing some of the Inglewood Green and Whites?
I have the Green and Whites that dad had, so I'm in pretty good shape, Sentinel-wise. Thanks Don
---

Name: Jill McFarlane () on Monday, February 14, 2005 at 11:09:08


Email: jmcfarlane99@sbcglobal.net
City and State: Mission Viejo, CA
Class: 1977
Message: Great cruise night! I need to make a correction as to my sisters Denean's graduating year, it was 1980 so please don't make her younger than she is, I will never hear the end of it. It was nice to see everyone, but I guess I missed quite a few people too. Dan, your daughters are sweet. Looking forward to the next event, would that be the Golf Tournament? Have a great week everyone.
Thanks Jill, and Cougartowns 2nd Annual Golf Tournament info will be available about the end of this week. Bud Rhoades will be sending me all the info for that, so be looking for it on this page.
---

Name: Roxie () on Monday, February 14, 2005 at 10:49:15
Email: roxal@tstar.net
City and State: Tx.
Message: SWINGIN DOWN FROM MY VINE WISHING PAT SIMPSON HAPPY BIRTHDAY YOU OLD VALENTINE!
ROX

---

Name: Jerry Pat Simpson () on Monday, February 14, 2005 at 08:44:48

Email: jerypat6244atyahoo.com
City and State: Santa Clarita
Class: 1962
Message: Hey John. It was great seening you again. Thanks Addy,and Cindy, for the Birthday wish's. You two are still tens on my list. I must say, I have been to only two-cruise nights, and this one was outstanding. I didn't want to leave, the night went by so fast. Also thanks Don for the blue soda. It was a pleasure talking to Dan Dye (from the old nieghborhood) and his Wife Ann. also Norm and Paul Mackey. And of course those very hot 63'ers, Addy and Cindy. Looking forward to the the next one. To those that do not go to these events, shame on you. Of course if you live far thats understandable. You may not see your spicial friends there each time, but make new ones. It was real nice getting to know the 70s, classes. They're great people. And thanks John,,, I do love my lake pipes, its a vanity thing.
Thanks Jerry Pat for being there too, and he's right folks, if you miss these events, you've just passed by one more opportunity to see your old friends. See you at the Summer Cruise, Jerry....
---

Name: Donald Scheliga () on Monday, February 14, 2005 at 01:33:17


Email: des249@yahoo.com
City and State: West Covina
Class: 1962
Message: John, cruise night was a real blast. I truly enjoyed reacquainting with old friends and meeting new ones. The weather held, turnout was great, and it sure looked like everyone was having a good time. I was really pleased to see that, Pat Simpson, Norm Greenfield, Paul Mackie, Adrianne and Alex could make it. I especially enjoyed meeting and talking with Cindy Colby. You're welcome Cindy, love those sodas too. OK John, when are we going to Pinks???
Hey Don, Lots of people from our class there this time. Penny Hopper Gallegos was there too. Thanks for being there and it IS about time for a Pinks Run. I'll work on that one. Thanks for being there, Don.
---

Name: Dennis Kilroy () on Monday, February 14, 2005 at 01:28:51


Email: xcabledude@yahoo.com
City and State: BP, CA
Class: 1977
Message: Hey John, I need to add my 2 cents. Thanks for putting together another Great event. It was nice to reconnect with so many. Coach Plum was so funny telling jokes and letting us know about some of our favorite teachers and what they're up too. Anybody that doesn't make it because they have issue's from High School Days forget those days come on out. These are New days with new experiences And new fun. I encourage everyone to come to the next event.
Ahh thanks Dennis. Good meeting you face-to-face and see, it IS a fun time, I don't care if you're the only person from your class, you will STILL connect and have a great time. Thanks for coming out and GO Trojans!!
---

Name: Debbie () on Sunday, February 13, 2005 at 23:56:59


Email: pinkelephant10atyahoo.com
City and State: Del Aire
Maiden: Miles
Class: 1977
Message: John, I think Denean McF was class of '81. As far as I know, she was the youngest one there. Pretty awesome, a great turnout, and it's always nice to get to know other Coug's a little better.
Hi Debbie, Yes, I think you're right about Denean and good to get to talk to you last night too. Thanks for being there.
---

Name: DANNY () on Sunday, February 13, 2005 at 22:59:23


Email: DODGE4U2@AOL.COM
City and State: CERRITOS, CA
Class: 1965
Message: AS ALWAYS, CRUISE NIGHT WAS A BLAST, THANKS TO ALL, ESPECIALLY JOHN BAKER PERHAPS THE LOWEST PAID WEBMASTER ON THE INTERNET. HEY JOHN, IF I SEND YOU $30 WILL YOU MAKE DIANE LAY-SMITH A 10....IVE ALWAYS THOUGHT OF HER AS A 10.
I know you have Danny, and we all know she is too. Also, thank you for the membership dues last night, but no one is listed higher than an "8" in membership (means they're paid up to June 2006), even though they might be paid up for 12 years.
---

Name: Carl Harrison () on Sunday, February 13, 2005 at 21:18:11

Email: CEHARR@aol.com
City and State: Hawthorne
Class: 1972
Message: Thanks for organizing another great night John, looking forward to the next Cruise Night already.
You're welcome Carl. Glad you could be there. See you at the Summer Cruise.
---

Name: Cindy Colby () on Sunday, February 13, 2005 at 20:42:05

Email: cindycolby@adelphia.net
City and State: Seal Beach, CA
Maiden: Maxson
Class: 1963
Message: Darn Addy, you beat me. Happy Birthday tomorrow to Jerry Pat. I had such a great time, thanks to all, I had fun talking to all you crazy people. Don, thanks for the 'soda', Norman, thanks for the ice cream, Walter, thanks for the Cougar ball. Addy, what can I say, you are too sweet. For all of you who missed it, this Cruise Night was the best ever. John Baker, you are the bomb, thanks for being the most amazing Webmaster of all. To all who were there and all who helped pull this thing together, thank you, thank you, thank you. Cindy
Glad you had a great time, Cindy. Classes were represented from 55 to 80. It WAS a very Cougar Cruise Night, fer shur'......
---

Name: Adrianne DeAlejandro () on Sunday, February 13, 2005 at 19:23:06


Email: addy57@msn.com
City and State: Cerritos, CA
Maiden: Longpre
Class: 1963
Message: Cruise night was fantastic! I could see a good time was had by all. I made new friends, and renewed old friendships. Great turnout. 4 hours later I still didn't want to leave, but my standing legs said it was time. Thank you John, the Biermans, and DZ Lizzy's scrumptious flan, for making it a memorable event. And now, I want to beat Don Scheliga to the punch in wishing my huggy Jerry Pat Simpson a stupendous Valentine's Day Happy Birthday! XOX
Thanks Adrianne, glad you had a fun time and to Jerry Pat, Happy Birthday and love your lake pipes dude.
---

Name: John W. Lott () on Sunday, February 13, 2005 at 18:22:51
Email: jlott55@comcast.net
City and State: Fresno, CA
Message: Looking for Keith Weldon Class of 1960.

---

Name: Treva Colwell () on Sunday, February 13, 2005 at 15:16:49

Email: Avert5@aol.com
City and State: Anaheim, CA
Maiden: Weyer
Class: 1962
Message: Thank you Neil Andersen, I agree with you, Laralee Brevig was a very special person. We met at Anza Elem. school. We went to the same schools, same church, and had Girl Scouts together. We went camping, swimming, horseback riding, and did lots of sleepovers. We had tons of fun together. I lost track of her after HHS, but found her again 2 years ago at our 40th reunion, and now I have lost her again. She took a piece of me with her. I will always miss her and she will never be forgotten by me. Thank you Laralee for all the good memories.
Thanks Treva for your thoughts on our friend, Laralee Brevig. She was special.
---

Name: Dan Johnson () on Sunday, February 13, 2005 at 14:17:01

Email: wch1ispinkATaolDOTcom
City and State: Foster's City
Class: 1977
Message: Not only was it just great to see everyone last night, but I'm so appreciative that everyone was so nice to my daughters, my sister and my mother-in-law! It was really terrific to see people from other classes and to see for the first time at a CT event 70s people that I actually knew in High School (Clark Millman, Dennis Kilroy, and G-L-O-R-I-A). And of course Bob Poorman's Mom through me for a loop with the recent photo of him -- asking me to guess who it was!!!! I remember Bob as being 50% body and 50% hair! Now we both have military cuts -- it's too funny! Thanks again, everyone. I'm looking forward to the next shingdig -- where I will insist that the music include some Floyd (and not Eddie). Maybe the way to do this is to have a "CT Presents a 70s cruise night"?
For the most part, it WAS a 70's Cruise Night and thanks Dan for bringing the whole family, including Layla and Aja. You've paid your dues now so I guess we can add ONE Pinky song to the list.
Thanks again....
---

Name: Darrel Boesiger () on Sunday, February 13, 2005 at 13:36:32


Email: dboesiger@yahoo.com
City and State: Renton, WA
Maiden: Boesiger
Class: 1962
Message: Do you still take donations for this site? I would like to help support it. Thanks for the work you have put into it.
Hi Darrel, Always good to hear from a 62er and Hawthorne High band AND Dance Band member. Wasn't it the Sax? Thanks for asking about membership, and yes, if you, or anyone, want to add to your membership please go to the membership banner at the top of this page. Seeing as you are already a member you can either send your membership to that address or click on the "Members Click Here" Button and can add to your membership with your favorite ATM/Credit Card. If you are NOT yet a member, please click on the Non-Members Click Here" button, as you will have to add your name address etc. If you can't recall if you ever joined, go to the Alumni List and if you have a Star by your name, you are a member. BTW, Thanks to all at Cruise Night for either joining the Ctown Membership family, or adding to your membership, it is appreciated. Cougartown Membership cards are in the works. More about that later.
Thanks again Darrel for adding to your Ctown Membership and I'll see you at the next reunion.
---

Name: Jean MacErnie () on Sunday, February 13, 2005 at 13:19:18


City and State: Albq NM
Maiden: Caldwell
Class: 1968
Message: Sure is nice to be back.....I still need some work done on my computer...I am hoping my son will be by next week end and work on it some more. I have been away for over 1 year....but I never missed anyone......I read Cougartown at work (when I would get there a bit early) So I kept up with all the talk...I enjoyed all the stories....and now I am ready to put in a few of my own.
I wonder if anyone out there ever knew any of my cousins who graduated from HHS or surrounding high schools. My mom attended Inglewood High School, though she did not graduate from there. That would have been the class of 1942. My 2 cousins Richard and Susan Hahlbeck graduated from IHS. I think Richard was the class of 66 or 67. Susan would have been the class of 75. At El Segundo High there was my cousin Butch Lane (Edward). He graduated some time in the 50's. Ellen was the class of 60, Donna graduated in 62 I believe. Bill graduated in 1964. He was 100 % surfer. He and his friend Terry Reay would get up at 4 am to go surfing and then to school. Bill said he dated some girls at HHS...But the only one I can think of was a girl named Becky Slaughter. Their last name was Lane and they lived on Penn St. near Standard oil. Their mom was a Hahlbeck.....Well I have to get going....Just wondering if anyone knew them.....
Hi Jean, Geez, you had family all over the area. I'm sure someone here knew a few of them. Becky HHS66 checks in from time to time, and is on the Alumni List. That's the only one I know. Good Luck.....
---

Name: doris () on Sunday, February 13, 2005 at 09:57:28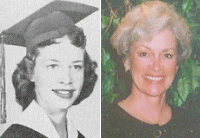 City and State: Twin Falls, ID
Maiden: donaldson
Class: 1957
Message: WOW! Did I ever get a nice surprise last evening. Bob Jensen called me from Cruise Night 12 to wish me a Happy Birthday and from the background noise, I would say any of us CT'ers who missed being there, missed one BEEEEG fun time! Talked to several people, but I kid you not ... there were so many people there, I could barely hear what anyone who was talking to me on the phone was saying!!! SOUNDED LIKE A BLAST! COUGARS RULE!
Yes, it was one GOOD Cruise. Lots of Cougars, lots of Cougar balls Ice Cream and Tshirts given away. Liz brought the Flan, Kathleen did the lanyard thing, Mom B, Sue and Sharon manned the Tshirts and Membership table. Robin brought his new "flamed up" VRod. Denny Unfried and Lee Leonard showed up a little late after making the trek from Pomona and the Winternationals. Richard Hansen, Mike Shay, and Jerry Rigney had their usual table, still talking hot rodding in the 50s and 60s. Even Gloria Valencia showed up with her beau, John Achrem HHS76. I met numerous new Ctowners that I've never seen before. Thank you all for coming out and making this one a fun night for everyone. All in all it ranks right near the top in Cougartown Cruise Nights. Sorry you missed it, Doris....
---

Name: Neil Andersen () on Saturday, February 12, 2005 at 17:31:07

Email: sumerset@aol.com
City and State: Dallas,OR
Class: 1962
Message: Laralee Brevig I can't let her go as a one line epitaph. 55 years of friendship, from Anza, Sepulveda, Dana and then HHS. We vacationed together as families, went to church together at my father's Del Aire Baptist Church 119th place and Felton, we went to the beach, the movies, we shared some very good times. I didn't know her ex-husband, and don't know her two daughters, but as an old rum soaked ex-police officer, she was aces. We seem to be dying so fast these days, it's too easy to forget, so DON'T
Very well put Neil, thanks for that.
---

Name: Angela () on Saturday, February 12, 2005 at 16:00:44
Email: bookdivalia@yahoo.com
City and State: Hawthorne, California
Class: 2005
Message: Well, I am graduating from HHS this year. My dad went to HHS, class of 1974, as did both my uncles (1970 and 1978) and my aunt (1976). I love this site, it is so cool to look around and see what Hawthorne was like back then. I write for the Cougar, and I thought it was SO cool to see the old newspapers. Well, have fun, email me if you want.
Hi Angela, Thanks for dropping by. Too bad you didn't give your last name. I'm sure someone would know you or your family. This June you'll become a Cougartowner like the rest of us. See you then....
---

Name: Wayne Dickey () on Saturday, February 12, 2005 at 15:11:28


Email: Impalawayne@aol.com
City and State: La Palma Ca
Class: 1969
Message: The rain has let up, so Cougartown can have a good showing at Fosters. John? Should I bring my reel to reel and bring back some old memories? Or just my records? Any way, I should be there tonight. Donna had to go up north for a birthday surprise, for a friend. She said for me to go and have fun. Of course, that's what I intend to do.
Hey Wayne, Come on down. No need to bring the records as Walter will bring his set up. Of course we always have time for Lady of Spain.
See you there.
---

Name: Patty Saville () on Saturday, February 12, 2005 at 13:56:07

Email: pvalencia5@cox.net
City and State: Laguna Beach, Ca
Maiden: Valencia
Class: 1974
Message: Hey, The Hunchback and I want to sign up for the lanyard table. Well, he'll watch. We'll be there at 5 pm - so if you want to avoid seeing us, come after 6pm.:o)
That'll be great, see you both there at 5pm.
---

Name: mike young () on Saturday, February 12, 2005 at 11:00:31

Email: nababulldogs@yahoo.com
City and State: westminster, ca
Class: 1974
Message: Hi, John, Steve, Scott, Danny, Amy, Clark Millman, Had a great reunion with Steve Gillette in January, after 30 years. Like to see the rest of you guys some day!!! E-Mail me..

---

Name: Keith D. Jones () on Saturday, February 12, 2005 at 02:06:43


Email: cmi50@yahoo.com
City and State: Kona, Hawaii
Class: 1976
Message: Wow I hope the teachers at HHS aren't teaching the kids how not to read. But, she has one good point why don't they have anything up on the marquee about Mr. Nyman.
I don't know. The new marquee is all computerized. It should be fairly easy to do.
---