Hawthorne Time and
Temperature

Home | 60's Slang | Alumni List | Car Talk | Cougar News | Feedback | Hangouts | Memories
Recollections | Reunions | Street Scene | Teachers | Tributes | Vietnam | What's New | Keyword Search
It's Doo Wop Time Johnnie and Joe
<!-+++++++++++++++++++++++++++++++++++++++++++++++++++++++++++++++++++++++++++++++++++++++++++ +++++++++++++++++++++++++++++++++++++++++++++++++++++++++++++++++++++++++++++++++++++++++++++->
---

---
<!-+++++++++++++++++++++++++++++++++++++++++++++++++++++++++++++++++++++++++++++++++++++++++++ +++++++++++++++++++++++++++++++++++++++++++++++++++++++++++++++++++++++++++++++++++++++++++++->
Name: Janet Burkett () on Tuesday, February 11, 2003 at 21:13:47
E-Mail: jmburkett@att.net
City and State: Ca
Maiden: Humphreys
Class: 62


Message: Thanks Dan and all the others for the many birthday messages and emails. And...yes, the class of 62 does turn the big 60 soon! But the good news is that we are closer to our 62 turns 62 reunion! One thing for sure with an alumni group, you can't fool anyone about your age! I guess I am blessed to still be able to spend my birthday on skis...right JB??
Yes dear, we'll go skiing for your birthday. Actually I'm looking forward to it. I feel pretty blessed too....
---

Name: CHERYL NICOCIA () on Tuesday, February 11, 2003 at 20:42:58
E-Mail: chernico@cvc.net
City and State: Keno,Or(ontheriver)
Maiden: CHRISTENSEN
Class: 62

Message: Aw, the Plaza Theater.... my first date ... with Bob Reagan. Remember JB? You were there. Gordon Bell and you sat right behind us. Coaching, as I remember. Sweet memories. What were we? 12? 13?
By the way, JB, great "GET LUCKY" song, that "OVER THE MOUNTAIN" .......
Yeah I remember; Gordon and I were too shy to ask girls out so we just watched you and Bob. Two vicarious teens hangin' out with the COOL 13 year olds.

Gordon and I never "GOT LUCKY", we just watched. I have had more comments on that song than any other on the website.
---

Name: sharon leach () on Tuesday, February 11, 2003 at 18:49:25
E-Mail: sharonlleach@cs.com
City and State: Long Beach

Maiden: Moore
Class: 66
Message: I was raised in Redondo Beach until we moved to Hawthorne the summer before my freshman year. The name of the theater in Redondo Beach was called the Strand.
THE STRAND!! That was the name I remember. Thanks Sharon....
---

Name: JERRY PAT SIMPSON () on Tuesday, February 11, 2003 at 18:40:36
E-Mail: jerrypat6244@yahoo.com
City and State: Saugus CA.
Class: 62

Message: Stephanie, It was me that cut open my knee, and 3 weeks later I fall on a round piece of steel in the vacant lot at 120th and Prairie. and poked a hole in my upper thigh a half inch wide and a half inch deep, it sure wasn't my year. As far as John Renn goes I emailed him four times but never got an answer. Last time I saw John was around 1972. He had a house in Torrance. But right now he's in Sacramento, from what Ray Scholl says he has a Plastering business (SURPRISE). JB, John's Oldsmobile was a green color, but there was a yellow Oldsmobile around the High school that looked a little like Johns. I ask Ray to see if there was a business phone for John. If I get it I well call him. Stephanie, I hope to see you at cruise night. There's a chance someone else from Oxford Street might be there. She was a Safety guard for crosswalks at York Ave, and she took her job very serious.
Hope to hear from you.

---

Name: Marilyn Ross () on Tuesday, February 11, 2003 at 17:36:57
E-Mail: mlr922@hotmail.com
City and State: Garden Grove, Ca
Maiden: Wisham
Class: 56


Message: One theater that not too many of you may remember was the Inglewood theater. Bobby (Robert) Blake - of recent fame - used to play Little Beaver in the Red Ryder westerns. He made a personal appearance at Inglewood Theater in his Little Beaver costume when I was very young. He was just a kid too. I was in such awe to see a real live Hollywood "star". Inglewood was a great place for matinee westerns. I don't remember the Ritz or the Rex. We also had the U.A. and Academy in Inglewood - at least in the "old" days. Then there was the Lennox Theater on LaBrea. My sister and I used to walk alone a 1/2 mile to that one when we were 7 and 9 years old. Boy those days are really gone. It later became a mattress store.
The Ritz was down Market from the UA (United Artists), and yes I too remember the Academy. And how about the Imperial theater on Imperial and almost Crenshaw.
---

Name: Alan Nelson () on Tuesday, February 11, 2003 at 16:48:53
E-Mail: boatcop@boatcop.com
City and State: Parker, Az
Class: '73
Message: The Manhattan Beach theater was the LaMar. How about the outrage we felt when they changed the price at the Hermosa theater from 29 cents to 59 cents for Friday and Saturday night slasher flicks?
Now THAT was a cool old theatre.
---

Name: Paco () on Tuesday, February 11, 2003 at 16:40:24
E-Mail: doo4usc@cox.net

City and State: LF
Class: '61
Message: Here's a pic of the Plaza given to me by Mo. I think a work buddy gave it to her and knows quite a bit of the Plaza history and Hawthorne lore.
That would be Walt Dixon that you're thinking of, and that's probably where Mo got the pic. Walt used to own B&B Camera in Hawthorne and has lots of pictures of old Hawthorne. Thanks Paco and Mo....
---

Name: Laurie Kelleher () on Tuesday, February 11, 2003 at 15:56:28
E-Mail: lauriekelleher@yahoo.com
City and State: New York, NY
Maiden: Bednarske
Class: 74

Message: I went to the last movie that played at the theatre in Redondo Beach. I don't remember the name of the theatre, only that we used to call it "the 75 cent-er". The movies were Mad Dogs and Englishmen and Woodstock. After the movies everyone started tearing the place apart. I took home an arm to one of the chairs. I think I still have it. Two movies for 75 cents, boy those were the days!
Someone has to know the name of that theatre. It was on the SE corner of Torrance Bl and Catalina(?).
---

Name: Dan Johnson () on Tuesday, February 11, 2003 at 15:27:05
E-Mail: wch1ispink!aol.com
City and State: Tarzana, CA
Class: 77
Message: CT related. Although he has not authorized me to say this, "4 Way Street" featuring Bob "Strongheart" Melendrez (aka Steven Stills) is playing two upcoming shows with Which One's Pink? (2/22/03 @ Paladino's in Tarzana and 4/5/03 @ Club SoHO in Santa Barbara). Cougars dominate the tribute band scene, maaaaaaaaaaaaaaaan.

---

Name: Jim Fox () on Tuesday, February 11, 2003 at 13:42:58
E-Mail: puffup@pacbell.net
City and State: Haytown, USA
Class: 1966

Message: The Plaza theatre sure scares up a lot of great memories. In the 50's you could spend an entire Sunday afternoon at the show for a total investment of 50 cents. If you were under 12, that would get you in (through the front door), fund a box of popcorn for the first feature and a coke for the second. Man, those days are sure gone forever.
Plus, the box could be folded flat and sailed like a frisbee, at the screen. Just another perq from the 50's.

Does anyone know the history of the Plaza Theatre, like when it was built? I would guess the late 20's to early 30's but I'd like to know for real. Maybe you know, Jim, or maybe our man in the street, Chris Prewitt could find out a little more. Just wondering.
---

Name: Jill McFarlane () on Tuesday, February 11, 2003 at 12:17:48
E-Mail: jillmcfar@aol.com
City and State: Mission Viejo, CA
Class: 1977


Message: Ray, the movie theater in Manhattan Beach, was that right before the pier? I remember going to that theater to watch Billy Jack, then afterward going to licorice pizza to buy the single "One tin soldier" the theme song. I wish there were drive-in movies, I would pack the kids in the car and go, better yet, I would hide them in the trunk and sneak them in. Now before anyone goes calling children services on me, I'm kidding. Hope everyone is having a good week.

---

Name: Lyman Moss () on Tuesday, February 11, 2003 at 09:55:48
E-Mail: lyman.b.moss@boeing.com
City and State: everett, wa. 98205
Class: 59
Message: Sorry, my mistake, it was the Plaza Theater, I was thinking of the Hawthorne Circle instead of the Hawthorne Plaza. For some reason I always called that area the Hawthorne Circle, I don't know why.

---

Name: Lyman Moss () on Tuesday, February 11, 2003 at 08:56:31
E-Mail: lyman.b.moss
City and State: everett, wa. 98205
Class: 59

Message: Hi Raymond Smith, there used to be a movie theater in Hawthorne, it was called the Circle Theater at least it was there in 57 through 59. The last movie that I saw there was "Friendly Persuation" with Gary Cooper, it was about a Quaker Family at the outbreak of the Civil war.
The Circle Theater, where was that one? Of course the Plaza theatre and the Rex theatre which closed down in the late 40's or early 50's, was on the NW side of the Broadway circle. The ONLY movie I ever saw at the Rex was "The boy with the green hair".
---

Name: susie "Q" () on Tuesday, February 11, 2003 at 08:07:24
E-Mail: Mustangsusie21@msn.com
City and State: FINALLY,snow,NM
Maiden: Klingenhagen
Class: seventyone

Message: There was a movie theatre in Redondo that was torn down but I never went cause my boyfriend (MCHS'69) said it had rats! As kids we went to the Loyola in Westchester and one (the name escapes me) in Inglewood...
The Fox and the Ritz were in Inglewood; also the 5th Ave.
---

Name: Raymond Smith () on Tuesday, February 11, 2003 at 04:27:36
E-Mail: Kawabunganorth@juno.com
City and State: Portland Oregon
Class: 1981


Message: I been thinking of the past here and trying to think like mad and a thought popped up in my head. I remember a movie theater that was on Manhattan Beach Blvd on the south side 1/2 block west from the restaurant "The Kettle". When was that place shut down because as a youngster I never seen it open (early 70's). It was finally tore down and a shopping center put in place there. I don't ever recall any movie theater in Hawthorne til the mall was built and the nearest one was Alondra Park on Crenshaw Blvd in/near Gardena. As for other old memeories...never had enough money to buy stuff so we go around neighborhoods and collect/find bottles (cans weren't on the market yet) or mow peoples grass and I or we would try to get enough moeny to buy out the store. Sweet tarts, candy cigarettes...Hershey are the fav's that were gobbled up fast. Did anybody ever go to Imperial beach? I did a couple of times but sure not much to show there. I wonder if it was good for anything? My favorite place other than Manhattan beach was "RAT BEACH" which was at the end of the bike trail in Torrance beach. Not great for waves but nice in everything else..especially parking. I hear there was a abalone processing center or farm on the far end of P.V. but was taken down due to the world war 2? Wonder if George Key knew that? As for San Pedro..came across an abandon road near Fort MacArthur base...wonder if that road meant something in regards as a military or civilian and was abandon due to earthquakes or ongoing moving of P.V.? It was quite near the end of the cliffs. I love being on top of P.V overlooking San Pedro Harbor...omg..what an awesome sight. When I come back to visit..I'm going to take lots of pictures of that area.
Some very good memories here. Thanks Raymond...
---

Name: Stephanie Brito () on Monday, February 10, 2003 at 18:35:07
E-Mail: happyisles@aol.com
City and State: RPV, Ca
Maiden: Hall
Class: 61


Message: Yes, Jerry Pat Simpson I lived next door to John Renn. I remember two cute little boys from across the street. We all played together, in the street, and the vacant lots. Was it you or your brother Mike that fell on a piece of glass and really cut open the knee--the worst wound I'd ever seen. How nice to be able to say hello after all these years. Are you in touch with John Renn?
Hi Stephanie, Yes, where is John Renn, and why doesn't he get on here and say a few words? John, I still remember that 49 or 50 yellow Oldsmobile that you had. What a cool ride.
---

Name: Elizabeth Aleccia () on Sunday, February 9, 2003 at 22:09:55
E-Mail: dzlizzy219@aol.com
City and State: Redondo Beach,Ca
Maiden: Estrada
Class: 69

Message: Another small world story for you here. I had a woman on my massage table today who is directly related to several of our infamous Cougars. She is the cousin of Kelley and Chuck Currie, Robin, Chris and Tim Hood and Steve Frasier.........you can well imagine my surprise! Cynthia Schumacher was here, and by the way.....she loves you Marsha. And, I wasn't even wearing my CT Tshirt. Last week I served Sunday brunch to some of my HHS classmates from '69....Chris Mann Weatherby, and my buddies Donna and Donna. We have you to thank for it, John. I've said it before but it bears repeating....Thank you. It never would have happened if you hadn't taken on this huge endeaver. Kisses to you. Elizabeth
Thanks Liz, Now see, that's what it's all about, Cougs. You don't have to wait 10 years for a reunion. Have a reunion TODAY. Just invite a bunch of your old buddies to dinner, for drinks, or to play golf. No time like NOW for a get together and any excuse will do. Speaking of get togethers, CRUISE NIGHT March 15th. Lots of your friends will be wondering where you are, so do NOT miss it.
---

Name: Shannon Keys () on Sunday, February 9, 2003 at 20:29:42
E-Mail: shannon_keys@msn.com
City and State: Colorado Springs, CO
Class: 81
Message: Once upon a time HHS was amongst the largest yearly school contingencies at the upcoming and prestigious LA (Sunkist) Invitational Indoor Track and Field Meet (see high school meet records at this meet site: Though I rarely see C-Town postings from the Cougar ?running (and field events) community?, I wonder if any have memories they wish to recall of this second oldest of indoor competitions. My recollections?unfortunately only as a spectator; they did supply a lot of free orangey citrus for those unworthy ones unconcerned about cramps.
Somewhat along those lines, is there anything close to ?power? or domination in the sports scene at HHS these days? Current/recent Cougs????
Great question, Shannon. When you get to that page, click on past winners/meet records. Hawthorne just plain DOMINATED the 80's.
OK, what about it current HHSers; what's been going on in the Cougar sports world in the last few years that would make us all proud.
---

Name: Dan Dye () on Sunday, February 9, 2003 at 20:19:10
E-Mail: DanADye@earthlink.net
City and State: Torrance, Ca
Class: 1962

Message: Happy Birthday Janet. Its hard to believe the class of 62 will be ?0 years old in a little over one year? Well two years for you Janet. And a year and 5 days for one of my best ex-girlfriends. I can't say her name because she would hit me at the next cruise night. Have a great day Janet.
Dan Dye

---

Name: Alan Nelson () on Sunday, February 9, 2003 at 18:33:47
E-Mail: boatcop@boatcop.com

City and State: Parker, Az
Class: '73
Message: C'mon John. Don't hold back so much. Tell us how you REALLY feel about Janet. (Happy B-Day JB2!)

---

Name: Patricia (Mecey) Lystrom () on Sunday, February 9, 2003 at 12:40:00
E-Mail: plystrom@prtel.com
City and State: Battle Lake, Mn.
Message: I was a Freshman here. My older Brother Mike graduated from this great school. We both have great memories..
Hi Patricia, If you attended HHS, you can add your name to our list. Just add it under the year you would've graduated. Thanks for checking in.
---

Name: John Baker () on Friday, February 8, 2003 at 00:00:14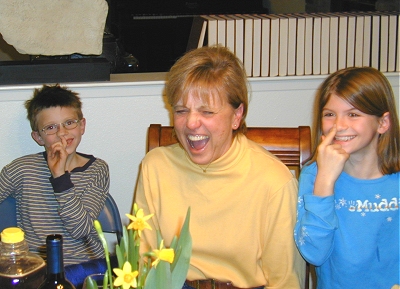 E-Mail: John14@cougartown.com
City and State: Lomita, CA
Class: Sixty-2
Message: Happy Birthday to Janet Humphreys Burkett, my best friend, and all time favorite Cougar. Have a wonderful birthday, and please think of me as you, Wesley, and Jordan open your presents.
I love you, Sweety.....JB1

---

Name: Kimberly () on Friday, February 7, 2003 at 18:26:18
E-Mail: kim_beavers2000@yahoo.com
City and State: gainseville texas
Maiden: Whittington
Class: 86
Message: I was wondering where i can get a copy of the class of 86 year book please tell me..... thank you for your time...
Hi Kimberly, Check with the school. They may have an extra 86 yearbook. 310-263-4400. Good Luck
---

Name: Robin () on Friday, February 7, 2003 at 13:34:36
E-Mail: HowsmyboySloey.com
City and State: RB, CA
Class: Sixtee


Message: "Kinda broad at the shoulders and narrow at the hip, and everyone knew you didn't give no lip to BIG JOHN Hagethorn!..Good to see your name pop up at CT. As Russ said we missed you at Rich and Marys party of partys...(I'll send you a couple pics) Try to come on down to cruise night next month..We'll keep Cheryl at bay from searching your car.:o) later big guy....

---

Name: Howard "Paco" Duran () on Friday, February 7, 2003 at 13:00:52
E-Mail: doo4usc@cox.net
City and State: LF
Class: 1961


Message: Hello Cougs, I have a little note for you, go to Google search engine and put in yor phone number. I got my name and address plus a link to Map Quest on how to get to my house. If you're the paranoid type, I was told to click on the phone icon and it would take you to a link that would delete you from their data base. Besides my number and address, there was a link to "Feedback" where I had a feedback to Judy Wudy about a digital camera and my phone number...
Well duh, it's a SEARCH ENGINE. That's what they do and Google is just about the best one going, in my opinion.
---

Name: carole () on Friday, February 7, 2003 at 13:00:44
E-Mail: isahighcarole@yahoo.com
City and State: lake isabella, ca
Maiden: anderson
Class: 1960
Message: John Hagethorn, Yee a name from the past way way back. I know you won't remember me as we didn't hang around together but we did go to school together from about 3rd grade on. Glad you are still going strong.
carole Anderson

---

Name: Lyman Moss () on Friday, February 7, 2003 at 08:07:23
E-Mail: lyman.b.moss@boeing.com
City and State: Everett, Wa.

Class: 59
Message: Hello Big John Hagethorn great to see your post. It has been along time since the 1959 track season. Glad you made it home to Cougartown, its just like rolling back the clock 44 years.

---

Name: Dan Dye () on Thursday, February 6, 2003 at 23:57:09
E-Mail: DanADye@earthlink.net
City and State: Torrance, Ca.
Class: 1962

Message: Hey John Hagethorn, How are you doing? I remember trying to beat you in putting the shot. You always corrected me when I said throwing the shot. I know I was just a little 9th then 10 grader at the time, but I learned a lot from you, and I want to say thanks. Good to see you found Cougartown.
Dan Dye

---

Name: CHERYL () on Thursday, February 6, 2003 at 22:15:25
E-Mail: chernico@cvc.net
City and State: Keno,Or(ontheriver)
Maiden: CHRISTENSEN
Class: 62
Message: Ya know JB, it's a good thing I've loved you for 40 some years, or I might take that "liquor store" remark the wrong way. ;o) WHAT? You say "bring me some Grappa??????" Behave, and I might. And YES I am looking forward to Cruise Night on the 15th. Jake & Jude....you NEED to be there too. How about Terry & Judy? Are they still in Hawthorne? Would be great to see them again. See you soon ....
Yeah, where is Terry and Judy anyway? I got some terrific salt and pepper shakers from them for Christmas. Hope to see you ALL at Cruise Night 8.
---

Name: CHERYL () on Thursday, February 6, 2003 at 21:03:34
E-Mail: chernico@cvc.net
City and State: Keno,Or(ontheriver)
Maiden: Christensen
Class: 62

Message: JOHN HAGATHORNE !!!! I remember you. Used to drive a big white car (chevy?) (I WAS blonde then) We (JoAnn Collins & I) used to cruise with you and you worked at a Liquor Store? Gee, I hope one of these is right. And OH those sports nights. Had my first slow dance with Bruce Johnson at one of those. (and the rest is history)
Well you would know him if he worked at a liquor store.
We'll see you and John on March 15th.
---

Name: Walter Holt () on Thursday, February 6, 2003 at 19:58:10
E-Mail: walterholthhs66@socal.rr.com
City and State: Orange, Ca
Class: 66


Message: Yep sure did catch that one JB. Brian was the only one to do 3 of his songs. What wonderful recognition for his musical contribution...Good to hear another cruise night is coming up. Way looking forward to another get together. Guess I'll be packing up the tunes, the Long boards and making it a South Bay day. Anyone care to join me at 26th St. on the 15th before cruise night ??
Yes Walter, please bring the tunes and thanks for offering.
---

Name: ROJO () on Thursday, February 6, 2003 at 19:55:36
E-Mail: I-DY-HO
City and State: YOU KNOW
Maiden: JACOBSEN
Class: 6OH


Message: Hey Bake, I hate to bust your bubble but Johnnie and Joe made Over The Mountain..."BUT WHAT A BITCHIN SONG"!!! Hey Hagathorne, how the hell are you? This is your right end from the 59 team, Russ Jacobsen. Good to see that you've found this place. Wish you had shown up sooner, like last September as Rich and Mary Sloan had one heck of a get together for all us class of 60 people. Great party. Good to see you're here. John, I want to come home...please? It's going to be around 15 here in the morning. I'll take the humidity. MAY THE COUGAR BR WITH YOU! Jake N Jude.
Johnny and Joe...Robert and Johnnie, what's the diff..... Come on out for Cruise Night. I got a spot for you two too. March 15th, be here.
---

Name: john hagethorn () on Thursday, February 6, 2003 at 15:39:41
E-Mail: 73cougar60@msn.com

City and State: las vegas nv
Class: 1960
Message: Just found this website; its great. Would like to hear from other early Cougs
Hey John, I remember you as a pretty good football player. Glad you found the site and hang on because I've got the feeling lots of early Cougs are coming your way.
---
If you have comments or suggestions, please email me at john14@cougartown.com