Page 336

Hawthorne Time and
Temperature

Home | 60's Slang | Alumni List | Car Talk | Cougar News | Feedback | Hangouts | Memories
Recollections | Reunions | Street Scene | Teachers | Tributes | Vietnam | What's New | Keyword Search
Time for a little HHS Merry Christmas. This version was produced by our own Janet Burkett. See, I do give you credit for a couple of things.
Beach Boys
---
<!-+++++++++++++++++++++++++++++++++++++++++++++++++++++++++++++++++++++++++++++++++++++++++++ +++++++++++++++++++++++++++++++++++++++++++++++++++++++++++++++++++++++++++++++++++++++++++++->
---

---
<!-++++++++++++++++++++++++++++++++++++ADD BELOW THIS LINE++++++++++++++++++++++++++++++++++++ +++++++++++++++++++++++++++++++++++++++++++++++++++++++++++++++++++++++++++++++++++++++++++++->
Name: Kathy Billings () on Wednesday, December 20, 2000 at 16:23:35
E-Mail: kbilli@arizona.midwestern.edu
Maiden: Delisle
Class: 1969
City and State: Hawthorne, Calif.
Message: Hello to anyone from the class of 1969. I'd like to hear from you. Kathy
Welcome Kathy.....
---

Name: Kelley () on Wednesday, December 20, 2000 at 13:04:22
E-Mail: k.k.currie@att.net
Maiden: Currie
Class: 67
City and State: Coos Bay,Oregon by the ocean and bay and slough
Message: To all of you who are doing your holiday shopping this week. ARE YOU CRAZY!!!!!!!!!! I have worked in retail for almost 15 years and believe this is not the week to shop. You look in November and shop the first week of Dec. Everything is in stock all shapes, sizes and colors. This last week before the holiday is to sit back relax and laugh at those who waited this long to shop. John you think you are in a daze, try working with the last minute shopper, oh what fun. Peace to all this holiday season. Kelley
Yeah I know, next year it's shopping on the Internet for everyone.
---
December 20, 2000

Dear Mike:

There are a great many of your friends gathering today to bear witness to the type of man you have been. We will surely share anecdotes, stories, thoughts and remembrances and many of those will cause laughter to erupt. I suspect that this is the only time that you will ever make us cry.

I hadn't seen you in some 25 years until you showed up at a special Cougartown gathering in Hawthorne. There was a pre-party at Barry Smith's and sister Sharon and I walked in the door and there you were, across the room with that great big marvelous, devilish smile?..I hadn't known you were coming and the surprise of you was even better.

Couldn't stop hugging you for awhile. Laughed and caught up a little, laughed some more and spent the rest of that evening meeting up with some of our other classmates and reminiscing.

We promised to stay in contact - to reconnect - and make some new memories. I wasn't sure how we could top the old ones, Bonita fishing (an excuse) at the rocks in Redondo, my first sailing lesson in Danny Dews' small boat (I don't think you knew what you were doing but it was fun), the Green Hornet, your famous blood drive - organizing the football team to donate for your mom's upcoming surgery and the payback - a beer fest in the parking lot, the prom our junior year when Marilyn behaved badly - and you didn't, you escorting homecoming princess Nancy Petros so proudly at our senior year assembly, a Bierman family vacation trip to Doc and Al's where you and George worked that summer, you knocking on my bedroom window late at night asking me to "come out and play", you taking my dad deep sea fishing and curing him of wanting that adventure again, your working for my dad - your start in welding though as I recall, you grunts were only allowed to grind and paint - , miles of smiles and twinkling eyes.

Funny, you were not elected to the senior hall of fame for us and yet, here we are, lamenting the loss of you, an integral part of our lives and our youth. I AM granting you mayoral status, that of the Class of '74.

I am so very sorry that we will not have the chance to make those new memories. You had left me a phone message on Thanksgiving night - I'd missed you at your sister's. I saved that as long as the machine would let me. "Hi Hot Lips", you'd said and went on to let me know that we'd missed each other once again. I figured I'd see you at Christmas?..

I miss you Big Mac.

Your legacy for me will be the urgency to reconnect without delay with those important people of my past. To make sure they know how they affected who I am and how I live and what I am. It's a pricey gift Mike, and I will be sure to cherish it and make good use of it.

You are loved, my friend, by so many. You will be missed by all. And the whole world is a better place because Mike McClain came through. Thank you for everything.

Love,

Susan Bierman King
---

Name: Bill Booth () on Wednesday, December 20, 2000 at 11:04:43
E-Mail: bbooth@theinteractgroup.com
Class: 71
City and State: Lake Forest, CA

Message: TO: Royal Wm. Lord Jr.
RE: Your Message: December 17, 2000 at 22:28:31
My name is Bill Booth - HHS Class of '71. I nearly fell out of my chair when I saw your post on the Cougartown site. There was a guy named Royal Lord (I'm 99% sure) who was a coach for the Hawthorne Parks and Recreation Eucalyptus Park back around 1965. Is that you? If so then I must

say you had a major effect on my days at HHS. I was maybe in the 6th grade and playing on the parks flag football team and the coach (you.) taught me how to snap the ball back to the quarterback (they call it shootgun style now). Well you were a good teacher because when I got to HHS and went out for freshman football they needed someone to snap on punts, I was the first to volunteer and got the job. I never had played tackle football before (only flag on the parks team) so getting the opportunity to play with the big kids was a very big deal to me. As luck would have it, I caught the eye of Coach Featherson and he let me play full time on the line. When my sophmore year came around they needed a long snapper on the Varsity, I think Bill Sloey was the incumbent, but Bill was playing both ways and Coach Bunyard wanted to give him a rest. So I became the "long snapper" on punts and extra points. As they say, the rest is history, I went on to letter that year and became a three year varsity letterman. Over the years I have told this story more than once. Looking back one of the truly great things about growing up in Hawthorne was the Parks and Recreation system, there was always a place to go, hang out and people to look up to (now we call them role models). Funny how people and small things in life effect us, I'm sure you don't remember me and most certainly teaching a little kid how to snap a football, well rest assured that way back then you touched a little kids life in a very postive way. Thank you!!!
Best,
Bill Booth
HHS '71
Great story Bill, and yes, it's the same Royal Wm Lord.
---

Name: Walter Holt () on Wednesday, December 20, 2000 at 09:48:48
E-Mail: baskinginthe80degreesun.com
Maiden: wheredidIputthatsunblock
Class: 66
City and State: Mission Viejo,Ca


Message: Hellooooo fellow Cougars & Cougarettes...... Been away for a few days & trying to catch up on Feedback. Been to the fine city of Lost wages, Nevada. So A Big hello to all the Cougars there. We had our company Xmas party there this weekend. Tired of gambling, drinking, walking & Shopping. John there is a 155 outlet store mall there, try wading through that one or the Barstow Outlet center. Now I gotta wade through the stores here to finish up. John save me a room at the mental ward. Tilly, bet you used to hang at the refrigeration section at grocery stores (back when you ladies burned your bras) to get attention. Just kidding, One of my ex brother-in-laws was a refridge repairman that told me about that one . Well John I'm getting ready for PROM NIGHT. So Far I have found and downloaded onto my computer all but about 10 or 12 songs from 1960 to 1967 from your song list,(what a job) pretty soon I'll be recording them on CD's. Anybody got any special requests? What great fun it is listening to all of the songs we had back then. So without further ado, on to 1968 and beyond. (If my hard drive holds out)(Judy don't go there). My condolences go out to Mike McClain's family, I did not know him but from what I have read from those that did, he lived his life well. Who put the bomp in the bomp shu bomp shu bomp, who put the ram in the ramma lamma ding dong Go Cougs!!!!
Who was that maaaaan.......I'd like to shake his haaaaand, he made my baby fall in love with meeeee.
Ah yes, now that's when the songs meant something.

I think we should have hired you as DJ for Prom Night instead of the "4 figure guy" we got. Thanks Walter.
---

Name: Steve Drasil () on Wednesday, December 20, 2000 at 02:36:24
E-Mail: Collectibleshow@aol.com
Class: 1967
City and State: Lawndale, Ca 90260

Message: I remember cruising Hawthorne Blvd. and driving about 200 miles in 8 hours up and down the Blvd. on Friday nights. Foster Freeze is still there of course, they still make killer Chocolate Chip Malts, Cherry Fosfates at the Wich's Stand which is gone, the A&W, Hollys, aka Hawthorne Grill of Pulp Fiction Fame, gas was cheap and reclaimed oil was even cheaper. I had the chance to visit with David Marks about a year ago and asked him in the song fun, fun, fun instead of going to the Hawthorne Library, she was going to cruise the hamburger stand, if it was the Foster Freeze or the A&W? He said it was a combination of Foster Freeze, Wich Stand & A&W. I also asked him about some Hawthorne High stories and was surprised when he said he lived across the street from the Wilson house and attended Inglewood High. I've had the chance to see some plays at Nyman Hall in the past few years and the sets are killer. I recently interviewed Tommy Bond "Butch", Gordon Lee "Porky" and Dorothy DeBorba "Echo" from Our Gang/Little Rascals and guess what,? Mr. Fix was not Spanky. All the bushes along the front of the school are either gone or cut to the nubs and this huge fence encloses the campus. Last summer I attended the reopening of the municipal pool and remember the memorial center? The city has built the Betty Ainsworth Recreational Center next to it and its first rate. Also, if you haven't been around for awhile, City Hall is also first rate with a basement for the cable a foyer on the ground level and offices upstairs. Mattel's is gone but there's a bunch of stuff there now like Party City. Piggies is still there and they still put a huge amount of fries in a paper bag.
Hey Steve, George Macfarlane (1928-93) was "Spanky". I talked to Mr. Fix a couple of years ago about the "Little Rascals" part of his life. He played in some not so famous "Our Gang Type" shorts that came BEFORE the famous Spanky, Alfalfa, Darla group. Thanks for the update on Hawthorne too, and glad you found us.
---

Name: JIM SLOEY () on Wednesday, December 20, 2000 at 01:33:48
E-Mail: ijusttipmyhattorobinhoodcauseheissopoignantandwell coolisapposite.com
Class: 66
City and State: redondo beach, ca
Message: Whether watching a beautiful sunset, seeing my wife's beautiful smile, looking at my 5 sons anytime (especially as they slept when they were young) or any of the miracles we see daily, all seem to be without parallel. We Cougars have another similar phenomenon, my dear friend Robin Hood's posts! They just seem to get better each time. Author, Author!!!
Merry Christmas Bobby Valdez!
Sloey
Hey Jim, Your stuff is also fun to read but you don't write much any more.
---

Name: Janet Burkett () on Wednesday, December 20, 2000 at 01:00:12
E-Mail: jmburkett@att.net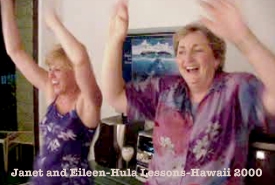 Maiden: Humphreys
Class: 62
City and State: Mission Viejo
Message: Oh come on John,.....you can do it. Head that Durango towards Rodeo Drive tomorrow. Of course, just because the parking is easier there...yeah that's it. And no, do not stop by either Janny's or Robin's house, I don't think you want their shopping suggestions! I say this with much love....Janny, keep your Godiva's to yourself!
JB2
There it is again..... The Screamin' "GET OUTTA MY WAY" Blues.
Oh well, this'll be all over by Monday and we'll all be back to normal.
---

Name: Judy DeGrazia Blomsterberg () on Tuesday, December 19, 2000 at 23:30:34
E-Mail: JUDYWUDY@att.net
Maiden: whyiseveryonesoconcernedaboutmynipples?
Class: 64
City and State: Torrance, CA
Message: Well, it looks like I'll have to defend my ROWDY butt once more.. Regarding Bob Jensen's comment: "Your 'Nipples of Venus' were a hit" Here's the poop--Bob stopped by my work today to drop off a great pile of old Cougar Newspapers.. (to be used at PROM NITE) and I gave him a box of ice cream.. I think he was referring to the minute that I came out of the 20 below 0 degree walk-in freezer with nothing but a T-shirt on.. However, I'm so glad, because last year my doctor said I may never have feeling there again... Thanks Bob.. You've made my day.. Oh ya, I don't think you're "shy" at all. I just don't understand why you said I had the same "eyebrows" I had in high school if you meant something else.. (am I still in CT or have I been edited yet) Now, I'm going to the kitchen and stand by an open fridge and see if I can recapture the moment!!
Judy Wudy.. aka Tilly Noodleman
La La La La La La La........
---

Name: John Baker () on Tuesday, December 19, 2000 at 23:23:14
E-Mail: jb1@cougartown.com
Class: 62
City and State: Lomita, Ca
Message: Is anyone else getting the overwhelming Christmas screamin' "GET OUTTA MY WAY" blues? I went out there and bopped into the Del Amo Mall this afternoon in a decent frame of mind. I came out and it was DARK. My eyes were bloodshot and I had no idea where I'd parked the car. I was a total zombie and had bought only 3 gifts, and one of them was for ME. I started out looking for clothes for Janet. I knew about what to buy because we'd gone out on Saturday and I'd made these mental notes and was totally prepared. I started at the south end of the mall and hit all these womens places....The Wet Seal, Total Woman, Brookside, Lerners, Victorias Secret, etc....plus Macys, Robinsons-May, Penneys, Sears.........I did pick up a little number at VS but that's not really what you can consider a present for JANET. I saw this great Screaming RED angora sweater.........wrong size. I thought someone in this Mall has the angora sweater I'm looking for. I asked, "Do you have any Angora Sweaters?" No one knew what an ANGORA SWEATER WAS!! I got quizzical looks from all these young clerks. I even got the question back, "What kind of Angora Sweater are you looking for?" HELLO!!! The Furry Kind Maybe!!! I felt like I was in a foreign country and they were about to cancel my Passport. So here I am, back at home and I'm thinking I've got to go through this again tomorrow. I went by the market and loaded up on veggies as I don't want to wake up in the wrong frame of mind tomorrow. In the meantime the "Get Outta My Way" blues will be taking their toll on me again tomorrow, so if you live in the LA area and you see a person being hauled out of a mall in a straight jacket, it'll be me. Please follow the ambulance and let Janet know what looney bin they've assigned me to. Tis the season to be jolly, my BUTT!!!
Have a great one Cougs.

---

Name: Linda Dietrich () on Tuesday, December 19, 2000 at 23:12:15
E-Mail: leonard-linda@juno.com
Maiden: Dawson
Class: 69
City and State: Kansas City, MO
Message: I see a good showing on the new arrival list for the class of 69. It's about time! Welcome all the new folks to Cougartown. Lana Beery someone was looking for you a long time ago. Maybe now they can find you. I want to say something really great about John Baker and Cougartown and all the blessings we have that we grew up in such a great place. But I'm afraid it has all been said many times over. Keep up the good work JB. We can't thank you enough. You all have a wonderful SAFE Holiday Season!
Thanks Linda, You have a great Holiday too.
---

Name: Laura Porter () on Tuesday, December 19, 2000 at 21:40:18
E-Mail: dsnycrw@ivic.net
Maiden: Twitchell
Class: 79
City and State: Hemet CA
Message: Hi John (and Karen) I'm still here but up until Monday I was up to my neck in finals and papers to write. I opted to do things a little backwards....I traveled after high school, then had my kids and am now getting my college education. So....hope everything is merry and bright for all my fellow cougars out there! The best gift under my tree is that my dear hubby of nearly 20 years and I are back together. Hope all of your wishes come true too!
Hi Laura, Glad it's all going good for you. Have a great holiday and thanks for the note.
---

Name: Michael Aceves () on Tuesday, December 19, 2000 at 21:32:56
E-Mail: hebkoiboy@msn.com
Maiden: still looking
Class: 1974
City and State: gig harbor,wa.
Message: Does anyone out there have an e-mail address for Leslie Caldwell, class of '75 or '76. Beautiful long blonde hair down to her butt. The last time I talked to her was when she called me up and asked me out to go dancing in July of 1980. How is she doing? Wish I would have gone out with her now!!! Mike Aceves, class of '74.

---

Name: Ray Nelson () on Tuesday, December 19, 2000 at 18:31:01
E-Mail: prnelson@prodigy.net
Class: 1973
City and State: Fayetteville, GA (AKA Billy Goat Acres)
Message: I still remember Mike McClain when we played middle league baseball. We were on the Stars, and his dad, Duane, was the coach. I will always remember those fun days. I too am saddened with his passing. To everyone, I wish y'all a very merry Christmas as we celebrate His birth. One other thing, you guys in Oregon, Wisconsin, and New York can keep your snow. All we need is rain. Bubba does not know how to cope with the white stuff.
I agree Ray.
---

Name: Bob Valdez () on Tuesday, December 19, 2000 at 18:24:48
E-Mail: bvaldez@sdccd.net
Class: 1968
City and State: San Diego,Ca.
Message: To: All, and you too Jim Sloey, Have a Great Holiday Season ... Bob
Thanks Bob, same to you.......oh and you too Sloey.
---

Name: Bob Jensen () on Tuesday, December 19, 2000 at 16:54:52
E-Mail: robertjensen@satco-inc.com
Class: 71
City and State: Los Angeles 64
Message: Tilly Noodleman, your generosity exceeds that of a true prom queen. Your ?Nipples of Venus? were a hit even though they impeded my drive home. My cup overflows with gratitude.
WHOA!!! I'm staying completely away from that one.......(place fingers in ears) La La La La La
---

Name: Robin () on Tuesday, December 19, 2000 at 16:14:36
E-Mail: Abobbleisabobbleisabobble.com
Maiden: Beachcomber
Class: MCMLX
City and State: RB,CA
Message: Well Tilly Noodleman DeGrazia Bloomsterberg, let me just say this about that...It goes without saying that your Janny and myself have differing opinions about gifts....He seems to think that its the taste that counts, hence the year old chocolates...I, on the other hand, feel that where you wear a gift is a big priority. So when your plane ticket price to Maui doubles next May , dont say I didn't warn you. I say this all with much love Tilly...You're such a pig :o)...Also, I'll expect more gas money for the Christmas lights ride this Thursday...its a V-6 ya know, and doesn't run on water...So there...Go eat the whole box for all I care (I also happen to know Janny took out the Godivas and slipped in a cheap box of Whitmans)...Merry Christmas Cougs, and another thanks John, for Cougartown, your friendship, and for the year of a lifetime....Later Skaters..:o)
Thanks Robin, and if you think that V6 gets ugly mileage, Try the V8 Dodge.
---

Name: Donald () on Tuesday, December 19, 2000 at 15:51:21
E-Mail: Scheliga
Class: 62
City and State: W. Covina, Ca


Message: Pauline Matthew. You are not alone. I received the Alumni Book last week and quickly discovered that it was void of sections G,H,I,& J also. I called the company. They told me to toss it and they would send me a complete book. I wonder how many others have incomplete books? Most likley an assembly error. It's a great book. Call them, they will replace it.
Thanks Donald, and thanks for the card too. In fact thank you all who've sent cards. I'm running real late this year. I hope I can get my cards out before it's too late .
---

Name: Howard "Paco" Duran () on Tuesday, December 19, 2000 at 13:53:45
E-Mail: doo4usc@aol.com
Maiden: Keyshawn
Class: 61
City and State: Lake Forest Ca

Message: Merry Christmas to all you Cougars, it's been quite a year. Have a safe holiday! And John, you've given us all so much over the last couple of years; I know it's been alot of work, but you've brought us all back together again and that's a good thing! God bless!! Now I'm off to the beach...Cowabunga Dudes
Thanks Paco, you and Sharon have a Happy Holiday and maybe we'll get together for the Super Bowl this year. You don't know where the Rams can pick up about 15 defensive players by then, do you?
---

Name: Jodi Alexander () on Tuesday, December 19, 2000 at 13:20:41
E-Mail: IBJodi@aol.com
Maiden: Torgerson
Class: 75
City and State: Bakersfield, Ca.


Message: Fellow Cougars, I just wanted to share a few comments from the Bakersfield Californian on Mike" Big Mac" McClain.
Big Mac passed away here in Bakersfield on Dec. 13th of heart failure.
The comment in our paper are as follows:
Michael "Big Mac" McClain who cast his unforgettable shadow as a businessman, blue collar philanthropist and Bakerfield mayorial candidate died Wednesday from hear failure. He was 44. He ran for mayor of our town and was thrilled by coming in 3rd place. He knew he didn't have a chance a fellow mason recalled, I think he might have spent $ 150.00 on his campaign.
His dad told him " Sometimes you stir the pot and do some good without even winning.
Big Mac wore a mustache, shaved his head and preferred Harley Davidson motorcycles. He was a big spirited man and did a lot of good for people. He would read an article in the paper about a kid that did something good, and go buy him or her a $50.00 savings bond and send it to them with a note.
Just last Sunday, he participated in the Annual Bakersfield Toy Run, an annual event organized by local motorcyclists.
Mike was a 32 degree Scottish Rites Mason, Masonic Hiram Award recipient and two time president of the local Petroleum Shrine Club.
Mike who was divorced, is survived by his dad, Duane McClain, brother John McClain, both of El Segundo: sister Sheryl Mandell and husband Robert and two nephews of Augora Hills; and stepson Justin Gordon, of Florida.
Mike, for all of us who loved you, we will miss your teddybear heart your beautiful spirit and the love you had for children and your fellow man.
I will never forget you, you will live in my heart forever.
Jodi, Thanks for taking the time to share this with all of Big Mac's many friends. He will live on as a testament to good nature and a measuring stick for how people should treat people. If the earth was filled with Mike McClains, it would be a far better planet.
---

Name: Marsha Russell-Hood () on Tuesday, December 19, 2000 at 13:07:36
E-Mail: RussellMG1@AOL.com
Class: 64
City and State: Redondo Beach

Message: WELL De Grazia Blomsterberg, thanks for the information that Robin used a metal detector at the beach......he told me that he got my gift at the beach but I thought he was talking about one of those little shops in the Village. Now that we are being so honest....I need to tell you that last year I saw your Janny standing in line at the after Christmas sale of Godiva Chocolate. I know he will never admit it, but to be on the safe side, I think I would check the expiration date on that beautiful box. Happy holidays to all you Cougs. This has been one of the best years ever and as so many others have said.........thank you John for Cougartown, it is just the best!!!!
OK sure, Janny and I were doing a little after-Christmas shopping at Godiva's last year, but they said those chocolates had the half life of the Bikini Atoll. I know for certain that the ones I gave Janet were opened, re-wrapped, and given to your Robin this year. ENJOY!!!
Marsha, Thank you and Robin for being a part of Ctown, and my life. I am blessed.
Uhhhh.... don't eat the chocolates.
---
If you have comments or suggestions, please email me at jb1@cougartown.com