Page 99
---


Home | 60's Slang | Alumni List | Car Talk | Cougar News | Feedback | Hangouts | Memories
Recollections | Reunions | Street Scene | Teachers | Tributes | Vietnam | What's New | Keyword Search
---
.....another cruise night memory flogger for the early 60's group. If you don't remember Hunter Hancock, you didn't own an AM radio. Hunter Hancock was an LA Icon in the 50's and 60's. I remember him on KPOP and KGFJ. Thanks El Rojo for the clip Hunter Hancock
---

Name: Cindy Matthies () on Wednesday, July 21, 1999 at 21:10:39
E-Mail: cindym@penlite.org
Maiden: UhOh, I Ticked Off Princess of the Universe!
Message: Aw c'mon Princess Leia of the Universe (hmm, wait a minute, that might sound kinda bad to some people who's minds are less than pure. Yea John, I guess I'd be a'speakin' to you!)..... I'm sure we could rustle up some big BUCKS (thank you for the clarification of that by the way) to do some mud-wrestling instead of just rumbling, eh? John actually suggested it a while back and it might be a way to share this Princess of the Universe thing (and when did you take over the Universe anyway huh? I remember a Princess of the World, not Universe! Did I miss a royal announcement? Maybe we need an official court crier). And it's my cousin's wedding which in our family translates into HUGE family reunion. But I like John's idea of spitting on my sister though ... maybe for luck or something? Whadday say Michelle?
huh??
---

Name: Steve Kristof () on Wednesday, July 21, 1999 at 20:58:18
E-Mail: LKwriter@Juno.com
Class: 61
Message: Well I see both my wife and sister have written to let you know where we'll be Saturday night! The weather here in K.C. is to say the least, is Hot! But like the "Good Ol' Days" in Hawthorne, we'll be out with the locals for some Ice cream! John, have you ever wished you had today one particular car you once had owned? One such car was a 1955 Willys "Bermuda", a two door metallic green hardtop, I owned after I first went to work for TWA back in "68". Well it seems my Kid sister needed a car, and I was working, so I gave her the car! Oh well, so much for the Willys! Just Joking Linda! I hope you have a good turn out Saturday! Say Hello to Bob Fraser for me!
Hey Steve, I wish I had my 58 Chevy and my 31 Chevy back. I CAN wish for two, can't I? Thanks Steve, I know, you four will be there in spirit too.
---

Name: Patty Valencia () on Wednesday, July 21, 1999 at 20:53:26
E-Mail: pvalencia2@aol.com
Maiden: QUEEN
Class: 1974
Message: "Happy T. Noya"? Queen - "yeah, right" I don't think so Panadero.
Robin, you and what army on the V-girl challenge? Vikki Carr-Hood, brother, there's another reach.
So, do none of you remember where Foster's is? Gioia and Hood, you can't make your way back to Hawthorne for a Foster's Freeze? Nice try, TED, on the distracting memory of which window serves what, but, the bottom line remains, YOU'RE NOT GOING? And, if you all decide to meet at my house, SLOEY, say hi to my cats for me. And, how does JOE not even get included in this discussion? For that matter, GEORGE, SUE, RANDY, JIM, BARRY, et al. What about you all? Hmmmm.
OK OK I've got it!! If Vicki Carr married George Key.........

no huh.....How about if she married "The Doors"?? OK say she married Victor Manghia, Mr Niverous??.....Andy Bean?? how about.....
And where have V3 and V6 been through all of this Cruise Night talk huh?? That's right they AREN'T COMING!!! At least Ted chimed in and said so.
I've already checked with JOE, GEORGE, SUE, RANDY, JIM, and BARRY and they're all coming. Jump on the back of George's Sportster Patty, and BE THERE!!
---

Name: el rohohoho () on Wednesday, July 21, 1999 at 20:12:10
E-Mail: el and the queen
Maiden: don't you just know it!
Class: 60/60
Message: ok john,iv'e seen enough of this "if who married who" bit. did you tell em about my joke? no...! well fellow cougs if " claudia schiffer" married a man named "brains", what would her politically correct name be? and Jim S. wish we could be there, you don't know how bad i'd like to be there, but just can't! thanks for the invite though, we'll be groovin on sat. night anyway. thats one thing that still keeps me young is listening to the TUNES. have a great party you folks. hope you enjoy the tape i sent to JB. MAY THE COUGAR BE WITH YOU.EL AND ID QUEEN.
Hey Jakejude, We'll miss you two. I know you'll be there in Cougar spirit though. Thanks Russ for checking in. It means a lot to many. We love you guys MAAAAN "Be a Coug"
---

Name: Roni Kobel () on Wednesday, July 21, 1999 at 20:08:28
E-Mail: rskobel@aol.com
Maiden: Treckman
Class: 76
Message: Cub Scout Camp: 3 down, and 2 to go! Then, CRUISE NIGHT!!!! Sharon, you are amazing to have directed an entire camp! What an endeavor!

---

Name: Judy DeGrazia () on Wednesday, July 21, 1999 at 19:59:22
E-Mail: redondo612@aol.com
Maiden: DeGrazia
Class: 64
Message: John Baker.... how sensitive of you to worry about me... Sure, I promised I'd type like the wind for you and so I shall. There will be a slight change however, the only difference will be that I'll have to do it with a pencil between my teeth, pecking at the keyboard and it may not be like the wind. More like a breeze. So now I'm going to be used to prop the hood open on Gary Nelson's 33 Ford. Anything for my John and Cougartown... From the BROWN NOSED ONE. I beg to rise, Your High Exhaulted Poobah..
Oh no!! I've fallen and I can't get up....911 911.
Judy D The ROWDY GIRLS.
OK Robin, This one, I think you can handle in the hot fudge match......
---

Name: Judy DeGrazia () on Wednesday, July 21, 1999 at 19:19:29
E-Mail: redondo612@aol.com
Maiden: you know...
Class: 64
Message: SLOEY...INEVERWORERED&BLACKONFRIDAYEITHER.
Going for my full body cast not.
Judy DeGrazia The ROWDYS

---

Name: Dina(saur) () on Wednesday, July 21, 1999 at 19:17:36
E-Mail: same
Class: 55
Message: Message to Myrna: You can't be a flogger. Maybe a floggette. OK

---

Name: Judy DeGrazia () on Wednesday, July 21, 1999 at 19:08:33
E-Mail: redondo612@aol.com
Maiden: DeGrazia
Class: 64
Message: Well, Sloey got me back.. the reverse curse worked. Today, in my quest to get in shape for the CN, I slipped and fell....spread eagle on the sidewalk...face down. I think I'll be in a full body cast by dusk. That's OKAY.. the Rowdys have agreed to carry me into Fosters horizontally, prop me up.. puree my hamburger...a malt through a straw.... I'll be just fine. I'll get your autographs the hard way. Hope this feedback makes the 100 pages mark. It's been a rough day. Oh, I'm getting a cold too...thanks Sloey. ahhh choo.... Judy DeGrazia The ROWDY GIRL in the cast.
Well I was wondering where you were. The Kings main "Suck Up" hasn't reported in all day. I'm sorry to hear you're in a cast Judy. Are you all right?? What a stupid question. I mean, "Can you still type??"

Just kidding.....
See Robin, a FULL BODY CAST and Judy's going to be there. We'll use her to prop the hood open on Gary Nelson's 33 Ford. The woman just gives and gives doesn't she?
---

Name: Gary Miler () on Wednesday, July 21, 1999 at 19:04:16
E-Mail: garyatsfo@webtv.net
Class: 64 1/2
Message: I was just wandering whatever happened to Crusader Rabbit? I wonder if anyone remembers this little poem from the early 50's ? I love Bosco, Bosco's good for me, MaMa puts it in my milk to try and poison me. I fooled MaMa I put it in her tea, now I have no MaMa to try and poison me. And I have A confession to make, back around the mid 50's on Sunday I would be going to Sunday school, Mom would give me money for the offering plate, I would say just A little bit more. As I was walking down the Blvd., looking in this window, I couldn't help noticing this luscious looking lemon meringue pie, it was at Holly's. That's all I will say. What is the statute of limitations anyway?
Great stuff Gary, and about that Statute.......there is none with a wife or mother.
---

Name: JIM SLOEY () on Wednesday, July 21, 1999 at 18:40:27
E-Mail: INEVERWEARGREENANDYELLOWESPECIALLYONTHURSDAY.COM
Class: 66
Message: PRINCE ROBIN-HOW'S YOUR HEAD FROM THE THURSDAY FALL? ENOUGH SAID. WE NEED A BETTER REASON THAN I CAN'T GET AWAY. NOW I CAN BUY THE "MY WIFE DOESN'T LET ME CRUISE MORE THAN 20 MILES FROM MY HOME" EXCUSE BUT YOURS IS JUST LAME AND THEY MADE YOU A PRINCE? A WOMAN OFFERS YOU ALL THAT AND YOU RESPOND WITH I CAN'T GET AWAY? IS THIS REALLY ROBIN HOOD? COME ON ROBIN WE NEED YOU HERE! YOUR FRIENDS WANT TO SEE YOU, BOTH OF THEM! AND ALL THESE YOUNGER COUGS MUST BE CONVINCED THAT YOU MADE UP YOUR NAME, STEVE. YOU HAVE TO BE HERE. LET'S JUST GET IT DONE HUH. ROBIN ROBIN ROBIN ROBIN!! NOT EVERYBODY GETS TO BE A PRINCE ON COUGARTOWN! BESIDES I WANT TO RIDE IN THE PANOZ AND I THINK YOU ARE MY ONLY CHANCE. BE A COUGAR SATURDAY NIGHT! SLOEY
Hey Jim, I have to admit, you're right this time boy.
Robin, If you come down, I swear I'll find someone to get in the Mud Ring with you. Actually, we could fill it with hot fudge. Let's show the kids what "Dah Hood" REALLY means. We need you here Robin. Jump that southbound redeye, and we'll see you here Saturday night.
---

Name: Princess Leia () on Wednesday, July 21, 1999 at 18:01:14
E-Mail: srbranigan@aol.com
Maiden: Princess of the Universe
Class: 76
Message: We are not amused.
We do not "mud wrestle" (unless there are big bucks in it for Us.)
(That's BUCKS, wise guys...)
(By the way John I guess you didn't take a very CLOSE look back in Feb... bless you my King.)
Cindy, We are pleased that you wish to Rumble however the Palace Guards have very little humor for this type of behaviour. (We must sneak out through the secret passageway in the castle to join the Cruisers.) Skip your sisters wedding. Sisters come and sisters go but COUGARTOWN is FOREVER!
Gosh, I love your thinking Princess Leia. I SPIT ON MY SISTER!!! God save Cougartown AND Princess Leia!! actually i don't have a sister but.....
---

Name: Douglas Krauss () on Wednesday, July 21, 1999 at 17:54:10
E-Mail: salguod@hotmail.com
Class: 1994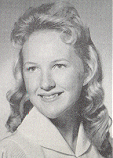 Message: Just to pipe in again, I would like to recognize an amazing teacher and alumni, Kathy Adkins. She was the most inspiring energetic caring teacher I ever had. She should have her own website, let alone a mention on this site. Thanks again.
Kathleen Wirz Adkins HHS 61.
---

Name: Douglas Krauss () on Wednesday, July 21, 1999 at 17:45:38
E-Mail: salguod@hotmail.com
Class: 1994
Message: I am tickled red and yellow that this site exists. I have had a recent renewal of community spirit and am glad that there are others who take pride in Hawthorne and nostalgia. I took my friends on a "Beach Boys Tour of Hawthorne" the other day. We hit HHS, Fosters and the freeway where the Wilsons grew up. I still live in town and my friends and I have a realized a link to our roots that makes our relationship special. Its all about keeping it in the community and appreciating the past and more importantly, the present. Hawthorne is still vital and as long as we Cougars keep the spirit alive, the memories will live on and on. Loving the Beach Boys and living here is an amazing instance of synergy. No other band is so linked with their hometown through their music and words. Be true to your school and see you all around town. PS. Who should I contact if I want to create a Beach Boys/Hawthorne mural project in town? Thanks. Doug
Thanks Douglas, Very well put. Hawthorne, "Our Hawthorne" lives in each and every one of us, whether we were there in the 50's or the 90's. Keep it alive.
I would start at City Hall on the Beach Boy thing. Maybe Steve Anderson, as he knew them.
---

Name: LGW () on Wednesday, July 21, 1999 at 17:45:18
E-Mail: lgeelew@pacbell.net
Maiden: Geele
Class: 76
Message: I challenge everyone in the South Bay (our South Bay, not their South Bay) Area to meet at Lappert's on Foothill Expressway at 7:30 pm on Saturday to celebrate 100 pages (that's in the Los Altos Rancho Shopping Center down the avenue from Andronico's; cross street is Magdalena/Springer). Sharon Nelson, (and Barry and Emily and Gabrielle) come on down! Ted and Tara (and Michael and perhaps the baby?) Gioia, you're only a few miles away. Carol (McClintock) Shih and Yin and Courtney and Yale -- you too! And any Valencias hanging around as well. And anyone else in hiding. There must be more than a dozen of us up here between San Jose and San Francisco. ps--Lappert's has more than vanilla and chocolate, and their most disgusting flavor, according to my son, is blue bubble gum. YECH!
That's the Cougar spirit Laura. Get that 57 out of the garage and start your own party. Hey Gloria V, "It just don't get no better'n this!!!"
---

Name: Robin () on Wednesday, July 21, 1999 at 16:59:42
E-Mail: JudyKiesterBlanco.Com
Maiden: CarrHood
Class: 60
Message: A Royal Flogging is several lashes with one of those velvet ropes that guide you in the theatre. Not a bad deal but given a choice I would much rather mud wrestle with Swifty or all the V-girls combined. (With Mom V as the referee of course) Anything for Scouting John, Im a true Martyr..:o) Sloey , speak for your own fanny...Bill would fit in the Panoz fine Im sure..you're fear is sitting on his lap!.....Russ the HH sound bite is too kewl!!..Fired up my leather Philco transistor just to hear AM again...To Ingrid Larson...I honestly feel sorry for your friend whos memories of High School are dim at best. I imagine there are more than a few people with her sentiments...And most of those people have one thing in common...They were NOT Cougars!!! John I know the cruise will be a huge success and will hardly end at 10:00PM. Yesterday I was offered a plane ticket , a place to stay and everything needed to make it. Trust me , I would be there if I could get away for a day. I guess the point is ...its those kind of people who keep the Cougar spirit alive and I thank him/her ...ok HER! for the offer. (Just didnt want you to think it was Prince Jim :o) I will be there in spirit though, and am hoping this will only be the beginning of a long tradition...happy humpday all...later Cougs
Yes Robin, You ARE a "Giver"...... Well said and we'll see you at Homecoming, and, BTW, here's the plan;
You "sweet talk" the Panoz keys out of Ricki, and we'll "Hot lap" the track at halftime, you driving of course, slowing only enough to scoop the Victory Queen into the front seat and onto MY lap. THEN we make it out the Broadway gate, turning right on Sundale and disappearing into the night.
Nahhh, that'll probably just get my face slapped. Hey, we'll figure something out by then. Don't forget to leave those U of O boxers in the drawer in the morning. "Be a Coug Robin"
---

Name: Ted Gioia () on Wednesday, July 21, 1999 at 16:57:18
E-Mail: tedgioia@hotmail.com
Class: 75
Message: Gosh darn! I can't make Foster's cruise night -- my wife doesn't allow any cruising farther than 20 miles from home. And there's probably no chance of getting a live feed on the web, huh? For the sake of all the rest of you, I hope Foster's has a wider selection of ice cream flavors these days. Only chocolate and vanilla were available during the distant days of my childhood. And let's hope that the current owners are a little more flexible about the ordering procedures. Back in the 1960s and 1970s -- as best as I can recall -- you couldn't place an order for hamburgers and ice cream at the same window. Hot food could only be ordered at the right hand window, and ice cream was ordered on the left. Man, we had it TOUGH back then . . .
Yeah Ted, we had it tough, but doggone it, that's what gave us that "crusty, blaze the trail for the young whipper snappers" kind of mentality that saw us through all the tough times. If it wasn't for men like us, why little Ryan McLure there, wouldn't be sittin' down with us fossils and lickin' on a cone on Saturday night. Oh, sorry your wife won't let you attend.

Maybe next time we can have it at your house. Thanks Ted......
---

Name: JIM SLOEY () on Wednesday, July 21, 1999 at 16:34:11
E-Mail: PANOZAIN'TNUTHINNEXTTOAZ3.COM
Class: 66
Message: KAREN HARE KUSUMI
I would be honored to watch over your Z3 from cruise night until homecoming no charge! And Ryan McClure old fossils are still the toughest fossils, young man! Hope to see you too! And hey Ryan what are you driving these days?
Jim Sloey

---

Name: Chris Angle () on Wednesday, July 21, 1999 at 16:25:00
E-Mail: anglec2@aol.com
Maiden: Bell
Class: 66
Message: I've been meaning to sign on since we got back from visiting Myrna Bell and here I am finally. It's been so great to read all these familiar names from the past and I'm glad to hear everyone is happy and well. John Moynagh (63)you won't remember this lowly freshman but you were always nice to this tall, geeky, shy girl and I wanted to tell you I still thank you for that. Your SoCal beach memories sounded great to us, we wished we still lived down there. My brother is Mike Bell(67) and his lovely wife is Pat Vanderzanden(67). My sis is Leslie Bell(73)and sis-in-law is Carole Angle(68)and of course my wonderful husband of 30 yrs is Mike. We had a great visit with Barbara and Larry Biller and hope to see them soon. We wish we could be down there for cruise night but we will be thinking of all of you having fun together. Our high school years were the greatest and Hawthorne was a great place to grow up in. I too, remember the sparkly sidewalks and how much freedom I had there, walking all over town to the library-both old and new-and Kresges and Folbs, wandering everywhere. Coming from New York in 61, everything was great in California. Still are. Friday night football games, Saturday night movies with Holly's onion rings and milkshakes afterwards, going to Redondo Beach pier and walking around. I cried when we visited the summer after the fire they had. John Baker once again, thank you so much for CT. This is the best thing! Oh, can I be Myrna's assistant flogger? I could be flogger 2 since I'm another old Bell person? What do ya think?
Well since Myrna is Head Flogger or, as we like to call her when she's in the Throne Room, "Mother Flogger", I guess it would be all right. Chris, I flog you Assistant Flogger to the big Mother Flogger!!

Thanks Chris, and above all, "be a Coug"
---

Name: KAREN () on Wednesday, July 21, 1999 at 16:01:48
E-Mail: karen.h.kusumi@boeing.com
Maiden: HARE
Class: 66
Message:John, my son Ryan McLure c/o 93 is not calling this Cruise night, he is calling it FOSSILS AT FOSTERS NIGHT. I don't see why, do you ??? But he will be there, he's a COUG.
I LOVE IT!!! Thanks Ryan; I look forward to seeing you there. Geez, you won't make me stand up to shake hands will you?

"Be a Coug"
---

Name: Kathy Stonebraker () on Wednesday, July 21, 1999 at 15:51:52
E-Mail: stoney@qnet.com
Maiden: "NotInChargeJustFollowing Orders"
Class: 76
Message: Mo-Thanks for the kind words about Kenny. He is definately missed. Mavis is fine. She's still running the ranch in Oregon. I need to get a hold of his sister Pat and see if she'll come Saturday.
John-Yes I'll bring chairs and a collection of "oldies but goldies" I have also. And for all the mid 70's graduates we even have "Stairway To Heaven" and Billboards Top Hit's of 1976!! It should be a wonderful night. I hope Hawthorne is ready for us!!

---

Name: Jennie Bradley () on Wednesday, July 21, 1999 at 15:35:22
E-Mail: jennieb@u.arizona.edu
Maiden: Hare
Class: 63
Message: Hey wild bunch (Barbara N, Sandy P, Paula Chapin, Marsha R, and Billie Mc)-- wish I could be with you on cruise night, but can't make it. I'll be thinking of you all and I'll have a Foster's cone in honor of the event. Please look up my sister, Karen (Hare) Kusumi. She'll be there with others from her class. And Karen, please take lots of photographs that night. Thanks again, John, for all you're doing for Cougartown.
Hi Jennie, Sorry you won't be there, but hoist a cone wherever you are in honor of Cruisin' days gone by.
---

Name: Myrna () on Wednesday, July 21, 1999 at 15:13:50
E-Mail: RoyalFlogger.com
Maiden: Bell
Class: 66
Message: Sloey - as far as I know, it takes a "Ding-a-ling" to be a ROYAL Flogger, and who could be dingier than a Bell? John - I will happily accept the position within your Kingdom, of Royal Flogger - I just want to be the Flogger, not the Floggee......
OK Myrna, I hereby Knight you....er Flog you Royal Flogger of Cougartown and thanks for taking that menial position. what the hell is a royal flogger anyway....
---

Name: Dino(saur) () on Wednesday, July 21, 1999 at 14:51:41
E-Mail: prehistoric.com
Class: 55
Message: What happened? No alumni from the fifties? Hope I don't get the trophy for being the oldest Dinosaur that can still feed him-self ice cream. Where are my class mates? Maybe watching Laurence Welk or TV-Land reruns. If none of my contemporaries show Saturday night I spose I'd better scour the 'Old Folks Homes'.

---

Name: Beth Meade () on Wednesday, July 21, 1999 at 14:16:56
E-Mail: bethmeade@earthlink.net
Maiden: Treckman (T1)
Class: 75
Message: Tim Long! I got your email but when I replied, it said your address was unknown and fatal. Yikes! Nice to hear from you. Yes, of course I remember you!! Write again!

---

Name: Linda Dietrich () on Wednesday, July 21, 1999 at 13:08:38
E-Mail: leonard-linda@juno.com
Maiden: Dawson
Class: 69

Message: I can't believe Fosters is still there after all these yrs. Does it look the same or did they redo it over the yrs? I have 2 memories of the place. One is that the first stick shift car I ever drove was my dad's corvair truck. I thought I was really cool driving in that nerdy truck. Well as you can remember there was no front on the darn thing and I misjudged the turn in the back and scraped the whole side on a pole in the back of the building. I dented up alot of my dad's cars back in those days. Anyway I left a long scratch on the truck and for a few yrs. there was orange paint on the pole. It was a reminder of the wrong I did for yrs. to come until they painted that old pole. Now the other memory was that there was a girl we went to school with and her name was Kitty Wilson (69) that worked there. She was going with this boy that started going out with me. So whenever I went there to get a ice cream I would get some real dirty looks. If looks could kill I would of been dead. I know she married a boy from our class 69 and I think his name is Greg Ward. If either of you are out there you need to sign in. I'm sorry Kitty, hope it's all water under the bridge now. I hear the Sloey's will be there now so get some good pictures of the gang. We will be going to Sonic with my brother for a ice cream but I'd much rather be with you all. I'd like to see if that darn pole is still there. HA HA

---

Name: Betty Rodriguez () on Wednesday, July 21, 1999 at 12:47:02
E-Mail: tombetty@kelp.net
Maiden: Kean
Class: 69
Message: Hey, who's bringing the potato salad???
Yeah Right..... It would be nice if everyone planned on getting a sandwich down there. Leo's been such a good host. I just got back from Fosters and we talked about a few things. First, Kathy Stonebraker don't worry about the power. It's right there about 10 feet from where you want to set up. We were talking about places to sit and it might not be a bad idea to bring a folding chair or camp stool. Just a thought. As far as I know, Kathy still needs a card table. Please check with her.
I went to Hawthorne PD and let them know about what's happening. Ran into Vince Schiavi and ask him if he was planning on coming down. He said he was bringing his son's 500hp Chevelle. That oughta' be fun . . . .
We will "pack park" the back lot, so if you want to leave before 10pm, do not park there.
Thanks Cougs and see you all Saturday at 6pm.
---

Name: ALGONQUIN J. CALHOUN () on Wednesday, July 21, 1999 at 12:24:45
E-Mail: graybar.com
Message: Where did you get my wedding picture? nice touch. I thought being in charge you need to be a king or something, just kidding Myrna. We could make Robin Hood in charge and when they ask who is in charge' we could all spend the night together. This AC I gots OJ in a cup! If the gloves don't fit it must be a mitt! If someone from the Miranda family female had married someone from Wright's family we would have our own version of.....

---

Name: Laura Porter () on Wednesday, July 21, 1999 at 11:27:36
E-Mail: dsnycrw@ivic.net
Maiden: Twitchell
Class: 79


Message: Sharon.....Tell Debbie Duvall that if she doesn't go you'll tell her mom (I've got the email addy) and she'll send her to her room or something.....Have a cone for all the 79'ers that will be having margaritas for you at the House of Blues.....hope to see you all at Homecoming in October!
Thanks Laura, Have a great time.
---

Name: ALGONQUIN CALHOUN () on Wednesday, July 21, 1999 at 11:24:36
E-Mail: GRAYBAR.COM
Class: 5-10

Message: THE CARD SAYS "EVEN IF THE GLOVE FITS YOU MUST ACQUIT" THERE IS NO LEGAL PROBLEM WITH THE 50/50 FOR ANY OF US THAT ARE NOT IN CHARGE, BUT IF YOU BE IN CHARGE BRING SMALL GLOVES SO WE CAN USE THAT DEFENSE AGAIN, ALGONQUIN CALHOUN III PS KATHY YOUR LAST NAME MAY BE YOUR OCCUPATION TOO!
So as King of Cougartown, I decree that Jim Sloey is "IN CHARGE" on Saturday Night.

---

Name: JIM SLOEY () on Wednesday, July 21, 1999 at 11:14:25
E-Mail: PRINCESWHOFEARBELLFLOGGINGS.COM


Class: BARELYANYCLASS
Message: IF VIKKI CARR MARRIED ROBIN HOOD (WE'D NEVER HEAR THE END OF IT) SHE'D BE VIKKI CARR HOOD. JOHN WHAT TIME IS THIS ALL HAPPENING ON SATURDAY. I HAVE TALKED WITH SOME FOLKS WHO ARE NOT ON LINE, I THINK YOU WILL BE REALLY SURPRISED BY THE TURNOUT. WE MAY HAVE TO TAKE IT TO PATTI'S HOUSE SHE WON'T MIND SINCE SHE MAY NOT FIND FOSTERS ANYWAY. MY GUESS WE SHALL HAVE OVER 300. ROBIN AND EL ROJO AND MRS EL ROJO BETTER PLAN ON IT. RIKKI WE HAVE VALET PARKING WAITING FOR YOU JUST PARK AT THE CURB, EXIT YOUR VEHICLE, AND WE'LL TAKE CARE OF IT FOR ABOUT A WEEK OR WHATEVER. NOTHING TOO GOOD FOR MOMMA V'S LITTLE GIRLS! AND ROBIN THERE IS NO WAY THE THREE OF US WOULD FIT IN THE FRONT SEAT OF THAT THING, I DOUBT MY BRUDDER AND I WOULD. AND JOHN IS MYRNA THE ROYAL FLOGGER NOW? I THINK IT A TITLE WORTHY OF HER OR VIS-A-VIS. WHAT DO YOU THINK? SLOEY
Vikki Carr Hood, I wish I'd have thought of that one. Yes, it's from 6pm to 10pm and if it gets too rough, we'll all cruise to Purple Posterior's Place. I say nothin's to good for Momma "V", right Robin??
And on that Royal Flogger thing....I'll get back to you.what does a royal flogger do anyway...
---

Name: BILL ASHDOWN () on Wednesday, July 21, 1999 at 11:02:06
E-Mail: BA808953@AOL.COM
Class: 1963

Message: TO ALL, I SURE WISH I COULD BE THERE WITH ALL OF YOU ON CRUISE NIGHT, BUT NOT THIS TIME MAYBE ON PAGE 200. LAST WEEK I SPENT TIME IN SOUTHERN CA ON TWO DIFFERENT DAY'S I WENT AND CRUISED HAWTHORNE BLVD. IT SURE HAS CHANGED I ONLY SAW ABOUT TEN CARS FROM WS TO FF THIS WAS ABOUT 1AM. HAVE FUN. BILL CLASS 63 PS HOW DOES JANET STAY SO YOUNG?
Hey Bill, Be here in spirit and wrap yourself around a cone on Saturday night. The Janet question?? No one has figured that one out yet....

Thanks Bill
---
If you have comments or suggestions, please email me at john14@cougartown.com