Page 90
---


Home | 60's Slang | Alumni List | Car Talk | Cougar News | Feedback | Hangouts | Memories
Recollections | Reunions | Street Scene | Teachers | Tributes | Vietnam | What's New | Keyword Search
---
still dedicated to "Fosters Cruise Night", but for the 50's group.... Ivory Joe Hunter
---

Name: christine () on Saturday, July 10, 1999 at 23:45:25
E-Mail: bairds1@juno.com
Maiden: penny
Class: 76
Message: cindy hewett, i don't think we ever met in school but you were talking about weather....you really haven't had any weather until you have lived through a summer in tx....80-100% and the temps are above 90! now that's hot! ")

---

Name: Mike Angle () on Saturday, July 10, 1999 at 22:35:18
E-Mail: mangle4@aol.com
Class: 67

Message: Got a call today from my old friend Larry Biller. When last I saw him, he was about 6'1" so I asked if he finally made it to 6'2" and he said "No.....6'4 and a half". I was working today (my day to watch the phone company) and he called again before I got home. Chris (my lovely and talented wife of 30+ years) said Larry and his wife would talk and maybe they will drop by or we might meet (again for the first time) for dinner somewhere half way. Larry lives on the east side and we live on the west side.
John, Cougartown is a great place to visit and if you plan any neighborhood developments, I might be interested in purchasing a home here. The people are friendly and we know or at least we remember so many of them.
Took the time to start reading from page one and saw the names of two young ladies that were late 70's graduates with the last name Dye. Both their names began with a D. I was wondering if they were the children of my '50's neighbors David or Danny Dye. I'd love to know how they are.
Well last weeks rain has turned into this weeks 90 degree steam. I think I'm gonna pick some cherries from the tree in my front yard. So long from the great northwest (Aloha, Oregon)!!!!
Hi Mike, Saw both the Dye brothers at the Big Reunion last year and they're doing great. Dave's living out around Riverside I think, and Dan's here in Torrance. Dan retired from El Segundo PD and has only aged like a week and a half since High School. I don't think the Dye girls are related to them.
Oh sorry about chopping your head off in the picture there Mike. I think that was one of Cougartown's scanner "rookies in training" that did that.i told leeroy NOT to mess with anything that plugs in.....
---

Name: Cyndi Hewitt () on Saturday, July 10, 1999 at 22:32:52
E-Mail: chewitts@aol.com
Maiden: Laird
Class: 75
Message: Just want to say to all you Las Vegas residents -- glad you are all right. I was thinking of you when I saw the news. (Yes, we even get news from "America" over here in Hawaii!)
Sharon Branigan: I keep wondering if you might know my cousin, Christine Reinhardt and her hubby Scott. They have a son Danny (I think he is in scouting). I know they are very much into football. They live in Thousand Oaks so thought you might be in some of the same circles. Those of you complaining about 50% humidity and 74 degrees just try living here in this 70% humidity and 85 degrees. Boy is it rough! (HA! Just joking) Can't wait for cruise night. I'll be cruising to my local shave ice stand!! ALOHA!
Hi Cyndi, I just don't know how you can stand that kind of torture.

Thanks girl..........
---

Name: JIM SLOEY () on Saturday, July 10, 1999 at 21:30:46
Class: 66

Message: USA! USA! USA! USA! USA! USA! USA! USA! WAS THAT Great! It is truly amazing what really rowdy girls can do when they put their minds and bodies to the task. I think Mia Hamm was a cougar and if she wasn't I say we vote her in, forget Christie Brinkley Robin I say Hamm on Rye (grass). Ok I am still sick. I also want to apologize to Marsha Russell for excluding her in my guess and also apologize to Maureen "MO" Trott for including her. I hope that will make everyone feel better, especially me!
SLOEY
Hey, Go back to bed and eat your chicken soup. We'll need you on Cruise night. I missed the kick ball match today as I was at the barber shop. Hamm on Rye Grass..........now THAT'S funny.
---

Name: Janet Falkenstein () on Saturday, July 10, 1999 at 20:09:46
E-Mail: janran@ns.net
Maiden: Kinder
Class: 79

Message: Two of the trio are Peggy and Patti Treckman, no? I'll guess Beth for the third, although I didn't know her.
YES!!! We have another winner here folks. The only prize I have left is a weekend trip to the Bahamas and it's all expenses paid. That's the good news. The bad news is it's on House of Blues reunion weekend, so I guess you'll just have to forfeit that little jewel to ME!!! God you look just like your dad. Janet's father, Dave graduated from HHS in 1958. Thanks Janet.
---

Name: Bill Sloey () on Saturday, July 10, 1999 at 19:33:17
E-Mail: wsloey@aol.com
Class: '69

Message: Alan Hauge; I e-mailed you and I thank you for your response. I always wondered about that sign in the mens locker room. "WHEN THE GOING GETS TOUGH, THE TOUGH GET GOING" you don't know how many times I read that quote, I swore 2 things. 1. I would never forget that quote, 2. I was going to be the toughest s.o.b. in the valley, I think I came close, haha...great memories because I did "Get Going" from this little sign. Nice to meet you via your posting. This coug.com is powerful stuff. Hey JB I been here, I just stepped aside to let El Rojo get some lines in and to let the '76ers emerge, and they have. Great spirit 76ers keep it up. Careful Robin when you jump on that crotch rocket on cruise night, your a funny guy, and how about a big YAHOO for the USA Girls Soccer Team. And finally now that we are at the critical 100 page chase, where is Keith? I thought you would be the first post on page 100 back on page 55, come on Keith I got $5 bucks riding on you . Go Cougs.
Yeah, the 76ers found out I had their class pictures.

.
Alan, I didn't have a chance to tell you 38 years ago so I'll tell you now. Great job on those signs in the Boys Locker Room man. If you ever get tired of the "Steven Spielberg Schtick", you can always go back to sign painting. Hey, those signs are probably ready to be redone now........Let me make a few calls; I'll get back to you babe.

---

Name: Jan Blomsterberg () on Saturday, July 10, 1999 at 18:16:39
E-Mail: poppy@iocc.com
Class: 63

Message: To Betty R. class of 69 - Unless Led Zepplin had a cover of In-A-Gadda-Da-Vida on one of their albums the right group you are looking for is Iron Butterfly. Great song, great year (1968) and great memories! JB, wish I could be in SoCal for the ice cream event of the decade but who in their right mind would want to leave Arkadelphia Arkansas to visit L.A.? Why would one want to visit someplace where the evening air is cool from the ocean breezes? If one has not visited this part of the country in the summertime they do not know what they are missing! For those of you who live where the humidity is always above 50 percent you know where I am coming from - I sometimes get the feeling that I know what Hell is like!! Been there, done that and I definitely know where I will not be retiring to! Sandy, have a strawberry sundae for me and don't forget my diet Pepsi!! Les Johnson, been too many years since I saw you last - sometime in 1969 at Sandy and Kenny's. Memphis is not too far from Arka-do-nothin'!
Hey Jan, Now see, I knew if I let that Led Zeppelin/Iron Butterfly comment go, someone would correct it. I guess that's all there is to do in Arkadelphia huh.

It's kinda' humid here today. bout 54% and 78 degrees. Don't know how I'm gonna' make it through the Summer. Robin, pass me one of those long necks willya'. Kathy Michael mentioned the mosquitoes in Minnesota. Splain to her how big the "Summer Bugs" get in Arka......

Thanks Jan, what would you like us to play for you on Cruise night??
---

Name: Kathy Michael () on Saturday, July 10, 1999 at 16:21:10
E-Mail: marinadr@earthlink.net
Maiden: Groseclose
Class: 1976

Message: Hi!!! to all of you fellow Cougars out there... After being quiet for so long - and hearing all of the ragging going on out there about some of us not checking in... I decided to join in on this page and to let you know what I've been up to... After school was out in 1976, I married my husband Ron. Soon after and till this day, I have been in Property Management. I also worked for KLOS for a few years. I worked in the research dept, and with Mark and Brian, until Disney merged with ABC, and closed the dept. That was the most fun job I ever had. My husband Ron, worked in the Aerospace industry until its collapse in 1990. He crossed over from electronics to bio-medical products. We relocated from sunny Cal in 1994 to Bloomington Minnesota and live 1 block from the famous Mall of America. Listen carefully... No matter what you hear about Minnesota being one of the top places in the nation to live, "THIS PLACE IS THE PITTS". The misquito is the state bird. The people here haven't gotten out of the 1970's. Bermuda shorts, shag haircuts and everything. And they are rude. Needless to say, we'll be back to Ca. soon. I have heard mention of "David Marks" name several times here on this site. Yes- its true, he rejoined the Beach Boys in 1996... After he quit the BB's back in the 60's, he formed a band called "Dave Marks and the Marksmen". My brother Mark was the drummer. Dave and Mark were close bro's until Mark passed away in July of 1988. Mark sat in with his drums on sessions and concerts for Dennis with the BB's. He even cut a record with Brian Wilson in a band called "The Survivors", for me, having the Beach Boys around alot was a blast to see. There you have it - I have joined the class of CHATTERS, and John, this website is awesome. Such a tribute to Hawthorne, its past, and to US all - "There's no place like home"......
Hi Kathy, Thanks for joining in. Don't be a looky-loo now that you've been published.
---

Name: EL () on Saturday, July 10, 1999 at 15:55:52
E-Mail: BETWEEN THE CORN
Maiden: JACOBSEN
Class: 60
Message: JOHN, I LUV YA MAN!THIS IS STILL TOO MUCH FUN. HEY ROBIN WHERE ARE YOU?

---

Name: Betty Rodriguez () on Saturday, July 10, 1999 at 14:49:30
E-Mail: tombetty@kelp.net
Maiden: Kean
Class: 69
Message: John-Can I ask someone to bring a copy of Louie, Louie to Cruise Night? And maybe the long version of the Doors' Light My Fire? One more - Led Zepplins' (sp) Ina Gada DiVida. There, that should jog some memories! Betty

---

Name: Joyce () on Saturday, July 10, 1999 at 14:21:18
Maiden: McCarroll
Class: 1964


Message: Just learned about Cougartown. I'm alive and living in Hermosa Beach and would like to hear from all my old friends. I'd like to know what ever happened to Judy Lehman. If anyone has any info please call me at (310) 374-4346. (not up on my internet yet) I'll send e-mail address soon. Looking forward to making contacts. Joyce McCarroll 1964

---

Name: JIM SLOEY () on Saturday, July 10, 1999 at 12:04:13
Class: 66
Message: PATTY V5,
CONCERNED?? ALWAYS CONCERNED BUT NEVER WORRIED DEAR! BESIDES I KNEW YOU WEREN'T IN VEGAS. PAGE 90 HUH, JOHN IT LOOKS LIKE THE 24TH. AS TO THE THREE LADIES YOU DISPLAYED I THINK I SAW THAT PICTURE ADVERTISING SOCIAL SECURITY BENEFITS BUT LET ME TAKE A GUESS ANYWAY, AFTER ALL WE ARE ALL AGELESS AFTER OUR 20 YEAR REUNION. I THINK IT'S THE TRIO THAT GOES BY THE NAME OF THE ROWDY GIRLS, MO TROTT, BARBARA NORRIS, AND LAST AND PROBABLY LEAST OK CERTAINLY NOT LEAST, JUDY DEGRAZIA. BE CAREFUL THE TRIO IS NOT TO BE TRIFLED WITH UNDER ANY CIRCUMSTANCES! BUT THEY ARE COUGARS. AND DID WE SETTLE THE LB POLY HAT OR NOT? BOB VEACH, DON'T WEAR THE POLY HAT THIS IS A COUGAR CRUISE NOT A JACKRABBIT CRUISE. I KNOW YOU ARE PROUD OF YOUR KIDS WHO ATTEND THERE BUT SOME SCHOOLS JUST RUB COUGS THE WRONG WAY AND I AM ASKING YOU KINDLY ON BEHALF OF ALL COUGARS BUT ESPECIALLY THE GROUP THAT PLAYED IN THE CIF FINALS LEAVE THE HAT AT HOME. THANK YOU. LOOKING FORWARD TO THE ICE CREAM CRUISE HOPE I AM WELL BY THE THEN. TAKE CARE FOLKS, GOD BLESS YOU ALL, AND I HOPE THE ROWDY GIRLS TOOK MY RESPONSE IN THE SPIRIT IT WAS INTENDED, NASTY, CRUEL, FLIPPANT BACKHANDED ETC. SEE YA
Thanks Jim, and BTW, you couldn't have been more WRONG!!! It's NOT the "Rowdy Girls", although they'll be there on Cruise Night.
Jim, I think Bob was going to wear the hat on Homecoming Night, but come to think of it, that could be WORSE!!
Hope you're feeling better man and where is brother Bill been lately??
"Be A Coug"
---

Name: Michael R. Mecey () on Saturday, July 10, 1999 at 11:03:28
E-Mail: mmecey@aol.com
Class: 61

Message: Great web site. Thanks to Sandy Peppers-Cooper for letting me know about this site...

---

Name: EL ROJO () on Saturday, July 10, 1999 at 11:01:08
E-Mail: GODS COUNTRY
Maiden: DARREN
Class: 60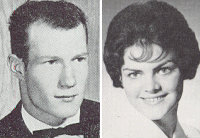 Message: CHRIS PREWITT,you might be trying to make me feel like the "o" word, but no matter , i'm still "COOL". but i'm also getting you COUGS closer to THE CRUISE. i think i'll cruise with you. i'm going to get out my JOHN DEERE and run her down "main street" in this big old town of KUNA ID! POP 3500, not counting the livestock. at least they won't mind my music. by the way, now that i'm begging, play another one for the ROJO. "COME GO WITH ME" by the dell vikings. by the way thats what i used to tell all the girls. JB AND ROBIN are you listening?
CHRIS, i forgot to mention that you can't have an 8 track player in an HYUNDAI! it only plays in korean! (JB you're a couple of steps closer to THE CRUISE!)
ROBIN, by the way, do you still have that pin up of BUFFALO BOB? i know you always cherished it. it really wasn't one of my favorites. EL. MAY THE COUGAR BE WITH YOU.
El, I've got that one, and may the the town of Kuna ID Rock and Roll on Cruise Night...
---

Name: el rojo () on Saturday, July 10, 1999 at 10:37:32
E-Mail: the stud
Maiden: dean
Class: 60
Message: first of all, thanks cheryl for the nice words. 2nd, JB and HOOD, HA!HA!. hey the love songs were great. if you would like a copy of THE SEA OF LOVE or THEME FROM A SUMMER PLACE please let me know. i'll reproduce it in CASSETTE or CD. SEND ME YOUR ADDRESS ON MY E-MAIL and i'll send it to the two of you, maybe it will get you "in the mood" to make your move. at least i wasn't sitting around watching RE-RUNS of WEBSTER WEBFOOT or BUFFALO BOB. maybe that has something to do with this being "single thing". ya think? hey, enjoy the cruise. MAY THE COUGAR BE WITH YOU! EL AND THE QUEEN!
Hey El, GREAT IDEA!!! We need YOUR copy of the Sea Of Love and Summer Place to complete the symbolism. I KNOW you could feel it then. Thanks Man!!!
Send it to:
John B
PO Box 1406
Lomita, CA 90717
---

Name: LARRY BILLER () on Saturday, July 10, 1999 at 04:53:23
E-Mail: lbiller49@yahoo.com
Class: 1967


Message: WE JUST SPENT OUR THIRD CONSECUTIVE 4TH OF JULY IN BATTLEGROUND,WASHINGTON.BOY THE FIREWORKS THAT ARE LEGAL IN WASHIHGTON,I MEAN TO TELL YOU THERE JUST...WELL THERE..HUH..YOU KNOW LIKE THERE BIG, THERE LOUD..THEY'RE STREET LEGAL! HEY BOTHER JOHN(BILLER).GOOD TO SEE YOUR MUG ON FEEDBACK.
AND NOW FOR ALL YOU BEACH BOY ENTHUSIASTS; HERE'S A TRIVIA QUESTION.AFTER LEAVING THE BEACH BOYS,DAVID MARKS & HIS BAND PLAYED AT A HAWTHORNE HIGH SCHOOL ASSEMBLY.WHAT WAS THE NAME OF HIS BAND?
The Marksmen??
---

Name: Chris Prewitt () on Saturday, July 10, 1999 at 02:30:11
E-Mail: cjprewitt@juno.com
Class: 1967


Message: John, I think that I can find "Theme from a Summer Place". Do you have an 8 track player to play it on? Actually I do have an 8 track player but it won't work in the car. I do think I have it on an LP but I don't think I have a working phonograph. I might be able to tape it onto cassette from 8 track. What a trip back in time! Maybe for the cruise night I'll bring some Deep Purple or Stephen Stills. How about some Jimi Hendrix? For the young ladies I can come up with the Carpenters "We've only just begun". For the Cougars from the 80's and 90's, back in the early 70's that was the "wedding song" for a lot of couples. When Kathie and I got married they, the church where we got married, wouldn't play it. We sure did at home. That was over 25 years ago wow over half my life I've been married. It seems like the other half I was in school. In the late 60's I used to make color organs (lights that would change color with a change in sound frequency). This worked great with some of the above music. Get some strobe lights a couple gallons of wine, a bunch of friends and you had a party.
Hi Chris, I think we've got the music lined up. If everyone brings there own sound system, then things will get out of hand. If you've got a tape or CD you want to bring, please mark it and give it to Kathy Stonebraker, as she's our designated "Music woMAN" for the evening. You, my friend, are the photographer.

---

Name: Kathy Stonebraker () on Saturday, July 10, 1999 at 02:25:21
E-Mail: stoney@qnet.com
Maiden: Lorig
Class: 76
Message: John Biller - Great to hear from you!! Hope you check in more often than just periodically. The '76er's have a reputation to uphold now!! Are you going to "The General's" birthday party tomorrow night (or is that later on tonight)? Kathy S

---

Name: Kathy Stonebraker () on Saturday, July 10, 1999 at 02:03:15
E-Mail: stoney@qnet.com
Maiden: Lorig
Class: 76


Message: John - Not to worry, I have "Sea of Love" and I'll be there with bells on for cruise night. Anything else you need?? Like a CD Player perhaps?
Yes, please bring your CD player. We've just nominated you as "Music woMAN" for the night. How about a tape player too, just for those special Oldies. Thanks Kathy
---

Name: Roni Kobel () on Saturday, July 10, 1999 at 00:45:46
E-Mail: rskobel@aol.com
Maiden: Treckman
Class: 76 of course!


Message: Hey, Kim Bueltel...I know you have brothers Alan and Wayne, but do you also have a brother named Steve? My husband Dave (North High '78) said that a Steve Bueltel coached him in baseball at North. Hey, Keith Jones, are you still out there? Missing those stories....

---

Name: John Baker () on Friday, July 9, 1999 at 00:26:19
E-Mail: john14@cougartown.com
Class: 62

Message: Anyone know these three?? Immediate family disqualified.
While I'm here, I need your help in rounding up your Class Reunion Address Lists.
I want to get our Newsletter listing together and I need ALL classes. If you're the keeper of your classes list, or you know who has it, please help me out by emailing them and see what you can do to get your class list to us. Thanks......and now back to the show.

---

Name: YOU KNOW () on Friday, July 9, 1999 at 23:54:04

Message: Oh sure, NOW you put my picture up!


---

Name: John Biller () on Friday, July 9, 1999 at 23:40:46
E-Mail: ibbiller@lightspeed.net
Class: 1976

Message: Ok, one more class of '76 checking in. Hi everyone! We always knew that the class of '76 was special. It's been a long time. Kathy Stonebraker(Lorig) e-mailed me recently and told me about the feedback page. I've read thru some of it but man, you guys have been busy. Quick update on me for those who want to know- I have been living in Bakersfield for the past 15 years. I have been a high school instrumental music teacher for the past 18 years. I am currently teaching at Stockdale High School in Bakersfield where I have been for 9 years. Peggy (Anderson) and I have been married for 19 years. We have three kids, Heidi(17)-just graduated from high school, Holly(15), and John(13). We are all fine and doing great. For those of you still living in Hawthorne, how's the old hometown doing? Now that I know this is here I hope to check in periodically. This is a great site John!

---

Name: christine baird () on Friday, July 9, 1999 at 23:37:34
E-Mail: bairds1@juno.com
Maiden: penny
Class: 76


Message: john... my husband is a music fanatic, and i am sure he has a copy of 'sea of love', the only problem is, i haven't a clue on how to get it to you, and besides that it is probably on LP. sorry. that song holds alot of memories for us.

---

Name: Patty Valencia () on Friday, July 9, 1999 at 23:19:50
E-Mail: pvalencia2@aol.comd
Class: 1974
Message: Hey Matt P. Thanks for the reminder. Ted G. I laughed out loud reading about your 4th grade year. What fun! Most of my work is based upon helping people to frame their curiosity, or just to rediscover it. It sounds like you and your curiosity were pretty much aligned at a very early age! And, Jim, yes I probably could talk a dog off of a meat wagon, but that doesn't mean that you shouldn't worry about me, at least I hope it doesn't. Congratulations class of 76 for the ability to reestablish the character and spirit of your cougardom even across the Internet.
Patty, you got a copy of Sea of Lo.......never mind . . . . .
---

Name: Peggy Webster () on Friday, July 9, 1999 at 23:01:52
E-Mail: pegs4bmws@aol.com
Maiden: Treckman
Class: 77


Message: Hey Kim Bueltel!!!!! I haven't seen you since I ran into you years ago at Boy's Market (was it in Manhattan Beach??) ANYWAY, it's great to see your name out there! Are you still playing any vball (or just golf)? I started playing vball again recently with Patti in the Long Beach women's league. I sure love the sport. Speaking of vball, Cindy Matthies: I wanted to let you know that your husband's cousin's wife (is that right?) Nina Matthies, was my JV vball coach at UCLA in 77-78. She was my idol! She was always so happy, full of energy, and in great shape!!! Great lady! I've been hogging the phone line for WAY too long, and my husband needs to make a call, so off I go, but I SHALL RETURN!!!!!

---

Name: Cheryl () on Friday, July 9, 1999 at 22:53:21
E-Mail: chernico@cvc.net
Class: 62

Message: AWWWW Russ, That was the BEST story, really. Took some of us right back there. I have both those 45s. Some things you just keep.......
Ahhhh that was a "Chick Story" and you know it Cheryl.

---
If you have comments or suggestions, please email me at john14@cougartown.com