Page 78
Home | 60's Slang | Alumni List | Car Talk | Cougar News | Feedback | Hangouts | Memories
Recollections | Reunions | Street Scene | Teachers | Tributes | Vietnam | What's New | Keyword Search
---
...here're words to live by.... Jimmy Durante
---

Name: John Baker() on Monday, June 21, 1999 at 10:12:43
E-Mail: john14@cougartown.com
Class: 1962

Hollys Restaurant --- Monday Morning 6/21/99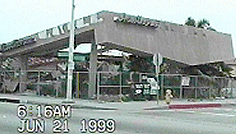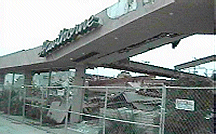 Message: Like a scene out of a disaster movie, Holly's AKA:Hawthorne Grill is no more. Another Hawthorne landmark has gone by way of the Bulldozer. Hollys architecture dates it to the mid 50's and was once THE place in Hawthorne. It is sad really that this building was torn down with no regard as to saving so much as a counter stool. The fountain machines were still bolted to the counters, the booths were still where they were, the last time you ate there. Very Sad......

---

Name: Ricki Farrell () on Monday, June 21, 1999 at 00:08:56
E-Mail: farrell8@worldnet.att.net
Maiden: Valencia
Class: '61
Message: Yo JB! Where do I get a copy of Pat's work? I'm proud of him too. He was my student for four years. Also, baseball is my favorite sport and I, unlike V6, love sports. Remember, I collect baseball cards and wear a Cal Ripken watch. Sammy is doing great and you're right, I blamed that joke on her. She was busy entertaining Mom V for the last 3 weeks.
Pat Desmore! I remember you from Mr. Orrell's English class. What have you been up to for the last 30+ years?
Mike Shay, did you hear that?? Get the lady some of Pat's work. Thank you Ricki.
I hope you saw the Brian Wilson Special tonight. I know you'd have recognized lots of those places.
---

Name: LEEROY FELDERRUSTER () on Sunday, June 20, 1999 at 23:27:15
E-Mail: leeroyfe@yahoo.com
Message: Howdy! We's gots a winah! And no it ain't Mr. Chris! Wel sorta. John Baker was furst he gots the ansker furst, so I'm gibin him da grand prize a chesseborger with da werks and french frys an a drink. W Sloey, is dat a funnin name or wat?, ifn he can show an id or sum one wil vouc fer him he gets a 2 dip chocalite comb. Ifn he mad up dat name he gits nuthin, and a runrsup award for Harry Potkin, cause he nevr emaild me but he has the rite ansker. And a small comb for Mr. Chris cause he is so slo molass run by him in janerary! And lasly but not lesasly a 2 dippr comb for a lady who jest emailed me and wished me happy faters day. Dat was shore nice of her. tanks fer playin and i hops ya all had as good a faters day as I does. God Bless ya all. LEEROY FELDERRUSTER
Actually LeeRoy, I just found out that the guy rode a "Mule" named Friday, but if you want to STILL buy me a Cheeseburger, then I say go for it!!
---

Name: Sheree Klingenhagen () on Sunday, June 20, 1999 at 23:07:52
E-Mail: sklingenha@aol.com
Maiden: it's who I am
Class: 1975
Message: Just got done watching the Brian Wilson story on A & E. It really ticked me off at the end, when Brian moved to Illinois and who ever it was that was talking at the time said that it was good he moved to America's Heartland as California didn't like Beach Boy's music anymore. That is so far from the truth, I wish the show just played the songs and showed the pictures. Their music is as good today as it was in the early 60's when I first heard it. O.K. I feel better now, I'm going to go put on Pet Sounds and chill. Be true to your school. Sheree

---

Name: John Baker() on Sunday, June 20, 1999 at 23:04:21
E-Mail: john14@cougartown.com
Class: 1962
Message: There it is folks, the Brian Wilson Special. I saw lots that I'd forgotten. Anyway, that is where you came from.....the Hawthorne part, not the Brian Wilson Part. Robin, you looked great, but you were only 18. I thought Carol Hess was going to steal the show in the early part. Rich Sloan, you did a great job too. Robin, did you really send that snippet of Frosties?? If you folks didn't get a chance to record it and want a copy, go to discovery.com. I think the video is only 15 bucks. Hope you all got a little piece of Hawthorne out of the 2 hour special and for you later graduates, I hope this brought you closer to the Beach Boys as I know lots of you love that part of your roots.

---
Doug Cook Remembered
Drag Racing Friends,

Special Notice 17 June 1999
One of the all time GREAT drag racers, Doug Cook passed away Wednesday, June 16th about 5 pm. He had double pneumonia and just wasn't responding to treatment.
Born in Little Rock in 1932, "Cookie" migrated to the Los Angeles area as a teenager and was one of the original drag racers at the Santa Ana Drags, which historians consider the first commercial drag strip. Later, as the driver for the infamous "Stone, Woods & Cook" gasser, a blown on gas Willys coupe, his career was notable for two reasons:
1) The fear that the team struck in the hearts of their competitors as they dominated the "Gasser Wars" on Southern California's drag strips in the 1960s and
2) the fact that Cook was Caucasian, but both Fred Stone and Tim Woods were African American. Their partnership was the first competitive multi-racial team in drag racing. His family requests that instead of sending flowers that donations be made to the El Mirage Ladies Auxilary. This is an organization that helps racers who are injured or ill. Please send your cards and donations to:

In Memory of Doug Cook
El Mirage Ladies Auxilary
c/o Mike Cook
2955 Bronco Ln
Norco, Ca 91760 USA
________________________________________________________
This anecdote from Dennis Unfried HHS 55
Doug will certainly be missed. In 1957 I built what I thought was a pretty fast Ford powered by Cadillac (Chet Herbert cam, dual quads, etc.) When I took it to Lions they checked the inches and weight and put me in "C Gas" class. My first elimination run I was up against , you guessed it, Doug Cook. I still replay that race in my mind from time to time and can still hear the sound of that Chevy from the backside of course with those 6 inch exhaust collectors. Needless to say I've had a fear of 1937 Chevys ever since, especially if they are candy red with a Latham Blower on top of a 265 cu in V8. The last I heard he still had the car kicking around his shop just for nostalgia but he kind of went into running the Lakes with his son.
C Gas was a bad class at that time. I was able to remove enough weight from mine to jump up a class just to get away from Cook. He was almost unbeatable. S'pose he was the John Force of the 50s??
---

Name: Dewey Storie () on Sunday, June 20, 1999 at 21:56:51
E-Mail: Dewey_Storie@msn.com
Maiden: AKA MaD ScaNNer
Class: 74
Message: Gee thanks John! I feel like I am back in school again…I do one little thing and get blamed for the rest of the stuff.. As the cop's would say round up the usual suspects! .. But sorry to say I am not LEEROY FELDRERRUSTER ..And as to the dig cam I carry it with my laptop & printer palm pilot cables and manuals, it's easier to email photos to the home office in Chicago
Dewey, Then you are the Official Cougartown Man on the Street Reporter. Thanks Dewey for the "Patty Pics" too and sorry about that accusation stuff, but the M.O. fit.
---
Hollys Restaurant --- Friday Morning 6/18/99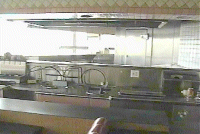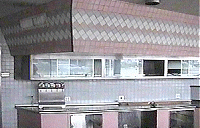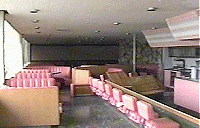 Name: Jim Fox () on Sunday, June 20, 1999 at 21:14:33
E-Mail: puffup@soca.com
Class: 1966
Message: To Tom Quintana et al... Thanks for the heads-up regarding Holly's. I live a block away and it's like seeing a genuine part of Hawthorne's history being flattened. It's especially sad if you're old enough, like me, to remember when Holly's first opened (around 1956). By the way, Tom, can you enlighten us as to what the plans are for that block on Hawthorne Blvd? The wife and I are speculating that it will be an expansion of South Bay Ford. Thanks.

---

Name: Debbie Washburn () on Sunday, June 20, 1999 at 18:26:42
E-Mail: dwashburn@shasta.com
Maiden: Johnston
Class: 72
Message: Thanks for the great memories. I haven't lived in the area since graduation and love reading all of the feedback. Would love to hear from anyone that remembers me out there!

---

Name: Tom Quintana () on Sunday, June 20, 1999 at 18:20:40
E-Mail: quprs@aol.com
Message: If anyone sees this in time, go by the former Holly's Restaurant for the last time no later than June 21st, because they're demolishing it along with everything that was adjacent to it. Sad but supposedly progress. They're not even saving the neon sings that read Hawthorne Grill in recent years. It was the site of "Pulp Fiction", Cops and Robersons and a bunch of commercials in recent times.

---

Name: Connie Beverly () on Sunday, June 20, 1999 at 17:44:05
E-Mail: sncbeverly@aol.cpm
Maiden: Jax
Class: 67
Message: Memories, Vic Tanny's Gym, my first exposure to Tanning booths, but you had to stand up.

---

Name: LEEROY FELDRERRUSTER () on Sunday, June 20, 1999 at 17:13:03
E-Mail: leeroyfe@yahoo.com
Message: Howdy. Well Mister Chris I's sure embarased thass you figered me out. And I thinks you be real close to da ansker. But Mister Chris you spose to email me member. so's hurry figers it oust. Hapaay fater's day. No ansker XXXXs unles it be emaild to me. Tanks you LEEROY FELDERRUSTER Did I's tell you I's the 4th my son be the 5th.

---

Name: David Barboza () on Sunday, June 20, 1999 at 13:16:31
E-Mail: iliketrains@usa.net
Class: 74
Message: To all of my friends and fellow Cougar DADS. And especially JB who is still working today keeping cougartown up and running.


"HAPPY FATHERS DAY"


Thanks David, The same to you. OH and remember all you wives of the Fathers out there today. WHATEVER your husband wants today, YOU have to give him. So when he says "Gimme the Remote", well........


Everyone have a great Fathers Day Sunday.
---

Name: pat desmore () on Sunday, June 20, 1999 at 13:04:39
E-Mail: gary.desmore@xylan.com
Class: 61


Message: Happy Fathers Day to you John, I don't know if you are a father, but have a great day anyways. Some I have talked to and some I have missed, Happy "FATHERS DAY": Howard Duran, Ken Blomsterberg, Gary Persinger, Gary Kuchen, Bill Brown, Bobby Bausman, Pat Desmore JR., and Bob Desmore.
Hey Pat, Happy Fathers Day to you, all of the above, and all the other Cougar Fathers out there today. Have a great day!!
---

Name: Harry Plotkin () on Sunday, June 20, 1999 at 12:08:13
E-Mail: hcharry@pacbell.net
Class: 52/97
Message: Hey Leeroy,
Was the name of the cowboy's horse Friday?

---

Name: Chris Prewitt () on Sunday, June 20, 1999 at 11:34:12
E-Mail: cjprewitt@juno.com
Class: 1967
Message: John,
I think that with the $100 that Leeroy is planning on winning, see http://www.laureldirectory.com/main/contest.htm, he should buy ice cream for all of us. I don't think he is as stupid as he wants people to think. He will get all of cougartown to answer the questions then collect the money. Then give away a $1 cone. Leeroy, what you may not realize is ice cream costs more than the 5 cents it used to at Thrifty Drugs in the past.

---

Name: Chris Prewitt () on Sunday, June 20, 1999 at 08:39:27
E-Mail: cjprewitt@juno.com
Class: 1967
Message: Leeroy,
Let's see if he rides in early on Friday, stayed all day, stayed the next day, stayed all day the next day and leaves early the next day it would be Wednesday. Maybe I am thinking the wrong way. I guess I'll need to think a little harder. Is my thinking on the right track? Maybe you can explain my answer. I'll buy a cone for the first person (excluding myself) who thinks like me.
Another Free Cone!!?? I'm holding out for a Double Cheese and Fries.

---

Name: LEEROY FELDERRUSTER () on Sunday, June 20, 1999 at 00:43:02
E-Mail: leeroyfe@yahoo.com
Class: none
Message: Howdy,
Well I's ain't got no email from nobudy i's gitin kinda disamapointid. So i's decided to axe dis qiuestion an the furst person dat emails me wit the ansker i will by dem one of dem ice creme cones like the winer of the joke kontest. ok here it goes, A cowboy rides inta town on friday stay three days and rides out on friday. Esplain
LEEROY FELDERRUSTER leeroyfe@yahoo.com

---

Name: LGW () on Saturday, June 19, 1999 at 22:42:23
E-Mail: lgeelew@pacbell.net
Maiden: Geele
Class: 76
Message: I'm on to the lot of you. I know you want me to dump Dave and then all these strange little men with two-pound boxes of See's candy will start showing up at my door making googly-eyes at the Chevy. So, as LeeRoy would say, "Ferrr-geddit!" I'm keeping the car and the husband. Dave notes there were mitigating circumstances with his HHS experience: he didn't move to Hawthorne until he was 13 and he only attended HHS for two years; then spent the last two years attending college and teaching math classes at HHS until they finally kicked him out. So perhaps he didn't get to drink enough of the water to help him think properly at times. While he tries to be a real person, sometimes he forgets and needs to be reminded :-).
OK Laura, I guess it's OK if you keep Dave, as long as he understands that the Automobile pecking order is 57 Chevy or 32 Ford and THEN any other American Made Auto and THEN Harley, Cushman, Whizzer and THEN if there's any room left, maybe a Lexus.

---

Name: Alan Hauge () on Saturday, June 19, 1999 at 20:19:04
E-Mail: GMT333@AOL.com
Class: 1961
Message: To Frank Romano at US rent a car in Vegas:
Do you remember who you went to register for the draft with when we all turned 18? I went with you along with Dale Schlack. (Not sure of correct spelling). It was down on Crenshaw Blvd. then and as I remember you two got drafted or enlisted not long after. My records were LOST. E-Mail me Frank so we can hook up it's been a long time. Alan Hauge
Class of 1961

---

Name: Gary Nelson () on Saturday, June 19, 1999 at 19:51:26
E-Mail: Kruiszn@aol.com
Class: 60
Message: Ken Gunnel- You mentioned an "Inglewood Site", what is the address for that and is there one for Morningside High?
Gary, go to the bottom of the What's New Page and look under "Other Cool Sites". There you'll find the Inglewood site, a couple of Leuzinger sites, and the Lawndale site. If you find a Morningside site, please let me know. Thanks Gar'
---

Name: Donna Huston () on Saturday, June 19, 1999 at 18:10:18
E-Mail: Luvyahdh@aol.com
Maiden: same
Class: 71
Message: Graduated from St. Mary's Academy for girls in Inglewood.

---

Name: Betty Rodriguez () on Saturday, June 19, 1999 at 17:54:28
E-Mail: tombetty@kelp.net
Maiden: Kean
Class: 69
Message: TRIVIA;
Does anyone remember the name of the cashier at the Safeway on Hawthorne in the late 50's/early 60's, with short, dark brown hair?
Does anyone remember the name of the lady who worked at Lawrence Drug on Hawthorne and Broadway then at Aloha Drug next to the school?
Free cones from me to those w/correct answers. Betty
I remember the cashier that you're talking about at Safeway. I would only be guessing if I was to try her name though. It's funny how, in the days of the "National Cash Register", how a clerk could unload your cart, look at the price on the can or carton, punch it into the cash register, and still maintain a neighborly conversation. That lady at Safeway was everyone's favorite. She was fast and friendly.
---

Name: LEEROY FELDERRUSTER () on Saturday, June 19, 1999 at 14:48:35
E-Mail: leeroyfe@yahoo.com
Message: Howdy
We gonna a barbq tomorry fer the fathers day stuff. My to yunguns ar comin from vegus so it git citn to see em. I gots a job yestrday drivin line hals to vegus and sacmento so me and the wife are stayin here in calyfoyna for a whil. Can ya all tel me wen this ice creme thing a gig is happin? I realy wants to be ther. And hey Mr. Dewey we's had a guy in Little Rock named Dewey Johnson, any of yer relashunship? See ya ya all
LEEROY FELDERRUSTER
I ain't got no email yet neither! thank ya.

---

Name: Frank Romano () on Saturday, June 19, 1999 at 14:02:52
E-Mail: US-RENT-A-CAR@worldnet.att.net
Class: 1961
Message: Sure John! Baked Beans... And you've begun the work following the old labors taught to you by chef Hot Thumbs Burnie... How long will it take to nuke the beans...If you take them out of the can? Happy Fathers Day too all! I guess if Robin changed his name to Mother... he would be Mother Hood.... Peace N' Happiness.
No Frank, you don't take them out of the can do you?? I was gonna cut a hole in the top of the can and puttem in the microwave for about a half hour. That should do it.
I've been thinking about it Robin, and your first name is OK, but how about Egbloo for a last name. Thanks Frank......
---

Name: Ed Chesson () on Saturday, June 19, 1999 at 13:32:25
E-Mail: CaPTChess@aol.com
Class: 1963
Message: Does anyone out there know the whereabouts or how to contact Steve Smith or Andy Archibeque-both class of 1963?
The three of us went through Army basic training together at Fort Ord in April, 1967. After basic training we got split up and went our different ways as the Army determined. I thought Andy went to Vietnam, but I'm not sure. I saw Steve at our 20th reunion and he had not heard from Andy either. Any help from you '63 Cougars or from any other class would be appreciated. Thanks!

---

Name: Ken Gunnell () on Saturday, June 19, 1999 at 12:29:58
E-Mail: ken@acutech.com
Message: We discovered you thru the Inglewood site. With your permission, would love to link this site to our site at www.dorseyhigh.org
We have a site for the Dorsey High Classes of 63 & 64 and are planning what we are calling the Ultimate Reunion for both classes in Oct of 2000
You have a GREAT site!!!!
Hey Ken, Yes link away. We have to be, if not "Sister Schools", at least "Cousin Schools" with the Mike Love, Wilson Bros. connection. I will add you to our "Other Cool Sites" on the What's New Page. Thanks for letting us know you're out there.
---

Name: JIM SLOEY () on Saturday, June 19, 1999 at 11:39:22
Class: 66
Message: Well I think the Joke Friday was good. There was some great jokes! Do you think LEEROY and Keith are one in the same? Where are you Keith? Gloria you are definitely a Valencia I commend you on what a good sport you are regarding First in Ten. You got the Valencia class! Not that I shall stop the First in Ten stuff but I wanted you to know I think that was a great remark regarding V-I-K-T-O-R-Y. As for Jim West he was local until maybe 4 years ago. His two younger boys played litlle league with my sons. Chad and Mike. I think they moved about 1994? I do not know where. Anyway all you Dads Happy fathers Day and especially to you John. Thanks again and again for all your work on this site.
Sloey
You know, I'm kinda' leaning toward Dewey Storie as LeeRoy now. He likes this voyeuristic masked personna ala the MaD sCaNnEr GuY. What kind of Cougar just happens to have his camera at the airport at 5am and just happens to run into Patty. Whattayathink?? Call me Peran.....parrano.....paranoi......I may be looking over my shoulder all the time, but I know this guy is after us!!


Gloria, If we didn't love you and all the "V"s so much, we'd just talk about you behind your back

. You ARE my alter idem (you'll have to look that one up).
Sooner or later, Jim West will come bopping in the door. There're too many people on this site now for ANYONE to stay hidden for long. Happy Fathers Day to all you Daddys out there. I'm taking the baked beans. Hey, that's not an easy dish to prepare yahno. Be a Cougar....
---

Name: George Key () on Saturday, June 19, 1999 at 09:58:34
E-Mail: Mathesh@aol.com
Message: Hello to all of you HHS grads! I am writing to let you know that my dad, George Key is recovering from surprise surgery at Torrance Memorial Hospital. I'm sure he would love to hear from you. You can E-Mail him at Torrance Memorial Hospital through Monday morning. They will forward any messages to him at home if you miss him at the hospital.
Thanks!
Mary Lou Key Eroen

---

Name: Pete Mahan () on Saturday, June 19, 1999 at 08:49:56
E-Mail: pdm509@home.com
Class: 67
Message: Does any one out there have a extra year book from the Class of'67. Mine has been lost for years. If you do, please E-Mail me.
Thanks Everyone
Pete Mahan

---

Name: Ricki Farrell () on Saturday, June 19, 1999 at 02:52:17
E-Mail: farrell8@worldnet.att.net
Maiden: Valencia
Class: '61
Message: Hi everybody! Well, school's finally out. I'm starting Monday with a group of students for 6 hours a day. I'll be teaching computer graphics and animation. It's different during the summer though. It's more relaxed and the kids want to be there. Reading all of the pranks all you guys pulled makes me nervous about what the kids are doing behind my back.
By the way John and Robin, little Mom V will have to sit between you. You'll have to explain everything that's going on because A, she's too short to see over anybody's head, and B, she knows less than Gloria about football.
I hope that I'll be able to go. Sounds like a lot of fun.
To heck with Football. Robin and I are going to try and talk her into spending your inheritance on financing a AA Fuel Dragster we're building. Whattayasay Mom "V"?? We'll let you drive it.
---

Name: Samantha Valencia Farrell () on Saturday, June 19, 1999 at 02:40:42
E-Mail: farrell8@worldnet.att.net
Maiden: Farrell
Class: 2017
Message: Why did the monkey fall out of the tree? Because it was dead. I'm planning to go to GDU after high school.
Ricki, Did you make that up and blame it on Samantha?? That is cruelty to animals girl.


Just for that, the next time you have an art show, I want you to take some of Pat Shay's work and show it. You will not believe some of this stuff. His favorite baseball team is the Dodgers and he's done a series of Dodger caps from their first cap to the present. It was displayed in their Yearbook a few years ago. He's also done a series on baseball players with nicknames. You know "Shoeless Joe", "The Georgia Peach", "The Iron Horse", etc. (well being related to V6, maybe you DON'T know)

. Just because he's my nephew doesn't mean I'm too proud of him, but he's REAL good. It couldn't do anything less than inspire your present students and place a giant feather in your cap for being his favorite art instructor. I knew you'd see it my way. Thanks Ricki, and be a Cougar.
---
If you have comments or suggestions, please email me at john14@cougartown.com