Hawthorne Time and
Temperature




Home | 60's Slang | Alumni List | Car Talk | Cougar News | Feedback | Hangouts | Memories
Recollections | Reunions | Street Scene | Teachers | Tributes | Vietnam | What's New | Keyword Search

I've been in this town so long that back in the city
I've been taken for a lost and gone
An unknown for a long long time
>Our Boys

<!-+++++++++++++++++++++++++++++++++++++++++++++++++++++++++++++++++++++++++++++++++++++++++++ +++++++++++++++++++++++++++++++++++++++++++++++++++++++++++++++++++++++++++++++++++++++++++++->

---

---
<!-+++++++++++++++++++++++++++++++++++++++++++++++++++++++++++++++++++++++++++++++++++++++++++ +++++++++++++++++++++++++++++++++++++++++++++++++++++++++++++++++++++++++++++++++++++++++++++->
Name: deano () on Monday, March 28, 2005 at 10:12:00


Email: dkarels@sbcglobal.net
City and State: tustin,ca
Class: 1965
Message: put me in for a good sandlot game or over the line.

---

Name: Bill Souza () on Monday, March 28, 2005 at 09:28:50

Email: electspec@sbcglobal.net
City and State: Palmdale, CA.
Class: 1965
Message: Keep me posted for upcoming events. Thanks, Bill Souza

---

Name: gary bickers () on Saturday, March 26, 2005 at 15:50:49
Email: garybicdds@aol.com
City and State: pve cal
Class: 1963
Message: Last and final Adams family update. The best of the whole bunch was the mom, Belle Adams who worked in the snack bar at HHS from '59 thru '65. As I have said before, you could eat at that snack bar if you had money or not.

---

Name: Harry Jarnagan () on Saturday, March 26, 2005 at 00:27:16
Email: 107746.1771@compuserve.com
City and State: Tracy, California
Message: Thanks, Cougars, for your incredible support in our brick donations campaign for the Beach Boys Landmark at 3701 W. 119th in your hometown of Hawthorne. I look forward to hopefully meeting some of you at the dedication ceremony on May 20th. HHS will be well represented. The HHS Band and Choir will be performing, and, of course, some of your most distinguished graduates will be honored on the landmark monument itself. See you then. Harry Jarnagan
We'll be there, Harry.....
---

Name: JEAN MACERNIE () on Friday, March 25, 2005 at 22:33:45


City and State: ALBQ NM
Maiden: CALDWELL
Class: 1968
Message: JUST WANTED TO WISH EVERYONE A HAPPY EASTER!! AN EASTER MEMORY I WILL NEVER FORGET....MY SISTER, ROBERTA, AND I USED TO HAVE THESE LITTLE ROCKING CHAIRS AND ON EASTER MY MOM WOULD PUT A LITTLE BIT OF REAL WHITE FUR ON THE SEAT OF THE CHAIRS...NOT A LOT...JUST ENOUGH TO MAKE IT LOOK LIKE THE BIG FLUFFY GUY HAD REALLY PAID A VISIT....THEN THE CARROTS WE LEFT....MY MOM WOULD EAT HALF OF THE CARROTS....SHE WAS SOOOO GOOD AT THIS...YOU COULD ALMOST BELIEVE THAT THE BUNNY RABBIT HAD BEEN THERE....UMMMMM MAYBE IT WAS HIM.....
Maybe it was...Have a Happy Easter yourself, Jean
---

Name: Julianne Featherston () on Friday, March 25, 2005 at 20:33:31
Email: cityofgarrett@sbcglobal.net
City and State: Garrett, Texas
Maiden: Prasse
Class: 1980
Message: Does anyone know where Ms. Dicus is?
Ms Dicus is still around. She is in the Freedom Club, a group of retired Teachers/Administrators who meets once a year in September on the first day of school. You might try contacting Bob Kyllonen, another retired teacher from HHS. His email address is Bkylnen@aol.com Good Luck
---

Name: Pat Desmore () on Friday, March 25, 2005 at 19:47:05


Email: gpdesmore@yahoo.com
City and State: las vegas, NV
Class: 1961
Message: Hi Daryl, I was the third baseman on that team. Also, Ronnie Baldwin was our Whitey Ford. I believe Bruce Hoover might have played on that team. I still have the uniform. Those were the days...
Man, it's old home week here. Let's choose up sides...
---

Name: John Crotty () on Friday, March 25, 2005 at 16:01:29


Email: 21077@lapd.lacity.org
City and State: Hermosa Beach
Class: 1969
Message: Spring Break...during our time at HHS, the kids would head for Palm Springs. I never made the trip because my folks were a little too strict and didn't fall for anything. And probably because I never had enough money to pop for my share of a room, gas, and other essentials!!! And hey Jim....sounds like your trips to Tijuana were, in their own fashion, a kinda "crabs" fest too...if you get my drift (or at least it coulda happened).
Went to TJ with a buddy once and the cab driver drove us right by the Downtown Tijuana sign. I said, "We want to go downtown" and he said downtown is closed...election day tomorrow. I thought that's funny having an election on a Sunday. Well we ended up in front of a lean to of a house. The front door was open and inside were wall to wall girls. I said we want to go downtown and he pulled a knife and said GET OUT. I pulled 10 bucks out of my sock and so did my buddy (first time in history someone paid 10 bucks NOT to...well, you know)....he put the knife away and took us downtown, and would you believe it, it was still OPEN.
---

Name: Adrianne DeAlejandro () on Friday, March 25, 2005 at 15:56:12

Email: addy57@msn.com
City and State: Cerritos, CA
Maiden: Longpre
Class: 1963
Message: I loved that my childhood yard was large, and there were so many places to hide the colored eggs. I always sneaked a look under my parent's bed where the stacks of trayed candy waited to be put in huge baskets. Then mom would take me to the department store to pick out a stuffed bunny. A blessed and Happy Easter, and yummy candies to everyone.
Yep, I found one of those eggs around the 4th of July once.....it had gained in aroma and flavor by then.
---

Name: Daryl Lundquist () on Friday, March 25, 2005 at 15:43:19


Email: dlundquist@thinmetalparts.com
City and State: Colorado Springs, CO
Class: 1962
Message: Well, well, well Gary Bickers. Great to see you on the Coug site. How's the golf game? Hope your are still hitting them long, straight, high and not too often. Continuing the Adams saga. My first year of North American Little League (1955) I played second base for Worth. Our shortstop was Joey Adams, Tony's older brother. Is he one in the same that you were referrring to? Joey Moeller. Wow was he overpowering. I don't remember if it was Middle League All-Stars, American Legion or Colt League, at any rate on one of those levels my older brother Dennis hit a double off Joe Moeller and that's all he could talk about for years after. Gary, since I have your e-mail now I will contact you there. Hope all is well. Daryl

---

Name: doris () on Friday, March 25, 2005 at 15:02:35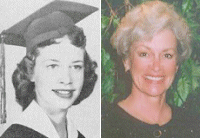 Email: yup
City and State: Twin Falls, IDEEEHO
Maiden: donaldson
Class: 1957
Message: Loved Jim Schroeder's feedback! What a funnnnny guy you are! Also liked the bitchin' feedback from Baxter Dodd, another '57er. And John ... you have been so funny the last two days, I have chortled and chortled! And love your Easter wishes above!! HAPPPPY EASTER to my Coug buds, and for that matter, ALL of CougarTown! Thanks again John, for providing this place, CougarTown. Much, MUCH fun and memories!
Hi Doris, No, I think Jim was being serious. You and yours have a fun weekend and stay out of the liquor cabinet.
---

Name: gary bickers () on Friday, March 25, 2005 at 14:59:38


Email: garybicdds@aol.com
City and State: pve cal
Class: 1963
Message: Bob, more on the Adams Family. No, Royal played for another team that included his brother, my good friend, Dennis. Joe's catcher was his brother, his other brother, Tony. Tony was in our class year at LHS. When that MIDDLE League was started the parents tried to keep all the brother combinations together. My brother, Bob and I played with the Adams boys on the Redmen. Additionally Russ asked about my brother. He lives in Santa Cruz with his wife of 40 years, Marilyn Johnson, class of '56 and sister of Maridel Johnson of our class of '63

---

Name: Cindy Colby () on Friday, March 25, 2005 at 12:45:57


Email: cindycolby@adelphia.net
City and State: Seal Beach, CA
Maiden: Maxson
Class: 1963
Message: Man, I love those marshmallow bunnies, and your thought about us John, way too cute. Thanks Happy Easter to all and don't eat too much candy, leave some for the grandkids. Cindy
Thank you Cindy, and you too have a Happy Easter....
---

Name: Schroeder () on Friday, March 25, 2005 at 12:30:46

Email: chezwizz@yahoo.com
City and State: Oregon
Class: 1966
Message: Hay cats and kittens; Spring Break is upon us. Mating season gone mad. Easter Break (as it was called) at HHS meant getting beat up by El Segundo at the annual baseball tourney and then cruising to Tijuana for informative lessons in anatomy, biology and (hopefully not) health. My mom always fell for the surf trip ploy but the intent was a bacchanal with babes. Here (and now) in Oregon, it's different. The two-hundred mile overland trek to the seashore for the Crab Festival is not as much fun as it sounds. This time of year the boys are hopeful to catch the girls minus their omnipresent parkas. This Crab-Fest was situated along the harbor promenade where patchouli scented booths selling hand-made junk and tie-died Towncraft tee-shirts were lined up. A fortune-teller booth promised an intriguing insight into the unknown future, so I plunked down a sawbuck and took a seat. Her name was Madam Joy and she could/would channel any friend/relative that I wished. "How 'bout famed Beach Boy drummer, Denny Wilson?" I quarried. "Coming right up," she responded as her eyes rolled back. After a minute of quiet, a gruff voice spoke through Madam Joy. "Hay dude, how's it going?" (I gained verification that this was indeed Denny by posing a series of shrewd questions.) Here is a transcription of the exchange (in interest of brevity). "So Denny, where are you and how do you like it?" "I can't say for sure, but it's a little like being in Coach Bravo's Spanish class." "I get piped in music but only one song plays over and over, "Sugar Sugar" by the Archies, and the T.V. continually plays reruns of "My Mother the Car." "There is a room next to mine that is reserved for Cougartown patrons who are late paying their dues." "I have a tetherball pole in my apartment but the ball is made of cement embedded with shards of glass, so it's not that much fun fun fun." I asked Denny what he might like to see on the Beach Boy Memorial to be erected on his old home-sight. "Take that money and buy a bunch of Spanada," he replied without hesitation. At this point, Madam Joy blew out a plume of smoke and croaked, "your time is up." Spring Break just isn't what it used to be.
Sounds to me like Dennis might be in that OTHER place for Easter, but I'm sold....the Spanada comment confirms that it really was Dennis and that Madam Joy is NOT a charlatan. Did you get her home number? I have a few questions for Ginger Mark and now that she can't reach out and grab me, I'll feel safe.
Thanks Jim for your wit, Happy Easter, and a Care Package is on it's way to OR.
---

Name: Dan Johnson () on Friday, March 25, 2005 at 11:59:38


Email: wch1ispinkATaolDOTcom
City and State: The Valley
Class: 1977
Message: Great "interpretation" of Randy Newman there JB. Thanks for the kind thought! As for you and CT, to borrow from the esteemed Mr. Newman on another composition, "we love it" (At least I didn't quote "Short People Got No Reason to Live")
Thanks Dan, I mean it, and you have a Pink Easter...

---

Name: KAREN BEARNS () on Friday, March 25, 2005 at 10:28:47


Email: DOGDEDE@AOL.COM
City and State: REDONDO BEACH
Maiden: WEBSTER
Class: 1972
Message: WE WISH EVERYONE A VERY NICE EASTER FROM OUR HOUSE TO YOURS. KAREN AND COMET BOY.
Hey Karen, Happy Easter to you and Comet Boy, and to all the HHSers, WHSers, LHSers, MHSers, RUHSers, IHSers, MCHSers, and all the rest of the So Bay High School Alumni looking in on Ctown. Have a great weekend and remember Easter is not just about the Bunny.
---

Name: Baxter Dodd () on Friday, March 25, 2005 at 03:01:08


Email: baxterldo@aol.com
City and State: Riverside, CA
Class: 1957
Message: This talk about the ?60?s Slang,? reminds me that I still use it and it helps keep me out of trouble. For example, you guys who have a wife or girlfriend have all been in this situation: You and your woman are getting ready to go out and you hear, ?Does this dress/sweater/pants/etc make me look fat?? or ?How does my hair look?? When I hear these questions, I always answer, ?You look bitchin!? She still smiles when she hears that? Baxter
I still use that word. I know it dates me, but so does my face.

---

Name: BOB FAULKNER () on Thursday, March 24, 2005 at 21:55:53
Email: upsbubba@hotmail.com
City and State: garden grove,ca.
Class: 1963
Message: I WOULD LIKE TO ADD MY TWO CENTS TO THE JOEY ADAMS SAGA. IF MY MEMORY SERVES ME, HIS CATCHER WAS ROYAL LORD, WHAT A BATTERY. I THINK THAT MIDDLE LEAGUE BACK THEN, WAS PLAYED ON THE NORTH EAST CORNER OF DANA JR HIGH. I THINK I WAS A 12 YEAR OLD IN LITTLE LEAGUE AND WOULD WATCH THEM PLAY, WHAT TALENT!!. DOES ANYONE REMEMBER BARRY MAXWELL?, AS I REMEMBER HE WAS FROM EL SEGUNDO. WHEN HE PITCHED IT WAS A BLUR. THREW HIS ARM OUT WHEN HE WAS STILL REAL YOUNG.

---

Name: Keith D. Jones () on Thursday, March 24, 2005 at 20:40:57
Email: cmi50@yahoo.com
City and State: Kona, Hawaii
Class: 1976
Message: well if Bobby Hunter lurks on here I wnt to say Hi, He was my coach at HHS. He was a tough little guy. I really like him.

---

Name: Britt Stonebraker () on Thursday, March 24, 2005 at 18:49:39
Email: thatbritts@yahoo.com
City and State: san marcos ca
Class: 1978
Message: You Guys really amaze me with all your memorys of the fiftys, I cannot for the life of me remember anything about the fiftys,, Go figure!

---

Name: John Rout () on Thursday, March 24, 2005 at 13:29:34


Email: dabully2@msn.com
City and State: Cerritos, CA
Class: 1963
Message: Gary, mentioning that 1959 HHS football team reminded me of something, In 1970, I was a student at El Camino, and belonged to the veterans fraternity (along with Mike Babineau and Floyd McCutcheon, both HHS 63ers). One of the guys in the frat asked me if I would be an assistant coach on the local Hawthorne Pop Warner football team. I went to the first coaches meeting and during the introductions, I was introduced to the running backs coach, Bobby Hunter. One of the greats from that '59 team. I was like a silly little boy every time he talked to me.
Bobby Hunter is still around and is living in Orangevale CA. He's a lurker here on the feedback page.
---

Name: Jim () on Thursday, March 24, 2005 at 08:11:21
Email: backdraftco@hotmail.com
City and State: Ladera Ranch CA
Class: 1968
Message: Bob Veach: We never met but please also accept my sincere condolences for the loss of your dad. I had the pleasure of knowing him at HFD, '68-'71 and he truly was one of my favorite people. I really liked him a lot and have nothing but memories of vivid, enjoyable chats with him. HFD had a reunion a couple years back I couldn't attend and he was one guy I was anxious to see.(I picture him on his horse). Steve Fraser, please email me, as your email keeps bouncing back to me. Thanks, Jim (I just retired from NBFD and is it COOL!)

---

Name: gary bickers () on Wednesday, March 23, 2005 at 21:41:33


Email: garybicdds@aol.com
City and State: pve cal
Class: 1963
Message: OK, John and Russ, more on the Adams family. There was a third brother, Bobby and he died in a car crash while returning to Riverside while on duty during the Vietnam war. The brothers were amazing and still are thought highly of at LHS. Speaking of highly thought of, we who followed still remember that "59 football team that Russ was a big part of and still think that was the best HHS team anyone ever saw.
So Russ knows; I wasn't even going to play football until I saw that team.
Go Cougars.

---

Name: Cindy Colby 'Maxson' () on Wednesday, March 23, 2005 at 20:38:35


Email: cindycolby@adelphia.net
City and State: Seal Beach, CA
Maiden: Maxson
Class: 1963
Message: I just finished reading the 60's slang page, OMG it took me almost an hour, I was laughing so hard I couldn't see for the tears. I never thought to look there. That really brings back some memories. That was so Bitchin, Cindy
Folks, there is more to this site than this page.
---

Name: EL ROJO () on Wednesday, March 23, 2005 at 19:45:07


Email: jakejude@aol.com
City and State: Kuna, ID
Maiden: FUN,FUN,FUN
Class: 1960
Message: Gary Bickers, love to see you on the site. Your memory is one heck of alot better than mine. You're right about Joe Adams, great ball player and he was on that Cardinal team of 57 as well as your brother Bob. Another LHS kid last name of Howard, his first name escapes me, also played with us as well as John Blankenship. The name Joey Moeller, very familiar. Played against him in Middle League as well as high school. Hell of a pitcher. Was real scary at 56 feet.LOL. Aspirin city. Thanks for jogging my memory. Good to hear from you. By the way is your brother still with us? If so say hi, if not my condolences. MAY THE COUGAR BE WITH YOU! Jake N jude.

---

Name: Andrea () on Wednesday, March 23, 2005 at 18:59:32


Email: ValleyofmyDolls@aol.com
City and State: Hawthorne
Maiden: Rossi
Class: 1982
Message: Hey out there1 Are any Cougars going to see Motley Crue tonight at the Forum?

---

Name: John Rout () on Wednesday, March 23, 2005 at 18:24:31


Email: dabully2@msn.com
City and State: Cerritos, CA
Class: 1963
Message: Hey Gary Bickers, thanks for the memories. I think I struck out against all of the Adams brothers. Wasn't there a third one, Bobby? I think I struck out against him too. And Rojo, I was only a scrub on that great Lloyd Dennee's Cardinal team of 1957, but it seems to me that Punky Mercer played catcher. If he played third, who caught? Finally, Jerry Flores, who was just about the best ballplayer I ever saw, had a sporting goods store in Hawthorne during the late 70's or early 80's. It was in the old Lloyd Dennee's building. Talk about going full circle!

---

Name: AETIVS () on Wednesday, March 23, 2005 at 15:45:40
Email: aetivs@charter.net
City and State: Riverside, Ca.
Maiden: That's it.
Class: 1985
Message: You know what? For those who think it might be "copacetic" rather than "copasetic" or "copasthetic", you might have a point. It just dawned on me looking at it spelled that way on a post that it bears a Latin look (Roman Latin, not Latino). COPACETICVS would be an adjectival form, and from the "co" prefix - which would indicate something that brings together or goes with something - it would go with the meaning of copa-whatever it is. We may have blundered into the origin of the term, which is obscure, evidently. I have several Latin dictionaries, I'll look it up. However, in Latin a C is always pronounced hard, like in cake or candy, never like an S as in city or copacetic. Thus, the proper pronounciation might be coh-puh-ketik ... though somehow I doubt anyone will change how they speak it... I like the Led Zep quote, BTW, but at the moment I can't remember the song it's from.
Hey AETIVS, first you'll have to use your real name here, and second, what the HE double nylon stockings does this have to do with Hawthorne? Not sure that anyone gives a rats buttoot (look that one up) about copasetic (it's listed at dictionary.com, btw) as this is not a linguistic website.
---

Name: Enza Nicocia () on Wednesday, March 23, 2005 at 15:36:53
Email: enico72@aol.com
City and State: San Pedro, CA
Class: 1972
Message: Dear Bob Veach, So sorry to hear of the passing of your beloved papa. Heartfelt thoughts and prayers from all the Nicocia's go out to you and your family.

---

Name: Keith D. Jones () on Wednesday, March 23, 2005 at 13:57:34

Email: cmi50@yahoo.com
City and State: Kona, Hawaii
Class: 1976
Message: I saw Joe Moeller's name. He was my baseball coach and Steve Yeagar was my catching coach. I think Joe sell Real Estate in the beach area. he had an office down in Redondo i think. Haven't heard his name in 25 years

---

Name: John Miranda () on Wednesday, March 23, 2005 at 12:36:15

Email: mirandaless@earthlink.net
City and State: Clearwater, FL
Class: 1965
Message: High school was a trip for me-took a while to groove into it, but after my "hodad" stint, I enjoyed my time there and was always proud to have been a gradute of HHS. I'm now reminded of my best friend back then, Robert Valdez and playing varsity football and losing a playoff game by one first down, a real heart breaker. I'm glad this site is up for all who want to stroll down memory lane and the great times we all had then.
Hey John, thanks for letting all know you're out there and come on back anytime you've got something to share about HHS or 90250.
---

Name: Gary Bickers () on Wednesday, March 23, 2005 at 11:39:07


Email: garybicdds@aol.com
City and State: pve cal
Class: 1963
Message: John, Russ missed a great baseball player of that era, Joe Adams Jr. Joe went to LHS and pitched for alot of local teams in 2-3 differant leagues in the late 50's and early 60's. Joe threw against Joe Moeller, later a Dodger starting pitcher and beat him in a 15 inning game in El Segundo. He was much like Gary Mykkanen, a man playing against boys.
I remember Joe, and younger brother Tony who was also a pretty good LHS ballplayer. Thanks Gary....
---

Name: Barbara Duran () on Wednesday, March 23, 2005 at 09:24:35
City and State: El Segundo
Message: Bob Veach, I'm so sorry for the loss of your father.

---