Hawthorne Time and
Temperature

Home | 60's Slang | Alumni List | Car Talk | Cougar News | Feedback | Hangouts | Memories
Recollections | Reunions | Street Scene | Teachers | Tributes | Vietnam | What's New | Keyword Search
You got soul, too much soul
Foxy clothes, the cutest nose
The greatest shape
There's nothing fake about you
Baby you got it> Brenton Wood
<!-+++++++++++++++++++++++++++++++++++++++++++++++++++++++++++++++++++++++++++++++++++++++++++ +++++++++++++++++++++++++++++++++++++++++++++++++++++++++++++++++++++++++++++++++++++++++++++->

---

---
<!-+++++++++++++++++++++++++++++++++++++++++++++++++++++++++++++++++++++++++++++++++++++++++++ +++++++++++++++++++++++++++++++++++++++++++++++++++++++++++++++++++++++++++++++++++++++++++++->
Name: Enza Nicocia () on Tuesday, November 16, 2004 at 10:59:10


Email: antiquenza@aol.com
City and State: looking for a home...
Maiden: to call my own.....
Class: 1972
Message: I going to be checking out the Crestline/Lake Arrowhead area in the next week or two, and was wondering if we have any Cougars who live in that area that can give me some feedback on the pros and cons on living in the mountains of SoCal. Email me.
Hi Enza, Arrowhead is a great area but you better bring your wallet.

---

Name: michael gentleman () on Monday, November 15, 2004 at 19:47:40
Email: gentleman_m1961@yahoo.com
City and State: fresno ca
Class: 1979
Message: I attended the class of 79 25th reunion on Saturday Nov.13.it was my first contact with anyone from HHS since graduation. I had a great time and renewed some old friendships. Thanks to the committee on a great evening of fun and memories
All Right Michael, Glad you attended your reunion as there's no question you'll always have a great time. Cougs, always attend your reunions; you'll never regret going, but you will regret missing it.
---

Name: kkarla () on Monday, November 15, 2004 at 13:52:32
Email: kadler@ariesintl.com
City and State: hawthorne, CA
Maiden: cabezas
Class: 1983
Message: I have some very sad news about our alumni, Anita Kovacs, she passed away on November 8, 2004.
Anita and I were best friends since seventh grade, we lost contact after high school. Fortunately, we hooked up again at our 20 year reunion. We had such a good time that evening. She was always a joker, when all of us alumni were about to take the reunion picture, she was the one who yelled out "Everyone show your tits!!" Those who knew and loved her will miss her dearly. Please pray for her family.
Always sad to lose a good friend and fellow Coug. Sorry for your loss, Kkarla
---

Name: James Armour () on Monday, November 15, 2004 at 09:00:52


Email: Orcaarmour@charter.net
City and State: Shell Beach, CA
Class: 1970
Message: I,too, believe you probably already have enough to handle with the Cougartown site. But, if you do find time John, I always thought it would be interesting to be able to see a geographic representation of where all the Cougartown members are located. You know, what country, State, and city they reside in on a map represented by a dot. Then you could list each by Country/State so all of us could see whether someone is living close by that we weren't aware of. I bet there are a lot of us living near each other and don't know it. Just a thought (and maybe too much work). Happy Holidays John, and to all the rest of my Cougartown buddies.
Hey James, That was a plan at one time. Lots of work keeping a map like that current as if you have 5500 people in a group, someone will always be moving. Now if we could just get all Ctowners to wear tracking collars we might have a shot.

---

Name: Alan Nelson () on Sunday, November 14, 2004 at 21:01:13


Email: boatcop@boatcop.com
City and State: Parker, Az
Class: 1973
Message: Hey John? I know you're busy and all that, but what's the latest count on Cougar-Towners on board? It hasn't been updated for nearly 2 years. Oh...and pick up a copy of the Nov/Dec issue of "PowerBoat" magazine. There's an interesting article in it. (Pats self on back!)
Hey Alan, I just looked and it's 5560 Cougs on the Alumni List. That's fairly close as some have passed on. Yes, I will take a look and see if I recognize anyone in there.

Thanks......
---

Name: Kelley () on Sunday, November 14, 2004 at 11:32:29


Email: surfbabe@charter.net
City and State: Englewood, OR
Maiden: Currie
Class: 1967
Message: HAPPY BIRTHDAY to my brother CHUCK CURRIE
LOVE, KELL
Happy Birthday Chuck...
---

Name: Pat Underwood () on Sunday, November 14, 2004 at 00:53:10

Email: onefomilyhistorian@socal.rr.com
City and State: Hawthorne, Calif
Maiden: Lawndale High
Class: 1963
Message: I was a member of the Milton Mann Studios in 58 & 59 and can or could play the accordion with my knuckles, but it?s my day job that pays the bills. LOL. So John if you?re looking for advice, keep your day job. LOL.
Thanks Pat, I will...
---

Name: Elizabeth Aleccia () on Saturday, November 13, 2004 at 17:58:43

Email: dzlizzy31@hotmail.com
City and State: Redondo Beach,CA
Class: 1969
Message: Sure is quiet around here....somebody play a piano or sumthin..
I can play a piano with my elbows.....
---

Name: Wade Greasby () on Friday, November 12, 2004 at 10:24:57
Email: grizbear73@juno.com
City and State: Surf City, Ca
Maiden: Golf Tourney
Class: 1973
Message: Just to get any reactions and to let you know the tentative time and date of our next Cougar Classic Golf Tourney. Next years event is slated for May 21st, 9A.M. at Fullerton Golf Course, costs $100.00 per golfer. This will include green fees, cart, and buffet dinner. Mulligans and raffle tickets will be extra. This gives us about 5 months to prepare and one month to scramble to find another place to play if all falls through. Your suggestions would be appreciated and more details will come. Thanks. Hope all had a good Vets Day.
This gives all Ctown golfers ample time to make plans to attend, so mark your calendars. Thanks Wade.....
---

Name: doris () on Friday, November 12, 2004 at 10:16:35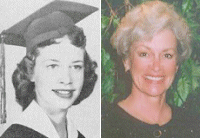 Email: dorisjeanatmindspring.com
City and State: Twin Falls, ID
Maiden: donaldson
Class: 1957
Message: For some reason, I couldn't pull up CT yesterday, along with any other website so guess my server was acting up. Of course, I have a computer with a mind of it's own ... must be a female computer, huh? ANYWAY! Now I'm a day late, but HAPPY BD TO BOB JENSEN!!! GAWD! He's getting old! LOL!
ALSO a very big THANK YOU to ALL you vets, not especially any of you, but especially ALL OF YOU, THANK YOU FROM THE BOTTOM OF MY RATHER SIZABLE HEART!!!
Happy Birthday, Bob.....
---

Name: Ernie () on Friday, November 12, 2004 at 07:42:12
Email: ehorn@houston.rr.com
City and State: Houston, TX
Class: 1986
Message: Alonzo, I can't believe you forgot to mention me, Tyrone, Milas, and Dave McCallistor. We were the one's who protected your skinny butt so you could make All league. Damn, how quickly they forget. lol What up man?

---

Name: Jim Gibson () on Thursday, November 11, 2004 at 21:03:04


Email: gibby@c-zone.net
City and State: Redding, CA
Class: 1967
Message: Re: Walter's post below...I'd guess Ron was inspired after attending the outstanding Brian Wilson concert. By the way, I took my son to both shows (11/2, 11/3). Had a great time! Anyone who knows me knows I'm a BW - Beach Boy fanatic! Brian is still adding to his substantial legacy.

---

Name: Walter Holt () on Thursday, November 11, 2004 at 17:57:48


Email: wholt1948@yahoo.com
City and State: Surf City, Ca
Class: 1966
Message: Thanks Ray, We Vets, especially us from the Vietnam era, do appreciate being remembered in kindness a lot. To chime in on another of our beloved teachers that treated everyone fairly, cared about developing the love of knowledge within the students that had the good graces to have him as a teacher and to this day is the embodiment of someone truly kind of nature is our own Harry Plotkin. It was a pleasure to know him back at RH Dana as a teacher and is even more a pleasure to know him today. Cougar sighting...Ron Reinholdson and I went to Sano surfing today and ran into Gary Rieder(?sp) C/O 1965.
AHH DARN!! You almost made it, Walter.....through a whole feedback without mentioning the "S" word.

---

Name: Ray Nelson () on Thursday, November 11, 2004 at 16:55:13


Email: prnelson@bellsouth.net
City and State: Billy Goat Acres, GA
Class: 1973
Message: To all veterans - this day is for you. Welcome home!!!!!
Amen....Thanks Ray
---

Name: JOHN CROTTY () on Thursday, November 11, 2004 at 14:35:02


City and State: HERMOSA BCH
Class: 1969
Message: I GUESS TOO OFTEN, HERE ON C-TOWN, WE READ OF ANOTHER PARENT OR CLASSMATE PASSING. NONE OF US ARE EXEMPT FROM THAT FACT OF LIFE. AND, NO MATTER WHAT WE WRITE THEN, IT REALLY CAN'T QUITE SEEM TO CONVEY TRUE COMPASSION FOR THOSE WHO ARE HURTING. KATHLEEN'S NOTE MADE ME THINK ABOUT THOSE WHO ARE STILL HERE AND WHOM WE'VE NEVER REALLY ACKNOWLEDGED OR THANKED. IN MY LIFE, I'VE ONLY HELD THREE MEN IN A KINDA "HEROES" BRACKET. FIRST, OBVIOULSY, IS MY OWN FATHER. HE'S STILL WITH US AT 83 YEARS, AND HE'S TRULY MY BEST FRIEND. HE DOESN'T HAVE A COMPUTER OR READ C-TOWN, BUT I LET HIM KNOW ALL THE TIME WHAT HE MEANS TO ME. ANOTHER IS MY BROTHER PAUL. THAT GUY HAS A WORK ETHIC AND A LOVE AND COMMITMENT TO FAMILY THAT PUTS HIM IN A CLASS BY HIMSELF. HE'S DONE EVERYTHING RIGHT IN HIS LIFE AND NOW GETS TO REAP THE BENEFITS. THEN THERE'S THE THIRD GUY. THE ONLY OTHER MAN THAT I HELD IN SUCH HIGH ESTEEM IS OUR OWN "OL COACH." HAL CHAUNCEY WAS PROBABLY THE MOST FAIR, NON-JUDGMENTAL TEACHER, INSTRUCTOR AND ADVISOR, I EVER KNEW OR HAD AT HHS. HE TREATED EVERY KID IN HIS CLASS EQUALLY AND SO FAIRLY, AND MADE THEM FEEL EQUAL TO ANY OTHER. EVEN IF THAT KID HADN'T THE SLIGHTEST ATHLETIC ABILITY OR DESIRE TO EXCEL IN SPORTS, THE OL' COACH ENCOURAGED HIM AND GAVE HIM A SMILE FOR THE EFFORT OR ATTEMPT. HE POSSESSES A FABULOUS SENSE OF HUMOR AND A QUICK WIT AND YOU JUST CAN'T HELP BEING DRAWN TOWARD HIM, WHENEVER HE AND KATHY COME TO ANY C-TOWN EVENT. I'M SURE THERE ARE LITERALLY HUNDREDS OF MEN OUT THERE WHO WERE SOMEHOW AFFECTED POSITIVELY BY MR. CHAUNCEY. TODAY, WHEN I SEE THE COACH, IT JUST MAKES ME FEEL GOOD TO SEE THAT SAME OLD SMILE. I LOVE TO LISTEN TO HIS STORIES AND RECOLLECTIONS. HE STILL MAKES ME FEEL IMPORTANT EVEN AFTER ALL THIS TIME. YOU NEED TO KNOW COACH, THAT THINGS YOU DID, AND LEADERSHIP YOU PROVIDED, HAD A PROFOUND AFFECT ON ME. I'M PROUD TO KNOW YA' AND EVEN MORE PROUD TO ACKNOWLEDGE THAT YOU REALLY ARE A TRUE HERO AND MY FRIEND.
Yep, I have to agree, the Ol Coach is one of a kind and nothing but a positive influence on anyone who wants to listen. It's too late to say thanks for everything to my Dad. He's gone but I think of him everyday. My Mom is still with us and DOES check this page, so I'd like to say thanks Mom for all the times you've helped me in this life. It's been far more than I can count and I love you lots.
---

Name: Wade Greasby () on Thursday, November 11, 2004 at 08:19:36


Email: grizbear73@juno.com
City and State: Surf City, Ca
Maiden: B-Day
Class: 1973
Message: Happy Birthday Kathleen, you share this day with my dad who passed away 10 years ago. Your reflections brought back many solid memories of growing up. I hope you had a great day. It made me remember many of my dads B-days and the times we shared. Thanks. Sloey brothers, it's that time of the year again...OU and NU!!!

---
Name: David Neuschafer () on Wednesday, November 10, 2004 at 19:08:28
Email: Dendan2@aol
City and State: Vista, Ca
Class: 1959
Message: John, I was lucky and got to read Karen's manuscript of "Hickson" before she sent it in...your going to love it! And, what fun you'll have reading it to your grand daughter(The pretty little halloween sunflower). Anyway...Christmas is coming up buy bunches of her book and give them out as gifts...It's a fun read! See,I'm just trying to help with your shopping list!
Thanks
---

Name: Don Hinton () on Wednesday, November 10, 2004 at 15:51:50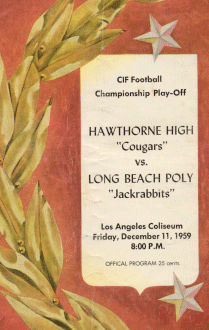 Email: donhinton@hotmail.com
City and State: Tucson,Az.
Message: I just read the statement by Gary Bickers about HHS beating Samohi in 1959. I am confused by this, because in 1959 I attended Samohi, and I remember being at the CIF championship football game in the L.A. Colisseum against Long Beach Poly. Do I have the years wrong? Was that in 1958, the only other year I attended Samohi? Did I go to see HHS play and remember it as being Samohi? I graduated in 1960 and went on to UCLA. By the way, it is ironic that I once attended a HHS game in Hawthorne. After I joined the Air Force in 1964, I was sent to El Segundo to the Space Systems Division on El Segundo Blvd. I was living in an apartment in Hawthorne, close to Mattel. Once I got so bored that I went to a high school football game nearby, but I don't know who the opponent was. Anyway, this is what I am curious about. Do I have my facts and memories wrong, or did Samohi and HHS face Long Beach Poly in the championship in consecutive years? Thank you.
Hey Don, Here's the program cover from that game in 1959. That would've been Class Year 1960. Maybe that's the confusion.
---

Name: Kathleen Griffin () on Wednesday, November 10, 2004 at 13:42:35
Email: spirithart@yahoo.com
City and State: San Pedro, CA
Maiden: Nix
Class: 1974
Message: John, I just sent in more membership dues. I noticed some of my classmates had 6's spinning next to their names and I wanted to make sure I was up to date. Anyone else out there that appreciates this site but hasn't "joined" the spinning star club, it's so easy! Membership is just 10 dollars a year and it helps keep Cougartown the best High School Alumni Website on the Web!
Hi again, Kathleen; Yes, thank you, and all the Ctown Members for supporting your Cougartown website. I know lots of people just plain forget to send in their dues, but it's never too late. Go to the appropriate membership graphic at the top of this page, click on it, and use your favorite plastic or check to get yourself into the
club.
Thanks again to all the "up-to-daters" for your support.
---

Name: Kathleen Griffin () on Wednesday, November 10, 2004 at 12:09:40


Email: spirithart@yahoo.com
City and State: San Pedro, CA
Maiden: Nix
Class: 1974
Message: Today is my 48th birthday. I woke up reflecting on the years and the theme appears to be on the people in my life who were teachers. Not just those whom I called teacher but those in the ?village? that infused life lessons which altered my life?s course. My mom and dad instilled my solid foundation of values and I admire my values greatly. My Mom taught me to have faith, any faith because she knew that no matter how tough things got, ultimately it was going to be me that had to stand strong and walk through the fire. No one else could do that on my behalf. My Dad taught me to live my life with dignity and integrity, learn from my mistakes and keep moving forward. They taught me so many other values as well, but today these two stand out the most. Dad passed a few years ago but Mom is still going strong and I am grateful to the both of them for the lessons I learned. Other people came to mind today so I wanted to acknowledge them as well. Mrs. Swallow spent one summer teaching Debbie Green and myself to knit. Today, my grandchildren look forward to getting their new slippers every Christmas all because ?Ma Swallow? took some time to teach me to make something out of string. Mrs. Schwarz taught me how to crochet, I?ve made many family heirlooms because she taught me how to read the patterns, she also took the fear of sewing away from me so today I can reupholster my own furniture or make bridesmaid dresses for my friends. Mrs. Richmond was my Girl Scout leader and she taught me how to build a campfire, pitch a tent, the secrets of not getting blisters when you are breaking in a new pair of hiking boots and basic first aid. All of these ?gifts? were passed down to my own sons and even my Ex Husband. My brother taught me how to ride a bicycle, how to float in a pool, and then how to swim. Ruby and Jim taught me not to drink and not to smoke (by their example), I learned this at such a young age that by the time I was at the peer pressure stage, I knew why I wasn?t going to do that. Mr. Grant taught me that just about anything on my flute could be fixed and made it look so easy that I just started doing it myself. I learned how to fix just about every kind of woodwind instrument because other kids brought them to me. The Bristo Family taught me to always keep a fire extinguisher in my car. The Laidlaw family taught me to see those who are handicapped as real people with something to contribute. Mr. Chauncey taught me to always allow a new dog to smell my hand before I try to pet it. Mrs. Minton taught me how to start my own business when I was 12 years old. That summer I was earning 20 dollars a week. The Wilson family taught me that there is no such thing as a ?celebrity?, everyone was somebody?s neighbor. So I suppose the message here is it really does take a ?village? to raise a child. I?m grateful to the village that helped to raise me.
Ahh thank you Kathleen and a very Happy Birthday to you. Very nice thoughts indeed. We all had our villagers guiding us as we ran youths gauntlet.... Too bad I lived on the slow side of Hawthorne.

---

Name: john crotty () on Wednesday, November 10, 2004 at 11:04:33


City and State: hermosa beach
Class: 1969
Message: Good news Cougars and Cougarettes, for those of you outside the South Bay, Morningside High has to forfeit three wins this year, including their win last week over Hawthorne, for having an ineligible player (5 year student). That puts us in contention for first place!!! A win over Santa Monica this week will clinch the Ocean League title. What was that old saying they drummed into our heads, "Cheaters never...."

---

Name: Janet Mercurio () on Wednesday, November 10, 2004 at 08:34:01

Email: mercurioj@saccounty.net
City and State: Davis, Ca.
Maiden: same
Class: 1968
Message: Has anyone kept in touch with Nasrin Tebbe - the exchange student in '64-'65? I've been trying to find her address for a year or so. The AFS folks in Hawthorne, the Travers, have lost touch with her. Please let me know if you have it. Thanks a lot. - Janet

---

Name: jim magrini () on Wednesday, November 10, 2004 at 02:05:39


Email: jim.magrini@comcast.net
City and State: Littleton Colorado
Class: 1976
Message: Just doing a little late night web surfing and decided to get on CT. Saw the pic of Soupy Sales and remembered I have that very vinyl album. I also remember the fair and how much fun it was. Kirk, we need to hook up one of these days. Keith, we had our first snow 7" here about a week ago and can understand why you live where you live. The city is warm and the mountains are just beautiful to see all snow capped. I also remember going through the trash cans outside Mattel. I used to live on 140th st. I also remember Rocco's and Pizza show and Green farms. What great food those places had. It making me hungry!
Thanks Jim, great memories....
---

Name: Karen Kuehl () on Tuesday, November 9, 2004 at 18:09:40
Email: kaymom1999@yahoo.com
City and State: LVNV
Maiden: Graham
Class: 1959
Message: No sorry, not a word about the A&W in the book. But there is mention of a man who grew up in Lawndale who is the father of the little girl I wrote about. Is that close enough? Gosh, it's good to be back!!
Close enough, then.....
---

Name: Marsha Allen () on Tuesday, November 9, 2004 at 17:50:14
Email: ralphmarsha@yahoo.com
City and State: Hemet, Ca.
Maiden: Burgin
Class: 1954
Message: Hi Cougars! Fond memories of the "good old, uncomplicated, days."
Yes they are. Thanks Marsha
---

Name: Matt Peterson () on Tuesday, November 9, 2004 at 14:53:32


Email: mattpete6@yahoo.com
City and State: El Dorado Hills, CA
Class: 1974
Message: I have sad news. Coach Dallas Yost is seriously ill and is in the hospital at South Bay Health District. If you wish to communicate with him please email his wife Dorothy at DorothyYost@aol.com. Or you can contact me for updates.
Thanks for the info, Matt. I'm sure friends of Coach Yost will want to send email. Please keep us up to date on the situation.
---

Name: Bud Rhoades () on Tuesday, November 9, 2004 at 11:41:31

Email: bud.rhoades@fullmerinc.com
City and State: Belmontshore
Class: 1974
Message: Britt,Emitt Rhodes band was "The merry go-round" He had a few regional hits that got airplay on 93KHJ.I recalled he did live on the "Hill" right next door to Mark Pappas if I recall.I believe Emitt still lives in Hawthorne and produces and engineers still.I did sadly hear that he was also at some time recently very ill.Hope that helps.

---

Name: David McCormick () on Tuesday, November 9, 2004 at 09:42:05

Email: dmccormick@employersgroup.com
City and State: Cerritos, CA
Class: 1964
Message: Sorry I had to miss Homecoming. Thanks for the pictures. Enjoyed seeing people I remembered and especially my old friend Glenn Crist.
You are welcome, David....
---

Name: Karen Kuehl () on Tuesday, November 9, 2004 at 06:28:40

Email: kaymom1999@yahoo.com
City and State: Las Vegas, NV
Maiden: Graham
Class: 1959
Message: Well, after being "away" for a few months (it's hell when you're without the net!) I'm ba-ack!!! I found a job and a place to live in Las Vegas as Doris explained earlier and loving them both. And my book has been published too!! What a trip that is. Thanks to everyone for your concern while I was away and I hope to see some of you Las Vegans soon. Drop me a note and maybe we can get together. I sure missed you all on Ctown and am spending every free moment getting caught up on the news. It sure is good to be back "HOME"!!
Hey Karen, Glad you're back as lots of us were wondering where you were off to. Good luck with your book, "Hickson" too. Is there anything about the A&W in Hawthorne in it?

---

Name: Chris Prewitt () on Monday, November 8, 2004 at 23:03:19


Email: cjprewitt at juno.com
City and State: Fullerton, CA
Class: 1967
Message: I was looking at the photos from the homecoming football game. Paco mentioned Janet Ashby well I looked a few pages further and saw Penny Ashby. It has been 35+ years since I saw her. Janet and Penny were my next door neighbors. I learned my first spanish words speaking to their grandfather. What a great family to have next door. I kick myself for not going but Kathie and I had the grandkids the next day starting a 4AM. We just couldn't go to Homecoming and get up the next morning. I hope everyone had a great time!
It's a small Cougar world, Chris. Sorry you missed them.
---