Hawthorne Time and
Temperature

Home | 60's Slang | Alumni List | Car Talk | Cougar News | Feedback | Hangouts | Memories
Recollections | Reunions | Street Scene | Teachers | Tributes | Vietnam | What's New | Keyword Search
You got soul, too much soul
Foxy clothes, the cutest nose
The greatest shape
There's nothing fake about you
Baby you got it> Brenton Wood
<!-+++++++++++++++++++++++++++++++++++++++++++++++++++++++++++++++++++++++++++++++++++++++++++ +++++++++++++++++++++++++++++++++++++++++++++++++++++++++++++++++++++++++++++++++++++++++++++->

---

---
<!-+++++++++++++++++++++++++++++++++++++++++++++++++++++++++++++++++++++++++++++++++++++++++++ +++++++++++++++++++++++++++++++++++++++++++++++++++++++++++++++++++++++++++++++++++++++++++++->
Name: David Neuschafer () on Tuesday, November 23, 2004 at 18:38:19
Email: Dendan2@aol.com
City and State: Vista, Ca
Class: 1959
Message: Hey John...I'm sure everyone knows about the streetcars that ran down the middle of "The Blvd" back in the old days just about the time the dinosaurs died out, but I wonder how many Cougars and Cougarettes ever got to ride on one? I can still memember riding on them, in fact, that's the first time I can remember seeing the City of Hawthorne...coming into town via the streetcar. My mom brought my sister and me on the thing to go shopping at Chaney's Dept. store. That was 1943 or 1944 sometime. We lived on the other side of L.A., a place called Highland Park at the time. My dad was working at Douglas Aircraft. We soon moved to Hawthorne and into a little house on Eucalyptus Street so that he could be closer to his job. That little house was the only house on the block at that time, all around was open wild oat fields. John, you and I may know how they got a streetcar headed south to head back north again without completely turning it around on the straight tracks, but I wonder how many others do? Hope you don't mind me reminising a bit about the "old" Hawthorne...But then, I guess that's what this site is all about, isn't it...About memories?
Hey Dave, Yep, I remember the streetcars and how they turned them back toward Inglewood after stopping at Broadway and the Bl. That's where thay'd pick my gramma and I up so she could do her weekly shopping at Grants, Woolworths, J C Penney, and Sears. It was either the Red Car or the Sunset Stage, if you wanted to get to Inglewood, but given a choice by my gramma, I always chose the streetcar. I think it was a dime each way and I, being about 5, probably rode for free. Thanks Dave for the memory flogger. That really doesn't seem that long ago.
---

Name: Walter Holt () on Tuesday, November 23, 2004 at 12:15:20


Email: wholt48@socal.rr.com
City and State: Surf City, Ca
Class: 1966
Message: Yep John...SBC is running a special $26.99 mo. for the 1st year. However I just learned the hard way, if you have a yahoo e-mail account and you link it to your SBC DSL e-mail when you shut off SBC bye bye goes your access to your yahoo E-mail. So for all my buds (Doris an all) please e-mail me at wholt48@socal.rr.com cause my up to date current address book went bye bye with the Yahoo e-mail account..LOVE MY WIRELESS CABLE.. Also looking at the marriages, step up class of 66 because I know quite a few of you have married HHS'ers and been together a long time... Hey John an I didn't even mention the S word once.
DANG!! You just said "S word". Almost made it though again.

Thanks Walter.....
---

Name: Sandra Perez () on Monday, November 22, 2004 at 23:17:01
Email: Sanna@cox.net
City and State: Encinitas, CA
Maiden: Perales
Class: 1988
Message: Hello all, as always, I enjoy reading all the latest news about all of you alumni. I especially enjoy the stories regarding the Helms bread trucks and all the old stores in good old Hawthorne. I grew up there and attended Eucalyptus, Hawthorne Intermediate and, of course, HHS. But today I am writing to ask all of you a favor. On June 27th, I wrote a dedication to my great teacher, Ms. Leda Griffin, HHS Class of 1969. Some of you may know that she has passed and I am requesting that those of you who knew her, please write me a story or two about what she was like in school as a teenager or anything else you would like to tell me about her. I wholeheartedly would greatly appreciate it. I am writing my thesis about this great woman. Thanks again.

---

Name: Sharon Stowe () on Monday, November 22, 2004 at 14:50:46


Email: sharons39@hotmail.com
City and State: El Segundo, CA
Maiden: Ritch
Class: 1972
Message: Hello to Karen Webster Bearns,
I just noticed your name and that you are married to Comet Boy! Is he a super hero? I like it! My parents just celebrated their 58th wedding Anniversary! Sharon


---

Name: Barney McArdle () on Monday, November 22, 2004 at 11:51:41

Email: barney.f.mcardle@boeing.com
City and State: McKinney, Texas
Class: 1958
Message: Hey John, I see you are asking for lengths of marriage time. My wife Judy and I will be married 40 years on May 8th, 2005. My wife is from Quanah, Texas and we met at a party and I had brought her best friend to the party. Yesterday we had our pictures taken for Christmas and the photographer kept refering to us as Mom and Dad. I agree with everything that Jake said about "Old School" and it's true. How ya doin Jake?
Hey Barney, 40 years is nothing to sneeze at, but certainly many have been married longer. Face it Barney, you're just a kid in HHS marriages.

---

Name: deano () on Monday, November 22, 2004 at 09:57:07


Email: DKarels@sbcglobal.net
City and State: tustin,ca
Class: 1965
Message: Enza I too looked in those areas first and then I decided on Big Bear reason being it has everything; local lake in summer and skiing in winter, good luck. Deano

---

Name: Jann Bass () on Sunday, November 21, 2004 at 16:12:11
Email: bass9394@direcway.com
City and State: Belmont, NV
Message: The trampoline at Bob Cole's Dance studio was right next to the window. Everytime I bounced up I thought I was going to fly OUT the window. I'm afraid of heights to this day!

---

Name: Keith D. Jones () on Sunday, November 21, 2004 at 14:22:54

Email: cmi50@yahoo.com
City and State: Kona, Hawaii
Class: 1976
Message: I was wondering if anyone has anything about what Robert Armbruster was doing nowadays. He was an awesome athlete at HHS. As a wrestler he would physically scare his opponents into quitting even before the match. He would literally take his warmups off after doing all kinds of pushups, situps, running around and then when his opponenets would see his huge muscles would just quit. What is he doing now. He was always over muscular ever since little league.

---

Name: TS () on Saturday, November 20, 2004 at 23:28:45
Email: tam_tam_9250@yahoo.com
City and State: Aliso Viejo, CA
Message: I'm a Seahawk, graduated in 1980 but my husband is a Hawthorne High graduate of '79.
Anyone here went to elementary schools Cimarron and James Kew in Hawthorne? Would be nice to find people who did!
Tammy
Thanks Tammy, Seahawks too are welcome here.
---

Name: Dave Krikac () on Saturday, November 20, 2004 at 21:31:03

Email: dave@thegearfoundation.org
City and State: Franklin, TN
Maiden: Endoe
Class: 1976
Message: Hey Happy belated Birthday Chuck Currie..... Shou out to Kell, Liz, and the 133rd Street Gang. Hey anyone in 1976 remember the Party Blackwell, Bistolas, Cambell, Hallbeck, Manning thre Grad Night? I had to pay for the damage to the Hacienda Hotel....it was worth it. :)
Hey Jeanette: You need to send John a recent picture so he can do a before & after kinda thing...I am SURE you have not changed ONE BIT...Great to hear from you. You have been such a faithful friend to my little Sis Karen (1980), keep my email handy dave@thegearfoundation.org C-YA
Dave

---

Name: BOB FAULKNER () on Saturday, November 20, 2004 at 17:39:46
Email: UPSBUBBA@HOTMAIL.COM
City and State: GARDEN GROVE, C A.
Class: 1963
Message: WE'LL THANKS TO STEVE HANSON, I AM NOW THE PROUD OWNER (I HOPE) OF THAT COPY OF THE 1963 EL MOLINO. I COULD NOT STAND TO THINK THAT IT COULD FALL INTO THE HANDS OF A NON "COUG". AT THIS TIME I WOULD LIKE TO SOLICIT DONATIONS. I HOPE TO FIND OUT IF THE ORIGINAL OWNER WAS AN ALUMNI. EVERYONE HAVE A GREAT WEEKEND.
202.50 is just a little too steep for me.

All the Beach Boy El Molinos are out of sight. There was a 58 book that was on ebay a month or so ago, that was owned by HHS alum Ray Quinones, who was a part of the group "Ray and Rene" (Queen of my Heart). Who WAS the original owner of the 63 book?
---

Name: Jeanette Mounts () on Saturday, November 20, 2004 at 17:22:28

Email: gidgeh20@yahoo.com
City and State: Colorado Springs, Co
Maiden: Nimrichter
Class: 1979
Message: Thanks for the web-site, it brings back fun memories
Thank you, Jeanette, Glad you like it....
---

Name: EL ROJO () on Saturday, November 20, 2004 at 13:34:40


Email: I-DY-HO
City and State: KUNA,ID
Maiden: NO SWEAT
Class: 1960
Message: By the way Dan, did they have Right Guard before you met Ann? I can't believe a..beauti..ful lady could take a jock like... Never mind that you're from HHS... but come on. Ah.. you weren't bad as a tackle. But you guys all smelled ...like you know...someone who worked for a living!! Congrats Ann, you're COUGAR TUFF! Take that sentinels.
MAY THE COUGAR BE WITH YOU . Jake N Jude.

---

Name: EL ROJO () on Saturday, November 20, 2004 at 13:22:38
Email: I-DY-HO
City and State: KUNA, ID
Maiden: IN WAITING
Class: 1960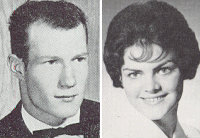 Message: JESUS..Oh I forgot, Politically correct these days. Holy Cow... Oh I forgot, mad cow..you know..oh the hell with it.
John you realize that you started a thing here. How long is the longest living marriage in Cougartown at this time? Well, from the chart, that makes me and Jude close to the top, next to that old 56 guy. But we're really not as old as we look. Dan and Ann(that rhymes soocooool) congrats big guy on your anniversary, from the upper classman that taught you all you really needed to know about how to "hit" someone and really use your arms in the "shot"..know what I mean?:-)) Never mind! It's a bitchin thing to see the longevity in the kids, "yeah kids",of our generations. Cougartown Kids. People say to me "how long have you been married"? And I say xx amount of years. They say why? Then I say, it's pretty common from our high school where we grew up. They go how is that? (I love that term Theygo ) John, what would Mrs. Mark say to that one. I say it's because of the way we were brought up. We were taught that a wrong was a wrong. You were held responsible for the wrong. Old school? Maybe. But we were also taught that you paid the piper if wrong. If you were right and you were honest, you reaped the rewards. I guess most of us connected to these pages have reaped our rewards in one way or the other or we wouldn't be here checking on each other. Truth is...Is God perfdect? I spelled that right Jb, didn't I? But damn it's good to be a COUGAR.
MAY THE COUGAR BE WITH YOU! Jake N Jude.
The longest living marriage would be a guess, but I'd have to go with Richard and Joann. I think Richard Hanson holds the all time record for working at an aircraft plant too. He's been at Boeing for 48 years. He says he now receives not only his paycheck but his Social Security check too.
The term "I go" or "they go" doesn't bother me. It's just what young people say now. I still use the term "bitchen" and my dad would say, when he was mad about something, that he was "browned off". Mrs. Mark would have had something to say about the "I go" lingo, but I don't know what she would've said to me about using the word, "bitchen" as I never said it in front of her.

---

Name: Dan & Ann Dye () on Saturday, November 20, 2004 at 04:15:10

Email: DanADye@earthlink.net
City and State: Torrance, Ca.
Class: 1962
Message: I had a date with a beautiful lady tonight. (my wife of 33 years) We went out to dinner. The place was full and we had to wait in the lobby, however all the seats were taken. As we walked to the lobby, a very nice young man and his two sons got up and offered us their seats. Now I think that was very thoughtful of them. After we were sitting down, I told my wife, wasn't that nice of them to give up their seats for us old folks? Talk about feeling OLD!
Always a Cougar, Dan Dye
Me and my two boys were glad to do it too.

---

Name: Jill McFarlane () on Friday, November 19, 2004 at 19:04:57

Email: jmcfarlane99@sbcglobal.net
City and State: Mission Viejo
Class: 1977
Message: Hey TS from Aliso Viejo, I too went to Cimarron Ave and had a Mrs. Gardner for my kindergarden teacher. What a small world. I think I had her way back in 1965 though.
JB, I have a new email address and have updated it on the Alumni list. All you Coug's have a tasty Thanksgiving.
Thanks Jill, it has been updated. Boy, everyone going to sbcglobal in the last week. Must be running a special.
---

Name: T.S. () on Friday, November 19, 2004 at 15:04:30
Email: tam_tam_9250@yahoo.com
City and State: Aliso Viejo, CA
Message: I was looking at the old Cabrillo class picture and noticed a teacher there named Mrs. Gardner. My kindergarten teacher's name was Mrs. Gardner at Cimmarron School in Hawthorne in 1967. Could that be the same teacher? If so can anyone please e-mail and let me know? I would appreciate it. She was the best teacher I ever had!
Thanks!
Where are you seeing the Cabrillo class picture and who are you?
---

Name: Marsha () on Friday, November 19, 2004 at 12:23:03

Email: mrussell90277@aol.com
City and State: Redondo Beach
Maiden: Russell
Class: 1964
Message: Happy birthday to Mo, happy birthday to Co, Happy Birthday to Mo & Co Trott, Happy birthday to you..........
And MANY MANY more.
Happy Bday, Mo and Co.....
---

Name: Neil Andersen () on Friday, November 19, 2004 at 12:14:23


Email: sumerset@aol.com
City and State: Dallas,OR
Class: 1962
Message: Just a word, Harry Haacke is recovering from a total knee replacement. We are looking for Mike Graves and Bob Pullen to make up a four-some for next years golf tournament, his coming back to play party.
Sounds great Neil. The last I heard, Mike was living out around Brea and Bob was living in Lawndale. You might start there.
---

Name: Wayne Dickey () on Thursday, November 18, 2004 at 22:39:59


Email: impalawayneAOL.COM
City and State: essen, germany
Class: 1969
Message: Quick note! Donna and I are in Germany as I type. Having fun and think about everyone at Cougartown. John, we were walking down a street here yesterday and there was a man playing an accordion. Yes John, here in germany. So I asked if I could play a tune , and he nodded yes. Well, I now can say I performed the Beer Barrel Polka in Germany. Liz, is that enough excitement. See you all soon, Wayne
It's a good thing you didn't do "Lady of Spain", they woulda shot you.

Thanks Wayne and have one of those dark German beers for me, willya.
---

Name: Marilyn Ross () on Thursday, November 18, 2004 at 21:46:24

Email: mlr922@hotmail.com
City and State: Garden Grove, Ca
Maiden: Ross
Class: 1956
Message: My sister-in-law sent me an obit clipping today. Ed Kemmer, better known as Cmdr. Buzz Corry, died at the age of 84. A paragraph in the article says "Space Patrol" chronicled the adventures of Corry, who fought intergalactic villains of the 30th century while flying around in his Terra V spacecraft with comic sidekick Cadet Happy. Anyone younger than 55 probably never heard of this show but it was a biggie locally in the 50's. Even my dad wouldn't miss this show.
Say it ain't SO, Marilyn!!! Yet another childhood idol, Buzz Corey, bites the intergalactic space dust. Cadet Happy, Major Robertson, Carol, and Tonga will just have to fight space crime alone.
---

Name: gary Bickers () on Thursday, November 18, 2004 at 19:57:24
Email: garybicdds@aol.com
City and State: pve cal
Class: 1963
Message: John, the little cafe was on the east side of Hawthorne Blvd as was the Western Auto store. The Western Auto Store was run by Lyle and Renia Stoller, who went to school with my Mom in Iowa. They had a boxer in the store name Penny. My Dad had alot of imagination on a pool table as you will remember, but the best name he could come up with was the Bicker's Cafe.
Yes I do remember. This place was also supposed to have a bar attached, at least in the 40s. Does that ring a bell at all?
---

Name: Mike Hinsch () on Thursday, November 18, 2004 at 16:39:01


Email: mn_hinsch@msn.com
City and State: North Plains, OR
Class: 1977
Message: Hey John, Just sent in my dues......I hopefully am now up to date. (it's about time)! Sorry it took so long! All you other Cougars need to do the same to support John's efforts here which are SUPER HUMAN in my book! THANKS AGAIN FOR ALL YOU DO!
Ahhh thank you Mike, and thanks for supporting Cougartown.
---

Name: Dan Johnson () on Thursday, November 18, 2004 at 14:39:40


Email: wch1ispinkATaolDOTcom
City and State: Long Beach, CA
Class: 1977
Message: Greetings Cougs: On Saturday, I'm getting together with Kathleen Griffin and "the Hippie" in Long Beach at a nightclub called Vault 350. Out of respect for our fearless leader, e-mail me for details!
Ahhh Dan, thanks for that and have a great time.
---

Name: Gary Bickers () on Thursday, November 18, 2004 at 10:25:48


Email: garybicdds@aol.com
City and State: pve cal
Class: 1963
Message: John, concerning the picture of the cafe on the feedback page, I think that is the same place my Dad owned in the mid 60's. The place wasn't on El Segundo. The cafe I am thinking of was one and a half blocks north of El Segundo on Hawthorne next to the Western Auto Store. Sure looks like the same place.
Thanks Gary, wasn't the Western Auto store on the east side of the Blvd? What was the name of the coffee shop when your dad owned it?
---

Name: Max Roelen () on Wednesday, November 17, 2004 at 15:14:52


Email: mroelen@comcast.net
City and State: Citrus Heights
Class: 1974
Message: OK JB, my brother was a Seahawk and 1962 graduate of RBUHS. Case in point, ya can't trash all Seahawks! Have a good Cougar day.
You're right Max and I'm sorry your brother missed out on HHS too.
I was just wondering who is married to whom. The WHO being the Cougar and the WHOM being another local So Cal High School. Is anyone married to someone from a local High School? Heck, if you're married to a Cougar, let us know that too. Let us know what school and how long you've been married. Thanks Cougs.....
---

Name: Kell () on Tuesday, November 16, 2004 at 20:49:17
Email: canyoubreath.com
City and State: cleanairstill
Class: 1967
Message: Enza, Think SMOG.Does it rise or fall! Petey is trying to help you via me....

---

Name: Lowell Satterlee () on Tuesday, November 16, 2004 at 18:40:21

Email: satchpapasatch@infostations.com
City and State: Citrus Hts, CA
Class: 1957
Message: I work with a Max Stevenson at Hewlett-Packard in Roseville,Ca who is married to Dorothy who was in the Class of 1962 as you were John. She is better known as Dottie Cook in those days. Well the sad thing is she has been recently admitted to the Kaiser Roseville Hospital. Suffering from some type of seizure. That left the left side of her brain not functioning too well. I thought that maybe some of her fellow classmates from the Class of 1962 or any fellow Cougars would like to send her a little cheering up message. E-Mail is Honeymother@hotmail.com. By the way she married a graduate of Redondo High (class of 1956) but he is a nice guy anyway.
I remember Dottie Cook very well. We were good friends in high school and I do believe she was in our infamous Government class headed up by Mr. Hamilton; our fearless leader. Thank you Lowell for the information. Too bad about that Seahawk thing.

---

Name: Keith D. Jones () on Tuesday, November 16, 2004 at 18:09:00
Email: cmi50@yahoo.com
City and State: Kona Hawaii
Class: 1976
Message: We had a cabin in Running Springs which is located between Arrowhead and Big Bear. It is a great location and not as busy as the other two. It is just about 20 minutes to Arrowhead and about 30 minutes to Big Bear from Running Springs. Arrowhead is so commericial now and is Big Bear. But if you plan to ski all the time whether water or snow I'd go to Big Bear. Plus the back way up to Big Bear is really neat too.

---

Name: Laura Anderson () on Tuesday, November 16, 2004 at 16:09:32


Email: mrsanderson404@hotmail.com
City and State: Hemet, CA
Maiden: Twitchell
Message: A big AMEN to Michael's post about the reunion this past Saturday...it was too much fun and all I can say to those that missed it...you missed out. I especially enjoyed reconnecting with some classmates that didn't make the previous reunions...GREAT JOB MAGGIE, DON, RHONDA, AND TOM (sorry if I missed anyone).

---

Name: Dave Keller () on Tuesday, November 16, 2004 at 15:16:51
Email: keller95971@yahoo.com
City and State: Quincy, Ca.
Class: 1981
Message: Dear alumni: I am hoping that my fellow HHS grads would assist me in my efforts to launch a Internet-only daily newspaper for Plumas County. I am seeking a financial backer or two who are willing and able to partner with me financially. (The mid-four figures). Please email me at the above email address.
Thanks, Dave Keller

---

Name: Matt Peterson () on Tuesday, November 16, 2004 at 15:11:53


Email: mattpete6@yahoo.com
City and State: El Dorado Hills, CA
Class: 1974
Message: I wanted to let everyone know that coach Dallas Yost is home from the hospital. He is up and about and enjoyed watching sports all weekend. Though he is better, his condition is still serious. If you want his contact information, drop me an email.
Thanks Matt, for keeping all of Coach Yost's friends updated.
---

Name: Bud Rhoades () on Tuesday, November 16, 2004 at 12:09:19

Email: bud.rhoades@fullmerinc.comb
City and State: BelmontShores
Class: 1974
Message: Enza,we owned a little get-away home in Arrowhead and loved every weekend we spent there,especially the Holidays,with the change of seasons and the snow.The market is a little soft up there now but is rapidly changing so dont wait because it will go up again and as John said it can get a bit pricey. The lake is really low due to the drought and the bark beetle infestation looks like it finally has run its course, so if we have a little El Nino, it should be on its way to recovery.Good luck Bud

---