Hawthorne Time and
Temperature




Home | 60's Slang | Alumni List | Car Talk | Cougar News | Feedback | Hangouts | Memories
Recollections | Reunions | Street Scene | Teachers | Tributes | Vietnam | What's New | Keyword Search

You got soul, too much soul
Foxy clothes, the cutest nose
The greatest shape
There's nothing fake about you
Baby you got it> Brenton Wood

<!-+++++++++++++++++++++++++++++++++++++++++++++++++++++++++++++++++++++++++++++++++++++++++++ +++++++++++++++++++++++++++++++++++++++++++++++++++++++++++++++++++++++++++++++++++++++++++++->

---

---
<!-+++++++++++++++++++++++++++++++++++++++++++++++++++++++++++++++++++++++++++++++++++++++++++ +++++++++++++++++++++++++++++++++++++++++++++++++++++++++++++++++++++++++++++++++++++++++++++->
Name: Bob Veach () on Monday, October 18, 2004 at 20:30:56


Email: GRV5891@aol.com
City and State: Long Beach, CA
Maiden: Polyette
Class: 1972
Message: Although Nat King Cole was not from the South Bay area, he did live in downtown Inglewood a short while. He and his family attended our church, Holy Faith, and sang at one of its benefits. One of his daughters, Cookie, attended the church summer camp where my grandmother volunteered as a camp nurse. My grandmother sat and talked with her one Saturday night as she was crying. All the other kids were at the camp dance. Cookie was crying as none of the boys would dance with her and there were no other African Americans at the camp.
There is another story how the local Inglewood gentry felt about NKC and his family living there and his reply when they visited him that is quite funny. But it can't be told here. I'd have to drop the "N" bomb and some people might be offended.
Pizza Show was great- loved watching them spin the dough in the air; lived 1/2 block away from Rocco's and also great. But the best Italian food/pizza was Amado's on Prairie and about 119th.
Good stuff, thanks Bob....
---

Name: Danny Bellare () on Monday, October 18, 2004 at 20:24:03
Email: wutswut@mycabcard.com
City and State: Truck'n USA
Class: 1976
Message: Rocco's was good-Pizza Show Had good Subs. Green Farm had the kick'n ribs. Youth camp I had a broken leg with a cast and walker on the bottom. I stept on the hole with bumble bee about six of us were stung up pretty bad...Keith I remember OVER THE TOP. You were an extra..

---

Name: Jerry Skaff () on Monday, October 18, 2004 at 17:16:57



Email: jskaff@fjuhsd.k12.ca.us
City and State: Thousand Oaks ca
Class: 1967
Message: John, I've been out of touch lately, sorry for that. I saw the picture of the Centinela on the web (how memories return). Thanks for the thought. I will look for more pic's. You are right about our dads being best friend then, I can hear my dad talk highly about yours as I write. I remember ED LUTZ sr having his one bar stool that no other person was allowed to use. Ed used to sign a large number of building cards from that stool. What a great person he was. I'll look but I think I have a pic of our dads and Jim Thorpe in the cafe. There are so many memories at that time, it's hard to tell all. As far as the best sub sandwich in town, Just look as to which pizza parlor is still in business. The Pizza Show is in the Skaff Family. You talk about memories.
Hey Jerry, Great memories indeed. Thanks for sharing your thoughts on the Centinela Cafe as it was truly one of Hawthorne's grand old night spots. Take care and feel free to add to this page anytime.
---

Name: Marilyn Ross () on Monday, October 18, 2004 at 16:42:58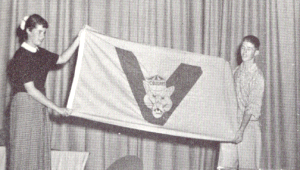 Email: mlr922@hotmail.com
City and State: Garden Grove, Ca
Maiden: Wisham
Class: 1956
Message: Back in the 50's we would fly a victory flag when we won the league. I think that is a passe tradition. There is a pic of the flag in pg 51 of the 55' yearbook. We took at least 2 football league championships while I was in school. That was the Pioneer League in those days. I had several friends from Leuzinger. They said their victory flag had been in mothballs for several years, they weren't sure they would ever see it again.
Thanks Marilyn.....
---

Name: John Rout () on Monday, October 18, 2004 at 15:14:18
Email: dabully2@msn.com
City and State: Cerritos, CA
Class: 1963
Message: On that Leuzinger team that didn't score a point all season, in the late 60's I met the guy who was the starting center on that team. He was 5' 7'' and weighed 145 pounds. He said they didn't make their first first down of the season until the third quarter of the last game! At his size, it was no wonder. Now that's bad!
Good friend George Gates LHS62 played on that team. He doesn't speak of it too much.

---

Name: Dan Johnson () on Monday, October 18, 2004 at 14:03:15


Email: wch1ispink@aol.com
City and State: Sherman Oaks, CA
Class: 1977
Message: Wow another Coug in Sherman Oaks. It's starting to look like Thursday night cruise night on Van Nuys Blvd out here (HHS infested, that is). I went to Vegas this weekend and ran into a guy on the plane home who graduated from Gardena with Coach Minami. Two degrees of separation Coug sighting.
Hey Dan, That counts!!! Thanks for the heads up.....
---

Name: Cindy Colby () on Sunday, October 17, 2004 at 21:43:02


Email: cindycolby@adelphia.net
City and State: Seal Beach, CA
Maiden: Maxson
Class: 1963
Message: Funny John Rout should mention the Charlie Daniels Band. I am going to Laughlin next weekend to see them. Should be some good s--t kicken music. Cindy
Actually Charlie Daniels is riding with the Lord these days. Janet and I saw him in Fresno a couple of years ago at a Billy Graham Crusade. He was GREAT!!!!
---

Name: Gary Miller () on Sunday, October 17, 2004 at 21:42:27
Email: garyatsfo@webtvnet
City and State: Concord, Ca
Class: 1964
Message: Some people in Hawthorne had to go to Leuzinger. In 1960 we lived at 188 E 142nd. I went a semester, it was quite a change from Haw. Int. I remember going to PE, the gym was locked, they told us to report to the athletic field where we formed a big circle and were strip searched. I remember the vice principal, would pick me up at my house in the morning and take me home after school, and he had this big paddle with holes drilled in it. ouch! I got all F's, except for agriculture, D-, I put a lot of effort in that class cuz we could smoke in the chicken coop. I think they went years without winning a football game, but they had some fast runners, the Archibald Bros., and James Valmore. And the Centinela Valley YMCA summer day camp that met in the Gunga Din going on field trips, Hermosa Biltmore, indoor pool. Caught my 1st fish there, brought him home in an empty beer bottle. Called KFWB one morning around 6, and was the 1st caller whose phone # added up to 25, and won "the Purple People Eater". Os-91069.
Hey Gary, How are you doing, maaann? I haven't seen you since the first Cruise Night. Thank you very much for checking in and do NOT worry about that Leuzinger thing.


I do remember James Valmore too. He was the ONLY black guy at LHS and the BEST football player in the So. Bay. No one could catch that guy when he had the ball. Coach Chauncey was trying to find a house in the HHS area for his family to live and the Coach was going to pay their RENT. The year after he graduated, Leuzinger didn't score ONE SINGLE POINT ALL YEAR!!! Now I'm not exaggerating am I, not a single point. Anyway I know how embarrassed you must have been, so you can check in here any time you want as I know you need the sympathy. Thanks Gary and seriously, add to this page anytime you feel like it.
---

Name: John Rout () on Sunday, October 17, 2004 at 18:55:40


Email: dabully2@msn.com
City and State: Cerritos, CA
Class: 1963
Message: A couple of things on Ernie's post on The Crossfires. First, they didn't do Bustin' Surfboards. That was The Tornadoes. Secondly, The Crossfires didn't become The Byrds, they became The Turtles. If you look at the pic of the Crossfires that I sent you "Flo & Eddie" are the two left most guys in the picture. Don Murray, the drummer of the Crossfires/Turtles, attended El Camino in 1963/1964 and hung out with the same group of people that I did. As an aside, in the 1970's he became the drummer for the Charlie Daniels Band.
THAT's the guy (Don Murray) that went to Inglewood High. Thanks John, and folks, if there's anyone who knows early R&R/DooWop, it's our own John Rout.
---

Name: Lisa () on Sunday, October 17, 2004 at 18:50:22
Email: ldcp2001@aol.com
City and State: Ramon, CA
Maiden: Graham
Class: 1967
Message: HAPPY BIRTHDAY TO GIL ARIAS.
Happy Bday, Gil.....
---

Name: Ernie Nixon () on Sunday, October 17, 2004 at 17:12:18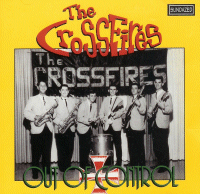 Email: ENixon1@bak.rr.com
City and State: Bakersfield Cal.
Class: 1963
Message: According to my information, John, a group called the Crossfires from Westchester High had a small hit called Bustin' Surfboards. However, they went on to become The Byrds. A small add on to that, Bustin' Surfboards is the song used in Pulp Fiction during the closing credits. I don't know if this would be considered a musical group, but the Smothers Bros. came out of Redondo Beach High. According to a person I know, who was there at the time, said they were cheerleaders there. I remember, once, seeing Tommy Smothers driving one of their Oldsmobiles drag cars late one night in Manhattan Beach, in the late 60's. Not exactly legal, but I'm sure some of us are just as guilty. Again, thanks for this awesome site.
GREAT ONE Ernie.... I had forgotten about the Smothers Bros.
I also think you're correct on the Crossfires. They were originaly called the Nightriders and most were from Westchester, although I think one member was from Inglewood.
---

Name: John Baker () on Sunday, October 17, 2004 at 16:55:14

Email: jb1atctown.com
City and State: Cougartown, CA
Class: 1962
Message: Here's a batch of HHS, class of 63 and 64, surfer girls that are still partying after all these years. They were spotted at Kincaids on the pier on Saturday night. It was Sandy Peppers' birthday and what I'm hearing is this thing went on for days. Oh well, you can take the girl out of the party, but.....well you know.
Happy Birthday Sandy. May you and the girls have many many more parties.

---

Name: Marilyn Ross () on Sunday, October 17, 2004 at 16:07:25


Email: mlr922@hotmail.com
City and State: Garden Grove, CA
Maiden: Wisham
Class: 1956
Message: The only McDonald's existing in 1954 was the original in San Bernardino. Ray Kroc opened his first one in 1955. I don't remember any McDonald's back then. I don't know if something else was before Skippy's or not. But it probably was that old. I went there a lot with my first boyfriend and that had to be 1954 or 55.
Thanks Marilyn, I agree it most probably wasn't a McDonalds, although the architecture looked similar.
---

Name: Ray () on Sunday, October 17, 2004 at 15:50:49

Email: rjshelley@sbcglobal.net
City and State: Mena AR
Class: 1958
Message: John, I remember facing a peanut butter and jelly sandwich, followed by an apple from a brown bag lunch packed by my Mom, while smelling the tantalizing smells of (Biggies/Skippys) hamburgers and fries. That was in 1954, Hawthorne Intermediate. Also, I used to shop where all the best dressed kids of Hawthorene shopped -Dexters- . Mandarin Collar shirts for $.99. - worn with pegger pants. Wow.
Have a safe Halloween. Ray
Hey Ray, OK, if you say 1954 then I believe it. Thanks for the info and I think I still have a pair of Peggers somewhere.
---

Name: BOB FAULKNER () on Sunday, October 17, 2004 at 08:23:23
Email: UPSBUBBA@HOTMAIL.COM
City and State: GARDEN GROVE, CA.
Class: 1963
Message: JB, ALL THIS GREAT TRIVIA KEEPS POURING IN. GREEN FARMS BBQ, WAS OWNED BY A MAN NAMED SID SCHWARTZ, HE OPENED THE BUSINESS SOMETIME IN THE 50'S. I WORKED THERE FOR 2 YEARS FOR A WHOPPING $1.25 PER HOUR FROM 1959-1961. THEY HAD THE BEST BBQ BEEF AND PASTRAMI SANDWICHES I EVER TASTED. WORKING THERE ALLOWED ME TO GET A CREDIT CARD AT RYANS MENS SHOP AT 15 YEARS OLD. NOW, AS FOR SCARPELLINOS PIZZA THEY DID SPONSOR A SEMI-PRO BASEBALL TEAM IN THE EARLY 60"S BECAUSE I PLAYED ON IT AND WAS THE ONLY WHITE KID ON IT AT THE TIME. IMAGINE THAT, IN THE 60"S. THE TEAM WAS COACHED BY AN UNCLE OF WILLIE MAYS. WELL ITS TIME TO ENFORCE MY OWN "BABBLE RULE", TAKE CARE EVERYONE.
Great Stuff Bob, Thanks..... Speaking of trivia. I got an email from someone this morning stating that Skippys (Biggies) on 129th and the Bl. was built in 1954 as a McDonalds. Although it kind of looked like a McDonalds, so did lots of Googie architecture of that period. Can anyone confirm or deny? Do any of you early Hawthorne Intermediate people remember when it was built? I was thinking later than 1954. Let us know....
The email did mention that if you got a red star on your receipt, your order was free. That one I do remember.
---

Name: Cindy Colby () on Saturday, October 16, 2004 at 15:36:17


Email: cindycolby@adelphia.net
City and State: Seal Beach, CA
Maiden: Maxson
Class: 1963
Message: I think I may have been the very first girl dumped by Dennis Wilson, it was in sixth grade, he broke up with me because I wouldn't kiss him. What did I know? Come to think of it that was probably a good thing, didn't even give it a thought till you mentioned it, it didn't hurt my feelings because I didn't want to kiss boys anyway.......Cooties you know. Cindy
Yeah, Dennis did it to a few of the XXers all right. And he broke up with them too.

---

Name: Janet () on Saturday, October 16, 2004 at 14:36:40
Email: jreeves@cableone.net
City and State: Prescott, AZ
Maiden: Hardy
Class: 1974
Message: I came across my name regarding Rocco's Pizza today. I honestly don't remember the owners names or any of the recipes. I just remember when making the subs, that "the first bite always counts". We had to make sure the dressing was at each end of the sandwich so nobody would bite into a dry sandwich. Sorry I couldn't remember more from when I worked there 32 years ago. Is Rocco's still there? I'll have to check it out next month when I make a trip back to so. cal.
It's gone. Thanks Janet...
---

Name: Robin () on Saturday, October 16, 2004 at 12:38:27

Email: RHood10542@aol.com
City and State: Monrovia, Ca
Class: 1960
Message: John, our first album "Premium Fruit" was just ahead of its time. We are in the process of re-releasing it on another label and touring with Rosie O'Donald, Ellen Degeneris and Mary Cheney early next year. Our opening show will be in Solvang. Keep an eye on the calender section and never count out the Peachboys....Thanks for the plug Kelly..:o)
Is it just me or does the CD look a little longer than it is wide. It may be a little tough to play.
---

Name: Schroeder () on Saturday, October 16, 2004 at 12:15:27

Email: chezwizz@yahoo.com
City and State: OREGON
Class: 1966
Message: Flo and Eddie played at the HHS aftergame dance (at least once) as the "Crossfires." There's another guy who was semi-famous in late 60's rock from HHS. He still lives there and has been having a rough time --Emmitt Rhodes. Jim Reale was a 6th grade camp counselor and HHS hero. I think Morris Lipson is the guy turning the lights off and on in Nyman Hall. He was told to stop long ago.

---

Name: Kell () on Saturday, October 16, 2004 at 11:02:50

Email: surfbabe@charter.net
City and State: Englewood,OR
Maiden: Currie
Class: 1967
Message: I think the other group you are thinking of coming out of HHS is Robin Hood and The Peach Boys...


Actually I was thinking of Sonny Bono who attended Inglewood High.
---

Name: Cal McDougal () on Saturday, October 16, 2004 at 04:58:40

Email: themcdougals@centurytel.net
City and State: Enterprise, Alabama
Class: 1962
Message: Don't Cook tonight, Call Chicken Delight! I worked at the El Segundo Chicken Delight Store which delivered to the area west of La Cienega between Rosecrans and Manchester. Bob Wallace, '62 and Dick Chapin, '61 worked there also. For $1.39 a piping hot 4 piece chicken dinner complete with fries and a blueberry muffin was delivered to your door. They also had a BBQ rib dinner for $1.78 and in '63 added pizza to the menu. After preparing, cooking and delivering chicken for 18 months I sort of lost my appetite for chicken. The cost of insurance kind of killed the business. Perhaps the concept of hiring 18 - 20 year old males to drive and encouraging them to make quick deliveries wasn't the best way to avoid accidents and tickets.
Thanks Cal, great memories......
---

Name: Terrence Poublon - Leuzinger's Class of 1981 () on Saturday, October 16, 2004 at 02:03:29
Email: Onterry@aol.com
City and State: San Jose, CA
Message: Hello John, Being that we are rapidly approaching Halloween, I was looking at an index of haunted places in California. On it, Hawthorne High School was listed. It states, "In Nyman Hall, you sometimes see an old woman in black wandering around there. And, also lights go off and on mysteriously. In the girls bathroom by Building 17, you can hear the sounds of a girl weeping. In this same bathroom, the toilets flush and the water turns on and off." Do you or any of your alumni know of any happenings such as this on The HHS Campus? The link to this information can be found on Shadowlands Haunted Places Index California... http://www.theshadowlands.net/places/california.htm
Thanks for sharing any information. Just curious.
Terry.
The toilets flush and the water turns on and off!!?? DRATS, I must've missed that one. And the girl weeping is just another broken heart, being dumped by Dennis Wilson.

Thanks Terrence.....
---

Name: Wade Greasby () on Saturday, October 16, 2004 at 00:19:13
Email: grizbear73@juno.com
City and State: Surf City, Ca
Maiden: Chow
Class: 1973
Message: Green Farms had great sandwiches. 132nd and Haw. Blvd. Pizza Show down the blvd., where Ted,'65, Larry,'69, Sandy,'71,and Gary '73, Poltash' mom worked. The food was good and the prices were great. She would always make sure the boys had something to eat. One thing I remember about 6th grade camp were the counslors. Herb Lewis and Ben. Herb HHS 67 or 68, played football and Ben (cannot think of his last name) was on the wrestling team. Same grad year. Great snow ball fights and long nights talking about HHS and their glory days.
I remember Rene Tavitian HHS62 worked at the Pizza Show. Never got a deal though.

---

Name: RANDY BEARNS () on Friday, October 15, 2004 at 22:01:47
Email: DOGDEDE@AOL.COM
City and State: REDONDO BEACH,CA.
Message: Hello everyone. Mark and Howard (Flo and Eddie) were Comet boys too! They went to Westchester High in the early 60's. I liked their songs. Have a great weekend. Comet boy, Randy
Hey Comet Boy, Thanks for the info and glad to hear a musician came out of Westchester.


Actually that's a pretty good topic. We all know that the Beach Boys, Chris Montez, and Ray Quinones of Ray and Rene went to Hawthorne. Now we know Flo and Eddie were Comets. What other musicians came from So Bay area schools? Anybody? I can think of one more easy one.
---

Name: Annie Moushoul () on Friday, October 15, 2004 at 21:30:03

City and State: Sherman Oaks, CA
Maiden: Nicocia
Class: 1974
Message: Hi Cougs~ I was wondering what is going on with the 1974 reunion cruise memory book and pictures from this past summer. Does anyone have any info if they have been mailed out yet?
Hi Annie, Those books seem to take forever. Email someone on your reunion committee, as they should know something.
How about Jim Cicalese - jimc074@aol.com or Cheryl Bemiss Swenson - pantheratigres@yahoo.com
Good Luck....
---

Name: Paco () on Friday, October 15, 2004 at 19:11:48


Email: doo4usc@cox.net
City and State: LF
Class: 1961
Message: Alan,The turtles..A bunch of hits, "So Happy Together", 'Elenor"..And I think they went to Westchester High.
P.S, did anyone hear the interview with Mike Love on XTRA today?

---

Name: Alan Nelson () on Friday, October 15, 2004 at 17:22:16


Email: boatcop@boatcop.com
City and State: Parker, Az
Class: 1973
Message: Armond's mention of Flo and Eddie brings up a good trivia question. Who ARE Flo and Eddie, and what was the name of their group and the hit song that they had in the mid '60s? (NOT Frank Zappa and the Mothers of Invention, who they also did a few albums with, most notably "Billy The Mountain")
Mark Volman and Howard Kaylen, I think? Anyone else know the rest?
---

Name: Bill Ennis () on Friday, October 15, 2004 at 17:15:07
Email: bennis66@sbcglobal.net
City and State: Auburn, CA
Class: 1966
Message: **sigh**

---

Name: Britt Stonebraker () on Friday, October 15, 2004 at 17:08:24
Email: thatbritts(at)yahooDotCom
City and State: San Marcos Ca
Maiden: She didnt say
Class: 1978
Message: Hi all I am going to Hawthorne saturday and staying till sunday afternoon, (first time in 14 years).
Its a sad time as this is for my Uncles funeral. His name is Harold Martin and he was married to Pat Stonebraker/Martin HHS"56, Some may remember him as he was a HPD motorcycle cop, His nick name was Wahoo! Because thats what he would yell out when jumping into a fight! A real classic Hawthorne Cop, from the days when Cops were BIG and BAD! and most problems were solved NOW. He leaves behind his wife Pat and his son Mike HHS 76 and Daughter Sue HHS 79 I'm lucky to have known him.
Sounds like a great guy, Britt, I'm sure he'll be missed.
---

Name: Bill Ennis () on Friday, October 15, 2004 at 13:31:10


Email: bennis66@sbcglobal.net
City and State: Auburn, CA
Class: 1966
Message: John, Green Valley Farms was on the corner of 132nd. and Hawthorne on the SE corner... (I think) They had an upright rotisserie unit in the front window. I have NO idea of the timeframe for those memories...
Hi Bill, Just a little tongue-in-cheek there with Keith. He, and I'm sure you, are talking about Green Farms and not Green Valley Farms which was where you specified. Thanks....
---

Name: Mike () on Thursday, October 14, 2004 at 22:02:50


What is your last name: Shay
City and State: Cerritos, CA
Put your Hawthorne Phone # here: OS6-9393
Class: 1961
Message: I never got to go to the Hawthorne Youth Camp but I spent lots of quality time at the carnival. I remember riding a thing called the Hammer?? Two little pods that would swing back and forth on long arms and go higher and higher until they would go over the top and everything in your pockets came spilling out. If you were lucky and hadn't eaten anything for a while that's all that came spilling out. That was also the first place I remember seeing a gifted girl in a tube top on a chilly night, a learning experience for sure.
M.S.
Yes, and a great way for telling the temperature.

Thank you Michael for that remembrance.
---