Hawthorne Time and
Temperature

Home | 60's Slang | Alumni List | Car Talk | Cougar News | Feedback | Hangouts | Memories
Recollections | Reunions | Street Scene | Teachers | Tributes | Vietnam | What's New | Keyword Search
You got soul, too much soul
Foxy clothes, the cutest nose
The greatest shape
There's nothing fake about you
Baby you got it> Brenton Wood
<!-+++++++++++++++++++++++++++++++++++++++++++++++++++++++++++++++++++++++++++++++++++++++++++ +++++++++++++++++++++++++++++++++++++++++++++++++++++++++++++++++++++++++++++++++++++++++++++->

---

---
<!-+++++++++++++++++++++++++++++++++++++++++++++++++++++++++++++++++++++++++++++++++++++++++++ +++++++++++++++++++++++++++++++++++++++++++++++++++++++++++++++++++++++++++++++++++++++++++++->
Name: Dee () on Thursday, October 28, 2004 at 14:15:56
Email: dm_oachs@hotmail.com
City and State: Rogue River, OR
Maiden: Hantgin
Class: 1984
Message: OK--you all are a lot older than I am and you have an advantage of remembering the good ol' days...All this about traffic or lack thereof and all. I am now glad I don't live down there and have to deal with traffic. I have fond memories of HHS and always will. I was down there for my 20th in August, and brought my 3 kids to HHS for a quick tour. Great looking cafeteria. Where is senior square now? My oldest is now a freshman in here in Rogue River, Or. and I wanted him to see where his mom went, well as it is a great deal larger than his school, I think he was amazed. We passed by the now Kye Courtney Gym and watched the cheerleaders at practice. All I can say is WOW things have changed from when I was there. But then again Coach Courtney was still alive then and was the best coach our school had-in my opinion. I remember having him as my typing teacher and having to pick rocks off the track instead of "timed writing", as they were having a track meet there, and he wanted his track free of debris. Any how--I wish I could come to a homecoming game and see old friends, and meet former alumni. Somehow this small town I live in doesn't have the same affect. But then again, I don't recall HHS having a parade before the game either. By the way--what school is HHS playing? Good Luck COUGARS.
Hi Dee, Yes, lots of changes since you were a senior. And yes, Kye Courtney was a GOD at HHS, just as The Ol' Coach, Hal Chauncey was a decade before. The NEW Senior Square will be between the Science Building and the Shops. It will take on a different look from the old Senior Square. They are still designing and will salute the scholar, sport, and history side of the school. We, as Cougartowners have been asked to add ideas, so if you have them, please email them to me, and add Senior Square as the Subject line. I will forward them to proper HHS people.
---

Name: Tzetzangari Barrera () on Thursday, October 28, 2004 at 11:59:13
Email: prettieja9902@yahoo.com
City and State: Phoenix, Az
Maiden: Vela
Class: 1997
Message: Wow..Hawthorne may have changes, but the memories lived there will remain the same.
Amen to that, all right.....
---

Name: Jim Dally () on Thursday, October 28, 2004 at 01:38:25


Email: jmd619@netzero.com
City and State: Carson, CA
Class: 1963
Message: Just returned from Maui from 12 days of vacation bliss. With that aside, I recall driving home in a winter fog in my folks '56 Rambler "hardtop" cross country wagon on Hawthorne Blvd from PCH to 120th without stopping once! Green lights at every intersection! Try that in todays world & it'll never happen. Try it on Maui--it may work, maybe. Depends on time of day. There is plenty of traffic over there! I guess the nice rainy weather here reminded me.
It's tough driving from El Segundo Bl. to 120th without stopping now, Jim, Thanks.

---

Name: Nick Fitzgerald () on Thursday, October 28, 2004 at 00:45:14


Email: nfitzge163@aol.com
City and State: Medford, Oregon
Class: 1959
Message: I will be coming down to So. Cal on Friday the 5th. I don't know if I can make the drive in one day but will try. I will be at my brother Bobs for the weekend and will leave on Monday to head home. Hope to see friends that weekend too. If I don't make it have a BEER for me.
Hey Nick, Glad to hear you're heading our way for Homecoming. Hope to see you and Bob there.
---

Name: bill schimko () on Thursday, October 28, 2004 at 00:19:41

Email: wschimko@yahoo.com
City and State: hacienda hts. ca
Class: 1969
Message: I enjoyed seeing everyone at the class of 69 reunion, hope to see and hear from you all !
Thanks Bill, Glad you enjoyed your reunion.
---

Name: Mary Wells () on Wednesday, October 27, 2004 at 23:17:47


Email: landmwells@sbcglobl.net
City and State: Newton, KS
Maiden: Fee
Class: 1961
Message: This is to inform any members of the Class of 1965 that my brother Tom Fee passed away 10/22/2004 in Roseburg, Oregon
Mary, so sorry to hear this news. My condolences to you and Tom's family. Always sad to lose a Cougar friend.
---

Name: Cindy Colby () on Wednesday, October 27, 2004 at 22:45:42


Email: cindycolby@adelphia.net
City and State: Seal Beach, CA
Maiden: Maxson
Class: 1963
Message: Hey John, just to let you know, Charlie Daniels is alive and kickin. It was a great show in Laughlin. I was thinking about going to homecoming, I will probably see you all there. Cindy
Hey Cindy, well COME ON DOWN as a bunch of us will be there......well me, Joe Bell, Robin Hood, Bob Melendrez and his daughter, Bob Milazzo and his wife, and maybe a FEW more,

AND we'll go to the SnS after the game for even MORE fun. We'll see you there.
---

Name: Keith D.Jones () on Wednesday, October 27, 2004 at 21:02:45

Email: cmi50@yahoo.com
City and State: KonaHawaii
Class: 1976
Message: Mrs. Phillips who lived 2 houses down from us worked at Mattels since it opened. Me, Mike Krstich, and Richard Hawkes used to go in the trash cans all the time and get toys and stuff. I remember when we discovered the Hot Wheels. This is when they only had a couple styles out. We found lots of track and cars. Used to go to Hollywood accessories too. They had alot of neat car stuff. And I wouid go to a salt & pepper shaker manufacturer in El Segundo across from Edelbrok and get enough pieces to make shakers and sell them. El Segundo back then had alot of big name companies in that area. Kept us busy on weekends.

---

Name: Kathy Downer () on Wednesday, October 27, 2004 at 18:11:43


Email: down6@charter.net
City and State: Marietta, Ohio
Maiden: Peterson
Class: 1970
Message: Does anyone remember when Mattels was a small factory? Before I lived on 129th st., I lived on Rosecrans. I must have been in third grade and I can recall going over there and looking through the trash. Maybe the Galindo kids remember doing this. I always wanted to be one of the kids who tested the toys, but my mom worked during the day. I wish I still had those Barbie dolls and Chatty Cathy, Beanie and Cecil dolls that talk when you pull the cord! Oh the advances in technology! The house I lived in is no longer there, but apparently Mattels is still doing well. Also, Happy Birthday to my little brother and fellow Cougar Matt Peterson. Take care everyone.
Hi Kathy, My ex-mother in law worked for Mattel in the mid 60's and would bring toys home for my daughter to try out. Lots of neat stuff. I think Mattel is in El Segundo now. Happy Bday Matt.....
---

Name: Keith D. Jones () on Wednesday, October 27, 2004 at 12:45:36
Email: cmi50@yahoo.com
City and State: Kona HI
Class: 1976
Message: Well we got our first snow yesterday. Didn't last long but it looked great when the clouds cleared. Nothing like coming out of an ocean that is crystal clear and looking up and seeing snow on the mountain tops. Now I remember one of the reasons I live here. That is the Pinks in the opening of Joey. Also, 76's I got a call from Rick Bainbridge. He is doing great in Atlanta as a Physical Therapist. Aloha

---

Name: doris () on Wednesday, October 27, 2004 at 09:13:01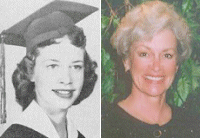 Email: dorisjean@mindspring.com
City and State: Twin Falls, ID
Maiden: donaldson
Class: 1957
Message: Just wanted you to know, John ... you were missed! Also, found Karen Kuehl. She can't email right now, but here's the skinny on her. She has moved lock, stock and barrel to Las Vegas! Went to work the day after she was interviewed, is now looking for a place to live and is all but settled right in! Come on you Vegas HHS residents ... make her feel welcome just as soon as we have an address and email for her. I'll keep you posted.
Thanks for the update, Doris....
---

Name: Larry Bundy () on Wednesday, October 27, 2004 at 06:12:38


Email: corvettedad@cox.net
City and State: Manchester CT
Class: 1964
Message: Looking for some Old friends.
They're here, Larry....
---

Name: Sharon Kettering Johnson () on Tuesday, October 26, 2004 at 23:12:43


Email: photolady84@hotmail.com
City and State: Nampa, Idaho
Message: Where is everyone? Just wondering if anyone had noticed on the opening of the new TV show, Joey, that they show Pinks. Is that THE Pinks? I've never been there, so wasn't sure. Also, saw a post about James Valmore, the only game I went to, he caught the ball on the kickoff and ran it for a touch down. It was awesome. Sharon
Hey Sharon, The Feedback page has been closed since last Friday; I open it and you pop in 2 minutes later....AMAZING. What is MORE amazing is 3 of the last 5 Feedbacks are from Olympians. Oh well, BRING IT ON, Leuzinger. I didn't see the opening but am sure it's the REAL Pinks.
---

Name: doris () on Friday, October 22, 2004 at 20:44:01
Email: dorisjean@mindspring.com
City and State: Twin Falls, ID
Maiden: donaldson
Class: 1957
Message: Hey gang! I've been trying to reach Karen Kuehl to no avail. Does anyone know how I can get hold of her; does she have a new email address, or ...?? Think Karen was class of 59. I would appreciate any assistance. Thanks.
Hi Doris, The last known email address for Karen is on the List. She may not have Internet access right now.
---

Name: Dave Neuschafer () on Friday, October 22, 2004 at 18:21:20
Email: Dendan2@aol.com
City and State: Vista, California
Message: John, I too remember the day Skippies opened. In 1954 my friend Milton Jones and I climbed the back fence at Hawthorne Inter. to get our "FREE" hamburger and fries...We made it back to the classroom, went into the coat closet to eat. Mr Hadick (Boys Vice Principle) caught us in there before we finished much of it! Man! As I remember we had to stay a hour after school. Hey, but we saved $.19 cents!

---

Name: Sharon () on Friday, October 22, 2004 at 16:46:54
Email: sharonlleach@cs.com
City and State: Long Beach, CA
Maiden: Moore
Class: 1966
Message: A friend of mine sent me this link. It is a fun trip back to the past. http://www.thestatenislandboys.com/U_thrill_me/ I know almost all of us remember these and have talked about them on CT. Everyone have a great weekend.

---

Name: Dave Neuschafer () on Friday, October 22, 2004 at 14:42:15
Email: Dendan2@aol.com
City and State: Vista, Ca
Class: 1959
Message: Hi John... Great site! I went to Leuzinger, class of'59. Wanted to ask if anyone remembers "Tom" the guy who used to deliver bread in the funny little Helms truck? He was around for years during the 50's...
Also I wanted to tell people about my book, "Shady Rest" Mollie Leeman class of '59 and Al Phenicie of Leuzinger class of '58 are the main characters. In the book both Hawthorne and Leuzinger get torn down! I think people might like to read it. It can be ordered at www.publishamerica.com/books/4550 John, if I can have your address, I'll send you a copy! Thanks
Hi Dave, I can't imagine a Cougartowner wanting to read a book where HHS is torn down.

I don't remember Tom the bread man but I'll bet others do....anyone remember Tom?
---

Name: Mike () on Friday, October 22, 2004 at 12:05:58


Email: Shay
City and State: Cerritos, CA
Maiden: OS6-9393
Class: 1961
Message: Hello Wade; You are correct. Stan and Nell were our land lords for many years. They were wonderful people and took great care of us and the other tennants. It was just my mom and I in a one bedroom apartment so Stan built me a bedroom up over their garage so I didn't have to continue sleeping on the couch. I have no idea what happened to any of the Cook kids, Bill, Dorothy, or Barbara. I remember Joe Bradley (the preachers kid) He must have lived right across the street from you. Thanks for the memories!
M.S.

---

Name: Enza Nicocia () on Friday, October 22, 2004 at 11:31:15


Email: antiquenza@aol.com
City and State: SoSunny, SoCal
Maiden: never a dull moment when watching MLB!
Class: 1972
Message: Hey Denny Unfried~ Yes, I forgot to mention that my uncle Leo the building contractor in Hawthorne, was in fact Leo Pace who your father worked for in the 40's and 50's. Small world! And, does anyone know if we had chicken farms in and around Broadway and Freeman? When we sold our parents triplex this past spring, I heard something about there being a chicken farm where our houses were built. That's probably why our garden was fertile and produced a bounty of veggie's and fruit. Well, I guess it didn't hurt that our parents were farmers in the old country :))
Hawthorne was full of chicken farms in the early days. I'm sure there was one there at one time. Thanks Enza....
---

Name: Wade Greasby () on Friday, October 22, 2004 at 08:31:36


Email: grizbear73@juno.com
City and State: Surf City, Ca
Maiden: 129th ST
Class: 1973
Message: Mike Shay and Al Rocca, I also lived on 129th St on the south side three doors down from Al. The old Petch House. Next Door to Al was the big lot and the White Wood Framed House. It had Eucalyptus trees bordering the west side. When we were growing up, this would be the place to explore. Mike, did you live on the property of Stan the Postman? He had some duplexes and a great workshop. Do you know whatever happened to Bill Cook? We used to ride bikes down the driveway and watch Bill and his dad work on small boats in their back yard. Al, we use to play football in the Cooks front yard. The Wolvertons lived across the street from the Cooks and Harry would teach us guys how to throw and catch footballs. Rich was always surfing. Tom Long lived next door to me and I would sit on the wall and watch him shoot basketballs for hours, he taught me how to shoot and play catch (baseball). These were great times. Bill Ritter owned the big apartment house across the street from my family. I think Colucci's built it. There was always a French's cement truck to be seen in Hawthorne. They were painted the colors of HHS. The city of Hawthorne back then was one where everybody knew everyone and helped everyone. The ties and friendships were long and true. Does anyone remember Preacher Bradley of the Baptist Church on El Segundo and Oxford? He and his family lived on the northeast corner of 129th and Jefferson. They raised hawks. Only in Hawthorne!! Enza, nice to see you back!!
Thanks to fellow Cougs Danny Litton and Jim Pasternak for the update to Ben Baruche. Thanks again and Jim, I let Bruce know, good luck. He'll get back with you.
GREAT stuff there Wade, I knew Ron Petch and Tommy Long as we were all in Little League at the same time. My dad's parents lived on 129th in the 1930s. They lived closer to Prairie, and at that time 129th was called Maine.
Thanks for the memories, Wade.....
---

Name: Baxter Dodd () on Friday, October 22, 2004 at 04:26:56


Email: baxterldo@aol.com
City and State: Riverside, CA
Class: 1957
Message: The talk about construction companies jarred some memories. There was one on the north side of Rosecrans facing south. Can?t remember the name but it was next to Shaw?s sporting goods and a boxing gym. Here is a bit of unimportant trivia for you: In the late ?50s One of the construction workers (Richard Ellis?), who worked there during the summer while attending Otis Art Institute, was given a space in the warehouse to do his own thing after business hours. During that time, he sculpted & created the original life-sized steer out of clay that was used for making those fiberglass ones you see on top of meat markets, steak houses, and some grocery stores throughout the country. He also created the full-sized model for the bucking horse and rider that can be seen occasionally on western wear stores & cowboy bars. So, no matter where you are, when you see one of these fine creations just think, it originated in Hawthorne.
Baxter
Thanks Baxter......
---

Name: Debbie Miles () on Friday, October 22, 2004 at 00:04:42

Email: pinkelephant10atyahoo.com
City and State: Del Aire
Class: 1977
Message: Jill, I remember Mrs. Bell well. I was in Sandra's second grade class, as well as Kurt Morlock, Astrid Martinez and Elyria Nunez, to name a few people I think you might remember.
Last I heard, Sandra's sister Julie was moving out of state, I hope she is doing well.
Thanks for sharing the update, I hope Sandra and her husband much happiness!

---

Name: Mike () on Thursday, October 21, 2004 at 21:18:53


Email: Shay
City and State: Cerritos, CA
Maiden: OS6-9393
Class: 1961
Message: Hello Al Rocca; Did you live on 129th? I used to live on the west side of the Cooks house in the little Duplex at the Ballentines house. I remember two Rocca brothers that lived on the east side of the Cooks. Their dad was in construction and they had a house behind their big house where the grand parents lived. Very nice family. They invited me over to dinner once and I wanted to move in! This would have been around the mid to late 50's. If it was your family you're very lucky! Nice Memory;
M.S.

---

Name: Enza & Nick Nicocia () on Thursday, October 21, 2004 at 18:40:13


Email: antiquenza@aol.com
City and State: SoRainy, SoCal
Maiden: Nick visiting his fav sister :))
Class: 1972
Message: Ok, OK, I've got to put in my two cents regarding Rocco's Pizza. Our Uncle Leo, (well, it was really my brother Nicky's Godfather), had also a construction company in Hawthorne, and in fact had built Rocco Pizza's building. It's also my understanding that he was the first builder of apartments in Haytown back in the late 40's early 50's. I remember the Colucci's and the Rocca's being friends of our family too. (Why was there so many Italians in Hawthorne AND into contruction??) Oh, one last thing; my sister Jackie, c/o 70, worked at Rocco's Pizza, and she would come home after closing up the joint with many, many double meat sub sandwiches and pizza's. As I recall the subs had olive oil, wine vinegar and a bit or oregano in the dressing; and the lettuce was shredded very thin;(perhaps that was their secret?) The only other deli that is memorable other than Giuliano's in Gardena (the original family owned deli), is in Santa Monica off the 10 Fwy on Lincoln Bl., called Bay Cities. Talk about freshly baked crusty warm bread, Boar Head's Mortadella, extra sharp provolone.....mmmm, mmmm! (And I wonder why I have carb issues to this day?? :)) Bon Appetite!

---

Name: Jill McFarlane () on Thursday, October 21, 2004 at 18:38:42

Email: jillmcfar@aol.com
City and State: Mission Viejo, CA
Class: 1977
Message: I had a teacher sighting this weekend. Who remembers Mrs. Helen Bell? Some may know her by her maiden name Miss Stokovich? She was a 2nd grade teacher at Anza and later became the Principal. I saw her at a wedding, which happened to be her niece Sandra Bell class of 1977. I told Mrs. Bell about this website, and that people still recall her from time to time. Hopefully she will check this website out. Hope everyone managed to stay dry yesterday.

---

Name: alfredo ortiz () on Thursday, October 21, 2004 at 17:14:53
Email: alfredo267@sbcglobal.net
City and State: Gardena
Maiden: alfredo ortiz
Class: 1958
Message: I just came across your Rocket to stardom discussion. I too remember. I & six of my friends performed on it. We came from Lincoln Heights to perform there. the backdrop was a car dealership. However, it was not in the 60's as suggested it was in the 50's. I have the photo to prove it. good luck with your memories
Thanks Alfredo, You must be reading way back on the feedback page. Rocket to Stardom started in the late 50s and the venue was Yeakel Olds.
---

Name: Al Rocca () on Thursday, October 21, 2004 at 13:59:48
Email: alfred.p.rocca@boeing.com
City and State: Mesa, AZ
Class: 1970
Message: Thanks for remembering. The Coluccis' and the Pinos' are still friends of ours. We used to all meet at the Sons of Italy hall in Hawthorne for someones wedding. With a family as large as all of ours, there was always a wedding to attend. The Italians do know how to party!!!!

---

Name: al rocca () on Thursday, October 21, 2004 at 13:33:48

Email: alfred.p.rocca@boeing.com
City and State: Mesa, AZ
Class: 1970
Message: I remember Rocco's, they did have the best subs. People always asked me if my family owned the store...wish they did then I'd get free subs!!! My family Rocca was in construction but not construction of sandwiches!! Hi to all Cougs.
Hey Al, I remember Roccas Construction. The Colucci's and the Pino's were the other family contracting businesses from Hawthorne that are remembered. Thanks for the feedback....
---

Name: nick paden () on Thursday, October 21, 2004 at 05:37:11
Email: n.paden@virgin.net
City and State: Beverley, E.Yorks U.K
Message: Cool stuff guys, Nick (57 & still surfing even in UK Winter)
Keep on Surfin', Nick.....
---

Name: Britt Stonebraker () on Wednesday, October 20, 2004 at 19:09:39
Email: thatbritts(at)yahooDotCom
City and State: San Marcos Ca
Maiden: huh?
Class: 1978
Message: WOW Amatos Italian! I saw it last weekend and was tryin to figure out the name of the place, the building is still there, Nice red brick. But sadly closed. Its strange how so much hasn't changed there. I never made it by the Mall or the new PD. I guess ill have to go again! Pizza show is still there!! and 352 club. I think I saw one of the furniture Co's going out of business ? Do you think It will happen? Hey Does anyone remember the Gudaths? I see they have there yearly haunted house set up.

---

Name: Matt Peterson () on Wednesday, October 20, 2004 at 14:44:50


Email: mattpete6@yahoo.com
City and State: El Dorado Hills, CA
Class: 1974
Message: I had a Cougar sighting on Saturday. I saw Tom Perez and his wife Brenda at the Cal Lutheran homecoming game. Of course the sighting was planned. A couple of Cal Lutheran wrestlers met there with our old coach for a mini reunion.
Good one, Matt, thanks.....
---