Hawthorne Time and
Temperature

Home | 60's Slang | Alumni List | Car Talk | Cougar News | Feedback | Hangouts | Memories
Recollections | Reunions | Street Scene | Teachers | Tributes | Vietnam | What's New | Keyword Search
Another Early 60s Classic> Ray Charles
<!-+++++++++++++++++++++++++++++++++++++++++++++++++++++++++++++++++++++++++++++++++++++++++++ +++++++++++++++++++++++++++++++++++++++++++++++++++++++++++++++++++++++++++++++++++++++++++++->

---

---
<!-+++++++++++++++++++++++++++++++++++++++++++++++++++++++++++++++++++++++++++++++++++++++++++ +++++++++++++++++++++++++++++++++++++++++++++++++++++++++++++++++++++++++++++++++++++++++++++->
Name: Danny Bellare () on Monday, September 27, 2004 at 22:05:17
Email: dlbellare@yahoo.com
City and State: San Marcos,ca
Class: 1976
Message: Hey Britt,Been 8yrs San Marcos.My mail still there I'm in a semi.Would love to try the mower.On days off you might see the HOG at Daltons.Stop in say Hi! Look for Capt.Hook Say HI!...I now stay up in Warner Spring,Visit kids and ex-wife Diane Araujo class of 79 I think...Ya Debbie I'm slowly getting it.I remember your Mavrick.Tell Mark HI!I'm sitting in the truck stop in Indy.Call him soon...Danny

---

Name: Dan Johnson () on Monday, September 27, 2004 at 19:40:43
Email: wch1ispinkATaolDOTcom
City and State: Sherman Oaks
Class: 1977
Message: How the mighty have fallen. I was on the cross country team coached by former LA Ram lineman Alex Bravo. We used to run starting at HHS down El Segundo to Aviation to Rosecrans to Valley to MB Pier down the strand to Grand Ave in El Segundo down Sepulveda back to El Segundo Blvd and HHS. Now I'm walking in a 5k on Sunday in Santa Monica to support the Juvenile Diabetes Research Foundation and I'm worried about dropping dead from the strain. I just need to enlist Barry Clendaniel to follow me on his bike and shout at me to keep going like he did "back in the day"

---

Name: Britt Stonebraker () on Monday, September 27, 2004 at 19:20:22
Email: thatbritts(at)yahooDotCom
City and State: San Marcos Ca
Maiden: She didnt say
Class: 1978
Message: Wow the car thing really took off! I cant find it now but someone mentioned they bought a blue 70 Mustang Mach 1 from Chaffee mtrs. I bought the same thing in 82 there, Do ya think there might be more?? Hey Cindy how far is gig harbor from redmond WA? I may be up there in a few weeks, Gotta show Bill how to spend money like the government! Maybe you can clue me in on some resturants, Last time I was up there I couldnt locate a thing. Danny How long you been in San Marcos? Hey Ill let you ride my lawn tractor and you can let me ride your Harley K?

---

Name: Debbie Miles () on Monday, September 27, 2004 at 19:01:50
Email: pinkelephant10atyahoo.com
City and State: Del Aire
Class: 1977
Message: My first car was Cindy Laird's old 1970 Maverick. I don't know if he was a Cougar or not, but one of her friends used to follow the car around hoping to find Cindy. (hey Jon Weiss, if you're lurking, remember when you told him the car was sold and I wasn't Cindy, LOL).
Danny, looks like you're getting around CTown just fine! Hope you get to puttputt soon!

---

Name: Cindy Whittaker () on Monday, September 27, 2004 at 16:56:07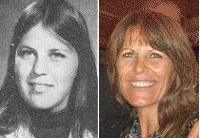 Email: cindywhittaker@comcast.net
City and State: Gig Harbor
Maiden: Whittaker
Class: 1976
Message: Related to car stories but not directly... I didn't get my driver's license until I was 21! I left home at 17 and just didn't get around to it. And how fortunate not to have ID when I got a ticket from ABC (I bet I don't have to spell that out for many people do I?), for serving beer to a minor at the Long Beach Grand Prix. Hey, they asked for beertender volunteers, I raised my hand, they sent me! I was only 17 when I got the ticket! Thank goodness I paid attention in math and could add dates quick enough to say what year I was born so it worked out to be 21 (I meant 4th grade math). Too bad for them they didn't ask for ID. I had to go to court... with my MOM! They never did discover I wasn't 21. I paid the fine and left... owing my mom $50. You know what? I think I still owe her that $50. I wonder if I should be using an alias to tell this story...

---

Name: Bud Rhoades () on Monday, September 27, 2004 at 16:07:58

Email: bud.rhoades@fullmerinc.com
City and State: BelmontShores
Class: 1974
Message: After 37 years Brian Wilsons opus Smile finally gets to see the light of day. I for one cant wait to finally hear it. In 1966-67 it was considered so far ahead of its time it was eventually shelved. 5 months later Sgt Pepper was released and the Beatles inherited the psychedelic throne, though everyone says Mr. Wilson was there first. We can all judge for ourselves tomorrow....should be awesome.

---

Name: Jill McFarlane () on Monday, September 27, 2004 at 13:19:59

Email: jillmcfar@aol.com
City and State: Mission Viejo, CA
Class: 1977
Message: Another 1st car story: I took my 73 Capri, the one with the wiring problems to Opening Day at Dodger stadium in 1980. I had a friend with me, and as we were leaving the parking lot, without warning the front passenger seat decided it needed to recline. So as my friend Herb was sitting there, lighting a pipe, the seat collapsed, my friend was all of a sudden staring at the ceiling of my car, but did not realize it for at least 20 minutes.

---

Name: Danny Bellare () on Monday, September 27, 2004 at 12:49:03
Email: DLBELLARE
City and State: San Marcos CA
Class: 1979
Message: My first car was a 64 corvair...not counting the 69 nova (mom's) I drove to school and bracket raced wednesday nights at OCIR...She busted me. Wanted to why there was shoe polish on the windows...Cindy I just wanted to say HI! Debbie tell mark hurry up with the hog so we can go putt'n...

---

Name: gary bickers () on Monday, September 27, 2004 at 12:16:11


Email: garybicdds@aol.com
City and State: pve cal
Class: 1963
Message: I'm enjoying the car pictures. I don't want to sound like an old guy, but it's sure nice to see cars and be able to tell one from another. The new stuff all looks alike. Regards the L.B. POLY game and the fog. The fog on that field is the least of the problems. When you stand on one side line, which I did alot of, you can only see the top half of the guys on the other side of the field. the middle of the field is about 3 feet higher than the edges. You are constantly running uphill. We were so lucky to play our games in the EL CAMINO field.

---

Name: BOB FAULKNER () on Sunday, September 26, 2004 at 19:48:00
Email: UPSBUBBA@HOTMAIL.COM
City and State: GARDEN GROVE, CA.
Class: 1963
Message: SOMJEBODY STILL NEEDS TO GIVE ME A LOGICAL EXPLANATION AS TO WHY WE WERE EVEN PLAYING A SCHOOL THE SIZE OF POLY???
Because in those years the CIF (California Interscholastic Federation) was comprised of 8 sections. The Southern section was the largest with 308 schools and Poly and Hawthorne were in that group. I guess it didn't matter what the population of your school was, if you fell into that Southern section which extended to the Nevada Arizona and Mexican borders, you played those schools.
---

Name: Jim () on Sunday, September 26, 2004 at 01:46:35

Email: OjaiJim99@aol.com
City and State: Ojai, Ca
Class: 1962
Message: I just read Gary Bickers memories of the 1959 Samohi football game. Next to the CIF Championship game vs LB Poly, that is the game I remember most. What I remember most is the fog. We were supposed to get a real butt kickin', but we won by 2 extra points.
My dad knew how UP I was for this game and how much my youthful exuberance was telling me we couldn't lose. He told me not to be disappointed if we lost, because Samohi had a REAL good team. He was just going with the oddsmakers, but I was taking what he said as traitorous. He was more surprised than anyone when the Vikings when down in flames.
---

Name: Cindy Whittaker () on Saturday, September 25, 2004 at 23:13:15
Email: cindywhittaker@comcast.net
City and State: Gig Harbor WA
Maiden: Whittaker
Class: 1976
Message: Off the car subject for just a sec (ok, fine John, you were right, just like Jimmy...). Since this is such a good site to share resources, here's a great website that might come in handy for a lot of people. It was given to me by the admissions director at the Seattle Art Institute as a study guide because I have to take a basic computer skills test before enrolling. I'm going through it now and even though I've used MS Word for years and years, I still learned a new trick or two from the word processing section! It's great for beginners or old time users (oops, I didn't mean old as in OLD... oh nevermind...) Check it out! http://www.jegsworks.com/Lessons/lessonintro.htm
Great looking grandsons by the way John! Happy B-day to them!
Ahh thank you Cindy. We're kinda fond of them.
---

Name: Schroeder, Again () on Saturday, September 25, 2004 at 17:56:59
Email: chezwizz@yahoo.com
City and State: Oregon
Class: 1966
Message: Ah yes, Prince John, master of the oblivious. The mysterious extra digit?(on the phone number) That was my extension number. No, wait, my shoe size. No, it was a matter of divine intervention. Yeah, that's it. Do you remember the dreaded gallons of Red Mountain? (Now Carlo Rossi) Vin Rose was a real treat. $1.98 - only at finer markets. Louie Lassitter and I quietly consumed said produce on occasion. I still have barf stains on my wing-tips. Bruce Arnold consumed a gallon solo in the back of Fosters one evening and climbed the light pole up to the roof of the barber shop next door. Such youthful exuberance. Misspent youth? Nay I say. Educational experience with a hands-on lesson plan. What did I learn? Writing feed-back and alcohol don't mix. Someone could get hurt.
Educational experience, yes. We were all testing the waters of our own "hurl quotient". We just needed to find out how much we could consume in one night without climbing light poles or messing up a nice pair of Brogans. We all drove the porcelain bus at least once.

---

Name: Susan King () on Saturday, September 25, 2004 at 15:06:42

Email: sueking18@aol.com
City and State: Thousand Oaks, CA
Maiden: Bierman
Class: 1974
Message: Happy Birthday to the Baker grandsons! Hope you're all having a great day! Love from the B girls!
Well thank you, Sue.
Yes, we're having more fun than should be legal over here.

---

Name: Sharon Branigan () on Saturday, September 25, 2004 at 09:51:01


Email: srbranigan.srb@verizon.net
City and State: Thousand Oaks, CA
Maiden: Bierman
Class: 1976
Message: Did you sneak into my back yard to get that pic of our Mustang? Mike named his car Christine after Stephen King's famous story. My brother named my Pinto "The Toad." And my Celica was "Sillycar." I call my van "Big Red." Does anyone else name their cars?
Yes I did and man it was tough getting by those junk yard chihuahuas you've got back there.
I called my Camaro "Shaft" because it was a BAD MUTHA
---

Name: Armand Vaquer () on Saturday, September 25, 2004 at 00:24:54

Email: AMVaquer@aol.com
City and State: Tarzana, CA
Class: 1972
Message: Cars! This is always a great subject. My first was a 1966 Mercury Comet 4-door that I got after high school graduation. Mine was blue and it lasted me 6 years (then I got a '67 Cougar). I had it repainted in 1975 and the highlight of that car was picking up S.I. Hayakawa from LAX to go to a party at Mike Curb's mansion. The funny thing about that was the pipe on the forward section of the muffler had the coupling break earlier and every so often (on fast accelerations) the pipe would disconnect and start dragging on the street. When that happened, I had to crawl underneath and re-attach it. Thank goodness this didn't happen that night because I was wearing a light-colored suit. The things we have to go through with cars!

---

Name: Larry Biller () on Friday, September 24, 2004 at 22:24:40
Email: lbiller49@yahoo.com
City and State: Portland,Or.
Maiden: Bel Air Wrecker.
Class: 1967
Message: Gee thanks Mr.Crotty for rubbing it in about what I did to that poor Bel Air. That continues to be one painful memory. Just please don't tell them what I did to that 61 (or was it 60) Chevy I bought from you.

---

Name: Schroeder () on Friday, September 24, 2004 at 21:45:18

Email: jcheswizz@yahoo.com
City and State: yes
Class: 1966
Message: First car--- paid five bucks for my cousin's 1951 Chevy. Bob Conway 776 Cedar. It had a thrown rod. Worked on it for awhile. Ended up listening to the radio in the garage till the junk man came. (He had no legs) He gave me $7.50 for it. Net profit of 2.50. Cool. I bought a gallon of Red Mountain with the profit instead of investing in Microsoft. The total experience---priceless. It was a fastback if you're looking for the picture John, which I know you must have somewhere. OSborne 548846 Don't call me, I'll call you. Love those Cougs.
Got an extra digit in that phone number, Jim. Are you drinking those profits tonight?

---

Name: Sharon Branigan () on Friday, September 24, 2004 at 21:39:55

Email: srbranigan.srb@verizon.net
City and State: Thousand Oaks, CA
Maiden: Bierman
Class: 1976
Message: Great story, Bob! My son is enjoying these car stories! First time (to my knowledge) that he's ever been interested in CT feedback. As you may recall he is restoring a 1967 Mustang. He's done a lot of work on the engine but still not running yet. Well, he's got another year til he can drive it anyway!
A YEAR!!?? It's a FORD, Sharon. You better retain Carroll Shelby.

---

Name: Cindy Whittaker () on Friday, September 24, 2004 at 21:16:10
Email: cindywhittaker@comcast.net
City and State: Gig Harbor
Maiden: Whittaker
Class: 1976
Message: Oh I get it... it has to be an INTERESTING GUY story to not put you to sleep eh John? Well... I... ummm... well I just don't have any of those ok? So you can just scan me from here on out and I promise not to hide sarcastic comments about you in amongst the babbling... heh heh heh... Oh shoot, I was supposed to stay in the lurker lounge. Oops...
Cindy, You staying in the lurker lounge is kinda like Jimmy Swaggart giving up hookers. It just ain't gonna HAPPEN!!


To Sharon B: We're just joking around......
---

Name: Bob Melendrez () on Friday, September 24, 2004 at 18:46:14

City and State: Lawndale, CA
Class: 1971
Message:I noticed the subject of first cars and had to weigh in with my Impala saga.
1970, senior year at HHS, my dad had traded in his beloved '65 Galaxie for a new, hot Mustang, so his car was waaay off limits. Mom's old Falcon was, well, an old Falcon? So, scraping together every possible penny from odd jobs, mowing lawns, and band gigs I purchased a '63 Impala Super Sport from a family friend for the staggering sum of $250.
It was the most beautiful, pristine car I had ever seen; Light brown metallic paint, not a speck of rust on the chrome, custom wire wheels, white interior, and a back seat that just screamed "drive-in theater".
As I was soon to find out, however, under the hood was a different story. With 45K miles on it, the poor car had probably never had any maintenance done on it. The next 6 months were spent fixing and replacing brakes, hoses, pumps, the "powerslide" tranny, seals, wheels, and electrical. This car was the "money pit" on wheels!
That beautiful showboat spent most of its time in our garage and driveway; while I was relegated to my mom's "stone" Falcon, or my bicycle.
The summer after graduation, while working at the Bank of America on Hawthorne Blvd., I finally was earning enough money to get my righteous ride up and running.
I washed it, I waxed it, I polished the chrome and spent hours on the wire wheels. That car turned heads wherever it went!
Freshman college year was approaching, and I moved to Santa Monica. My first day at SMCC, I purposely avoided the campus parking lot for fear of getting "dinged" by another car door, or some such mishap. I found a parking spot a couple of blocks away on a quiet residential street. Great! Off to my first day of college!
Several hours later, upon returning to the street where I had parked my car, I noticed a couple of Santa Monica Police cruisers down the block, and a car up on someone's lawn kind of across the street from where I had parked. Turns out, an elderly driver had lost control of her car and had slammed into my strategically parked Impala before finally coming to rest on the lawn across the street. I dropped my books and sat down on the curb. An SMPD officer finally walked over to me and asked what I was doing. I pointed to the remains of the Impala, now with a crushed in left side and broken windows, and whispered "my car". He slowly gazed over at the Impala, then back at me and smirked: "Shoulda parked in the lot"!
He took some information from me, and then left me in my misery. About an hour later a tow truck arrived to take my car away. The tow operator was a cheerful guy with a bright red face. "Mike", or so his shirt was named. He whistled the whole time he was hooking up my car. (To this day I can't stand to hear anyone whistle!) He dropped my car and me off at a body shop on Pico Blvd. where I called my dad. Before he drove off, the tow operator looked at me and said: "Tough break, kid. That was one beautiful car"! I could still hear him whistling as he drove out of the body shop lot. A week later, my dad sold my beautiful Impala to that body shop on Pico Blvd. for $350. I'm sure I'll see that car again someday; beautiful, pristine, and worth about $35,000!
Bob Melendrez (c/o '71)
Great story Bob and sorry for your loss. It WAS a spectacular car.
---

Name: Jerry Miles () on Friday, September 24, 2004 at 17:23:53

City and State: Fair Oaks, CA
Class: 1966
Message: Ah, first cars. My first car to drive regularly was my mom?s 54 Ford. Somehow, I talked her into dropping a 312 Mercury engine into it when the original one blew. I also managed to get her to upgrade from the $29.95 paint job, to the elite $39.95 at Earl Scheib. A couple of ?Gen-U-Wine Ford Parts? decals from Allied Auto in the back windows and I was ready to go! But the first vehicle of my own was a Sears Moped. It only went about 25 MPH and blew a head gasket about once a week (always in the worst place). But you could peddle the darn thing at about 15 MPH and that got me home from the beach many times.
At least the head was easy to get at. Thanks Jer'....
---

Name: Barney McArdle () on Friday, September 24, 2004 at 15:28:23

Email: barney.f.mcardle@boeing.com
City and State: McKinney, Texas
Class: 1958
Message: Hey John, I know you can remember everything. Can you tell me the name of the High School that was on the corner next to TRW. I can't even remember the street names.
Hey Barney, How about Aviation High?
---

Name: Dan Johnson () on Friday, September 24, 2004 at 15:10:12

Email: wch1ispinkATaolDOTcom
City and State: Here in My Car
Class: 1977
Message: 1965 Chevrolet Biscayne, white with red interior. I picked it up at my Grandfather's house in Leisure World circa 1976 on my way to Anaheim Stadium for Yes, Frampton and Gentle Giant. That car was in absolute mint condition that day. It took me and my step-sister about 6 months to ruin it (including my famous story about a guy throwing up out the passenger window in parking lot of Round Table (I think) on PCH in MB and us parking the car across the street for 2 weeks so the folks wouldn't notice). Here in my car I feel safest of all I can lock all my doors It's the only way to live in cars. Here in my car I can only receive I can listen to you It keeps me stable for days in cars. Here in my car Where the image breaks down Will you visit me please If I open my door in cars Here in my car You know I've started to think About leaving tonight Althoug nothing seems right in cars.

---

Name: Don Burns () on Friday, September 24, 2004 at 14:42:00

Email: burnslock@yahoo.com
City and State: Downey, CA
Class: 1957
Message: Hey Cougs, my first car was a 41 Chevy Business coupe that I bought from my mother for $25.00, don't think I ever paid her for it. tomorrow 9-25-04 is the Pageant of the Thunderbird, at the Promenade of Anaheim 1 block south of Lincoln blvd, & west of Anaheim Blvd, 10-3pm, should be over 100 Birds 55-05 Later Don

---

Name: Bud Rhoades () on Friday, September 24, 2004 at 13:54:44

Email: bud.rhoades@fullmerinc.com
City and State: Belmontshore
Class: 1974
Message: Well John I think you found the secret ingredient to revive a slumbering C-Town, Car talk! Jeez louise, look at all these car junkies. Giddy-Up! Have a great weekend, its the greatest time of year here in So Cal.
Hey Bud, Yep, everyone loves their cars, especially that very first one. Have a great weekend yourself. Hosting a birthday party for my 2 grandsons tomorrow. That'll be a fun day.....
---

Name: Walter Holt () on Friday, September 24, 2004 at 13:39:44

Email: wholt1948@Yahoo.com
City and State: Costa Mesa, CA
Class: 1966
Message: My early cars started off with a 1950 Ford that I bought for whopping $25.00. It had a flathead V8 and 4 barrel dual pump Holley carb that occasionally would blow back flames. My 2nd car was a 1967 Siver blue Austin Healy 3000 that I bought through the military pay plan which wound up getting stolen when it was parked off base. So I took the insurance money and bought a turquoise 1963 convertible T-bird which was a great car. Then I decided I wanted a tad more of a muscle car and bought a 1969 Cardinal red Formula 400 Firebird with a 455ci 345 horse That would cruise at 135mph. But alas that was just not quite enough excitement so in 1970 I had the opportunity to trade that car in on a new "Lemon Twist" Yellow w/ Black interior 1970 shakerhood dual 4bbl 426 hemi Cuda Convertible. Now that was a moving machine. And just think I only ran up 25 speeding tickets in 8 states within a 3 month period of time. After the first 2 tickets my lawyer, since I had businesses in multiple states, suggested if I was going to drive like that, I get multiple state driving Licenses which is the only thing that kept me from losing my driving privileges completely. Unfortunately A truck lost control on an icy street and totaled it while it was parked. Man was I ever sick especially knowing how rare that car is today.

---

Name: John Crotty () on Friday, September 24, 2004 at 10:23:10
City and State: Hermosa Beach
Class: 1969
Message: To Larry Biller...I remember your '56 Bel Air. It was a one owner, pampered, garaged, waxed, and perfectly maintained work of art. It was immaculate and a true thing of beauty, 'til you decided to, what? Make it better? We used to take it to Hollywood and cruise the "Strip." JB, he took this dream vehicle and started to primer it everywhere, eventually the whole thing was gray. As a car affectianado, you would have puked!!!!
Yes, indeed, I am now....
---