Hawthorne Time and
Temperature

Home | 60's Slang | Alumni List | Car Talk | Cougar News | Feedback | Hangouts | Memories
Recollections | Reunions | Street Scene | Teachers | Tributes | Vietnam | What's New | Keyword Search
Another Early 60s Classic> Ray Charles
<!-+++++++++++++++++++++++++++++++++++++++++++++++++++++++++++++++++++++++++++++++++++++++++++ +++++++++++++++++++++++++++++++++++++++++++++++++++++++++++++++++++++++++++++++++++++++++++++->

---

---
<!-+++++++++++++++++++++++++++++++++++++++++++++++++++++++++++++++++++++++++++++++++++++++++++ +++++++++++++++++++++++++++++++++++++++++++++++++++++++++++++++++++++++++++++++++++++++++++++->
Name: Ron Reinholdson () on Friday, September 24, 2004 at 10:08:41

Email: r_reinholdson@juno.com
City and State: Claremont, CA
Class: 1965
Message: I have tickets for Brian Wilson at the Disney Concert Hall on Nov 3 at 8:oo PM. Anybody else going. Let's hook up.
Oh! And first cars: A '59 Studebaker Lark. I cut the support struts behind the rear seat, so that when I took out the seat back, my surfboard would fit in. I think there were times we actually got 2 boards in. Remember now, youngsters, in the early 60s surfboards were BIG. Mine was a 9'10" log, 4 inches thick. It didn't have a nose, tail and rails; it had a bow, stern and gunwales.

---

Name: gary bickers () on Friday, September 24, 2004 at 09:50:35


Email: garybicdds@aol.com
City and State: pve cal
Class: 1963
Message: Now we're cooking; cars and football. On Friday nights at 5:oopm to 8:oopm at Ruby's in Redondo Beach, some of the most well done 40,50 and 60 year old cars you've ever seen. It could be wishful thinking but I'm sure I saw some of these on Hawthorne Blvd. a few years back.
Interestingly every owner of a 50's and 60's vintage car looks just like me.
Hi Gary, We went to that get together a few years ago and had a great time and if you don't like cars, there's always Rubys.
---

Name: David Kelly () on Friday, September 24, 2004 at 09:45:11


Email: dkelly@ppld.org
City and State: Black Forest, CO
Class: 1977
Message: My first car was a pale yellow 1961 Plymouth Belvedere which had those awesome rocket engine shaped tail lights. In 79' I sold the gas guzzling Plymouth and bought a 73' Mercury Capri. It didn't have any of those wiring problems that Jill had in hers, but I did find that the master brake cylinder would go out at the most inconvenient time. But who needs brakes. Thank God it was a stick shift !
I now drive a 91' Ford Econoline extended van, which is another gas guzzler. Driving this van in the winter conditions of Colorado is quite an enjoyable adventure. ;)
Hey David, I'd rather have the '61.

---

Name: ALICIA CANUP () on Friday, September 24, 2004 at 08:37:10
Email: OHMYTHER@WMCONNECT.COM
City and State: RIVERSIDE CA
Maiden: ALICIA ZELEDON
Class: 1985
Message: I WOULD LIKE INFORMATION ON 20 YEAR HIGH SCHOOL REUNION.
Hi Alicia, That info will be posted on the Reunions Page. I usually don't get reunion info until about February, and I post it the day I get it. If it's not there, I haven't received it yet. Thanks....
---

Name: Lee Boswell () on Friday, September 24, 2004 at 03:12:31
Email: skypi007@aol
City and State: Rancho Cucamonga
Class: 1975
Message: First cars, mine was a red 66 mustang, great car not as hot as I wanted though with it's two barrel carb and automatic trans. my second car after graduation and getting a full time job was a 70 mach 1 mustang and still the best car I ever owned as hard as I raced it and drove it, it never failed me 351 cleveland motor with the ram air shaker scoop , 4 speed trans, grabber blue (similar shade to what Richard Petty painted his cars for years). it had 3.20 gears in it and believe it or not if you kept your foot out of it and drove it right you could get 20 miles to the gallon on the highway, premium of course. I put shelby springs and sway bars on it and it would corner with a corvette, I bought it used from chaffee motors I don't even want to think about what it's worth today that's one of those IF WE KNEW THEN kind of things. Bryan I love your 55 thats my faverite year of f-100, I have a project of my own it's a 57 ranchero that also has to come off the frame, I plan 4 wheel disc brakes and overdrive with air conditioning in a almost stock looking resto-rod style I can't wait to bring it to a cruise night but it'll be a long while i'll probably have to borrow on my retirement to complete it. Retirement money I never thought I would be in a position to say that,why do I get older and I still think and feel like 22?. speaking of 22, John B and Jill M, when I was that age and lived in redondo beach my neighbor had a capri only he called it a crappy!, Cindy W you have had and still have some very nice rides good for you!. I've been busy reading the old feedback about 10 pages a day i'm up page 390 now and Sharon B I remember that road rally in 76 my girl friend Patty Wade (77) entered us in that thing and those directions were so crazy I think we ended up near compton!, and to think you stopped and did lunch! then cruised to victory! GEES then I had to hold my head in shame forever because you beat my mighty mach 1 with your pinto! oh well it's fun remembering our cars, Thanks Lee
Trivia Note: The original Mustang was built on a Ford Falcon chassis. They've come a long way. Thanks Lee.....
---

Name: Richard () on Friday, September 24, 2004 at 01:33:03

City and State: of Long Beach
Class: 1969
Message: Ah, may very first car. Had been saving up the money from band gigs, and wanted to get a new SAAB (Larry Reed Motors, 'The' boulevard and 190th, now a Mc D's), but my dad insisted I learn mechanics (something for us to 'bond' while doing?), so he bought something at an auction. We cleaned/ fixed it up, but my mom insisted my dad get rid of it when the paperwork (registration) came through, showing it was an ex Idaho State Police cruiser. It was a '64 Chrysler Newport with the 300K engine in it (400 Horse?), crisscross manifold, positraction, and the last year of the pushbutton automatic trany. Second car was a new '71 AMC Javelin SST (bubble front fenders), with a 236 straight six that died while trying to idle. I understand a Chrysler 'Letter' series engine like my 'K' once set a land speed record for a 'stock' engine (if you could call a Chrysler letter series engine stock). Oh, and we use to put 'studded' snow tires on the Newport and drive some of the bike trails around Elsinore (of course with windows up,airconditioning on, and the four track blasting!).
That Chrysler was a 413 CuIn 10:1 compression engine with the cross ram intake. VERY FAST!!
---

Name: Larry Biller () on Thursday, September 23, 2004 at 23:07:55

Email: lbiller49@yahoo.com
City and State: Portland,OR
Class: 1967
Message: My first car was a 1956 Chevy Bel Air 2 door sedan. It was two tone blue and white. Nice car, but it cost a woppin $250...Gotta be worth at least $350 now.

---

Name: Kelley () on Thursday, September 23, 2004 at 23:00:44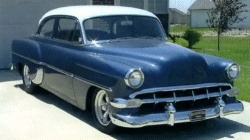 Email: kkcbeachcomber@hotmail.com
City and State: Oregon
Maiden: currie
Class: 1967
Message: My first car was a 1954 Chevy..I had it lowered...I was a Hodad at that time..reflecting back it was not a good idea to have it lowered..And that certainly isn't the car i remember Petey having..I think her's was light blue with a little rust...

---

Name: Alan Nelson () on Thursday, September 23, 2004 at 22:11:34

Email: boatcop@boatcop.com
City and State: Parker, Az
Class: 1973
Message: First car was a 1964 Dodge Dart. Slant 6, automatic. Wasn't much off the line, but was geared high. 110 MPH on the freeway to Encinitas for surf trips was common. Second was a 1966 Chevy Short-Bed P/U. 283/Turboglide with twice pipes. Vrooom Vrooom.
I always liked the performance of those Mopar slant 6's.
---

Name: Cindy Whittaker () on Thursday, September 23, 2004 at 22:11:15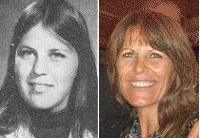 Email: cindywhittaker@comcast.net
City and State: Gig Harbor
Maiden: Whittaker
Class: 1976
Message: Hayyyyy... wait minute, what did I do? Well fine. I'm just going to take my babble and go back to the lurker lounge! Hey, I see you grinning about that Mr. Baker. Geez louise...
Yeah right....

---

Name: BOB FAULKNER () on Thursday, September 23, 2004 at 21:15:09
Email: UPSBUBBA@HOTMAIL.COM
City and State: GARDEN GROVE, CA.
Class: 1963
Message: OH YES, THE INFAMOUS 59 POLY/HHS GAME. FINAL SCORE, 42 TO 21, I THINK. LETS SEE POLY 5000 STUDENTS NO FRESHMAN CLASS, HHS 1800 FRESHMAN CLASS. DOES ANYONE SEE ANYTHING WRONG WITH MY MATH??. WHO SAW BRIAN WILSON ON THE ELLEN SHOW THE OTHER NIGHT? AS ONE OF THE GREATEST SONG WRITERS OF OUR GENERATION, SOMEBODY NEEDS TO POINT OUT THE MANS LIMITATIONS. THAT SHOW WAS AN EMBARASSMENT TO THE BEACH BOYS. JB, YOU NEED TO IMPLEMENT A BABBLE RULE.
Let them have 5000 students. If we could have just broken the legs of Willie Brown and Lonzo Irvin, we'd have done all right, but we couldn't catchem.

---

Name: Elizabeth Aleccia () on Thursday, September 23, 2004 at 20:10:55

Email: ElizabethAleccia@3pop.com
City and State: Redondo Beach,CA
Class: 1969
Message: I ran into Angie Dickenson and Tyne Daley at the Macy's in Norhtridge on Monday. I wish now I had a camera and Cougartown T-shirt with me. They were filming a scene for "Judging Amy". Can you believe my daughter didn't know who Angie Dickenson was?...But Cecil knew...thank God! I got a little nervous when I asked him. You know when the one you love thinks The Big Bopper is a burger, ya gotta re-think your company.

He not only knew who she was...he remembers her as being 'hot'.
Well what do you know, Pepper and Lacy. Macys has a nice selection of moo moos I guess, huh?

---

Name: joseph mailander () on Thursday, September 23, 2004 at 19:38:20
Email: joseph.mailander@gmail.com
City and State: los angeles, inner city, ca
Class: 1975
Message: John, I'm about to hit you with my second post in as many days so LOOK OUT MAAANNNN! BTW Sharon, I remember your Pinto with some affection, parked outside of building 19, it was a sure sign that you had not left the premises yet and thereby indicated to many gentlemen that it was a good time to drop in on Cougar Staff to see what might be happening there. The mere positioning of that vehicle on the blacktop there by that Thrifty cinderblock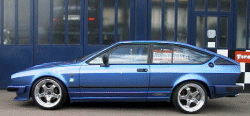 wall made many hearts stir after school. So I heard from people. Myself, I typically drove something called a Valiant in high school, which perhaps is why even to this day I generally prefer the communion of public transportation, and even now I am on the Metro about three days a week. But know that since high school and despite other machinas in the garage I have had a lifelong lover's quarrel with Alfa Romeos. My middle-age-crazy car was a GTV-6, a not-so-common flavor of Alfa that disappeared when they sensibly introduced the Milano. Every time I encountered another of these on a street, we would stop and circle each other, each driver thinking "parts car", appraising and cautiously approaching each other like cautious but hungry cannibals uncertain whether they are looking at a soulmate or at lunch. The best thing about Alfas, any Alfa, is the way the turning signal arm just hangs there, so much like an afterthought, like it's about to fall off, it just feels like the idea of expressing the courtesy of a signal to another motorist is the most insignificant element of driving one could entertain while speeding to one's destination. Trust me, the Italians at Alfa never made a turning signal arm that expressed anything but pure contempt for the mere idea of sharing the same side of a highway with anyone else. How unlike the hypercautious German turning signal arms, which in their rigidity and prominence demand that you brandish your future direction with optimal efficiency, and take every measure possible to protect your sturdy Stuttgart iron as best you can from an otherwise infirm world of bad motoring decisions. I believe cars are as expressive of national characteristics as soccer teams. John I hope your message board endures my second post in as many days and I LOVE YOU MAANNN and peace and boat drinks 'til the next time.
All this about Alfas and German cars and how the turning indicators (rigid of flatulent) make a difference. I'm from the old school....Hawthorne Bl. on a Saturday night in Mike Shay's heated up 57 or maybe catch a ride in Jerry Carron's 426 Dodge or someones 409. Turning indicators?? We SPIT (or is that spat) on turning indicators. Throttle's the name, and acceleration's the game. No one on the BLVD was seen in an Alfa or a Benz unless they were herding daddy's car around. The only thing we used a turning indicator for was to hang our girlfriend's garter on. Any self respecting person in my day used hand signals anyway, and only if we felt like it. Besides when you're blowing the doors off an Alfa on the Manchester on ramp, you're so far in front of him by the time you enter the 405, he can't even SEE your blinkers.
Now where in the H was I going with this story? Man, I think I'm turning into Cindy Whittaker.

Thanks joseph....stop in anytime.
---

Name: Cliff Rickson () on Thursday, September 23, 2004 at 17:41:02


Email: ynoino@aol.com
City and State: St. Petersburg,Fla
Class: 1967
Message: Hi John, Reading Gary Bickers entry got me to searching my garage for a real old box of stuff. I still have every program from the '59 Santa Monica game all the way through to the title game with Poly. They're not in bad shape. I also have the front page sports section from the old Inglewood Daily News about each of those games. Sadly, time has not been good to them, still readable though. Great old memories. If it's any comfort to you, the '65 team I was on beat Poly at home 20-0. I would love to be there for the homecoming game, but we'll be on the road. Have a great time!
Yes, I knew that HHS got Coach Chauncey's revenge in 1965. Still the 1959 loss hurt.
---

Name: Bill Ennis () on Thursday, September 23, 2004 at 16:45:58
Email: bennis66@sbcglobal.net
City and State: Auburn, CA
Class: 1966
Message: Hey Bryan... is that a reflection or are there yellow dice hanging in that trucks window???

---

Name: Petey () on Thursday, September 23, 2004 at 16:41:24

Email: konniewithakay@yahoo.com
City and State: Salem, Oregon
Maiden: Smith
Class: 1972
Message: My first car was a 1954 VW. It had leather seats and a bitchen radio thanks to my cousin.
Nice ride, Petey....
---

Name: Cindy Whittaker () on Thursday, September 23, 2004 at 16:01:52
Email: cindywhittaker@comcast.net
City and State: Gig Harbor WA
Maiden: Whittaker
Class: 1976
Message: John Baker! Be careful what you wish for! You wished for more feedback, you weren't specific enough to wish for COHERENT feedback. I swear I only babble over the 6 min limit when I'm over-tired!
Another 12 seconds gone.

---

Name: John Crotty () on Thursday, September 23, 2004 at 16:00:13

Email: 21077@lapd.lacity.org
City and State: Hermosa Beach, CA
Class: 1969
Message: My first car was, (gasp!!!) the first car of it's type, a 1960 Corvair. Not a cool "Spider," but a four-door, three speed, cheap ass version. The car didn't have a heater or defroster. It had a radio though. My dad bought it for my older sister, but she never learned how to drive a stick. So it sat in front of our house for three years, under a tree, collecting birds droppings and tree sap. My dad would occasionally fire it up and drive it around the block, just to keep the tires from flattening and the battery in check. When I got my license, he gave it to me. I spent an entire weekend with rubbing compound and Blue Coral wax until the thing gleamed. Every paycheck (I was a busboy at Sir George's Smorgasbord, went into that beast. Chrome wheels, rootbeer barrel knobs on the dash and stick shift. I even put wood grained contact paper on the cardboard door panels. Carpeting in the front. It had a back seat that would fold down flat like a station wagon, so that was kinda cool. Ran great too! Then, alas, one day it died. Actually I blew the throwout bearing and it was going to cost me more to have it replaced than the car was worth. But the worst thing was, after I fixed that sucker up, and since I only could afford "part-time" car insurance (no driving to school), my dad started taking it to work everyday and I had to wait till he got home to drive "MY CAR!!!"
What a waste of Blue Coral.
---

Name: Kathleen Griffin () on Thursday, September 23, 2004 at 15:50:10
Email: ct_helpdesk@yahoo.com
City and State: San Pedro, CA
Maiden: Nix
Class: 1974
Message: I realize this is kind of irregular but I believe in keeping business in the "family". So I'm wondering if any Cougars out there are either Sail Makers or Canvas Workers? I need a full Canvas Cover for a 50 foot sail boat as soon as possible. Please email me if you do this or trust someone who does?

---

Name: Kathleen Griffin () on Thursday, September 23, 2004 at 15:47:13

Email: ct_helpdesk@yahoo.com
City and State: San Pedro, CA
Maiden: Nix
Class: 1974
Message: My first cars were: 1968 1/2 Camaro SS; 1967 Mustang; 1963 Sunbeam Alpine. What I really wanted? A Toyota Corolla (which I paid 300 for in 1975). Dang I wish I still had that Camaro!
My first car after being divorced was a 70 Camaro Z28. 350, 360 HP, 11:1 compression, Holley 4bbl, 3:70 rear end ratio, M21 4-speed. MAN whatta RUSH.
---

Name: Cindy Colby () on Thursday, September 23, 2004 at 15:24:58
Email: cindycolby@adelphia.net
City and State: Seal Beach, CA
Maiden: Maxson
Class: 1963
Message: Wow guys, you make me envious with all of those cars and car stories, especially that yellow truck, what a beauty. I had to get a divorce to get my first car, in fact my second car was part of the second divorce. No more of that, I bought my last two cars myself.
Cindy

---

Name: Keith D.Jones () on Thursday, September 23, 2004 at 14:59:42
Email: cmi50@yahoo.com
City and State: KonaHawaii
Class: 1976
Message: My first car was a 1959 MGA I bought from Donald Brokaw in 1975 for $400. It was a great car and sat very low to the ground. I could actually hang my arm out the door and scrap my hand on the ground while driving. I am trying to find one over here like that one and I am going to take my time and rebuild the whole car.

---

Name: Cindy Whittaker () on Thursday, September 23, 2004 at 14:43:54
Email: cindywhittaker@comcast.net
City and State: Gig Harbor WA
Maiden: Whittaker
Class: 1976
Message: OH man, Bud, you gave up a '57 T-bird?!! I LOVE that car -- wait, I have to do a quick internet search to see what they look like... OH... wait a minute... I love the '58 T-bird - the big boat! But still, the '57 is cool too. Hey, I'm not a car chick! I used to have a '62 powder blue T-bird - another big boat - but my ex was trying to restore it so for a while it didn't have door panels. And since it was sunny California, he chose to have the power windows stay down since they didn't work without the door panels. So open windows meant open and vulnerable to theft. So guess what happened to it... yep. Theft. One day we took it to the LA County Museum and it was stolen out of the parking lot! The cops sternly warned us not to go looking for it in the surrounding neighborhood because it was most likely parked outside of a crack house. So we didn't. Never saw it again. So sad. My first car was a 1957 Volkswagen. My parents bought it for $200 and I sold it for $400 a few years later. It leaked in the rain so when I stopped at a light, there would be a wave of water on the floor from back to front and when I took off there'd be a wave from front to back. Or is that back to front? Hmmm, "for every action, there is..." We learned that in science right? So I should know this right? Is there really such a thing as a hypothetical question? Guess who didn't get enough sleep last night! That reminds me, I have a 350Z now and was parked in line waiting for the ferry from Orcas Island. Two 10 or 11 yr old boys walked in front of the car and I heard one say to the other, "Oh man, that's an ASTON MARTIN!" "Whoa," said the other boy. As they walked towards the back and saw the Z, the first kid said, "Oh no it's not, IT'S A Z!!!" As if that was better than an Aston Martin. If they only knew...
Well there's 6 minutes of my life that's gone forever.

---

Name: Bill Ennis () on Thursday, September 23, 2004 at 13:52:42

Email: bennis66@sbcglobal.net
City and State: Auburn, CA
Class: 1966
Message: On a serious note, my first three (3) cars cost less than the tennis shoes I am wearing!!! And that is a true statement. My first car was a 1952 Chevy. Got me and my friends through most of school... paid a whopping $25.00 for it. Had a slight problem with the brakes during the rain, but since we lived in sunny so. cal... what the heck....
I can believe that. I can remember a used car lot called Burton Motors, that advertised in the local papers. They had cars for 15 all the way up to a whopping 250 dollars on that lot.
---

Name: Bryan Ellerman () on Thursday, September 23, 2004 at 13:50:48
Email: bellerma@avtron.com
City and State: Akron, Ohio
Class: 1962

Message: Hi John All this talk about cars made me want to share with you a project I just completed. I did a complete frame-off restoration of a 1955 Ford F100 truck. I made all the appropriate up to date modifications to the frame, suspension and drive train. I installed a Chevy small block with a Turbo 400 transmission so I was sure it would always run.
It has power windows, power disc brakes, power rack and pinion steering and remote keyless entry. I did all the work myself even the body work and paint. The whole project took 21 months and many dollars. I drove it for the first time on July 4th, what a thrill.
Hope you enjoy it as much as I do. I'll have to store it pretty quick, snow will be here pretty soon. But of course with all projects, I have a long list of things to do over the winter to fine tune the finished product.
As with all 62ers, number 60 comes next Wednesday. Hope I'm ready. I'm going to Kentucky International Speedway to drive a Richard Petty NASCAR for 14 laps. Let you know how it went.
Take care, Bryan
GREAT LOOKIN' truck, Bryan. Love the retro look. If it was mine, I'd add a Shell Oil logos on the doors, through the running board pipes up the back of the cab, and sideboards. Almost looks like it should be pulling into Frosties.
Thanks for the picture and good luck with the Nascar deal too. Try and keep it under about 180, willya'.

---

Name: Bud Rhoades () on Thursday, September 23, 2004 at 11:51:27
Email: bud.rhoades@fullmerinc.com
City and State: BelmontShores
Class: 1974
Message: Sharon, whats really hard to believe is the Pinto was THE car to have back then. Lets see, Robb Russell, you, Randy Leonard, Don Issacs, myself, in my totally cool blue model, which sadly incinerated on the 405 a few years later. Whats even more of a testament to the drawing power of the Pinto was that after mine melted down on the 405 my Dad offered to buy me a 1957 t-bird, my response then...no way dad, thats for old farts like you. BTW, it was in mint condition having been stored in a garage in Long Beach for years.

---