Hawthorne Time and
Temperature

Home | 60's Slang | Alumni List | Car Talk | Cougar News | Feedback | Hangouts | Memories
Recollections | Reunions | Street Scene | Teachers | Tributes | Vietnam | What's New | Keyword Search
The King >ELVIS
<!-+++++++++++++++++++++++++++++++++++++++++++++++++++++++++++++++++++++++++++++++++++++++++++ +++++++++++++++++++++++++++++++++++++++++++++++++++++++++++++++++++++++++++++++++++++++++++++->

---

---
<!-+++++++++++++++++++++++++++++++++++++++++++++++++++++++++++++++++++++++++++++++++++++++++++ +++++++++++++++++++++++++++++++++++++++++++++++++++++++++++++++++++++++++++++++++++++++++++++->
Name: Heather Ruggirello () on Monday, June 28, 2004 at 21:41:20


Email: ruggih@hotmail.com
City and State: Mukilteo, WA
Maiden: Reoch
Class: 1975
Message: Attention Class of 1975 - It is once again time for our reunion! Can you believe it will be 30 years. I have been getting calls from the reunion company that helped us plan our 25th. Since I (and the rest of the reunion committee) planned the 10, 20 & 25th we are looking for one of you or more (if possible) to plan the 30th. Dale Hahlbeck mentioned that Lisa Marazzi might be interested and I think I remember Dennis Gonzalves volunteering at the 25th (remember Dennis?). Anyway if anyone is interested please e-mail me so I can give you all the reunion info. The old committee is ready to retire, I'm too far away and everyone else is just plain tired! Let me know!
Heather
Hi Heather, Good to hear from you again. If you're going to give up the post, please let me know so I can find another 75er to take your place as Reunion Committee Member, or maybe you have a replacement in mind. Thanks for all you do and for all you've done for your class.
---

Name: Dan Johnson () on Monday, June 28, 2004 at 17:42:32


Email: wch1ispinkATaolDOT
City and State: Sherman Oaks
Class: 1977
Message: Speaking of AYSO, in or around 1975 or 1976 I played on the first AYSO team in Hawthorne history. I remember that there were so few soccer players that we had to play in a league with teams mostly from Torrance with a Gardena team thrown in (no Beach Cities, if you can believe that!). I remember them being very intense about "Americanizing" the game and they rigorously enforced the "English Only" rule on the field which was the only advantage we had against most of our opponents who were Latino. Another funny thing is that most of us kicked the ball with our toe (think Lou Groza) instead of "soccer style" It took weeks to break us of this habit. I remember that they tried to recruit the best atheletes they could get from Hawthorne and Lawndale to compete against the Torrance teams who had grown up with the game. Needless to say, we got slaughtered but I'm proud to have been a pioneer.
Who remembers the LA Aztecs???
---

Name: John Rout () on Monday, June 28, 2004 at 17:37:15
Email: dabully2@msn.com
City and State: Cerritos, CA
Class: 1963
Message: Speaking of Helms trucks, about three years while in Atlanta I saw one in the Underground Atlanta area. It was restored, beautiful, and made me hungry for a cinammon roll.
No wonder they went broke. That's a pretty big area to cover for just some 10 cent donuts.

Also, thanks for the dues, John
---

Name: Karen LeMaistre () on Monday, June 28, 2004 at 17:20:18


Email: KLeMaistre@aol.com
City and State: El Segundo, CA
Maiden: Masters
Class: 1972
Message: Does anyone remember Gold Crown Dairy? They delivered to Hollyglen where I grew up. I remember all the milk bottles were an amber color with a little gold cellaphane wrapper at the neck.
I remember that one. In fact I think we got our milk, at one time, from them. Mom, are you out there???
---

Name: James Armour () on Monday, June 28, 2004 at 16:34:49


Email: Orcaarmour@Charter.net
City and State: Shell Beach, CA
Class: 1970
Message: The stroll down memory lane with the Helms truck and the Milk man reminded me of some of the early kid shows that were somewhat unique to the L.A. area. Engineer Bill came to mind when I was reading about the Milk man as he would play Red Light/Green Light as you drank a glass of milk with him. This opened up the gates to other shows like Sheriff John, Skipper Frank, Chucko the Clown, Popeye with Tom Hatten among many others. I think the Weinie Mobile is still touring for Oscar Meyer too. There is a great website at www.latvlegends.com. It also has some of the old dance shows that were on during the 50's and 60's. It's nice to know I'm not the only one that remembers these great childhood institutions from a long ago L.A.
Great stuff, James. Keep those memories comin' Cougs....
---

Name: Ron Dokken () on Monday, June 28, 2004 at 15:45:19


Email: rdokk@yahoo.com
City and State: Endwell, NY
Class: 1955
Message: One last thing about old milk deliveries. Seems to me I remember all the guys on 131st collecting the bottle lids, scrunching them with your heel, then slamming them to the ground. The object was to cover the other guys lid, and if you won, you got his. Hmmmm - another fantasy. Now....anybody else out there bitten by the dancing bug!!! Since my cruise last Feb, I've been a dancing fool. I take around 5-8 lessons a week, both line-dancing and ballroom. I don't know whats gotten in to me, but I haven't had so much fun in ages. (I'm about to leave for my Mambo lesson so adios for now)
I thought a mambo was a snake.....
---

Name: Adrianne DeAlejandro () on Monday, June 28, 2004 at 14:08:27

Email: addy57@msn.com
City and State: Cerritos, CA
Maiden: Longpre
Class: 1963
Message: Unless my parents bought the milk at the market, I remember Arden Farms being delivered to our home. As for a Helms truck, I saw a mint condition one a few years ago at an Escondido museum. Funny, how the truck looked big when I was small.
YES Arden was a local milk run on my street too. I also remember Altadena Dairy.
They also have a restored Helms Coach (BTW, it's not a truck) at the Peterson Museum on Wilshire too.
---

Name: Jill McFarlane () on Monday, June 28, 2004 at 11:18:39

Email: jillmcfar@aol.com
City and State: Mission Viejo
Class: 1977
Message: Was down in the old "hood" yesterday, and decided I would go by my old elementary school that was Jose Sepulveda. It's no longer a school, but a AYSO headquarter. You all have probably addressed this before in previous feedback. I was sort of sad not to see the school. I did see that Del Aire park still remains, and for the most part it still looks the same. Hope everyone had a nice weekend.
Hi Jill, Yes, Jose Sepulveda is no longer, as are other Hawthorne schools. Go to the Hawthorne School Map to see other changes over the years.
---

Name: Judi () on Monday, June 28, 2004 at 01:55:41
Email: judith.garcia@jocogov.org
City and State: Olathe, KS
Maiden: Garcia
Class: 1978
Message: I just found this site and what a trip down memory lane. I saw that Danny Causley, Diane Libertini, Robert Rael and Steve Miranda passed away. I have many memories of these people..does anyone know what happened? Does anyone know the whereabouts of Susan Deza or Lisa Fischer? Glad I found the site...

---

Name: Cindy Colby () on Sunday, June 27, 2004 at 22:56:29


Email: cindycolby@adelphia.net
City and State: Seal Beach, CA
Maiden: Maxson
Class: 1963
Message: I just had the funniest experience, I went to the movies tonight with some friends, we went to Long Beach Town Center, after the movie I went to the ladies room and who did I run into but Patty Okuda c/o 63, we had seen each other last October at our 40th. but this was really weird because she lives in Santa Monica and was visiting with her cousin. I almost never run across any Cougars, this was really cool.
And yet ANOTHER Cougar sighting. Thanks Cindy...
---

Name: Armand Vaquer () on Sunday, June 27, 2004 at 15:19:53

Email: AMVaquer@aol.com
City and State: Tarzana, CA
Class: 1972
Message: Thanks to everyone for posting stories about their experiences with the Helms Bakery Co. I took a field trip to their bakery back in the early 1960s and I remember that miniature loaf of bread. There was a movie out a few years ago called, "Peggy Sue Got Married" (I think). It was with Kathleen Turner. The plot has her going back in time to her high school years. There is one scene when she gets to her house and across the street was, you guessed it, A HELMS TRUCK! Made the whole movie for me.

---

Name: Sandra () on Sunday, June 27, 2004 at 03:54:22
Email: sanna@cox.net
City and State: Encinitas, CA
Maiden: Perales
Class: 1988
Message: This is a dedication for my wonderful teacher, Ms. Leda Griffin.
Some of you knew Ms. Griffin as a fellow student/friend from the class of 1969. I knew her as my teacher. My name is Sandra Perales and I was blessed and honored to be in Ms. Griffin's "1983-1984" 8th grade class. I was 13 years old and had the life of a child you only hear about in the news. But for 7 hours everyday, I left that life at home and I sat in the grandness of her classroom in room 11.

Ms. Griffin was the kind of teacher you never forget about. The kind that

took the time to ask you if you were okay. The one who noticed that you just weren't yourself today and asked you if you wanted to talk about it. She always made you feel special and welcome in her classroom... no matter what was going on in her life.
In her presence at Hawthorne Intermediate, you were always number one and as I saw many of her former students come back to visit her, I too would come back one day.
As a 22 year old young woman, I wrote her a letter telling her of my life. We spoke by phone the following year and she laughed as she told me how she had been carrying my letter in her purse for all that time. I told her I hoped to see her again and she happily agreed. Sadly, Ms. Griffin was taken from us two years later and I never got the chance to go back.
Anyone who is someone significant in my life gets the privelege of hearing the wonderful story of my teacher. Ms. Griffin believed in me and helped me become who I am today. I am grateful for having had her in my life, for having faith in me and overall for just being the wonderful person she was. And just like those former students came back to see her, I too go back... but only in my dreams.
I love you, Ms. Griffin.
Sandra

---

Name: Lyle Tucker () on Saturday, June 26, 2004 at 19:21:27


Email: LyleTucker@cableone.net
City and State: Roswell, NM
Class: 1977
Message: The wife and I were able to stare lovingly at a restored-as-new Helms truck a few years ago at the Car Museum in The Imperial Palace Hotel/Casino in Las Vegas. I'd had no idea the truck was part of the collection, turned the corner and saw it, and WHUMP!, it was like a time warp wrapped itself around my heart. I hadn't *thought* of Helms for decades, and to suddenly come face to face with a shiny blue-and-yellow blast from the past was almost literally painful. It was weird. My lifelong love of chocolate-covered buttermilk donuts began with that little truck. A coupla people have mentioned 129th street in conjunction with the truck, which is amazing, as that was the street I lived on, just a few houses West of Ramona. I sure do remember the thrill of getting donuts after school. And as hard as it is for me to believe, the truth is that the fresh loaf of bread that we got when we visited their bakery on a field trip was the *first* fresh loaf of bread I'd ever had! I couldn't believe how tasty it was. (My mother, rest her soul, couldn't cook to save our dog's life).
Anyways, thanks to y'all for bringing up a very warm part of my childhood!
Hey Lyle, I just noticed your senior picture. That hair looks like a cross between Michael Jackson and Martha Stewart.

Hey, send me a comic book too, ya hippy.....
---

Name: sharon leach () on Saturday, June 26, 2004 at 17:27:27
Email: sharonlleach@cs.com
City and State: long beach
Maiden: moore
Class: 1966
Message: Keith, I remember the little loaf of bread we got when we went to the Helms Bakery on our field trip. I kept it and wouldn't let anyone have any because I thought it was so cute. Well, it finally turned green and my mother made me throw it away. The one thing that really impressed me was the way the bread was made in huge vats of dough loaves. They were monsterous. At least to an 8 year old they were. Great memories. Did anyone go on a field trip to the dairy that used to be on Artesia in Gardena? What was the name of that dairy? We had a great time there. I remember it smelled really, really bad where the cows were. Before we left, we were all given a miniature glass bottle of real milk. I had that little bottle for years. Minus the milk, learned my lesson on that one. I guess it got lost some place along the line. Everyone have a great weekend.
The 2 milk trucks that I remember were Foremost and Adohr. I'm sure there were lots more in the 50s.
---

Name: Keith D.Jones () on Saturday, June 26, 2004 at 15:26:21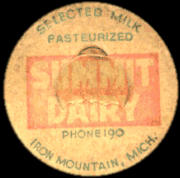 Email: cmi50@yahoo.com
City and State: KonaHawaii
Class: 1976
Message: I remember the Helms Bakery truck. Joe was our driver. It smelled so good in that truck. He would pull out that wooden drawer with all those donuts. My mom would buy cinamon rolls and bear claws from him. That whistle was great. He would always stop at our house and talk with my dad. We went on a field trip there I think in 6th grade and they give you a small loaf of bread. It was in Culver City. Great old memory. And those caps on top of the milk cartons are called pogs. They made a huge impact in the early 90's. Kids would collect them. Made millions of dollars for allot of people. Aloha
Remember the red cellophane wrapped around the top? Lots of fun to look through.
---

Name: Neil Larson () on Saturday, June 26, 2004 at 12:08:59
Email: rentatrip@speedeenet.com
City and State: Crestview , Florida
Class: 1971
Message: OK jb -and the rest of you Coug's Here is a SUPER DUPER web page- related info because it has a groovy Beach Boys sound track when you click on it! And it has some wonderful Hot Rod / Cruisin' / Custom car info ... Boulder Bob - - - http://www.atomichighboy.com/pages/homeyell.htm Tell me what You'all think!
Nice art but, to me, nothing super duper
---

Name: Glenn Crist () on Friday, June 25, 2004 at 23:29:04
Email: gfcrist@sonic.net
City and State: fastnomaweekend.com
Class: 1964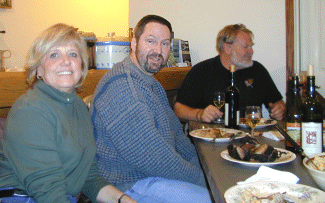 Message: Jbtoo­ Locate that Helm's truck, get your demolition derby daughters to rebuild it (maybe add some steel plates) and we can enter in the once-a-season (it?s even a charity event for the Sonoma schools, so it might even be tax deductible) drag races at Infineon. It got started when Tommy Smothers [Redondo HS, late 50s, early 60s; (anyone know if the ?brothers? still hold a 440 and pole vault record respectively, there?)] challenged the Benzinger boys a drag race between his rubber-tired, farm tractor and their vineyard-tour tram. It kinda got out-of-control, after that, with each new entrant trying to outdo the last. The Helmswagen might be best-in-class.
JB-one, I looked at the picture, you posted with the toofers? thoughts, and thought, Ahwahnee has really grown, only to discover upon closer inspection, it was my own hometown. JB2, certainly has a smile on her face; milk mug, coffee mug, or might it have something to do with the Murphy?s Irish Pub sign in the foreground. Ah those small town breakfasts. I passed by the Infineon RW on my way back from San Mateo yesterday (Thursday) and already the ?Coleman Campground? had probably 300 RVs parked in it (read hardcore race fans). It?s the biggest event in our ?neck-of-the-woods.? Helms, ah yes. I remember getting sent out to the truck with a buck, to buy a loaf of bread (25 cents at most, in the 50s and 60s), dinner rolls, and, with whatever was left, tasty delights suited my fancy (I always got a big two cent cookie free as a ?reward? for my efforts). And I believe I made the school trip to the bakery, not once but twice in school (? finally something the Wiseburn school system might have had over HESD). Did Jesse Owens really win all those Olympic Medals after eating white bread; could it have been the precursor of steroids? And (a serious note here), Howard, Kathy and Barbara Duran, your dad, ?Doc,? may have been one of the first to push weight training and conditioning for all (HHS) athletes, even in track (unheard of in that day). Somewhat of a visionary, to my way of thinking.
Great stuff Glenny and yes, it is your own Sonoma. Even JB2 couldn't figure it out. Tell all that John says hey and we'll see you REAL soon.
---

Name: Don Burns () on Friday, June 25, 2004 at 22:18:32
City and State: Downey, CA
Class: 1957
Message: Hey Cougs, at the Seal Beach Car Show of 03 there was a couple that had an old Helms Bakery truck that they were restoring, I didn't see it this year, maybe next year, or at one of the other car shows. Later Don

---

Name: Janet Burkett () on Friday, June 25, 2004 at 20:52:25

City and State: Ca
Maiden: Humphreys
Class: 1962
Message: Yep Neil, I DO remember those two caps on the old milk bottles. I also remember making Christmas bells out of the pleated ones that were a shiny red. (There weren't a lot of art supplies at that time!) We would tie about three of them up with a yarn bow and think that was the best Christmas ornament ever.
As for the Helms truck, I saw one about two years ago in a junk yard....it was sad. Maybe I should have bought it, I could have entered it in the Vintage races at Infineon!
JB2
Not very aerodynamic and with that Nash OHV 6 I'm pretty sure you'd be out of the money, yet it's always sad to me to see something out of my past in a wrecking yard. Tell me where it is and I'll bring it up to your place, and make a planter out of it.


Speaking of Infineon, the Save Mart 350 is this weekend. Go Jeff.....
---

Name: Neil rr () on Friday, June 25, 2004 at 19:45:18


Email: rentatrip@speedeenet.com
City and State: Crestview , Florida
Class: 1971
Message: Helms... This is a hot topic! I last saw a Helms truck, over in Holly Glen, on I am thinking about 129th??? East of Aviation North of Rosecrans... It was in 1972-73 , I was helping Tom Valentine build his Wright Glider in his front yard, the Helms truck always came down the street in the early afternoons.
In our community (Del Aire) it was very rare to have the Helms truck cruise ..Whoever!!! Back in the 50's & early 60's We enjoyed the tremendous luxury of curb side milk delivery from Mr. Whipple! He worked for Roger Jessup Dairy- Mr. Whipple drove an old GMC step side delivery truck, the kind with real brick ICE to keep the merchandise chilled under burlap. It had a great stool seat for the driver (only one seat at all!) & a super long stick shift at least 24 inches. Mr. Whipple had it all - Butter milk , Whole milk , non-fat milk /cottage cheese and Chocolate milk Too! Once in a while during summer Mom would let us "ride" along with him for a block (which meant around the corner) then we would run home when he got up to the other end of the block. I still recall the cling clang of the glass bottles rattling around in the wire galvanized six pack racks as Mr. Whipple walked smartly up to the back door step. You remember those old time bottles with the two part paper lids? The outer one was pleated around the neck & the inner one had that little flap that always managed to get soggy and clog down inside the bottle ! The cream always came to the top!
Great stuff Neil, thanks....
---

Name: Cindy Colby () on Friday, June 25, 2004 at 19:28:51


Email: cindycolby@adelphia.net
City and State: Seal Beach, CA
Maiden: Maxson
Class: 1963
Message: No John, the one I have is one that was worn on a chain around the neck, it is imprinted 'HELMS BAKERIES LOS ANGELES CALIFORNIA' it also says MADE IN ENGLAND, it is very cool, it belonged to my father-in-law when he worked for them.
Well bring it on....
---

Name: Merrill Wasserman () on Friday, June 25, 2004 at 19:24:37
Email: merrill3001@yahoo.com
City and State: Reseda, California
Class: 1985
Message: This year (2004) after getting my B.A in child development and M.A in special education, I am finally going to be a teacher.
I am going to teach the second grade. I just wanted everyone to know. Also, I am married with no children as of yet.
My wife (Angela) and I are moving to Zuni, New Mexico to live on the Indian reservation. It is there I will be teaching and working toward my elementary teaching credential at the same time.
One teacher that inspired me to become a teacher was Bob Davis - an English teacher during the years of 1982 through 1985. He was lively and energetic about teaching and that made it fun to learn. I can only hope I can be half the teacher he was.
Hi Merrill, Thanks for letting all your Cougar buddies know where and what you're doing in life. God knows we can always use quality teachers. Check back anytime.
---

Name: Paco () on Friday, June 25, 2004 at 19:13:29


Email: doo4usc@cox.net
City and State: LF
Class: 1961
Message: The driver of Pauls Bakery truck where I lived, on 134th st, was Johnny Caroll. My mother had a charge account that I used quite often...
Where was Pauls Bakery located?
---

Name: Cindy Colby () on Friday, June 25, 2004 at 19:05:20
Email: cindycolby@adelphia.net
City and State: Seal Beach, CA
Maiden: Maxson
Class: 1963
Message: Hey John, I have a Helms whistle, I will bring it to the next event, I just have to find it.
Hi Cindy, now I'm talking about the one that's mounted on the coach body and is blown by pulling the handle. Is that the one you have? If so, please bring it, and thanks....
---

Name: Mari () on Friday, June 25, 2004 at 18:42:30


Email: irishrutter@hotmail.com
City and State: Lubbock, TX
Maiden: Rutter
Class: 1967
Message: My dad was a Helms Bakery man for a few years when I was around 3 yrs. old and sometimes he would let me sit up front on the dashboard while he drove (he,standing up no less!) on his rounds with him. I loved the cinnamon and walnut strudel. Yum yum. I even got to know his favorite customers on his route...the Manginis, the Hoffmans, the Petersens, the Cherrys. Fun...I loved it.
I got to blow the whistle too! What a kick!
I wish I had just the sound recording of the Helms whistle. I remember they used it in their commercials too.
---

Name: Jerry Miles () on Friday, June 25, 2004 at 17:33:56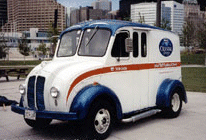 Email: jfmiles AT PacBell dot net
City and State: Fair Oaks, CA
Class: 1966
Message: I did a little research on the net and found the Helms used DIVCO coaches (Detroit Industrial Vehicle Company) until 1962 when they began to convert to Chevy panel trucks. If the Chevy?s ever made it to my neighborhood, I have no recollection of it. It also said the engine used was a four or six cylinder Continental in the 50?s and added the option of a Nash ohv 6 cylinder or a Detroit Diesel in the 60?s.
I sure wish I could hear the "toot toot" of one coming up the street right now.
THAT'S IT, DIVCO!!! I've been looking for Dixco. Thanks for the info Jerry. I just knew it was out there somewhere. Divco also made the Milk Trucks. To learn more about the Divcos, go here.
---