Page 63
Home | 60's Slang | Alumni List | Car Talk | Cougar News | Feedback | Hangouts | Memories
Recollections | Reunions | Street Scene | Teachers | Tributes | Vietnam | What's New | Keyword Search
---
Here's a good one from the 60's....Enjoy > The Olympics

Name: Bob Campbell () on Tuesday, May 25, 1999 at 21:19:45
E-Mail: soup44@earthlink.net
Class: 86
Message: WOOHOO... El Tarasco's or "trash Cans" as it was known in the 80's... I still try to get a super everytime I am in the LA area. Loved'em them and love'em now. Anyone remember breakfast at the Beach Hut?

---

Name: Alan Nelson () on Tuesday, May 25, 1999 at 21:15:59
E-Mail: anelson@redrivernet.com
Class: 73
Message: Gee, John. I thought that "Pasty" look on your face was from lack of sun. ;)
Now THAT'S funny. Thanks Alan
---

Name: Gloria Herlosky () on Tuesday, May 25, 1999 at 19:52:55
E-Mail: gpork
Maiden: Valencia
Class: 76
Message: Karen, funny you should tell us that V1 has a butt fetish. She, along with V2 (class '66), were often left in charge of V5 and me, as our parents worked evenings. We came along a lot later then V1 through V4 so our parents were pretty lenient by the time we came around, and were not as anal (forget the pun), about schedules and such. However, when it was V1's turn to babysit us, she would always remind us that "under my rules, you WILL BE IN BED BY 8:00 sharp!!!" It was then that V5 and I started writing along the baseboard of our wooden bunk beds, "Ricki is a BUTT!!!" That was our little secret and we felt SOOOOOOOO good with every stroke of the crayon! Glad to see you picked up on her fetish. We did too, and we were all of 4 and 6 yrs. old! : )
Glo, So where is "Glacier Glutes" anyway?
---

Name: TOM GIOIA () on Tuesday, May 25, 1999 at 19:15:37
E-Mail: TOM@TMAASSOCIATES.COM
Class: 55


Message: I GRADUATED FROM HAWTHORNE HIGH IN 1955, IF ANYONE OUT THERE REMEMBERS ME, PLEASE WRITE BACK. IF YOU KNOW OF A REUNION COMING UP, LET ME KNOW
Tom, You know we won't let you miss a reunion. Don't forget to add yourself to the email list too. Stay tuned as if there's something going on, it'll be posted right here and thanks.
---

Name: Larry Cuiper () on Tuesday, May 25, 1999 at 10:35:50
E-Mail: LCuiper@aol.com
Class: 60
Message: I remember the Colony Club and the Tassels, but this old memory is not sure if I was with all of you, I remember hanging around with all of you at different times, but not sure about that night. Colony Club was easy to get into, but there were a few others who were real tough and by the time we all were old enough, they started getting away with the classic strips and topless dancers made its way. Ok, John your hearing our stories, do you have one or two!!!!!
Hi Larry, No I don't have any stories like that. Course I was usually at choir practice on Saturday nights. I do remember one story. We were practicing "Bringing in the Sheaves" and........ well maybe I'll save that one for later.

---

Name: Chris Prewitt () on Tuesday, May 25, 1999 at 10:31:34
E-Mail: cjprewitt@juno.com
Class: 1967
Message: Hi John, I like the way you broke the alumni list into smaller sections. (See I do look at "What's New".) My name is still correct. I wonder if the person whom you intentionally misspelled their e-mail address will discover the mistake.
I don't know, but we're gonna find out. Thanks Chris
---

Name: Frank Romano () on Tuesday, May 25, 1999 at 10:12:38
E-Mail: US-RENT-A-CAR@worldnet.att.net
Class: 1961
Message: Great story Mike "Night Train" Shay.... Which part of the group was at the "TJ" run?

---

Name: Mike Shay () on Tuesday, May 25, 1999 at 00:46:59
E-Mail: theshays@earthlink.net
Maiden: Boom Boom
Class: 61'
Message: Oh Man!! One Saturday night, a long long time ago, Tom Shelley, Bob Fraser, a couple other guys I can't remember ( one of them could have been Larry C.) and I decided to see if we could get into the Colony Club Night Club (aka burlesque show) on Western Av. What made it a challenge was the fact that Bob was probably 18, I was 17, and Tom was 16. We walked up to the door and acted like we belonged there and they showed us to a table right next to the stage. The waitress asked " what would you like to drink?" while looking directly into Tom Shelley's face. He froze like a deer in the headlights...couldn't think of anything alcoholic, and finally asked


"Do you have a Menu of the Drinks?"


Well one of us said "I'll have a Vodka Collins" and that quickly became the choice for everyone. They served us all night. The place was pretty cool really. The girls always had on a G-string and those little stick-on hub caps. I'll never forget the Star of the show. Her hub caps had these tassels on them that were about a foot long. She could get one going north-east and the other going south-west, and she would lean waaay back and she looked like one of those Army helicopters with the rotors on both ends. Someone told us that if the band played "Night Train" fast enough, she could

actually hover...But I never saw that...
That's the story of the Colony Club....just another happy High School experience.
Hey J.B. did you notice Jimmy Wilson and my weird old step cousin Mike Scribner in those class pictures??? What ever happened to them?? Keep up the great work..
M.S.
Now that was a great story. I've heard that story probably 50 times and never quite heard it that way before. Is that what you call "embellishing" Sharon??


Jimmy Wilson was in San Diego the last time I heard, and your step cousin is anybody's guess. Great story Mike.
---

Name: David Barboza () on Monday, May 24, 1999 at 21:25:38
E-Mail: iliketrains@yahoo.com
Class: 74
Message: Hey Ingrid: My secret was also at the 10 year. And truth be known you also rated up there. Nice try John... But no, not Cheryl. Man am I gonna get in trouble for this? Scandalous!! Oh well its fun!!

---

Name: karen kuehl () on Monday, May 24, 1999 at 20:59:38
E-Mail: kaykay@accex.net
Maiden: graham
Class: 59
Message: What is it with V1? Ricki, do you have a butt fettish? Do you get a kick out of hurting people's rear ends? This is the second one we've heard about you brutelizing!! Who will be next? And how will she do it? Watch your backside fellow Coug's, you may be next!!!

---

Name: Frank Romano () on Monday, May 24, 1999 at 20:11:28
E-Mail: US-RENT-A-CAR@worldnet.att.net
Class: 1961
Message: Yo!!! John... O'for sure, old ladies across the street. Tell us....just how old were these Ladies, and why on earth would the need help crossing the street in front of the Colony Club? Let us please here the GTS story here? "GTS" Goody Two Shoes.
These ladies were pretty old.....I'd say 23 or 24. Well when you're 17 that's pretty old isn't it?

I will leave the story telling to one of the guys that was present at the Colony Club that night. Anyone of you boys want to tell it hmmm?
---

Name: Loretta Cuiper () on Monday, May 24, 1999 at 16:53:56
E-Mail: LCuiper@aol.com
Maiden: Morelli
Class: 62
Message: Well Well, John and Robin now know the truth. Us gals were just a little naughty and it was safer being with a group and we did our looking. You both are talking about not been told, but you two must of had your little hide aways and just don't want to tell us your little stories. Those years there were alot of apartment parties, some with live bands, and that brings me to another story, but I will save it for another time!!!!!
Loretta, Saturday nights, I think I was doing chores at Church or sumpthin' like that. I shoulda' been prayin' for all the HHS girl's sorry

souls I guess. I know Mike Shay, Tom Shelley, Bob Fraser and maybe even Larry Cuiper have a story to tell about the Colony Club (strip joint on Western Av.), but Robin and I were walkin' little old ladies across the street, I think.
---

Name: Jerry Miles () on Monday, May 24, 1999 at 15:26:30
E-Mail: jfmiles@pacbell.net
Class: 66

Message: John, As one of those "cute" Sepulvada kids was my very own sister Sheri, I had one right away. I sent messages to both my sisters Debbie and Sheri and just got the replies. The girl on the left is my sister, Sheri Aust (Miles), then Troy Swafford and last Kathy Miranda. So please post up the whole class as now several people want to get it from me.
You got it Jerry. This picture was sent in by Janet Kinder Falkenstein HHS79 (top row 3rd from right) Thanks Janet. I knew someone would try this one. I guess everyone was away this last weekend. Good job Jerry.
---

Name: Annette Foor () on Monday, May 24, 1999 at 15:11:55
E-Mail: taj@maui.net
Message: Aloha, Last night I went to the Beach Boys concert with my mom, who went to Hawthorne High with the Beach Boys and also my sister (we all grew up in Hawthorne). It brought back a lot of memories for my mom of that time when it was fun and safe to be a teenager. There was a really good turn out for the show and it was a lot of fun, even though Mike Love was the only original there. Hopefully they'll still keep touring.
Annette, Thanks for sharing your Beach Boy concert experience with us. Who is your mother? If she went to school with the Boys, I'm sure someone remembers her here. Thanks again...
---

Name: DON DALLONS () on Monday, May 24, 1999 at 14:49:18
E-Mail: DKD61@YAHOO.COM
Class: 79
Message: TONY FRINK, YOU SHOULD HAVE BEEN AT EL TORASCO'S WHEN BRYCE NYGAARD & BILL SNYDER HAD A JALAPENO EATING CONTEST. DON'T FORGET THE CHICKEN DANCES ON THE TABLE TOPS AT ALPINE VILLAGE. JOHN, GREAT JOB WITH THE COUGAR TOWN WEB PAGE.
Hey thanks Don. If you get a chance, could you email me your 79 Missing list please. Thanks again.
---

Name: Robin () on Monday, May 24, 1999 at 14:47:06
E-Mail: Yes
Class: 60
Message: John I honestly think Loretta had some bad mushrooms in her pasta this weekend :o) The reason neither you or I were invited to those wall stacked beer can parties is very simple. It was a guy thing, and I cant blame them. Who wants to go to a party where the undivided attention of all the women would have been towards us? Plus the fact that those little places couldn't stand another 30 females, had we shown up. I was upset for years but my humility finally guided me to an understanding that even our best friends can turn on us...And was there really a Brian/Carol thing? LOL..Lets dont go there ,I dont need another phone call from my long time buddy. And Ricki! For shame on you! Today you could get 3 to 5 for that kind of sibling abuse...fanny freezing is no longer a misdemeanor...As for Ascot never being mentioned..If I would have stayed away from there , I might have had a date or two...Welcome Carol Mountain Page!!!!! Class of 60 is getting stronger...yessss...Later Cougs :o)
Robin, Well anyway.....we can dream huh.

I think it was that the girls woulda' had to pay attention to their boyfriends, instead of checking out all the OTHER guys at these parties.
And yes Ricki, freezer burning buns IS a felony in the state of California now. Where has old "Ice Berg Butt" been lately anyway.
---

Name: BILL DAQUILA () on Monday, May 24, 1999 at 14:16:55
E-Mail: bvdaquila@yahoo.com
Class: 1963
Message: E-MAIL AT ANY TIME.I DO NOT CHECK EVERY DAY BUT WILL ANSWER WHEN I PICK UP.
HAVE 2 BROTHERS(JERRY, ROB) & SISTER(SANDY) FROM HAWTHORNE THAT I WILL FORWARD C-TOWN ADDRESS
Hi Bill, I remember you. One of HHS's better baseball players, and another fine HHS QB. Glad you finally found us. What took you??

Yes, please let all the "ducks" know about the site and thanks for checkin' in Bill.
---

Name: Chris Prewitt () on Monday, May 24, 1999 at 14:08:19
E-Mail: cjprewitt@juno.com
Class: 1967
Message: John, Maybe you know when the HHS Homecoming football game is going to be next school year. About a year ago we were talking about making one of the games why not the homecoming? This should be far enough in advance for people to make plans. I would think it, the football game, would be in September or maybe October. (If it's Oct 1,2 or 3 sorry I won't be there I have other plans.) You can mark your calendar.
Yes folks, we talked about making the Homecoming game this year. Maybe you could handle the arrangements Chris. Call the school and see when the Homecoming game is, and see if we couldn't get an area roped off for about 50 people. Sounds like fun to me, and thanks Chris.
---

Name: Ted Gioia () on Monday, May 24, 1999 at 13:33:55
E-Mail: tedgioia@hotmail.com
Class: 75
Message: The best burrito in Hawthorne was clearly found at Taco Tio on Hawthorne Boulevard, where they deep fried their burrito's to create a golden brown, flaky crust on the outside. In contrast, the worst burrito in the area could be found near the Hermosa Beach pier, at a run-down joint called "Andy's Taco-burrito Headquarters." This establishment had invented a greasy new Mexican dish, called the taco-burrito. As you might guess, it was a combination of a taco and a burrito. Joe Mailander and I made the mistake of sampling this delicacy one afternoon, and both of us suffered the consequences. I spent the following night embracing the well-known white porcelain American Standard fixture, regurgitating my taco-burrito. I hope Andy's went out of business a long time ago.
Ah yes, "Driving The Porcelain Bus",

an American Teenager's favorite weekend pastime. I guess we all took our turn at the wheel of that thing, but it usually wasn't because of a taco-burrito huh Ted.
---

Name: Ingrid () on Monday, May 24, 1999 at 11:39:51
E-Mail: fdg@earthlink.net
Maiden: Larson
Class: 74
Message: No one's guessing the identities of those cute 3rd graders from Sepuveda. That one boy sure looks like it could be Troy Swafford, but I have no clue who the rest are.
I was just thinking of the kids I used to babysit, and that made me remember the kids that had been my babysitter at one time or another. One of them was a guy that lived one block over from us, on 119th St., named Dave McCormick. Of all the babysitters we ever had, he was our favorite; probably simply the novelty of it being a guy instead of a girl. I wonder if he knew that we called him Eggy-Eggbert. He must have been in the class of 62 or so. Anyone remember him?
I'm also trying to figure out who Dave Barboza's secret love interest may have been. The first person that springs to mind is Lily Dana. But no, she wasn't in our class (the fact is, she had WAY more class than the rest of us). It couldn't have been me - because I was at the 10 year reunion.
Ingrid, YES!!...The cute little 3rd grader is Troy Swafford. That's one of them. Anyone know one of the others?? About David Barboza's love interest. I'm going to guess.....Cheryl Swenson???

Thanks, Ingrid
---

Name: Tony Frink () on Monday, May 24, 1999 at 10:53:14
E-Mail: tfrink@spacestar.net
Class: 78
Message: Enjoyed the earlier feedback on the best Mexican restaurants around town. My favorite was El Tarasco's. It was a little hole in the wall in Manhattan Beach - I believe on the corner of Rosecrans and Highland. They had about eight stools in front of a little counter, and usually a long line out front. For $2.25 you could get the Jr. Super Deluxe burrito - huge monster of a wet burrito. mmmmmmmmm good. They kept their price at $2.25 for years. And if you were really hungry, you could get the Super Deluxe for 50 cents more. I recall Bryce Nygaard (class '77) putting away a couple of Super Deluxes in a row after some late-night Oktoberfest partying.

---

Name: Melanie () on Monday, May 24, 1999 at 01:37:13
E-Mail: tshred@earthlink.net
Maiden: Minear
Class: 82
Message: Hey, does anyone remember the most awesomely cool ceramics teacher Karna Gottender? She was a truly neat person & I'm glad to had the honor to hang out in her class. Any idea what happened to her? last I heard she left to do interior design in P.V.

---

Name: Patt () on Monday, May 24, 1999 at 00:31:49
E-Mail: pdeck17@3-cities.com
Maiden: Prewitt
Class: 65
Message: Bill Ashdown that "little" kitty was named Tom Dooley! He died after I left home in '66. I still have my youngest daughters cat Candy Bar (Bitch) She is 20 lbs!! My son's cat Izzy weighs in at 20 lbs also! I wish they would take them home, But Carolyn lives in Charlotte, N.C. and James lives in a duplex temporarily!! These spoiled rotten cats are here till " death do us part" My husband and I both agree NO MORE PETS!!! We do enjoy the grand children though! We had our youngest granddaughter here for the weekend she is 8 months. What a joy! We love kids so much! I only had 3 myself! We wanted more but God said NO!

---

Name: BILL ASHDOWN () on Sunday, May 23, 1999 at 23:14:20
E-Mail: BA808953@AOL.COM
Class: 63
Message: KEEPER OF THE WEB IT SOUNDS AS YOU HAD A SLOW MORNING. QUESTION, MINES FIELD WAS THAT THE NAME BEFORE HAWTHORNE AIRPORT?
CHRIS, ENJOYED SHOTGUN RULES, I DONT THINK I HAD SEEN THEM WRITTEN DOWN BEFORE./ BY THE WAY YOU AND PATT HAD A 80 POUND HOUSE CAT I THINK THE NAME WAS GENERAL LEE, HOW LONG DID HE/SHE LIVE?
I WANT TO THANK LINDA JONES , I HAD HEARD THAT SPEECH ON THE RADIO, BUT WANTED TO GET ALL THE WORDS DOWN NOW I HAVE THEM.
FLYING WING WHEN I GREW UP IN HAWTHORNE WE LIVED ON 117TH ST. EAST OF YORK AVE. SCHOOL AND CAN REMEMBER SEEING THE FLYING WING TAKE OFF WHEN WE WERE STANDING IN MY FRONT YARD. HAVE A GREAT WEEK. BILL Cof63
Hi Bill, LAX was Mines Field and Hawthorne Airport was Northrop Field.
Actually I think Hawthorne High's location was an airfield back in the 20's too. Not that I learned to fly there or anything.

Thanks Bill
---

Name: Ernie Nixon () on Sunday, May 23, 1999 at 23:08:49
E-Mail: ErnBren2@Aol.com
Class: 63
Message: The name of the blind teacher at HIS was Mr. Swanson. I remember his German Shepherd Seeing eye dog. Roy Webber was mentioned. Does anyone know the whereabouts of either Roy or his older brother John. Also J.B. I didn't know you had Mr. Dana At HIS the year before me. Thanks John for the great job Ernie Nixon
Yeah, Mr. Dana was the greatest, wasn't he? I wish someone knew where he was. Thanks Ernie
---

Name: Loretta Cuiper () on Sunday, May 23, 1999 at 17:49:27
E-Mail: LCuiper@aol.com
Maiden: Morelli
Class: 62
Message: John, maybe getting ready for next week-end, do you think!!!!! or two other things, Church and/or see the Star Wars Movie, also today all stores are having big sales on these Star War goodies. I know Larry dragged me to K-mart at 8:30am. Bought a few watches and some of the collectible Hot Rods. Larry is into all that, so I guess he is my over grown other child!!!!!! Have to go, he's dragging me to Mervyn's now, he heard of a good deal on Star Wars and Hot Rod Hats!!!!!
Yes, this weekend is dead but next weekend on the website is going to be DEAD. I can leave next weekend and not miss anything here. Tell Larry to pick me out something nice.

---

Name: Jerry Miles () on Sunday, May 23, 1999 at 17:21:40
E-Mail: jfmiles@pacbell.net
Class: 66
Message: Hey, John. I didn't know you bounced at Mother's. It became an after work hang out for me a few years after high school. I wonder if you ever threw me out. Of course if you did throw me out, I probably would not remember. I do remember they hired a band that was trying a come back one night. It ended up it was Iron Butterfly. That was certainly one great night at Mothers.
Yeah, Mothers was a pretty hip place in the early 70's. Steppenwolf was there one night too. They blew the roof off the place that night.
---

Name: Dewey () on Sunday, May 23, 1999 at 14:44:38
E-Mail: Dewey_Storie@msn.com
Class: 74
Message: John we all are just resting up for the week

---

Name: Chris Prewitt () on Sunday, May 23, 1999 at 14:39:53
E-Mail: cjprewitt@juno.com
Class: 1967
Message: John, Why don't you make a calendar to show when the different reunions/mini-reunions are going to be. For example when are the 1964(35),1969(30) ... The mini-reunion beach party, the 100 page ice cream party (when we know), how about the Hawaii mini? It would be nice for everyone to just go to the calendar page to see what's happening so that they can make vacation/travel plans.
Chris, There is a calendar of sorts. It's called the Reunion Page and all the reunions are listed there, that have been finalized. I guess I could add a calendar but then I wouldn't have gotten to take this afternoon off.

---

Name: RT () on Sunday, May 23, 1999 at 03:26:44
Class: 81
Message: Does anyone know Marjorie Berkel's whereabout?

---

Name: David Barboza () on Sunday, May 23, 1999 at 02:58:57
E-Mail: iliketrains@usa.net
Class: 74
Message: Hey Patty:
Much appreciated the kichen pool. It just goes to show what a little imagination can do.

---

Name: Loretta Cuiper () on Sunday, May 23, 1999 at 01:14:10
E-Mail: LCuiper@aol.com
Maiden: Morelli
Class: 62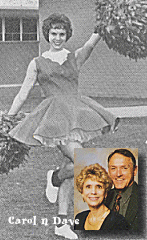 Message: John, How did you remember about Brian and Carol? As Carol says, that was so many many years ago. About the parties, these were around the summer before our Senior year and during the year, most of us gals had our boy friends, but we always had one night with just the girls, most parties back then were on Friday nights, sometimes on Saturday. I believe you and Joyce were an Item during this time, so none of us gals with out boy friends had a chance, you were taken John, or you would have to fight us off!!!!!!!
OH PALLEEEEEZZZEE Loretta!!!! Now you're spreading it REAL thick girl!!!


I have to admit I loved Carol Mountain in High School. I mean I was a sophomore and she was a Senior. She didn't even know who I was!!
Of course, every other guy at HHS loved her too. Do all you early 60's HHSer guys remember that "Brian Wilson Guy" trying to steal Carol away from ME.......er us.

Carol just checked in tonight folks. This is one classy lady, and wouldn't you know it.......she married some guy from...........you guessed it..........LOOOOZINGER. I was shocked!! That's OK Carol, all us guys from early 60's HHS still love you lots. Now it can be told.
---

Name: Sister of CC () on Sunday, May 23, 1999 at 00:42:45
E-Mail: farrell8@worldnet.att.net
Maiden: V1
Class: '61
Message: Old CC is probably right about the time. The only thing I remember was a little black butt and my fear that she'd have to have it removed. I also remember cleaning up the kitchen pool. It's a miracle we weren't all electrocuted. Our dad had an affinity with electrical gadgets and I think that every socket was probably in use.
Did anyone out there counsel at Hawthorne Youth Camp during the summer? I did one year and it was a real kick. I did it for sixth grade camp too and I know some of you did that. Did any of you go to Hawthorne Youth Camp for a week during the summer of '66? Just wondering if any of my former campers are out there.

---

Name: Alan Nelson () on Sunday, May 23, 1999 at 00:32:56
E-Mail: anelson@redrivernet.com
Class: 73
Message: Amazing! 62 pages of feedback and memories, and not one mention of the coolest place in the South Bay - J.C. Agajanian's Ascot Park. I wasted many a Saturday nights at the Figure 8s, and pitted for awhile for the Ovals. Oh, yeah, I made a few runs on the Moto-X track myself. Eat Dirt and Live Sore.
Hey Alan, What a great way to spend a Saturday night. I use to bounce at a bar in Inglewood called Mothers on Arbor Vitae. They had a car that ran figure 8's. A guy by the name of Bob Hand drove the car. Anyone remember him?? We had a blast on Saturday nights at Ascot. Great memory flogger Alan, thanks.....
---

Name: John Baker () on Saturday, May 22, 1999 at 19:59:41
E-Mail: john14
Class: 62
Message:Same class as below. Anyone???


---

Name: Larry/Loretta Cuiper () on Saturday, May 22, 1999 at 19:30:32
E-Mail: LCuiper@aol.com
Maiden: Morelli
Class: 60/62
Message: Just saw Carol Mountain (60) and her husband Dave (Leuzinger 57), we were remembering about years ago when we all were in our teens 60/61 party time, when off of Century Blvd there was an apartment of Hawaiian Style, where we all would go and have the best parties. Most of the apartments would have stacked to the ceiling - BEER cans - the more in that apartment the better the party was. In the back there was a house where the gent that lived back there would buy us our drinks (bad,bad) and the favorite of most of us then was Country Club Malt. We thought this Gent was old, most likely he was just 10 years older then us. This party house had a pool table in one of the bedrooms, there also was a pool with a little boat, where Joanie Traynor, Sharon Shannon Rosie Paterniti and Jacki Hawkins, we took a boat ride and needless to say we did not make a dry trip. To this day I don't know what we told our parents to make them believe our story. We had fun at that place. I bet there are others out there who remember this apartment building, and what about those houses down at the beach, where a certain person nearly fell through the roof, I don't want to embarrass her, but I bet there are a few out there who remember that night! You know even tho we did our drinking, it seems that there was always that driver for the night who would not drink, or had one or two, but stopped hours before all the friends had to be home, maybe it had to do with the fear of what our parents would do to us, so we all looked out for each other and had our fun too!
Carol Mountain....a Brian Wilson heart throb. And ahhhh.....Loretta, no one ever invited

ME to these parties. How come??
---

Name: JORGE LLAVES () on Saturday, May 22, 1999 at 18:11:25
E-Mail: Mathesh@aol.com
Maiden: Dropout
Class: 80
Message: Now I understand why my neighbor V25 has become so cool toward me and never visits anymore!
Se La Vie--- JORGE
I think "COOL" is the optimum word here.
---

Name: Patty Valencia () on Saturday, May 22, 1999 at 14:10:36
E-Mail: PValencia2@aol.com
Maiden: CC
Class: 1974
Message: Gloria mentioned the kitchen pool - no great story here - the big kids were babysitting us and wouldn't let us play, so we blocked off the kitchen doors and added about 3 inches of water before our parents got home. Hey, it was a hot day, I was 4, GV was 2. Pots, a stool and the faucet, that's all we needed. The big kids had to clean it up and got on restriction. G & I were sent out to play so that we wouldn't get in the way. Enough.

---
If you have comments or suggestions, please email me at john14@cougartown.com