Hawthorne Time and
Temperature

Home | 60's Slang | Alumni List | Car Talk | Cougar News | Feedback | Hangouts | Memories
Recollections | Reunions | Street Scene | Teachers | Tributes | Vietnam | What's New | Keyword Search
A little Christmas ditty for the Ctowners
Hudson and Landry
<!-+++++++++++++++++++++++++++++++++++++++++++++++++++++++++++++++++++++++++++++++++++++++++++ +++++++++++++++++++++++++++++++++++++++++++++++++++++++++++++++++++++++++++++++++++++++++++++->

---

---
<!-+++++++++++++++++++++++++++++++++++++++++++++++++++++++++++++++++++++++++++++++++++++++++++ +++++++++++++++++++++++++++++++++++++++++++++++++++++++++++++++++++++++++++++++++++++++++++++->
Name: Pat Underwood () on Monday, December 29, 2003 at 22:57:39
E-Mail: onefamilyhistorian@socal.rr.com
City and State: Hawthorne, Calif
Maiden: Lawndale High
Class: 1963
Message: Christmas at my house was wonderful. Everyone seemed to get all that they wished for except me. Yes another year without my dream car a 1957 Corvette. We stayed home this year and spent time with my two sons from my second marriage. They moved to Oregon and are down for a month. I did manage to eat my weight in prime rib and porterhouse steaks. The eggnog and brandy flowed freely, although I was the only one drinking the juice of the gods. I had to give up smoking a couple of weeks before Thanksgiving. My Dr. told me ?I told you smoking and Asthma don?t go together.? Like I really thought he knew what he was talking about. I do miss those after dinner smokes but I can breath now and it feels good. I might even start singing again. In my mind I sound like Roy Orbison or Neil Sedaka, but in my families mind I sound like Woody Woodpecker. Have a safe New Years Eve and I hope to hear from you in 2004.

---

Name: Elizabeth Estrada () on Monday, December 29, 2003 at 20:05:28
E-Mail: dzlizzy31@hotmail.com
City and State: Redondo Beach,CA
Class: 69

Message: Welcome back John. I trust your holiday was wonderful. Mine certainly was. Santa came and I must have been a very good girl this year because he built me a new closet complete with plenty of shelves and double racks for hanging things. He also left behind a 57 inch flat screen television with a fabulous surround sound system. He may have come to the wrong house, but I'm not telling. Shhhh. This new TV would have filled our old living room in Hawthorne. I was thinking about that old house on 133rd Street when I was cooking Christmas dinner. How in the world we fit all the neighbors, our family, and friends of friends in that tiny place I'll never know. Another Hawthorne memory came up this week. It's been very cold here in the South Bay. I know it's nothing compared to what Doris in Idaho is experiencing, or our other Cougars in New York and Sweden, but I've been freezing my buns off. Back in the 50s, in the Hawthorne house, we had a floor heater. When it got cold, like it has been these past few days, I would stand over the heater in my nightgown and it would fill up with hot air, and blow right out the neck, onto my face. Can't do that now, but I did soak in the hot tub several times this week to defrost my toes. Hope you all are having a wonderful holiday and may you all be blessed with love and joy in the New Year. I love you guys! Elizabeth
Hey Liz, Sounds like Santa was good to you too. I got lots of cool stuff and went to about 3 different Christmas get-togethers. Hope you all had a great Christmas too.
---

Name: Susan King () on Sunday, December 21, 2003 at 23:49:09

E-Mail: Sueking18@aol.com
City and State: Thousand Oaks, CA
Maiden: Bierman
Class: 1974
Message: John: Just wanted to wish you a Merry Christmas my friend, and thank you for another year of being connected to a great big warm and wonderful family here in Cougartown. The gang here has welcomed all the Biermans along with our non-Cougar clans and we love to visit each day. Can't imagine what it would be like without you and CT John, and WE DON'T WANNA KNOW! Have a wonderful holiday everybody and no matter if it includes throwing snow, riding waves, camping out, staying in or working hard, make Merry and remember the Christmas of your youth. I hope you all find what you're looking for under the tree.
Thank you Sue, and you and the rest of the Bierman clan have a Happy Holiday and I'll see you all back here next week.
FLASH: Just got the word that Sue Bierman King has just tied the knot. Congratulations to Sue and Daryl, and may you both have a lifetime of wedded bliss.
---

Name: Neil Andersen () on Sunday, December 21, 2003 at 17:06:51


E-Mail: sumerset@aol.com
City and State: Dallas, OR
Class: '62
Message: Wishing All Cougars (especially 62'ers) A Wonderful Happy and Safe Holiday, and a very Merry Christmas. I wanted to send a picture of my first car, 1958 Vauxhall, but the government has collected all pictures and negatives. The new hot "oldies" station in Oregon is "Wild 62." Little did they know when they came up with that name.
Thanks Neil, and have yourself a Merry little Christmas too.
---

Name: Ron Van Herpen () on Saturday, December 20, 2003 at 22:47:45
E-Mail: vanherpena@aol.com
City and State: Anaheim Hills, Ca.
Message: Great site! Your remembrance of your fallen alumni in Vietnam is a great touch.
Regards, Ron
Thanks Ron and Merry Christmas to you and yours.....
---

Name: Janet () on Saturday, December 20, 2003 at 22:32:47
E-Mail: jmburkett@sti.net
City and State: still Ca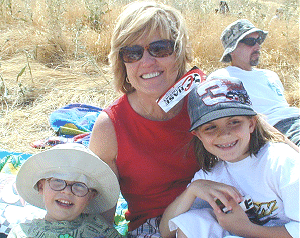 Maiden: Humphreys
Class: 62
Message: Wishing all, and especially my 62' classmates, a wonderful holiday and blessed Christmas. Peace, joy, and happiness in 04' to you and yours. Happy last minute shopping too,(didn't you just love shopping in old Inglewood during Christmas) and don't eat too many cookies!
Oh man, old Inglewood.... that was the ONLY place to shop for the Hawthorne people in the 50's and 60's, before malls.
Thanks for the memory, Janet, and Happy Holidays to you, and all of my friends in the BEST class of ALL CLASSES at HHS, The Class Of 1962.
---

Name: Gayle Alton () on Saturday, December 20, 2003 at 21:00:54

E-Mail: BCNUGRAIG@msn.com
City and State: Longmont CO
Maiden: Mackenzie
Class: 1973
Message: My sister Bette (Mackenzie) Cole HHS '61 and myself wanted to let our fellow Cougars know that our brother John Mackenzie HHS '65 passed away on December 16, 2003. He had been suffering health problems some caused by his service in Viet Nam. No word yet on services, but I will post it when I hear. I would love to hear from anyone with any memories of my "big brother"!!!
Gale, so sorry for the loss of your brother. Please accept our sincere condolences. It's always sad to lose a fellow alumnus.
---

Name: Larry Banta () on Saturday, December 20, 2003 at 09:16:12
E-Mail: LBcty21@aol.com
City and State: El Segundo, CA.
Class: 78
Message: I sincerely hope everyone has a safe and happy holiday. Mr.Baker, thanks again for all your work here and we'll all come back home to Ctown in a few days. Adios.
Thanks Larry, and please call me John, as my dad's name was Mr. Baker.
---

Name: Joe Bell () on Saturday, December 20, 2003 at 03:08:44
E-Mail: jb41jb@yahoo.com
City and State: Artesia CA
Maiden: Like to meet her ?
Class: 59
Message: Merry Christmas and Happy 2004 to you all. Folks talk of Global warming, but these nights have been 2 cold 4 me. We get up with food to eat on 25, Dec. So, that be a better day then many folks on Earth have? We can come to this site and read about friends from years gone by. Thanks a lot John, see You in 2004. Enjoy the day Cougars.
Hi Joe, and thanks for being a loyal Ctowner. Yes, I'll see you at the next Cougartown function and have a Happy Holiday Season.
---

Name: Jim Dally () on Saturday, December 20, 2003 at 02:42:07
E-Mail: jmd619@netzero.com
City and State: Carson, CA
Class: 1963
Message: I lived in Hawthorne until 1998. I still go there to see friends. So much has changed, so much remains the same. H.H.S. has undergone a facelift and new construction is in progress. Hawthorne Savings has great old photos of the Blvd

---

Name: Del Blankenship () on Friday, December 19, 2003 at 19:08:09
E-Mail: bluedog20001@hotmail.com
City and State: Lomita, Ca
Class: 59
Message: Looking at your web page brings tears to my eyes. Thank you for the memories. Del (Washington High Winter 59)
Ahh thanks Del, but we aren't here to make you cry.
Hope you enjoyed the website and have a great Holiday...
---

Name: Mike Shay () on Friday, December 19, 2003 at 17:37:12


E-Mail: shayshere@msn.com
City and State: Cerritos, CA
Class: 61
Message: Just wanted to tell you all to have a fantastic holiday season. It's been a pleasure having this wonderful place to visit for another year and keep track of the major events in our lives. When I tell people that I still keep in touch with dozens of my High School Friends they can't believe how lucky we are. We are blessed. Thanks for all you do Baker, I Love You Buddy!
M.S.
I love you too my friend, since before HHS. Wish we were out cruisin' the Stand or the "A" tonight but hey, I gotta shop. Have an outstanding Holiday and let's do this whole Ctown thing again next year.
---

Name: Cliff Rickson () on Friday, December 19, 2003 at 17:24:39


E-Mail: ynoino@aol.com
City and State: St.Petersburg, Florida
Class: 1967
Message: Greetings and HAPPY HOLIDAYS to all Cougars from the gulf coast or a.k.a. Margaritaville! A big fins up to you all, especially to you John. Thank you so much for this site. God Bless!
Hey Cliff, Glad you're still with us, have a frothy Margarita for me, and also a wonderful holiday season.
---

Name: Debra () on Friday, December 19, 2003 at 16:10:55
E-Mail: DebratMcG@aol.com
City and State: Lancaster, CA
Maiden: Lee
Class: 72

Message: Well, I'm packin' up all the goodies and gifts at my office desk and headin' out. My home computer is not working well, so I'm sending holiday greetings and yelling happy new year to all my Cougar friends. I'd appreciate any prayers on behalf of my dad who has been in the hospital all week. They're running a series of tests on his heart. He's a tough cookie (he was flirting with the nurse when I visited last) and has a positive attitude. Well, here's til next year - Merry Christmas and God bless us everyone ...
Merry Christmas Debra and Merry Christmas to your dad too.
---

Name: Larry Banta () on Friday, December 19, 2003 at 14:58:45
E-Mail: LBcty21@aol.com
City and State: El Segundo, CA.
Maiden: Here'stoozzieandharriet
Class: 78
Message: Greetings Cougs. Caught up on feedback posts since it's been awhile since I checked in. Would just like to say there was a song in the 70's titled "Undercover Angel" that was absolutely hideous. Made me want to go to the garage, get a strong piece of rope, and find a tree somewhere. Also, never have had a "pickup line", but the response has always been the same-GET AWAY FROM ME. Anyway, maybe you already covered this and if so I apologize, but I just saw that the materials yard, gravel/sand etc., on 130th and Inglewood Ave. has been torn down. Seems like that place has been there my whole life. Also, the water tower on 133rd between Shoup and Ocean Gate is history. I won't do the holiday/new year wishes yet as I promise to check back in before Xmas. As far as the flipping off of arrogant drivers goes, I'm with Mr.Baker, I just keep red bows around both middle fingers during the holidays.
Ahhh yes, "Undercover Angel" by Alan O'day (don't know why I remember that). Yep, a real "Ralpher" of a song, all right. It was almost as bad as "Afternoon Delight", but not quite.
Thanks Larry and the website will probably be closed from Sunday night until after Christmas, so if you don't make it back, we'll pretend you said Merry Christmas to all.... and the same back atcha'.
---

Name: Ray Castillo () on Friday, December 19, 2003 at 12:05:01


E-Mail: 2muchspam@2muchspam.com
City and State: Palmdale, Ca.
Class: 73
Message: Hey Larry Biller, read what you said about playing the song backwards in your head to erase it....I had a crummy Country song stuck in my head....I played it backwards, and my wife came back, the dog didn't die, and the truck started running again.....
Hey Ray, Glad you're still with us. Have a Merry and a Happy.
---

Name: Don (crow) Burns () on Friday, December 19, 2003 at 09:32:02
E-Mail: burnslock@yahoo.com
City and State: Downey, Ca.
Class: 57
Message: Hey Cougs, just a quick HAPPY HOLIDAYS, I will be watching & reading. Later Don
The same to you and your family, Don.
---

Name: Arno Portegies () on Friday, December 19, 2003 at 07:57:12
E-Mail: a-eportegies@hetnet.nl
City and State: Houten The Netherlands
Class: 1978
Message: Hello fellow Cougars, Happy Holidays from a far away Holland!
It's supposed to snow here this weekend, perfect timing! I wish you all a very Merry Christmas and a happy 2004. God bless to all our (yes we also have Dutch troops stationed in Irak) countrymen who can't be with their families this Christmas.
Best wishes,
Arno Portegies
Hi Arno, Thanks for the update and you and yours have a very Merry Christmas.
---

Name: Karen Tamulonis () on Thursday, December 18, 2003 at 21:44:24
E-Mail: Karentamulonis@aol.com
City and State: Brisbane, Ca
Maiden: Avena
Class: 1964


Message: I just want to wish all you Cougars a wonderful Christmas. Enjoy your loved ones and all your best friends, they are your very best Christmas present. These are times when we should all pull together and enjoy what life has to offer us. Don't fight with your neighbors, flip the arrogant driver off or get mad at your son or daughter for doing the same thing you did. I wish you all a very, very loving Christmas.
Thanks Karen, I agree with all you said except for flipping off the arrogant driver
...... OK let him go too.
Merry Christmas to you and have a great holiday season.
---

Name: Jan Peterson () on Thursday, December 18, 2003 at 17:41:58
E-Mail: jpeterson50@aol.com
City and State: Carmichael, CA
Maiden: Freeman
Class: 1967


Message: I want to take a minute to wish all of my new and old friends a Very Merry Christmas and Wonderful New Year. I echo Pat's plea that we all make good decisions when tipping the glass in cheer. I have so enjoyed this site this past year, connecting with all of you, and sharing in your memories. I look forward to doing the same this coming year. I have such wonderful memories of my childhood in Hawthorne. I am going to try to make one of the "reunions" in '04. I would love to see old friends and make new ones, and mostly I want to HUG Mr. John Baker for all that he does for us. All my best to all of you!! xo Jan
Hi Jan, you and your family have a safe and fun Holiday too, and we'll be seeing you soon at one of our Ctown get togethers, I'm sure.
---

Name: Dewey () on Thursday, December 18, 2003 at 13:59:55
E-Mail: Dewey_Storie@sbcglobal.net
City and State: Canoga Park,Ca
Class: 74
Message: Cheese ball pickup line ?. Do you believe in here after ?Well you know what I am here after ? And if you don?t, you?ll be here after I am gone!
Good one, Dewey...
---

Name: Jill McFarlane () on Thursday, December 18, 2003 at 10:52:27
E-Mail: jillmcfar@aol.com
City and State: Mission Viejo, CA
Class: 1977

Message: Season Greetings C-Town! You all are scaring me with this talk of teenagers, do I stop counting their birthdays once they turn 12? As it is, my oldest son whose 10 is now aware of his hair. He has been spending 15 minutes every morning gellin and fussing, making sure it stands up just right! I have to laugh, where he gets his vanity, I'll never know. I like Jorge's pick up method, we should all meet our soulmates that way. My favorite pick up line was "Whats a nice girl like me, doing in a place like this?" Ok, I think I have covered all the bases. I wish for everyone to have the merriest of holidays and may love surround you in everything that you do. Take care everybody.
Jill, your son probably isn't aware of his hair so much as he's aware of girls.
Thanks for the holiday greetings and you and your family have a wonderful holiday season.
---

Name: Pat Underwood () on Thursday, December 18, 2003 at 02:17:44
E-Mail: onefamilyhistorian@socal.rr.com
City and State: Hawthorne, Calif
Maiden: Lawndale High
Class: 1963
Message: With Christmas only a week away, I must remind everyone about drinking and driving. Get a designated driver if you can or don?t drive. Your driving ability is hampered with each drink you have. Protect your family and mine during the Holiday season and drink responsibly. Don?t get me wrong, I do like my Egg Nog at Christmastime but I don?t drive anymore. MERRY CHRISTMAS AND HAPPY NEW YEAR Hawthorne alumni. JB1 and JB2, a special prayer goes out to you and your family this Holiday Season and let?s do this again next year.
Thanks Pat and you and yours have a responsible egg noggy Holiday too.
---

Name: Jim Peppers () on Thursday, December 18, 2003 at 00:35:12


E-Mail: JimPeppers@yahoo.com
City and State: Athens, Greece
Class: 61
Message: Hi Cougars, Wishing all of you, and especially the class of 61, a very very MERRY CHRISTMAS and a healthy and happy NEW YEAR! Live it up! Jim Peppers and family
Hi Jim, Thanks and you and yours have a happy holiday too.
---

Name: Patty Saville () on Wednesday, December 17, 2003 at 20:33:25
E-Mail: pvalencia2@aol.com
City and State: Laguna Beach, CA
Maiden: Valencia
Class: 1974
Message: I just bought the dvd set of the first two seasons of the Dick Van Dyke show - and I also bought a dvd collection of Ozzie and Harriet. My kids and I watch an episode of the Dick Van Dyke show periodically - they love it! Ozzie & Harriet is something I have to do by myself - but I enjoy that too. I think CT is the website version of my childhood favorites - thanks John and all of you for making Hawthorne of old live again.
Hey Jorge, too bad you don't consistently use any one drinking fountain anymore ...
The Hunchback and I wish you all a wonderful Christmas and Happy New Year!
And Happy Holidays to Mr and Mrs Saville...... PS I loved Ozzie and Harriet and Thorny and Doc and Joe and Clara Randolph and Darby and Wally and Ging....
---

Name: Jorge Llaves () on Wednesday, December 17, 2003 at 03:10:47
E-Mail: mathesh @aol.com
City and State: PVE CA
Class: 80

Message: Been getting some good laughs over the one liners you guys uased to get it going with your gals.Reminded me of a special day in my life--but not a word was spoken.
Attended Narbonne High and in the main hall was a water fountain I could never pass without having a drink. One day in 1938 while drinking, an unknown girl pushed my face into the water and I came up with a mouth full and shot it all into her face. It was an instant love affair which has lasted 65 years--59 of them married.
As one of my Lawndale High students--Fred Dryer used to say on his TV show--HUNTER--it works for me.
Hope all of you kids have a wonderful Christmas and get lots of toys.
Love you guys--George Key
Hi George, Good to hear from you, FINALLY. You and the water fountain girl have a wonderful holiday and maybe we'll see you at the next Cruise Night.
---

Name: mike colbern () on Tuesday, December 16, 2003 at 23:27:45
E-Mail: mcolbern@cox.net
City and State: phoenix,az
Class: 1973
Message: dear cindy,i understand your post. you should contact my sister debbie,she's considered one of the top neuroscientists in the country.especially when it comes to dealing w/ children. she created her own website which you can find www.beemnet.com,she is in the process of changing the site,but i can give her credit the first time i had a trans ischemic attack and went blind in one eye while i was talking to her in cal from az.she told me to hang up the phone call 911 and she would call me back in 2 minutes.she talked me through the blood clot that broke loose and lodged itself in my optic nerve. by the time the paramedics got there my eyesight had returned but if i had not been talking w/her i wonder what i would have done as she explained how my brain would produce an enzyme and attack the clot to break it up so my eyesight should return.she is in the book in venice california under dr. d.l.colbern.if anybody wants to know what a trans ischemic attack is go to webmd.com and type in the word. if you have ever experienced any of the symptoms they list, you have a 40% probability in the next 12 months of having a severe stroke or massive coronary event. the testing for it is simple and non invasive.don't neglect the signs please.almost all of us from the 1960's and beyond are susceptible.by the way have you ever heard about the "DOIT" program at the university of washington where 20 disabled teens are taught how to use the computer whether they are blind,deaf, or diagnosed w/various other disabilities some have cerebal palsy as my youngest now 22years old.she was chosen for the program and finished two summers at U of W. and 2 years later was asked to come back to be a mentor in the program for 2 weeks.it really made a big change in her self esteem.i went up to seattle to see the program and video tape some of the events that were happening they also had children in wheel chairs that their only way to use the computer were via breath tubes as that is how they manuevered their wheelchairs.i fell in love w/those kids.they didn't let their physical limitations bind them.i believe cheryl bergstahler is still running the program w/microsoft as a major partner.when i was there there, 5 engineers were getting feedback from these young adults on how they could make the program easier to use for the disabled.the program they were using was not going to be launched until 2 months later to the world by microsoft.in fact i couln't video tape the screens but just the kids as they used them.it's amazing how the computer has helped to make so many more person's lives have meaning where at some other point in time they would be placed in asylums or lifetime care homes.hat's off to microsoft and cheryl burgstahler who came up with the idea.as my daughter once said 'WE GOT TO VISIT MICROSOFT AND BILL GATES HOW COOL IS THAT"

---

Name: jeff mann () on Tuesday, December 16, 2003 at 23:21:56
E-Mail: vg8mann@netscape.net
City and State: valencia, ca
Class: 75
Message: Lori, You look so much like your father...I couldn't believe it! Happy Birthday Larry, and hello Sue too!
Merry Christmas to all and to all a ........

---

Name: Cindy Colby () on Tuesday, December 16, 2003 at 20:07:22
E-Mail: cindycolby@att.net
City and State: Laguna Hills, CA
Maiden: Maxson
Class: 63
Message: Jack Hammer has it right, my three year old grandson is absolutely perfect when we are together, with his parents he is a little brat, pushes every button they have. I tell my kids what my mother used to say when I complained about my kids, "retribution my dear". It is true, you drove your parents nuts, your kids drove you nuts, grandchildren are wonderful.

---