Hawthorne Time and
Temperature

Home | 60's Slang | Alumni List | Car Talk | Cougar News | Feedback | Hangouts | Memories
Recollections | Reunions | Street Scene | Teachers | Tributes | Vietnam | What's New | Keyword Search
Here's one you early Cougs have forgotten about
Buchanan and Ancell Meet The Creature-Part 1
Buchanan and Ancell Meet The Creature-Part 2
<!-+++++++++++++++++++++++++++++++++++++++++++++++++++++++++++++++++++++++++++++++++++++++++++ +++++++++++++++++++++++++++++++++++++++++++++++++++++++++++++++++++++++++++++++++++++++++++++->

---

---
<!-+++++++++++++++++++++++++++++++++++++++++++++++++++++++++++++++++++++++++++++++++++++++++++ +++++++++++++++++++++++++++++++++++++++++++++++++++++++++++++++++++++++++++++++++++++++++++++->
Name: Dean Morris () on Sunday, December 14, 2003 at 03:42:50
E-Mail: dmorris@stanfordalumni.org
City and State: NoCal
Maiden: betterthanyouraveragedate!
Class: 72


Message: Thank you Enza for "outing me" about my milestone birthday! I thought about "going Colbern" in anticipation of the day, but melting-down in public after a case of beer could only make matters worse. 50 may be nothing to all the ol' 60s farts, but kind of shocked my system. I was hoping to lay low, fly below the radar and wake up 32 come January 1 (just push a chronological reset button on my PC). But alas, it is the truth, I am undeniably middle age (they even send you an AARP card before 50!).
Speaking of pick up lines, I think I probably used something out of Al Bundy's book like, "Say Enza, want to go to the bball game and get some pizza at Shakey's later on?" Yes, we HHS guys were (are) a pretty simple bunch, but we share our Hawthorne roots and values: Beer, Pizza, and Loving the One We're With! Doesn't get much better than that!
Happy Holidays to all my Cougar friends, old and young alike!
PS Nice picture. I still look the same and maybe that red sport jacket will come back in style. Would look good with white loafers and plaid slacks.
Happy Birthday, Dean, and if you think 50 is middle age then you must plan on living to be 100.
---

Name: Robin Ulman () on Sunday, December 14, 2003 at 01:30:37
E-Mail: Robin.Ulman@providence.org
City and State: Gresham, OR
Maiden: Fry
Class: 1982

Message: Thank you for the congratulations on my new grand baby. She is so beautiful. I was not sure if I was ready to be called grandma yet. But that feeling instantly left as soon as she was born. My daughter who is 18, is a wonderful mother and for that, I am very proud to be a grandmother, and yes..even at my age (39).
Hey Jerry Rigney, It was really a nice surprise to hear from you! I have not seen you in over 20 years! Jerry is an old friend of my dads and I used to work for him. Yes, I will tell my dad hello for you! He finally retired a few months ago. I think he's bored! Anyways John, I really

appreciate your kind words of not looking like any grandma you know! It is a strange feeling of becoming the first grandmother out of my group of friends that I hung out with at HHS Andrea Rossi (82) Linda Elia (82) Cindy Barraza (82) Tracy May (82) and a few more! Hey John, since you did Andrea Rossi (82) a favor by posting my picture, can you do me a favor and post hers? She may hate me, for asking you, but she has always been a great friend so why not share the glory! Thanks! Robin
Here you go, Robin....
---

Name: Enza Nicocia () on Saturday, December 13, 2003 at 22:52:00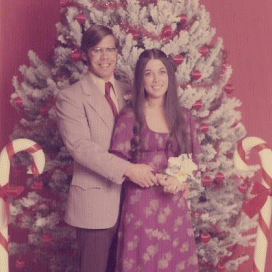 E-Mail: antiquenza@aol.com
City and State: SoSunny SoCal
Maiden: Buon Natale Amici's
Class: 72
Message: Fun pick up lines: Many, many years ago living in Las Vegas and working in the casino's as a blackjack dealer~(AND, when wrinkles and anything that jiggled were still 25 years away....UGH!), I would charm the 'boys' with, "You know what would REALLY LQQK good on you?....ME!" (Yes, Lizzy, ditto on your sentiments regarding the other gender :)))
Oh, BTW, speaking of great Baseball players that came out of HHS~~~Happy 50th birthday to my 1972 HHS Christmas Dance date, Dean Morris. I'm SURE neither one of us has changed a bit!! HA! :))

---

Name: Frank Romano () on Saturday, December 13, 2003 at 20:47:38
E-Mail: fromano@lvcm.com
City and State: Las Vegas, NV
Class: 1961


Message: Just checked in, and found so much to deal with. First, "pick up lines" do not matter, as long as you have your good luck charm working for you. When my son was in high school, he wanted to bet me who could go out chasing and do the most catching.... He figured, since he was young and trim, with curly hair... his fat old dad wouldn't stand a chance. I offered to accept the wager, on the condition that I could use the "GOOD LUCK" charm. He agreed, then foolishly asked what it was. I replied "Oh its nothing more than a plain gold chain, worn about the neck.... with a Ten Thousand Dollar Bill hanging from the chain." It kinda works like putting a pork chop on an ugly kid to get the dogs to play with him.... same principal... In the real world pick up lines truly only work when they are delivered from the heart, funny bone, or when they are guided by divine inspiration. At least that's been my limited experience. Now its time to go dig out the car pictures. O' for those of you CT's that are into fun reads about Las Vegas.... John L. Smith of the Las Vegas Review Journal has published a great book, that covers the life and career of the current Las Vegas Mayor Oscar Goodman. Its title is of Rats and Men. It follows the Green Felt Jungle, and Casino, since Oscar was the real Mob mouth piece here in town for years. He even played himself in Casino. Louis Weiner Jr. was the first mob attorney. He represented Bugsy, and even has a credit as a technical advisor in the film of that name. Louie knew pick up lines. At his funeral a few years ago, he had a Wells Fargo armored car outside the service, with a sign that said "I've changed my mind, I'm taking it with me"... he also had all 6 of his ex-wives in the front row. God rest his soul and other parts too.
Great stuff Frank. I always thought great pickup lines were directly proportional to how hot the guy looked in tight jeans.
---

Name: Elizabeth Estrada () on Saturday, December 13, 2003 at 20:30:18
E-Mail: dzlizzy31@hotmail.com
City and State: Redondo Beach,CA
Class: 69

Message: A few years back, my mother set out to do some Christmas shopping for her great-granddaughter, Angelina. Angelina was four at the time and my mother wanted to give her a special baby doll, one that she would cherish. One that she would always remember came from her Grand-Nana. My mother went to Toys R Us but didn't find the one that captured my mothers heart. This baby doll had to have the right expression and the just-so hair. She also had to have a mouth that would take a bottle and, of course, she had to have the right clothes. She went to three stores and walked up and down the aisles.
When she came home that afternoon her eighty-year old feet were very tired, but she had the sweetest smile on her face. She found the doll she wanted Angelina to keep. It was wrapped and placed under the tree to wait for Christmas Eve. My mother could hardly contain her excitement. On Christmas Eve. we lit all of our candles and the fireplace. The table was set with a wonderful feast. Music floated through the house and the magic of the Christmas Spirit was building all around. Angelina came to the door in her pretty new dress and her MaryJanes. Her hair was tied up with red bows. She has her mothers beautiful smile and her grandma's manners. When my mother handed her the wrapped gift, she politely said, "Thank you, Grand-Nana." She sat down on the floor and slowly pulled the paper away. When she saw what was inside she gasped. Her little hands flew to her cheeks. "My precious little daughter!" she cried. She took the baby in her arms and kissed her. My mother had tears in her eyes and we all were so touched at Angelina's joy. That is the magic of Christmas. Giving with love. Receiving with joy. Tonight I'm going out to get our tree. I've baked cookies, candies and lemon squares. I'll bake again tomorrow while I decorate the tree. The music will, once again, float through the house, that is, if I can get mother to turn off the football games. >smile< Have a joyful holiday Cougars! Give a little something to the children, even if they aren't yours. I love you guys.
The Christmas Cookie Goddess
Great message Liz, Thanks....
---

Name: Elizabeth Estrada () on Saturday, December 13, 2003 at 18:06:52
E-Mail: dzlizzy31@hotmail.com
City and State: Redondo Beach, CA
Class: 69
Message: Tried and true pick up line is, "Oh my God! You're gorgeous! Come home with me!" Works everytime I use it...but then...men are such simple creatures, no? And what he said about Sue is so not true. I bought her a drink and she didn't sleep with me.

---

Name: Dan Johnson () on Saturday, December 13, 2003 at 15:36:32


E-Mail: wch1ispink@aol.com
City and State: STUD EE OOHHH CITY
Class: 77
Message: Jeff, it was great seeing you and the Bod man and the wives the other night -- and we owe it all to CT and the Stick n Stein! I sent you several e-mails but I dont think I'm reaching you -- c'est la vie. "Pink" was Syd Barrett. Hey I remember Mike Cobern as one of the greatest baseball players ever produced by Hawthorne. Apparently he's now doing a great Jimmy Piersall or Mo Berg imitation

---

Name: mike colbern () on Saturday, December 13, 2003 at 13:39:25
E-Mail: mcolbern@cox.net
City and State: phoenix,az
Class: 1973
Message: TO ALL IN COUGARTOWN,
I HAVE BEEN SUBTLY REMINDED THAT WHAT I SAID WOULD BE HEARD BY MANY PEOPLE WHO MAY NOT HAVE UNDERSTOOD HOW CLOSE THE COLBERN FAMILY AND THE BIERMAN FAMILY ARE. BUT JUST SO YOU KNOW I PERSONNALY E-MAILED SUSAN THAT AFTERNOON TO WATCH FOR THE POST. SORRY IF I OFFENDED ANYONE. MIKE COLBERN

---

Name: Alan Nelson () on Saturday, December 13, 2003 at 10:21:14
E-Mail: boatcop@boatcop.com
City and State: Parker, Az
Class: '73
Message: Let's see. Pick-up lines that worked..... Well, "You wanna go to the Christmas Dance?" always seemed to work for me.
Very pedestrian, but straight forward...I like it!!! Thanks Alan
---

Name: Sharon Branigan () on Saturday, December 13, 2003 at 09:53:45
E-Mail: srbranigan.srb@verizon.net
City and State: Thousand Oaks, CA
Maiden: Bierman
Class: 76
Message: Mike Colbern, I am deeply offended by your lies regarding my sister. If this is an attempt at humor you have failed miserably. Do not use this public forum to live out your sick fantasies. John Baker, I'm sorry. I can't let this go unchallenged. To ignore this would give it credence; I cannot allow that. This man owes an apology to Sue and to all of Cougartown for this filth.

---

Name: MIGUEL COALBURN () on Saturday, December 13, 2003 at 02:20:05
E-Mail: M@ALCATRAZ.COM
City and State: SAN FRAN BAY
Maiden: #2146386990
Class: 73
Message: JOHN,I'VE REVISED YOUR LAST POST SO WE ALL COULD UNDERSTAND IT."I'M HAVING A CHEESEBURGER AND A LUBE JOB I UNDERSTAND YOU ARE HERE FOR A LUBE TOO WOULD YOU LIKE TO SHARE MY CHEESEBURGER I'VE ORDERED EXTRA MAYO.SORRY JOHN,SINCE YOU THINK I'M THE PRESIDENT I WOULDN'T WANT PEOPLE TO PERCEIVE YOU AS THE SCRIBE YOU WERE 3 LIFETIMES AGO./MIKEC
OK Mike, we all know you're here now. No sense in this going on any longer. This is humorless babble. If you have nothing to add, please do it somewhere else. Also, I'm sure you were just kidding Sue, but you need to apologize to her.
---

Name: joseph mailander () on Friday, December 12, 2003 at 21:09:50
E-Mail: joseph_mailander@yahoo.com
City and State: los angeles ca
Class: 1975

Message: Let me casually with my usual flair bail out my good friends Susan King nee Bierman and the somewhat-medicated but always prescient Mike Cobern nee Colbern by rising to that twinkly girl's request and recalling my most recent well-directed pickup line, uttered a scant seven years ago--and be forewarned, you won't find a smoother one anywhere. Indeed, it slid into the object of desire's ear as readily as a raspberry mousse at Patina slides off of the tongue. OK, there was this hot looking woman at Thomas's Coffee Shop one Saturday morning, seated two perches down from me. It was October 26, 1996. We were getting, as it turned out, our tires changed, both of us, and waiting. And I spotted this positively Modigliani of a woman, slight but sturdy and Italian vurrry BCBG and firey of course, olive skin glowing in the light thrown by the Denny's-like heatlamp at the kitchen window, and I ordered my coffee and took a big gulp and turned to her and said, "So...have you got your Halloween costume yet?" She was baffled but gregarious nonetheless, perhaps even charmed..... and you, Susie K. nee B., now know her as the illustrious Lily. No, Lily and I are not married... yet...uh...what do you do after the pickup line? It's all penalties and fumbles from that point forward...but as for brash confident winning opening lines, I'm the guy you want scripting them, John...
UHHHH, Yes I do...... I think,......uh, thanks joseph....uhhhh, peace and boat drinks......
---

Name: Bob Clobucker () on Friday, December 12, 2003 at 20:47:35

E-Mail: RClobucker@aol.com
City and State: Reno Nv.
Class: 73
Message: Many memories of Lions come to mind--saw a lot of the greats run there. Don Garlits- Chris Karamasines-Old Man Pedregon-Don Prudomme- Jim Dunn-Pisano & Matsubaro--Stone Woods & Cook--and many other masters of soul and insanity that formed the heart & essense of early pro drag racing. Akin to that,lets hear some stories of illegal street racing from way back when. I git some good ones-- you all do too!! All you culprits know who u are!! Let it ride11 BC
All right.... I was racing Ray Sidell in his 57 Tbird on Broadway next to Northrop, and I BEAT HIM in my 58 Chevy. Now, no one knows who was watching Tanger and Weitzel Shell Service at 301 E. El Segundo Bl. at the time but nevertheless I beat Ray and that's all that matters.....
God, I'm glad that Sonny and Frank aren't alive to chastise me.

---

Name: mike colbern () on Friday, December 12, 2003 at 20:34:59
E-Mail: mcolbern@cox.net
City and State: phoenix,az
Class: 73
Message: john baker, i've just been raided by the f.b.i. sorry if i caused a problem for you by the way i hope your passport is up to date as you may be getting a vsit shortly. i may not be able to pay your bail but if you let me know how mucvh i owe in cougar town dues.p.s. please hold the check for a few days as i have to clear somethings up w/irs first.thats if they release me shortly otherwise write it off as a bad dfedt i'm sure the irs will understand when they audit you .friends forever even though we haven't met.mike colbern p.s. remember the deal that was supposed to go down in tijuana.i barely got out alive sorry about the money i lost you.i was lucky enough to not lose mine as it was counterfeit.next time in mexico i'll pick you up some buen especial tequila since i have not met you but you are an h.h.s. grad i think it's powerful stuff make sure you use enough salt to retain water redemption in your body i don't want you to dehydrate.mike

---

Name: mike colbern () on Friday, December 12, 2003 at 18:55:47
E-Mail: mcolbern@cox.net
City and State: phoenix,az
Maiden: off ramp liquor
Class: 1973
Message: to john baker sorry if this website turns into a xxx or porno i know a few f.b.i. agents who could use a little $$$$$$$$$.i promise to plead the 5th if ever put on the stand that you put me up to it./
huh??
---

Name: Susan King () on Friday, December 12, 2003 at 13:46:48

E-Mail: sueking18@aol.com
City and State: Thousand Oaks, CA
Maiden: Bierman
Class: 1974
Message: Geez Colbern - I hope your pickup lines and smooth talkin' have improved since the doozy that went something about Russian Hands and Roman Fingers (rushin' hands, roamin fingers) in 1971....And now folks, I think Mike has done us a big favor and given us a new topic for discussion. All time pickup lines.....AND how well they worked (or NOT!!)
I always took the positive sly cool approach....something like, "I guess you don't wanna go out with me, huh?"
---

Name: Debra () on Friday, December 12, 2003 at 10:44:44


E-Mail: mcgregord@ww.lancaster.k12.ca.us
City and State: Lancaster
Maiden: Lee (shoulda stayed Lee)
Class: 72
Message: Greetings fellow Cougars. Hope all is merry for all. Does anyone know Steve Deuel's new e-mail? Both addresses listed are not good. If someone has a good address, please just e-mail me. Safe and happy holidays to all. John, I'm looking forward to the next Cougar event - 2004!

---

Name: Tracie () on Friday, December 12, 2003 at 08:32:06
E-Mail: needleworks@sbcglobal.net
City and State: KS
Message: Cathy Coleman is not dead. She in still releasing new needlepoint designs out of Canada and would like to be taken off of your list
Great news Tracie and thanks for the information. Sometimes people get a little too anxious to put a classmate away.

I'll rectify it now and thanks again.
---

Name: Jerry Rigney () on Friday, December 12, 2003 at 08:26:58
E-Mail: jnsrig@webtv.net
City and State: Palmdale, Ca
Class: '59
Message: You're right John, either one looks like any Grandmother I had. I have the pleasure of knowing both, Great-Grandmother Sharon (LHS '61) and Grandmother Robin (HHS '82), for many year's. Congratulation's to you girl's and your families.

---

Name: mike colbern () on Friday, December 12, 2003 at 06:16:08
E-Mail: mcolbern@cox.net
City and State: phoenix,az
Maiden: off ramp liquor
Class: 1973
Message: Well I think it's time to make my once every 4 year e-mail. It's about 5.00a.m in phx. Couldn't sleep tonight so searched the web. Just wanted to say hi to my graying alumni. God still wants me here at 48 as I had emergency on my right carotid for the third time. Doc screwed up last 2x's, anyone know a good mal practice attorney in az.? Lost 72% of the blood in my body no doc can believe I survived I just told them don't tell me I can't do something because I'll prove you wrong. The big guy upstairs still has plans for me to carry out and when it's my time I'll be ready, but I will still try to flirt w/the cutest nurse before I go in (of course thats what I did prior to this last surgery plus noel smith's influence on my betting habits again kicked in I told the doc I would be talking to him w/in 3 minutes of my estimated wake up time. He still owes me 2 bucks.? For you. Why do they say turn off cell phones in hospital? Answer because some stupid patient I won't name tried calling his daughter after surgery once he hit send, all alarms went off in icu and 4 nurses rushed in, patient upon closing his cell phone said "I guess there is more than 1 reason to turn them off. they replied yes all alarms said you were dead I apologized that I wasn't and wouldn't set them off again unless it was the real thing. Thought I'd show you that every negative always has a positive. Drop me a line if you like I'm now at mcolbern@cox.net. I have a few more stories of what you should and should not do when you are not supposed to survive a surgery. It teaches you great pick up lines if you survive. Mike Colbern class of 73

---

Name: Jean Gentry Stroud () on Thursday, December 11, 2003 at 23:39:02
E-Mail: AndyPanda1146@aol.com
City and State: Gladewater,Texas 75647
Message: do you know where abouts of Linda Gentry or Lizz Gentry they are my sisters would love to hear from them. Thank you, Jean G. Stroud

---

Name: Sharon Kettering Johnson () on Thursday, December 11, 2003 at 23:17:11


E-Mail: photolady84@hotmail.com
City and State: Nampa, Idaho
Class: LHS 61
Message: Just read the feedback about great-grandparents, had to chuckle, and put my 2 cents worth in. I became a great- grandmother on my 60th birthday this year. In October my great grandson TJ, named after his great-papa, was born. I had threatened my grandchildren about making me a great grandmother before I was 60, so the little guy, ( due 2 days before my birthday), waited for me to turn the big 6-0. Needless to say, he's now a very special baby.
Thanks Sharon and glad you're still with us.
---

Name: Jim Raines () on Thursday, December 11, 2003 at 21:22:20
E-Mail: fourwindspublishing@juno.com
City and State: Salt Lake City, Ut
Class: 1962
Message: Thanks John for displaying the photo of my '55 Ford. In all I had three Crown Victoria's, three '40 Fords, '51 Chevy, '57 Olds, '56 Buick, '34 five window, etc., etc.
Hi Patty, I'm glad to hear from you again. It's been, what, 40 years since we saw each other? Do you remember the time I put a hole in the side door of your house with my fist and you told your parents that someone threw a baseball at it? How about the night we were at Pacific Ocean Park and you found out from someone that my real name wasn't Lanny Harris? Thanks again John for posting the pics.

---

Name: joseph mailander () on Thursday, December 11, 2003 at 19:40:48
E-Mail: joseph_mailander@yahoo.com
City and State: los angeles, ca
Class: 1975
Message: John, on observing from a cheery prior post that it is genetically possible and perhaps not even altogether unusual for people younger than myself to become GRANDparents--which seems serious business--I must confess that last time I was in the workplace for any kind of appreciable spell, I was trying to arrange a meeting with some guy a bit on the youngish side, but I didn't think overly so. I told him I had to move the meeting from a certain day because it was my birthday, and I intended to take my birthday off. He asked what birthday it was, and I told him--46. Then he said [shudder], "Hey, my DAD turns 46 in a couple of weeks." (emphasis and [shudder] mine). Of course, I sensibly resigned a few hours later, and have been regrouping ever since. As for the possibility of grandchildren here--alas, all unions to date have been without issue. But all the best to all newcomers who once born immediately cry that they have come to this great stage of fools. John I love you but SLOW DOWN THE CLOCK MAAANNNNN!!!
I have to say, in my own case, that my daughter was born when I was 19, I was born when my mother was 24, and my mother was born when my grandmother was 20, making my grandmother a great-grandmother at 63. My daughter, bless her heart, waited until she was 33 to have her first. Her second came along at 38, and next year at 40 will bring my last (I hope and pray) grandchild into the world. I should be well into my seventies before I'm deemed a great grandpa, unless my oldest grandchild, who's 7, decides to make a woman out of his 9th grade biology lab partner.
Maybe it's time to start thinking about home-schooling the lad.

Thanks joseph.....
---

Name: Andrea () on Wednesday, December 10, 2003 at 19:09:53

E-Mail: ValleyofMyDolls@aol.com
City and State: Hawthorne ,Ca
Maiden: Rossi
Class: 1982
Message: Congratulations to my good friend Robin [Fry] Ulman,[HHS 82] and her husband Randy, who became grandparents December 5th 2003!!!!!!!!!!!!!! John, please post her picture, not mine! thanks!
Congrats to Robin and Randy. Doesn't look like any gramma I know.
---