Hawthorne Time and
Temperature

Home | 60's Slang | Alumni List | Car Talk | Cougar News | Feedback | Hangouts | Memories
Recollections | Reunions | Street Scene | Teachers | Tributes | Vietnam | What's New | Keyword Search
Here's one you early Cougs have forgotten about
Buchanan and Ancell Meet The Creature-Part 1
Buchanan and Ancell Meet The Creature-Part 2
<!-+++++++++++++++++++++++++++++++++++++++++++++++++++++++++++++++++++++++++++++++++++++++++++ +++++++++++++++++++++++++++++++++++++++++++++++++++++++++++++++++++++++++++++++++++++++++++++->

---

---
<!-+++++++++++++++++++++++++++++++++++++++++++++++++++++++++++++++++++++++++++++++++++++++++++ +++++++++++++++++++++++++++++++++++++++++++++++++++++++++++++++++++++++++++++++++++++++++++++->
Name: Armand Vaquer () on Tuesday, December 9, 2003 at 23:33:07
E-Mail: AMVaquer@aol.com
City and State: Tarzana, CA
Class: 1972
Message: The misconception (by some) that the "Purple Haze" lyrics was "Excuse me while I kiss this guy" has been around since the song was released. In the Jimi Hendrix box set, released two years ago, is a live version of "Purple Haze" wherein Hendrix (jokingly) sings, "Excuse me while I kiss THAT guy!"

---

Name: Jeff Mann () on Tuesday, December 9, 2003 at 19:22:54
E-Mail: vg8mann@netscape.net
City and State: Valencia, ca
Class: 75

Message: My wife and I went with Craig Bodkin and his better half (Tori), to Platinum Live on Saturday night to see "Which One's Pink?" and "Led Zeppagin" (Thanks for the invite Dan Johnson) It was a great show, and if any of you out there get a chance, you should take in a show by either one of these bands. Regrets that the other alumni we invited were MIA. I won't name names. I am still wondering Dan.....Which one was Pink? Jeff Mann

---

Name: Jill McFarlane () on Tuesday, December 9, 2003 at 18:21:28
E-Mail: jillmcfar@aol.com
City and State: Mission Viejo, CA
Class: 1977

Message: Hi everyone, hope everyone isn't too stressed out from the holiday season so far. A couple of postings ago, JB mentioned a book he saw at the mall entitled "Excuse me while I kiss this guy" Well there happens to be a website by the same name and it lists songs whose lyrics have been misinterpreted. It's pretty funny. Such as "Layla, you know I've got to sneeze" I know it is not Hawthorne related, but there are a few Beach boy songs listed on this website, so that counts, right?
Thanks Jill, The website is www.kissthisguy.com
---

Name: Bernie Armstrong () on Tuesday, December 9, 2003 at 10:25:44
E-Mail: berniearmstrong@lycos.com
City and State: Vancouver, WA
Class: 58


Message: I talked at some length with John Ashley last week. He taught math for a number of years at HHS, and then moved to Arizona and taught at Mesa Community College for 13 years. He is a great teacher and is still very active. You can read about his most recent project by following the links at: mathematickle.com He grew up with Hal Chauncey, and told me the story of when Hal built his first pole vaulting pit! Somehow I could not picture the "ole coach" as a pole vaulter! We had fantastic faculty who loved teaching and were also great people.
Boy that last statement is the Gods truth. What great faculty we had at Hawthorne schools in the 50s and 60s. Thanks Bernie....
---

Name: Patricia Hydo () on Tuesday, December 9, 2003 at 02:14:48
E-Mail: Keesgram1@aol.com
City and State: Lomita, California
Maiden: Lee
Class: 64
Message: In Re: to Jim Raine's letter of December 3rd. I was knocked off my chair when I was surfing through Cougartown, when up pops the 40 Ford that I spent my youth riding around in with you!. I must say though, the car looked much better after you fixed it up lol. As for the 51 Chevy, loveningly called the "Sex Banger", I remember like yesterday the first time I saw you pass my house in that purple plum of a car and you waved at me. My 15 year old heart about pounded out of my chest. What a reminder of days past. Oh, by the way, my daughter was rummaging through an old box the other day and ran across an 8mm movie reel of your 18th. Birthday party. What a great time we had that day. Good music, good friends and your Mom's GREAT Chili dogs. I couldn't even remember looking that, and acting that young, ha. Take care Jim and please keep the memories and the pictures coming.

---

Name: Marilyn Ross () on Monday, December 8, 2003 at 19:01:30
E-Mail: mlr922@hotmail.com
City and State: Garden Grove, CA
Maiden: Wisham
Class: 56


Message: Harry sounds like a fun teacher, I'm sorry I never had him. But I did find out he went to high school with my OLDER sister, although they never knew each other, too bad. Washington was a very big school. I was lucky enough to have Mr. Goodfellow and he could tell some pretty strange jokes. His were shaggy dog stories and very long. The punch lines always got a big groan out of the class and a big laugh. Mr. Goodfellow, Mrs. Ton and of course Coach Chauncey were my all time favorite high school teachers.

---

Name: William () on Monday, December 8, 2003 at 12:09:01

E-Mail: billengle@earthlink.net
City and State: La Habra, CA
Maiden: Engle
Class: 1959
Message: Go Cougars! Beat the other guys! Big Apple, Little Apple and all that stuff. Wait? Do we still have a football team? Can Gordon Martin still Slam Dunk?!
Hey Bill, Thanks for checking in and yes, Big Gordon can still slam dunk.
---

Name: Harry Plotkin () on Monday, December 8, 2003 at 10:56:14


E-Mail: hcharry@pacbell.net
City and State: Harbor City, CA
Maiden: "Old Codger"
Class: '52-'97
Message: Marty, how nice to see your smiling face on feedback. If confession is good for the soul .... then I haven't quit trying to score with a PUNishing remark or an errant joke. In '68 you were a captive audience ... and now one MUST indulge senior citizens. How lucky I was to have had a student who appreciated my attempts at humor...or did you?
I would like to take this opportunity to wish everyone a wonderful holiday season and a HEALTHY, prosperous new year.
Love to all, HCH
Hey Harry, thanks and keep the "corn" a comin'.
---

Name: Jim Peppers () on Monday, December 8, 2003 at 01:39:57
E-Mail: JimPeppers@yahoo.com
City and State: Athens, Greece
Class: 61


Message: Hi Cougars, I hope everyone had a happy Turkeyday. It's been a while since I have visited the site and found the "songs that stick in your head" interesting. I used to get commercials stuck in my head. I remember the "From Purina, he got happy" jingle that drove me crazy for more years than I care to remember. I also remember getting the words wrong on songs. For example, "Poetry in Motion" I thought for a looong time was "Oh a Tree in motion"! I guess I had a thing about trees because I also thought that "My country tis of thee..." was My come tree is of the(e). Oh well, hope everyone has a wonderful holiday season. Jim Peppers
I thought the same thing only it was "Oh whatta tree in motion". I saw a book the in the mall the other day titled "Excuse me while I kiss this guy" and other mis-heard songs. Should be a fun read. Thanks Jim.....
---

Name: Marty Sasaki () on Sunday, December 7, 2003 at 16:04:11

E-Mail: marty@mss.tzo.com
City and State: Arlington, MA
Class: 1972
Message: Mr. Plotkin, Are you still telling those awful jokes and puns that you used to tell? I remember that silly grin you would get on your face and your laugh.
I love this web site.
Yes Marty, you remember Mr. P very well, and it seems, the cornier the better.

---

Name: Tom () on Saturday, December 6, 2003 at 11:35:35


E-Mail: Shelley
City and State: Torrance, CA
Class: '62
Message: John, thanks for posting the pic. of my (our) '31 Chev. It looks even better than I remember it. Tom
Hey buddy, never thought I'd ever see that car again.
---

Name: Alan Nelson () on Saturday, December 6, 2003 at 11:04:37


E-Mail: boatcop@boatcop.com
City and State: Parker, Az
Class: '73
Message: A lot of us will be putting up our Christmas decorations this weekend. Please include a few blue lights in prominent locations in your display to honor the 132 Police Officers who've lost their lives in the line of duty this year. "Operation Blue Light" will show those who put their lives on the line for us every day that we appreciate their service and their sacrifice. And don't forget a yellow ribbon or two for those who'll be defending freedom around the world and won't be home for Christmas this year. God bless our troops and may they return home safely when their jobs are done.
Thanks Alan....
---

Name: Kathleen Griffin () on Friday, December 5, 2003 at 19:26:46
E-Mail: ct_helpdesk@yahoo.com


City and State: San Pedro, CA
Maiden: Nix
Class: 74
Message: Officially, my first Cougartown Sighting happened today! Well, in a virtual sort of way. Bill Jensen called Technical Support (at work) for some help and I was the tech who answered the phone so it is offical as far as I'm concerned!
Hey Kathleen, That's more of a Cougar Sounding.

Thanks....
---

Name: Jan Blomsterberg () on Friday, December 5, 2003 at 15:03:25
E-Mail: hootie@socal.rr.com
City and State: Torrance, CA
Class: 63
Message: ?Poor is the nation that has no heroes. Shameful is the nation that has heroes?and forgets them. No nation can long survive without pride in its traditions.? (Unknown)
YESTERDAY YOU LEFT US?
IN MEMORY OF CPL JAMES CHARLES HOLT - Army - Selective Service; 22 year old Married, Caucasian, Male born on 08/18/46; from Hawthorne, California. His tour of duty began on 10/04/68; CASUALTY was on 12/04/68 in GIA DINH, SOUTH VIETNAM. ?The life of the dead is placed in the memory of the living.? (Cicero)

---

Name: Debbie () on Thursday, December 4, 2003 at 23:56:20
E-Mail: pinkelephant10@yahoo.com
City and State: Del Aire, CA
Class: 77
Message: Here is what I found for that old song, the source was radiorumpusroom.com The Novas were from Edina, Minnesota (a Minneapolis suburb), and this instro occupied the flip side of their gruntin', gutteral '65 classic, "The Crusher." Volume 3 of the RRR-essential Lost and Found magazine* recounts that the Ready Men ("Shortnin' Bread", "Disintegration") once hired the Novas to play at one of their parties, presumably 'cause the RM wanted to drink beer and socialize, and not heft Fenders. According to a band member, "We hired the Novas. Word out on them at the time was that they were pretty loud and absolutely stunk. We figured this would really be fun to hire a poor band to make us look good. We paid them $25 and had a good time rippin' them. This was before they had "The Crusher" out. Within six months they were on Dick Clark's American Bandstand and had a national hit record out..."
Rrrrrraaaaaarrrrrrrrr! Do the eye gouge, you turkeynecks!
Yeah, this is why Ctown is here!!!!
---

Name: Neil Larson () on Thursday, December 4, 2003 at 18:22:23
E-Mail: rentatrip@speedeenet.com
City and State: Crestview , Florida
Class: '71
Message: Here it is December (BURRR) 2003 Of course all of you have been made aware of the 100th Anniversary of Harley Davidson & Ford & the first flight of the Wright Brothers. You will see lots of news bits about replica Wright Flyers being "PREPED" all over the nation by "real" "experts" for the next couple weeks leading up to December 17th, which is the date of that flight. I want all Cougars to be aware that one of our own , Tom Valentine ('72) built a million dollar perfect replica of the Model "B" Wright airship, BACK IN 1978!!!! Please take the time to click on this URL/web page for more ...
Tom built his first Wright plane in 72 while in school,since then he has become one of the few historians on the Wright Brothers-titled by the Smithsonian Inst.Tom enjoyed Drama at Nyman Hall so much he kept at it! Now He works in Hollywood as a certified Art Director. Some of his films include A.I./Total Recall/Vegas Vacation and The Rocketeer . Nice Going Tom ! Break a Leg!

---

Name Dan Johnson () on Thursday, December 4, 2003 at 133109
E-Mail wch1ispink@aol.com
City and State Studio City
Class 77
Message Mike Jessee -- I nominate Pink Floyd as having equalled and in some ways surpassed those killer B bands! Actually Brittney was a PANELIST who voted in the poll! Her Top Ten (and their rank on the Top 500 in brackets? Michael Jackson Thiller (20), Janet Jackson Rhythm Nation 1814 (275), Michael Jackson Bad (202); Madonna Like a Prayer (237); Michael Jackson Off the Wall (68); Whitney Houston Self-Titled (254); Otis Redding The Dock of the Bay (161); Prince Purple Rain (72); Prince Sign O' the Times (93) and TLC CrazySexyCool (377). What, no Hendrix?
OK, for the Rock Chat Room

please email Dan Johnson at wch1spink@aol.com....
---

Name Jessie () on Thursday, December 4, 2003 at 125249
E-Mail mikejessie@yahoo.com
City and State LA, CA
Maiden Corral
Class Still the Wanna be....
Message Only goes to show that nothing can beat the great sounds of "The Beatles" or "The Beach Boys"...I have a feeling we will never see Britney surpassing either one of those great bands

---

Name: Jim Raines () on Wednesday, December 3, 2003 at 22:30:14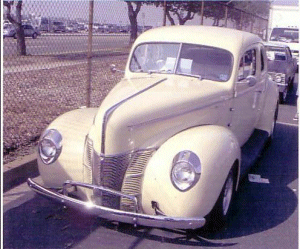 E-Mail: fourwindspublishing@juno.com
City and State: Salt Lake City, Ut
Class: 1962
Message: Come on guys! Send in those photos of your cars from the early days. I sent John a photo of my '40 Ford coup and one of my '55 Ford Crown Victoria that I hope he received OK. I wished I had a photo to show you of my '51 Chevy, which I painted the name of "Sex Banger" on the side of the two rear fenders. We used to call cars with six cylinder engines "six bangers," thus the name. Christmas lights are up, so, all is well.
Real classy, Jim. I bet that got you all kinds of girls....
---

Name: Betsy Wright () on Wednesday, December 3, 2003 at 21:41:20
E-Mail: Bettsann@aol.com
City and State: Scottsdale, Arizona
Maiden: WATTS
Class: 1976

Message: Greetings to all my previous pals.... beautiful this time of year, glad to see so many memories of music.. I still listen to Rory Gallagher, and now Kasey Chambers, Lucinda, my rockabilly faves..blow out my Harmon speakers in SLK...convertible! Rock on....
Cougartown has brought me to all my Rah Rah sisters this year...too much! I love Arizona, but miss the ocean..see it occasionally but not enuff. Greetings to my Cabrillo pals: Bodkin, Sharon, Betty, George, etc. I still love baseball and guitars...Happy December and tumbleweed snowmen on 135th street! xoxox

---

Name: Dan Johnson () on Wednesday, December 3, 2003 at 19:54:44
E-Mail: wch1ispink@aol.com
City and State: Sherman Oaks
Class: 77


Message: Well music lovers, Rolling Stone has issued the 500 greatest albums (not rock albums, albums) of all time. This one is sure to spark lots of debate (especially generational debate). The one statistic that caught my eye is that 190 of the 500 lps were released in the 1970s. The 60s placed second with 129. The 80s placed third with 83 while the 90s garnered 60 spots. The 50s and the 00s got 22 and 14 respectively. Our beloved Beach Boys captured second place with Pet Sounds (Sgt. Pepper's was #1). Of special note for me -- Dark Side of the Moon was 43rd (right behind the Doors debut Lp), Zeppelin IV made it to 66, Layla (my new daughter's name, due 2/04) was 115, Aja (my 3 1/2 year old's name) was 145 and Los Lobos How Will the Wolf Survive made it to 461. Ranking these records is an impossible task and there is a lot of controversy -- but it was a fun issue to read and get angry about!
Thank God "Knockers Up" by Rusty Warren wasn't on the list or your next daughter would have some explaining to do.


Thanks Dan....
---

Name: Neil Larson () on Wednesday, December 3, 2003 at 18:03:49
E-Mail: rentatrip@speedeenet.com
City and State: Crestview , Florida
Class: '71
Message: O.K. I knew I could trust the "homies" to get the answer! Thanks a Lot! Rhino Records has the Trashmen on 3 different C.d.'s - I am still looking for Freddie Blassie (CLASSY)!... here is a list of tunes from 64 when Bird came out originally ! ENJOY...
Fun, Fun, Fun - The Beach Boys
A World Without Love - Peter & Gordon
Come See About Me - The Supremes
There! I've Said It Again - Bobby Vinton
G.T.O. - Ronny & The Daytonas
Hello, Dolly! - Louis Armstrong & The All Stars
Popsicles And Icicles - The Murmaids
Surfin' Bird - The Trashmen
Hey Little Cobra - The Rip Chords
You Don't Own Me - Lesley Gore
I guess not many on the website know this, but if you click on the dancing jukebox, above, it will take you to a "Top Tunes Of Your Class" page. Thanks Neil....
---

Name: doris () on Wednesday, December 3, 2003 at 14:40:35
E-Mail: yup!
City and State: same-o same-o
Maiden: donaldson
Class: '57
Message: HHS Class of '55 DENNY UNFRIED is having a birthday today! HAPPY BD TO YOU OLD TIMER! He's gonna kill me if he reads this! LOL! Geez! I think this is funny!
Happy Bday Denny, and for all of you who don't know, he's building a teardrop trailer. Check it out at Dennys website
---

Name: Larry Biller () on Wednesday, December 3, 2003 at 11:43:18
E-Mail: lbiller49@yahoo.com
City and State: Portland,OR.
Class: 1967
Message: For those who are suffering from this common problem of having songs stuck in your head: Leo Kottke once said the way he got rid of songs in his head was to play the song backwards and this would cancel out the song in his head.

---

Name: Jessie () on Wednesday, December 3, 2003 at 11:39:19
E-Mail: mikejessie@yahoo.com
City and State: LA, CA
Maiden: Corral
Class: Wanna be class of '74
Message: Hey Baxter, My husband and his brother's actually sang back up on Pencil Neck Geek ha! And if you ever need to get a tune outta your head all you have to think of is...It's a small world afterall... ha!

---

Name: Baxter Dodd () on Wednesday, December 3, 2003 at 04:32:01
E-Mail: baxterldo@aol.com
City and State: Riverside, CA
Class: 57
Message: Thanks a lot Neil, now those songs are buzzing around in my head!! I may be wrong but I believe the ?Hammer Lock? song was by Fred Blassie of ?Pencil Necked Geek? fame. He was a rather loud, in-your-face pro wrestler. Just read he passed away last June at 85 years old.

---

Name: Pat Underwood () on Wednesday, December 3, 2003 at 03:57:55
E-Mail: onefamilyhistorian@socal.rr.com
City and State: Hawthorne, Calif
Maiden: Lawndale High
Class: 1963
Message: Neil; There are two songs with the title ?The Bird is The Word? One is by the Rivingtons and the other is by the Pink Flamingos. Each has the same exact words just different groups. But the one I think your looking for (and I agree with J.B.) is ?The Surfin? Bird? by the Trashmen.

---

Name: Neil Larson () on Tuesday, December 2, 2003 at 21:33:13
E-Mail: rentatrip@speedeenet.com
City and State: Crestview , Florida
Class: '71


Message: Coug's have a cool yule , and Happy Christmas . I have been singing a couple of songs in my mind it's driving me crazy!...you know how one will get stuck in your head. The 2 songs are Bird is the Word , and Do the Hammer Lock. Who sang these originally? Well I hope one of you will have the right answer... the Internet is listing (CRAMPS) a punk band from the 80's ??? as the performers, but I remember these 2 songs from the mid 60's! Do the eye gouge ...do the hammer lock....Bird Bird Bird , Bird is the word ...B B B B Bird Bird Bird Bird is the word .. Now I 'll let you all go crazy singing these for a while - Thanks If you have a photo of message send to me ...rentatrip@speedeenet.com
Hey Neil, "The Trashmen" did Surfing Bird. The other song, I do not remember.
---

Name: Wayne Dickey () on Tuesday, December 2, 2003 at 12:18:54
E-Mail: Impalawayne@aol.com
City and State: La Palma, Ca.
Class: 69


Message: Hope everyone's holidays are wonderful. John, my hand is healed and I'm ready to play the accordian again. So anyone needing a little Christmas spirit (the old fashion way) for the holidays, let me know. Also, I'm in charge of contacting all Cougars from the class of 69 for our 35th reunion. Please keep those emails, addresses, and phone numbers coming. If you know of any person from the class of 69, please get me that information, We want to see as many as possible. Thanks Wayne
Hey Wayne, Good luck with the reunion....
---

Name: Baxter Dodd () on Tuesday, December 2, 2003 at 01:39:49
E-Mail: baxterldo@aol.com
City and State: Riverside, CA
Class: 57


Message: Back to drag racing memories, if I may: As a kid in the early ?50s I would ride with my cousin to see the drag races at the airport in Santa Ana. My favorite was a tennis player named Poncho Gonzales who ran a ?49 Ford with an early Chrysler Hemi engine. He would race it on the weekends and drive it on the streets during the week. I heard that his tennis sponsors and agent would hold their breath every time he got behind the wheel. In the early ?60s, I ran my Chevy tri-power at Lions occasionally. My favorite time to race was Wednesday nights when it was not as structured and commercial as on the weekends. Any one could run against anyone provided you had 10 bucks and the cars passed the safety checks. The Long Beach bureaucrats put a stop to that so we went back to street racing - no safety checks needed. The night at Lions I remember the most was when I took my girlfriend on a date as spectators. I remember it was on a weekend during the winter because we both just about froze. After the final race, we went to the parking lot only to find my car stolen. It was later recovered in Compton with the 4-speed and tach missing. The thieves must have been amateurs because they left the Shiefer flywheel and clutch, Hedmans, and other goodies. They were apprehended with my tranny and I got my car back with the original parts in place. My wife still loves drag racing and still watches it on TV sports stations and wants to go to Pomona every year. Ron D: Great ?adventure, and, yes, romance story,? (we can tell you love ?the old girl?). Glad it went well.
Hope all had a good TG weekend.
Now there's a piece of trivia that escaped me....Pancho Gonzalez, the tennis player, was a drag racing fan. Thanks Baxter; very interesting.
---