Hawthorne Time and
Temperature

Home | 60's Slang | Alumni List | Car Talk | Cougar News | Feedback | Hangouts | Memories
Recollections | Reunions | Street Scene | Teachers | Tributes | Vietnam | What's New | Keyword Search
Fun song from the early 60's The Marathons
<!-+++++++++++++++++++++++++++++++++++++++++++++++++++++++++++++++++++++++++++++++++++++++++++ +++++++++++++++++++++++++++++++++++++++++++++++++++++++++++++++++++++++++++++++++++++++++++++->

---

---
<!-+++++++++++++++++++++++++++++++++++++++++++++++++++++++++++++++++++++++++++++++++++++++++++ +++++++++++++++++++++++++++++++++++++++++++++++++++++++++++++++++++++++++++++++++++++++++++++->
Name: Paco () on Tuesday, October 21, 2003 at 21:14:08


E-Mail: doo4usc@cox.net
City and State: LF
Class: 61
Message: John, do you know if Jeff Campbell plays golf? Norm and Bucky, I'm tellin' Stephanie on you! Sister Pat is now working with HHS students and tells me the new campus is beautiful. Looks like the cafeteria could be used for basketball games..
No, but I'll play, if you meet me in Maui......
---

Name: Lee Ann Roehm () on Tuesday, October 21, 2003 at 21:00:26
E-Mail: roehminla@earthlink.net
City and State: La Verne, CA
Maiden: Nixon
Class: 64
Message: Thanks, Gary, glad you knew who the Mcdonalds were. Hope she checks in to C-town. Her husband was excited to tell her about it. I guess the McDonald from the class of '63 must not have been at the reunion Sat. night. How could one be there and not know about C-town?
Lee Ann
Email... I know, I know....
---

Name: Dennis Campbell () on Tuesday, October 21, 2003 at 19:34:34
E-Mail: movedtohananomoremissionviejoforme
City and State: Moved to Hana
Class: 61

Message: Hey JB,
Eileen and I traded lifestyles with Jeff & Mary? O It?s been about a year now. You know life is a lot slower here. I opened a Chevron Station to pass the time..... hardly ever see a car? JB I think you and JB2 should come on over and hang out and run the station for us so Eileen and I can take Vacation. I know you have experience working in stations you worked at the Shell, right. John, check this out you?ll love it ?We get up in the morning check out the surf?maybe we do maybe we don?t?do a little fishing you know and before you know it the day is gone? Deano glad you could stop by, next time plan on hanging out here for a couple of days, we?d love to have all you old C-towners come by and set and jaw awhile?Tell then, aloha?
Ahhh Dennis, you are DREAMING again.

I would love for you to be there so Janet and I could visit but if it's Hawaii, I better get Jeff and Mary's address. Thanks Dennis and just so you know, I'll be fishing this week with the lovely JB2 and her brothers, but at Twin Lakes in Bridgeport CA. Talk to you next week, and Aloha yourself....
---

Name: Dana () on Tuesday, October 21, 2003 at 18:55:13
E-Mail: dana501@msn.com
City and State: Simi Valley California
Maiden: Salley
Class: 78
Message: Thanks for the website. Lots of great memories here. Always fun reuniting with old friends.
Thanks Dana.......
---

Name: GARY BICKERS () on Tuesday, October 21, 2003 at 17:28:32
E-Mail: GARYBICDDS@AOL.COM
City and State: PVE CAL
Class: 63
Message: LEE ANN, I DON'T KNOW HER NAME BUT HER OLDER BROTHER RICK WAS IN THE CLASS OF 63 AND HER OLDER SISTER THAT EVERYBODY KNEW BECAUSE SHE WAS VERY PRETTY WAS LINDA. THE FAMILY LIVED ON 134TH STREET FOR 30 YEARS.
Hi Gary, I think you're referring to the McDowells; Bonni, Linda, and Rick.
---

Name: Deano () on Tuesday, October 21, 2003 at 16:37:40
E-Mail: it's listed
City and State: tustin ,Cal
Class: 65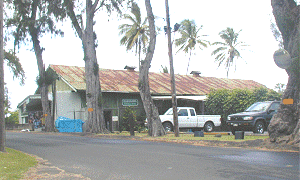 Message: Cougar siting hana, maui, hi. I'm in the culture center in hana and the curator starts talking about so. cal. I said I'm from there in the hawthorne area it turns out she's one of the veldes girls and is living there with dennis campbell small world. btw john, ate at cheeseburgers in paradise (I think our foster's is better).
Thanks Deano, and I think she means Dennis Campbell's brother as Dennis lives in Mission Viejo. I know our Fosters is cheaper.
---

Name: Silvia () on Tuesday, October 21, 2003 at 16:32:34
E-Mail: blucarebear@hotmail.com
City and State: Hawthorne, CA
Maiden: Solorzano
Class: 1997
Message: Anyone from the same class, and remembers me..e-mail me!

---

Name: Chris Prewitt () on Tuesday, October 21, 2003 at 09:44:41
E-Mail: cjprewitt@juno.com
City and State: Fullerton. CA
Class: 1967


Message: I received this message from a person looking for "Danny Fix". If anyone knows how to contact Mr. Fix email me and I will give you the contact information.
"In doing a search for a very old and dear friend of mine I came across your address. Danny and I roomed together at his house in Manhattan Beach in the 60s and I now have lost track of him. If you know anyone who can contact him, please ask him to reach me. We need to laugh about some of the great times we had together. Thanks in advance, Phil" (Douglas)

---

Name: Jerry Miles () on Tuesday, October 21, 2003 at 09:20:59
E-Mail: jfmiles@pacbell.net
City and State: Fair Oaks, CA
Class: 66

Message: Hi everybody. I found a site listing haunted locations and spotted the following item. Hawthorne - Hawthorne High school - In Nyman Hall you sometimes see an old woman in black wandering around there. And also lights go off and on mysteriously.
In the girls bathroom by building seventeen you can hear the sounds of a girl weeping. In the same bathroom the toilets flush and the water turns on and off. The site also has many more locations that I?m sure you?ll recognize. If you want more, go to http://theshadowlands.net/places/california.htm Very good Halloween reading.
The woman in black would be Frankie Ayres looking for the band members and I'm glad someone finally got the toilets working and the water running in that bathroom. Thanks Jerry....
---

Name: Pat Underwood () on Tuesday, October 21, 2003 at 01:35:54
E-Mail: onefamilyhistorian@socal.rr.com
City and State: Hawthorne, Calif
Maiden: Lawndale High
Class: 1963

Message: I asked my son if he wanted to go to the Hawthorne Home Coming Game and meet some Cougars from the past. He said ?Why go to a game that Hawthorne is going to lose anyway and sit with a bunch of old people.? Talk about a negative Cougar sighting. I guess to really appreciate the old Alma Mata you have to be out of school.
That's about what I'd have said at his age. Thanks Pat...
---

Name: Lee Ann Roehm () on Monday, October 20, 2003 at 20:49:26
E-Mail: roehminla@earthlink.net
City and State: La Verne, CA
Maiden: Nixon
Class: 64


Message: I did a treadmill on a patient today and discovered that his wife went to HHS, although she was younger than I was. But, she had three siblings who attended during the mid-60s, like me and all I got was that her maiden name was McDonald and her mother sewed the dresses for the song queens. So, look for her to write, or at least, log on. Her husband said she didn't know about C-town and he would tell her. He was sure she would check it out right away. A sort of round about cougar siting.
Lee Ann Roehm
Great!! Thanks, Lee Ann
---

Name: gary bickers () on Monday, October 20, 2003 at 18:21:13
E-Mail: garybicdds@aol.com
City and State: pve cal
Class: 63
Message: Robin, the first funny response to the reunion. For more laughs go to Marguerite's reponse to most embarrassing moment in the bio book.

---

Name: gary bickers () on Monday, October 20, 2003 at 17:42:28


E-Mail: garybicdds@aol.com
City and State: pve cal
Class: 63
Message: I too went to the reunion on Saturday. Nice job to everyone who had a hand in the planning. Kudos to Bush for staying off the mike. But most importantly a great move on Burris part not to let the fight go to the judges. A TKO in the frist round. I can't wait for the rematch. You guys still know how to clear a room.

---

Name: Robin () on Monday, October 20, 2003 at 13:23:42
E-Mail: Oldtimerockandroll.com
City and State: RB, CA
Maiden: Did Barbara Norris ever wake up yesterday?
Class: 60

Message: Kudos to Adrianne and troops for a job well done sat night. The freshman girls can still dance like theres no tomorrow. The music was great. The food stations were better. Sure, it hurt when Dorothy Slawson asked me to dance, only to say she remembered my face but not what I taught. Marsha assured me it was nothing personal:o)...Thanks again 63ers for a super time, it was great to see everyone as you are one fun group. And as JB has said many times..Do NOT miss your reunions Cougs. You can't TIVO them for another time...Later Skaters...

---

Name: jessie () on Monday, October 20, 2003 at 12:10:45
E-Mail: mikejessie@yahoo.com
City and State: Los Angeles
Maiden: Corral
Class: wanna be....
Message: No need to be so hostile, Ginger!! sheesh!

---

Name: Cindy Colby () on Monday, October 20, 2003 at 11:18:29


E-Mail: cindycolby@att.net
City and State: Laguna Hills, CA
Maiden: Maxson
Class: 63
Message: Wow, is all I can say about the reunion on Saturday, I really had fun. The best part was when all of the Brownies from Eucalyptus troop 43 got together for a picture, what a funny thing to see all of those girls who I probably was in kindergarten with.
To the reunion committee, Adrianne and the gang, what a good job you did, I was reluctant to spend that much money for the evening, glad I did, won't forget it for a long time. Special thanks to Dorothy Slawson.

---

Name: Nancy Lombardi-Kohrs () on Monday, October 20, 2003 at 10:39:15

E-Mail: nkohrs@sdcoe.k12.ca.us
City and State: San Diego,CA
Maiden: Nancy Lombardi
Class: 1963
Message: Looking for Karen D. Shaw, Mary Knipp, anyone know where there are??? Thanks

---

Name: Jim Gibson () on Sunday, October 19, 2003 at 23:57:27
E-Mail: gibby@c-zone.net
City and State: Redding, CA
Class: 1967
Message: Teacher page indicates former Spanish teacher Mr. (Senor) Manuel Pizarro lives in either (can't remember which) Visalia or Valencia. Is anyone able to reach him via Email? Would very much like to contact him. I know he is one who would zealously guard his privacy. If you know his address & fail to share it w/ me, I'll have to give you 2 "red dots"!!! So, now that you know I mean business, who has that Email address? - gibby

---

Name: Maureen Trott () on Sunday, October 19, 2003 at 18:28:05
E-Mail: momo90250@aol.com
City and State: Hawthorne, CA
Maiden: Trott
Class: 1964


Message: I attended the 40 year reunion for the class of 1963, and would just like to thank Dorothy Johnson Slawson, Linda Huthmaker and the rest of the committee for all the hard work they put into the evening. There was a great turn out of classmates. There were even a couple of classmates that were attending their FIRST reunion since high school. I know a good time was had by all, because some of us didn't leave until 4:00 A.M...or later! Thanks again committee for all your hard work...well done!
Sounds like a good time was had by all.....
---

Name: Jim Gibson () on Sunday, October 19, 2003 at 16:54:14
E-Mail: gibby@c-zone.net
City and State: Redding, CA
Class: 1967


Message: Wanted to tell my childhood neighbor & friend, RON REINHOLDSON, how much I enjoyed re-connecting with him over breakfast @ Hermosa Beach this past week. It was this Feedback page that made it possible. Missed his "little" brother (& my absolute BEST childhood friend), "no show" MIKE REINHOLDSON, but I'll get even w/ him! (Mike...happy 54th on 10/26!!! I don't care if you did have to drive from Palmdale, you shoulda been there!)
Also...to JIM SLOEY: how 'bout I bounce a couple of breaking balls in the dirt, just in front of the plate? (REAL catchers don't wear a mask during warm-ups!) (I know that used to tick you off!)
To Howard (Paco) Duran: did you receive my Email re: your dad? In a round about way, he got me into, and put me through, college! I loved that man!
To Sid Semon: (does he ever read this stuff?): It was fun watching #109 during all those football games! Hope all is well w/ you & yours! Tell cousin Chuck @ El Camino that if he lets me pitch to that last hitter, THEN I'LL GIVE HIM THE BALL!
To JOHN BAKER: thanks for your obvious herculean effort in creating a fabulous site! It's a kick! - Gibby
Hey Jim, Thanks for the nice thoughts and glad you have reconnected with your old buds.
RE: Sloey, he says the mask fits but the chest protector's too small and the cup's kinda big.

---

Name: Jerry Simpson () on Sunday, October 19, 2003 at 14:01:14

E-Mail: jerypat6244@yahoo.com
City and State: Santa Clarita CA,
Class: 62
Message: John, That was some Reunion last night in Redondo Beach. The class of 63 really knows how to party. The whole Reunion was put together so well.
Adrianne, you and the committee did a bang up job. It was great having other classes there. I even danced with a girl from Leuzinger. And of course the beautiful girls from the class of 63. It was AWESOME!.
Hi Jerry, Glad you had a great time. See, don't ever miss your class reunions.
---

Name: Judy Lundal () on Sunday, October 19, 2003 at 11:22:19

E-Mail: bluevette@socal.rr.com
City and State: Westminster, Ca.
Maiden: Kappen
Class: 63
Message: My husband and I attended the 63' class reunion last night. I just wanted to thank the reunion committee for a great job! Lots of fun seeing everyone again.

---

Name: Michelle () on Sunday, October 19, 2003 at 01:15:20
E-Mail: sniktawm@myway.com
City and State: Scottsdale, AZ
Maiden: Huelar
Class: 1991
Message: Hi! I just wanted to see if anyone in my class or any other class would spot me in this feedback column. If my name sounds familiar, feel free to write.
Hi Michelle, I'm sure you'll be recognized by your classmates. Thanks for writing.
---

Name: Ginger Patterson () on Saturday, October 18, 2003 at 13:02:41

E-Mail: JamnGing@att.net
City and State: Harriman TN
Maiden: Lombardoz
Class: 1961
Message: Just got on again and read about the crap from an apparent non-Cougar....thank you john for this site...since I have lived in Tennessee for almost 30 years this site gives me a way to still be in touch with my roots. kudos
Thank you Ginger.....
---

Name: John Baker () on Saturday, October 18, 2003 at 10:40:14
E-Mail: john14@cougartown.com
City and State: Lomita CA
Class: 62
Message: Just received the following from the Ol Coach. He too just returned from the Reunion in Laughlin, and here's what he had to say:
Hi John,

Just returned from the reunion--super time. Had about 175 cougars and wives there. Was so good to see how well they all looked and have done, in spite of us old coots. Coach Jones and I were the only faculty there. However I did talk to Wally Nyman just before we went in to the big room-- he was so sorry he couldn't make it-- his health problems would not let him make the trip, but I carried his fond memories to the Cougars.
Skip Kelly did a nice job with the thing. There were at least 8 of my football guys there-- I quizzed each one on their football assignment on our "24 power" play to see if they still remembered -- to a man everyone recalled exactly their assignments. That pleased me, because that's the best play in football. I'm sure everyone had a great time just seeing and talking to each other-- and reliving the "glory days".
They realized how lucky we all were, to be at the right place, at the right time, in the right city. A city that had so much to offer the kids-- the city park at El Segundo and Prairie and the softball leagues, Club Gunga Din, and the Hawthorne Youth Camp--and to be able to start their own high school, and to establish their colors, mascot, and the traditions, and school spirit. This sure showed in the feelings and stories of the school. Stories abounded. Friendships rekindled and everyone, I'm sure, went away with something to remember. A good time was had by all. Those "kids" were and are, winners.
All for now John, stay well, as ever, Ol Coach Chauncey
Glad all could reconnect as Hawthorne High has a fine reputation for keeping all it's Cougars together.
Thanks Coach for the on the spot report on the First Decade Reunion and for keeping Hawthornes spirit alive.
---

Name: Joe Bell () on Saturday, October 18, 2003 at 03:36:00
E-Mail: jb41jb@yahoo.com
City and State: Artesia CA
Maiden: Like to meet her ?
Class: 59
Message: I had a good time at 1ST Decade Reunion. I got home again too. I kept getting lost in the Casino, or getting on the wrong elevators to get somewhere, like my room? It was nice seeing Ole friends, and meetung new ones there. I guess 4 days is too short a time to learn my way around the place there. And I Graduated from HHS too. Some of the ones I thought should be, didn't show up there, because they Died in the past 5 Years. Laughlin had everything I wanted to see, except a Cemetery for me to walk though. Reasonable prices, and no I didn't Gamble in Nevada. I do think the others enjoyed the Time there too? Lets hope the Class of '63 enjoys Saturday Night, too. God Bless Us All,and to all a 'good night.' And I would not had known about any of these HHS get - togethers, if John Baker didn't show me Cougartown.com more then 40 Years I thought my School past was lost, now these past Two and a half years I have many new Friends here too. Thank You All.
Hi Joe, and thanks for the nice sentiments and glad you had a good time despite getting lost in the casino (I've done that too).
---

Name: Dale Hahlbeck JR. () on Saturday, October 18, 2003 at 03:26:35
E-Mail: kewldaad41@aol.com
City and State: CORONA no lime
Maiden: Best Cheer...
Class: '75


Message: You all forgot the best cheer of all "Rock...Steady Rock....Steady"
The cheer I heard most was "Lets hear it for Hahlbeck, its just a concussion, he'll be back yeah!!" Damn leather helmets....
When is Hawthorne Homecoming..did I miss it?? 'Cause "Ice Cold Beer Makes ya Wanna Cheer, Ice Cold Gin..Makes ya wanna Win, Ice Cold Duck, Makes ya wanna SSSCCCCCOOORRRREEE!
Take care ya'll H1 out!
Hey Dale, It's the 7th of November and I'm not too sure that cheer was run by George Key and his "New Cheer This Year" committee,

but I'd vote for it. Thanks.....
---

Name: Marilyn Ross () on Friday, October 17, 2003 at 19:27:06
E-Mail: mlr922@hotmail.com


City and State: Garden grove, Ca
Maiden: Wisham
Class: 56
Message: 1st and 10 do it again, harder, harder. Push em back, push em back, waaay back. I can almost hear the roar of the crowd and feel the excitement. Now if I only had my Hawthorne beanie and my big yellow Mum with the red pipe cleaner H in the middle I'd be all set.
There's a couple of Oldies Historical yells.

---

Name: Jill McFarlane () on Friday, October 17, 2003 at 18:16:47

E-Mail: jillmcfar@aol.com
City and State: Mission Viejo, CA
Class: 1977
Message: Just wanted to wish everyone who is going to their reunion in Laughlin a good time and a safe trip. I just wish I were old enough er, I mean I wish I were in one of the graduating classes that are going. I will look forward to the pictures that will be posted afterwards. Have a great time.
Jill, it started last Wednesday and is over today, but I do wish and the 63ers a super fun time tomorrow night. Be safe Y'all.
---

Name: Cindy Whittaker () on Friday, October 17, 2003 at 18:03:44
E-Mail: cindycwhittaker@msn.com
City and State: Gig Harbor WA
Maiden: Whittaker
Class: 1976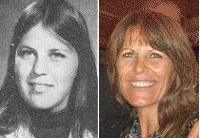 Message: Well Craig Bodkin, after discussing with my fiancee the therapeutic value of righting the wrongs of our youth... I'll be right over... It's my duty as a Cougar isn't it? I'll email offlist to set the date. Hey who else out there has funny stories about the things written in our El Molino's? Who has had to explain to their teenager the references to the "vices" of that era? Or had to tell the story to a spouse of the never-ending love pledged on a whole page from a teenage romance? Or even older memories of bringing your El Molino home and having to hide it so your parents didn't read what everyone wrote! Regarding cheers, the only one I seem to remember is "Show me the way to go home.. I'm tired and I wanna go to bed... I hadda little drink about an houurrr ago....
Yes, who has some simple yet fun things written in their El Molinos besides "Good Luck in the furture years at El Camino" and "to a real cool head".
---

Name: Walter Holt () on Friday, October 17, 2003 at 16:15:29
E-Mail: wholt48@Yahoo.com
City and State: Garden Grove
Class: 66


Message: I see after a brief absence there's lot's of things going on in Cougartown. Cheers, Jeers and another great upcoming event, which I do plan to attend. Isn't life grand that we are so fortunate to have this site to stay in contact with old friends and meet new ones along the way. I know Ron Reinholdson C/O 65 & I have taken the opportunity to go surfing quite a bit lately and as I read through these hallowed pages I see a lot of people taking time to plan events with each other as well as the events put forth through Cougartown. Which I dare say would not happen if it weren't for the contact we are able to share on Cougartown, coupled with the kinship we share for having grown up in a great place named Hawthorne, Calif. So Jessie join in, have fun and do accept the fact that when we get a little too much off subject line, John will bring us back to it and we all accept that.....Alright Ron, You an Me Ventura Point...Sunday morning 6-10ft surf.... COWABUNGA!!!!! (Uh, I guess I could have emailed that....smile) SURFS UP COUGS!!!!!!
Hey Walter, glad you're back and see you on the 7th.
---
If you have comments or suggestions, please email me at john14@Cougartown.com