Hawthorne Time and
Temperature

Home | 60's Slang | Alumni List | Car Talk | Cougar News | Feedback | Hangouts | Memories
Recollections | Reunions | Street Scene | Teachers | Tributes | Vietnam | What's New | Keyword Search
Fun song from the early 60's The Marathons
<!-+++++++++++++++++++++++++++++++++++++++++++++++++++++++++++++++++++++++++++++++++++++++++++ +++++++++++++++++++++++++++++++++++++++++++++++++++++++++++++++++++++++++++++++++++++++++++++->

---

---
<!-+++++++++++++++++++++++++++++++++++++++++++++++++++++++++++++++++++++++++++++++++++++++++++ +++++++++++++++++++++++++++++++++++++++++++++++++++++++++++++++++++++++++++++++++++++++++++++->
Name: Keith D. Jones () on Tuesday, August 5, 2003 at 18:36:05
E-Mail: cmi50@yahoo.com
City and State: Honolulu, HI
Class: 76

Message: Well folks I am officially "OLD". My daughter had a baby boy "Chance Maka i'li Hideichi Ito" on Saturday at 1:45pm. 8 lbs. 21" long and alot of hair. Close to 150 pictures taken before he was a couple hours old. I put him on the cover of the event program for my show this weekend. I will include a pic in my next email. I know it's hard to believe but I am a Granpa. Remember this name cause he is either going to be a pro ballplayer or a judge. Aloha
With a name like that you better teach him to fight.

Congratulations Keith and welcome back.....
---

Name: Robin () on Tuesday, August 5, 2003 at 18:20:21
E-Mail: CruiseNight9.com
City and State: RB,CA
Maiden: Hood vibrations'
Class: 60

Message: A way kewl cruise night John..great turnout Cougs!...Cars: Sloans 56' usually gets my top vote, but Waynes rig can be used as a blender too so a tough choice :o)..Great to see Oregon ,Idaho, Montana as well as the far reaches of CA. represented. I would have talked to you more JB, but I couldn't find you. Did you buy an ab roller or what?..I'm on the new Lizzys Flan and Fitz's chocolate diet myself...cholesterol is up 50 pts already and I'm expecting zits any day now..life is good...Marsha had a great time as well at the Dan Dye kissing booth...she's still telling people she doesn't even know...All in all it was an A+ event...later Cougs.....
I know what you mean about that Dan Dye guy. I thought he just had back surgery..... he was giving away hugs like a 12 stepper at an alanon meeting and I'm not sayin' Waynes Chevy attracts attention, but I overheard a tall black dude in a pink cape with a purple feather in his hat tell Wayne to gather up his stable in the "Purple Passion Mobile" and get the H-E double hockey sticks OUT of Hawthorne.
GREAT CRUISE NIGHT COUGS!!! Let's do it again, real soon.
---

Name: Jill McFarlane () on Tuesday, August 5, 2003 at 16:40:05
E-Mail: jillmcfar@aol.com
City and State: Mission Viejo, CA
Class: 1977
Message: What a great Cruise night! I had a blast. It was neat to see the faces behind so many amusing feedbacks that I have read over the years. John, I don't know how many times we can all thank you for everything that you have done without sounding redundant. Dan J, wish you could've been there, I would have liked to have hooked up with an old buddy, even though we don't remember being buddies :) I hope we can have one more cruise night before Fosters gets torn down, but if not, what are some of the places where we might have another CN? Any idea's? Everyone, have a great week!
Thanks for being there, Jill....
---

Name: Susie () on Tuesday, August 5, 2003 at 16:22:36
E-Mail: Mustangsusie21@msn.com
City and State: 2hot4me,nm87111
Maiden: Klingenhagen
Class: sevenTone
Message: ...my sister Sheree has a birthday wednesday, August 6th. Enjoy your day, Sherbabe!!!! Your sister loves ya!!!
HB, Sheree
---

Name: JOHN CROTTY () on Tuesday, August 5, 2003 at 14:56:24
E-Mail: NONE
City and State: HERMOSA BEACH
Class: 69


Message: JOHNNY BAKER,
GREAT CRUISE NIGHT...GREAT TURN OUT. CLASSIC TUNES, CLASSIC CARS, AND OF COURSE, CLASSIC CHASSIS ON CLASSIC LADIES AND CLASSIC COUGS FROM ALL CLASSES. THANKS AGAIN!
(ps...my home computer has breathed it's last..I canceled my DSL and have no current e-mail address...just so you can update my status..when I get a new one..I'll let you know).
Hey John, Great to see you and Noreen there on Saturday night. YES!! Cruise Night was a great success. Lots of Cougs from all over; Bakersfield, Palmdale, Chatsworth, Simi Valley, and Orange County, but we also had John and Cheryl Nicocia from Keno, Or, Doris Donaldson all the way from Twin Falls ID, and from Missoula Montana was the Class of 58's Geneva Clements Berryman.
Also, THE Coach, Hal Chauncey and his lovely wife Cathy surprised us by popping in....thanks for being there.
Great cars too as Rich Sloan HHS60 brought his 56 Chevy Convertible and Bob Fitz HHS60 brought a really COOL lookin' 56 Ford. Also, Wayne Dickey HHS69 finally brought out his gorgeous low rider 65 Chevy and Don "Crow" Burns brought his classic 64 Tbird. My favorite was the 49 Cadillac convertible that was absolutely pristine. Lots of fun people and lots of fun cars. This Cruise Night ranks right up there as one of the most memorable. Thanks to you all for being there and we'll try to work another one in at Fosters before they close the doors for keeps.
Thanks too, to Howard Paco Duran for taking lots of pictures. Please go to PACO'S PICS if you'd like to see some fun Cougars at a fun Cruise Night. Also, thanks to Sharon Bierman Branigan HHS76 for coming out and manning (or is that womanning) the Tshirt concession (We are now out of size Small Tshirts)
---

Name: Susan King () on Friday, August 1, 2003 at 19:16:45
E-Mail: sueking18@aol.com
City and State: Thousand Oaks, CA
Maiden: Bierman
Class: 1974
Message: Hey Ingrid! Darryl coaches a women's softball team during summer and this weekend is our last tourney - we'll be in Norwalk but if the kids win - or lose - just right, we'll be able to attend Cruise Night and hang out for awhile. Am looking forward to seeing all my Cougar buddies and catching up - you ARE bringing Brad aren't you? I haven't seen him since???

---

Name: Dennis Campbell () on Friday, August 1, 2003 at 15:49:40
E-Mail: Denniscampbell@yahoo.com
City and State: Mission Viejo, Ca.
Maiden: OS 6 4594
Class: 61
Message: Hi Cougs, Paco and I will show up for the last round up tomorrow night ?John make sure to bring the Silver Satin...Rumor has it we may see a 62 or 63 Cad convertible with a Cowboy behind the wheel wearing a ten gallon hat?I wonder who the heck Robin Hood was talking about??? Any idea John??. See all tomorrow night, Mammal
Hey Dennis, Glad you're going to be there too. Should be a great turnout. See you then.
---

Name: Walter Holt () on Friday, August 1, 2003 at 15:37:08
E-Mail: walterholthhs66@socal.rr.com
City and State: Orange, Ca
Class: 66
Message: Margaret Sweeney....How the heck are you? I remember you from Several of My Classes at HHS. I always thought you had such a great personality and one of the best smiles I have encountered. You all have a great time at cruise night. It happens to be the same night as my company picnic at Angel stadium. I'm really hating I am going to miss this one..

---

Name: Howard "Paco" Duran () on Friday, August 1, 2003 at 13:36:06
E-Mail: doo4usc@cox.net
City and State: LF
Class: 1961
Message: Mammy and I are coming! I'll bring my camera and spoon. Pic's will be on line on Sunday! Everyone smile and say cheese! Later...
GREAT!! Thanks Paco, and bring the Campbells too.....
---

Name: Dewey () on Friday, August 1, 2003 at 12:50:38
E-Mail: recouping@home
City and State: Canoga Park,CA
Class: 74
Message: Ingrid,I would love to be at the last cruise night, but right now I am recovering from Rotator Cuff surgery and I'm not going too may places right now?. I hope somebody takes pictures!
Get well, Dewey.....
---

Name: Jill McFarlane () on Friday, August 1, 2003 at 11:17:40

E-Mail: jillmcfar@aol.com
City and State: Mission Viejo, CA
Class: 1977
Message: Ingrid, congrats on your new job, I also work in Newport Beach by John Wayne airport, you will like it here. Dan, I know we were on staff together, and I do remember we were buddies, but you probably have forgotten that, too much Pink Floyd in your diet will do that to ones memory :) I am soooo looking forward to Cruise night, Enza, save a seat for me. See you all tomorrow night.
See you there, Jill....
---

Name: Ingrid Larson () on Friday, August 1, 2003 at 10:34:33
E-Mail: bradanding@juno.com


City and State: Long Beach
Class: '74
Message: Greetings Fellow Cougars!
Time for an update. I'll be leaving my current job as of today - so any of you wanting to contact me by e-mail, note my current correct e-mail as listed above. I start a new job on the 18th - wish me luck! I'm really looking forward to it, except for the fact that I'll have to commute down the 405 to Newport Beach, 25 miles each way. Oh, well - at least I HAVE a job to go to! I'm going to try to make it to the Cruise Night on Saturday - if I can persuade my husband (Brad Wettach - if anyone remembers him) or my good buddy, Karen Snyder, into going along with me. Hey, will any of the Biermans or Valencias be present? How about Dewey Storie or Don McFarland? Come on you guys this is the last time to meet at Fosters, right? Let's get out there and party! Or have you all grown too old for that?
Thanks Ingrid for the info and yes, this will probably be our last Cruise Night at Fosters, so please, let's all try to make it.
---

Name: Tom Buckingham () on Friday, August 1, 2003 at 10:07:33

E-Mail: buckingamtom@netscape.net
City and State: Clovis(Cowboytown) CA
Class: 1964
Message: YIKES! A Cougartown reunion in my neighborhood-fanfreakingtastic! Thanks Bill Ennis, for coordinating and hosting. I am really looking forward to this. Anybody have any suggestions for reasonably priced accomodations nearby? I would appreciate your input.
Hey Tom, Glad you're attending as this one will grow in size as we get closer to August 30th. Make your plans Cougs.
---

Name: Dan Johnson () on Thursday, July 31, 2003 at 22:18:19
E-Mail: wch1ispink@aol.com
City and State: Sure Man, Oaks
Class: 77
Message: Jill, yeah it was a school newspaper poll (and I think the results were rigged).. You also don't remember me as a Cougar staffer -- I was. ;-)

---

Name: Terrie Kostiszak () on Thursday, July 31, 2003 at 17:51:49
E-Mail: terrielynnterrie@yahoo.com
City and State: San Diego, CA
Maiden: Kostiszak
Class: 83
Message: Hawthorne High, Class of '83, 20 Year Reunion. Everyone is welcome to join us at the following events this weekend:
Friday Night, August 1st 7:00PM
Coach's Bar & Grill
13708 Inglewood Avenue
Hawthorne, CA 90250
(owned by former Hawthorne High alumni Bobby Asire)Free to attend
Saturday, August 2nd
Reunion at The Ritz Carlton
Registration starts at 5:00PM
The Ritz Carlton
4375 Admiralty Way
Marina del Rey, CA 90290
310-977-5922
Thanks for our reunion committee that has done such a wonderful job!
Diane Solis-Dominic 310-648-2544
Olga Urruitia-Napohaku 562-420-7176
Cindy Bell-Stinson 310-643-7455
Anita Villerreal 310-355-1960
Donna Solis 310-977-5922
Now contact any of these gals to RSVP and get your registrations in to reserve your spot for the reunion. Can RSVP and pay at Ritz Carleton!!
Thanks for the info, Terrie, and all you Class of 83ers have a SUPER GIANT WIGGY BLAST OF A REUNION!!!
---

Name: Chris Prewitt () on Thursday, July 31, 2003 at 14:56:33
E-Mail: cjprewitt@juno.com
City and State: Fullerton, CA
Class: 1967
Message: Wow! Patt thinks more about CT than her own BROTHER. I go and call on the phone on Tuesday and asked her to let me know when the baby arrives. I checked my email and nothing from her. I then check to see what's going on on CT and find her feedback. All I can say is dang girl you are getting OLD! Our half sister Bonney Carrick's c/o '62 oldest grandchild, by birth, is less than a year; my oldest grandchild is 5 years and YOU have a GREATGRANDCHILD! Congrats little sister.
Hey Chris, Now see what happens when you get up early and get going every morning.

---

Name: Bill Cusac () on Thursday, July 31, 2003 at 13:23:23
E-Mail: billcusac@yahoo.com
City and State: South Lake Tahoe, Ca.
Class: 1965
Message: Ross Bradfield's memorial service will be at the First Lutheran Church of Manhattan Beach, located at 1100 North Poinsettia Ave, Manhattan Beach, CA. Saturday, August 9, at 5:00 P.M.
Thanks Bill.....
---

Name: Bill Ennis () on Thursday, July 31, 2003 at 12:41:31
E-Mail: bill@hoppy.com
City and State: Sacramento
Class: 66
Message: OK, We have two for Aug. 30, 2003 for the Central Cal Reunion, so Saturday Aug. 30, 2003 it is.
Great!! I'll add the details as soon as you email them to me. Thanks for your time on this one Bill and I know this will be a fun time for all Cougars in your area.
---

Name: Jill McFarlane () on Thursday, July 31, 2003 at 11:21:03
E-Mail: jillmcfar@aol.com
City and State: Mission Viejo, CA
Class: 1977
Message: Dan, I must have been ditching school that day that the class of 77 voted Rush as most popular band, I do remember Supertramp being the band that everyone went ga-ga over. I always liked Bruce and wish I could go to his concert and your right Dan, his music does reflect Hawthorne in a lot of ways. Was this poll taken through the school paper? If it was, I was on Cougar staff and don't remember, but then I don't remember what I had for lunch yesterday.

---

Name: Dan Johnson () on Thursday, July 31, 2003 at 02:44:22
E-Mail: wch1ispink@aol.com
City and State: Sherman Oaks
Class: 77
Message: Hey Cougs, I got my tix to "The Boss" for 8/17 and it started me thinking about his level of popularity in Haytown back in the day. As some of you may recall, Rush was voted the No. 1 band of the Class of '77 so you can get a sense of where this class' collective head was. The hard rock/metal stuff was at the top of the list. I don't remember Springsteen being popular at all -- heartland rocker and all. Yet his "themes" were pretty Hawthorne -- working class, cars, girls -- I guess the only difference is that we weren't nearly as desperate to leave SoCal as his characters were to leave New Jersey (insert Joe Mailander socio-political commentary here). Anyway, I acquired a taste for The Boss in college and have never ceased to be amazed at the insane rock n roll energy this guy produces -- even now. Any takes here on CT?

---

Name: Patt () on Thursday, July 31, 2003 at 01:05:49
E-Mail: pdeck17@3-cities.com
City and State: Kennewick, Wa
Maiden: Prewitt
Class: 65
Message: I am PROUD to announce I am a GREATGRANDMA! Jamie Dominic Deckard-Light was born July 30, 2003. 6 lbs 2 oz, 18 inches
Congrats to you and the parents, Patt.....
---

Name: Anita Young () on Thursday, July 31, 2003 at 00:04:29
E-Mail: young39@yahoo.com
City and State: Hillsfullo'burritos, OR
Maiden: ACEVES
Class: 1978

Message: Ah Carmen Luna, ya little knucklehead! See spelling of my last name above. You've known me FOREVER my dear and you STILL cannot spell my last name right! LOL! It's cool, not like Aceves is a COMMON name or something! As for the HOT weather up here.....hey, Greece and Arizona are supposed to be HOT and in the 100's in the summer, NOT Western Oregon! We have been having an unusually HOT summer up here. When I come in to read feedback and see Hawthorne temps 20 to 30 degress COOLER than ours, I tell ya, I get so JEALOUS of you guys down there right now! And at least you have an ocean breeze, those of you who are still close to the coast. The coast is 100 miles or so to the West of the Portland Metro area! Nice to be back in here, though. Been absent a long time due to back to work for the first time in 5 years after being a stay-at-home mom. In the middle of a nightmare of a house buying deal that I hope to God is over with soon so I can sleep at night, eat without acid reflux and grow my nails back that I have bitten to the quick! I LOVE my FHA loan, just hate the approval process of my home, is all! They've got so much info. on my hubby and I now, I was surprised we were not asked for underwear samples and vials of blood next! For those who are going through the same or have in the past, I sympathize with you 100%! Love you, Cougs!

---

Name: Jan Peterson () on Wednesday, July 30, 2003 at 23:23:46


E-Mail: jpeterson50@aol.com
City and State: Carmichael, CA
Maiden: Freeman
Class: 1967
Message: I am sooooooo excited. August 30 is perfect for me. I will be in San Diego on the 23rd. I think it is great that we will all be getting together. I will keep watching Feedback to see what the date will be. Hey John, I think that you should make it up here too. You are our inspiration!! Jan
Hi Jan, We'll see what happens....
---

Name: Sharon Branigan () on Wednesday, July 30, 2003 at 21:36:48


E-Mail: srbranigan.srb@verizon.net
City and State: Thousand Oaks, CA
Maiden: Bierman
Class: 76
Message: Does anyone remember a Cougar from the class of 78 or so, named Gene Butler? He may be with HPD or El Segundo PD. I might be having a "six degrees of Cougar" experience happening here. Also want to mention, we have only ONE size small CT T-shirt left and the other sizes are going going going so if you need a shirt bring your cash Saturday night and save the shipping fees!
Get those Tshirts while we still have ALL SIZES, Cougs.
---

Name: Bud () on Wednesday, July 30, 2003 at 17:11:35
E-Mail: bud.rhoades@fullmerinc.com
City and State: Seal Beach,Ca
Class: 74

Message: A little late but hey what the heck. Got together with my good ol' buddy Alan Forbes class of 73 last Wed. night for the Neil Young concert at the Greek. We met at Musso and Franks for dinner and headed over to the Greek for a fantastic night. Great concert and even better when hangin with an ol time cronie. We are also going to see Neil in Irvine on Sept.20th, so if there are any cougs that are planning on attending let us know, we'll all get together beforehand for a little fun. Hope to see alot of '70s folk Saturday night. Robb Russell and I will be there. Take care all.
Great to hear lots of old friends are getting together. See you on Saturday, Bud....
---

Name: Margaret Harding () on Wednesday, July 30, 2003 at 16:09:59


E-Mail: lagunamarg
City and State: Sacramento,Ca
Maiden: Sweeney
Class: 1967
Message: Hey! I wanna come too. I live in Sac. and work just down the street on Folsom Blvd at the Medclinic. Let me know what's going on. Sounds like fun.
GREAT!! Bill, please email me all the details as to when and what time.
All that are interested in showing up, please go to www.hoppy.com for the address and a fun website.
---

Name: Bill Ennis () on Wednesday, July 30, 2003 at 14:33:34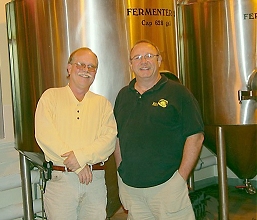 E-Mail: bill@hoppy.com
City and State: Sacramento, CA
Class: 66
Message: Max Roelen, Jan Peterson, Matt Peterson, Jerry Miles, and do not forget Bill Cusac (if he wants to come down the hill...) Yeah, I am ready for a reunion here... I work every weekend, so just let me know which one you like and I will clear off a table...
There you go Central Cal Cougars. Another reunion in the works. Please be there as it does NOT matter what year you graduated. You all came from the same place.
Good Luck Max, Bill, and the rest, and please send pictures as we'd all like to see how it went.
---

Name: Max Roelen () on Wednesday, July 30, 2003 at 14:18:58
E-Mail: mardel@jps.net
City and State: Citrus Heights
Class: 1974
Message: To all Sacramento area Cougars: How does Saturday August 23 or Saturday August 30 sound for a reunion? Also, if someone could let Bill know of our little reunion and let us all know the address of his establishment, it would be helpful. Be true to your school!!

---

Name: CARMEN SHAFFER () on Wednesday, July 30, 2003 at 12:21:24
E-Mail: BLOOMINBUDEZZ3@CS.COM
City and State: CORTLAND,OHIO
Maiden: LUNA
Class: WANNABE79
Message: HI COUGARTOWN,1ST TIME ON THE PAGE,THANKS TO AN OLD FRIEND WHO LOOKED ME UP ANITA ACEVAS(YOUNG)HOPE TO HEAR FROM OTHERS WHO WE WENT TO SCHOOL WITH, O.K. PARTIES WITH. ANYONE KNOW THE WHERE ABOUTS OF LEA LITTLE HARNEY? HOW ABOUT SHERRI PRETTY? THANKS FOR THE PAGE.

---

Name: Jim Peppers () on Wednesday, July 30, 2003 at 07:16:33
E-Mail: JimPeppers@yahoo.com
City and State: Athens, Greece
Class: 61

Message: You think it's hot there. Try Greece! It was another memory trip to see the talk about car air-conditioners. We got a fully equipped '59 Ford Galaxy in 1960 and immediately started off for a trip to New York. The air conditioning was nice but the unit used to ice up. We would nearly faint when we stepped out into the heat in Texas. The funny story with the car occured when I took my girlfriend, Phyliss Adams, to the drive-in. We were in the front seat and not sitting up. Suddenly the seat started moving up and down and back and forth at the same time. We could smell smoke, so I left the drive-in. I immediately drove to a gas station and yelled out the window that my car was on fire. Well, they weren't too happy to hear that at the gas station. The fire department came and it turns out all the electrical stuff had shorted out and that's what caused the seat to move around! Be good cougars! Jim Peppers

---

Name: Betty Rodriguez () on Tuesday, July 29, 2003 at 22:39:09

E-Mail: tombetty@pe.net
City and State: Lake Elsinore, CA
Maiden: Kean
Class: 69
Message: Kell, I agree 100%. Ross Bradfield had the greatest smile in school - '65/'66. What a cutie, and the personality to go with it. I have fond memories, as he dated one of my good friends, Elise Chilton, our freshman year. He will be missed.
Betty

---

Name: EL ROJO () on Tuesday, July 29, 2003 at 19:57:22
E-Mail: I-DY-HO
City and State: YOU KNOW
Maiden: WISHIWEREANESKIMOE
Class: 6OH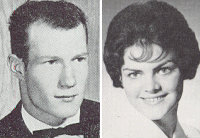 Message: Cindy Trotter how are you? Tell my good buddy Zirbel hello for Russ(EL ROJO) Jacobsen and my lovely wife Judi. And yes it can get hot in bullhead city. I remember a few water ski trips on lake Mojave, where we just planted our lawn chairs in the water and sat in them just to cool off. But it's also hot up here. It's so hot...that just the other day there was a knock on the door and low and behold there was a flock of bird's on the porch and everyone of them cagey little critter's was pulling the old broken wing trick! :-)Wanting to get in to the air conditioning...you know what I mean??:-) Actually they're changing the name of our little town to North Las Vegas, Idaho. Have a good cruise night you guy's. MAY THE COUGAR BE WITH YOU! Jake N Jude.

---
If you have comments or suggestions, please email me at john14@cougartown.com