Hawthorne Time and
Temperature

Home | 60's Slang | Alumni List | Car Talk | Cougar News | Feedback | Hangouts | Memories
Recollections | Reunions | Street Scene | Teachers | Tributes | Vietnam | What's New | Keyword Search
Fun song from the early 60's The Marathons
<!-+++++++++++++++++++++++++++++++++++++++++++++++++++++++++++++++++++++++++++++++++++++++++++ +++++++++++++++++++++++++++++++++++++++++++++++++++++++++++++++++++++++++++++++++++++++++++++->

---

---
<!-+++++++++++++++++++++++++++++++++++++++++++++++++++++++++++++++++++++++++++++++++++++++++++ +++++++++++++++++++++++++++++++++++++++++++++++++++++++++++++++++++++++++++++++++++++++++++++->
Name: Enza Nicocia () on Friday, July 18, 2003 at 17:23:42
E-Mail: antiquenza@aol.com
City and State: Humid Hot Hawthorne
Maiden: Kobe, Kobe, Say It Ain't So :-(
Class: 72


Message: JB~Yes, time marches on....but does it HAVE to march across our faces?!?! :-)
Enza, When I look in the mirror and I see that big ugly guy looking back at me, I try to keep a positive thought, thinking John, this is as good as you're going to look for the REST OF YOUR LIFE.
The other side of the "Age Coin" is, I saw Burt Reynolds on TV the other night and it looked like someone had grabbed a handful of skin on the back of his head and given it about 3 twists. I don't think he can even blink anymore.
---

Name: Lillian Parra () on Friday, July 18, 2003 at 15:31:08
City and State: Havasu Lake, CA
Maiden: McDonald
Class: 63


Message: Greetings from Chemehuevi!! I have some good news, I had throat cancer surgery and lived to tell about it, it will be two years this November. I was one of the lucky ones, although I did have my voice box removed and now have to speak with an electronic speaker, I did not have to go through radiation or chemo and that is major. I learned a lot about family, friends, love and support. My Husband and my brother Gary are my champions. We may have our problems here in our little community (the Indian/non-Indian thing) but when one of us has a crisis it effects everybody and the love just pours out and people are inclined to pray that have never prayed before. All I know is that when I got out of that hospital I was empowered and ready to kick butt!! Now this is a God thing. Mr. Baker this website is FANTASTIC thank you so much. It is so much fun to hear what everyone has to say and all of the memories and the great Paco Pics, thank you too Mr. Duran. I have so far received two Cougartown T-shirts which I gave to my brothers. Gary still lives in Redondo Beach and he'll be wearing his shirt tomorrow with all the rest of you. My brother Duane lives out here on the REZ. Let me know when you get mock turtle neck T-shirts and then maybe I'll order one for me (the hole in the neck thing). God Bless and keep looking up.
Lillian "McDonald" Parra '63
Hey Lillian, I remember you. Didn't you hang around with Cody or Marsha Soares or Barbara Norris or Marsha Russell? Anyway, thanks for the kind words and glad you're enjoying the website and the Tshirts.
---

Name: Pat Underwood () on Friday, July 18, 2003 at 14:02:42
E-Mail: onefamilyhistorian@socal.rr.com
City and State: Hawthorne, Calif
Maiden: Lawndale High
Class: 1963

Message: Stuck in Hawthorne?? I've lived in Hawthorne since 1955 and living here is definitely not being "Stuck". I went to school with most of you at one time or another although we didn't go to the same high school. I went to school with the likes of, yes John Baker, Dennis Lord, Denny Wilson and Bill Ashdown. John was one of those upperclassmen who still will not acknowledge us underclassmen. LOL. I have met wonderful people even from my brother's past, like Dizzy Lizzy and Bette Kean from those Ramona days. I know those of you that did leave Hawthorne are most likely suffering from 100 degree weather and here I sit in good old Hawthorne four miles from the beach in mid 70's weather. So if you feel stuck in Hawthorne just go out and cruise the Blvd and think about what you did accomplish here in Hawthorne, I do all the time. Thank you John for this wonderful site so many of us can revisit the good old times we all had, right here in good old HAWTHORNE.
Hey Pat, You KNOW how I feel about Hawthorne and my days in the good old Hawthorne schools. Really not realizing it at the time, I think we all need to mature, adding years and some distance from the scene to really appreciate where we came from.
Just looking at your 7th grade class picture and noticed that Howard Sweeten, my neighbor on Cedar Av, was in your class. Also Mike Spitzer, Lyn Acord, and the late Ron Graham too. Time marches on.
---

Name: Larry Biller () on Friday, July 18, 2003 at 10:23:00


E-Mail: lbiller49@yahoo.com
City and State: Portland,OR
Maiden: N/A
Class: 1967
Message: In response to Bill Montgomeries feedback... "Still stuck in Hawthorne. Where is everyone?"....
Everyone is on this website just wishing they were still stuck in Hawthorne.


---

Name: Michael () on Friday, July 18, 2003 at 10:07:47
E-Mail: m.conniff@verizon.net
City and State: Snohomish, WA
Class: '76
Message: I have been stopping by this site for a few years now and just thought it was time to say "HELLO" and wish all of my fellow Cougs my best wishes. I am up here in WA state keeping one step ahead of the other. And in a straight line, even! Thanks to John for the site that keeps me entertained from time to time.
Thanks Michael, glad you're out there and staying in touch.
---

Name: Chris Prewitt () on Friday, July 18, 2003 at 09:20:53
E-Mail: cjprewitt@juno.com
City and State: Fullerton, CA
Class: '67


Message: OK John, I was not trying to say that all of the "NASTY WILD rides" is what I ride. What some people might have read is, "Hey; Chris was at Disneyland when it opened on a Thursday and he could get on all of those rides. Maybe I should take my grandkids early in the day on a Thursday"... Since the movie "Pirates" is in the theaters that ride is crowded. Another hint, if you are planning on using the fastpass check the time listed for the ride; I would not recommend using the fastpass if the time is less than 20 minutes. If you use the fastpass you cannot use it again for two hours.
OOOHHHH......OK then

---

Name: Bruce Montgomery () on Thursday, July 17, 2003 at 20:16:34
E-Mail: bilbo@dslextreme.com
City and State: Hawthorne. CA
Class: 1965
Message: Still stuck in Hawthorne, Were is everyone?

---

Name: Norv Vorhis () on Thursday, July 17, 2003 at 20:07:48
E-Mail: olds88coupe@yahoo.com
City and State: Monrovia, CA
Class: '59
Message: Is there a Coug connected with a rental property management company serving Hawthorne? If so, I'd like to hear from you. Norm V olds88coupe@yahoo.com

---

Name: Konnie () on Thursday, July 17, 2003 at 19:00:35
E-Mail: lacrossemyheart@comcast.net
City and State: Salem
Maiden: Smith
Class: 1972
Message: Cindy... I just got my braces off last winter and after two years of wearing them I was more than ready to shed the tin teeth. Flossing takes a good 20 minutes. The results are worth it but it was painful at times. One word..WAX The wax it what saved me.You will never eat in public until they come off. They do come in handy if you're dieting. Jenny Craig should include braces in her weight loss plan. My son and I got them at the same time and they didn't seem to bother him at all. He ate pizza, popcorn, and even carrots but every time he broke a bracket he had to pay the orthodontist 10 bucks so he finally ate the right foods. After they take them off you must wear a retainer for life. I microwaved mine twice. Have fun!

---

Name: Chris Prewitt () on Thursday, July 17, 2003 at 19:00:28
E-Mail: cjprewitt@juno.com
City and State: Fullerton, CA
Class: 1967
Message: Hi All, I just returned from Disneyland celebrating its 48th Birthday. After the ceremony I went on several rides Peter Pan's flight, Mr. Toad's Wild Ride, Pinocchio, Snow White, Tea Cups, Alice in Wonderland, Dumbo and It's a Small World. All of this was before 10 AM! The group that I was with, the NFFC, had a photo taken; then I was asked if I wanted to go to lunch at the Blue Bayou at 11:30. After the picture we headed to the Blue Bayou. If you are going to Disneyland the Blue Bayou should be on your schedule; they are also giving out souvenir menus to celebrate the Pirates of the Caribbean movie. There are separate menus for lunch and dinner. After lunch we were off to a Birthday party at the Plaza Inn. If you are over about 12 years I wouldn't recommend the party. If any Cougars like Disney memorabilia Sunday at noon to 5 at the Crowne Plaza Resort in Garden Grove - at Harbor Boulevard and Chapman Avenue is the NFFCs Show and sale. It is only $8 for the general public. See everyone at cruise night!
Hey Chris, You went on some NASTY WILD rides there. I guess you were probably with some 3 year old, huh.

---

Name: Paul Wisman () on Thursday, July 17, 2003 at 17:50:32
E-Mail: hobocat1@comcast.net
City and State: Torrance, Ca
Class: 61

Message: Hi Maxine, You're absolutely right; JB has done an AWESOME job in putting this site together. Heaps of praise goes to you John. Funny thing, I too have connected recently, with a good friend from the past. :-)
Hey THindy, congratulations on your dethision to get brathuth. I wore them in 7th and 8th Grade but I thtill talk funny.
Why thank you, Paul.....
---

Name: Lee Ann Roehm () on Thursday, July 17, 2003 at 17:45:30
E-Mail: roehminla@earthlink.net
City and State: La Verne, CA
Maiden: Nixon
Class: 64


Message: To Jill McFarlane, who I'm sure, John, you can set me straight on that - I'm amazed at how smart you are - ha!) I don't know, but would like to know if your ex's new wife has a sister for my ex. Trust me, this, too, would be good news for me. If you are going to Foster's on the 2nd, maybe we could meet.
Ernie Nixon's granddaughter happens to also be my niece and this has been a tough time for the family, but, so far, so good. Thanks for the good thoughts and prayers.

---

Name: Bill Cusac () on Thursday, July 17, 2003 at 16:25:53
E-Mail: billcusac@yahoo.com
City and State: South Lake Tahoe, Ca.
Class: 1965
Message: Update on Ross Bradfield: Just talked to Bill Young and the doctors stated that the liver transplant went well, but the heart is very weak as of 11:30 A.M. they had decided to go in and put a balloon in the heart. Nothing else as of now, so keep praying he is very very weak, The kidneys are trying to shut down also..........I hope better news the next time...........Bill

---

Name: Cindy () on Thursday, July 17, 2003 at 14:26:00
E-Mail: cindycwhittaker@msn.com
City and State: Gig Harbor WA
Maiden: Whittaker
Class: 1976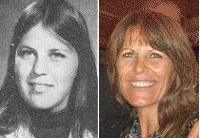 Message: GOOD NEWS? My fiancee just got a great job (although it's in Iraq for a year) but it will enable him to pay legal fees to get his daughter back (the one that's been missing for 4 yrs & was found in Nov '02). Job comes at a perfect time for us - we're buying a house when the year's up! OH and I decided to get braces today so that starts next week! Yikes! Now I won't introduce myself as THindy anymore... hopefully! Any good news stories about adults and braces out there? My prayers to all those Cougars going through rough times right now.

---

Name: Ron Dokken () on Thursday, July 17, 2003 at 13:27:24
E-Mail: rdokk@yahoo.com
City and State: Endwell, NY
Class: 1955
Message: Hello all. Hey, what is it about Gov Davis (in 5 words or less). I'm having a tough time bragging about being raised in Ca. And I thought NY politics was screwed up! I heard today about the terrible accident in Santa Monica. To me, Santa Monica was always a garden spot in my memories. The beach, the pier, the sun...the good old days.
He's on his way OUT!!!
---

Name: Barney McArdle () on Thursday, July 17, 2003 at 13:21:37
E-Mail: barney.f.mcardle@boeing.com
City and State: Arlington, Washington
Class: 1958
Message: I just saw a face and name from 1958, Maxine Woo and I don't get to see many from my class in this website. You're right, this is a great place to re-connect. Just wanted to say hello to Maxine and any other 1958'ers that are out there. Hope to hear from someone.

---

Name: Rusty Allen () on Thursday, July 17, 2003 at 14:13:43
E-Mail: santarusty@excite.com
City and State: Del Norte, CO
Class: 62
Message: In Loving Memory of Malcolm M. Baumgardner Sr..
On July 13th of this year a very good man died of natural causes in a hospital in Escondido, Calif. He wasn't a student or alumni of our school, but he touched a lot of the lives who were. He was known to most as Mack. He was a police officer in Hawthorne for 29+ years starting in the 40's as a policeman/fireman. He rose in the ranks to Captain. He helped start the "Gunga Din" teen club in Hawthorne. He also worked in the Juvenile Division where he worked with a lot of us, good and not-so-good. He was fair and reasonable. An overall good guy.
He is survived by his 3 children; Myk, Carol, and Jody and 3 grandchildren; Brice, Abby and Theresa.
Funeral Services will be held this Tuesday July 22, at the Riverside National Cemetery at Riverside, Calif. at 11:00 A.M..
Flowers can be sent to the Cemetery directly or in lieu of flowers a donation to a charity of your choice in his name will be appreciated. He will be sorely missed and warmly remembered.
Rest in peace, Dad

Very sorry for your loss, Rusty. Your father was a pillar in the Hawthorne community for many years and will be truly missed.
---

Name: Jan Peterson () on Thursday, July 17, 2003 at 10:31:19
E-Mail: jpeterson50@aol.com
City and State: Carmichael, CA
Maiden: Freeman
Class: 67
Message: To Jim Peppers....We had a fantastic trip to Greece in June of 2001. We based our trip in Athens and then went to some neighboring islands. Skopolos, Santerini and Crete. Never one time while we was there, did we feel like we were not wanted. Of course this was before 9-11. I wish that I would have had my Tshirt at that time. Now that would have been a small world. :0) On the outer islands that we visited we were treated like royality. On the other hand we spent 1 week in Rome before returning home and it was awful. We spent most of the time protecting ourselves from not giving our money to persons that "wanted it badly". A "memory" that comes to mind was a street vendor trying to over charge (by lots) for Rosary Beads that I was purchasing while at the Vatican. Hmmmmmmm!! While we have wonderful experiences from that trip, I don't believe it will be something that we will ever do again. I sure enjoy your feedback!
I am watching the news right now and the weather here in No Cal is going to HOT HOT HOT for the next few days. Stay "COOL" Cougs. Jan

---

Name: Jim Peppers () on Thursday, July 17, 2003 at 09:28:45
E-Mail: JimPeppers@yahoo.com
City and State: Athens, Greece
Class: '61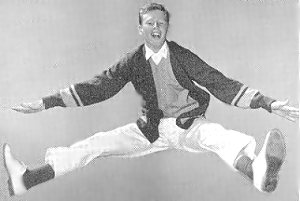 Message: Dear Cougars, The good news is we're having wonderful and very hot weather here is Greece. It's summer and there are lots of beautiful, scantily-dressed tourist girls here from all over the world. Fills the eyes nicely! And there are plenty of good looking men around for the women to look at, too. I'm talking about looking, right? Anyway, if you're really well off, as Greece is now one of the most expensive countries in the world, come for a holiday. Lots to see and enjoy. If the Greeks weren't here, it would be perfect. Warning: the Greeks despise Americans, maybe more than they hate the Turks. Anyway, I did my best to think of some good news. What a pisser when you have to think so hard for something nice! Anyway, may all the Cougars having trouble now find peace, health, and happiness. That goes for all of us! Much love, Jim Peppers
Thanks Jim, it sounds good, although I don't know if I'd spend hard earned money to go on vacation to a place where you can't get a decent how-do-you-do out of the population....on the other hand, there's the OUZO!!!

---

Name: Maxine Woo () on Thursday, July 17, 2003 at 03:51:02

E-Mail: mwoo@gwc.cccd.edu
City and State: Fountain Valley
Maiden: Maxine Woo
Class: 1958
Message: Thank you, John, for developing this website. I just connected with an old friend.
GREAT NEWS!! Always glad to hear of people reconnecting with their Hawthorne buddies....Thanks Maxine
---

Name: Lori Garcia () on Thursday, July 17, 2003 at 01:30:10
E-Mail: Desilulu4u@aol.com
City and State: O.C.
Maiden: Padelford
Class: 81
Message: Tricia Assay; you asked about Jesse, and Juan claims he died of aids, however that is not what I remember to be the story. I heard he had died from kidney failure. As I understand Eddie Braun and Jesse were pretty good friends and I'm sure he could tell you . I just hate to see someone saying he passed from aids if it was something else. As for the alumni that wrote about the liver transplant patient, my thoughts and prayers are with his friends and family. My Dad had a liver transplant 6 years ago and at the time they had given him 2 days to live if he didn't get one. I am happy to say he has never had any rejection and lives a completely full life. He also had his at UCLA and they are the absolute best! I hope everyone makes it through their troubled times and life gets much better for you all. See you at cruise night.
Lori

---

Name: Feist () on Thursday, July 17, 2003 at 00:57:45
E-Mail: feistbldsi@aol.com
City and State: Simi Valley,Ca
Class: 1977
Message: Hello to all my fellow Cougars! I have read ct for a long time. GOOD NEWS! I had a kidney transplant almost 4 years ago now and doing GREAT! I coach basketball on a club team here in Simi and 1 of my players is the Cougar off spring of Rick Asire class of 79' Pretty cool! anyway take care all!

---

Name: Don (crow) Burns () on Wednesday, July 16, 2003 at 23:43:57
E-Mail: burnslock@yahoo.com
City and State: Downey, Ca.
Class: 57
Message: Hey Cougs, had another Coug siting today, Brian Hodge C/O 81 came into the shop in Bellflower to get some keys duplicated. I have a 4'x11" www.cougartown.com banner & a Hawthorne High pennant/flag, on my shop wall. My deepest sympathies go out to all the Cougs that are having difficulties at this time, hope all goes well, & see everyone on 8-2-03. Later Don
That's GREAT!! Thanks Don and keep those Cougar sitings comin' Cougs.
---

Name: Steve Curtin () on Wednesday, July 16, 2003 at 23:38:51

E-Mail: yorbiec@aol.com
City and State: Mountain View
Class: 1964
Message: The Curtin Family has good news, and considers themselves extremely fortunate. Our parents, Steve and Caroline, are both celebrating their birthday today. Mom is 82, and Dad is 81. Dad graduated from Leuzinger Class of 1940. Lived at 120th and Freeman from 1952 thru 1986. Been in Reno since then. The mile-high air agrees with them.
ALL RIGHT STEVE!! I can remember your dad playing catch with you on the sidewalk on Freeman Av. about 1960 like it was yesterday. GOD, I hope they're both here for another 40 years. Thanks as that is truly GOOD NEWS!!
---

Name: Jan Peterson () on Wednesday, July 16, 2003 at 22:53:54
E-Mail: jpeterson50@aol.com
City and State: Carmichael, CA
Maiden: Freeman
Class: 67


Message: Hi all! I hope that everyone is having a great summer. We had our grandsons (8 & 4) for the last 2 weeks. We had a great time, but I sure know why we are meant to me Mama'a when we are in our 20's. We took them home to Grand Junction, CO last week. On the way back to Sacramento, hubby and I stopped in Reno and treated ourselves to a night of dinner, drinks and a wee bit of gambling. PHEW......we were pooped! My Tshirt was waiting for me when we got home and I am looking forward to wearing it. I am visiting my parents in Canyon Lake this weekend and I will wear it Sat. the 19th for sure.
Cindy Colby...Happy Belated Birthday!!
Bill Cusac...are you the Bill that lived on the corner of 123rd and Sundale Ave across the street from the Riggs family? If you are, do you have any idea where all the Riggs ended up? Lance, Steve, Kenny and Valerie. If anyone does, I would love to know. Paco...I am sure looking forward to the Family Reunion Pics. You have a wonderful family. Have a great weekend all! Jan
Hi Jan, Steve Riggs was in my class and was at our 40th reunion last July. I'm sure he reads Feedback, so Steve, if you're out there, please fill us in on your family.
---

Name: Wayne Dickey () on Wednesday, July 16, 2003 at 22:06:28


E-Mail: Impalawayne@aol.com
City and State: La Palma Ca.
Class: 69
Message: should I take that as a "HINT". My accordion should remain at home? John, you lied to me, you said you enjoyed my playing???????
I do I do, HONEST.... and the check is in the mail, and I.....

---

Name: Walter Holt () on Wednesday, July 16, 2003 at 20:49:50
E-Mail: walterholthhs66@socal.rr.com
City and State: Orange, Ca
Class: 66


Message: GOOD NEWS...IT'S SUMMER...The weather is Hot, The Breeze is cooling, The Surf has been moderately good, Barbeques & Beer at the beach has been great, A Surf Safari to Mexico is in the very near future. Life is Good
BAD NEWS....I Gotta work and miss some of the great weekday surf & weather.
Not without noting my sympathy for those who are going through sad times and wishing you well. Lord knows there were a lot of Cougars there for me during mine. Love To All

---

Name: Elizabeth Estrada () on Wednesday, July 16, 2003 at 20:34:43
E-Mail: dzlizzy219@aol,com
City and State: Redondo Beach, CA
Class: 69

Message: Here's some good news. Wayne Dickey won't be bringing his accordion to Cruise Night. He will, however, be bringing his record player again. For all you youngsters looking to see a real antique, please join us. You can see the record player too.
I love you guys..........Dizzy Lizzy the Grandma Goddess
P.S. Paco are you there? I'll bring the flan........you bring the spoon.
Oh yeah....Mary Hamilton asked about a 35th reunion for the class of '69. Donna Wright, Donna Van Douris, Betty Kean and I have something in the making. If anyone is interested please email me.
GREAT NEWS!! Wayne, you can be in the club as long as you don't break that record player. I'll bring my 78's

---

Name: ROJO () on Wednesday, July 16, 2003 at 20:28:30
E-Mail: I-DY-HO
City and State: YOU KNOW
Maiden: NOTBAKER
Class: 6OH
Message: Hey I got good new's. Found out I don't have cancer and I really did gradgeate from HHS. ALRIGHTYNOW. MAY THE COUGAR BE WITH YOU. Jake N jude.
You may have gradgeated but Jude said she had to pay off 3 teechers and an adminus addmenist a front office guy.
---

Name: Jill McFarlane () on Wednesday, July 16, 2003 at 15:55:59
E-Mail: jillmcfar@aol.com
City and State: Mission Viejo, CA
Class: 1977
Message: Good news? My ex-husband is getting married, trust me, that is good news. I received my C-town tee-shirt a few days ago, and wore it last night with pride, although it itched me like crazy, guess I should have washed it first. Other good news I can share is that my son's basketball team are 2-0 and looking like they might repeat winning the title. I have more good news to spread, but I will wait until it is desperatly needed by C-Town. :)

---

Name: Dewey () on Wednesday, July 16, 2003 at 15:32:25

E-Mail: Dewey_Storie@sbcglobal.net
City and State: State Of Confusion
Class: 74
Message: Yea John I have some good news... I going in for surgery tomorrow morning on my shoulder from an injury that happened back in January ..
GREAT NEWS!!! Surgery....Thanks Dewey
---
If you have comments or suggestions, please email me at john14@cougartown.com