Hawthorne Time and
Temperature

Home | 60's Slang | Alumni List | Car Talk | Cougar News | Feedback | Hangouts | Memories
Recollections | Reunions | Street Scene | Teachers | Tributes | Vietnam | What's New | Keyword Search
Another Doo Wop'er who left too soon Jesse Belvin
<!-+++++++++++++++++++++++++++++++++++++++++++++++++++++++++++++++++++++++++++++++++++++++++++ +++++++++++++++++++++++++++++++++++++++++++++++++++++++++++++++++++++++++++++++++++++++++++++->

---

---
<!-+++++++++++++++++++++++++++++++++++++++++++++++++++++++++++++++++++++++++++++++++++++++++++ +++++++++++++++++++++++++++++++++++++++++++++++++++++++++++++++++++++++++++++++++++++++++++++->
Name: Larry Biller () on Wednesday, July 16, 2003 at 15:24:36
E-Mail: lbiller49@yahoo.com
City and State: Portland,OR
Class: 1967
Message: GOOD NEWS? YES...My mom, brother John(class of 76) and nephew Johnny will be here in a little over a week for a visit..And that is GOOD NEWS!
Thanks Larry for the good news....

---

Name: Bill Cusac () on Wednesday, July 16, 2003 at 13:32:09


E-Mail: billcusac@yahoo.com
City and State: South Lake Tahoe, Ca.
Class: 1965
Message: Wednesday 11:00 AM. Ross Bradfield (1966) is in surgery at UCLA Med. right now having a liver transplant, so please pray for him. We love you Ross..........Bill
Thanks for the update on Ross, Bill. It seems like all we've been hearing lately is illness and death.
Does anyone have any GOOD NEWS??
---

Name: Jill McFarlane () on Wednesday, July 16, 2003 at 12:30:47
E-Mail: jillmcfar@aol.com
City and State: Mission Viejo, CA
Class: 1977

Message: Where is everybody? No posts since Monday, whats up with that? Went to CSN last night, and had a Cougar siting, I admit it was pre-arranged, but it was a Cougar siting just the same. I had the pleasure of meeting Kathleen from our own CT help desk. Bob, thanks for your detailed yet biased review of the CSN show at the Greek. Hope everyone is having a good week.
A new Feedback RECORD. Almost 26 hours without a comment. Maybe all the Ctowners are out enjoying Concerts.
---

Name: NANCY () on Monday, July 14, 2003 at 22:39:36
E-Mail: MOMATHOME498@AOL.COM
City and State: HAWTHORNE
Maiden: ASHBURN
Class: 1966
Message: WANTED TO LET ALL OF YOU KNOW THAT WE LOST ANOTHER OF OUR FRIENDS THIS PAST SUNDAY SUSAN RUTH HORN CLASS OF 1969 PASSED AWAY. SHE LEAVES BEHIND THREE DAUGHTERS, HER PARENTS, SISTERS AND BROTHER AND LOTS OF CLOSE FRIENDS SHE WILL BE MISSED. HER SERVICE IS THIS FRIDAY AT 10 AM AT THE METHODIST CHURCH ON 120 AND INGLEWOOD AVE

---

Name: Sherry Wingo () on Monday, July 14, 2003 at 21:45:03
E-Mail: dscwingo@pacbell.net
City and State: Haw. Ca.
Maiden: Peppers
Class: 1964
Message: Ernie and Brenda I am so sorry to hear about your granddaughter. I pray that her upcoming brain surgery will go well. We will keep her in prayer.

---

Name: Ernie Nixon () on Monday, July 14, 2003 at 20:12:20
E-Mail: ENixon1@bak.rr.com
City and State: Bakersfield, CA
Class: 63
Message: I am Brenda, Ernie Nixons wife. I just felt I wanted to Let everyone know what has been happening in our life. Our 6 year old granddaughter had bleeding in her brain on July 2. On July 3rd Emily was flown to Stanford Hospital in Palo Alto. She came home Thursday July 10. She is doing much better right now but it looks as if we are looking AT BRAIN Surgery in a few weeks. Please think of Ernie during this difficult time in his life. Our grandaughters are the light of our lives..
Hi Brenda, Yes, our prayers will be with you, Ernie, and your granddaughter. Things like this have a way of turning for the better.
---

Name: Cindy Colby () on Monday, July 14, 2003 at 14:41:24
E-Mail: cindycolby@att.net
City and State: Laguna Hills, CA
Maiden: Maxson
Class: 63
Message: Thanks to all who wished me a happy birthday. I had a wonderful day with my grandchildren and children. I will be at Cruise Night on Aug. 2.
See you there.....
---

Name: Dan Johnson () on Monday, July 14, 2003 at 12:23:38
E-Mail: wch1ispink@aol.com
City and State: Sherman Oaks
Class: 77
Message: I remember the Laserium shows with Dark Side of the Moon and later The Wall quite well. Ya know what they say "Pink Floyd, first in space" Everyone wear your CT shirts to Platinum Live in Studio City on 7/19 -- "and I'll be joining you there, Shine On You Crazy Diamond"
Remember when you were young......
---

Name: The Cook Sisters () on Sunday, July 13, 2003 at 23:45:12
E-Mail: sinceincalifornia.com
City and State: Orange county
Class: 68-69-72-74
Message: We, the Cook sisters would like to thank everyone for all your kind words of condolences for our mother, Shirley. The e-mails were overwhelming but greatly appreciated. Thank you all so very much.

---

Name: Armand Vaquer () on Sunday, July 13, 2003 at 18:55:06

E-Mail: AMVaquer@aol.com
City and State: Tarzana, CA
Class: 1972
Message: Happy Birthday, Marty. Don't feel so bad, I celebrated the 28th anniversary of my 21st birthday way back in February. "Growing old isn't so bad when you consider the alternative!'
Like my daddy used to say, " Everyone wants to live a long time but no one wants to get old."
---

Name: Frank Romano () on Sunday, July 13, 2003 at 17:35:39
E-Mail: fromano@lvcm.com
City and State: Las Vegas Nv
Class: 1961
Message: The story of our Ramona school with Mrs Ruby's 6th grade class field trip, and watching part of Rebel being shot has always returned to me when viewing the film....Jimmy Peppers just brought it all back once again.... CT is always doing the memory jump start thing. Now if I could remember what today is, the rest would be a snap.
Been there - done that, Frank
---

Name: Jean MacErnie () on Sunday, July 13, 2003 at 16:13:59
E-Mail: mamamac1@juno.com
City and State: Albq NM
Maiden: Caldwell
Class: 68
Message: HAPPY BIRTHDAY TO CINDY MAXSON COLBY!!! HOPE YOU HAD A NICE ONE!!!
Happy Birthday, Cindy
---

Name: ROJO () on Sunday, July 13, 2003 at 11:42:20
E-Mail: I-DY-HO
City and State: YOU KNOW
Maiden: NOT PAMANDERSON
Class: 6OH


Message:YO Bake, long time no talk. Hey you know how hot it is up here, it's so hot we have to put on oven mitts just to pull our fishin worms outta the ground.:) The other thing that puzzle's me is about the thesaurus stuff. I thought all the thesaurus died in the the La Brea tar pits.:) Other than that,MAY THE COUGAR BE WITH YOU. Jake N Jude. P.S. Paco, keep up the good work.
Actually 99% of the Thesauri did perish during the mighty freeze, but the tough little Roget's Thesaurus somehow managed to make it through.
Hope you two are planning the pilgrimage to Cruise Night. WE MISS YOU GUYS MAAANNNN!!!
---

Name: Wayne Dickey () on Saturday, July 12, 2003 at 22:13:44
E-Mail: impalawayne@aol.com
City and State: La Palma, Ca
Class: 69
Message: John! I'm getting mixed messages about cruise night. July 19th or Aug. 2?
July 19th is Cougartown Tshirt day. August 2nd is Cruise Night.
---

Name: Debbie () on Saturday, July 12, 2003 at 21:29:28
E-Mail: pinkelephant10@yahooo.com
City and State: Del Aire, CA
Class: 77
Message: VCR alert!! I saw a movie earlier today that is supposed to repeat tonight. It's called "When the Bough Breaks" starring Martin Sheen. At the end, there is a house that just screams typical Hawthorne. At the end of the movie they thank CalTrans. It was made in 1993, just before the 105 freeway was completed. Wouldn't it be fun if a Cougsr formerly lived there?

---

Name: Jerry Rigney () on Saturday, July 12, 2003 at 18:52:00
E-Mail: jnsrig@webtv.net
City and State: Palmdale, Ca
Class: '59
Message: Got mail, got shirt's, ready for the 19th.. Thank's John, Sharon and all who helped. See you at Foster's.
See you there, Jer'......
---

Name: doris () on Saturday, July 12, 2003 at 16:54:04
E-Mail: yes
City and State: yes
Maiden: yes
Class: a lot
Message: Okay, okay! "WHOSE" should be "Who's". Now ... what high school was it that I attended ??? LOL! How many of YOUSE guys caught that?

---

Name: doris () on Saturday, July 12, 2003 at 13:32:21
E-Mail: raydori@mindspring.com
City and State: Hawthorne, CA
Maiden: donaldson
Class: '57
Message: WELL!!! What I wanna know is:
WHOSE COMIN' TO CRUISE NIGHT ON AUGUST 2, 2003!!!
Make your plans now fellow Cougs ... could be (note, John ... I said "could be") the last chance to attend a Cruise Night at our old faithful: FOSTER FREEZE!!!
OH SHOOT! Here I reminded everyone to send in their dues and guess who forgot! YUP! Yours truly ... the check is in the mail, John!!! (John says: "Yeah, sure ..."
Here's to the Cougars of Hawthorne High! Raise your glasses high! CLINK! (oh dang! I broke my glass!)
yeah, sure.......


Thanks Doris and we'll see you on 8/2/03 at Fosters on 120th and Hawthorne Bl.
---

Name: Harry Plotkin () on Saturday, July 12, 2003 at 10:43:52
E-Mail: hcharry@pacbell.net
City and State: Harbor City, CA
Class: 52/97
Message: My heartfelt condolences to the Cook family. Shirley showed her support for the schools and her daughters by being a dedicated and tireless volunteer in the PTA. She was a very nice lady.
Love to all, Harry Plotkin (HCH)

---

Name: Nancy () on Saturday, July 12, 2003 at 01:23:15
E-Mail: cricketsarge@charter.net
City and State: California
Maiden: Rose
Class: '79
Message: Jill...I think they called the show at the Griffith Park Observatory "Lazarium". I saw the show several times...it was awesome! I think they are doing a remodel now.

---

Name: Mari Davis () on Friday, July 11, 2003 at 14:53:33
E-Mail: irishrutter@hotmail.com
City and State: Lubbock, TX
Maiden: Rutter
Class: 67


Message: I am so sorry to hear about Shirley Cook's death. She and Don were close friends of my parents, Jake and Ela Rutter for years and years and I can remember listening to them all laughing and carrying on at parties at our house while we kids were supposed to be asleep. They were great fun! My dad died several years ago but my mom was quite sad to hear about Shirley. Our condolences to the Cook family.

---

Name: Eliot Scher () on Friday, July 11, 2003 at 13:16:24
E-Mail: scherbear@rcn.com
City and State: Carmel, NY
Message: Thanks for your wonderful work and your dedication to great teachers. I came across your pages by accident and loved them. Eliot
Well thank you Eliot. It's nice to get a non-partisan attaboy.
---

Name: Jill McFarlane () on Friday, July 11, 2003 at 13:04:12
E-Mail: jillmcfar@aol.com
City and State: Mission Viejo
Class: 1977

Message: Hi everyone, I'm enjoying reading about the Sepulveda tunnel and Griffith Park. Whenever we traveled under that tunnel, not only would we hold our breath but we had to lift our feet off the floor. As for Griffith Park, does anyone remember the laser light shows they would do on Saturday nights using the music from Pink Floyd or Led Zepplin, they also used a few Supertramp songs as well. To Bob M. I will be going to CSN, but not at the Greek, going Tuesday to the Pac Amp in Costa Mesa. Please give a review Monday morning if you can Bob. Hope everyone is looking forward to the weekend, and I am looking forward to receiving my C-town tee-shirt. Have a good one everyone!

---

Name: Stephanie Brito () on Friday, July 11, 2003 at 11:48:13
E-Mail: happyisles@aol.com

City and State: RVP, Ca
Maiden: Hall
Class: 61
Message: Reading the feedbacks is always good and lately mind-stretchingly good. I'm looking for Candy Jonsson Ablaza Scott HHS61. Last address I had for Candy was in Tujunga but for some reason I think she moved to Michigan about ten years ago. I would appreciate any help. Thanks, Stephanie
Happy Birthday to my neighbor John Renn. You kept the growing-up-on-the-block interesting. Have lots of happy times!

---

Name: Cindy () on Friday, July 11, 2003 at 11:30:20
E-Mail: notanotherone@bday.com
City and State: Gundo
Message: HAPPY BIRTHDAY Karen Gindlesperger McGrath!

---

Name: Jim Peppers () on Friday, July 11, 2003 at 06:32:41
E-Mail: JimPeppers@yahoo.com
City and State: Athens, Greece
Class: 61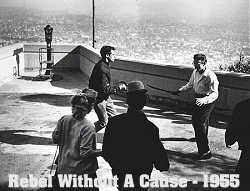 Message: Hi cougars! Did someone mention the Griffith Park Observatory and James Dean in the same breath. Wow, did that bring back memories. Anyone that was in my sixth grade class at Ramona should remember that we all went to the Griffith Park Observatory for a field trip and that we all watched as the knife-fight scene with James Dean was being filmed. Of course, few of us knew who James Dean was, but it seemed everyone knew who Natalie Wood was. It was something that I'll never forget and just hadn't thought about in many years until I read the feedback.. Nice memory. Thanks and have a nice summer everyone! Jim Peppers

---

Name: Pauline Matthew () on Friday, July 11, 2003 at 02:12:44
E-Mail: pmsockser@aol.com
City and State: Oak Hills, CA.
Maiden: Spencer
Class: 69
Message: My condolences go out to the Cook family. My mother and dad knew Shirley and Don from Venice High School.
May she rest in peace. Pauline

---

Name: Guy Ginty () on Friday, July 11, 2003 at 01:33:00
E-Mail: ginty1963@earthlink.net
City and State: Everett,Washington
Message: My family moved to Hawthorne in the mid 50's. I graduated from Leuzinger in 1963. Just wanted to say what a great web site. Great job you guy's.
Hey thanks Guy and come on back any time. All South Bay-ers are welcome in Cougartown.
---

Name: Baxter Dodd () on Friday, July 11, 2003 at 00:42:56
E-Mail: baxterldo@aol.com
City and State: Riverside, CA
Class: 57
Message: Yeah, I own a thesaurus too, but I ain?t gonna? use it. I resided near Griffith park until the 7th grade. I could see the observatory from my front yard - on a clear day that is! Hiked and rode a bicycle all over that area and would end the day with a pain in my chest from inhaling the smog. Also I found it was not always the safest place to trek. I was really glad to leave that area and move to beautiful Hawthorne/South Bay. Ahhh!! Living close to the beach with its nice clean/cool air (except when El Segundo burped). No more chest aches. Walking/biking along the beach, surfing, swimming, girl watch... (OOPS! my wife says to strike that) while breathing clean, freshly oxygenated air directly from the Earth?s own source. It was luxuriously invigorating (wish I were there now). But, once in a while when we were doing some serious cruisin? and wanted to go slumming, we would drive up Western Ave, through Los Feliz to visit the Bob?s BigBoy drive-in located near Glendale. It was one of the classics. Now the only times we feel compelled go back that way are for horse shows at the Griffith Park Equestrian Center and to art exhibits at the Gene Autry Heritage Museum. Did not know the observatory is being refurbished (Thanks, Joseph, for that info). It definitely needed it. As a kid, I always found something interesting there. Also, along with James Dean and Natalie Woods, it was a major ?star? in a classic movie.
On a serious note: I did not know many of the Cougs or their friends and loved ones who we read about having passed on - some in very tragic ways - but I am sure all of us feel a kinship to all of them and their families. May God bless and comfort their families and loved ones in their time of loss.
Hey Baxter, nicely said about our dearly departed Cougars.
And actually joseph doesn't need a thesaurus......he writes them. Also, what I wrote to him sounded a little sassy or gruff, but joseph is a good friend and he knows I'm just evulsing his ligature.
---

Name: Susan King () on Thursday, July 10, 2003 at 22:02:48
E-Mail: sueking18@aol.com
City and State: Thousand Oaks, CA
Maiden: OS9-6448
Class: 1974
Message: OK, if Joe is coming to cruise nite, then I'll snag V5 and sister Sharon and meet him there. Don't forget to bring Lily, ok Joe? Spent the afternoon today watching George Hunter's oldest play baseball against the locals. It's always laughs when we're with George. Sharon and George and I conspired to put out the word that there's a party at Barry Smith's - sometime in August. Guess someone better tell Barry.....

---

Name: Bob Melendrez () on Thursday, July 10, 2003 at 19:50:29
E-Mail: Strongheart@pacificwest.com
City and State: Squalordale, CA
Class: 1971
Message: Well, I shall eschew the sesquipedalian vocabulary, and endeavor to be tersely cogent. Many thanks to Sir Joseph for his gracious invitation. I shall accept, and visit the rarified confines of His neighborhood on Saturday July 12th. Seems a group that I have a certain affection for, CSN, is performing at The Greek Theater. Heavens, I hope that the unwashed masses don?t forever sully the Alpine ambience of such an exclusive locale...


Yeah me too Bob, he can chew on my seskwip... my sesqiped, squidal.....what you said.... WE LOVE YOU jOSEPH see you on the 2nd of August

---

Name: joseph mailander () on Thursday, July 10, 2003 at 17:17:22
E-Mail: joseph_mailander@yahoo.com
City and State: los angeles, ca
Class: 1975
Message: John, I would never condescend to any kind of proclivity for elitist expressions. (You have me mixed up with my prom date, I am sure.) And when I advised a hepatitis shot for coming to Los Feliz, that is only to PROTECT yourself from the many viral and tubercular horrors of the INNER CITY, which certainly accounts for nobody ever coming up here. Certainly everyone coming from Orange County to LA gladly submits to innoculation. But really, you must admit that the Hawthorne Water Tower and Sepulveda Tunnel are purely utilitarian, whilst the Griffith Park Observatory remains an architectural treasure, something all of us can and should be proud of. I will admit that the fine skyblue hue of the water tower does demonstrate that the city aspires to eviscerate itself from the skyline of Hawthorne entirely, and the tunnel is a monument to pragmatism if nothing else--what other city would dare to put a tunnel below a runway? Sepulveda must be a damn important street for that to have happened. But really! Me!? Looking down my nose at something? That's so funny it actually made me spill my perfect Sapphire martini--shaken not stirred, with a lemon twist, and no vermouth, but with the glass waved in the general direction of France--this afternoon. As long as Foster's cooks my burger at Cruise Night en papillote, I'll be looking forward to hooking up with both of those old former friends of mine.
So.....uh, does that mean you ah......uh.......well, ok then.
---

Name: Marty Sasaki () on Thursday, July 10, 2003 at 16:05:42
E-Mail: marty@mss.tzo.com
City and State: Arlington, MA
Class: 1972
Message: Gwen is going great and living in Lakewood, CA. Her son, Clayton, has just finished his freshman year in college. It's funny, Gwen was always the party girl. Who would have guessed that she would be married with a son and will be a professor soon.

---

Name: Tim Helble () on Thursday, July 10, 2003 at 15:28:49
E-Mail: TKHelble@netscape.net
City and State: Columbia, MD
Class: 73
Message: Sorry to hear about the passing of Marco Larios. I remember him from the old HHS Sea Divers club. He was a big guy - but I guess you could characterize him as a "gentle giant." He was very fun to be with and made everyone around him feel special.

---

Name: joseph mailander () on Thursday, July 10, 2003 at 15:19:34
E-Mail: joseph_mailander@yahoo.com
City and State: los angeles, ca
Class: 1975
Message: Summer greetings, John, from the beautiful Inner City. Lately I've been taking dolce afternoon hikes in nearby Griffith Park and I wonder if people in the general Hawthorne diaspora think twice about this fine place. Yes, the Sepulveda Airport tunnel is an exciting place to be sure, but one rarely lingers there. (Especially when, following the fine example of Tom Smeltzer circa 1973, blows off a stick of Mexican dynamite in one of the safety pullouts, just to hear the echo--or when, as yours truly and presently BACKS UP a quarter of the length of the tunnel because he has just missed the offramp from the north, and must get a friend to the airport [obligatory explanatory nonhortatory footnote: this shameful albeit hyperdaring maneuver, worthy of any Nascar race, involved a noteworthy pharmaceutical, long since banned, which sported the assuring trade name "Lemmon 714" stamped on it in a circular fashion]). I digress. No, in Griffith Park, one lingers--myself, by the tennis courts near the Greek Theater, in Vermont Canyon--I think this is my favorite public place to play tennis in all of LA. Pines surround the court and the whole setting is quiet and alpine, unlike those public courts in Westchester that sound like--well, like the Sepulveda Tunnel whilst an exploding stick of Mexican dynamite reverberates off its sooty maddening walls. The Griffith Park Observatory is closed for three years, renovations, but from its telescope one can ordinarily see on a clear day through the telescope the spire of St. Joe's and the Hawthorne Water tower, and many other fine historic if drably utilitarian landmarks of USA 90250. So I feel a link to the old neighborhood when I look through those lenses, and that it isn't so far after all. But in truth, I guess, it is--because I never see Cougs up here in Los Feliz, though they are welcome in this neighborhood, provided, of course, they have had a recent hepatitis shot. Peace and Boat Drinks, Joseph.
hey joseph, do I detect a slight "squinty, head tilted back" look on your face, kinda like someone is holding something from a cat box under your nose? You're not looking down your face on Haytown or the surrounding So. Bay from the "beautiful inner city" are you? I mean, drably utilitarian landmarks of USA 90250, hepatitis shots, unlike the public courts in Westchester, etc. If you think the tennis courts in the Los Feliz area are alpine, you haven't travelled far enough from Birch Av in Hawthorne or maybe there's still some residual Lemmon 714 in the gray matter. Anyway, no hard feelings and maybe you can find your way back to the 90250 area for Cruise Night. Though it may be too pedestrian for someone from the inner city area, you just might see someone you used to be friends with.
---

Name: Howard "Paco" Duran () on Thursday, July 10, 2003 at 12:29:36
E-Mail: doo4usc@cox.net


City and State: Lake Forest
Maiden: OS6-2378
Class: 1961
Message: Do any of you old 50's and 60's guys remember going to the mountains for the weekend,in the late 50's, and help build a youth camp? I remember the Coach being there. In the evening we would go to town, where we'd go see a movie in a room about 10x10 feet with folding chairs..Can anyone tell me where and why? Coach, help me out!

---

Name: nick pappagiorgio () on Thursday, July 10, 2003 at 11:09:33
E-Mail: n_pappagiorgio@yahoo.com
City and State: LV NV
Maiden: rusty
Message: Happy Birthday to Marla Crane and Marty. What's goin' on with sister Gwen?

---
If you have comments or suggestions, please email me at john14@cougartown.com