Hawthorne Time and
Temperature

Home | 60's Slang | Alumni List | Car Talk | Cougar News | Feedback | Hangouts | Memories
Recollections | Reunions | Street Scene | Teachers | Tributes | Vietnam | What's New | Keyword Search
It's Doo Wop Time Johnnie and Joe
<!-+++++++++++++++++++++++++++++++++++++++++++++++++++++++++++++++++++++++++++++++++++++++++++ +++++++++++++++++++++++++++++++++++++++++++++++++++++++++++++++++++++++++++++++++++++++++++++->

---

---
<!-+++++++++++++++++++++++++++++++++++++++++++++++++++++++++++++++++++++++++++++++++++++++++++ +++++++++++++++++++++++++++++++++++++++++++++++++++++++++++++++++++++++++++++++++++++++++++++->
Name: Neil Andersen () on Saturday, May 10, 2003 at 11:51:06
E-Mail: sumerset@aol.com
City and State: Dallas,OR
Class: '62


Message: 1953, Juan De Anza school, 3rd grade, Mrs Averett's class, Jerry Bollin sings "Heart Of My Heart" in the talent show. Just wanted to mark the 50th anniversary, never really meant much to me, just something I've remembered for 50 years.
June 1953; Hawthorne Christian School:
The last time I saw my 3rd grade girlfriend, Melanie Mullins. Melanie, why oh why did your parents take you away?

---

Name: Jim Peppers () on Saturday, May 10, 2003 at 08:18:46
E-Mail: jimpeppers@yahoo.com
City and State: Athens, Greece
Class: 61


Message: Dear Paco, I want to say Howard, but I'll get used to the Paco. Thanks for the info about Carol. Tell her to get in touch with me when you talk to her again. I'm sure that our sixth grade kiss meant a lot more to me than it did to her. I'm sure she doesn't even remember it. Anyway, thanks again. Best to you and the family, Jim Peppers

---

Name: Lori Padelford-Garcia () on Saturday, May 10, 2003 at 02:49:00
E-Mail: Desilulu4u@aol.com
City and State: Graden Grove, CA
Maiden: Padelford
Class: 81
Message: Oh my gosh John! I know I dont check in as much as I would like to and I apologize in advance for this rambling but there is so much to address here. First of all Mario and I were Married April 26th at the Japanese Gardens at Cal State Long Beach and we just returned from our honeymoon today. What a wonderful time we had and I feel so lucky to have such a wonderful loving husband. We drove all over California, Oregon and small parts of Nevada and Washington. All the while I kept my eyes open for cougartown tee shirts and antenna balls, but no luck. I also wanted to ask those in attandance at the Seal Beach car show if they remember the very first car at the beginning of the show? It was a Cobra, sort of a purple-blue metallic. That was my uncle Bob Mullaney, Leuzinger c/o 59? And I think his last name in High School was Chance not Mullaney. Poor guy raced out of there the second it was over and made it to my wedding just in the nick of time. Also Dizzy Lizzy...Congratulations on the grandbaby, how fortunate for that child to have such a wonderful loving Grandmother. Dan Johnson when did you live on Ramona? My parents owned the apartment building across the street from your address at 12715 Ramona, right next to the church parking lot. Well I think thats all for now, thanks for indulging my ramblings. XO Lori Garcia
Hi Lori and congratulations to you and Mario. I was wondering if you were EVER gonna make an honest man out of him.
Thanks for the report and maybe we'll see you two at the next Cruise Night.
---

Name: Stephanie () on Friday, May 9, 2003 at 23:55:09
E-Mail: happyisles
City and State: rpv, ca
Maiden: Hall
Class: 61

Message: York Elementary song,,,"On the corner stands a school, a school that we all love, where through the day we work and play and learn to keep the rules, York Avenue, York Avenue.......if you really wants all the lyrics, maybe Beverly Hunley or Sue Jolly remembers. And the reference to Judy Norman---I've been trying to get in touch with her. Does anyone ever hear from Lucy Wolfe? Love the memories everyone contributes
YES, where is Judy Norman? Doe anyone know? I heard she's left Alaska...... Judy, or anyone that knows, please check in....
---

Name: Don (crow) Burns () on Friday, May 9, 2003 at 21:34:33
E-Mail: burnslock@yahoo.com
City and State: Downey, Ca.
Class: 57
Message: Hey Cougs, there is a gathering of 4 wheel transportation vehicles @ the K-9 Training center behind the Lowes @ the Long Beach Town Center west of the 605 Frwy @ Carson 10-3 Sat 5/10/03 hope to see some Cougs there. Don

---

Name: Daisy () on Friday, May 9, 2003 at 20:00:26
E-Mail: tiggerulz85@hotmail.com
City and State: Inglewood, CA
Maiden: Santos
Class: 2003
Message: This page is great. Good job!

---

Name: Carolyn Ladd () on Friday, May 9, 2003 at 14:41:15
E-Mail: cladd@med.umich.edu
City and State: Ann Arbor, MI
Maiden: Gamradt
Class: 1962

Message: I haven't been keeping up with Ctown on a consistent basis and Boy!, I've missed a lot of good stuff!!! Joseph Mailander's comments of May 7 were so eloquent and your response, John, was RIGHT-ON!!! You both said what a lot of us feel but haven't expressed, at least not as succinctly. I think the older we get, the dearer those memories become and they become a lot clearer! Nostalgia is like an aphrodisiac, who cannot take that walk back to childhood and youth, where going to the beach was an almost every day occurrence, and yes, smelling those Eucalyptus trees on the way there, cruising the best Boulevards (Hawthorne and Sunset) this side of Woodward Avenue in Detroit. I feel so blessed to have had such a great childhood growing up in Hawthorne with loving parents and childhood friends that are still close, and a great husband, and of course, the best children, and grandchildren that can do no wrong. Not that there haven't been bumps along the way, but life is good - guess I am feeling very thankful today. Anyway, Ctown is great and so are your pictures, Paco! Happy Mother's Day, Ctown Moms. Carolyn
Me too Carolyn. I feel so lucky to have grown up in Hawthorne CA in the 50's and early 60's with the parents and friends that I had, and to have graduated in the most outstanding class ever assembled at HHS, the CLASS OF 62!!!
Now that's the truth.....
---

Name: Marilyn Ross () on Friday, May 9, 2003 at 13:40:13
E-Mail: mlr922@hotmail.com
City and State: Garden Grove, Ca
Maiden: Wisham
Class: 56
Message: Yes I do remember the fire at Hollywood Park Racetrack. We slept through it though. Next morning we were told that the sky was all lit up a bright orange. I was so dissapointed that I missed that, it was a really big deal. I can remember seeing the burned out mess. I looked it up on the Internet but only found one mention of it. It was in 1949 and re-opened in summer of 1950. I think it pretty much burned completely.
Thanks Marilyn....
---

Name: Janis Peterson () on Friday, May 9, 2003 at 13:33:11
E-Mail: jpeterson50@aol.com
City and State: Carmichael, CA
Maiden: Freeman
Class: 1967
Message: OK...Here goes. Jessie it was my Aunt and Uncle that lived across the street from you. They were right on the corner of 121st. Their last name was Enscoe. The kids were Mary & Eddie. I am not sure when you moved in, they may have already left. Thanks to CT I have been in touch with Hector and I am going to try to get down there at the next cruise night. I live outside Sacramento. I remember your family well. My brother Jeff and Santos were good buds. But don't worry about remembering anything. I think that we all have those "brain farts". But it is great to have this vehicle to at least TRY and remember.:o) John...Here is what I last heard about the Normans. Judy was living in Alaska, Jim was living in Corona & I am not sure where John is. Betty and Leo have both passed. They lived in between our family and the Caldwells. OK. What is the date of the next Cruise Night? Jan
Next Cruise Night will probably be in mid August, but a little early to tell yet. Thanks for the info, Jan
---

Name: Jessie () on Friday, May 9, 2003 at 11:36:05
E-Mail: mikejessie@yahoo.com
City and State: Los Angeles
Maiden: Corral
Class: Wanna be...
Message: Ok Janis and Jean, Now you both have me confused ha! if you don't remember me you probably remember my brothers, Lupe and Santos, maybe my sister Rita. You went to school at about the same year as they did. I remember all the same people you do, I just don't remember you both! what a shame, I am so sorry. Janis, as I am sure you are well aware of Hector Carrillo married Jeanne Burk. I am still good friends with Laurie Burk. Maybe next cruise night we can all get together and between the 3 of us we will remember each other ha!
Jean....who is the aunt and uncle we lived across the street from?

---

Name: Janis Peterson () on Friday, May 9, 2003 at 03:01:42
E-Mail: jpeterson50@aol.com
City and State: Carmichael, CA
Maiden: Freeman
Class: 1967
Message: Jean & Jessie. Before the Norman's moved next door to you Jean, the Nichol's family lived there. Nick & Mary, and Sherry (65, I think) and Kathy. On the other side of you was Bud & Lynn Martin and their kids, Linda & Bill. The Martin's moved in the early 60's and our family followed them in 65. Next door to me was the Boyd family and even though he didn't live there, Zeke (Chris Montez) was Bill Boyd's best friend. I remember him and his Corvair so well. I remember Jessie and family. They lived across the street from my Aunt & Uncle. Jean, do you remember playing outside everynight during the summer until our Mom's dragged us in kicking and screaming? Hide and Seek was our favorite block game. Thanks to Hector's Mom having Joey and Elizabeth when I was a preteen I was able to get alot of my Girl Scout Badges, caring for them. I have some great memories of 122nd Street. Alot of kids all close to the same age. Happy Mother's Day to all the Coug MOM's.
I remember Johnny Norman and their parents Leo and Betty Norman when they lived on 120th and Freeman. John had a brother Jim, and a sister Judy, who I guess had flown the coop when they moved to 122nd.
---

Name: Jean MacErnie () on Thursday, May 8, 2003 at 22:47:02
E-Mail: mamamac.1@juno.com
City and State: Albq NM
Maiden: Caldwell
Class: 68
Message: Hi Jessie....I really do not remember you either....but I remember the house you lived in. I lived at 4843 on 122nd st. The neighbors I knew there/or lived around me were...The Maxsons (Cindy & Laura) Freemans (Tom, Jeff Janis, John and Richard), the Martins (Nancy & George) the Normans (John) The Carrillos (Hector and Lalo) Amours (Jaynie) The Johnsons (Terry & Irene) Morrisons (Jim * Mike)...there were others but I guess this is enough. I would walk to that little store on Felton a lot with Nancy or Laura. ..usually after school. I went to Eucalyptus, HIS and HHS. We lived on 122nd since 1952 (close to that date anyway)...before that we lived on 117th st near Inglewood Ave, but I was just a baby then and can not recall it at all. I also had an aunt Lucille who lived on 124th St (Hahlbeck). My sister and I knew Cynthia and Clara Aragundi very well from 121st. I remember Jeanne Burke and Betty Kean as well as Lynn Matteson. We had the house with the white picket fence in front with 2 trees in the yard and a red brick side walk between them that led to the porch. we had awnings in the front of house...our house was a tannish brown shade...it always reminded me of a fudge sicle. My dad always had his dodge pick up in front of the house....My moms last car there was a dodge Polaris...We moved out in 1968 or 1969....Does any of this ring a bell?

---

Name: doris () on Thursday, May 8, 2003 at 21:30:45
E-Mail: raydori@mindspring.com
City and State: Twin Falls, Idaho
Maiden: donaldson
Class: '57


Message: Does anyone remember when Hollywood Park burned down? It had to be sometime in the 40's. I can't figure out why no one has mentioned that fire. I remember, even as a child, that fire moved me to tears; it's so traumatic to see flames destroying something so large ... so sad. Now, mind you, I don't know if it actually burned ALL THE WAY DOWN; all I know is it was a very big, bad fire. Marilyn ... how about you? Do you remember that one?
I remember the fire at Hollywood Park. Believe it was the early 50's.
---

Name: joseph mailander () on Thursday, May 8, 2003 at 16:52:57
E-Mail: joseph_mailander@yahoo.com
City and State: los angeles ca
Class: 1975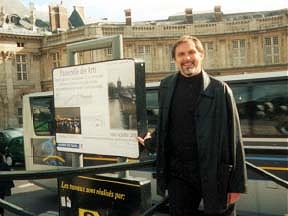 Message: Hey Ingrid and Dan, thanks for the response and, for what it's worth, Dan, I live around the corner from those Snow White cottages on Griffith Park, which intersects my street, St. George. I live almost right at the Shakespeare Bridge, if you know that semi-landmark. And by the way, those Disney cottages you speak of were in David Lynch's last movie, Mulholland Dr. That's another way we have landmarks in Los Angeles: something shot in a movie is an instant landmark. Those cottages, however, have an intriguing history all their own. They were developed by Disney for animators and musicians--Disney lived just a little down the block, at St. George and Monon. There was also a complex devised for animators from Warner Brothers--that complex is on Avenel Street, right behind Hyperion, and was designed by the same guy who designed our home. The guy who first owned our own home was a cartoonist for Warner as well--he couldn't get into the bigger complex, apparently, so built his own. This would be 1948. We had an architectural historian over just last weekend, who was researching the guy who designed our place. Hollywood has its enchantments--but so did Holly's and the Wich Stand, way back when. Jeez, I've almost blown my allotment of words for the year at this site, I'd better stop. John I LOVE YOU MANNNNNNN but I wish you'd find a better picture of me, you're frightening people with it. The Valencias and the Biermans no longer respond to my emails, and it's all because of that pic...Peace and boat drinks, joseph
Hey joseph, let's try this pic.... Thanks for contributing and listen, your allotment is endless.
---

Name: karen pray () on Thursday, May 8, 2003 at 15:42:37

E-Mail: karenpray@webtv.net
City and State: coronado ca
Maiden: zirbel
Class: 60
Message: Whasup with the Laughlin Reunion?? Anyone from '60 attending??

---

Name: Ingrid () on Thursday, May 8, 2003 at 14:38:17
E-Mail: ingridl@fdgdesign.com
City and State: Long Beach - so near and yet so far away
Maiden: Larson
Class: '74


Message: Oh my gosh! I just got finished reading Joe Mailander's feedback from May 7th - and I have to admit, I got a bit wet-eyed. But then, as I've said before, I can get choked up watching a Hallmark commercial. It's true though, and I guess it all comes down to "You Can't Go Home Again" and somehow that makes me ache a little inside, because I was one of the lucky ones that had a really wonderful childhood. Thanks for sharing your thoughts with us Joe, and don't wait so long to send us all another Feedback.

---

Name: Joe Bell () on Thursday, May 8, 2003 at 13:58:13
E-Mail: jb41jb@yahoo.com
City and State: Artesia CA
Class: 59
Message: Yes, I do plan to be there next time. My best to you all there. Yesterday my day went well for me. My walk down down 'MEMORY LANE.' I had breakfast, and then went to catch the Norwalk Bus to the Greenline Train. I walked down south to Hawthorne Intermedate, where I went to 7th & 8th Grade. Then I walked around the outside of HHS. (El Segundo, to La Cienga, to 120 th Street, and on this residental street to the 'Hal-Cap Field,' built after I Graduated in 1959. So much has changed. There is a lot of Construction going on, I saw a Crane in the distance. And huge Fences too, some were 20 feet high near the Hal-Cap Field. Then I rested 5 minutes at a Bus Stop Bench, and spoke a little to a current Student there. I said "Goodbye," and started my walk to where I use to live when I was at HHS. 118th Place, (just east of Prairie Ave.) I stopped at Hawthorne Park, and rested about 20 minutes. (El Segundo & Prairie.) Then I visited some neighbors that I hadn't seen in years, for about 3 hours, and they gave me a ride to the Greenline Station. Then when I got home to Church. That whole area has changed so much since the 50's. I've changed too. I was a lot slower than I was at 16. I'm a lot fatter, too. I had a real good day of it though. I remember the Snow of '49, I wanted to ride my Bicycle that morning, but my Mom said it was too dangerous. I got my bicycle in July of '48, so I already figured I was an expert by then. I really didn't have much in the line of fear. One of the things that comes with AGE I guess.
Great feedback Joe. Glad you had a chance to take a peek at your past, and how it has changed. BTW, the construction that you're talking about is the new cafeteria and the new coed locker room.
---

Name: Bud Rhoades () on Thursday, May 8, 2003 at 13:28:58
E-Mail: bud.rhoades@fullmerinc.com
City and State: Seal Beach,Ca
Class: 74
Message: Boy, all this talk of Roccos' makes me hungry! To this day I still have not had a sub like the ones they used to make, there was just something special about the taste. When I came home from Hawthorne summer camp it was the first thing I asked for. Roccos was usually our Friday night "treat". If anyone knows of a sub shop like Roccos down here in the Seal Beach/Huntington Beach area, let me know. Take care cougs....
That's for sure. There was something special about a Roccas sub.
---

Name: nick pappagiorgio () on Thursday, May 8, 2003 at 12:59:28
E-Mail: n_pappagiorgio@yahoo
City and State: sin city NV
Maiden: rusty
Class: 76
Message: Question for Dan - Does "Which One's Pink" ever perform in Vegas or N. Cal? Would really like to hear them!

---

Name: carole ferruccio () on Thursday, May 8, 2003 at 11:51:58
E-Mail: isahighcarole@yahoo.com
City and State: lake isabella, ca
Maiden: anderson
Class: 60
Message: I believe the ice cream store on Hawthorne Blvd. was Curries ice cream Parlor. They had the tiny Juke boxes at each table where you picked what you wanted to hear.

---

Name: Jessie () on Thursday, May 8, 2003 at 11:37:55
E-Mail: mikejessie@yahoo.com
City and State: Los Angeles
Maiden: Corral
Class: Wanna be Cougar of '74
Message: Hi Jean, I lived on Sundale and 121st. and for the life of me I can not remember you. Who did you live next door to? We lived in the house on the corner of Sundale with the huge Christmas tree in the front yard. It hung over the sidewalk so every one had to walk in the street to get around it.

---

Name: Dan Johnson () on Thursday, May 8, 2003 at 11:03:19
E-Mail: wch1ispink@aol.com
City and State: Sherman Oaks
Class: 77

Message: Hey Joe, my ex-wife lived in those "Snow White & The Seven Dwarfs" cottages on Griffith Park Blvd near Marshall High School (home of the fighting Barristers) for a while during our first separation (the second one was d-i-v-o-r-c-e). Living in the Valley, I don't feel the same "separation" from the South Bay for, I think, two reasons: (1) during high school I was "connected" to the Valley because we used to travel to Van Nuys Blvd (in Bob Bates' powder blue '74 Plymouth Duster) for Wednesday cruise night and (2) my sister still lives in that poor stepchild region known as Del Aire (why will no one claim her?) so I'm down there quite a bit anyway. Did anyone ever see the movie Van Nuys Blvd?

---

Name: joseph mailander () on Thursday, May 8, 2003 at 10:59:02
E-Mail: joseph_mailander@yahoo.com
City and State: los angeles, ca
Class: 1975

Message: John, you asked, Does the mention of "west on Rosecrans toward the beach" conjure up shade and the smell of Eucalyptus trees? Not only that, but it also conjures up the image of my first experience of the word "flood", as the intersection of Rosecrans and Aviation would fill to ferocious extent every time it rained--and this was before they put the trestle over the intersection, so sometimes you had the freight train obstructing things for good measure...I remember my father swearing at this unfortunate circumstance...so it turns out, the intersection of Rosecrans and Aviation was where I first became acquainted with the differences between being an adult and being a child...Don't get me wrong, I love Los Feliz, and wish more Cougs would come up this way sometime...I am more snobbily cosmopolitan these days...but those traits too, I first formed them in Hawthorne. My affinity for Hollywood extended to high school. Sometimes Mike Dragotto and I would take a bus to Hollywood, even before we could drive, to look for lobby cards and one-sheets at Cherokee Bookstore or Larry Edmunds'--so this part of my self too was formed by the promise of La Brea.
You say "Melrose" and it conveys something, "Sunset" and it conveys something. Think back to what the Beach Boys were plugged into, and beyond even the beach, it's this: car culture. I think we people of Hawthorne gave the world the concept of orienting one's view of life around the vehicle, the street. I have this theory that your view of where the center of Los Angeles is is informed by what large artery you live nearest to. When I was a teenager I thought that La Brea and La Cienega served as the linear centers, because those were the streets that ran up into Hollywood all the way from the South Bay. When I was at UCLA, I saw the center as being along Wilshire and Sunset, the two extremities of Westwood. And ever since I've worked downtown, I've thought the center be between Figueroa and Broadway. In LA, because of our vehicular orientation, our concept of what is central to our city is more linear than spatial, I think, and that was an unusual message for the world to hear in the 1960's, but the world's getting used to it now.

---

Name: Loretta Cuiper () on Thursday, May 8, 2003 at 10:11:40
E-Mail: LCuiper@aol.com
City and State: Hawthorne, Ca
Maiden: Morelli
Class: 62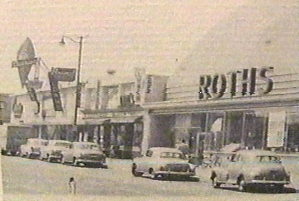 Message: I remember a Ice Cream Parlor on the corner of 129th and Hawthorne Blvd, I believe it was a Carnation Parlor. Back in the 50's, for under two dollars you got a huge split with all the works. There are so many wonderful Memories, just like John said, remembering the tree lined road of Rosecrans. On Sunday, Larry and I were coming back from Pacific Coast Hwy,turned on to El Segundo Blvd, coming up that road reminded me the way it use to look going down towards the beach, on both sides through the rolling hilled sand you had those ice plants everywhere, you still have some of the past left up there, it is not as large as before, but enough to remind you of sitting in the back seat of the folks car and as far as you could see those rolling hills and all those flowers popping up. Nice times. Have a HAPPY MOTHER's DAY. Always a COUG!!
Hi Loretta, The ice cream parlor you're thinking of was Curries. Great ice cream.
---

Name: Pat Underwood () on Thursday, May 8, 2003 at 05:10:11
E-Mail: onefamilyhistorian@socal.rr.com
City and State: Hawthorne, Calif
Maiden: beautifuldreamer
Class: 1963

Message: Joseph and John well said. Traveling west on Rosecrans Ave does bring back so many memories and I often wonder where the years have gone. I must have done something right in my life because my life has passed so fast. Four of my children have grown to adulthood and my daughter is a junior at St. Bernards and my son is a freshman at Hawthorne. I don?t want to go back and change a thing but after I die I would like to be reborn and experience that beautiful life again. Man it was great.

---

Name: kelley () on Thursday, May 8, 2003 at 04:09:37
E-Mail: ican'tsleepcoulditbemenopause.com
City and State: Englewood,Or
Class: 67


Message: can remember why i wanted to respond to something..oh yes western surplus burning down..don't remember that but i do remember when patty hearst and company were there and ran through our backyards on 133rd..my walk to school was too kool..especially my jr year..i'd pick up Morris then we would pick up cuz timmy..Morris always had lox and bagels..When Sally coppinger lived next door i never knew when we would get out the door..she could never get her hair combed and after waiting forever she always forgot to comb the back..love you sal..if you read CT, email me kelleycurrie@charter.net i'd love to hear from you...

---
If you have comments or suggestions, please email me at john14@cougartown.com