Hawthorne Time and
Temperature

Home | 60's Slang | Alumni List | Car Talk | Cougar News | Feedback | Hangouts | Memories
Recollections | Reunions | Street Scene | Teachers | Tributes | Vietnam | What's New | Keyword Search
It's Doo Wop Time Johnnie and Joe
<!-+++++++++++++++++++++++++++++++++++++++++++++++++++++++++++++++++++++++++++++++++++++++++++ +++++++++++++++++++++++++++++++++++++++++++++++++++++++++++++++++++++++++++++++++++++++++++++->

---

---
<!-+++++++++++++++++++++++++++++++++++++++++++++++++++++++++++++++++++++++++++++++++++++++++++ +++++++++++++++++++++++++++++++++++++++++++++++++++++++++++++++++++++++++++++++++++++++++++++->
Name: susieQ () on Wednesday, May 7, 2003 at 23:17:14


E-Mail: Mustangsusie21@msn.com
City and State: in the 505
Maiden: klingenhagen
Class: '71
Message: ...a question for those of you who went to ANZA with me ...someones Mom was a GOOSEGIRL at HOLLYWOOD PARK. Name the Mom_________. This should be a no brainer for Bobby Jensen! HAPPY MOTHERS DAY to my sister...

---

Name: joseph mailander () on Wednesday, May 7, 2003 at 21:24:19
E-Mail: joseph_mailander@yahoo.com
City and State: LA, CA
Class: 1975
Message: John, I thought I would pop in and update you with my life's latest exotic adventures, but there haven't been any. As a matter of fact, there haven't been any since about, oh, say 1975, when I skipped graduation. I have been content lately simply to relegate myself to the passive existential action of looking to Mt. Hollywood to the west (from the South Bay, this is the pointier mountain just to the right of the wedge-shaped mountain of the Hollywood sign) and feel the greyness of the crepuscule of day encroach on my sentient state. At least I have picture windows facing west, so I can watch the day dissolve and the night thicken to full visible extent.
I recently did this thing where I commuted to Westchester every day for about four months, and realized how I am so near and yet so far, how remote Los Feliz is from the South Bay. Every trip, it felt to me like I was returning to a place that was not necessarily miles but certainly years distant from me. I could see My Mountain, Mt. Hollywood, from Westchester--so why should I feel so distant? Yet distant I felt.
I wonder if Cougs returning to the South Bay from Elsewhere get the same feeling I do upon finding myself, after such a long time both proximate but removed, again for a time on streets like Manchester and Sepulveda, Rosecrans and Aviation? These are the very streets that informed my entire relationship to the world, and therefore my sense of self, as a teenager--each one was a promise to an Elsewhere that was not Hawthorne--now it is Hawthorne that is the Elsewhere, the home that you know well but to which you cannot adequately return.
Now I have Franklin and Vermont, Hyperion and Griffith Park Boulevard, and it has been thus for about eighteen years now. In LA, I guess we don't have many monuments, the Hollywood sign and Pink's notwithstanding, but what we lack in monumentality we make up for in vehicular orientation, and the names of the streets themselves are what stand as our greatest monuments. One of the reasons your site is so compelling to those who are in the South Bay, out of it, and even out of LA, and the state, is that to read of a street name, with a memory linked to it, is to be in touch with something monumental within one's life. We who have been in Hawthorne, in LA forever have never had to move--the city is so different from when we were younger, it's like we're living Elsewhere anyway--but it's gratifying to pop into your site and take measurement of where we are and where we have been, and mix the two into something vital. Peace and boat drinks, joseph
Hey joseph, well said, as usual. Are you feeling what lots of Cougs that live in far off places experience? It's not the distance they feel from Hawthorne, but the memories brought back to them, triggered by a picture, some off the cuff verbage, or a street name. Does the mention of "west on Rosecrans toward the beach" conjure up shade and the smell of Eucalyptus trees? Probably not for you, but for my generation it does.
As for monuments I think we all have our monuments. Some of mine were Lions, The Wich Stand, Frosties, and Hawthorne Bl. on a Saturday night.

---

Name: Janet () on Wednesday, May 7, 2003 at 20:30:45
E-Mail: jreeves@cableone.net
City and State: Prescott, AZ
Maiden: Hardy
Class: 74
Message: When I worked at Rocco's I made the subs as well as the other food dishes. The owners taught us a little secret when making them, and I can remember to this day they would say "the first bite counts" Does anyone remember a store on Imperial near the theater called Sad Sacks?

---

Name: Gomez () on Wednesday, May 7, 2003 at 19:31:26
E-Mail: lacrossemyheartandhopetodie.com
City and State: Rain and scattered showers
Maiden: Smith
Class: 1972


Message: We rarely went out to dinner but when we did we ate at the Golden Phoenix or Latitude 20.
We lived in Inglewood for years so my sister and I had to walk to school from 109th and Doty to 102nd and Prairie to my little Christian school, then after school go with my Uncle Jack to Hollywood Park to catch the last race. I would pray for my uncle's horse to come in. I was so confused.
The Golden Phoenix is still making up the good Chinese food it always has, but the L20 has faded into the sunset.....
---

Name: Jean MacErnie () on Wednesday, May 7, 2003 at 18:59:42
E-Mail: mamamac.1@juno.com
City and State: Albq NM
Maiden: Caldwell
Class: 68
Message: Everyone is really getting into the memories...I love it...don't stop. I love to hear all this stuff from everyone. Heres a few more of mine....My first touchdown! Let me explain....One night, on a week end a few of us from 122nd went to the school, after dark. We were on the football field and just hanging out. I started to think about what it would be like to make a 100 yard touch down....So I got to the south end of the field and ran as fast as I could to the north end. What I didn't know was at the north end they had put up some barb wire...on the other side was some freshly laid fertilizer.....So I ran.....right into that wire unknowingly...the next thing I knew I had flipped over it and landed on my back.....TOUCHDOWN!
I remember my dad would like to go down to the beach just as it got dark to walk around and smoke his pipe. He would take my sister and I with him...I loved going down there at night...It was an adventure for us.
Another dad story...My dad really got on us if we slammed the front door or car door....His punishment for us was to practice for a while....I could imagine how entertaining it was for the neighbors to see us opening and closing the front door over and over....and the car door too. It was about a five minute lesson.....
My dad would also have me pick up the leaves in the front yard as needed. I hated that chore....So I got several kids on 122nd over to have a contest. The goal was to see who could pick up the most leaves, count them, and put them in the bag...The reward for the winner? Glory! See ya!

---

Name: susie () on Wednesday, May 7, 2003 at 18:38:23
E-Mail: Mustangsusie21@msn.com
City and State: 87111
Maiden: klingenhagen
Class: '71
Message: ...sorry Keith but the best BBQ was STEARNS...

---

Name: Pat Bush () on Wednesday, May 7, 2003 at 17:44:01
E-Mail: outofservice
City and State: Buena Park
Class: 80
Message: How about Amato's Pizza across from Northrop. I worked there for about 4 years and it was always packed Fri.& Sat. It moved to Canyon Lake about 10 years ago and is still pretty good.
Hey Pat, Great one. I almost forgot about Amato's
---

Name: Dave Hawken () on Wednesday, May 7, 2003 at 17:01:27
E-Mail: hawken22@hotmail.com
City and State: Gresham, OR
Message: If anyone can tell me some of the history and controversy surrounding the now abandoned Hawthorne Mall it would be greatly appreciated. Thank-you.

---

Name: Howard "Paco" Duran () on Wednesday, May 7, 2003 at 16:50:43
E-Mail: doo4usc@cox.net
City and State: LF
Class: 1961
Message: Jimmy, I just spoke to Carol Coombs friday night, she's doing well..
Ask her why she doesn't have her name on the email list.
---

Name: Laura Anderson () on Wednesday, May 7, 2003 at 16:38:33
E-Mail: dsnycrw@ivic.net
City and State: Hemet, CA
Maiden: Twitchell
Class: 79


Message: Dan....the treehouse was still in the avocado tree when we moved out around '77. Kathy Atkins was like my bestest, bestest friend through elementary school! Her dad was a painter with the school district and loved his cigars. Her mother always made dinner at 4pm and I thought that was so strange to eat so early. That house has a lot of memories attached to it....one of them was the "Mother of all Water Fights" with fellow band and tall flag members that actually included a hose in the living room!!! I finally confessed to my parents about 2 years ago. I think I'm going to be off restriction in late October...LOL

---

Name: Tim Helble () on Wednesday, May 7, 2003 at 15:32:10
E-Mail: TKHelble@netscape.net
City and State: Columbia, MD
Class: 73

Message: Avon-related memory - At Peter Burnet, they had a bell in each classroom that went ding dong like the one in the Avon commercial. I think it was to summon a class monitor to the main office to pick up materials. I remember how kids would say "Avon calling" whenever it rang. My 6th grade teacher, Mr. Weiss, made anyone who said that stay after school write "Avon Calling" 500

times on the blackboard. That cured the problem in my class. He had to be the funniest teacher I ever had - with Mr. Haight in the 8th grade at Dana a close second.
Yeah, he sounds real funny all right.
---

Name: Jean MacErnie () on Wednesday, May 7, 2003 at 13:41:53
E-Mail: mamamac.1@juno.com
City and State: Albq NM
Maiden: Caldwell
Class: 68


Message: I remember Roccos,,,It was close to Susan Carrolls house on 133rd. Didn't they serve meatball sandwiches too? Remember Green Farms...loved those sandwiches. Our family had Chicken Delight delivered several times too. I remember it came with 4 pieces of chicken, cole slaw, and a blueberry muffin. And of course Imperial Farms. My ex lived close to it. I remember 1 night we were walking by it and my ex pulled out 2 of the cantalopes from under the wire screen (it was torn). About that time a cop drove by....Well my ex decided to put them down the front of my sweater...well it worked. I can not remember what happened to the melons.
Remember the Fuller Brush man? My mom would buy all sorts of stuff...Even pills that would cure almost anything...Then the Avon lady with her bag of samples who actually came to your house...did her ding dong thing at the door. (now we just buy it from someone at work.)....oh the memories....
and the Watkins man was another door-to-door personality from the past.
---

Name: Keith D. Jones () on Wednesday, May 7, 2003 at 13:28:27
E-Mail: cmi50@yahoo.com

City and State: Honolulu, HI
Class: 76
Message: Rocco's had the best bar-b-que beef sandwiches ever in history. My friend Craig Kukuk lived just one block away and we would go there all the time. By the way John that picture of the girl modeling you put up looks like she is holding a pencil with her foot. Is that right.
Yep, that picture came out of the 61 El Molino and I just noticed that when I put it up.
---

Name: Robin () on Wednesday, May 7, 2003 at 13:14:52
E-Mail: JustMauied.com
City and State: Redondos Beaches
Class: 60

Message: Thank you so much John...It is certainly hard to believe that the time it took to be a freshman , sophomore and junior Cougar has passed since that wonderful Sunday 3 yrs ago today in Maui. It has been a blur, but the best kind of blur I could have ever dreamed of. And again Marsha and I want to thank YOU and Cougartown, as our personal reunion that began on feedback page 37 over 4 years ago would have never happened without it. All the new and old friends we have met and reunited with also could have never happened without CT...You have something special here my friend and I vote to keep it until the last keystroke is struck...As todays youth say "its all good". Thanks again buddy..:o)
It's been a "freaked-out wiggy blast". Lots of Cougars have reunited and some, like you and Marsha, have even done that "down the aisle" thing. Thanks Robin for being a part of Cougartown. OH, and I know you wanted to wish Marsha a Happy Anniversary; you just forgot huh.

---

Name: Tim Helble () on Wednesday, May 7, 2003 at 11:57:04
E-Mail: TKHelble@netscape.net
City and State: Columbia, MD
Class: 73
Message: Janet - there were two slot car tracks - American Hobbies and Al's Speedway. See Feedback page 19 (Duane Park) and page 436 (Tim Helble) for more history.
Thanks Tim
---

Name: Jim Peppers () on Wednesday, May 7, 2003 at 09:21:39
E-Mail: jimpeppers@yahoo.com
City and State: Athens, Greece
Class: 61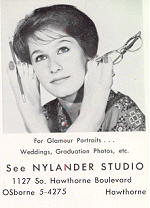 Message: Hi there all you cougars! Hope you all had a splendid Easter. Ours was great. We went to a seaside town here in Greece where a bunch of our friends met up. We roasted a goat on a big outdoor spit and ate a lot of food in general. We all took a stroll along the beach afterward and I, for one, was really glad that the wind was blowing toward the sea! Now, a question. Does anyone know the whereabouts of Carol Coombs? In the sixth grade we played "spin the bottle" and I had my first kiss in a closet with her. I always thought she was one of the world's great beauties. Take care all, Jim Peppers
Hi Jim, I'm sure someone knows Carol's whereabouts. Do any of you early Cougs have a clue?
---

Name: Walter Holt () on Wednesday, May 7, 2003 at 09:15:54
E-Mail: walterholthhs66@socal.rr.com
City and State: Orange, Ca
Class: 66


Message: Rocco's was just up the street from my house and one of my family's favorite places to get pizza and Sub sandwiches. To this day I don't think I have ever eaten a better sub then Rocco's from back then. I stopped by after seeing the place was still in Business couple of years ago and had to get a sub. They aren't the same but the memories it brought back more than made up for it. Back in the recesses of my mind I remember another Pizza Parlor my parents loved to go to on Friday or Saturday nights. It was decorated in an old time, I think 1920's theme, with sawdust on the floors. They had a live band playing (mostly Polka Music) and a dance floor. Right now I can't think of the name of it or exactly where it was located but I remember it was fun to go to.
There was one like that on Artesia Bl just east of Aviation.
---

Name: Dale Craig () on Wednesday, May 7, 2003 at 09:03:54
E-Mail: CbrdcraigA@aol.com
City and State: Hawthorne Ca
Class: 76
Message: David, I will be in Knoxville on Sat. if you have chance stop by call me on my cell 310-251-5743 hope see joe cougar nice legs I'm on the road in New Mexico later Dale "the great bowler" Craig
Yes DJ, I know I know.

---

Name: John Baker () on Wednesday, May 7, 2003 at 09:51:14
E-Mail: john@cougartown.com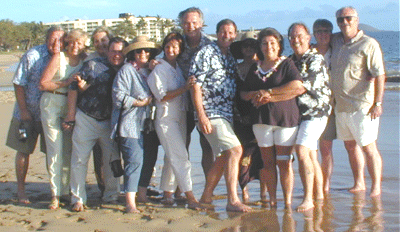 City and State: Lomita, CA
Class: 111110
Message: I just want to say Happy Anniversary to Marsha and Robin. 3 years ago today we were all on the sand in Maui pounding out those nuptials. Has it really been 3 years? It seems like last spring. What a fun week we all had. Also a Happy Anniversary to Janny and Judy as they took the plunge the same weekend.

---

Name: Dan Johnson () on Tuesday, May 6, 2003 at 23:04:59
E-Mail: wch1ispink@aol.com
City and State: Sherman Oaks, CA
Class: 77
Message: Laura 11529 Gale, geez, I moved too many times to remember that one but yes that was it. I didnt remember that you moved there after we were evicted -- I do remember that someone tore down the tree house in the avocado tree -- that was how I got on the roof of Omar's building to terrorize Kathy Atkins dad ;-)

---

Name: Ron Reinholdson () on Tuesday, May 6, 2003 at 21:04:07
E-Mail: r_reinholdson@juno.com


City and State: Claremont, CA
Class: 65
Message: Rocco's was THE place for subs. And not too bad for beer, either. In 1969 on the eve of my going on active duty in the Navy, Rocco's kept filling my beer stein, really a cookie jar in the shape of a keg with a handle--it must have held a quart and a half--for free.

---

Name: Janet () on Tuesday, May 6, 2003 at 20:08:18
E-Mail: jreeves@cableone.net
City and State: Prescott, AZ
Maiden: Hardy
Class: 74
Message: I can't help myself, I just have to respond to the pizza places. I worked at Rocco's when I was 16 (great subs) and I lived on 134th near the Pizza Show. One night I was on my way home from work (Rene's Gift Shop)I was going south on Hawthorne Bl. from 130th to 134th and got caught up in the cross fire when the shoot out broke out at Western Surplus. I also remember when Western Surplus caught fire. It sounded like the 4th of July! Such memories. Do you remember a store on the west side of Hawthorne Blvd. in the 60's where they had slot cars? I remember my brother (class of '70) use to go there.
Yes, I remember the slot car track. Actually there were a couple of them.
---

Name: Marla () on Tuesday, May 6, 2003 at 18:43:36
E-Mail: marla@cncnet.com
City and State: Oroville,CA
Maiden: Crane
Class: 75


Message: About pizza places in Hawthorne, what about Rocco's on Inglewood Ave, at 137th? Was it there before Pizza Show? I wasn't much into the pizza, but it was a real treat for us, if we got Rocco's submarine sandwiches. Does anyone know if it is still there?
YES!! Good one... the best Sub sandwiches in Hawthorne, in my opinion. The building where Roccas stood is now a bakery.
---

Name: Raymond Smith () on Tuesday, May 6, 2003 at 17:37:30
E-Mail: Kawabunganorth@juno.com
City and State: Portland, Oregon
Maiden: It's great to have the sun back again!
Class: 1981


Message: You know, I been reading back on alot of ol' timer's memories and I have to hand it out to you folks. You got to see history in the making during the 50's and 60's with lots of new things coming out. I remember when Carl's Jr. came out I was like in love with their hamburgers (to point out an example). But since Pizza is my favorite dish, what was the first Pizza place to order from (take out or dine in) in Hawthorne? I would like to think it was Pizza Hut but I'm jumping the gun here cuz that is the earliest pizza I can remember. Was there delivery drivers back then as well?
I would say the first dine in-dine out pizza place was the Pizza Show which is still there. The first delivery anything I remember was Chicken Delight. Remember their jingle? "Don't Cook Tonight, Call Chicken Delight".
---

Name: Max Roelen () on Tuesday, May 6, 2003 at 14:15:37
E-Mail: mardel@jps.net
City and State: Citrus Heights


Class: 1974
Message: Do any of the 1975 grads know or remember Ron Perley or Larry Smythe. They both played football and both lived on 119th St between La Cienega and Isis. If you know their whereabouts, please let me know. Thanks.

---

Name: Marilyn Ross () on Tuesday, May 6, 2003 at 12:43:29
E-Mail: mlr922@hotmail.com
City and State: Garden Grove, Ca
Maiden: Wisham
Class: 56
Message: I remember Imperial Farms when there was no grocery store attached, just the produce market. The people that ran it were really nice. See John I can remember some things. Or was that in the other universe?

---

Name: kelle () on Tuesday, May 6, 2003 at 11:58:42
E-Mail: k.k.currie@att.net
City and State: Englewood,Or
Class: 67


Message: I always enjoy reading about food giant or thrifty drug..i could get any Estrada Girl to walk with me to buy milk, bread whatever one of the neighbors didn't have..we lived so close. I loved the days when Mom would say.."go next door and see if we can borrow -------------." You could hit up about 5 neighbors, and you knew them all and could go in, watch a little TV or just sit and talk before going home with "the onion" or whatever..if not luck. get a neighbor kid to walk to Food Giant..love those days...

---

Name: joe bell () on Tuesday, May 6, 2003 at 02:28:50
E-Mail: jb41jb
City and State: artesia ca
Class: 1959
Message: Walk to HHS was a little over 2 miles. 3920 118 place, just east of Prairie. Most of the time I walked in the morning, and in the fall, I would jog, or run, home. The mornings seemed to cold to run though. Now I could walk the distance alright, but to jog? 45 years sure has changed me, I'm fat now too. God Bless You All there too. I'm mailing my 10, I enjoy C-Town John.
Hi Joe, Sorry we missed you at Cruise Night. Hope to see you at the next function.
---

Name: Enchilada Estrada () on Monday, May 5, 2003 at 23:53:06
E-Mail: dzlizzy219@aol.com
City and State: RRRRRRRRedono
Class: 69
Message: Hey John, If you liked my tilde, you'd love my, 'como se llama'.

---

Name: Janet () on Monday, May 5, 2003 at 23:50:59
E-Mail: jreeves@cableone.net
City and State: Prescott, AZ
Maiden: Hardy
Class: 74
Message: I've read many of the feedbacks and I noticed that there are several feedbacks regarding Food Giant, and Boys Market on Hawthorne Bl. Just wondering does anyone remember the market on the SW corner of Prairie & Imperial called Imperial Farms? The produce dept. was outdoors. You could also enter their parking lot from York Ave. How about Blimans Shoe Store next to Clark drugs, they had a merry go round near the rear of the store for the kiddies. Then there was Rene's Gift Shop on Hawthorne & 130th, I worked there during my freshman year & many of the students would stop by there on their way home from school to look at the posters, black lights, patches, etc.
And to Tom Burroughs, if you're still out there, even though we don't know each other just wanted to say hi neighbor. I see you also live in Prescott, AZ!!!
Thanks Janet, and yes I do remember Imperial Farms. I had a few friends that worked there. Great memory......
---

Name: Bill (DR) Sloey () on Monday, May 5, 2003 at 23:21:18
E-Mail: wsloey@aol.com
City and State: El Camino Village
Class: 69
Message: A BIG thank you to Cougarland and all the responses from ya on my B-Day, it really helps the bumps in the road of life. Looking back brings a true story of talking to some college kids in Lincoln about Nebraska, They thought that Cinco de Mayo was the coolest holiday because it came at the end of the school year. In asking them how it got started and what did it mean, they only knew that some football players from Ca. started it 30 some years ago. With a big grin on my face I wonder if they would have believed me about cow tippin, which started shortly after Cinco de Mayo. Who is next in line on B-Days I know Willie Mays B-Day is tomorrow. Thanks again, Bill
NEXT? I've got a cousin, Robert Franklyn Baker, who'll be 53 tomorrow. Happy Birthday Bob. Thanks Bill.....
---

Name: Marilyn Ross () on Monday, May 5, 2003 at 19:50:36
E-Mail: mlr922@hotmail.com
City and State: Garden Grove CA
Maiden: Wisham
Class: 56
Message: Fire? There was a fire at York in '51? What burned?
I was already gone to HCS by then but I had a friend who got to miss a couple of weeks of school because it burned his classroom. Let's see Marilyn, you don't remember the snow, the new classrooms, or the fire. Maybe you were in some parallel universe.
---
If you have comments or suggestions, please email me at john14@cougartown.com