Hawthorne Time and
Temperature

Home | 60's Slang | Alumni List | Car Talk | Cougar News | Feedback | Hangouts | Memories
Recollections | Reunions | Street Scene | Teachers | Tributes | Vietnam | What's New | Keyword Search
It's Doo Wop Time Johnnie and Joe
<!-+++++++++++++++++++++++++++++++++++++++++++++++++++++++++++++++++++++++++++++++++++++++++++ +++++++++++++++++++++++++++++++++++++++++++++++++++++++++++++++++++++++++++++++++++++++++++++->

---

---
<!-+++++++++++++++++++++++++++++++++++++++++++++++++++++++++++++++++++++++++++++++++++++++++++ +++++++++++++++++++++++++++++++++++++++++++++++++++++++++++++++++++++++++++++++++++++++++++++->
Name: jessie () on Monday, May 5, 2003 at 18:23:14
E-Mail: mikejessie@yahoo.com
City and State: los angeles
Maiden: Corral
Class: wanna be of '74
Message: Hey Tim, I remember that tornado at Eucalyptus well. It was raining like crazy out so we were in the cafeteria. I felt like I was in the Wizard of Oz. You could see the trees flying by and the stuff that flew in the kitchen...It's amazing that no one was hurt. I remember the only one that got really hurt was Richard Longoria. That's because he was right next to the windows when the tornado hit. What a day that was. It's hard to believe that Hawthorne could have such a thing as a tornado happen...as for snow...well, I never saw that! But I don't doubt it.

---

Name: Marilyn Ross () on Monday, May 5, 2003 at 17:00:34
E-Mail: mlr922@hotmail.com
City and State: Garden Grove, CA
Maiden: Wisham
Class: 56
Message: OK the kindergarten building across York Ave, it's begining to seep into my past memory. It's still there it just needs a little nudging once in a while. The snow still escapes me though.
OK, after you nudge that one into place, do you remember the fire at York school? I think it was 1951.
---

Name: David Leo Coche () on Monday, May 5, 2003 at 16:45:10
E-Mail: dcoche@msn.com
City and State: Hawthorne, Ca
Class: 1958
Message: I accidently stumbled upon this web site and was really really supprised at the different topics about Hawthorne High and was especially amazed at the "prom" you guy's had a couple of years ago, 2001. I need to know if and when there will be another. Looking forward to hearing from you.
Hi David and glad you found us. The Prom was a GAS!!! We had a great time and lots and lots of Cougs got together for the first time in decades. At this time there are no plans to have Prom 2, however things may change, so stick around.
---

Name: Estrada () on Monday, May 5, 2003 at 16:23:43
E-Mail: dzlizzy219@aol.com
City and State: RBCA
Class: 69
Message: I always wondered what all the hoopla was about on Cinco de Mayo. It's Bill Sloey's birthday! Feliz cumpleaņos, Compadre. Dizzy Lizzy
All the hoopla, of course, is the old Mexican custom of sinking the mayonnaise jar, hence the name. Now don't cheat and use your hands. Nice tilde, Liz.....
---

Name: Pat Underwood () on Monday, May 5, 2003 at 14:49:12
E-Mail: onefamilyhistorian@socal.rr.com
City and State: Hawthorne, Calif
Class: 1963

Message: Well I finally finished going through the first 500 pages of the feedback section. In doing this I found a lot of people I went to school with before high school. I also found a lot of ladies from Hawthorne that went to school with my brother Tim. Another tid bit of information is your Principle Mr. Key was my vice Principle at Lawndale High when we opened in 1959 ­ 1963. Boy did I ever lose contact with my old Alma Mata after I graduated. What years did he (Mr. Key) serve as Principle at Hawthorne?
Food Giant burned down - 1961 Cockatoo Inn burned down - 1958 Helicopter crash on 142nd St. - 1962 I lived on 141st St. Tornado came through on Eucalyptus - November 7, 1966 The year they made Manor Dr. between 118th-120th - ?
John on Page 53 from the feedback section you said "53 pages.... It's taking off Cougs" Now we're on page 552. Does time pass or what or what?
Green Phantom - "MSG" Mad Scanner Guy, is he still around? Dewey Storey...
Sharon who worked at the "Wild Goose" is Larry's sister and they own the joint. They inherited it when Ralph (their father passed away). My wife Cindy was their morning bartender (6:00 - 11:00AM) from 1991 to 1995.
Sometimes I accidentally hit the Enter key, so I hope you don't mind. Pat Underwood Lawndale High Class of 1963
....and the beat goes on. Thanks Pat, and yes, it's still fun.
---

Name: Marilyn Ross () on Monday, May 5, 2003 at 12:30:23
E-Mail: mlr922@hotmail.com
City and State: Garden Grove, Ca
Maiden: Wisham
Class: 56


Message: Hey John it looks like you and I did attend a school at the same time. When you were in kindergarten I was in sixth grade. I graduated from sixth in 1950. Although (another senior moment) I don't remember any new building at York when I was there. The main building seemed very old when I went there. There were two wings one on each side of the main building that housed the younger ones. I had Miss Roach in sixth and again in seventh - lucky me. Mrs Turner was my fifth grade teacher - a real odd one. The sixth grade room was also the auditorium but had at one time been the kindergarten room. It had it's own restrooms but the fixtures were real tiny for little kids so we couldn't use them. I remember eating in the lunch area under lots of trees. No indoor cafeteria. Now do you remember the York ave school song. Something about - If I had the wings of an angel, back to old York I would fly.
Marilyn, The new classrooms were across the street from the main building, west. I only went to York one year and then it was off to Hawthorne Christian for the next 6. I didn't know York even had a school song. All I knew was graham crackers and milk.

---

Name: JIM SLOEY () on Monday, May 5, 2003 at 11:45:37
E-Mail: maybirthdaysbus
City and State: RB,CA
Class: 66
Message: Happy Birthday to my brudder D.R. aka Bill Sloey. May God bless you with many more little brudder.

---

Name: Donna () on Monday, May 5, 2003 at 11:16:24


E-Mail: dgohr@aol.com
City and State: IOUatriptoStarbuck's
Maiden: Van Douris
Class: 69
Message: Hey everyone, it's time to wish Bill Sloey a Happy Birthday! May your day be filled with happiness, lots of cake and ice cream, and a free lunch. And may you be blessed with many, many more. Donna
Happy Bday Bill
---

Name: Laura Anderson () on Saturday, May 3, 2003 at 10:13:30
E-Mail: dsnycrw@ivic.net
City and State: Hemet, CA
Maiden: Twitchell
Class: 79


Message: I think I had just about the longest walk to junior high school....I lived in Dan Johnson's previous abode (address 11529 Gale Ave...remember Dan?) which was just a few houses from Imperial Hwy and a block off Inglewood....I walked over near Eucalyptus and met Maga Noya (Lippon) and Rhonda LeBlanc (Hoffarth). From there we walked to Hawthorne Intermediate. I think it took us a good hour to walk that and it seemed like miles. I was so happy to graduate to HHS and cut my travel time!

---

Name: Janet () on Saturday, May 3, 2003 at 00:36:44
E-Mail: jreeves@cableone.net
City and State: Prescott, AZ
Maiden: Hardy
Class: 1974
Message: I had one of the longest walks and the shortest walks to school. I walked from 118th and York Ave. to HHS but I only had to cross the street when I went to York School. (I lived in a green house across from the 2nd grade field between York & Oxford. I've had a nice walk down memory lane tonight reading some of the feedbacks. It was also nice to see some names I haven't heard since the 70's.
Those were brand new kindergarten classrooms when I went to York in the 49-50 year. My kindergarten teachers name was Miss Patterson. Now what did I have for dinner last night.

Thanks Janet
---

Name: Karen () on Friday, May 2, 2003 at 21:45:52
E-Mail: Karentamulonis@aol.com
City and State: Brisbane, CA
Maiden: Avena
Class: 64
Message: Hi Walt, yes I remember Julie and believe it or not, I remember you too. Those were the days, huh? Tell Julie I said hi and to drop me a line. Maybe we can search our memory banks together. Nice hearing from you.

---

Name: Walter Holt () on Friday, May 2, 2003 at 19:19:47


E-Mail: walterholthhs66@socal.rr.com
City and State: Orange, Ca
Class: 66
Message: Karen (Avena) Tamulonis ....If I am not mistaken I think you were friends with my sister Julie Holt HHS64. I recognize your name and picture from way back in the recesses of my mind.

---

Name: Keith D. Jones () on Friday, May 2, 2003 at 17:57:14
E-Mail: cmi50@yahoo.com
City and State: Honolulu, HI
Class: 76

Message: You know I forgot to write in and tell everyone I saw the USS Abraham Lincoln in Pearl Harbor when it was here last week. I could barely see it through the bushes from my store but could see the whole thing when I drove home. What an awesome ship. It had all the jets on the deck and it was simply unreal. I can't see how anything in the world could hurt this ship. Anyway wantd to share that.
Thanks Keith.....
---

Name: Karen Tamulonis () on Friday, May 2, 2003 at 16:18:26
E-Mail: Karentamulonis@aol.com


City and State: Brisbane, CA
Maiden: Avena
Class: 64
Message: I have two questions to ask: Does anyone know where Joan Kestenbaum or Darlene Hagen are and has there been talk about a 1964 Class Reunion?
Thanks in advance if anyone has an answer to either of my questions.
Love you all, Karen
Hi Karen, No word on a 64 reunion but probably won't hear anything until at least next February. Stay tuned....
---

Name: Enza Nicocia () on Friday, May 2, 2003 at 15:37:18
E-Mail: antiquenza@aol.com
City and State: SoCal
Maiden: Go Lakers!
Class: 72 still rocks!
Message: Wade, Wade, Wade. So good to see you post again! Where have you been dude? In the 70s, when I was seeing your mom on a regular basis at DDS office she worked in, she often talked about you living in Colorado, with such pride. Refresh my memory (yes, I do have senior moments from time to time..UGH!) Didn't you play football in College there? And, wasn't Ferguson and Chadwick also football players? Gives us a quick bio on your football experiences. It must of been WAY fun with so many other fellow Coug's living in one COOL place. Btw, do your boys have your great althletic abilities too? Speaking of walking to school, etc. My imigrant momma used to walk the younger 4 Nicocia kids to Washington school every morning and also picked us up. Now, how many mom's let their kids stay home from school when it was raining hard? We never questioned her about it, and it was so much fun. Of course when we got old enough to walk ourselves to school, those days were over! :-(

---

Name: Howard "Paco" Duran () on Friday, May 2, 2003 at 14:48:39
E-Mail: doo4usc@cox.net
City and State: LF
Maiden: OS6-2378
Class: 61
Message: Just received a call from sister Kathleen, she and Carol Coombs, while at exercise class, ran into Richie McClure class of 1961. He has no computer, but says hi to all!
Hi Richie, and thanks Paco....
---

Name: Wade Greasby () on Friday, May 2, 2003 at 14:22:54
Phony E-Mail: GrizBear73
Make up a name of a town: Surf City, Ca
Are you a Laker Fan?: Nolakerfan
Class: 73


Message: Just a shout out to all that my e-mail has changed, see above, and the weather reports are great. In '78 I lived in Boulder, Co. and it snowed there on May 15th, 32 inches in four and a half hours. Two days later it was all gone. Jim Chadwick, c/o '70, Greg and Sharon Willis, '71 & '72, Larry Ferguson '71, Chris Leonard, '73 and I all lived in Boulder during this time, within two miles of each other. HHS had hit the Rockies. Lots of fun and good times.
Hey Wade, The email address is no good without the "@" and the domain part.
---

Name: Margurite () on Friday, May 2, 2003 at 14:17:54
E-Mail: mtibben@vetronix.com
City and State: Buellton CA
Maiden: Skinner
Class: 64
Message: I went to Lawndale High. This page is so cool. I remember some of you guys from Hawthorne. So much fun to look at the pictures and remember. I was just cruising down Hawthorne blvd. the last week of April of this year, so many memories came to mind. Thanks for the web site.
Hi Margurite, Thanks and feel free to join in anytime.....
---

Name: Dan Johnson () on Friday, May 2, 2003 at 13:37:02
E-Mail: wch1ispink@aol.com
City and State: Sherman Oaks
Class: 77
Message: JB, does that mean my Black Sabbath and UFO vinyl are welcome at the next Cruise Night? Hobo Kelley says "Happy Birthday Jill" Sherrif John says "Put another little candle on the birthday cake, you're another year old today"
If they're on 45, they'll fit the machine, Dan......
---

Name: doris () on Friday, May 2, 2003 at 10:20:55
E-Mail: raydori@mindspring.com
City and State: Twin Falls, ID
Maiden: donaldson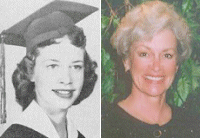 Class: '57
Message: Sorry I'm a little late responding to the snow in '49, but of course I remember it, John! After work, Pop and Mom took my little brother and me to Palos Verdes, where obviously, every other Mom and Pop was!!! A traffic jam back in those days and in Palos Verdes!! Of course, Southern Californians not being used to driving in snow did not help! And that is the ONLY time I remember ever seeing snow in good old Hawthorne, CA! And WHAT A TREAT IT WAS!!!
Someone else remembers the snow. I knew I didn't dream it....Thanks Doris
---

Name: Wayne Dickey () on Friday, May 2, 2003 at 09:26:13
E-Mail: Impalawayne@aol.com
City and State: La Palma, Ca
Class: 69


Message: Hope everyone at cruise night enjoyed the music. Next time let's all dust off some of the old records and bring them out. Most everyone there said they had some records hidden some where in their house. John, when is the next cruise night? The weather is going to be great this summer, so let's have one soon. Don't be the person that says, "I wish I would have gone". Be the person that says, "Damn! That was alot of fun". Wayne
Hey Wayne, I thoroughly enjoyed your music on Cruise Night. I think oldies were meant to be heard in monaural....REALLY. The scratches and the pops really took me back to my 45rpm days. I'll bring some of mine next time, which should be in mid August so make plans to join in the fun and let's see how many Cougs, or Olympians, Monarchs, Comets, Cardinals, Saxons, Seahawks, Sentinels, Warriors, etc we can gather. You just have to hear Wayne's music system in action.
---

Name: Kenny Shiba () on Friday, May 2, 2003 at 03:05:11
E-Mail: hglinks@aol.com
City and State: Diamond Bar, Ca
Message: Looking for Denise Tettrault(73)Some of her school mates from her years in Japan is looking for her Marcia,Warren S, Jimmy T.

---

Name: Jill McFarlane () on Thursday, May 1, 2003 at 21:15:55
E-Mail: thebirthdaygirl@old.com
City and State: Leisure World

Class: 1907
Message: Thank you for the birthday greetings, your right Liz, as long as it's not followed by a wham, bam, then life is good. To my sister Denean, thanks for everything good you bring to my life. Now, I need to go, they are calling us for supper.

---

Name: Mike Shay () on Thursday, May 1, 2003 at 21:10:40
E-Mail: shayshere@msn.com
City and State: Cerritos, CA
Maiden: OS6-9393
Class: 61


Message: Hello Everybody; It sure doesn't seem possible, but thirty nine years ago tomorrow my favorite Seahawk and I took that long ride to "The Little Chaple Of The Bells" in Las Vegas and made it official. How lucky can a guy be?? I've got a wonderful wife, great kids, three grand-kids, and I had the pleasure of growing up with you guys. It just doesn't get much better!
Thanks for the memories, M.S.
Ahhh YES!! "The Little Chapel Of The Bells". Isn't that where they throw in two free beers and 2's and 12's pay 3 to 1?
Happy Anniversary to two of my best friends through the years. I wish you both at least another 39 years.
---

Name: Enza Nicocia () on Thursday, May 1, 2003 at 17:53:31
E-Mail: antiquenza@aol.com
City and State: So Sunny SoCal
Maiden: GO LAKERS!
Class: 72
Message: Hey Jill, Happy Birthday to ya! Have you taken your 'old self' to any Dodger games lately...HA! :-) Being called Ma'am isn't as bad as having the grocery bagger ask if you need any help out to your car...UHG! May you stay forever young in heart and spirit ;-)

---

Name: Tim Helble () on Thursday, May 1, 2003 at 16:50:57
E-Mail: TKHelble@netscape.net
City and State: Columbia, MD
Class: 73
Message: Raymond - I'm pretty sure the fire you're thinking about was the Big Tujunga Fire of January 1976. It grew so big that the entire L.A. basin was covered by a smoke cloud - no sunshine. I have a satellite pic somewhere that shows it. You could smell the fire everywhere you went in L.A. I remember leaving my window open for the day in my Hedrick Hall dorm at UCLA because it was a warm day and when I returned in the afternoon there was ash over everything near the window.

---

Name: Elizabeth Estrada () on Thursday, May 1, 2003 at 16:12:31
E-Mail: dzlizzy219@aol.com
City and State: RedondoBeachCa
Class: 69
Message: Happy Birthday, Jill, and remember, being called "Ma'am" isn't so bad....as long as nobody says it along with "Wham, bam, thank you." DZ

---

Name: Denean McKinney () on Thursday, May 1, 2003 at 14:43:59
E-Mail: deneank@aol.com
City and State: Redondo Beach
Maiden: McFarlane
Class: 1980
Message: Hi Cougartown, I want to wish my forever older sister, Jill McFarlane, a Happy Birthday today. The easiest way I can catch up on her life is to read her feedback postings on C-town. I love ya sis. Thanks John...
Happy Birthday Jill.....
---

Name: Jessie () on Thursday, May 1, 2003 at 12:49:01
E-Mail: Dancing though the tulips
City and State: LA
Maiden: Corral
Class: Wann Be
Message: That's funny...I just mentioned to the gals here at work that I can still remember being dressed up as a tulip for the May Day Festival at Eucalyptis.

---

Name: Raymond Smith () on Thursday, May 1, 2003 at 12:40:56
E-Mail: Kawabunganorth@juno.com
City and State: Portland Oregon
Maiden: no rain today
Class: 1981
Message: Reading upon how far we had to walk I just couldn't shake the thoughts how every new school I went to kept getting farther and farther away. From York to Hawthorne Intermediate to HHS. I would of walked 2.5 miles but hey....think smart/not harder plays into mind so I rode a bike to HHS in my freshman year(only first semester)when I found out that when I got out of sport's it was around the same time my mom got off work at the Post Office so I always got a ride home. (which works out for my mornings as well since my mom goes to work about the same time my classes started). There were days my Mom was a taxi for me and my neighbors.(Thanks mom for letting us sleep in an extra 20-30 mins.) I have to count my blessing because I lived like 2 houses from having to attend Morningside High School (I lived on the border of Hawthorne and Inglewood). As for the snow, I do remember the slush we got at HHS in 79' and someone went home and got his boogieboard and brought it back to HHS to surf on it on campus. I also remember watching the News that some kid in Huntington Beach was being pulled by a car on his ski's. When I moved to Oregon I was in awe at the High Schools here in town because they are all indoors.....how lucky to have our sunshines in Calif. Now does anybody remember the forest fires we had in 76/77? I remember when I got out of school at HIS my bike seat was covered in a light mist of ashes. Blows your mind when you think how far FAR away the fire was.

---

Name: Marilyn Ross () on Thursday, May 1, 2003 at 12:07:50
E-Mail: mlr922@hotmail.com
City and State: Garden Grove, Ca
Maiden: Wisham
Class: 56
Message: That snow just keeps getting deeper and deeper. I sure remember the maypole at York Ave. I got a new skirt and blouse and that was a big deal. We had long sticks with pretty ribbons and did a real dorkey dance around the maypole. Of course at the time I thought it was great. Funny the things you remember. Now what did I have for dinner last night? The Plaza was mentioned John but no pictures. They have had so many people send pictures they had to stop accepting for a while. All the old theaters are mentioned.
Great memories, thanks Marilyn
---

Name: Camille () on Thursday, May 1, 2003 at 11:45:07
E-Mail: chawkes@dwandp.com
City and State: M.B. - CA
Maiden: Hill
Class: '59
Message: Regarding Ron Baldwin's service, a viewing will be held from 10:00 to 12:00 a.m. on Sat., May 3rd at Draper Mortuary - 811 N. Mountain Ave., Ontario, CA PH#: 909-986-1131 The family invites friends to their home following: 11525 Bari Dr., Alta Loma 91701 - Your condolences have been appreciated.
Thanks Camille...
---

Name: Robin () on Thursday, May 1, 2003 at 02:16:08
E-Mail: totalrecall.com
City and State: RB,CA
Class: 60

Message: I remember the snow well Tom..oops I meant John...4 to 6 ft drifts on 133rd and 132nd and Ramona was a black diamond run...:o) Happy B-day to big Hoody (Tim, c/o 67') and happy May day to all. Anyone remember their May day dances in grade school?..50 years ago today us Ramona 4th graders got the may pole. Now if I could only remember if I ate dinner last night...Later Cougs...
Isn't a Maypole what they tied Joan of Arc to? I've always said you Ramona kids CAN party.

---

Name: Sherry Wingo () on Thursday, May 1, 2003 at 01:18:26


E-Mail: dscwingo@pacbell.com
City and State: Haw. Calif.
Maiden: Peppers
Class: 1964
Message: Welcome to Cougartown Katy Roe. She is my sons mother-in-law.

---

Name: Marilyn Ross () on Wednesday, April 30, 2003 at 23:37:37
E-Mail: mlr922@hotmail.com
City and State: Garden Grove, CA
Maiden: Wisham
Class: 56


Message: O.K. I doubt I was out of town during the great snowstorm as we never went anywhere. However my husband remembers El Segundo getting about an inch of snow at that time. So I am losing my memory, it happens. On a different note, I was trying to find a picture of the old Academy theatre on the Internet and found a site that has many theatres listed and some photos. cinematreasurers.org then browse by location. They have old pics of The Academy, United Artist, Fox, Loyola, Paradise. laokay.com/Theatres.htm has current photos of Academy, 5th ave, Fox and Imperial as well as the Loyola. How sad they all look now.
How about the PLAZA??
---
If you have comments or suggestions, please email me at john14@cougartown.com