Hawthorne Time and
Temperature

Home | 60's Slang | Alumni List | Car Talk | Cougar News | Feedback | Hangouts | Memories
Recollections | Reunions | Street Scene | Teachers | Tributes | Vietnam | What's New | Keyword Search
It's Doo Wop Time Johnnie and Joe
<!-+++++++++++++++++++++++++++++++++++++++++++++++++++++++++++++++++++++++++++++++++++++++++++ +++++++++++++++++++++++++++++++++++++++++++++++++++++++++++++++++++++++++++++++++++++++++++++->

---

---
<!-+++++++++++++++++++++++++++++++++++++++++++++++++++++++++++++++++++++++++++++++++++++++++++ +++++++++++++++++++++++++++++++++++++++++++++++++++++++++++++++++++++++++++++++++++++++++++++->
Name: Elizabeth Estrada () on Friday, April 25, 2003 at 01:23:33
E-Mail: dzlizzy219@aol.com
City and State: redondobeachca
Class: 69
Message: I saw that ad too. I was watching "West Wing" when it came on. We're so cool. DZ
Yes we are....

---

Name: Dan Johnson () on Friday, April 25, 2003 at 00:33:36
E-Mail: wch1ispink@aol.com
City and State: Sherman Oaks, CA
Class: 77


Message: You mean like the stuff about Hawthorne bands that I added awhile back? Or the stuff about Bob Melendrez that I pointed out? I mean, JB, this is my signing debut and I've got a diploma that states that I am a HHS graduate
Or the stuff about Bob Melendrez that I pointed out??!! You mean Bob Melendrez and his band will be playing at blah blah blah....

Come on Dan, don't BS the BSer!!!
---

Name: Max () on Thursday, April 24, 2003 at 23:26:21
E-Mail: mardel@jps.net
City and State: Citrus Heights, CA
Class: 1974
Message: Sorry to hear the news about Peter Mannion. Just the other day while rummaging through my garage, I found an award I received at Dana Jr High, signed by Mr. Mannion. My thoughts and prayers go out to the family.
On a brighter note, the other night, I saw a tv ad for Mercedes Benz. In the ad, there are two Pop Warner football teams meeting on the field. One of the teams get out of the MB wearing Scarlet and Gold uniforms with COUGARS on the front of the jerseys. I wonder who produced that ad? Everyone take care, stay safe and have a wonderful COUGAR weekend!!
Hey Max, I saw that same ad and thought the same thing. Thanks for verbalizing it.
---

Name: Dan Johnson () on Thursday, April 24, 2003 at 22:48:37
E-Mail: wch1ispink@aol.com
City and State: Sherman Oaks, CA
Class: 77
Message: That Eye is freaking me out, man. OK, its finally happened -- I have released my 2 CD compilation of Pink Floyd obscurities and classics entitled "A Fair Forgery of Pink Floyd" This project contains 30 songs by 29 LA area artists including, of course, Which One's Pink? Not only am I the Executive Producer of this album, I also sang "Pigs on the Wing" with my band "Tortfeasor" (I kid you not) Although some of the arrangements are close to the originals, most of them are quite different and we have progressive, rockabilly, power pop, alt-country, alternative and folk versions of Floyd for your listening pleasure. For more info http://www.cdbaby.com/cd/afairforgery
Hey Dan, Is there ever anything you'd like to add about HHS, Hawthorne or memories from same?
---

Name: Don (crow) Burns () on Thursday, April 24, 2003 at 20:46:15
E-Mail: burnslock@yahoo.com
City and State: Downey, Ca.
Class: 57
Message: Hey Cougs, just a reminder for all you car buffs, the Seal Beach car show is Sat 4-26-03, 10-4pm & Knotts Berry Farm on Sun 4-27-03 10-4pm. I will be @ both shows w/ our 64 T-bird (see earlier post), come out & say howdy later Don
Hey Don, I'm gonna try and make that one if I can find someone to go with. Thanks for the reminder....
---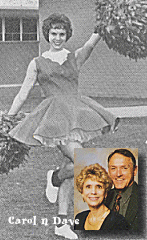 Name: Brenda () on Thursday, April 24, 2003 at 19:28:49
E-Mail: osaile50@cs.com
City and State: Cowarts,Al
Message: I was just wondering if anyone had a picture of Carol Mountain or Judy Bowles? Thanks! This is a great place to visit!


Who are you and what year did you graduate?
---

Name: Cindy Whittaker () on Thursday, April 24, 2003 at 19:11:57
E-Mail: cindycwhittaker@msn.com
City and State: Gig Harbor WA
Maiden: Whittaker
Class: 1976
Message: Hey Dave Krikrac, great cheerleading picture! Great legs too. You've solved a mystery for me. I always wondered why Ross on that show Friends looked so familiar... It's Frank Paletta!!!

---

Name: Marilyn Ross () on Thursday, April 24, 2003 at 18:26:00
E-Mail: mlr922@hotmail.com
City and State: garden grove, Ca
Maiden: Wisham
Class: 56
Message: I thought the eye was John just trying to see if anyone was out there. When I was little we got a dime for a front tooth and a quarter for a molar from the tooth fairy. My grandkids got 5 bucks. Inflation is really scarey.
I see you, Marilyn...
---

Name: Terrie Kostiszak () on Thursday, April 24, 2003 at 14:28:30
E-Mail: terrielynnterrie
City and State: Las Vegas, NV
Maiden: Kostiszak
Class: 83
Message: Sorry to hear about Mr. Mannion passing away... He was a fantastic Principal, he KNEW the name and faces of each student at Dana School. He made an effort to memorize photo and name of every student and everytime a student walked pass him in the hall or office he knew their name and their parents name and would address his students by name every time and say hello, he was great! A very thoughtful personable caring principal who taught me alot about life everytime I went to his office in his very caring strict way!!

---

Name: Gladys Verduzco () on Thursday, April 24, 2003 at 13:02:23
E-Mail: gladysverduzco@hotmail.com
City and State: Hawthorne, CA
Maiden: Verduzco
Class: 1986
Message: Who is Regg Roberts?
Don't know......
---

Name: Debra () on Thursday, April 24, 2003 at 12:58:11
E-Mail: DebratMcG@aol.com
City and State: Lancaster, CA
Maiden: Lee
Class: 72


Message: Howdy y'all. Hope everyone's Easter was blessed. I went to Redondo Beach pier last Sat. night (had to pick up my daughter from the airport from Spring Break, I actually lived through it), and as I was walking a woman stopped me and said I looked like a gal she went to high school with. Yep, another Coug siting. Vivian Gay of 1974 - she was down from Colorado by herself and we ended up walking and talking and sharing a glass of wine at Old Tony's on the pier. It was a lot of fun reminiscing. I'm so upset I missed the Cruise-In - this working two jobs is tough! I gotta check in more often. God bless y'all til next time ...
Hi Debra, Next Cruise night will be in August. Make you plans now. And keep the Coug sitings a comin'.
---

Name: Sharon Branigan () on Thursday, April 24, 2003 at 12:30:09
E-Mail: srbranigan.srb@verizon.net
City and State: Thousand Oaks, CA
Maiden: Bierman
Class: 76


Message: Several years ago my son Mikey was getting suspicious about the tooth fairy fable but wasn't willing to push for the truth (just in case.) He lost a tooth, wrapped it in tissue, and put it under his pillow. The next morning, Mike snuck into his room to make the exchange. He reached under the pillow, found the tissue that the tooth was wrapped in, and gently pulled... as he pulled, he encountered some resistance. Mikey's eyes popped open and he said, "Hi, Dad." He had tied a string around the tissue and then around his wrist!
VERY cool idea. This kids going places!!!

---

Name: Keith D. Jones () on Thursday, April 24, 2003 at 00:56:29
E-Mail: cmi50@yahoo.com
City and State: Honolulu, HI
Class: 76

Message: Got a couple of emails from two old friends that went to this site and found me. Jim Margini and Dan Clary. It was nice to hear from them both. I remember them. Dan still works for the Palm Springs P.D. (22 years). Jim owns some fancy videoconferencing company. Also, I like the picture of the guys in the cheerleading outfits. That brought back some memories. They were all my friends.
Hey Keith, Glad you're connecting.
---

Name: Pat () on Thursday, April 24, 2003 at 00:37:27
E-Mail: onefamilyhistorian@socal.rr.com
City and State: Hawthorne, Calif
Class: 1963
Message: Okey John, what's the eye for??
Just trying to get someone to ask, "what's the eye for?"

---

Name: Jean MacErnie () on Wednesday, April 23, 2003 at 22:48:15
E-Mail: mamamac.1@juno.com
City and State: Albq NM
Maiden: Caldwell
Class: 68
Message: Happy Easter to everyone! Hope that you all had a great easter. This year we went out to Rio Rancho, NM and did our easter thing at my sons house (Neil). Easter for me, as a child, was traditional...Every year we would get up and get a basker full of goodies. On the night before easter my sister and I would leave carrots out for the easter bunny. In the morning we would find our carrots half eaten. My sister and I had these little rocking chairs made just for kids. Every year the funny bunny would leave a bit of his fur (real fur!) on our chairs where he had eaten his carrots. I never found out where my mom got the fur....or was it really the easter bunny!!!!
This reminds me of the tooth fairy. One night I left my tooth under my pillow and was determined to stay awake to witness the fairy godmother taking my tooth. I waited patiently and finally she floated into my room and did her fairy thing. I couldn't move. I just stared at her until she left. I was speechless. I knew deep down inside it was my mom, but still.....I just couldn't get the courage to say anything..... til next time.
No see the tooth fairy, if she's in a hurry, sometimes leaves the bucks with your mom and your mom puts it under your pillow. At least that's what my mom told me.

---

Name: Larry Biller () on Wednesday, April 23, 2003 at 17:54:13


E-Mail: lbiller49@yahoo.com
City and State: Portland,OR
Class: 1967
Message: Does anyone know if the film "To End All Wars" is going to be released. It seems to have faded away. Also would appreciate your prayers as I lost my job yesterday. Thanks, Larry
Hey Larry, The guy to ask is Alan Hauge. His email address is gmt333@earthlink.net
Good luck with the job thing too.
---

Name: LENNIS () on Wednesday, April 23, 2003 at 11:50:45
E-Mail: LGOMEZ@ELSEGUNDO.ORG
City and State: EL MONTE, CA
Maiden: PADILLA
Class: 98
Message: I THOUGH I WILL JUST LOOK BACK AND SEE WHAT WAS NEW AROUND.

---

Name: Norv Vorhis () on Wednesday, April 23, 2003 at 00:29:47


E-Mail: olds88coupe@yahoo.com
City and State: Monrovia, Ca
Class: '59
Message: The pickup is a Powell. Mopar chassis with Plymouth flathead 6 power. That sure looks like a swimming pool they are building at Lawndale High. Does anybody know about it.
YES!! A Powell pickup is what it is. Only 1100 were built from the early 50's to the early 60's. That didn't take long. Thanks Norv......
---

Name: Jan Peterson () on Wednesday, April 23, 2003 at 00:24:16
E-Mail: jpeterson50@aol.com
City and State: Carmichael, CA
Maiden: Freeman
Class: 67


Message: I sure hope that everyone had a great Easter. PACO, your pics are great. I always look forward to the new batch. Love all the Easter stories. Like Sharon's, we hid the eggs in the house one Easter because is was raining like mad outside, when we all got up. The bad thing is we DIDN'T count the ones that we hid. Instead of us finding missing ones months later, they found us. YUCK, hard boiled or not, months later they are rank!! John, I just got a message on Classmates.Com to join a free HHS webpage it was from Valerie Swartz and signed by the principal Frank Dolce. Don't they know that the best site on the net is right here? I have to tell you that I have had a ball lately getting in touch with so many from my past. More later......Jan
Hi Jan, Yes, often imitated, never duplicated.....Cougartown stands alone. Thanks to all for your support over the past years.
---

Name: Dale Craig () on Wednesday, April 23, 2003 at 00:12:22
E-Mail: CbrdcraigA@aol.com
City and State: Hawthorne Ca
Class: 76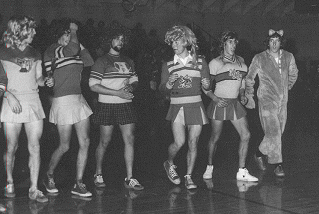 Message: great picture you forgot the one next to Jim B it was John Brown I was on the far left wearing Susan Bierman King's cheerleading out fit it was a lot of fun at the donkey Basketball game I forgot who won the game it didn't matter I had fun at the game and I do remember the party on Sepulevda and Maple great party class of 76 had a lot of spunk take care every one hope everyone had great Easter take care Dale "cheerleader" Craig class of 76

---

Name: Sharon MacDonald () on Tuesday, April 22, 2003 at 22:55:41
E-Mail: rmac@genevaonline.com
City and State: Burlington, Wisconsin
Maiden: Badger
Class: 1963


Message: On Easter at my mother's house in 1976, my brother (returning from a party in the early hours of Sunday morning) helped the Bunny hide hard-boiled eggs for my boys to hunt for. My mother kept counting, the boys kept searching, but some of those eggs weren't found until MUCH later!
I just found an egg I hid for the kids in 1968 or 69 in my dad's back yard......
Let's just say I didn't eat the thing.

---

Name: Marilyn Ross () on Tuesday, April 22, 2003 at 15:05:45
E-Mail: mlr922@hotmail.com
City and State: Garden Grove Ca
Maiden: Wisham
Class: 56


Message: I loved Liz Estrada's stories of the past Easters. It can be so upseting at the time but makes great and funny family stories in later years once you're past the frustration. My own dog almost ruined our Easter one year. I bought Sees candy and hid it on my closet floor then left the door open. My daughter called me at work that afternoon and asked if I had bought them chocolate for Easter. The dog (toy poodle) had barfed lots of chocolate on all three couch cushions and both chairs. She had either eaten all or at least sampled every piece of chocolate. She was really sick. I wanted to kill her. It wasn't until later I learned chocolate could kill a dog. I would have died if she had died.

---

Name: Elizabeth Estrada () on Tuesday, April 22, 2003 at 13:27:27
E-Mail: Dzlizzy219@aol.com
City and State: Redondo Beach, CA
Class: 69


Message: Hello Everyone! I thought of Paco on Easter Sunday when I spotted an empty Peeps box in the trash bin outside my house. I only know two people who eat those things and Paco is one of them. We had a wonderful Estrada Easter Dinner at my house Sunday. Sharon c/o '61, Vicky c/o '64, Linda c/o '66 were all here with their children and significant others. We shared a 133rd Street memory. It was 1961. The Easter Bunny decided to hide all the eggs and jelly beans and See's chocolates in the backyard. Silly bunny hid all the goodies the night before instead of just before we woke. Consequently the insects found their way to all the sweets. Linda just washed hers off and ate them anyway......I was a bit more prissy and refused to touch them......Sharon couldn't have cared less because all she wanted was the new dress and Little Leo made no fuss about bugs........they were cool. Six kids with six different reactions. And then there was the Easter we planned a large family get together in the local mountains which meant packing up the ham and taking that long drive for a picnic with the grandparents and aunts and uncles and cousins...........Mom forgot the ham on the kitchen counter. Our dog, Blackie, had the Easter feast. Hope everyone had a good weekend. Next holiday is Memorial Day. I'll be holding my first grandbaby! He's due May 25th....

And the beat goes on. Love you guys..DZ
Great memories Liz... Thanks, and glad you had an "insect free" Easter this year.

---

Name: Don (crow) Burns () on Monday, April 21, 2003 at 23:07:27
E-Mail: burnslock@yahoo.com
City and State: Downey, Ca.
Class: 57
Message: Hey Cougs, well had a Coug siting the day before cruise night, but this is the the first chance to post it. Bill Rand c/o 62 came into my shop to have some keys duplicated, got to talking about things & he told me some stories about his twin, Fred & him riding around town in their model A pickup, now if we can just get him on line to relate more of those stories to the rest of the cougartown. more later Don
Yep, Bill and Fred were both at our 40th last summer. A couple of outstanding 62ers. Thanks Don....
---

Name: Cheryl Nicocia () on Monday, April 21, 2003 at 21:55:28
E-Mail: chernico@cvc.net
City and State: Keno,Or,(ontheriver)
Maiden: Christensen
Class: 62

Message: Well, Hell .. I'm here ..... So sorry to have missed Cruise Night. I was there for the first one .. but got rained out. :o( ( Glad to hear U-all had a good time) Pictures???? And all you grappa lovers out there ... we will BE BACK ..
OK, next Cruise Night will be in August, I think. Make plans NOW!!
---

Name: Kelley () on Monday, April 21, 2003 at 21:49:54
E-Mail: k.k.currie@att.net
City and State: Englewood,Or
Class: 67


Message: I was just up in salemdon'tinhaleum visiting Petey..i had a great time, we go back many years, but it's always great to see her and hubby..and of course her son Big Al..Went beachcoming on the beautiful oregon coast..found 2 perfect sand dollars..that's a great find..we must have walked 1/2 mile..the Bandon Dunes Golf Course is just above the beach so we always find golf balls..so Paco I can give you a great deal on used golf balls...perhaps hit by a celebrity...who knows....Stay Kool

---

Name: Howard "Paco" Duran () on Monday, April 21, 2003 at 21:27:24
E-Mail: doo4usc@cox.net


City and State: Lake Forest
Class: 1961
Message: Hope you all had a great Easter. I'm full of Peeps and eggs. Had a great Easter egg hunt at sister Patricia's house, it was nice being back in the So. Bay again!
I didn't know nuns had their own houses.
---

Name: Doris () on Monday, April 21, 2003 at 20:48:49
E-Mail: raydori@mindspring.com
City and State: Twin Falls, ID
Maiden: Donaldson
Class: '57
Message: Well, where the SAM HILL is everybody?!!!!??
I'm here and rearin' to go. Hope you all had a great Easter.
---

Name: Jean MacErnie () on Tuesday, April 15, 2003 at 21:36:58
E-Mail: mamamac.1@juno.com
City and State: Albq, NM
Maiden: Caldwell
Class: 68


Message: I took a couple days off of work and since I have some extra time I thought I would drop a line and share a few more memories...It was nice to see Janis Freeman in here. I do remember her well. I have thought of them many times in the past and how their family was doing. My mom told me about your brother Richard along time ago....I believe in 1976 or 77. I am sorry about the loss of your brother. I remember Richard very well too. How are the rest of your family....John Jeff Tom and your parents? My mom passed away in 1977 at the early age of 53 from lung cancer. My dad is in Simi Valley , married and doing well at the age of 81. Roberta is in Nevada with her husband Dave and retired I believe. Here is a memory for you Janis...Remember the slumber party at our house? Roberta invited you, and 2 other friends, Michelle and Karen Morgan. I was in the 6th grade and invited some classmates from Eucalyptus (Laura Bradley, Jodi Baer, Debbie Gee and I think Linda Lewis...I am not too sure if she was there though.) Other friends on 122nd st was Nancy Martin.I was in the 4th grade when we met and she was in the 3rd. Her brother George was in my class. I can't count all the games of 4 square we played or basket ball at her house with her brother George, my sister and Phil Adams. Nancy would go to my aunt Lucilles house on 123rd st (Dale Hahlbecks grandmother). She would bring out her Quija board for us to play with or let us mess around with her piano.Back in the early 60s we were also notorious for our silly funny phone calls....I can't believe we did that! My other friend was Laura Maxson. We had many sessions of playing Barbie dolls. One time it lasted all night. We used to go to the Plaza theatre on Saturdays. It seems like a ritual for us to get into a fight there over who was the prettiest girl in the movie. I can never forget the Helms bakery truck. It was like a bakery in a truck. You could go inside and make your selections. There was the Golden Crust Man who came out later but it was nothing like that Helms Truck. I remember one summer that there was a guy who came by in a truck that had 2 or 3 bummber cars in it. I rode it once but that was it. After that one summer he never returned.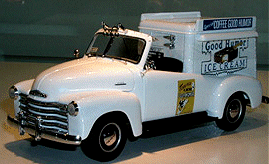 One last memory...The Good Humor Man/Carnation Man. Most of the kids were obligated to the Good Humor man but Occasionally we bought the Carnation stuff. I remember that the Carnation man had a terrible shake in both his hands. We were young and had no knowledge of what was wrong with him. In our young minds we thought he shook like that cause it was too cold inside the freezer where he kept all the ice cream. (We never said anything of course.) I do not know if this is true but I had heard that one time the Good Humor truck and Carnation truck came down the street at the same time once andran their vehicles into each other. They got out of their trucks and had this big argument. I wonder if this was true, or if someone made it up to get a laugh. I enjoy visiting this ste and sharing my memories and reading of everyone elses. Hope everyone feels th same. I know I can get carried away....I love this stuff so much!
Thanks Jean, so do I.....
---

Name: Gloria Valencia () on Tuesday, April 15, 2003 at 19:58:57
E-Mail: Foolhouse@aol.com
City and State: Las Vegas, NV
Maiden: Valencia
Class: 76


Message: Hellooo! Had to write, as I had an interesting experience. I am taking classes through UNLV, trying to finish my b.a. (to my mother's delight). The classes are held offsite and I attend every Fri and Sat. This is the third month of classes, and I attend with the same 25 people and will through the end of the year. One of my peers and I were walking out of class together and were chatting about the test we had just taken. One statement led to another and it turns out she had gone to El Camino, just as I had. She also went to Long Beach State, just as I had. She also went to HHS, just as I had!!!! She is Tina Fernandez, class of 1988. Couldn't believe it. So, there you go. It really is a small cougar world.
There you go folks, yet ANOTHER S.C.W. story. I know there're tons more; all we have to do is find'em. Thanks Gloria....
---

Name: Dave () on Tuesday, April 15, 2003 at 19:22:39
E-Mail: dadkrikac@aol.com
City and State: Franklin, Tennessee
Maiden: Just Goofy
Class: 1976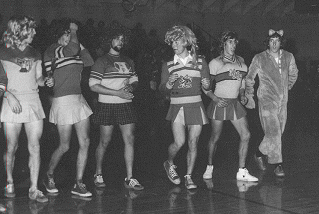 Message: Hey Cougs....Love ya and Miss ya all....what a week huh? POW's Home. Bless God. War almost over....Keep praying for our men & women, it matters... Shout out to Kelley (Original Beach Blanket Blonde Babe), Chuck, Cindy, Dale Craig, ALL The Estrada women.... Hey, I found a very cool picture and scanned it...something I snagged from the yearbook staff in 76...It was from Donkey Basketball I THINK in 1976? From Left-There was Robert Giverink then Jim Bistolas, John Achrem, Dave Krikac, Frank Poletta, Clark Millman in the Cougar garb....What a Night... Dave
PS Two requests... #1Has anyone seen Tina Heacock? #2 Anyone remember the BCKMSB Party Graduation Night at Hacienda Hotel?
Thanks Dave, great pic....
---
If you have comments or suggestions, please email me at john14@cougartown.com