Hawthorne Time and
Temperature

Home | 60's Slang | Alumni List | Car Talk | Cougar News | Feedback | Hangouts | Memories
Recollections | Reunions | Street Scene | Teachers | Tributes | Vietnam | What's New | Keyword Search
It's Doo Wop Time Johnnie and Joe
<!-+++++++++++++++++++++++++++++++++++++++++++++++++++++++++++++++++++++++++++++++++++++++++++ +++++++++++++++++++++++++++++++++++++++++++++++++++++++++++++++++++++++++++++++++++++++++++++->

---

---
<!-+++++++++++++++++++++++++++++++++++++++++++++++++++++++++++++++++++++++++++++++++++++++++++ +++++++++++++++++++++++++++++++++++++++++++++++++++++++++++++++++++++++++++++++++++++++++++++->
Name: Camille (Hill) Hawkes () on Monday, April 28, 2003 at 13:43:27
E-Mail: chawkes@dwandp.com
City and State: Manhattan Beach, Ca
Maiden: Hill
Class: '59


Message: I have some sad news to put on "feedback". Ron Baldwin passed away Sat., April 26th of a heart attack. Apparently he had no symptoms of heart disease, but it did run in his

family. Ron was 59/class of '61 and will be remembered by me, as such a caring, sweet guy with a great sense of humor. I'm sure many of you knew him better than I. Our sympathies and thoughts are with the family, and our love.
I remember Ronny. We had auto shop together one year. Always had a smile on his face. Saw him last at the 59-60-61 reunion in Cerritos a couple of years back. My condolences to the family. He will be missed. Thanks Camille for letting his friends know.
---

Name: Dean Morris () on Monday, April 28, 2003 at 13:42:17
E-Mail: dmorris@stanfordalumni.org
City and State: Vallejo, CA
Maiden: NotAnOl'CougYet
Class: 72


Message: Keith, I remember Pat and Terry Mack, Rick Cardin and Ron Treat. All were great players for the Hawthorne National Tigers, who went undefeated in about 1966 and won the City League against the Hawthorne American champs. That team was loaded with good athletes and I think Pat and Ron were the coaches with Mel Mack, the best shop teacher in Dana Jr High history, as the "genius" coach who put it altogether. He was truly a fine man and a great sports coach as I recall.
Was Rick Cardin, Pat Cardin's little brother?
---

Name: Bud Rhoades () on Monday, April 28, 2003 at 13:39:28
E-Mail: bud.rhoades@fullmerinc.com
City and State: Seal Beach,Ca
Class: 74

Message: Good to see Don Burns Saturday at our little ol'car show. Great time, walked over with our neighbors Richard and Linda Green, classes of '59 and '61 respectively. Don has put a lot of time in that 64 of his and it shows. I'm planning on next years and the 1923 Model A Touring coach, not quite as fast as Dons but still a beaut. Have a great week cougs....
Sounds like a fun project, Bud, and thanks.
---

Name: Cheryl () on Sunday, April 27, 2003 at 20:55:39
E-Mail: uknow
City and State: Keno,Or
Maiden: Christensen
Class: 62
Message: NO, Keith ... now you are officially BLESSED.

---

Name: Keith D. Jones () on Sunday, April 27, 2003 at 13:40:21
E-Mail: cmi50@yahoo.com
City and State: Honolulu, HI
Class: 76

Message: Was wondering if any of the "older" cougs remember Pat Mack, Terry Mack, Ron Treat, Rick Cardin. They were my coaches in Middle League. We had the best team. Giverick always had good legs. He was very funny too. Everytime one of my classmates comes on this board I immediately remember them. So at least my memory and mind is still here. By the way my oldest daughter moved to Hawaii to be with me last August. She turned 18 in October. She got a job two days after getting here. She is the Jet Ski and Parasailing instructor out in Hawaii Kai. She dives almost everyday and now is going to Captain's school 2 nights a week for the next two months. Already got a job offer from a place at $22 an hour to start. In fact they are even paying her $1,400 cost for the class. She left Vegas (where she snowboarded in the winter and was competing) to live here. So she has lived a great life so far. Well she moved in with her boyfriend in November. Well last month she told me I am going to be a grandfather. At the time I was to say the least a little upset. I was thinking about how much she is going to miss now in her life. Now that I have settled down a bit I am supporting her and can't wait. In fact it is due a week prior to me production in August. Anyway thought I'd share that with the cougs and I'm now officially old.
Congratulations Grampa Keith.....
---

Name: Pat () on Saturday, April 26, 2003 at 21:47:21
E-Mail: onefamilyhistorian@socal.rr.com
City and State: Hawthorne, Calif
Maiden: Brokenbonesaintworthit
Class: 1963

Message: Dave, at our age broken bones take four times as long to heal, the pain is more severe and hearing the wife and Doctor tell you; ?I told you so? isn?t my idea of a good time. I
rode a bike for over thirty years and was in plenty of accidents. Arthritis has set into every joint that I ever hurt and I?m not a pretty site walking across the street. So my question is; do you want to be like me, in my almost crippled body?
Pat Underwood Lawndale High Class of 1963
Hey Pat, do you remember George at Intermediate or Delores at Lawndale?
---

Name: Dave () on Saturday, April 26, 2003 at 21:10:45
E-Mail: dadkrikac@aol.com
City and State: Franklin, Tennessee
Maiden: Clean Up Isle 4...
Class: 1976
Message: Hey John...Bumstead....no...but I WILL look them up, this is a small town.....It will be an intresting conversation for sure. Just got back from our own cruise night, has a DJ playing 50's and 60's music, about 50 cars.....I had my 66 caddy convertible....I thought about you all. Dave
PS John-I will keep you posted when I find them
Hey Dave, No need to find them as I talk to them all the time. Just wanted to know if you KNEW them. Take Care......
---

Name: Dave () on Saturday, April 26, 2003 at 20:58:53
E-Mail: dadkrikac@aol.com
City and State: Franklin, Tennessee
Maiden: Black Cat Firecrackers
Class: 1976
Message: Hey Liz-Great picture.....I remember your dog-Blackie...Ours was Zorba....I gotta come clean.....we trained her to go #2 on other peoples lawns. Please forgive us.
Congrats Liz on the grandbaby..What a blessing. Say hey to all your sisters (My baby sitters)
Dave
Hey Dave, I know a guy in Franklin TN. His name is George Gates and he graduated from Leuzinger in 1962. His wife Delores Bumstead Gates went to Lawndale High; know them?
---

Name: Dave () on Saturday, April 26, 2003 at 20:49:40
E-Mail: dadkrikac@aol.com
City and State: Franklin, Tennessee
Maiden: Motocross Boy
Class: 1976

Message: Hey Whittaker....I think Giverink has the best legs in that shot......Maybe he can send us an updated pic....We can do a shoot out with Paletta - have a best legs contest 25 years later.....
I just got a new 650 Honda Motocross bike-My doctor thinks I am crazy-So does Sandy (Main Squeeze of 24 Years)....anyone else going through "I feel like a teenager" Syndrome? What are your issues?
Shout out to all the 133rd St. Cougar babes.....
I just got a new planer....does that count?

How bout Robin? He lived on 133rd too.
---

Name: Don (crow) Burns () on Saturday, April 26, 2003 at 18:32:39
E-Mail: burnslock@yahoo.com
City and State: Downey, Ca.
Class: 57
Message: Hey Cougs, had a triple Coug siting today down @ Seal Beach while perusing the four wheel transportation that was on display along Main St. 1st & 2nd siting was Richard Green c/o 59 & wife Linda Haley c/o 61, then a little later Bud Rhoades c/o 74, whom I met @ the last cruise 4-9-03. Had a very enjoyable conversation with the Greens & Bud. Maybe I will see other Cougs tomorrow @ Knotts Berry Farm, more later Don
GREAT!! Maybe I'll see you tomorrow at Knotts, Don, and thanks.
---

Name: taimi () on Saturday, April 26, 2003 at 17:00:16
E-Mail: none
City and State: redondo beach
Maiden: crowell
Class: 76
Message: Just saying, hi. Saw a few names that knew my older sister, darla; Susan Bierman and Michelle Buguy. Also saw Risa Manriquez here. (I knew her. Wonder if she's still a cop?)
Hi Taimi and welcome.....
---

Name: Enza Nicocia () on Saturday, April 26, 2003 at 16:14:35
E-Mail: antiquenza@aol.com
City and State: City of cool ocean breezes :-)
Maiden: lakersneedtowinsunday!
Class: 72
Message: Hawthorne Nursery has been owned by the Nakai family for the last 75 years. Kei Nakai, c/o 72, is still working and running the place. I see grandpa Nakai in the back working on clipping's and starting new plants regularly. It's always been family thing! :-) It's a beautiful sunny spring day here in Haytown, delightful ocean breeze blowing through. Hope everyone is enjoying the weekend.
!Ciao! Vincenza Benvenuta Nicocia
Lots of Nakais went to HHS. Jeannie was in our class and I believe her father went to Inglewood in the 30s.
---

Name: Marilyn Ross () on Saturday, April 26, 2003 at 15:48:28
E-Mail: mlr922@hotmail.com
City and State: Garden Grove, Ca
Maiden: Wisham
Class: 56
Message: O.K. regarding Ray Smiths question on Interstate Aircraft & Engineering Corp, my husband Darryl, grew up in El Segundo and he remembers the company as making the Compact Vacuum cleaners. There were many companys in the area that sold aircraft parts and they probably did too. Darryl never heard of any undercover highway patrol offices in the area. However they shot the opening sequence of the TV show Highway Patrol on Imperial in El Segundo. I think it was on the old Imperial Hwy. He also said in the early 50's they used to close down Douglas St. on Sundays between Imperial and Mariposa for legal street racing. He was too young to drive then but went with a neighbor that raced there.

---

Name: JD HAAS () on Saturday, April 26, 2003 at 14:50:02
E-Mail: jamesdhaas@earthlink.net
City and State: SALEM OR.
Class: LHS 57
Message: SHAWS NORTH EAST CORNER INGLEWOOD AVE & ROSECRANS

---

Name: carole () on Saturday, April 26, 2003 at 14:45:31
E-Mail: isahighcarole@yahoo.com
City and State: lake isabella, ca
Maiden: anderson
Class: 60
Message: Is that really a picture of El Segundo blvd and Ramona? I lived on Eucalyptus a few houses down from El Segundo and I don't think I would know it if I walked by. Wasn't there a Japanese Nursery there (I remember sneaking thru it as a short cut to get to the Gunga Din). A neat thing on Ramona was the Water Company building and pools. We kids used to sneak over and check it out as it seemed a very wierd thing to have in the middle of a block of houses. In those days there were alot of fields to go thru thereby avoiding the watching adults. Why we were always sneaking I don't know but I guess its what kids do.
No Carol, that's a picture of Shaws Marine on the NE corner of Rosecrans and Inglewood Av. They are tearing it down.
Hawthorne Nursery is still there and we believe it to be the oldest ongoing business in Hawthorne.
---

Name: Stephanie Brito () on Saturday, April 26, 2003 at 06:12:32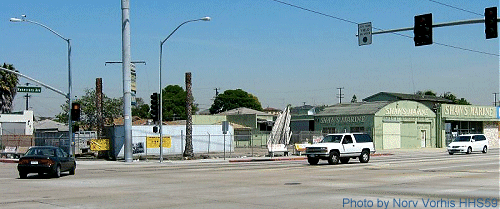 E-Mail: happyisles@aol.com
City and State: rpv,ca
Maiden: Hall
Class: 61
Message: Shaws isn't GONE...it's on El Segundo near Ramona...what history?
The history was at least a half century in existence and the boxing club in the back. Does anyone know when the boxing club was disbanded?
---

Name: Rick () on Friday, April 25, 2003 at 23:28:56
E-Mail: Trullinger
City and State: Mt. Whitney Fish Hatchery, Ca
Class: 73
Message: Bob Melendrez, did you use to live on 135th & Glasgow? I would stop and watch a garage band play there if the gate was open or if it were shut I would climb the wall on the Cabrillo School side and watch discreetly. Great drums and great memories of Holy Glen and Hawthorne.

---

Name: Paco () on Friday, April 25, 2003 at 23:16:06
E-Mail: doo4usc@cox.net
City and State: Lake Forest
Maiden: OS6- 2378
Class: 61
Message: I was talking this past weekend to a couple from the So.Bay and he said he lived off of Aviation and Century by the bathing suit factory..I faintly remember it but couldn't name it, any help?
How about Rose Marie Reid.......
---

Name: Mike Shay () on Friday, April 25, 2003 at 20:57:18
E-Mail: shayshere@msn.com
City and State: Cerritos, Ca
Maiden: OS6-9393
Class: 61


Message: We had a great time at the last cruise night. The crowd was a little smaller than usual but it was still a great time. All my life I wanted a car that sounded like that Model T Roadster that was at Frosties that night, ooohhh mmmaaannn that sounded nasty. Hello Raymond Smith, I used to sell die castings to the Interstate Engineering company in Anaheim. They make (or at least they used to make) home appliances, smoke alarms and vacuum cleaners and things like that. In their lobby was a few pictures of a small observation type, single engine airplane from out of the fortys or fiftys. Could be what you're looking for.
Hope to see you all soon: M.S.
Hey Mikey, let's go to the car show on Sunday at Knotts.
---

Name: ROJO () on Friday, April 25, 2003 at 20:35:57
E-Mail: E-MAIL
City and State: CITY AND STATE
Maiden: MAIDEN NAME
Class: 6OH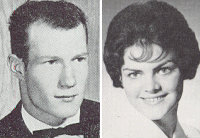 Message: Raymond Smith, that aircraft company was actually a Calif. Highway Patrol Office, in charge of, coming up with a way to stop street racing on Hawthorne Blvd.. Needless to say, as in the old sci-fi movie's, the experiment failed.

Hi there C-towner's. John...is this a Yogi-ism or not. When Cougartown's closed, I feel like writing. But when it's open, I don't feel like writing? Does anyone else out there know what I mean?

MAY THE COUGAR BE WITH YOU. Jake N Jude!
Hey dude, Now why don't you and Jude make the trek to HERE!!! I will personally put you up for 3 weeks and we can have about 3 parties while you're here. Whattayasay??? I miss you two, MAAAANN!!!!
---

Name: Walter Holt () on Friday, April 25, 2003 at 20:09:21
E-Mail: walterholthhs66@socal.rr.com
City and State: Orange, Ca
Class: 66


Message: Ok Ok ... I admit it I took the pictures at cruise night...Not as many as should have been taken but it was getting dark and I didn't see Paco there so I figured I better grab a few. Yes LiL Dori Boat it did get a tad bit cold, cloudy and windy but a great time anyway as usual. Now that I think about it Wasn't the Great HHS Pocket Pool Championship that night??? I think I got bounced when I missed a shot in the side pocket.
And some great shots you took too, but seeing as Wayne took over the music end, you had plenty of time for photos. OH BTW, I did win the Pocket Pool Tourney by 1 shot over Loren Heath.
---

Name: Jessie () on Friday, April 25, 2003 at 18:13:58
E-Mail: nobodye-mailsmeanyway
City and State: the beautiful Sunset Strip
Maiden: Corral
Class: wanna be
Message: Hi all, I've been waiting to see photos from cruise night. I got excited when Doris mentioned she saw Paco's, but where did she see them? I haven't seen any posted yet. Did I miss something?
Pacos photos are on his site at Pacos Pics. Go to the top of this page right under the Membership banner and click on the graphic called "Pacos Pics".
---

Name: Robin () on Friday, April 25, 2003 at 18:00:34
E-Mail: equaltime.com
City and State: RB,CA

Class: 60
Message: Just want to congratulate Haytown local Troy Cline for making the Busch race in Fontana this afternoon. This is as competitve a series as there is. Yeh its another car story Kelley but IMHO warrants as much CT space as any CD release. Way to go Troy!!
WAY TO GO TROY!! Thanks Robin...
---

Name: Raymond Smith () on Friday, April 25, 2003 at 16:41:23
E-Mail: Kawabunganorth@juno.com
City and State: Portland Oregon
Maiden: YA...raining 6 out of 7 days a week here
Class: 1981


Message: I was reading up on some History about World War 2 aircrafts and came upon an "Unknown" Company in El Segundo called "Interstate Aircraft and Engineering Corporation of El Segundo". I heard of Companies such as Northrop, North American. Lockheed, Hughes, Vultee, Douglas but never of the one I asked about earlier. Could someone give me more insights? thanks.

---

Name: Enza Nicocia () on Friday, April 25, 2003 at 16:13:19
E-Mail: antiquenza@aol.com
City and State: Sunny SoCal
Maiden: Go Lakers!
Class: 72 Rocks!


Message: Ok everbody~ CHILL!! Speaking of Shaw's Marine getting torn down, they are going to build a CVS drugstore in that spot. AND, at 120 & Hawthorne Bl. (where the used car dealership is) they're also going to build a Walgreens. A Target in the Rosecrans shopping center by Best Buy. There's a Lowe's being built on 120/Crenshaw near Northrup/Grumman. The Mall is getting a great facelift, and is lQQking good! The County folks should be in before long at the North end of the mall. They're also planning a courtyard/garden plus restaurant area where Penney's used to be. Lots of changes going on in Hawthorne. BTW, did you know that Hawthorne was named the MOST improved city in the nation! How about that, Cougs?!?! Mayor Larry Guidi is really doing a fine job, (well maybe having Shaw's Marine torn down, is not the greatest) but the city is coming around. :-)
And, oh yeah, Dan Johnson, kudos to ya dude...keep on rocking! ;)
Didn't know the "most improved city" thing, but it's nice to hear. Thanks Enza....
---

Name: Robert Jensen () on Friday, April 25, 2003 at 15:23:17
E-Mail: robertjensen@satco-inc.com
City and State: Los Angeles
Class: 71


Message: I found myself in Hawthorne the other day and I drove past the Callella Home on Eucalyptus Avenue and 138th street. I have tried several times to get in touch with them but to no avail. Does anyone know the whereabouts of Susanne Callella (HHS 67-68) or Rudy Callella (HHS 66-67)? I would appreciate any leads. Bob Jensen

---

Name: doris () on Friday, April 25, 2003 at 14:58:40
E-Mail: of course how else would i be able to do this?
City and State: beautifuldowntowntfid
Maiden: many moons ago
Class: many moons ago


Message: HEY PACO! Great pics on Paco's Pics! It's about TIME somebody took pictures of CRUISE NIGHT! Now if someone would only identify these people!!! HELPPP!!!! And I noticed something for some unknown reason ... all the guys, if they don't have a drink in their hands, have their hands in their pockets. It must be a man thing 'cuz I don't notice the women standing around with their hands in their pockets. Or maybe it was cold. But take a peek ... 9 out of 10 men have their hands in their pockets. Trivia #1198
Another busy day in Twin Falls, Doris??

---

Name: Dan "Shameless Huckster" Johnson () on Friday, April 25, 2003 at 14:33:14
E-Mail: wch1ispink@aol.com
City and State: Hawthorne (really), CA
Maiden: "Pussyfoot" Johnson
Class: 1977
Message: JB, you are so CUTE when your shorts are in a knot! I'll try to stick to the "Linda Cota broke my heart and I cried over the lyrics to Happy Together on my sling" stories, my "George Key went to Mexico and got caught in a Pepsi bottle" stories, my "niece (also a Coug) conceived after a screening of Saturday Night Fever at Hawthorne Mall" stories, my "drinking Schnapps out of a medicine bottle during a HHS basketball game at Catalina" stories, my "147th & Cerise" stories, etc., etc. If I slip on occasion, I apologize in advance ;-)
Thanks Dan
---

Name: Bob Melendrez () on Friday, April 25, 2003 at 13:12:25
E-Mail: Strongheart@pacificwest.com
City and State: Lawndale, CA
Class: 1971


Message: Geez, this is why I don't like to promote my group's activities here at CT... On a more topical note, this week I have watched with some dismay the demolition of what used to be Shaw's Sporting Goods/Marine at Inglewood and Rosecrans. Seems the machinery of progress has swallowed up yet another old Haytown landmark...
Hey Bob, Promote away. If you've got something to say about your music, please say it. This Feedback page is mainly for asking questions to the masses and for finding old friends; sometimes it gets off track..... sometimes I get off track too..... I apologize to you Dan but people please don't be offended as I'm just sticking up for YOUR bandwidth. Hey, I'm a bigger Steely Dan fan than Dan Johnson, but they don't have a thing to do with HHS, and that's what this site is all about. Sorry about Shaws too. Lots of Hawthorne history there.
---

Name: Jessie () on Friday, April 25, 2003 at 12:18:19
E-Mail: mikejessie@yahoo.com
City and State: Los Angeles
Maiden: Corral
Class: Wanna be Cougar
Message: Hello all, All this talk about the tooth fairy...My girls put there tooth in a glass of water. The tooth fairy dives in, and shakes all the change out of her fairy apron and that's what they get. It is so much eaiser then under the pillow where it is able to get lost. And you can put the glass of water anywhere. Hey it's corny, but it works!
PS/John, I like the eye.
Thank Norval Vorhis HHS59
---

Name: Kelley () on Friday, April 25, 2003 at 12:17:25
E-Mail: kelleycurrie@charter.net
City and State: Englewood,Or
Class: 67
Message: JOHN I DON'T UNDERSTAND WHY YOU PRAISE A CAR SHOW AND PUT DOWN DAN WHO HAS MADE A GREAT CAREER AND IS SHARING IT WITH CT..ANYONE WHO IS A GRAD FROM HHS AND CAN SHARE WHAT HE IS DOING NOW SHOULD GET APPLAUSE NOT A PUT DOWN BLAH..BLAH...BLAH...GOOD JOB DAN..!!!!!IF PETEY AND I WERE HAVE A GRAND OPENING OF A ESPRESSO AND VINTAGE CLOTHES STORE WOULD THAT BE BLAH, BLAH, BLAH...SO YOU AND YOUR FRIEND ARE INTO CARS..SOME OF US ENJOY MUSIC AND INDEED LIKE TO KNOW THESE GUYS ARE DOING GOOD...BLAH
Sorry Dan, and Don Crow Burns, stop talking about car shows.

---

Name: Debra () on Friday, April 25, 2003 at 11:58:18
E-Mail: DebratMcG@aol.com
City and State: Lancaster, CA
Maiden: Lee
Class: 72
Message: Hey, sorry to use Feedback on this, but does anyone know the whereabouts of John Shore, 1972? A buddy he grew up with is looking for him and I told him I'd help out. Y'all have a fantastic weekend. Any help would be appreciated.
No need to apologize as finding old HHSers is one of the primary reasons Feedback was created.
---

Name: Brenda () on Friday, April 25, 2003 at 09:48:52
E-Mail: osaile50@cs.com
City and State: Cowarts,Al
Message: I didn't graduate from Hawthorne. I am a big fan of the Beach Boys and Brian Wilson. I have everything that I could find on him and in one of the books he talked about a girl named Carol Mountain. Since someone here told me that Judy Bowles was not the "Surfer Girl", I was wondering if you were the one the song was written about. Love and Mercy, Brenda
Carol Mountain is pictured below. Not sure Judy Bowles went to HHS and I personally believe "Surfer Girl" wasn't written about any particular girl. Thanks Brenda....
---
If you have comments or suggestions, please email me at john14@cougartown.com