Hawthorne Time and
Temperature

Home | 60's Slang | Alumni List | Car Talk | Cougar News | Feedback | Hangouts | Memories
Recollections | Reunions | Street Scene | Teachers | Tributes | Vietnam | What's New | Keyword Search
It's Doo Wop Time Johnnie and Joe
<!-+++++++++++++++++++++++++++++++++++++++++++++++++++++++++++++++++++++++++++++++++++++++++++ +++++++++++++++++++++++++++++++++++++++++++++++++++++++++++++++++++++++++++++++++++++++++++++->

---

---
<!-+++++++++++++++++++++++++++++++++++++++++++++++++++++++++++++++++++++++++++++++++++++++++++ +++++++++++++++++++++++++++++++++++++++++++++++++++++++++++++++++++++++++++++++++++++++++++++->
Name: ray () on Tuesday, April 15, 2003 at 18:48:27
E-Mail: raycastillo@prodigy.net
City and State: Palmdale, Ca.
Class: 1973


Message: Deeply sorry to hear about Pete Mannion's passing. He was my Principal at both Sepulveda and Dana school. There are memories of him deeply embedded in my mind. He had a tough exterior that could strike just the proper amount of fear and respect out of the student body. But beneath that exterior was a very kind soul. It was Mr. Mannion who walked into my third grade class, and with a deep sigh told us President Kennedy had been killed. Years later, when I was an eigth-grader at Dana, it was Mr. Mannion who had the wisdom to suspend me for the remainder of a Friday after I allegedly hurled an unspeakable insult at one of his teachers. It was an event that deeply hurt me, because I was innocent. It was also Mr. Mannion who came to all my High School Drama presentations at Hawthorne to applaud the achievments of his former students. My most cherished memory of him was the evening we spent talking in the lobby of Nyman Hall after one such performance. When the conversation turned to my fateful Friday, and he calmly told me "I know you didn't say that Ray. I also know that you had the reputation of being capable of having said it, and I thought the afternoon off would teach you a lesson in life." Wherever you are Mr. Mannion, thanks for the lesson! Rest In Peace.

---

Name: Jerry Miles () on Tuesday, April 15, 2003 at 16:56:35
E-Mail: jfmiles@pacbell.net
City and State: Fair Oaks, CA
Class: 66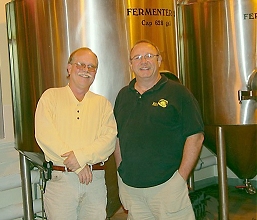 Message: John, I had a Cougar sighting today. Or maybe a mini reunion as it was planned. I finally made it up to Bill Ennis? brewpub in Sacramento. He treated me to a fine meal and a sampler of his excellent beer. We had a fine time discussing events both old and new. For any Cougars that live in the Sacramento area or find themselves passing through would like some first-rate food and outstanding beer they should stop by the Hoppy Brewing Company on Folsom Blvd. You might spot a Cougar yourself.
Thanks Jerry and a great time of year to be plugging the Hoppy Brewing Co.

Bill, now I know what hoppy.com means.
---

Name: MIKE BROGAN () on Tuesday, April 15, 2003 at 12:03:50
E-Mail: B49B61@AOL.COM
City and State: INGLEWOOD CA.
Message: EVEN THOUGH I WENT TO MORNINGSIDE I LOVE THE WEB SITE. IT BRINGS BACK ALOT OF GOOD MEMORIES.
Hi Mike, You aren't alone out there as lots of Monarchs read these pages. We had a Monarch at Cruise Night on Saturday. Feel free to add to the feedback anytime.
---

Name: Mike Riley () on Tuesday, April 15, 2003 at 08:47:20
E-Mail: mcriley@mtnhome.com
City and State: Mtn Home, Ar.
Class: 65
Message: Hi Julia Garza. Glad to see you found C-Town.

---

Name: Donna () on Tuesday, April 15, 2003 at 00:45:18
E-Mail: dgohr@aol.com
City and State: Torrance
Maiden: Van Douris
Class: 69


Message: Many thanks, especially to Sue, Bill, John, Robin (you funny guy, you), and my dear friend Donna. Your thoughtful birthday wishes helped make getting another year older (sniff) so much easier and more fun. And to all the other Cougars having birthdays, may yours be blessed with family and friends. As I always tell my kids: Make new friends, but keep the old. One is silver, the other gold. You guys are a gift!

---

Name: JIM SLOEY () on Monday, April 14, 2003 at 23:20:22
E-Mail: MYBESTFRIENDISCELEBRATINGLIFETHISWEEK.COM
City and State: redondo beach, ca
Class: 66
Message: John I heard that cruise night was another great cougartown event. I am sorry I missed the post event races you had later that evening but I would have needed my bicycle to stay close. Hope all is well with all the Cougs and especially our troops. God Bless America.

---

Name: Donna () on Monday, April 14, 2003 at 22:56:29
E-Mail: DonnaDGW4
City and State: La Palma
Maiden: Cook
Class: 69
Message: Happy Happy Birthday to you Donna Gohr, Hope you had a good one...Luv ya, the other Donna

---

Name: Kathleen Griffin () on Monday, April 14, 2003 at 21:20:30
E-Mail: ct_helpdesk@yahoo.com
City and State: San Pedro, CA
Maiden: Nix
Class: 74


Message: I have noticed that many of you are voicing your support for US Troops during this monumental time in world history. I think it?s great that we send cookies and baby wipes, and phone cards to our young men and women who have chosen to serve in our military. I?m 99.9% sure that the recipients of your support also appreciate your actions.
When the dust settles and the troops return home please do not forget them. I would like to think that our support of the military isn?t some fad but recent history (Post WWII) seems to infer that it very well could be. I would like to challenge all of you to continue caring about and supporting those who fought (presumably for our freedom) after they return home.
Many of our Vietnam veterans were exposed to Agent Orange and had to fight the US Government for acknowledgment, and help with their afflictions. On April 1, 2002 they won a major legal battle, which made it possible for them to collect retroactive disability payments for prostate cancer and diabetes, which resulted from their exposure. It only took twenty years for the VA to acknowledge there might be a problem.
In September 2000, the American Gulf War Association (AGWA) estimated that 300,000 of the 700,000 Desert Storm / Desert Shield veterans were sick as a result of military duty. As of that date 6,584 had died and 186,600 had applied for disability compensation for war-related injuries or illnesses. According to AGWA spokesperson Joyce Reily the average monthly disability benefit for these veterans is $100.00.
Cougars are responsive citizens. I?m hoping you will make a commitment to do your part to insure that veterans are taken care of should they require VA assistance. For more information visit the AGWA website at http://www.gulfwarvets.com

---

Name: Harry Plotkin () on Monday, April 14, 2003 at 18:17:37
E-Mail: hcharry@pacbell.net
City and State: Harbor City, CA
Maiden: Old Codger
Class: 52/97
Message: FYI: Peter Mannion passed away Saturday night April 12th. That very evening two former students inquired about him at Cruise Night. His daughter said he was fine and during his last 36 hours he got very tired and then left us. He was a long time teacher and principal in the Wiseburn School District. He was loved by many and had a positive influence on thousands of youngsters. There will be graveside services at Pacific Crest Cemetery, 2701 W. 182nd Street, Redondo Beach on Friday, April 18th at 2:30 PM.
Always sad to lose a teacher. Thanks for the information, Mr P.
---

Name: Wade Greasby () on Monday, April 14, 2003 at 17:05:39
E-Mail: wadekath@juno.com


City and State: Surf City, Ca
Class: 73
Message: To all Cougs. Get your taxes in. Thanks for the shout out Bill, Good to hear from you. I heard through the grapevine that cruise night was a major success. I was at the beach. Hope all is well in C-town.

---

Name: Patti Smith () on Monday, April 14, 2003 at 15:01:27
E-Mail: grnidL80@attbi.com
City and State: Cypress, CA
Class: 68


Message: The troops definitely do need baby wipes, but it's best to send the travel-size packs, or the refills. The tubs of them are too bulky, and they have to carry everything they have. Also hot on the list are pantyhose and latex gloves. If anyone would like to support our troops, one site to check is Operation Hearts from Home (heartsfromhome.com). It's a SoCal (Torrance) organization set up to send Care Packages (C Rats) to the troops through Camp Pendleton. Another thing they really want is LETTERS! Encouraging words from the homefront are most welcome, but please be sure not to include any identifying information...no phone numbers, addresses, email addresses, last names, etc.

---

Name: Jill McFarlane () on Monday, April 14, 2003 at 12:56:30
E-Mail: jillmcfar@aol.com
City and State: Mission Viejo, CA
Class: 1977

Message: Sorry I missed cruise night. Hope there was a big turnout. I was at the Long Beach Grand Prix, where I was hoping to have a cougar siting. I was looking in vain for C-town t-shirts, but alas did not see any. Now, on to a more serious matter. My boyfriends cousin's husband is in Iraq right now. Apparently, the troops do appreciate everything that is being sent, but the hot commodity are baby wipes. Many of the soldiers have not had showers since arriving, so the wipes do come in handy. So if you are planning to send a care package to a loved one, or in general, make sure to include the butt wipes. Everybody have a nice week!
Thanks Jill
---

Name: Bill Sloey () on Monday, April 14, 2003 at 08:52:46
E-Mail: wsloey@aol.com
City and State: ECV
Class: 69

Message: It has been awhile since I wrote in, it was about the same time Wade Greasby did, ha Blackshirts are back Wade....... A Big Happy Birthday to Donna Gohr today, and to all other Cougs that are celebrating this day. Hope cruise night was a blast sorry I could not make it, next time. Bill
Thanks Bill, good to hear from you. Happy Birthday Donna and nice to see you at Cruise Night too.
---

Name: Bud Rhoades () on Wednesday, April 9, 2003 at 12:06:59
E-Mail: bud.rhoades@fullmerinc.com
City and State: Seal Beach,CaI
Class: 74
Message: John, the weatherman says rain on Saturday? Is cruise night now a wait and see? Lets pray they're wrong as usual.
If it's pouring, it won't happen; if it's sprinking, it's a go.
---

Name: Laurra () on Wednesday, April 9, 2003 at 06:28:16
E-Mail: Ps31womannc
City and State: Smithfield NC
Message: My memories are getting rusty but I remember a rollarcoaster that hoped over the water and some brave souls would jump it. Other just bragged it LOL It burned down when I was in my teans What was its name? People back here can beleive that we'd dich scholl to dive the piers on a dare PS I was one of those stupid enough stupid enough to jump horeshoe pier and dive for the money droped. boy did those pilons hurt You learned quickly to stay out, the boys with the boards came in real handy

---

Name: Rick Trullinger () on Tuesday, April 8, 2003 at 23:23:16
E-Mail: Tapplefish@qnet
City and State: Mt. Whitney Fish Hatchery Ca.
Class: 73
Message: Does anybody remember the first drive up ATM at the Bank of America on Hawthorne Blvd? You would put your transaction in a plexiglas tube and it would be shot by compressed air in a pipe to the main Bldg. to a teller who would in turn shoot it back with your cash/reciept. John, was the A & W across the street?
The A&W was on the SW corner of Hawthorne Bl and 136th St
---

Name: Catherine () on Tuesday, April 8, 2003 at 23:22:15
E-Mail: qborg2@lvcm.com
City and State: Las Vegas Nevada
Message: I found allot of Blue Chip Stamps. Does anyone know if they are worth anything now? Some are in books and most of them are still in the sealed packs, unopened. Someone must know something...

---

Name: Larry Biller () on Tuesday, April 8, 2003 at 11:12:46
E-Mail: lbiller49@yahoo.com
City and State: Portland,OR
Class: 1967
Message: Cougar Sightings:This happened about 2 years ago. I was exiting a Home Depot here in Portland and I passed two gentlemen entering and I thought "That looks like Lyle Davidson." Turned out it was Lyle and his father.

---

Name: Raymond Jensen () on Tuesday, April 8, 2003 at 09:48:38
E-Mail: robertjensen@satco-inc.com
City and State: Los Angeles
Class: 71
Message: I have my yearbook packed in the trunk of the car and l am ready for a chocolate malt! Walter Jensen will be with me. I don?t know if I can get Elizabeth and her husband to come out for the event as they have just purchased a new home and are still unpacking boxes. Hope to see some new old faces this time.

---

Name: Debbie Miles () on Tuesday, April 8, 2003 at 00:50:42
E-Mail: pinkelephant10@yahoo.com
City and State: Del Aire, CA
Class: 77
Message: I had a Cougar siting over the weekend. I saw Rick Scott over the weekend. He said his sister's Terri and Tawnya are doing great!

---

Name: Chris Prewitt () on Monday, April 7, 2003 at 23:39:52
E-Mail: cjprewitt@jyno.com
City and State: Fullerton, CA
Class: 1967
Message: Enza Nicocia, I haven't seen any Cougars recently. I think that I will go all out this weekend to find some. I'll let you know about how many I see ;-) Hey John, When is the next Cruise night???
Funny Chris....
---

Name: Jim Raines () on Monday, April 7, 2003 at 21:21:04
E-Mail: fourwindspublishing@juno.com
City and State: Salt Lake City Ut
Class: 1962
Message: Hi '62ers, I'm looking for a copy of my 1954 fourth grade class group photo from Eucalyptus school. I don't remember the teachers name but I do remember that she was young and pretty. I'm almost sure that Tim Lyons was in my class also. Does anyone in Cougartown have this class photo and can I get a scanned copy of it? Thanks Jim Raines

---

Name: Don (crow) Burns () on Monday, April 7, 2003 at 20:26:43
E-Mail: burnslock@yahoo.com
City and State: Downey, Ca.
Class: 57
Message: Hey Cougs, well Sunday we went to the old Plaza Theatre, not the Haw. of old but the one that was built in the 30's to see the fabulous Palm Springs Follies. The show is put on by retired show girls & guys, ranging from 58 to 85 yrs young, must see. Till cruise nite 4-12-03 Don

---

Name: Enza Nicocia () on Monday, April 7, 2003 at 16:59:56
E-Mail: antiquenza@aol.com
City and State: Go Lakers!
Maiden: everthehopefulromanticone.....
Class: 72 Rocks!


Message: I had my first Cougar siting this weekend. I was pumping gas at the Chevron station across from good ol' HHS, and looked up to see none other that Tony Marques and Rick Mercurio~together. Haven't seen Tony since high school, and he sure hasn't changed much~Still QUITE easy on the eyes! ;-) Was sure they wouldn't know who the heck I was, and didn't approach them...DARN! Oh well, maybe next time I'll won't be so shy. Anybody else have a Cougar siting?
Good one, thanks Enza....
---

Name: Laura Anderson () on Monday, April 7, 2003 at 14:07:41
E-Mail: dsnycrw@ivic.net
City and State: Hemet, CA


Maiden: Twitchell
Class: 79
Message: Just a shout out to all the '79er's..at our 20th you asked for a 25th reunion and our committee is starting to kick around some ideas...but first we need to update our roster...please forward us your addresses and emails so we can let you know the what, when's and where's of the reunion next year!!

---

Name: Mimi Frausto () on Monday, April 7, 2003 at 13:38:03
E-Mail: neomiprince@webtv.net
City and State: hawthorne, ca
Class: 69
Message: Does anyone know the whereabouts of Janet Leventhal-also class of 69?

---

Name: Susan King () on Friday, April 4, 2003 at 22:54:08
E-Mail: sueking18@aol.com
City and State: Thousand Oaks, CA, USA
Maiden: Bierman
Class: 1974

Message: There are many organizations collecting items to send to the troops that you can hook up with but I stole Kathleen Nix's idea of the Christmas Cookie Campaign and found that one of my co-workers has both a son-in-law on a ship in the gulf and a cousin in the desert in Iraq. Her family sends them packages as often as possible and my office is choosing to help them fill those packages. The boys are gladly sharing with their fellow soldiers and are able to supply us with a list of their most desired items. Try looking around your own neighborhood first; you'll be helping a local family while supporting the troops. At the very least, you can offer to help defray the shipping costs. You also get the bonus of being able to include notes of cheer and support from the folks at home. And most of you know now what it's like to get a surprise letter from a Cougar!!

---

Name: Kelley () on Friday, April 4, 2003 at 14:12:16
E-Mail: kelleycurrie@charter.net
City and State: Englewood,Or
Class: 67
Message: Thanks for the website John..I thought the phone card was a good idea..so I donated to that one..I know the guys on the front lines probably won't be able to use it but someone over there will really need to talk to a family member and this will help...Peace
Thanks Kelley....
---

Name: Jim Fox () on Friday, April 4, 2003 at 13:41:19
E-Mail: puffup@pacbell.net
City and State: Hawthorne
Class: 66
Message: The answer to Martin Savidge's question: From the United States of America -- GOD BLESS THE U.S.A.
Thanks Jim, for the info on supporting our troops.
---

Name: doris () on Friday, April 4, 2003 at 10:50:31
E-Mail: YUP!
City and State: TF ID
Maiden: donaldson
Class: '57
Message: Walter! That was absolutely beautifully written and I couldn't agree with you more! You make me proud to know you! Thanks for sharing these thoughts with us on CT.

---

Name: Robin () on Friday, April 4, 2003 at 01:48:07
E-Mail: HighOctane.com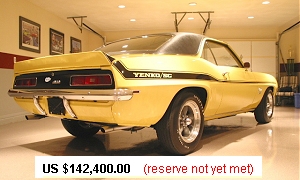 City and State: RB,CA
Maiden: Yenko
Class: 60
Message: Hey John...I found some kewl wheels for cruise night...With the deal you made for Kermit, I figure we could go halfsies and I will keep it here, but you could have it every other weekend AND 2 weeks in the summer if you give me your gas card :o) let me know, it wont last forever.. Thanks in advance buddy.... http://cgi.ebay.com/ebaymotors/ws/eBayISAPI.dll?ViewItem&item=2408596007
The car is nice, but I want this guys garage.

---

Name: Walter Holt () on Thursday, April 3, 2003 at 21:34:58
E-Mail: walterholthhs66@socal.rr.com
City and State: Orange, Ca
Class: 66


Message: Hello Cougs?As much as I was not too keen on this war starting now that we are there I support our troops who are there. I am sure what my fellow vets can attest to, from our own experiences, is that when in a combat situation most of the people faced with it build such a strong bond with others they eat, sleep, fight beside they don?t hesitate to protect one another to the point that someone else?s needs become more important than your own, as with the story so eloquently displayed here on CT. Heroes are born not of someone trying to do something for their own glory but someone trying to protect others from harm coming to them in a horrifying situation they are faced with. The one thing that I do hope, is the people who are protesting the war now with our troops over there in combat stop and think of another time when we were at war and how damaging it was to the morale of our troops, not only while they were there but when they came home. We are there now and regardless of whether we agree with it or not these young men and women need to know they are not in harms way in vain.
AMEN to that. Vietnam was a totally different equation. For one, there were tons of draftees; kids right out of high school who didn't want to be there. Todays military are all enlisted personnel. They all know exactly what they're up against and WANT to be there. I say leave them to what they do best and this thing will be over real quick.
---

Name: Janis Peterson () on Thursday, April 3, 2003 at 16:11:38
E-Mail: jpeterson50@aol.com
City and State: Carmichael, CA
Maiden: Freeman
Class: 1967
Message: To PACO..Thank you for your thoughts and remembrance of Richard. Kathy and I went to the Pacific Crest last Monday on what would have been his 50th B'day. The picture of you & Tom is awesome. My husband and I commented after we saw it that we remember the day that Tom shaved his head. He was almost as adorable as you!! Hope to see you soon. Jan

---

Name: Howard"Paco"Duran () on Thursday, April 3, 2003 at 13:01:53
E-Mail: doo4usc@cox.net
City and State: Lake Forest
Class: 1961
Message: To Jan Freeman, I was at Tom Freemans house for our family Christmas party when he got the call about your and his brother, if I remember right he was on his way home..It was one of the saddest days of my life! JB, your story was very heart warming. The saddest thing for me so far was when the young black girl was taken POW and how scared she looked, I pray for all, but especially her. Oh Janis your brother Tom is in "Paco's Pics".

---

Name: Dawn () on Thursday, April 3, 2003 at 12:24:15
E-Mail: dsteven311@aol.com
City and State: Lakewood, C
Message: My husband, Bob Stevenson used to work at the A.W. To this day, he will not drink A.W. He used to cruise down Hawthorne Blvd. too. Sounds like it was a great time.
It was the BEST of times, Dawn. Thanks....
---

Name: Janis Peterson () on Thursday, April 3, 2003 at 11:17:14
E-Mail: jpeterson50@aol.com
City and State: Carmichael, CA
Maiden: Freeman
Class: 1967


Message: John, You are so right about the Marine story on CNN. I received it on email a few times yesterday from others. I know that we will see alot of stories from "over there", but this one was a real tear jerker. Thanks for printing it. I have been able through this wonderful Internet to find my younger brother's C.O. from Vietnam. My brother was killed at the end of 1972 at the age of 19. This man has brought such joy to my life since we found each other. So even though we get some "hoax's" on the Internet, they pale to some of the wonderful things we get. Our Cougartown Website is right up there with the good things we enjoy. GOD BLESS OUR TROOPS, and come home safely! Thank you John.......Jan Peterson
Thanks Jan, Yep, up to now I thought all our young males were gangsta' rappers. Not so by a long shot....
---
If you have comments or suggestions, please email me at john14@cougartown.com