Hawthorne Time and
Temperature

Home | 60's Slang | Alumni List | Car Talk | Cougar News | Feedback | Hangouts | Memories
Recollections | Reunions | Street Scene | Teachers | Tributes | Vietnam | What's New | Keyword Search
It's Doo Wop Time Johnnie and Joe
<!-+++++++++++++++++++++++++++++++++++++++++++++++++++++++++++++++++++++++++++++++++++++++++++ +++++++++++++++++++++++++++++++++++++++++++++++++++++++++++++++++++++++++++++++++++++++++++++->

---

---
<!-+++++++++++++++++++++++++++++++++++++++++++++++++++++++++++++++++++++++++++++++++++++++++++ +++++++++++++++++++++++++++++++++++++++++++++++++++++++++++++++++++++++++++++++++++++++++++++->
Name: Michelle Drapeau () on Thursday, April 3, 2003 at 11:08:01
E-Mail: havnfun2@sbcglobal.net
City and State: Palmdale,CA
Maiden: Whittaker
Class: 1978
Message: John - GREAT story on those young men! Makes me truly proud to be an American! Great way to start the day. I'll be thinking of them all day, and of course ALL our service men. Thanks again.
God, I love this country.....
---

Name: Jill McFarlane () on Thursday, April 3, 2003 at 10:55:57
E-Mail: jillmcfar@aol.com

City and State: Mission Viejo, CA
Class: 1977
Message: John, thank you for posting that blurb about that CNN reporter. I copied it and sent it to people at work. It confirmed what I had always suspected about our armed forces, that All for one, and one for all.
Yes, I am indeed, "Proud To Be An American".
---

Name: Barney () on Thursday, April 3, 2003 at 10:19:08
E-Mail: McArdle

City and State: Arlington, Washington
Class: 1958
Message: J. D. Haase ---- Jim, are the one that wrestled and coach Plum was our coach? I know when I wrestled, there was a Haase that I just could never beat.
Thanks for the other names. Barney

---

Name: Elizabeth Estrada () on Thursday, April 3, 2003 at 09:40:41
E-Mail: dzlizzy219@aol.com
City and State: Redondo Beach, CA
Class: 69

Message: I got my kicks on Route 66 over the weekend. I took my mother to see the Grand Canyon and Sedona. It was good to get away and get a different perspective than CNN provides. Along the way we stopped at an old A&W Rootbeer stand. It wasn't exactly like the one in Hawthorne but close. Mom and I sat inside with our floats and shared Hawthorne A&W stories, like the time my dad pulled in with the family station wagon and I dropped to the floor in the back seat because I didn't want anyone to see me there with 'Dad' and in of all things the blue Mercury station wagon with fake panel sides. The good news was while I was hiding on the floor in the back seat I found a five dollar bill. I should have kept my mouth shut and pocketed my find, but noooooo. It bought dinner that night. If you haven't seen the Grand Canyon or Sedona yet, Spring is a lovely time to go.
May Peace Prevail, Elizabeth
That's the first rule of finding money.... DON'T TELL YOUR PARENTS!!

---

Name: JD HAAS () on Wednesday, April 2, 2003 at 15:06:22
E-Mail: jamesdhaas@earthlink.net
City and State: SALEM OR.
Class: LHS 57
Message: The team was Salma Davis Dodgers, Rich Davis center back row; Mick Batson 5th from left front row; Jim Stough 2nd from left; next JD Haas
Thanks JD
---

Name: Barney McArdle () on Wednesday, April 2, 2003 at 13:51:09
E-Mail: barney.f.mcardle@boeing.com
City and State: Arlington, Washington
Class: 1958
Message: Hey Tom, You are partly correct on the baseball picture but it's not Lloyd Dennees, because I played for the Lloyd Dennees "Cardinals" in Middle League and played against these guys. The one I recognize here are; Gary Kimbrell (1958), Craig Campbell (1958), Ronny Ostler (1958), Fred Wade (1958), Bobby Mitchell (1958). I still have the picture of our team in the Middle League parade kicking off the season. How are you doing anyway Tom? Good to hear from you.

---

Name: Tom Burroughs () on Wednesday, April 2, 2003 at 11:30:39
E-Mail: ARizTom@webtv.net
City and State: Prescott AZ


Class: 1958
Message: The Middle league pic. I think is the Lloyd Dennee Dodgers? Bottom row second from right Ronny Ostler? Third from left bottom row Bobby Mitchell? Bottom row far left Gary Kimbrell? I pitched to all of them at one time or another.
TB from AZ See ya at Cruise Night
Hi Tom, Glad the picture sparked some good old memories. Thanks for checking in and CU-da-12th
---

Name: Don (crow) Burns () on Tuesday, April 1, 2003 at 22:37:07
E-Mail: burnslock@yahoo.com

City and State: Downey, Ca.
Class: 57
Message: Hey Cougs, for any of you Cougs out in the Palm Springs area, if you are going to the car show, auction, please look me up, I will be with all the T-Birds, we have a 64 T-Bird, candy apple red, lic # BURNSTB, stop by and say high. God bless all of our troops the worldwide. Don
Hey Don, I'll be there, but not to see T-Birds, but T-Ball. My grandson is the Star player for the Pirates yahno, and he's gettin' me in for free.

Have a great weekend. Car shows are always fun.
---

Name: Sharon MacDonald () on Tuesday, April 1, 2003 at 21:33:48
E-Mail: ramc@genevaonline.com
City and State: Burlington, Wisconsin
Maiden: Badger
Class: 1963
Message: Those "No Call" Lists really work. We signed up for the one in Wisconsin that went into effect this year and the reduction in the number of calls from telemarketers is remarkable. The only ones who can "legally" call are companies that you have done business with in the past. Also, if we get a call from a telemarketer, we can request their details and report them to the state!

---

Name: Kelley () on Tuesday, April 1, 2003 at 14:26:21
E-Mail: kelleycurrie@charter.net
Class: 67
Message: WAR WHAT IS IT GOOD FOR I CRY FOR THESE FREEDOM???FIGHTERS http://www.foxnews.com/story/0,2933,82432,00.html. IF ANYONE HAS THE TIME TO CHECK THIS OUT... i enjoyed the pictures of the pool..i took swimming lessons there when i was pretty young...then when i was a freshman at HHS i had first period PE Swimming...now that was just wonderful..swam with Neva Franz..powerful swimmer and diver...when i had to dive off the platform i was scared sh--less.closed my eyes and jumped, just starting up the steps to the high dive about killed me. but i had to do it..it ended my fear of water learned to love swimming in the ocean. and still do to this day..can't wait to visit socal just for a good bodywomping session... PRAY FOR PEACE,KELL

---

Name: Pat () on Tuesday, April 1, 2003 at 13:20:55
E-Mail: onefamilyhistorian@socal.rr.com
City and State: Hawthorne, Calif
Class: 1963
Message: Detectives arrest Lawndale High students who allegedly planned to mark the Columbine massacre by detonating a homemade explosive. Thank the Lord my son wanted to finish his freshman year at good old Hawthorne High. I was at Hawthorne today trying to find that old Cougar Cat because I felt he needed a kiss. Last I heard he was hiding from me in the diving pool at the bottom. John tell him I went home and it?s safe to come out. Pat Underwood Lawndale High class of 1963
OK
---

Name: Chris Prewitt () on Tuesday, April 1, 2003 at 11:40:00
E-Mail: cjprewitt@juno.com
City and State: Fullerton, CA
Class: 1967


Message: Preregistration for California's "DO NOT CALL" program in now available. You can read more about the program and preregister through the "Do Not Call" website: Telemarketers will have to buy the list and they may not call any number on the list. The actual "stop calling" will not occur until October. For those of you outside of California see this website.
Thanks Chris, Telemarketers take up way too much of my life. I was just about to change my phone number.
---

Name: Bob Milazzo () on Tuesday, April 1, 2003 at 08:24:02
E-Mail: mil93312@aol.com
City and State: Bakersfield,Ca
Class: 60
Message: John, Ron Evers is in the top row third from left.
Thanks Bob.....
---

Name: Nick Fitzgerald () on Tuesday, April 1, 2003 at 00:36:34
E-Mail: NFitzge163@aol.com
City and State: Medford, Oregon
Class: 1959
Message: Hey John, could that be Gary Kimbrell in the Picture. Bottom row far left?
Hi Nick, Actually I don't know who's who in this picture. Just thought it might take some early Cougs back to the days of playing baseball at Hawthorne Park.
---

Name: Don Lloyd () on Monday, March 31, 2003 at 18:10:50
E-Mail: DazzedIM@yahoo.com
City and State: Wheatland.CA
Message: HEY!!KOOL SITE...Hope you have continued success!!!"GO SENTINELS"
Yeaaaah BAYYYbee
Hey Don, Inglewooders are welcome here too. Come on back anytime....
---

Name: Betty Rodriguez () on Monday, March 31, 2003 at 18:07:44
E-Mail: tombetty@pe.net

City and State: Lake Elsinore, CA
Maiden: Kean
Class: 69
Message: Well, Sandi Coppock! I've been waiting for over 3 years for you to find Cougartown! So good to hear your name again. It's been over 30 years! Email me at home!
Betty Kean-Rodriguez

---

Name: Sandi () on Monday, March 31, 2003 at 15:15:25
E-Mail: princess3616@citlink.net
City and State: Lake Havasu City, AZ
Maiden: Coppock
Class: 69


Message: Hi All, Been out of touch for many years, but I'm back. Found out about this web site from Debi Weaver. Have spent the past week trying to catch up with her and would like to find out what everyone else has been up to.
Sandi Coppock Willard
Hi Sandi, Glad you found us and I'm sure there's lots of Cougs here that remember you. Hope you find all your old buds and enjoy the site.
---

Name: kevin () on Monday, March 31, 2003 at 13:16:26
E-Mail: kevin@schieberl.net
City and State: dublin, CA
Message: Great site! Was actually trying to find a link to Hawthorne High's current website, but found your place on the way. As a teacher (albeit an awfully young one - my parents only graduated from high school in '68!), I was especially touched by the Favorite Teachers page. Found my way to my initial destination after a pleasant stroll through the site...can I suggest a link to Hawthorne School District on the front page? Thanks and keep up the good work. You've inspired me to do the same for my alma mater.
Kevin

---

Name: Dan Johnson () on Monday, March 31, 2003 at 12:04:02
E-Mail: wch1ispink@aol.com
City and State: Sherman Oaks, CA
Class: 1977
Message: If you happen to be in the Santa Barbara area this Saturday night, come by Club SoHO and check out Bob Melendrez performing CSN&Y tunes with his band 4 Way Street, opening for the "legendary" Which One's Pink? It will be a "Haytown" rock rest all the way around.

---

Name: Linda Lee Olson () on Monday, March 31, 2003 at 10:43:03
E-Mail: lindalo@prodigy.net
City and State: Rancho Dominguez Hills, California

Maiden: Linda L. Truehill
Class: 1969
Message: Good Morning; In a few minutes I am going to send you a computer virus WARNING that I received from a HHS ALUMNI ALSO 1969. I HOPE THAT YOU CAN GET THIS TO AS MANY PEOPLE AS YOU ARE ABLE! THIS IS NO JOKE! YOU CAN CALL ME FIRST IF YOU WOULD LIKE (310) 762-6465 OR (310) 537-6547 [FAX] WE ALL NEED TO HELP EACH OTHER, AS OUR TROOPS ARE OVER SEAS PROTECTING US. I NEW AN LOST MANY FRIENDS IN THE VIETMAN WAR. BLESSED BE TO ALL; LINDA LEE OLSON a.k.a. [truehill]
Hi Linda, BEFORE you send out a virus warning, please check it out first to make sure it's not a HOAX. 99% of them are. You can do that at Urban Legends , or send it to me and I'll check it out. Thanks.....
---

Name: Jerry Rigney () on Sunday, March 30, 2003 at 14:15:42
E-Mail: jnsrig@webtv.net
City and State: Palmdale, Ca
Class: '59
Message: The picture of A&W rang a bell or two. My late wife, Sharon (Cantor) Rigney ('61) was one of the first car hop's hired. I was there opening day so I could be the first one she waited on. Yep I do have a collection of mug's from there. Carl the gang you refer to was called "Los Angelitos de Lawndale". Another member of the "motor patrol" was Joe Miller.

---

Name: Nobody of Importance () on Sunday, March 30, 2003 at 09:18:08
E-Mail: classified
City and State: Hawthorne
Class: '69
Message: I remember the stunning 'Built' blond, who was a cheerleader, worked first at Foster's Freeze (beside Prince Chrysler-Plymouth), then later as a checker at Boy's Market.
Barbara Jean, still crazy over you!

---

Name: carl rilling () on Sunday, March 30, 2003 at 03:09:02
E-Mail: cycleist@earthlink.net
City and State: orygun city, Orygun
Class: 1959

Message: Gang from Lawndale (Izzy Lopez et al) called themselves "Los Angeletios" Black jacket with green letters with a head with a halo and horns. Lt. Frank Martin famous Hawthorne P.D. Detective had one in his office. Any person who worked for HPD in the 50's & 60's would have Lt. Martin stories. Great copper.. Before he was a Det. he rode Motors with the Moore brothers, Tim and Fred, and Pete Stillman. Fred was one of the officers that worked the A.W. on weekends. I had several citations from that group. First one was an unsafe lane change where I ran Pete Stillman right to the curb. Oh, to have a 57 "Panhead" just like they rode.. Also, someone mentioned great after school fights. How about Mike Hunter 59' fought Gary Johnson (not the Gary Johnson from Lennox/Inglewood) at Lennox Park. About a 15 minute fight, some punching, alot of wrestling. Mike Hunter did win.. Class of 58'ers. this was not the Gary Johnson that ran with Dave Rholen. Dave and Gary both had small tattoos on the web of their hands. The tattoos were also their nicknames....
Fred Moore stories? I gotta million of 'em. He gave me a ticket on the Bl. one night. It seemed like he was waiting around every corner for me and this one, I did not deserve. I signed the thing and dropped the ticket book and his pen in the street. He made me cool off in the car, at the curb, for about 20 minutes. I think that was my last Fred Moore ticket.
---

Name: Bill Ennis () on Saturday, March 29, 2003 at 15:18:06
E-Mail: bill@hoppy.com
City and State: Sacramento, CA
Class: 1966


Message: Dan Dye, The same thing happened to my sister Dorothy, HHS 64, She had a white corvair, she was getting off the fwy and the engine fell out on the offramp. Which I guess is better than the fast lane.... and yes, her's used oil, her's threw oil, if I ever see one today, I always look at the back to see if oil has been thrown out the back and all over the paint....
The oil problem with the Corvair was a leaky oil sending unit. That problem was corrected in the later models.
---

Name: Jim Fox () on Saturday, March 29, 2003 at 13:41:40
E-Mail: puffup@pacbell.net
City and State: Haytown, USA
Class: 66


Message: Yes Jean...there was indeed a Burger Chef close by. It was located in the strip mall on the southeast corner of Rosecrans and Prairie. Never went there...Leuzinger turf don't ya know. And an addition to the collection of names of early lifeguards at the pool, let's not forget Erling Halverson. Many will remember that Erling aspired to be the adult advisor of the Hawthorne Youth Canteen. Thanks to all for the memories.

---

Name: Kathy ( Mandel-Reese () on Saturday, March 29, 2003 at 13:11:53
E-Mail: lkathln1@yahoo.com
City and State: Tustin Ranch, Ca
Maiden: Tift
Class: 62


Message: This message is to Jimmy Peppers, the best of 61. I'm right here babe!! in sunny Tustin Ranch, CA. Can't you remember anything? I just saw you about a year ago? Senility hits when you least expect it.
On another topic, can anyone from class of 62 or any other year, tell me where Bea Infante might be?? She went to HHS for about 3 years, stayed in the Hawthorne area for a few years and then vanished. I'm offering $1000. to anyone who can find her. thanks
Hey Kathy, Thanks for making an appearance here in Ctown. I'll try to find Bea for you.
---

Name: Sharon Branigan () on Saturday, March 29, 2003 at 13:11:45
E-Mail: srbranigan.srb@verizon.net
City and State: Thousand Oaks, CA
Maiden: Bierman
Class: 76


Message: Speaking of the movies, I remember going to the Saturday matinee at what was it, the Imperial? On Imperial and Crenshaw? Musta been early-mid 60's. Quarter to get in and a quarter to spend at the little liquor store next door, where you could get a box of Smith Bros cough drops (cherry) and 15 penny candies. Those were the days they'd let you bring food in. I can't remember ever buying candy inside the theater. Crawling Hand, Sinbad, Jason and the Argonauts... Steve had to take us to the movies (mom's rule I guess) so we saw the movies he wanted to see. I remember I was about 6 when Steve and Sue got to go see Bye Bye Birdie. I couldn't go; mom said I was too young for that kind of movie. Look around in an R rated movie today and see who's there; some kids so young you wonder what the HELL their parents are thinking???
Bye Bye Birdie??!! No wonder Sue's as twisted as they come.

---

Name: Robin () on Saturday, March 29, 2003 at 01:59:15
E-Mail: FoodGiantwascheaper.com
City and State: RB,CA
Class: 60

Message: Mr. Plotkin kicked the stuffin' outta Mr. Griffin, now that was a fight! Later Marge the bus driver had to separate Mrs.Carr and Ms. Brooks, we were a tough bunch!! .......Sounds like a real tough bunch they had at Dana Paco...Harry and Kathy did all the fighting and who needed a bus in Jr High??...Not the east side kids, we sprinted to and from school...and Keith...What did your family eat that cost $100 a week in 69'?..They must have some kind of big baskets in Westchester..Later Cougs :o)
I remember we spent about 22 dollars a week in 1965. Keith, maybe that's why you can't fit in a VW anymore.

---

Name: Jean MacErnie () on Saturday, March 29, 2003 at 01:51:59
E-Mail: mamamac.1@juno.com
City and State: Albq, NM
Maiden: Caldwell
Class: 68


Message: Hi John...In response to your memory of the different types of rings on the phone when you called out. I remember Inglewood having one that sounded like a bodily function....As a kid it sort of scared me even. Sometime ago everyone was talking about how the phone numbers back then started with Osborne etc....Inglewood had Orchard and Oregon...Basically all 3 were still 67. So what was the purpose of all that? I am assuming it was just to give you an idea of the town or area you were calling.
Someone recently mentioned the Bathtub Nash....My dad bought a 1950 bath tub brand new. He always called it the bath tub too. When we took it on a camping trip the front seats would go back and turn the car into one big bed. It had an arm rest in the front (middle of the seats) as well as in the back. In 1956 we traded it in for a new 56 nash. It was a huge car with one of those things in the back of the trunk that held the tire (on the outside of the trunk). I had only seen two of them back then...My dad's was a 3 tone blue one and someone else had a yellow black and white one. It seated 9 people easily. I had heard that only a few were made then...but I don't know if that was true. My dad sold that in 1967 or 68...maybe 66. The sun visor in the front was made like tinted sun glasses so you could still see out of them.
Everyone is comparing hamburger prices back then. Was there ever a Burger Chef in Hawthorne or any of the surrounding cities? In 1971 while married to my ex we were living in the Fort Hood area of Texas...We used to buy 7 hamburgers for $1.00, 7 fries for $1.00. The cokes were also 7 cokes for a $1.00 but that was too much coke for us so we brought cokes from home. We would then go to the drive in that was $1.00 per car load. That was one great deal for a family of 4. Movies and a meal for $3.00. (these were all the small sizes, but still....) Til later.....
That amount of food in a movie theatre today would cost 75 dollars....Thanks Jean
---

Name: Jody Weller () on Friday, March 28, 2003 at 20:47:21
E-Mail: JL_WELLER@MSN.COM
City and State: Long Beach CA
Maiden: Halberg
Class: 1959
Message: To answer my son's questions, no I never worked at A&W but it was the first stop everynight when we hit the boulevard, then the Light House, Wichstand, Foster Freeze, and any other along the way.
The 2 skating rinks were Westchester Skateland and another on Rosecrans between Van Ness and Western (can't remember the name). Somewhere thru the years I lost my speed skating jacket but I still have my Senior Sweater (and yes it still fits). Bob decided that roller skates were not made for beautiful Minnesota.

---

Name: Dan Dye () on Friday, March 28, 2003 at 18:55:50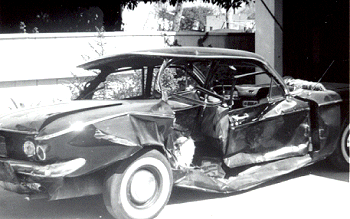 E-Mail: DanADye@earthlink.net
City and State: Torrance, Ca
Class: 1962
Message: My first wife had a Corvair, it used as much oil as it did gas. Her father drove it to work after we were married, because I wouldn't drive it. I liked my SS Impala with a 396, 4 on the floor. Her father was driving it to work one day and the engine fell out of the back, on to the street. That was the last I saw of that Corvair. True story. Dan Dye
Here's a picture of our family Corvair. It was a 1960 4dr (turned into a 2½ door). Mom did more than break an axle, lose a fan belt, and cause an oil leak with this one. Thankfully, she wasn't hurt badly.
---

Name: Bob Brophy () on Friday, March 28, 2003 at 17:12:45
E-Mail: rbrophy8@cox.net
City and State: Phoenix Az.
Class: serra 63
Message: Speaking of Skippy's, does anyone remember the sales slips. If it had a red star on it the food was free. I have not seen a post from Dick Dixon in a while and was wondering if he is still involved with the Indy cars. Bob
Hey Bob, I remember those stars too. Dickie, are you out there?
---

Name: doris () on Friday, March 28, 2003 at 15:42:34
E-Mail: raydori@mindspring.com
City and State: twin falls idaho
Maiden: donaldson
Class: '57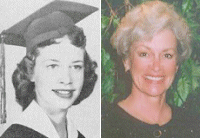 Message: BAXTER DODD!!!??? I remember you! Good to see another "old timer" on here with all these younguns'. Be sure to read about the '52 - '62 Reunion in October in Laughlin, Nevada on the Reunion Page of CougarTown!
JB2 ... I went all through grade school with Gene Badstubner, all the way through 8th grade at Hawthorne Intermediate ... have often wondered what happened to him, where he was, what he was doing! Do you know where he is now Janet? In fact, I have recently been in touch with a couple more of our grade school schoolmates. When he went to Leuzinger and I went to good old HHS, I lost track of him.

---

Name: Cindy Colby () on Friday, March 28, 2003 at 12:58:10
E-Mail: cindycolby@att.net
City and State: Laguna Hills, CA
Maiden: Maxson
Class: 63
Message: Ray, that was funny. John, my left thigh weighs as much as I did then, I was a skinny little twerp and could hardly cut paper much less Ray.

---
If you have comments or suggestions, please email me at john14@cougartown.com