Hawthorne Time and
Temperature

Home | 60's Slang | Alumni List | Car Talk | Cougar News | Feedback | Hangouts | Memories
Recollections | Reunions | Street Scene | Teachers | Tributes | Vietnam | What's New | Keyword Search
Another Timeless Classic The Shirelles
<!-+++++++++++++++++++++++++++++++++++++++++++++++++++++++++++++++++++++++++++++++++++++++++++ +++++++++++++++++++++++++++++++++++++++++++++++++++++++++++++++++++++++++++++++++++++++++++++->

---

---
<!-+++++++++++++++++++++++++++++++++++++++++++++++++++++++++++++++++++++++++++++++++++++++++++ +++++++++++++++++++++++++++++++++++++++++++++++++++++++++++++++++++++++++++++++++++++++++++++->
Name: Jim Raines () on Wednesday, January 22, 2003 at 22:21:22
E-Mail: fourwindspublishing@juno.com
City and State: Salt Lake City Ut
Class: 1962

Message: Back in the early 60's Alan Hauge had a custom paint shop on Imperial Hwy. Does anyone remember the name of his shop? One day someone came in and got an estimate on painting his car. The guy thought it was too high so Alan walked him out to the curb and pointed down to the Earl Schieb paint shop and said "go down there, they'll paint it for $29.95". In those days, Earl Schieb paint jobs were enamel and looked as if they were painted on with a brush.
Plus they would forget to mask the trim.
I had a friend once who tipped the guy at Earl Scheib 40 dollars when the paint job was only 75 dollars. He got an OUTSTANDING job.
---

Name: Walter Holt () on Wednesday, January 22, 2003 at 22:14:54
E-Mail: walterholthhs66@socal.rr.com
City and State: Orange, Ca
Maiden: Cowabunga
Class: 66


Message: Yep there were quite a few of us that did actually surf down at two-six. I remember one the craziest days I ever surfed there was on 6-8 foot day, I think it was Darrell Jones. We ditched school that day because of the surf report. It was real foggy driving down there and even more so when we got to two-six. We figured what the heck we'll go out anyway, so out we paddled. When we got out in the line up the fog was so thick you could hold your hand out and barely see it. We would take off strictly by feeling the rise of the waves & the sound of them breaking near us, not even knowing how the waves were going to break or what was happening in front of us. Talk about sharpening ones senses. When I'd wipe out I remember doing everything I could to hold onto my board to keep from losing it and having to swim in. Jumping off the piers? we used to do that on 12 foot plus waves tossing our boards off the piers so we wouldn't have to paddle out through the surf. I also remember the biggest day I ever surfed in South bay was back in Winter 63 or 64 in Redondo beach. There was an earthquake that happened in the ocean out around Hawaii and it brought in 25 foot plus perfect tubular waves. I remember being crazy enough to go out in it off the Redondo Breakwater. That was the first time I ever surfed waves over 12-15 feet, Man what a great feeling that was right up until I wiped out on my 5th or 6th wave, which scared the crap out of me. It was the first time I had to hold my breath for that long, fortuantely I popped out of the soup in the nick of time. Yep A lot of good times at the beach back then and still.

---

Name: Sharon Branigan () on Wednesday, January 22, 2003 at 20:11:00
E-Mail: srbranigan.srb@verizon.net
City and State: Thousand Oaks, CA
Maiden: Bierman
Class: 76


Message: I never jumped off the pier myself but I remember other people doing it. I tried to surf once but I kept falling off. Then they wanted to put the board in the water and that's where I drew the line. Speaking of Zeppy's pizza, and oh, how I have fond memories of Zeppy's, did you know that Zeppy's was started by the coach of the Culver City HS football team? He had a restaurant called Perry's Pizza and had a brilliant idea to open a sandwich and pizza shop at the beach. The coach had his football team working for him during summer and weekends. Well, the pizza was a huge hit (and soon the sandwiches were history.) That's why you'll always flash back to your misspent high school days when you walk into a Perry's Pizza joint... and now you know the REST of the story... Well, anyway, that's the story that was told to me by an ex-football player who works at Zeppy's on Redondo Pier.
I remember Perrys Pizza on Artesia, was it? There slogan on the sign out front said, "Had a piece lately". Is that the same Perrys?
---

Name: doris () on Wednesday, January 22, 2003 at 19:36:52
E-Mail: raydori@mindspring.com
City and State: Twin Falls, ID
Maiden: donaldson
Class: '57
Message: Centinella Park is the one I was thinking of. Is it still there???
Yes, it's still there. I do believe though, that the pistol range has been retired.
---

Name: Robin () on Wednesday, January 22, 2003 at 18:26:20
E-Mail: 4speeddualquadpositraction348.com

City and State: RB,CA
Class: 60
Message: Barney McArdle!...The bitchinest 60', RED, 348,4 speed,.411 Chevy to cruise Hollywood...How the heck are you? Get out of the rain and Gordo, Tom, Brian and I will be waiting..:o)
Sounds like my favorite 348...the 335HP model. Gosh, I can still hear the cam lope and solid lifters.
---

Name: Betty Rodriguez () on Wednesday, January 22, 2003 at 17:51:28
E-Mail: tombetty@pe.net
City and State: Lake Elsinore, CA

Maiden: Kean
Class: 69
Message: Doris- I was thinking Centinela Park! I have another question - did Ray's Market on Felton sell liquor? Betty
Centinela Park had hills too.
---

Name: Marilyn Ross () on Wednesday, January 22, 2003 at 17:42:06
E-Mail: mlr922@hotmail.com
City and State: Garden Grove, CA
Maiden: Wisham
Class: 56


Message: The park I remember at the North end of Inglewood was Centinela Park with all the rolling hills and the plunge. I remember one rainy day in Hawthorne while in high school 120th street flooded really bad. We had to cross it to get home and we needed a boat. My mother let us call a cab and we shared with another student. It cost .10 cents to go anywhere in the city limits of Hawthorne. We were just over the line at Imperial and Prairie. He charged the first kid a dime and we had to pay another dime. That was cheap even for those days.
The cab company had to compete with Sunset Stage and the Red Car in those days. Everything was a dime.

---

Name: Jill McFarlane () on Wednesday, January 22, 2003 at 17:41:56
E-Mail: jillmcfar@aol.com
City and State: Mission Viejo, CA
Class: 1977

Message: I am sure I have memories of 2-6 beach, but I just don't know what they are. I know I did spend alot of time there. However, let's see if you 77'ers remember this place. Sandunes park in Manhattan beach. It was off of Rosecrans just before Manhattan Ave. Anyhow a bunch of us would hike all the way up this huge sand dune, party and then roll down the hill, what a rush! Some of us would even get creative and get a plastic disc and whoosh down the hill.

---

Name: Barney McArdle () on Wednesday, January 22, 2003 at 17:39:43

E-Mail: barney.f.mcardle@boeing.com
City and State: Seattle, Washington
Class: 1958
Message: Yes, the name of the park was and is Ladera Park. I used to go there often.

---

Name: doris () on Wednesday, January 22, 2003 at 16:17:42
E-Mail: sure
City and State: absolutely
Maiden: donaldson
Class: almostbeforeanybodyelse!!
Message: Bob Poorman made me think of something ... a park up in? Inglewood or just beyond ... what was the name of that park? They had great hills to get horizontal on and roll down! GREAT FUN! And brother! You late 70's kids were WILD!!!! Jumping off the pier ... I doubt the 50's and 60's kids ever even THOUGHT of it, we were such mild-mannered teenagers! WHOA!
Doris, I think the park you're think of was on La Brea, just south of Slauson; Ladera Park.
---

Name: Bob Poorman () on Wednesday, January 22, 2003 at 15:47:45
E-Mail: poormanrobert@msn.com
City and State: Wayzata, MN
Class: '77

Message: Two-Six: Although I remember spending time as a wee one at other beaches where when we got home mom took the hose to my nice little tightie bathing suit to wash out the sand, my first real memories are of two-six. The first trip I recall was with dad in the convertible and stopping to pick up a hitchhiker. That was cool, then. A real bad idea nowadays. Laying down on the grass and rolling down the hill where the parking lot was later built was always fun too. As we got older we moved south until we arrived at "The Pier" during HIS days right through HHS and didn't miss a day from Easter on during the summer. Mom, dads, thumbs, bikes and The Bus ensured we would get there for fun, sun and slice or 2 of Zeppies pizza and an orange bang (was that what they were called?). My best memory of the pier jumping shenagins that Dan mentioned was of talking my girlfriend into jumping. She didn't swim so well. The life guards were standing on shore waiting to take jumpers to the police for ticketing as they swam ashore. I guess that was lucky for her since they, after waiting for her to come in and then go down for the 3rd time, had to swim out to get (i.e. rescue) her. I guess that's what they call adding insult to injury.
Did anyone ever.....you know, like surf?

---

Name: Dan Johnson () on Wednesday, January 22, 2003 at 14:10:18
E-Mail: wch1ispink@aol.com
City and State: Jumping Off Manhattan Pier
Class: 77


Message: TWO SIX was "Hawthorne Beach" even in the mid-70s! Hey does anyone remember the "jump off the Manhattan Pier" insanity circa 1976-77? It started slowly, a couple of jumpers here, a couple there. Next thing, one of the lifeguards tried to stop a guy who proceeded to kick the lifeguard's butt. That opened the flood gates and maybe a 100 or more people stremed on to the pier to jump. It the lunatics in charge of the asylum at the pier. The next day they closed the pier, brought in the El Segundo, Hawthorne, Redondo, Manhattan and Hermosa cops, and greased the pier railings with pig fat. The "man" took back the pier from the rebels. I will never forget that day, however, when the revolution conquered Manhattan Pier for a day.
"Call out the instigators, because there's something in the air. We've got to get together sooner or later Because the revolution's here, and you know it's right. And you know that it's right. We have got to get it together, now"
Thanks Dan, That might cause me to run through the fields and houses.

---

Name: doris () on Wednesday, January 22, 2003 at 12:34:59
E-Mail: yes
City and State: TF ID
Maiden: donaldson
Class: '57


Message: HEY! Thanks Petey. Were there parties down there at 26th Street? And my GOSH! Did that kid drink all those beers himself???? And YES RON, I too remember flooded streets. Once in the early 50's it was so bad at the corner of Eucalyptus and Broadway, my brother and I put on our rain gear, including boots, and went wading ... almost too deep for our boots. Got pictures of it somewhere. Guess I'll have to dig for them! I remember Chaney's was flooded inside (must have been a basement) and they sold towels for little of nothing because the water had gotten to them. I think the HOODMAN has stories of actually BOATING in the streets during those floods.
Yep, Hawthorne was lotsa fun in the old days.

---

Name: Ron Dokken () on Wednesday, January 22, 2003 at 10:39:11
E-Mail: rdokk@yahoo.com
City and State: Endwell, NY
Class: 1955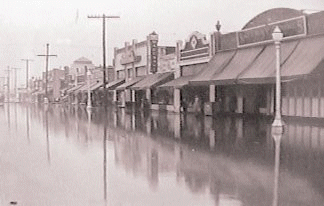 Message: While shivering in the frozen NE today, I got to thinking about Hawthorne wx. In the early 50s I remember thick fogs - so thick I couldn't see 50 ft. I especially remember walking home in the fog from Intermediate, and also walking across plowed fields to HHS. (Yes there were plowed open fields in those days). Of course, there are those who would say I was always in a fog. Also I remember lots of times there was flooding in the streets between Hawthorne and Santa Monica. There would be trucks standing by at affected intersections ready to pull your flooded car out - for a fee. Well, back to reality.
I think houses replaced open fields, and open fields contributed to the fog problem, and storm drains solved the flooding. I can remember how streets would flood. We would make boats out of wash tubs or whatever we could find.
What a great time to be young.
---

Name: Gomez, again () on Wednesday, January 22, 2003 at 10:33:03
E-Mail: andthegirlsallgetsotan.com
City and State: ORYGUN
Maiden: Honduras
Class: 1972

Message: Any time I spent at 26 street with Carly Hegg was a favorite story. He would surf in his Levis and a black pull over sweater sometimes. Carly could body womp with three other people stacked up on him.I would be on the top since I was the smallest and I never laughed so hard in my life! :) I really miss those days. Also anyone remember the old wall at 26 when someone spray painted FREE OLSEN on it?I know there's a photo somewhere. Peace & Love

---

Name: Gomez () on Wednesday, January 22, 2003 at 10:02:04
E-Mail: rainandmorerain.com
City and State: Penal Colony,OR
Maiden: Honduras
Class: 1972


Message: Does anyone know if they still sell those DEADLY lollipops that come to a razor sharp point on the end at the Red Onion? They were layered with bright colors with a ring of wax on the bottom by the stick. Just sugar and colored water but I had to have one after dinner. By the time I got the sucker to that razor sharp point I would fall asleep. When time I woke up, my mom would have taken that candy and tossed it in the garbage. That's when I moved on to a better candy, CHOCOLATE!:-} Never looking back.

---

Name: Chris Prewitt () on Wednesday, January 22, 2003 at 09:47:14
E-Mail: cjprewitt@juno.com
City and State: Fullerton, CA
Class: '67


Message: Well I was at the Crowne Plaza Resort this past weekend and not a Cougar was found. But? The young lady behind me in line saw my shirt and if I recall correctly said that her name was Mindy and she was from South Torrance High c/o ?62. She and her husband are building up a roadster that they hope to have in ?show condition? later this year. They spend more money on a paint job than I paid for my first few cars combined! Don?t be afraid to wear your CT shirt you never know who will see it and start up a conversation. If you think that your shirt is too faded like mine were, I?m sure that if you beg John he will sell you a new one. Remember Saturday July 5 is CT T-shirt day. Everyone be true to your school and wear your shirt.
Man, Chris could find a South Bay-er in China. Thanks Chris for the story AND the commercial.
NOW, WEAR YOUR COUGARTOWN T SHIRTS!!!
---

Name: doris () on Wednesday, January 22, 2003 at 09:26:16
E-Mail: raydori@mindspring.com
City and State: hot&dustyTwin Falls, Idaho
Maiden: donaldson
Class: 57

Message: HEY HOODMAN! Good to see an "old" name here again. John, either us "oldies but goodies" are too danged old to remember or we've already given you all our memories and now we're speechless. HA! How about it "oldtimers" ... and for you younger kids, I can say this because I'm older than most!! Anyway, you older HHS guys and dolls out there ... let's take Robin's lead and re-remember. Bet the kids would LOVE it! I, for one, would LOVE to hear some 26th Street stories ... I just went to the beach to surf the shallow stuff with surf mats all morning and sleep all afternoon! BOOOORING! -- Stories! Stories! I wanna hear stories of 26th Street! I KNOW they're out there! GO COUGARS!
I always hated it when sea weed touched my leg. That would send my imagination into overdrive.
---

Name: Robin () on Wednesday, January 22, 2003 at 01:16:48
E-Mail: MemoryJogger.com
City and State: Redondo Beach L.A.
Maiden: Orange
Class: 1960

Message: Hey Cougs....I was reading the weekly Beach Reporter we get around here and was surprised to see that the local High School surfing competition is held at 26th street, Manhattan....As many of us remember , this was (and still is)IMO HHS's beach...In the late 50s through the 60s many of us spent more time there than at home..My question is...When did that era end and where do todays Cougs beach? And for those that played in the sand and surf there, whats your favorite TWO SIX story?...Mine is of course proposing to my wife there...the next 4 involve the late Crazy Craig Caldwell, but he's not here to defend himself and the 5 gallon Sparkletts bottles of wine coolers blurs most of them anyway...


Yeah where DO these younger beach Cougs hang out nowadays?
---

Name: Gary Wesche () on Tuesday, January 21, 2003 at 17:56:23
E-Mail: gjwishbone@aol.com
City and State: Torrance,Ca.
Class: 1970

Message: I'm not a real big computer guy, but when I do go on line I'm always hopin to find an E mail from an old class mate. Sure do miss HHS. The 60's were a great time to grow up. Gary Wesche class of 70. gjwishbone@aol.com
I agree, Gary.....thanks.
---

Name: Adrianne () on Tuesday, January 21, 2003 at 17:17:34
E-Mail: addy57@msn.com
City and State: Cerritos, CA
Maiden: Longpre
Class: 63

Message: Where are all of the '63ers that are interested in a 40th reunion? I've only heard from a handful, and 3 '62ers. The committee is trying to meet with service planners. We need some kind of an interest response. Please just use my e-mail address.
Hi Adrianne, May be that lots of 63ers don't read the feedback page on a daily or weekly basis. You may need to email them.
---

Name: Andy Zeinfeld () on Tuesday, January 21, 2003 at 07:42:30
E-Mail: andy.zeinfeld@radioshack.com
City and State: Fort Worth, TX
Class: 1978
Message: I just read Larry Banta's email... I can't begin to tell you how hard I laughed! Then of course I started to remember all the other things we did as a group and had so much fun or got in so much trouble... I remember my days at Hawthorne High being around great friends and having the time of my life. In many ways I miss those days, and then again, I would not want to go back for all the tea in China. I hope everyone is doing well....
Thanks Andy, I'm sure your feelings are echoed by many HHSers.

---

Name: Dale Craig () on Tuesday, January 21, 2003 at 03:39:32
E-Mail: CbrdcraigA@aol.com
City and State: Hawthorne Ca
Class: 76
Message: greetings to everyone in cougartown Ijust want to say that year is going by so fast it's near the end of January and it's going be a pirate super bowl the bucs and the traiders [raiders]in two months baseball spring training will start a another cruise night coming as well I hope that we see a lot of people at cruise night and my heart felt sympathy go out to the Collins Family God bless Denise and Gary take care everyone see you soon later Dale Craig aka Taz

---

Name: Mark Alan Rabenold () on Monday, January 20, 2003 at 12:02:25
E-Mail: jmar@bossig.com

City and State: Havillah, Washington
Class: 75
Message: Jodi- Please extend my condolences to Ralph, Denise & Gary, and friends. Sorry for your loss.
Mark Alan

---

Name: Jim Peppers () on Monday, January 20, 2003 at 09:04:00
E-Mail: jimpeppers@yahoo.com
City and State: Athens, Greece
Class: 61


Message: Hello Cougars, Wishing you all a healthy, happy, and prosperous 2003. Sorry to hear about Les Johnson. I'm sure I saw Les in Athens in the 70's, but couldn't catch up to say hello. A special hello to Judy and Linda. Have either of you got anyway to get in touch with Kathy Tift? I would appreciate it if you could e-mail me any information. Thanks. Jim Peppers
Hi Jim, Email George Rea at george_rea@taec.toshiba.com I'm sure he knows her whereabouts.
---

Name: Frank Romano () on Sunday, January 19, 2003 at 20:44:46
E-Mail: fromano@lvcm.com
City and State: Las Vegas, NV
Class: 1961


Message: Besides wishing everyone a wonderful 2003, I should like to offer the "old Coach" my most sincere wish for his full recovery....begging one question. Does anyone out there think, just maybe a small part of his back problem was caused by the lack of wind resistence from that old paddle with all the neat little holes? I mean, it would only be reasonable to think that it had to hurt everyone at each end... Don't ya think? Lets hear from science majors...
Yo! Old Coach.. Gods speed to full, fast and complete recovery...
I'd like to think so, but then we'd have to blame razor rash on them too.

Thanks Frank and glad to hear from you.
---

Name: Carol Shaner () on Saturday, January 18, 2003 at 18:53:38
E-Mail: misscaroll@AOL.COM
City and State: San Bernardino
Maiden: Shaner
Class: 70


Message: Last week my boyfriend came home and said he saw a mercedes on the 215 and the 10 with a license plate...xbchboy..he said he got up to the driver and waved....he said he didn't know why he did it. The driver might have been Mike Love. Had a full beard. I wonder..
My guess is Mike Love wouldn't need the publicity. Kinda like Paul McCartney driving around with xbeatle on his car.
---

Name: Jodi () on Saturday, January 18, 2003 at 16:02:42
E-Mail: ibjodi@aol.com
City and State: bakersfield ca
Maiden: Torgerson
Class: 75
Message: Sad news to pass on. Today Mrs. Colleen Collins passed away. Her Children are fellow cougars, Ralph, Class of 71, Denise Class of 75 and Gary Class of 77.
I grew up with this family from the time I met Denise in kindergarden at Ramona school.
Denise, Kim Clark and Teresa Deuel and I have all stayed very close for 40 years. This is the first of our mothers to leave us. We will all miss her very much. I will post information about the services as soon as I get them.
Thanks Jodi, Very sorry for your loss.
---

Name: Don (crow) Burns () on Saturday, January 18, 2003 at 14:26:47
E-Mail: burnslock@yahoo.com
City and State: Downey, Ca.
Class: 57
Message: Hey Cougs. While reading the past feedback, noticed John, that you had worked @ Virtue Bros., that was my first job when I returned from the Army in 61, in the table top department, worked with Marvin (always chewing pieces of cigars or cigarettes) putting on the Metal banding around the edges, from April to Oct., My step dad, Mac McCarty, worked in the buffing dept.. Seems like a lot of people worked there. Be A Coug
I worked there for 2 weeks in the wood shop and it was way too dusty for me. JFK was shot; I went home in the middle of the day and never went back.
---
If you have comments or suggestions, please email me at john14@cougartown.com