Hawthorne Time and
Temperature

Home | 60's Slang | Alumni List | Car Talk | Cougar News | Feedback | Hangouts | Memories
Recollections | Reunions | Street Scene | Teachers | Tributes | Vietnam | What's New | Keyword Search
Another Timeless Classic The Shirelles
<!-+++++++++++++++++++++++++++++++++++++++++++++++++++++++++++++++++++++++++++++++++++++++++++ +++++++++++++++++++++++++++++++++++++++++++++++++++++++++++++++++++++++++++++++++++++++++++++->

---

---
<!-+++++++++++++++++++++++++++++++++++++++++++++++++++++++++++++++++++++++++++++++++++++++++++ +++++++++++++++++++++++++++++++++++++++++++++++++++++++++++++++++++++++++++++++++++++++++++++->
Name: Enza Nicocia () on Friday, January 24, 2003 at 17:50:34
E-Mail: antiquenza@aol.com
City and State: So Sunny SoCal
Maiden: mayyoustayforeveryoung....
Class: '72 still rockin'


Message: Hey Debbi Lee~I've seen you several times these past few years, and girl you STILL look like you just stepped out of the 70's! We are all the same, but different!?!? (I, of course, have HARDLY changed..HA! :-) I'll try and make it to Hermosa Saturday. Haven't been to Hennesey's in ages. Happy Birthday to ya! Mines just around the corner...bah-hum-bug! Like I told Dean Morris on his 49th~ we are just like fine Italian wine~getting only better with time! And, if I make it to my mama's age (87), I'll look back and say, "Damn, those WERE the good old day!" Lets all enjoy life & PARTY while we are still young. WOOOHOOO!

---

Name: Tim Helble () on Friday, January 24, 2003 at 17:19:54
E-Mail: TKHelble@netscape.net
City and State: Columbia, MD
Class: 1973
Message: My favorite beach story centers on a day when there were some unusual waves. Here's a short summary of the storm that caused them from the FEMA website (it's gov't, so it's reprintable): "September 1972... Hurricane Hyacinth moved as far west as 125W before recurving to the northeast. The remnants made landfall between Los Angeles and San Diego on the 3rd with winds of 25 mph and rainfall of up to one inch in the central and southern mountains of southern California. This tropical cyclone holds the distinction of traveling the farthest west before recurving and making landfall in southern California. This occurred during the El Niņo of 1972-73." Anyway, Bruce Camilli, Dan Coate, myself, and a few others went down to Manhattan Pier on the 3rd of September in 1972 to body surf and hang out. The surf situation was very unusual - large 10' waves breaking at a 20-30 degree angle from the beach. Never seen waves come in at such a sharp angle in all my days at SoCal beaches. Needless to say, if you just floated in the water you would end up at 26th street in 15 minutes. We went into the water and all realized that trying to body surf these monster waves would mean instant death, so we spent most of the time staying closer to shore and limiting our wave heights to 6' or less. I saw that others who had surf mats could catch the larger waves, so I rode my bike all the way home,. borrowed a neighbor's mat, and rode back to the beach. It was late afternoon and I noticed the beach was almost empty. Also, the waves were a lot bigger and nobody was in the watter. I went out on the mat to catch my first monster and noticed a guy on the beach waving his arms frantically, but I quichly dismissed it as anything to worry about. I starting catching my first 14' wave, which crested and the curl landed with full force on my back, holding me squarely on the mat in place but underwater for who knows how long. I've never been hit with so much force in my life. I decided that was enough, some how made it to shore and went home. That night on the news I heard that the beach had been closed and then realized that the guy waving at me was a lifeguard who didn't even want to risk his life swimming out to get me. That night I understand the tropical depression went ashore at about Oceanside.

---

Name: Elizabeth Estrada () on Friday, January 24, 2003 at 16:41:23
E-Mail: dzlizzyisstillalive
City and State: r.b.ca
Class: 69
Message: The Estrada party hangovers were tough to overcome and thank goodness none of the pictures turned out....something to do with the film in Michele Monson's camera. *sigh of relief*
Here's another beach story. I went swimming with Donna Cook one sunny summer day in 1967. Donna was a competitive swimmer. She had won many ribbons, medals and awards and had already swam the pier to pier several times. I was determined to keep up with her, (competitive little brat that I was) so I followed her much distanced lead. I kept swimming and swimming until I became so tired I lost all strength in my arms. (about 40 meters) Only problem was.....I couldn't get back in to the shore and started sinking. I panicked, like a good Girl Scout. Scared the hell out of me. LOL. Donna was trained to be a lifeguard and she saved me that day. I love you, Donna. I don't think I ever said 'thank you'. So here it is. KISS KISS Donna went on to coach hundreds of kids after that, including her daughter, Brandy. Now I swim like a champ thanks to the coach at Hawthorne's pool. P.S. If any of you should come across photos of what went on at the New Year's Eve Party.......they're fake. You can do amazing things with photoshop programs. Just remember that. They're all fake! Okay....have a good day. DZ

---

Name: Debra () on Friday, January 24, 2003 at 16:26:02
E-Mail: Debratmcg@aol.com
City and State: Lancaster, CA
Maiden: Lee
Class: 72
Message: Okay, as I checked feedback and saw my sr. picture, I have changed a little ... Any alumni are welcome to join us tomorrow. It will be wonderful to leave this desert and see the ocean. Have a great weekend everyone.

---

Name: Debra () on Friday, January 24, 2003 at 15:50:07
E-Mail: Debratmcg@aol.com
City and State: Lancaster, CA
Maiden: Lee
Class: 72


Message: TGIF - Looking forward to a good 3 day weekend. Alumni - there will be about five of us 72ers in front of Hennessey's Hermosa tomorrow at 4:30 p.m. If anyone wants to stop by we'd love to have a mini reunion. Just look for me, Noreen Crotty, Sheila and Sharon Rich, and Debi Darling. We all look exactly the same! Hope to see ya there. Super Bowl Sunday is also my 49th birthday! Love ya all ...
Now see, there's a woman that knows how to start a get-together.


Happy Birthday Debra, and hope you have 100 72ers show up.
---

Name: Bob Melendrez () on Friday, January 24, 2003 at 13:32:39
E-Mail: Strongheart@pacificwest.com
City and State: Ocala, FL (temporarily)
Class: 1971


Message: Sad to hear of Mr. Wing's passing. Great memories of the many field- trip/performances with his classes. His vocal coaching still serves me well. My thoughts and prayers go to Mr. Wing's family, and of course, his extended family of Cougars...

---

Name: GARY HELBLE () on Friday, January 24, 2003 at 13:03:28
E-Mail: SUNKIST10811@YAHOO.COM
City and State: OCEANSIDE,CA
Class: 1984
Message: My big brother Dan Helble turns 50 today so I just wanted to thank him for all the great memories over the years. Unlike my other brother Tim, who was 2 years younger than Dan, I was 13 years younger. Between you and Tim I had quite a challenge following in your footsteps at HHS and beyond. I eventually followed you to UCR, thank God nobody remembered the name there! Enjoy your day and see you tomorrow at your party. From the runt of the litter, Gary!
Happy Birthday Dan.....
---

Name: Ingrid Larson () on Friday, January 24, 2003 at 11:53:36
E-Mail: ingridl@fdgdesign.com
City and State: Long Bech, CA
Maiden: It was Larson then, too
Class: '74


Message: I get a kick out of the beach stories, however, I didn't spend much time at the beach, myself. My older brother, Eric, was the surfer and beach fan. He started surfing when he was about 14. At the time I think he had a 10 foot long board. He and his friends, Rich Greedus, Craig Foster and Mike Smith would sometimes get my mom to give them a ride to the beach, where she'd leave them to their fun all day long.
When Eric was in 8th grade, he asked a girl from his class to spend the day with him at the beach. My mom packed us all in the car and we went down Dockweiler Beach. Eric and Janice went off to the "surfer beach" and the rest of us went over to the fire pit area. Not long after we all got settled in, along came Janice; running, screaming, terrified! Finally, she was able to explain what had happened. Eric had wiped-out, the surfboard caught under the water, popped up in the air and come down in his face! He ended up with a chipped tooth and a bloody mouth.
Needless to say, that was the end of the fun for that day. We rushed Eric to the doctor for treatment, and got Janice home, too. I don?t think they ever managed to get around to a second ?date?. I wonder if Janice remembers that day. By the way, Janice grew up to be Los Angeles City Councilwoman, Janice Hahn.
......and now you know the REST ..... of the story.
GREAT beach story, Ingrid, thanks......so I guess the 70's people were the REAL beach Cougs, huh, as nothing much heard from the 50's and 60's Cougs
---

Name: Cindy () on Thursday, January 23, 2003 at 13:27:12
E-Mail: cindycwhittaker@msn.com
City and State: Gig Harbor WA
Maiden: Whittaker
Class: 1976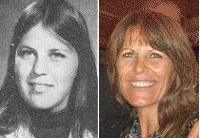 Message: I got an email from a friend that was a soldier's prayer so I forwarded it to one of our customers who is in the special forces. His response is worth sharing. The soldier's prayer is the one that starts:
I want you to close your eyes and picture in your mind the soldier at Valley Forge, as he holds his musket in his bloody hands. He stands barefoot in the snow, starved from lack of food, wounded from months of battle and emotionally scarred from the eternity away from his family surrounded by nothing but death and carnage of war.......as I know the Cougartown rule of no email forwards, the whole thing can be read here.
Here is his response:
Cindy, That is really nice. I will sure pass it along. Even the snake eaters around here will enjoy it. Hee Hee
I wonder Cindy, if the same people that were in Seattle and elsewhere that are protesting the upcoming conflict would come to some of the country's I have been to in the last 17 years. They would see the reason we have to do things. While not pleasant, very much needed. Patty Murray should come to Afghanistan and see our Special Forces Medics treating people in the clinics that we had just finished building. She could drive on the roads our engineers have just finished clearing, or go to three of the schools that are now occupied because children are no longer afraid to be there. Maybe McDermott should come with me to the Philippines and I can show him 5 or 6 of the wells my mates and I dug so people do not have to walk 2 miles down to the river to fetch the water for their families.
I could fill page after page of stories like this. But instead our "elected officials" are out protesting and not supporting us in the least.
OK, OK, enough of Michael's soap box.
It is people like you Cindy that we do what we do. Please believe this from a soldier.
Regards, Michael

---

Name: Harry Plotkin () on Friday, January 24, 2003 at 11:16:13
E-Mail: hcharry@PACBELL.NET
City and State: Harbor City, CA

Maiden: Old Codger
Class: 52/97
Message: Dan Helble - a most happy 50th birthday from your Dana teacher of 36 years ago. John, I see the Cougars are finally coming out of the woodwork or from where ever they were hiding. Love to all, HCH
Yes, they've all finally shed that New Years hangover from the party at Estrada's place. Lots of new Cougs checking in too. I think it was just a lull.
---

Name: Patti Smith () on Friday, January 24, 2003 at 10:46:56
E-Mail: grnidL80@attbi.com
City and State: Cypress, CA
Class: 68


Message: I'm so sorry to hear about the passing of Mr. Wing. He was by far my favorite teacher at HHS, and has always held a special place in my heart. I remember sneaking up behind him when he was seated at the piano, and pretending to polish his head...then acting the angel when he turned around to see what the class was giggling about. He did have such a cherubic smile and wonderful, upbeat attitude. My deepest condolences to his family...he will be sorely missed, but the angels have certainly gained a wonderful choirmaster.

---

Name: John Andrade () on Thursday, January 23, 2003 at 22:57:17

E-Mail: jandrade1@cox.net
City and State: Rancho Palo Verdes, CA
Message: Retired and living in Rancho Palos Verdes.
Hi John, Thanks for letting all your students know where you are now. Most of my query email is, "Do you know where my teacher is?" I wish more teachers/administrators would add to the Feedback page. Thanks again.
---

Name: Sharon MacDonald () on Thursday, January 23, 2003 at 22:05:02
E-Mail: rmac@genevaonline.com
City and State: Burrrrrr-lington, Wisconsin
Maiden: Badger
Class: 1963


Message: Yeah, the upper midwest is sure in the deep freeze. How cold is it? Well, today at work, just before lunch, the usually quiet and mild mannered maintenance guys in our building were running all over the place. Next thing you know, all the bathrooms are taped shut like multiple crime scenes and signs started appearing pointing to a far wing where the apparently only non-frozen bathrooms are located. From my area that translates to a 20 minute round trip. Oh well, at least there's no snow and it's expected to warm up to +5 degrees tomorrow!
Cold here too, Sharon. Should only get up to 64 tomorrow.

---

Name: Enchilada Estrada () on Thursday, January 23, 2003 at 18:54:16
E-Mail: dzlizzy219@aol.com
City and State: stillinredondoafteralltheseyears
Class: 69
Message: Yeah the fire pits were a great place to show off with a Ukelele too. Back then, I knew all 3 chords.
I bet you were adorable in your Hawaiian flowered shirt and flip flops, John.
I don't know if "adorable" is the word, but they didn't make me leave.........It was MY birthday.

---

Name: Tim Helble () on Thursday, January 23, 2003 at 18:32:33
E-Mail: TKHelble@netscape.net
City and State: Columbia, MD
Class: 73

Message: Tomorrow my big brother Dan Helble (HHS 71) celebrates the big "Five O"! I know he checks out Cougartown once in a while because I saw his "just checking in" message the other day. I want to thank him for showing me the ropes through the years and saving my tail once or twice. I always had my Big Bro to tell me what to expect as I grew up in Hawthorne and who to watch out for. I liked the way he gave me the lowdown on the teachers that I would have and the subjects I was about to take. I remember the first day of Mrs. Mark's composition class -- I can still see her reading down the class roll and eventually reaching my name, pausing, and then saying "Danny's little brother!" (with that sort of silent "r" that Mrs. Mark was famous for.) The way she said it, I didn't know if that was a good sign or bad sign, but later found that it was good since Dan was such a quality student. Dan was one of the few to win the perfect attendance award for not missing a day during his four years at HHS. As is the case for most people with older siblings, my musical tastes (good or bad) were influenced by Dan. He got me into FM rock like The Who and The Moody Blues when many of the kids my age were still listening to KHJ. I easily got a job at Ralphs South Bay because Dan worked there before I did and the manager figured I'd be as good of a worker as he was. I could go on and on, but thanks Dan for being Big Bro and here's to another 50 God willing! And post on Cougartown once in a while!
Hey Happy 50th Dan, you little puppy. I was that age once.

---

Name: Robin () on Thursday, January 23, 2003 at 18:22:09
E-Mail: GoneFishin'.com
City and State: RB,CA
Class: 60

Message: Liz do you remember the dads surf fishing?...I can remember digging pools in the sand to keep the shovel nosed sharks the guys would catch over and over. And old spark plugs for weights, and homemade contraptions to catch sand crabs ...Those poles had to have been 12 ft long and good casting was an art...Every once in a while I see a guy with a trout pole who can't get his bait 30-40 ft from the shore and have yet to see any fish caught...I wish I had pictures of the way it used to be done...:o)

---

Name: Art La Mere () on Thursday, January 23, 2003 at 16:49:19
E-Mail: artlamere2mchsi.com
City and State: Bettendorf Ia.
Class: 73

Message: well yes it is cold here in iowa today wind chill -35. still have no snow here, Boy is that strange it would have to warm up to snow I think. Min. has had more snow then here. anyway hope all is well in cougartown. anyway today is a day that you wish that you'd never left southern cal however I don't miss the traffic. god bless all and be safe, Art
I'll fight a little traffic for -35 degrees....

---

Name: Jill McFarlane () on Thursday, January 23, 2003 at 16:23:31
E-Mail: jillmcfar@aol.com
City and State: Mission Viejo, CA
Class: 1977
Message: Two more beach stories. Remember the Grunnion are runnion? A bunch of us would pile into a car and stalk the grunion. One night, same group, different day, we went to Redondo Beach pier, it was one of those rare occasions when the water was warmer than the air. Anyhow we went frolicking in the surf at 10 at night, the water was very warm. When we got out we had no towels to dry off with, so it was a very cold ride home, but it was a good kind of cold.

---

Name: Elizabeth Estrada () on Thursday, January 23, 2003 at 15:34:22
E-Mail: dzlizzy219@219
City and State: Redondo CA
Class: 69

Message: I was just reading about the terrible snowstorms blowing down from Canada. My heart goes out to you frozen Cougs. I'm loving the beach stories......the fire pits used to be a family reunion and neighborhood party place. We played jungle ball with 6 or 8 players on each side, included all the kids and aunts and uncles. The Curries, The Hoods, all the Estrada's. We'd barbeque burgers and hot dogs and play music. Great memories...thank you. Sand Dune Park is still fighting with 'outsiders'. I massage a lady who lives on the top of the hill. All of her neighbors have put up 'No Parking' signs all over the streets to keep away the flatlanders. The city wrote them a letter saying all the signs have to come down. Marine Ave was a favorite of mine. Mats to rent and slurpies to drink...yeah man. DZ
Yeah the fire pits were a great place to show off with a Ukelele too. Back then, I knew all 3 chords.
---

Name: LOUISE STGEORGE () on Thursday, January 23, 2003 at 14:03:32
E-Mail: lstgeorge@cmaintl.com
City and State: PALMDALE, CA
Class: 77


Message: Speaking of the 70's crazy stunts. Do any of you remember a huge swing (HUGE) that was extremely high and pretty darn scary! Everyone would pile on top of each other and swing really super high! I'm thinking possibly on Ramona and 138th. People were breaking arms on a regular basis and they finally had to take it down. I guess lawsuits weren't such a big issue then cause the swing was up for a fews years if I recall.

---

Name: John Kafel () on Thursday, January 23, 2003 at 12:02:00
E-Mail: jlkafel@netscape.net
City and State: Quincy CA
Class: 1960
Message: Just revising my mis-spent youth ..
Revise away, John......

---

Name: Gomez () on Thursday, January 23, 2003 at 10:52:48
E-Mail: peteysmith@attbi.com
City and State: Salem,OR
Maiden: Smith
Class: 1972

Message: One hot day at 26 St. someone brought some wine punch, and Crazy Craig poured the punch into a very pretty, very passed out, girls belly button, then proceeded to drink from the belly. Janet White stepped in to save the pretty girls day. That girl is still grateful to this day.
The beach my folks would take us to, as kids, was El Segundo. That's where we would have our family reunions. My mom had 13 brothers and sisters so we took up half the beach. We would have big crab feeds and boil corn on the cob. I would stay in the water for hours and would get so water logged. When we got home my sister and I would look to see who got the most beach tar on their feet. Ahh the good old days.
My last beach party was at Playa Del Rey at the fire rings on my 21st birthday. Lotta beer cans buried in the sand since then.
---

Name: Bob Poorman () on Thursday, January 23, 2003 at 10:19:17
E-Mail: poormanrobert@msn.com
City and State: Wayzata, MN BUT WHY?
Class: '77

Message: Keith you're killing me with your weather reports. I awoke here in the frozen tundra and it was -12. Throw in the wind chill and we were below (or is that above?) -35! That's just wrong! And yes JB, we surfed. I've got the scars to prove it thanks to my buddy Ruben Mendoza, but that's a whole 'nother story. Just talking about all the exercise involved in surfing tires me out. Got to save my energy to fight off the cold. As for Sand Dune Park, this 77'er remembers it well. Of course that was just one more place the MB police dept. told us was off limits to us Haytown Inlanders! Maybe it was the empty bottles and cans that always seemed to mark our trail. Obviously no sense of humor.
I guess you don't do much surfing OR trail marking in Wayzata at -12 degrees, but it does sound like a great place to sell ice picks.

Thanks Bob....
---

Name: Ricki Farrell () on Thursday, January 23, 2003 at 09:53:27
E-Mail: rfarrell@busd.k12.ca.us
City and State: Fullerton, CA
Maiden: Valencia
Class: '61


Message: Hi everyone! Long time. The new format is very "handsome", as Clayton Williams would say. Last week a student brought in a video called "Dog Town...Z-Boys". It certainly brought back memories. If you haven't seen it and you're from my era, see it. I can't believe that my students are so taken by that time period. Good flick.
Thanks Ricki.....
---

Name: Keith D. Jones () on Thursday, January 23, 2003 at 01:50:21
E-Mail: cmi50@yahoo.com
City and State: Honolulu, HI
Class: 76

Message: I remember diving off the pier and my trunks came right off. I mean as soon as I came up (and fast too) I couldn't see them and then I saw them about 20' from shore. I hid around the pilons trying to get someone to give them to me and finally a mom picked them up and threw them to me. Everyone was laughing it was something to remember. And yes 25 belonged to us. By the way it is in the mid 80's here during the day but drops down to the 60's at night. But the waves were in the 20's last week and still in some places are around 20 now. ALoha
The mid 80's is way too hot for me, Keith, and 20 for the waves is way too cold.

---

Name: Neil Andersen () on Wednesday, January 22, 2003 at 23:37:08
E-Mail: sumerset@aol.com
City and State: Dallas, OR
Class: '62


Message: John, I was watching American Idol last night and I think that Simon was very cruel to you, you are a much better singer than I remembered from our high school days. Nice hat too.
Thanks Neil, Yeah that Simon oughta be SHOT and if he keeps this up, he will.


Seriously, can you believe most of these people thinking they've got a singing career?
---
If you have comments or suggestions, please email me at john14@cougartown.com