Hawthorne Time and
Temperature

Home | 60's Slang | Alumni List | Car Talk | Cougar News | Feedback | Hangouts | Memories
Recollections | Reunions | Street Scene | Teachers | Tributes | Vietnam | What's New | Keyword Search
Another Early Classic. The Chordettes
<!-+++++++++++++++++++++++++++++++++++++++++++++++++++++++++++++++++++++++++++++++++++++++++++ +++++++++++++++++++++++++++++++++++++++++++++++++++++++++++++++++++++++++++++++++++++++++++++->

---

---
<!-++++++++++++++++++++++++++++++++++++ADD BELOW THIS LINE++++++++++++++++++++++++++++++++++++ +++++++++++++++++++++++++++++++++++++++++++++++++++++++++++++++++++++++++++++++++++++++++++++->
Name: Cal McDougal () on Monday, November 18, 2002 at 13:13:43
E-Mail: themcdougals@centurytel.net
City and State: Enterprise, Al
Class: 62
Message: Boy did the talk about that train in a building behind a garage bring back memories. Didn't it even have a name? Something like the Centinela Valley Rail Road? I remember that they had several operators and each operator had a time table with the trains he was supposed to move through his area. The clock on the wall was rigged to run faster than usual so everything worked at a pretty good pace. I thought that was really special!
Yeah, that's the same place I'm thinking about as I remember that timetable thing too. Where WAS that place??
---

Name: Howard "Paco" Duran () on Monday, November 18, 2002 at 12:47:05
E-Mail: doo4usc@cox.net
City and State: Lake Forest
Class: 61
Message: My last Sears memory, I think..I remember by the escalator there was a see-thru washing mechine with poker chips in it all swishing around, seems like this was on the lower end and at the other end or 1st floor there was a vacuum cleaner with a ball being blown up in the air ....That's it I'm going to take the street car to downtown LA and look at window Christmas displays!
Does anyone know if the BIG Sears Catalog store is still downtown?
---

Name: jess' () on Monday, November 18, 2002 at 12:40:09
E-Mail: mikejessie@yahoo.com
City and State: Los Angeles, CA
Maiden: Corral
Class: would of been '74 had we not moved to the stinkin' Valley
Message: For all of you out-of-towners...You will be happy to know that HHS is now ivory with a nice red trim. Not that nasty army green anymore. I don't know how long it's been this color, it sure was nice to see it this way. And John, I'm sure you already know, but just in case you don't, CT web-site is up on the marque for all to see.
Yep, the school is looking great with its new paint scheme, all right.
---

Name: Jessie () on Friday, November 15, 2002 at 12:15:25
E-Mail: mikejessie@yahoo.com
City and State: Los Angeles, CA
Maiden: Corral
Class: would of been '74 had we not moved to the stinkin' Valley
Message: Laurie, thanks for being on my side about the trains! I remember you well from school. It was nice to see your picture posted. Hey John, I had 3 brothers. They had Lionel trains set up in the garage. And thanks for remembering the FOX. My dad worked there for 30 years. We kids learned to pick up popcorn boxes before we learned to walk ha! And my brother worked at the Loyola in Westchester. You can say we were in the "Theater business" ha! Have a great weekend all! It's been a fun week of posting. You have made me feel very welcome to Cougartown
You're welcome Jessie. Yes, a fun 2 days of nostalgia. Everyone joining in with no one talking directly to another about some off the wall subject. The feedback page has seen about a 50% increase in activity in the last 2 days. Someone likes it this way.
Have a great weekend, Cougs......
---

Name: Adrianne DeAlejandro () on Friday, November 15, 2002 at 11:33:00
Maiden: Longpre
Class: 1963

Message: Mote's-They had dolls in the front of the store. My sister bought me my first Muffy doll there. Every week she would take me for a new doll outfit. I know it definitely was at least one store in on the SW side of Hawthorne Blvd. at I believe 130th street. I don't think it was my street of 129th. Please let the people know.
Lawrence Drugs-every week my sister and I would get rocky road ice cream cones. Mastin's/Owl Drugs-cherry cokes and french fries.
My family would watch TV in the window of Lloyd Dennee's Furniture (race car driver and died that way, son took over store). Does anyone remember Pete's Market on Inglewood Avenue. At SW corner of I believe, 131st and Inglewood Avenue? Family owned. Bought all my candy (especially penny candy) and ice cream there. He and his wife were very friendly to kids.
Take care.

---

Name: Jill McFarlane () on Friday, November 15, 2002 at 11:15:27
E-Mail: jillmcfar@aol.com
City and State: Mission Viejo, CA
Class: 1977

Message: Tim, Dr. Litman was also my doctor for many years. I do remember him being a big guy, but everyone was big to me. I also recall some pictures of him in his football gear. I think I kept going to him after graduating from high school, the last time I went to him I was 19 years old, and he treated me for strep throat. All these places that everyone is bringing up is great. Especially the Sears, I also remember the smell of the popcorn, and the candy counter, my favorite was the dark chocolate non-perills. I remember every summer my Mom would drag my sister and I down to Sears to get dresses for back to school. Everyone have a great weekend.
When you think about it, Sears was IT. There was no Costco, Sams Club, Wal-Mart, Target, Kmart, or Home Depot. It was Sears and if you needed a tractor or bee hives, you went to their catalog.
---

Name: Laurie Kelleher () on Friday, November 15, 2002 at 10:16:55
E-Mail: lauriekelleher@yahoo.com
City and State: New York, NY
Maiden: Bednarski
Class: 74


Message: Thank you everyone for stirring up all these old wonderful memories! One of my favorite places when I was a kid was the Plaza Theatre. I really miss the old fashioned movie houses. Does anybody remember the talking Myna birds at the pet shop in Inglewood? And would someone please answer Jessie question about HO Train layout!?! I only remember the slot car track in the hobby shop on Hawthorne Blvd. On another note, we plan on sending a New York holiday package to Gary Nix in Afganistan. Does anybody have any suggestions on what kind of cookies would best survive the trip?
HO Scale trains are one of the smaller, but not the smallest, model train sets. I don't know on the cookies, Kathleen??
---

Name: Jeanne () on Friday, November 15, 2002 at 09:54:36
E-Mail: JeanneCarrillo@UniversalCare.com
City and State: Carlsbad, CA
Maiden: Burk
Class: 69

Message: I have super SEARS memories. There was a little hotdog stand at the bottom of the hill down from SEARS. They had the best chili dogs and Burritos in the world. Joanne DeBry, Joy Smith and I used to take the bus from 120th and ISIS for 10 cents all the way to Inglewood and it dropped us off at that hotdog stand. What a thrill. Not much has changed, still love those things and I do consider myself a burrito expert. We would walk around Inglewood and go to the FOX theatre and see a movie for 50 cents. Those were the days. As far as SEARS, we bought everything in our house there.. clothes, appliances, furniture.. everything. I always had a fetish for paper office products because I wanted to be a teacher so I bought some of that old purple ditto paper, took it home, used a rolling pen to press it so I could make my own "tests" for my "pretend" class. No I wasn't in therapy, although maybe I needed to be. Relax all, I don't do that anymore. How I ended up a nurse I will never know! Thanks all for the memories.
Well, first you went to nurses school.....remember??

---

Name: Don (crow) Burns () on Friday, November 15, 2002 at 09:35:51

E-Mail: burnslock@yahoo.com
City and State: Downey, Ca.
Class: 57
Message: Hey Paco. just before we moved to 132nd st we lived on Birch behind Kenneth Chev. at that time there was a circle park in the middle of the street, real nice front yard to play in. Great memories. Don
Again, not the best picture. This picture was taken during the demolition for the Hawthorne Mall. Most buildings are already gone.
---

Name: Linda () on Friday, November 15, 2002 at 09:29:44
E-Mail: kclady5@juno.com
City and State: Kansas City, MO
Maiden: Dawson
Class: 69


Message: I'm really enjoying the feed back lately. It is sure jogging my memory. I loved taking the bus to Inglewood as a kid and going to get my hair done at the Beauty College across from Sears. Then my friends and I would go to the Dime Store and get our pictures taken in that picture machine. We'd make silly faces. My dad was a real prankster. He would go to that gag shop behind Sears and buy the silliest things like fake dog doo and throw up. He would put them out when ever we would have company and fool everyone. He would put a little water on the rubber throw up to make it look so real. There was never a dull moment at our house. Those were the good old days for sure!!!! My husband wouldn't ever dream of such a thing.

---

Name: Sharon MacDonald () on Friday, November 15, 2002 at 09:15:14
E-Mail: rmac@genevaonline.com
City and State: Burlington, WIsconsin
Maiden: Badger
Class: 1963


Message: I think the the shoe store in Hawthorne with the x-ray "foot-measurer" was the Thom McAnn store. I think it was somewhere around Hawthorne Blvd & 120th St. Whenever they had new styles of pointy toe, spike heel woman's shoes, there would always be a handbag to match. Our feet may have been in pain from those crazy shoes, but we sure had coordinated outfits!
The shoe store that I'm thinking of was on the west side of Hawthorne Bl, one door north of the parking lot next to Folbs toy store.
---

Name: patrick henry () on Friday, November 15, 2002 at 05:16:31


E-Mail: patrickhenry2002@yahoo.com
City and State: hawthorne ca
Class: 1974
Message: how can i get in touch with my class (1974) thank you
Hi Patrick, Go to the Alumni List and click on the 1974-1976 graphic. There you will find all the class of 74 people who've added their email address to this site. Good Luck and welcome to Cougartown.....
---

Name: Glenn Crist () on Friday, November 15, 2002 at 00:53:33
E-Mail: gfcrist@sonic.net
City and State: valley of the lunatics
Class: "64

Message: A couple of remembrances: A classmate, Dan Waters' father was the manager of the Sears sporting goods department. It seems some lowlife walked in, picked up a canoe, hoisted it overhead and walked out the door past several employees who never questioned it: who'd of thought someone would blatantly steal something like that. A neighbor of friends supposedly bought a washer and drier, only to have her husband abandon the family, The company pestered her until she finally had enough. She scraped together enough money to pay the bill in full; went to the bank; converted it all to pennies; walked in and dumped the entire sum on the floor of said business, declaring, "here, you are paid in full." The same friends' father was the warehouse manager for Leonard's Department Store. It seem Mr. Leonard (I don't know if there was more than one), played ball for John Wooden at UCLA the first year he coached; contributed heavily to the University and had seats directly behind the bench. Can't swear that was true, since I never got invited. Anyone remember when the Frosh team with one Lew Alcindor beat the varsity in a preseason game. Ask Myk about the Compton summer league with the likes of John Rambo, Gail Goodrich and Keith Erickson.
Great stuff Glenn. On th Alcindor thing, I'll guess 1966 was Lew Alcindor frosh year.
---

Name: Paco () on Thursday, November 14, 2002 at 23:45:59
E-Mail: doo4usc@cox.net
City and State: LF
Class: 61


Message: Speaking of trains, back in the early 50's before sidewalks and sewers, there was a family across the street from us on 134th st. right off Anza who lived in 2 train cars that were side by side sort of like a big trailer...Oh they were Okies. Cindy I play alot at Casta Del Sol

---

Name: Kell () on Thursday, November 14, 2002 at 23:13:17
E-Mail: whatwouldandodo.org
City and State: Englewood,Or
Class: 67

Message: I worked at Fedco for awhile back in the 70's..wow that was a weird job..one guy paid over $100.00 in change..after that i had to close my register so they could recount it...that picture of Thrifty Drug and Food Giant was really a flash back for me (and i have many, flashbacks that is)..we shopped there all the time. we lived on 133rd, just had to walk down to the empty lot behind Foster Freeze cut though and there was thrifty and food giant..wasn't there a hardware store between the two?
Hi Kel, Yes, United Hardware was there until about 3 years ago when it closed its doors for the last time.
---

Name: Jim Fox () on Thursday, November 14, 2002 at 22:55:15
E-Mail: puffup@pacbell.net
City and State: Haytown, CA
Class: 1966
Message: John... In answer to your question about our neighbors on Manor Drive, we grew up right next door to John, Lois and Andrea Dew; however, my only recollection of Mayor Jim Wedworth was as his customer at Phil's Bicycle Shop. While on the subject of grand old memories, I wonder how many of the older kids remember when the Clyde Beatty Circus came to town. I remember seeing the real three-ring deal set under a real big-top in what is now Hawthorne Memorial Park. This goes waaaaaaaaay back to the mid 50's.
HEY, I was there for the Clyde Beatty Circus in a REAL CIRCUS TENT and everything. I remember feeding the Elephants peanuts right there in Hawthorne Park. Also why, as the Wedworths lived on Manor Dr, did their son Ron, go to Leuzinger?
---

Name: Larry Biller () on Thursday, November 14, 2002 at 22:48:00
E-Mail: lbiller49@yahoo.com
City and State: Portlad,Or
Class: 1967


Message: Looks like feedback is really busy. I remember Melody Music well. I would go in there and dream about owning an electric guitar. I think the man who took care of the musical instruments was named Glen. Then there was the older gentleman who sat over in the record dept. Seems everytime I went in there he was sitting in the same spot. In the latter 60's, thanks to Bill Mc-Reynolds(HHS 69), I discovered Hogan's House of Music where I worked for a short time. In those days you could buy a used Fender Telecaster for around $150.

---

Name: Cliff Hitchcock () on Thursday, November 14, 2002 at 22:43:39
E-Mail: Cliffiez@aol.com
City and State: Northridge, Ca
Class: 1973


Message: My Dad (another transplanted dust bowl Okie) had his office on Manchester Blvd. right across the street from the big Sears store for many years. Even in the Mid 60s it was still a grand store. And I do remember the novelty store right adjacent to it. They had a lot of great and funny stuff. However, the best place of all was the Fox theatre on Market St. In the 60s they still had the balconys that an usher has to take you to with his trusty low beam flashlight. I spent many a Saturday there watching "The Great Escape" and eating popcorn.
Another vivid memory is the big JC Penney store also on Market St. Right at the entrance they had a big round counter and several TV sets that were always on. I remember standing at that spot watching when Walter Cronkite announced that President Kennnedy had died and the heavy collective gasp that everyone let out.
Does anyone remember Pann's resturaunt on La Tijera that had (and still does I believe) the sign that was in the same shape as ite roof of the building?
Cliff
Great memories Cliff. The last movie I saw at the Fox Theatre was "The Inlaws" with Peter Falk and Alan Arkin. That had to be in the mid to late 70's.
---

Name: Don (crow) Burns () on Thursday, November 14, 2002 at 21:58:40
E-Mail: burnslock@yahoo.com
City and State: Downey, Ca.
Class: 57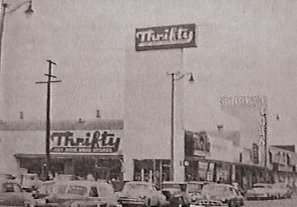 Message: Food Giant was called Market Town. I lived up the street @ 334 w. 132nd st. in the rear apt. used to sell Herald Examiner Papers on Sunday $.25 @ the back door & Daily News on the street side in the afternoons $.10. In the summers we would help unload watermelons, & would drop one every once in awhile, had to eat all that were dropped. A lot of memories.
Don
YES!! Before Food Giant, it was Market Town. Sorry, this is the best picture I have of the place. Thanks Don.....
---

Name: art lamere () on Thursday, November 14, 2002 at 21:34:50
E-Mail: artlamere@mchsi.com
City and State: Bettendorf Ia.
Class: 73
Message: John just found an article in the Breeze tonight about Roy McNally for anyone that wants to read it go to buy the paper or www.dailybreeze.com take care Art
Thanks Art
---

Name: Art La Mere () on Thursday, November 14, 2002 at 21:08:48
E-Mail: artlamere@mchsi.com
City and State: Bettendorf Ia.
Class: 73

Message: I remember the train layout I want to say it was like on 137th street or 138th just west of Hawthorne blvd. just past the alley. it the biggest layout I had ever seen it was in an old wooden building. take care all Art
I know that's the same place I'm thinking of too.
---

Name: Karen (Graham) Kuehl () on Thursday, November 14, 2002 at 21:05:49
City and State: Templeton, CA
Maiden: Graham
Class: 59

Message: I think you're right about that train place being on 138th or 137th on the west side of the blvd. My dad took me there when I was around 12 or 13. Fantastic place!! Cal, you must have ESP, I was just talking about that place this morning with my employee. I wish I could remember the guy's name but he did have those lanterns out front and got me addicted to them. I love those things!! They make great patio decorations and lighting. And as I remember, the building was like an extension off of his garage. You had to walk into his yard, past the garage to get into the room. He had HO's going everywhere. If he was in a good mood and there weren't too many people around, he would let one of the little kids run the controls of one of the trains too. Maybe one of the Cougs out there remembers exactly where this house was and who the man was.

---

Name: Wade Greasby () on Thursday, November 14, 2002 at 20:16:11
E-Mail: WadeKath@juno.coms
City and State: Surf City, Ca
Maiden: foodgiantfire
Class: 73
Message: When Lawrence Drug Store went up that was a site, but does anyone remember when Food Giant and Thrifty Drugs caught fire? The entire corner on the west side of Hawthorne Blvd from 132nd to 131st was ablaze. Happened on a Sunday and my dad and brother in law fought their first big fire together. Us kids had front row seats in the middle of Haw. Blvd in front of Green Farms. There were engine companies from all over the South Bay on that one.
I remember the place in the back but did Food Giant ever really rebuild after that?
Trivia Question Time: What was that market called before it was Food Giant?
---

Name: ROJO () on Thursday, November 14, 2002 at 19:51:19
E-Mail: I-DY-HO
City and State: YOU KNOW
Maiden: NONONO
Class: 6OH


Message: Janet those BBQ beef sandwiches were called "mighty fines" if I'm not mistaken. And yes they were scrumptious. Along with the tamale and chile , two mighty fines and an orange drink for about .60 cents. Those were the days. Thanks Archie and Edith. The memories are great. MAY THE COUGAR BE WITH YOU. Jake N Jude.
How about Sloppy Joes. Seems like we had those about once a week for dinner. I WANT ONE NOW!!!
---

Name: jess' () on Thursday, November 14, 2002 at 19:23:26
E-Mail: mikejessie@yahoo.com
City and State: Los Angeles, CA
Maiden: c
Class: Wanna be Cougar
Message: Ok, I'll bite...what's a HO Train layout?
MAN, you are kidding right?? You don't have any brothers, do you Jessie.

---

Name: Cal Kappen () on Thursday, November 14, 2002 at 18:19:37
E-Mail: ekap4@cox.net
City and State: Oceanside CA
Class: 59
Message: Does anyone else remember the house in Hawthorne that had the railroad lanterns out side. When they were lit, one green, one red, you could go in the garage where he had a fantastic HO train layout. He had the most elaborate set up I have ever seen.
I remember a place like that. We went there when I was a Boy Scout. It seemed more like an extra building out back instead of a garage, though. Where was that place? Seems like the west side of Hawthorne Bl around 138th.
---

Name: Cal Kappen () on Thursday, November 14, 2002 at 18:12:20
E-Mail: ekap4@cox.net
City and State: Oceanside CA
Class: 59


Message: A memory of Sears. Does anyone remember the xray machine in the shoe department. You would put your foot in the bottom and you could see the bones in your feet. I think that is why my feet are so knarly today. They had an equestrian shop in the lower level. We used to sit on the saddles and pretend we were cowboys. I remember the smell of the leather and the sound it made when you swung up to the saddle.
I remember those Xray foot thingys too, but I remember them from a shoe store in Hawthorne. They had some kind of green tint to them as I recall.
---

Name: Tim Helble () on Thursday, November 14, 2002 at 16:09:28
E-Mail: TKHelble@netscape.net
City and State: Columbia, MD
Class: 73
Message: John - after Poor Richards I think it was called "The Name of the Game." Only lasted a year or two and after that the building was vacant. I remember this stuff because it was right across the street from Dr. Litman's office (any other Cougs go to Dr. Litman?) He was a big guy and played football for U. of Minn in 1950 when I think they were pretty high in the NCAA rankings.
Maybe I'm thinking of what it was BEFORE it was Poor Richards.
---

Name: Bob Kyllonen () on Thursday, November 14, 2002 at 15:54:16
E-Mail: bkylnen@aol.com
City and State: Rancho Mirage, CA

Message: O.K., John, I'm back.
All of this nostalgia about Hawthorne reminds me of Kenneth Chevrolet. I bought a '59 Impala "hardtop" there -- one with those giant fins that looked so good in 1959. I couldn't wait to trade in my '57 "Bel Aire hardtop" at the time. Now I see them in the windows of classic car consignment stores in Rancho Mirage. Now my '84 300ZX waits patiently in the garage. Will it ever become a classic too? --- And you thought that all I ever thought of was the binomial system of nomenclature!
Hey Bob, Glad you're back with us. It's been awhile. And while I know nothing of the Binomial System of Nomenclature, you should never have traded your Hardtoppum Hotroddus for the Monstro-finnus Horizontalus.

Join in anytime, Bob. These Hawthorne memories are really catching on.
---
If you have comments or suggestions, please email me at john14@cougartown.com