Hawthorne Time and
Temperature

Home | 60's Slang | Alumni List | Car Talk | Cougar News | Feedback | Hangouts | Memories
Recollections | Reunions | Street Scene | Teachers | Tributes | Vietnam | What's New | Keyword Search
Another Early Classic. The Chordettes
<!-+++++++++++++++++++++++++++++++++++++++++++++++++++++++++++++++++++++++++++++++++++++++++++ +++++++++++++++++++++++++++++++++++++++++++++++++++++++++++++++++++++++++++++++++++++++++++++->

---

---
<!-++++++++++++++++++++++++++++++++++++ADD BELOW THIS LINE++++++++++++++++++++++++++++++++++++ +++++++++++++++++++++++++++++++++++++++++++++++++++++++++++++++++++++++++++++++++++++++++++++->
Name: Don (crow) Burns () on Thursday, November 21, 2002 at 20:30:34
E-Mail: burnslock@yahoo.com
City and State: Downey, Ca.
Class: 57
Message: Hey John, I only went to HHS in 54-55, part of 56 & part of 57, we moved around a lot, so only saw Ralph @ Lawndale Rink or Redondo Rink, don't think it ever came up that he went to HHS. Back to Gardena Western Speedway, don't remember (CRS disease) to many of the drivers other than Chuck Townsend, & the Vito Bros.. WE used to race @ the Orange Show Stadium in San Bernadino on Sat. night, then GWS on Sunday's, if we crashed on Sat. night we would have to work all night so we could run on Sun., more times than we really wanted. Ah the memories Don

---

Name: Jill McFarlane () on Thursday, November 21, 2002 at 18:57:56
E-Mail: jillmcfar@aol.com
City and State: Mission Viejo, CA
Class: 1977
Message: I had just read Mr. Key's post, and I laughed out loud, people at work thought I was reading a joke. I did not tell them I had just read about how my former high school principal was conceived! People just would not understand. This is just too funny. Here I thought all this time that Mr. Key and Ms. Krislock were the same person, you never saw them at the same place at the same time.

---

Name: Jorge LLaves () on Thursday, November 21, 2002 at 18:18:27
E-Mail: mathesh@ aol.com
City and State: PVE CA
Maiden: George Key
Class: 80

Message: Normally I do not respond to hate mail but I cannot attribute such insults to his childish age or that he might have had a class from Konnie Krislock where he learned about literary freedom without responsibility.
Don't get me wrong--most of Danny Boys facts were true but one statement must be corrected--Mayor Joe Miller had nothing to do with my arrival. The truth is Coach Plum cut out of his PE class and went to the vending machine. When he popped the can I came out in a cloud of fizz. Since I ended up in the luxurious senior square decided to hang around and see if any of you cubs became real COUGARS.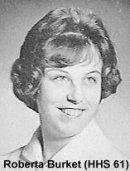 After eight years I decided it was time to go back to my former life--you know--get canned. So look for me on the Pepsi label this Christmas. I will be wearing a Santa hat.
The real truth is that Bobbi graduated from HHS and was one of the greatest teachers ever. We owe her a big thanks for all her wonderful service.--JORGE
Jorge, thanks for straightening that mess out. So which part isn't true?


Thanks for the Cougartown dues too.
---

Name: jess' () on Thursday, November 21, 2002 at 16:53:18
E-Mail: mikejessie@yahoo.com
City and State: Los Angeles, CA
Maiden: Corral
Class: Wanna be Cougar
Message: Today is the "Great American Smokeout" Good luck to all of those who are choosing to not have a cigarette today or who are going to try and quit today.

---

Name: Kathleen Griffin () on Thursday, November 21, 2002 at 15:26:28
E-Mail: ct_helpdesk@yahoo.com
City and State: San Pedro, CA
Maiden: Nix
Class: 74
Message: I just shipped 3 dozen huge chocolate Chip cookies. My hubby "jerry" was in the Navy for years and said it didn't matter what kind of cookies you ship, but the secret was to pack them in popped pop corn (no butter or salt). Makes great packing material and the guys get something else to snack on as well. My 2 pound package cost about 12.00 to send. Thanks to all who will be participating in this venture, the men of the 101st Airborne division are anxiously awaiting those home baked treats!
Thanks Kathleen for the tip. All Cougs who want to show support to our guys and girls in Afghanistan please send those holiday cookies to:
Gary E. Nix
C Co. 159th AVN Regt
FWD APO AE 09354
and let him know they're from a Cougartowner.
---

Name: Robin () on Thursday, November 21, 2002 at 13:56:12
E-Mail: HowareyoudoingSloey.Com
City and State: Redondo Beach
Maiden: Snyder
Class: sixty

Message: Has "Home Town Jamboree" with Cliffy Stone been mentioned?...The Hoods never missed it..Out of our boxcar/ home and over to the Durans was a real treat in those days...
Mom B: The camber in the right front wheel made the tire patch bigger in the turns ,where the track had a little banking and the car wanted to lay over on its right side... Parnelli Jones came from Jalopy Derby...John I forgot all about Termite Snyder till you brought it up the other day..fun times..:o)

---

Name: Jim Fox () on Thursday, November 21, 2002 at 11:19:19
E-Mail: puffup@pacbell.net
City and State: Hawthorne
Class: '66

Message: The Stanley/Dial Chevrolet jingles and Molly Bee conjure up yet another memory -- Who remembers what TV show gave Molly Bee her start?
I know I know!!!!
Also the Chevrolet dealer that Dick Lane advertised for on the Spade Cooley show wasn't Felix or Fletcher Jones. It was Central Chevrolet.
Thanks Norv.
---

Name: Mom B () on Wednesday, November 20, 2002 at 19:36:19
E-Mail: gonore@aol.com
City and State: Thousand Oaks, CA
Message: Why, of course, I should have recognized that it was Western Stadium. God knows, I was dragged there kicking and screaming often enough! I can close my eyes and smell those delightful fumes.
God yes....Leaded Ethyl and Castor Oil, is there a better smell on the planet? I don't think so.....

---

Name: Mom B () on Wednesday, November 20, 2002 at 17:53:51
E-Mail: gonore@aol.com
City and State: Thousand Oaks, CA

Message: Is that an optical illusion on the picture of the old cars in the race at Ascot Stadium a few posts back (Randy Chapman's post) or was there really what appears to be a big strain on those front right tires and wheels?
That wasn't Ascot, it was Gardena Stadium on 139th and Western, and no, that's not an optical illusion. Lots and lots of camber was needed on the right side as they only had to turned left, and at a relatively high speed.....
Explain it to her, Robin. She's a girl....

---

Name: Keith D. Jones () on Wednesday, November 20, 2002 at 14:31:19
E-Mail: cmi50@yahoo.com
City and State: Honolulu, HI
Class: 76
Message: Anyone in Hawaii on Dec. 6 Brian Wilson will be playing at the Waikiki Shell. Is Jones Firewood still there.

---

Name: Bob Melendrez () on Wednesday, November 20, 2002 at 13:29:05
E-Mail: Strongheart@pacificwest.com
City and State: Lawndale, CA
Class: 1971


Message: Memories of Hawthorne Bowl: During my Jr. High days (mid 60's) HB had a Saturday morning junior league that started at 9 am. One foggy Saturday morning I was running late, and hopped on my trusty bike and pedaled like mad to try to make it on time. I got there just in time to change shoes and locate a ball that a) was not too heavy, and b) didn't have finger holes way too big. Cool! No problem, until I went to take my first shot. The ball would not leave my hand. I had worked up such a lather getting to the bowling center, and in the foggy morning air, my fingers had become quite swollen. The harder I pulled, the worse it got. My teammates pulled. Nothing. One of the adult scorekeepers pulled. Nothing. Finally I had to go up to the desk and tell Kate, the nice lady whose patience we always tested to the limit. We tried some soap, and we tried some oil. Nothing. My thumb and middle finger were solidly planted in that old bowling ball, and were starting to turn some nice shades of red and blue. To this point I hadn't really been panicked about the whole situation, until Kate called in Lynn. Now, Lynn was this guy who worked at HB, who had a very distinct limp, and didn't like kids too much. I'd gotten the evil-eye from Lynn on a number of occasions, and when he saw my predicament, he kind of mumbled something and told me to follow him. He took me to a room back where the pin-machines were. He reached for a big hammer and told me to hold still. I looked at him and said "w-w-what are you going to do with that?!" He growled back at me, "I'm gonna knock that damn ball off of your hand, now hold still!" He had me rest the ball on the floor and said "don't move". He took one swing with the hammer, and the ball shattered into thousands of pieces, releasing my stuck fingers, and sending bowling ball shrapnel all over the place. He snapped, "now get outta here and find yourself a ball that fits you"! I figured since he still had the hammer in his hand, I had better clear-out. I said a quick "thanks", and ran back along the walkway beside lane #1 shaking my throbbing hand. I don't remember how well I bowled that particular day, but a couple of days later my dad drove me down to White Front and with some of my paper route money, I got my very own custom fitted bowling ball. Still got the evil-eye from Lynn though.... Later, Cougs!

---

Name: Jill McFarlane () on Wednesday, November 20, 2002 at 10:38:43
E-Mail: jillmcfar@aol.com
City and State: Mission Viejo
Class: 1977

Message: Dan, loved your story! I am surprised that your bio never made it to the school newspaper or the magazine. Mr. Key, it is always good to see your feedback. I did not know you in High school, because I was a good girl, never got to your office in the 12 years I was there. You were just a low "Key" principal. According to Dan, you had a very interesting life.

---

Name: Sharon Branigan () on Wednesday, November 20, 2002 at 10:03:20
E-Mail: srbranigan.srb@verizon.net
City and State: TO, CA
Maiden: Bierman


Class: 76
Message: Dear Danny and Georgie, thanks for the chuckle. Best non-fiction I've read in years! The football story just re-confirms my suspicion that everyone in the world is within six degrees of Hawthorne!

---

Name: Don (crow) Burns () on Wednesday, November 20, 2002 at 09:48:52
E-Mail: burnslock@yahoo.com
City and State: Downey, Ca.
Class: 57

Message: Just a follow up to yesterdays post . The starter @ Gardena Western Speedway was Jumping Jack Somers. The Saunders I was thinking about was Spec Saunders of the T-Birds, who owned the Redondo Skateland In Redondo Beach over the penny arcade @ Fishermans Wharf. As you walked up the steps it said roller skate for healths sake & families who skate together stay together, on the risers of the steps. I was on the speed skating team, & Dave Hill's dad was the coach, along with Spec Saunders when he had the time. Once in awhile we would have visitors like Pochahontis, Spider Wallace, Ralphy Valladeres (met him first @ old Lawndale Skate Rink). Ah the old memories.
Don
Hey Don, you should have met Ralphy Valladeres in Hawthorne, as he was a Cougar in 53.
---

Name: Karen Kuehl () on Wednesday, November 20, 2002 at 07:54:55
E-Mail: kaykay@tcsn.net

City and State: Templeton, CA
Maiden: Graham
Class: 59
Message: I remember Dick Lane and I think he did the ad for Fletcher Jones. Didn't Dick Lane refer to himself as "Ol' Leather Britches"?

---

Name: Dale C () on Wednesday, November 20, 2002 at 01:40:17
E-Mail: Cbracraig @aol.com
City and State: Hawthorne Ca
Class: 76
Message: good news for all you A&W fans there is an A&W stand opened on Crenshaw Blvd. south of Redondo Bch Blvd. I have a rootbeer float and it was great great with a papa burger I just want to say that cougartown is one of the best sights to read thank you John for your hard work in keeping up with the memories God Bless you and your family during the holiday season as I always say go Bruins good luck Big John Signed Dr. Taz
Thanks Dale for the news on the A&W and GO TROY on Saturday against the Westwood baby blues.
---

Name: Don (crow) Burns () on Wednesday, November 20, 2002 at 00:26:40
City and State: Downey, Ca.
Class: 57

Message: Dick Lane also announced @ Gardena Western Speedway on Western Ave. & 139th st on Sunday afternoons TV on channel 5, circa 61-63. Jumping Jack Saunders was the starter. A friend of mine, Rick Pontious owned & drove a car, a 32 5 window coupe, with a 3/8 x 3/8 built Merc flathead engine, & his neighbor & I were his pit crew. Also Dick Lane's nick name was old Leather Britches. Lots of memories
I think Gardena Stadium and Gardena Western were the same place. Does anyone remember the stogie smokin' Termite Snyder?
---

Name: Randy Chapman () on Tuesday, November 19, 2002 at 23:16:46
E-Mail: tworandys@hotmail.com
City and State: Lake Dallas, Tx
Class: 1971

Message: Ok, John...here's my guess, The announcer was Dick Lane...he yelled "Whoa Nellie" like he used to do for the L.A. T-Birds and those jalopy races from Ascot on Saturday afternoons, and the dealer was probably Felix Chevrolet, before Nick Shamus did the adds himself.
Hey Randy, VERY GOOD but Dick Lane yelled Whoa Nellie at Gardena Stadium. I was going to say Fletcher Jones was the dealership, but I think it WAS Felix Chevrolet, and the show was the Spade Cooley show.
---

Name: "Danny" Johnson () on Tuesday, November 19, 2002 at 22:48:20
E-Mail: wch1ispink@aol.com
City and State: Sherman Oaks, CA
Class: 1977


Message: Seeing a message from George Key reminded me of something I have in my scrapbook that is "totally" HHS. My English teacher "Bobbi" gave our class an assignment to write an essay. I wrote one of the life of Mr. Key and "Bobbi" forwarded it on to him for his review. Below, for grins, I have reproduced the essay (bad punctuation, spelling and all), "Bobbi's" note and Mr. Key's response.
LIFE STORY OF OUR PRINCIPAL
Our principal George Key was born in 1890 in the little town of Mars, Alabama. His real name is Hector H. Hornblower but had his name changed in 1901 when he hijacked a horse and buggy to Cuba unfortunately the horse refused to take him into the water where he would have drowned but he escaped there and turned into a fairy and flew to Tijuana where he became a Mexican citizen and full time leech. One day we was cleaning the windows of a Greengo car he got caught in the windshield wipers and they drove to California where he was lost for 47 years then he turned up in a bottle of coke still alive when he was asked where he had been for 40 some odd years he said "Real high man Real high" and then he let out a piercing scream then little green men in white coats came and got him. He was taken to a nice little place called Grassy Medows where he stayed for 6 years the report giving by his Head Doctor said "very violent case should be locked up for ever." But then Mr. Key escaped where he met Joe Miller Mayor of Hawthorne. Mr. Miller offered Mr. Key a job as principal at H.H.S. So whatever you do don't say "Grass" around Mr. Key or he throws a terrible fit.
"BOBBI'S NOTE"
George,
I thought you might enjoy this. Awhile back I told you about an assignment I gave to my freshman Honors English class; they were given subjects about which they were to give informal speeches. Since they had to make up the information, we refer to them as "Phony Speeches." After all the students had spoken, the class was given a writing assignment: select one of the topics and write a report on that subject. They had only 20 minutes for the work.
The attached is one of those papers. It has not been corrected yet, and you'll notice that the boy is clever but deficient in mechanics. Return it at your convenience.
Bobbi
MR. KEY'S RESPONSE 10/16 (I believe 1973)
Bobbi:
Thanks for sharing. I must say the lad has quite an imagination because two of the incidents didn't ever happen to me.
George
Of course, we all know who "Bobbi" is. Mr. Key -- I have only one question -- which of these two incidents did not occur?
Very funny "Danny" AND Jorge. I won't guess which ones weren't true, but I'll guess the English teacher as maybe Roberta Burket? Thanks Dan....
---

Name: Randy Chapman () on Tuesday, November 19, 2002 at 22:11:11
E-Mail: tworandys@hotmail.com
City and State: Lake Dallas, Tx
Class: 1971

Message: Talking about the Stanley Chevrolet jingle and Dial Chevrolet....Stanley came first;
Stanley, Stanley, Stanley Chevrolet...
two blocks off the Santa Ana Freeway...
11980 E. Firestone...
Stanley Chevrolet!
Now..if I can only remember where I used to live...
NOW, what show did Dick used to slam his hand down on the hoods of Chevrolets, and what did he yell while doing it. 10 POINT BONUS if you know what dealership he was selling for.
---

Name: Mom B () on Tuesday, November 19, 2002 at 21:28:42
E-Mail: Gonore@aol.com
City and State: Thousand Oaks, CA

Message: What was the name of the furniture store in Hawthorne which was owned by Alan Hale Jr., the skipper on Gilligan's Island? I believe it was on the East side of the street maybe around El Segundo Bl. He was always sitting in the middle of the store directly in front of the door in a tall Captain's chair. He never pressured you to buy which is what I liked about him. Great feedback lately!
MAN!! I didn't know Alan Hale owned a furniture store in Hawthorne. The only one I can think of on the east side at about El Segundo Bl. was Lloyd Dennees. I was in Alan Hale's restaurant on La Cienega once. Don't remember the name though. Thanks Beverly; glad you're back.
---

Name: Kell () on Tuesday, November 19, 2002 at 19:42:26
E-Mail: k.k.currie@att.net
City and State: Englewood,Or
Maiden: currie
Class: 67


Message: talking about chevrolet..does anyone remember the commercial for Stanley Chevrolet...it had a cute little tune and the words were 11980 east firestone, stanley chevrolet? I also seem to remember the new cars came out in september..not all year long like now...we would get in the car and drive to the car lot to see the next year's models..It was so exciting..
New car time was like Christmas to me. I loved to sit in them and breathe in that new car smell.
BTW, Molly Bee sang the Stanley Chevrolet jingle and the other name for Stanley Chevrolet was Dial Chevrolet, but I forget which came first.
---

Name: George Key () on Monday, November 18, 2002 at 23:44:08
E-Mail: Mathesh@ aol.com
City and State: PVE-CA
Class: 80

Message: Saturday night I went to University of Redlands to see my grandson and team beat Clairmont College for the conference championship. They will be playing a post season game in Minnesota this weekend. But this is just to introduce you to the important news. Redlands had a little guy # 1 who was all over the field. He ran a punt back for a TD. Then caught a long pass for a TD, then threw a pass for a TD.
After the game we all went down on the field to celebrate and asked my grandson who is that # 1. Said he was a guy named Tony Skulick. I had to go see if he knew our Hawthorne Skulicks and finally found him surrounded by friends so did not want to interfere so turned to leave and looked right into his parents eyes--Gene Skulick and Yolanda Escobar.
After the hugs and excitement cooled down we talked about all the great kids from the class of 1973.
Got home about midnight and fell asleep thinking of all you wonderfull Cougars and how much happiness you put into my life.--Rhanks so much--love you all.
JORGE
Great stuff George. Glad to hear from you.
---

Name: Sally Trevisan () on Monday, November 18, 2002 at 22:34:30
E-Mail: sally_mcwilliams@hotmail.com
City and State: Hawthorne, Ca
Maiden: McWilliams
Class: 1996
Message: Hi everybody. Ive been married for about a year and a half now and loving it all. Hope to hear from anyone soon.

---

Name: Wade () on Monday, November 18, 2002 at 22:31:05
E-Mail: WadeKath@juno.com
City and State: SurfCity,CA
Maiden: notmybigdaddy
Class: 73
Message: Enza,Enza,Enza, what happen to Big Daddy and the Lakergirls? I also remember the Hobby Den on ElSegundo Blvd across from Washington School. They had a train layout on the west wall in there for some time. Gino Skulick '73 son Tony plays for Univ. of Redlands, football, had a great game to close out his college career last Saturday, throwing and catching touchdown passes in Redlands victory. Now it is on to the Div. #3 play-offs. Good Luck Tony. 75 more days until pitchers and catchers report to spring training. I feel for the Huskers Jim. Get them your pancakes quick!!! Maybe ship some to the Lakergirls, then they can at least make a lay-up on their home court. Good week to all the Cougs.

---

Name: Ron Dokken () on Monday, November 18, 2002 at 18:32:11
E-Mail: rdokk@yahoo.com
City and State: Endwell, NY
Class: 1955

Message: Someone mentioned Kenneth Chevrolet. I vividly remember going to see the new 55 Chevys. I couldn't get over that orange V8 under the hood. In all the years since then, I can't recall ever being more excited over a new car. Also, Melody Music was mentioned. I believe it was owned by the family of Norman Gaut, our class valedictorian. The last time I saw Norm was in 57 or 58, he was in the store when I dropped by. I suppose for those who stayed in CA, all the changes are familiar. For me, Hawthorne will always remain as it was in the 50s.
Great memories of Hawthorne Ron, Thanks....
---

Name: Keith D. Jones () on Monday, November 18, 2002 at 15:09:07
E-Mail: cmi50@yahoo.com
City and State: Honolulu, HI
Class: 76
Message: Just heard on the radio that Brian Wilson will be here in Hawaii performing for the Honolulu Marathon. I think it is in the Stadium where the race ends. It is just for the runners I think I heard too. To bad. But they do get 35,000 runners so at least it will be pretty big.

---

Name: Bob Jensen () on Monday, November 18, 2002 at 14:50:54
E-Mail: robertjensen@satco-inc.com
City and State: Los Angeles
Class: 71
Message: Yes, the correct name is "The Centinela Valley Railroad". It was on 138th Street. It was on the north side of the street between Manor and Hawthorne Way. The last time I went past, the house was still there. I am still trying to remember the man's name who owned the house. There were two other train layouts close by. One was at 4699 W. 138th Street, owned by Don and Lee Christopher and the other was at about the same address on 137th Place. Owned by Mr. Smith, this was one of the best collections that I had ever seen. It was located in the attic. If you ever drive down 137th Place between Inglewood Avenue and Ramona, look for the house that has the "Barn" style roof. It is on the north side in the middle of the block.
Thanks Bob, Wish we knew what happened to them.
---

Name: Cindy Colby () on Monday, November 18, 2002 at 13:26:01
E-Mail: cindycolby@att.net
City and State: Laguna Hills, CA
Maiden: Maxson
Class: 63
Message: I believe that Sears discontinued their catalog sales a couple of years ago.

---
If you have comments or suggestions, please email me at john14@cougartown.com