Page 427

Hawthorne Time and
Temperature

Home | 60's Slang | Alumni List | Car Talk | Cougar News | Feedback | Hangouts | Memories
Recollections | Reunions | Street Scene | Teachers | Tributes | Vietnam | What's New | Keyword Search
Another early 60's classic Sarah Vaughan
<!-+++++++++++++++++++++++++++++++++++++++++++++++++++++++++++++++++++++++++++++++++++++++++++ +++++++++++++++++++++++++++++++++++++++++++++++++++++++++++++++++++++++++++++++++++++++++++++->

---

---
<!-++++++++++++++++++++++++++++++++++++ADD BELOW THIS LINE++++++++++++++++++++++++++++++++++++ +++++++++++++++++++++++++++++++++++++++++++++++++++++++++++++++++++++++++++++++++++++++++++++-->
Name: Walter Holt () on Tuesday, August 28, 2001 at 09:01:57
Class: 66
City and State: Orange, CA
Message:
Happy Birthday to You
Happy Birthday to You
You look Like A teenager
And You Act Like One Too
HAPPY BIRTHDAY JOHN!!!! WE LOVE YOU MAN!!!!!!!!
Thanks Walter for that loving Birthday wish. You wrote that all by yourself, didn't you.

---

Name: Elizabeth Estrada () on Tuesday, August 28, 2001 at 01:50:59
E-Mail: dzlizzy219@aol.com
Class: 69
City and State: Redondo Beach, CA
Message: Happy Birthday, John. My birthday wish for you is for you have as much fun in this next year as you've had in the last. A man with as many loving friends as you have is, indeed, a rich man. That picture of you and Janet, above, is beautiful. Miles of smiles, Baby. HAPPY BIRTHDAY. xoxoxoxoxox Elizabeth
Thanks Liz; I AM a rich man, indeed.
---

Name: Karen Kuehl () on Tuesday, August 28, 2001 at 00:49:15
E-Mail: kaykay@tcsn.net
Maiden: Graham
Class: 59
City and State: Templeton, CA
Message: HAPPY BIRTHDAY JOHN BAKER!! Isn't it great being 39 again? And we wish you many many more 39th birthdays too!! We love you MAAAAAN!!! 8-)
Wait a minute, I don't want to go back THAT far...

Thanks Karen......
---

Name: Vickie Willett () on Monday, August 27, 2001 at 23:36:36
E-Mail: gapeach2@earthlink.net
Maiden: Willett
Class: 1974
City and State: El Segundo, CA
Message: Prom night was great. Patty Valencia it was wonderful to reconnect with you. All the feedback I've read makes me wish I had a chance to talk with the unofficial Prom King (aka Mike Backus). This was my first event, but I'm looking forward to the next one. Mr. Kyllonen it was not one of the Valencia sisters who desparately wanted out of Biology. It was ME. I still don't like frogs. John Baker thanks for Cougartown. You have enabled a lot of folks to find each other.
Thanks Sherry Wingo (Peppers) for talking me into going.
Thanks for being there, Vickie.
---

Name: Kathy Stonebraker () on Monday, August 27, 2001 at 22:38:11
E-Mail: stoney@qnet.com
Maiden: Lorig
Class: 76
City and State: Anaheim, CA
Message: John I hope you and your "Merry Band of Prom Organizers" can stand one more THANK YOU!! It was a great nite and a fun weekend for both of us but especially for Steve who got to hang with his best bud, Mike Backus. Friday night BBQ and Margaritas and Saturday night Prom would never have happened without Cougartown. Thanks for reuniting these two hooligans :-) It was fun listening to all the memories of their special place and time. Mike....After reading all the feedback from the ladies about you, I guess I should have been asking Steve, "Why can't you be more like Mike Backus?" a long time ago!! Next time we ditch Steve and go to Disneyland without him ;-)
Thanks Kathy, You and Steve, along with Mike, are true Ctown family. I'm glad you enjoyed yourselves.
---

Name: Sharon MacDonald () on Monday, August 27, 2001 at 21:46:08
E-Mail: rmac@genevaonline.com
Maiden: Badger
Class: 63
City and State: Burlington, Wisconsin
Message: We returned this past Saturday from Prom Night and a visit to The Disneyland Resort. Thanks to Judy, Jan, John, Janet, Mo, and everyone else who worked so hard to make Prom Night a wonderful event. We enjoyed every minute of it ....
Geez Sharon, I didn't even get to say hi. Glad you had a great time though. Does anyone know what happened to Doris Donaldson?
---

Name: Cal Kappen () on Monday, August 27, 2001 at 19:30:22
E-Mail: ekap4@home.com
Class: 59
City and State: El Cajon CA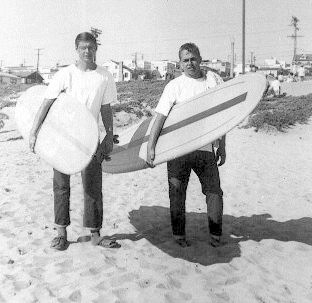 Message: The picture of Jerry Daquila and myself was taken at 26TH St. I think it was in 59. The picture was taken by Pat Ortravetz. ( I don't think that is the right spelling). Her and Mike Woods were going steady in those days. There wasn't a lifeguard station at that time. Mike said that Jerry won the Weber board at a surfing movie they went to at the Pier Ave. School in Hermosa Beach. That is the place I saw "The Endless Summer" By Bruce Brown.
It was a great time to grow up. I would like to thank Rich and Mary Sloan for sending me a copy of the picture. I think that is the only picture of me at the beach. I tried to spend every waking moment there. Did you notice the 2x4 with skates nailed to it. I called it a " Skate Board" and a whole new sport was born!
Hey Cal, Thanks for the explanation.
---

Name: Jill McFarlane () on Monday, August 27, 2001 at 17:42:27
E-Mail: jillmcfar@aol.com
Class: 1977
City and State: Pebble Beach
Message: Cougar balls could only improve my game. Where do I order them from?
Don't know......
---

Name: Janet () on Monday, August 27, 2001 at 16:43:46
E-Mail: janet.dominguez@marriott.com
Maiden: Dominguez
Class: 94
City and State: Hawthorne, CA
Message: HELLO TO EVERYONE! I HOPE EVERYONE IS DOING FINE! Until next time we meet!

---

Name: Maureen "Mo" Trott () on Monday, August 27, 2001 at 16:15:05
E-Mail: MoMo90250@aol.com
Maiden: Trott
Class: 1964
City and State: Hawthorne, CA
Message: First, I was just wondering if anyone that attended the PROM, is having any problems seeing? Are you walking into walls or tripping a lot, and can't figure out why? Well, if this is happening to you, then you are wearing the wrong glasses! I lost mine on PROM night and they haven't turned up yet. So, take another look at those glasses you're wearing and be sure they are yours. Second, I know that the class of 1964 had a great turn out at the PROM, I think the most in attendance, (even if I didn't get a chance to see everyone), so how come you haven't paid your dues yet. . .huh? It's only $10 a year and look at all the fun you get to have. So, dig into those pockets and send the "Web Master", Mr. Baker, what's do him (and more). Come on 1964, show the other years how much this class appreciates everything John has done to get us together..OK! And one last thing. . .HAPPY BIRTHDAY TOMORROW (8/28), MR. BAKER! Ok, I'm done now...ta ta!
Thanks Mo, for the Membership Commercial. I dislike those pledge drives on PBS, but know they're a necessary thing. Membership in Ctown is way down, and is not turning around. Maybe we need a pledge drive.
Thanks for the birthday wishes too Mo..........just another lap around the Sun.

---

Name: Barbara Smith () on Monday, August 27, 2001 at 15:51:28
E-Mail: barbara.smith@supply.ge.com
Maiden: Skelton
Class: 64
City and State: Honolulu, HI
Message: Just wanted to add my "thanks for a great party." Brought my "centerpiece"...minus the balloons...home to enjoy at a later date! My sister, Karin ('66), and I continued our memory week by spending a couple of days on Catalina...looks smaller now! I know there was a lot of work involved in making the "prom" happen, but really hope that we have another all-school reunion in a few years. I'll push harder to get people there, that's for sure! Mahalo & Aloha, Barbara
Hi Barbara, Yes, Prom Night was such a big hit, I'm sure we'll put another one together. Right now we'll let Judy and her band of Prom Soldiers rest for a couple of years first though....Thanks for coming all the way from HI to be with friends and family.
---

Name: Jerry and Sharon(Cantor) () on Monday, August 27, 2001 at 13:10:43
E-Mail: Rigney
Class: 59/61
City and State: Palmdale, Ca
Message: Well it's over a week since the "Prom" and we're still talking about it. A sincere "THANK YOU" to each and everyone who worked so hard to put it together and made it work, and to all who bought tickets and attended to make it complete.
Thanks you two for showing up and being a part of this whole Cougartown thing. Hope to see you on Cruise Night.
---

Name: DARRYL HOCKENBERRY () on Monday, August 27, 2001 at 11:09:49
E-Mail: rhocken@earthlink.net
Class: 64
City and State: SCOTTS MILLS , OR.
Message: JUST GOT BACK FROM OUR TRIP DOWN TO SO. CALIF. AND PROM NITE. WOULD LIKE TO SAY THANK YOU TO JOHN,JUDY AND ALL THE REST OF YOU WHO HELPED PUT ON PROM NITE. MY WIFE AND I HAD A GREAT TIME VISITING WITH SOME OLD FRIENDS AND MEETING NEW ONES. WE GOT A CHANCE TO VISIT FRIENDS IN HAWTHORNE AND LAWNDALE WHILE WE WERE THERE. STOPPED BY THE RIGNEYS IN PALMDALE ON OUR WAY HOME AND HAD A GREAT TIME VISITING WITH THEM. NOW AS WE GET UNPACKED AND READY TO GET BACK TO OUR ROUTINE WE WILL GET READY TO GO TO THE STATE FAIR TONIGHT TO SEE THE BEACHBOYS. IT WON'T BE THE SAME WITHOUT THE WILSON'S. THANKS AGAIN TO ALL THAT MADE OUR TRIP A MEMORY.....
Hey Darryl, Glad you had a fun trip back to your Hawthorne roots. That's what it's all about.
---

Name: Harry Plotkin () on Friday, August 24, 2001 at 13:57:11
E-Mail: hcharry@pacbell.net
Class: 52/97
City and State: Harbor City, CA


Message: THANK YOU TO ALL WHO MADE PROM NIGHT A REALITY. Kathy and I had a great time. We haven't danced that much in a long time. I talked to many former students and I know I missed a few of you. I enjoyed talking with Arnold Tena at our table. It is always nice seeing Hal and Cathy Chauncey. In my opinion the cutest couple on the dance floor was John and Annie Rout My only problem was that in my capacity as chaperone TWICE I had to warn them about dancing too close. I will say they were cooperative. When Chris and Debbie Ferguson had to leave it was touching to see the brothers embrace. Again, thanks to all who made this such a memorable event. Love to all. HCH

---

Name: Betty East () on Friday, August 24, 2001 at 11:50:18
E-Mail: bettye@amgen.com
Maiden: Wright
Class: 74
City and State: TO Town
Message: Don: I can relate to your post about life during high school. My father was an abusive alcoholic. Self-esteem shot to hell. It definitely had an impact on school. All I wanted to do was get through those 4 years and leave. I too could have been a star student, if I had applied myself. I had other priorities at that time. Thanks to CT, I am seeing the brighter side of high school years, and realizing I missed out on A LOT. You can never go back again, so you must make the most of the future. Sounds like the Prom was a blast!
Thanks for sharing Betty. Yes, the Prom was EXCELLENT!!
---

Name: Debbie () on Friday, August 24, 2001 at 10:08:10
E-Mail: pinkelephant10@yahoo.com
Maiden: notinDaveMontoya'sGermanClass,LOL
Class: 77
City and State: Del Aire
Message: So glad I got to attend the prom, due to a '76'er's not being able to go, even though I worked that morning, and went to a niece's birthday party, I'm so glad to have taken a hint from the guys, jumped in the shower, put on something a little dressy, and didn't stress. Had a great time, and even though my name tag didn't match, Tesa Dallons pegged me right away, you look so pretty with short hair! Don, nice to meet you in person! And Peggy S., is looking prettier with each child!
Happy Belated Birthday, Paco, and hope your driving bday after the reunion was OK, Jerry!
Count me in for Cougar Balls, to heck with being pc!
Thanks to JudyWudy and all who put together a fun filled night, look what you've started, John!
Hi Debbie, Glad you liked the Prom......
---

Name: Gina Black Peck () on Friday, August 24, 2001 at 01:22:25
E-Mail: gina_peck@yahoo.com
Maiden: Black
Class: 80
City and State: Los Angeles, CA
Message: Kathleen NIX Griffin, wow, you mean someone really WANTED to MEET me? I'm touched and surprised!. I tried to wear my badge upsidedown, but several "much respected" Cougs pointed out that it was upside down, and then Patty V. put her foot down and I had to turn it rightside up... I was the girl with the long red hair, wearing a black dress with long fringe on the bottom. I regret not mingling more, but I really like to dance and had myself a time!! Hey! why don't we all crash Knott's Berry Farm for Halloween? There is food and drink, music and dance floor, and although we can't go in costume, we could all wear scarlet and gold!!
We went last year and it took us about an hour to get in, as everyone had to be patted down and metal detected. They took my Swiss army knife away for the evening. It was like "The Gestapo Meets Snoopy".

---

Name: Patti Smith () on Thursday, August 23, 2001 at 20:54:54
E-Mail: GrnidL80@mediaone.net
Class: 68
City and State: Cypress, CA
Message: HAPPY BIRTHDAY, PACO!! You just keep getting better with every passing day!

---

Name: Walter Holt () on Thursday, August 23, 2001 at 20:37:35
Class: 66
City and State: Orange, CA
Message: HAPPY BIRTHDAY Paco Man !!!!! May Your Golf Cajones Fly Straight & Long.. BTW, been paying you back for those Beauties You've Been Sending Me. Have a great B'day dude.

---

Name: Mike Kadow () on Thursday, August 23, 2001 at 20:17:59
E-Mail: pmkadow@aol.com
Class: 68
City and State: Worcester MA
Message: Hi to Band Members under Mr. Morgan!

---

Name: Sharon () on Thursday, August 23, 2001 at 20:17:53
E-Mail: hawthornehigh66@aol.com
Maiden: Moore
Class: '66
City and State: Long Beach, CA
Message: HAPPY BIRTHDAY PACO ;)

---

Name: Betty Boyer () on Thursday, August 23, 2001 at 19:35:33
E-Mail: aboyer9566@aol.com
Maiden: Bell
Class: 61
City and State: Denair, CA

Message: I'm still enjoying the "buzz" from the Prom. Dick Dixon what a wonderful man you've become. I so enjoyed our talk of the old times. I remember you coming to our house and it was just like you were another family member. You were so respectful of my Mom and Dad. Ya know...... that counts a lot with me. They also treated you like one of their kids. I'm sure when we were told "NO" that you were told "NO" also. When we laughed and played around I think you were in that group also. It was so good to hear not only the stories of the memories, but better yet, the feelings that came with the memories. You are "MY Brother" I know that to be true!!!Dan Dye I think talking with you was so therapeutic... you really came thru totally unscathed. (You know what I mean). What a wonderful (not to mention handsome) guy you are. Ann, thanks for the hour long loan of your husband. (Don't go there Judy...it was just a conversation). Robin, how have you done it? You look the same, except a little gray at the temples, which in my opinion, is sooooooo attractive. You look great!! John, you and Janet are a great couple. She's really cute. You two look like you really have fun. Dick, remember that car that was "honking" at you in front of the hotel (while you were in the Cobra)...that was us. I don't know anything about cars, but, I think I really like that car......
Thanks Betty, She IS really cute, and I'm gonna keep her too.

---

Name: Paco () on Thursday, August 23, 2001 at 18:37:49
Message: What do I win? Or is it beauty before age?
You my friend, win the consolation prize; a tour through the beautiful Pacbell facility in downtown Lake Forest CA. Thank you for playing, and that age-beauty thing........Penny has you on both.

---

Name: The Estrada Sisters () on Thursday, August 23, 2001 at 18:31:33
Class: 60's
Message: Happy Birthday Paco. May there be many more miles of smiles ahead.

---

Name: Penny Prouty () on Thursday, August 23, 2001 at 17:12:09
E-Mail: penny_prouty@usw.salvationarmy.org
Maiden: Prouty
Class: 62
City and State: Torrance, Ca
Message: .....uh oh......wrong answer to wrong question. Let me try again?.......26th Street?.......(or 42nd Street).
Don't know either. Maybe if Jerry or Cal is out there, they can answer it.
---

Name: Penny Prouty () on Thursday, August 23, 2001 at 17:09:36
E-Mail: penny_prouty@usw.salvationarmy.org
Maiden: Prouty
Class: 62
City and State: Torrance, Ca
Message: I think I know the answer to who those longboarders are............Cal Kappen and Jerry Daquila. Whaddya think?
Penny
YES!! I think we've got a winner. Thanks Penny, you beat out all the surf-bums from the early 60's........Wait, you WERE a surf-bum from the early 60's.


You win an all expensive paid trip to the beautiful tar filled beach at El Porto CA. When you get home, please do not track it in the house.
---

Name: Robin () on Thursday, August 23, 2001 at 16:57:31
Message: At first glance I'll say Gary Bickers and Jerry Daquilla in the pic...If not..well it beats Cougar Ball talk, because I dont have an antenna anyway...and don't even Baker...:o)
Way WAAAY to EZ man.

YES, YOU ARE CORRECT!!! on one of them. Thanks for playing our game.
---

Name: Gary Nelson () on Thursday, August 23, 2001 at 16:19:26
E-Mail: Kruiszn@aol.com
Class: 60
City and State: Granite Bay, CA
Message: John: B.W and J.D.
H.D. and Y.J.

What are these last two Feedbacks all about?
---

Name: Paco () on Thursday, August 23, 2001 at 16:12:19
E-Mail: doo4usc@aol.com
Class: '61
Message: Cal and Jerry...
OK, Bob and Pat.

---

Name: Don Di Tomasso () on Thursday, August 23, 2001 at 15:30:50
E-Mail: dond@ix.netcom.com
Maiden: dondt.freewebspace.com
Class: 75
City and State: Lawndale, CA
Message: "I'm not sure where you were trying to steer this "feedback truck..." John, I was just sharing a perspective. I had no intention to stir things up and you shared at the end of your response was well worth my post: "Your car privilege this Saturday night is NOT important at all. What is important is your FUTURE. Ask questions of counselors, teachers, and parents. They have the answers." I truly hope there are present and future HHS students reading feedback.
Thank you for your thoughts, John.
For those of you who don't know, a "Feedback Truck" is a long feedback (I made that up), and I didn't think you tried to stir things up, although I did add my own "Feedback Train".

---

Name: John Baker () on Thursday, August 23, 2001 at 15:14:14
E-Mail: john@cougartown.com
Class: 62
City and State: Lomita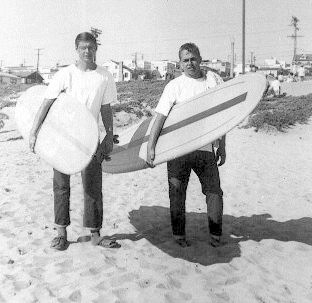 Message: Can you early Cougs answer the burning question, "Who are the long ago Longboarders" and as a bonus, does anyone know where this picture was taken? At the beach is NOT the correct answer.


---

Name: Kathleen Griffin () on Thursday, August 23, 2001 at 13:50:49
E-Mail: Spirithart@yahoo.com
Maiden: Nix
Class: 74
City and State: San Pedro
Message: I also wanted to thank everyone for a wonderful evening. Michael ("Jerry") and I are rather shy now that we're "clean and sober" but we still had a wonderful time! Liz, you made quite an impression when you introduced yourself in the picture line. Nice to meet the "goddess" at last! Gina Black, I was hoping to meet you but I couldn't read name tags in the dark....
Can you believe that Man of mine finally asked me to dance as we were walking out the door of the Hotel? Thanks again to all who worked to make this a reality, it is appreciated!
Hi Kathleen, Glad you had a great time.......
---

Name: Dawn Moffett () on Thursday, August 23, 2001 at 13:43:32
E-Mail: dmoffett@clunet.edu
Maiden: Koch
Class: 78
City and State: Simi Valley. CA
Message: Sounds like the prom was way too fun! As for us we spent the week hauling kids all over the place and the weekend at a beach house at Silverstrand Beach by Port Hueneme, our 2 night 1 day vacation (that's all that fits into a summer when Mom and Dad both attend summer school). Hope the next big event works into our schedule so we can come, we missed out! This is the first chance I've had back at CT due to computer problems so you'll have to wish Mr. Wing a belated birthday. His email is audfreewing@yahoo.com. I hope to be able to check in more often this semester than the last two so I can keep up. Even though I'm a graduating Kingsmen May 2002 I'll always be a Cougar first!!

---

Name: Cindy Colby () on Thursday, August 23, 2001 at 11:53:03
E-Mail: cindycolby@att.net
Maiden: Maxson
Class: 63
City and State: Laguna Hills, CA
Message: It is so great to hear all about last weekend, I am really happy you all had a wonderful time, keep the stories coming. Can we see more pictures? I would have loved to be there but the price was a little high. Is there anything else on the horizon? I would like a couple of antenna decorations also, I can't believe that I was that PC, I must be sick.
If you're talking about a Prom, we've just spent the better part of a year doing this one and are "savoring" right now.
Cruise Night will be coming up shortly. Next month for Janet and me is completely full, and October is getting there. Not that I don't enjoy you Ctown junkies, but I WANT SOME TIME WITH MY GIRLFRIEND!!
Thanks Cindy.....
---

Name: Patty Valencia () on Thursday, August 23, 2001 at 10:43:21
E-Mail: pvalencia2@aol.com
Class: 1974
City and State: PVE, California
Message: I just love reading and reliving the Prom. Bob Kyllonen it was probably I who wanted out of Biology. And Honors Math! I would have gone over and talked with you but Gloria told me that you probably wouldn't remember me. As a matter of fact she kept telling me that no one would remember me! Gotta love those sisters of mine :o) I think I spent a lot of time talking with you during those years and very much appreciated your time and effort. Mike Backus YOU DID look like the Dream Date guy! How funny to remember that game after all of these years, and none of the boys seem to remember it - definitely a girl game.

---

Name: Barbara Duran () on Thursday, August 23, 2001 at 10:20:02
E-Mail: BJD2354@aol.com
Class: 72
City and State: El Segundo
Message: Lets all wish my brother Howard aka Paco a very Happy Birthday. Happy Birthday Doo
Love Barbara
Happy Birthday AGAIN, Paco.....
---

Name: Gomez () on Thursday, August 23, 2001 at 08:14:16
E-Mail: thewholedamnstateisonfire.com
Maiden: Hootie
Class: 1972
City and State: Salem,Oregon
Message: At work we just hired a kid for clean up who moved up here from California, Hawthorne...California... swimming pools, movie stars. We talked about CT and he knows about the "hippie web site" and thinks it's okay. I'll work on him. Who knows, he might just show up for the next Cruise night? Or prom? Oh before I forget! John I have no balls as well so put me down for two if Dan Dye and Mr. Backus autograph them.
OK, I'll see if Dan and Mike want to sign your balls. Thanks Petey.......
---
If you have comments or suggestions, please email me at jb1@cougartown.com