Page 413

Hawthorne Time and
Temperature

Home | 60's Slang | Alumni List | Car Talk | Cougar News | Feedback | Hangouts | Memories
Recollections | Reunions | Street Scene | Teachers | Tributes | Vietnam | What's New | Keyword Search
back to the 60's...... Beach Boys
<!-+++++++++++++++++++++++++++++++++++++++++++++++++++++++++++++++++++++++++++++++++++++++++++ +++++++++++++++++++++++++++++++++++++++++++++++++++++++++++++++++++++++++++++++++++++++++++++->

---
---

---
<!-++++++++++++++++++++++++++++++++++++ADD BELOW THIS LINE++++++++++++++++++++++++++++++++++++ +++++++++++++++++++++++++++++++++++++++++++++++++++++++++++++++++++++++++++++++++++++++++++++
Name: Bob Poorman () on Friday, July 27, 2001 at 09:19:38
Class: '77
City and State: Wayzata, MN

Message: Wow! Seeing that picture of the annual Donkey Basketball game really brought back some memories. I had the pleasure (that's a stretch) of participating in the action during my days at good old HHS. Porterhouse Poorman was the name, scoring baskets was the game. The gym floors are hard enough when you fall from ground level but add the distance from that damn donkey's back to the floor and you really end up with some bruises. The donkey I had was much better behaved than our beloved counterparts, the faculty. I set up in the paint a couple of times only to have Coach Smith yank me off sending me crashing to the floor. But this fun paled in comparison to seeing all my buddies (Sal D, Jerry G and the artist formerly know as Ernie) dressed up in full pep squad unies. When I'm old(er) and gray(er) and telling the stories of the good old days no one will believe it, basketball on a donkey, yeah right. But the El Molino doesn't lie and there are pictures to prove it. Giddee-Up!
Yep, I don't know how far back Donkey Basketball goes at HHS, but it was there when I was ditching assemblies and it's probably going on today. Thanks Bob....
---

Name: Chris Knight () on Thursday, July 26, 2001 at 22:51:31
E-Mail: artzlady@unnet.com
Maiden: Fall
Class: 71
City and State: Boyne City, MI

Message: Hi everyone ! I am still wondering if anyone knows what ever happened to the gymnastics coach, Miss Joyce Sake. I heard years ago that she may have gotten married after I graduated. I would appreciate any info. She was a wonderful person.


---

Name: Patti Smith () on Thursday, July 26, 2001 at 22:33:56
E-Mail: GrnidL80@mediaone.net
Class: 68
City and State: Cypress, CA
Message: Judy, I think there are several Cougars out there just sitting on the fence trying to decide whether to go to the Prom or not. And since the dinner is now sit-down, I'm sure the hotel needs to know the exact number of guests to prepare for. So, can you tell us what is the ABSOLUTE DROP-DEAD date for Prom tickets? Will there be any available at the door? Come on, Cougs, time to get off the pot and make up your minds! August 18th is getting veeeeerrrrrryyyyy close!
Hi Patti, The Marriott will prepare food right up to August 18th for all Cougs who come at the last minute. If we have any tickets left, they'll be available at the door, but I wouldn't get all spiffed up thinking you're going to get in on August 18th. If they're gone you won't be allowed in (Fire Regs and all). Why wait anyway, when you can get them now?
Also there are tickets that people have signed up for, but not paid for YET. These tickets aren't safe either. If you've signed up for tickets, but haven't paid for them. please do it NOW.
If your name is on the Prom Attendees List with an asterisk behind it, you are all signed up.
---

Name: Judy DeGrazia-Blomsterberg () on Thursday, July 26, 2001 at 22:09:20
E-Mail: JUDYWUDY@att.net
Maiden: CougarNewspapersTellAll
Class: 64
City and State: Torrance, CA
Message: Hey Janny.... Dan Dye says he loves me... I want a d-i-v-o-r-c-e! To be honest, Dan is really very cute in drag.. Today I worked on copying the Cougar Newspapers and I made extra copies of "that one".. They'll be available for everyone to take home on PROM NIGHT..but for a small fee, (Dan) I'll lose that page in the trash can.. BTW, Janny ordered his tux today.. Looks like I'm going to keep my promise to him that I made almost 2 years ago.. to take him to his first prom.. I guess you might say, "he's a prom virgin"..
Judy Wudy..
Be gentle with him Judy......

---

Name: Dan Dye () on Thursday, July 26, 2001 at 20:49:47
E-Mail: emaildandye
Maiden: Pom Pom
Class: 1962
City and State: Torrance, Calif.

Message: So what's up with Judy Wudy? One lousy picture taken 40 years ago and I lose my kissing booth. You talk about fickle. I guess the pressure from Prom Night, working 24 hours a day, waiting by her mail box for late Cougars, will wear anyone down. Judy, keep up the good work, we all love you and all the Cougars that are putting in so much time and hard work on making this the greatest Prom Ever. I love ya girl and I have a big hug waiting for you. We (all Cougars) will never, ever, be able to thank you, (Judy) John Baker and your staff for your hard work. And John Baker, I know you have heard it before, but we can't say it enough, thanks buddy for Cougartown. And for those who haven't made up their minds to go to the Prom yet, JUST DO IT! See you all at the Prom. Always a Cougar, Dan
There you go Judy, a guaranteed hug from the BIG GUY himself and you don't even have to spend a dollar. Thanks Dan, and I'll see you on the 18th of August.
---

Name: Judy DeGrazia-Blomsterberg () on Thursday, July 26, 2001 at 20:39:17
E-Mail: JUDYWUDY@att.net
Maiden: Questions&Answers....
Class: 64
City and State: Torrance, CA


Message: Hey John Boy... How bout getting us in the mood again by hyperlinking "ALL SUMMER LONG" or "TAKE ME BACK". Now, sit back and imagine yourself dancing with your best girl or fella.. or even just an old friend from the past. Are you in the mood yet?? PROM NIGHT - AUG 18th is almost here.. for those of you that have just logged onto CT..don't you dare miss this one. CT isn't sparing the horses..we have the "Grand Ballroom" reserved for all of ya. I haven't answered so many questions since I was in Catholic school.. A few of you want to know if tickets are still for sale "YES, THEY ARE".. and you can wear almost anything fancy and comfy.. pants suits are great but jeans and a T-shirt aren't. We will be serving great food and drinks.. And now let me announce that we have RICHARD BOURESTON '62 joining us. I'm tickled to see all those 50's decade people get in there, and the 60's decade just walked away with this dance.. Hey, I'm from the 60's. GOOD GROUP!!
OK Janny.. let me get that Prom dress on again..and I want you up and dancing.. practice, practice...dip.
Judy D..

---

Name: DONNA () on Thursday, July 26, 2001 at 16:48:50
E-Mail: CRABBYSUN55@AOL.COM
Maiden: RAY
Class: 1973
City and State: LAKE ELSINORE, CALI.


Message: HEY! FELLOW COUGARS, HOPE ALL IS GOOD FOR EVERYONE. I HOPE SOMEONE OUT THERE IN COUGARTOWN CAN HELP ME LOCATE THE SITE I WAS ON THE OTHER DAY IN REF TO HHS. I TRIED TO LOCATE AGAIN BY USING HAWTHORNE HIGH SCHOOL, TO NO AVAIL. HELP... IT WAS A COOL SITE, BUT I DIDN'T SAVE IT IN FAVORITES. SILLY ME...IT HAD LOTS OF GOOD INFO ABOUT US IN THERE, PLEASE HELP ME OUT IF YOU CAN....THANKS IN ADVANCE.....C/O '73 FOREVER!!!!
Sorry Donna, you'll have to be more specific. There's a Hawthorne City website and Carl Tank has a website about Hawthorne. Both are listed under "Other Cool Sites" on the What's New Page. Hope this helps.....
---

Name: Al Rocca () on Thursday, July 26, 2001 at 13:12:32
E-Mail: alrocca1@email.com
Class: 70

City and State: Mesa, Az
Message: Great picture John. The band picture brings back alot of memories. I taught Tony to play the drums. Thanks again. By the way, I love this site!
Hey Al, I thank you and Tony thanks you.....

---

Name: Dan Johnson () on Thursday, July 26, 2001 at 12:35:54
E-Mail: wch1ispink@aol.com
Class: 77
Message: Eclipse! I loved those guys both as a band and as people!

---

Name: Lori Padelford () on Thursday, July 26, 2001 at 00:33:30
E-Mail: birthdaygirltomorrow
Class: 81
Message: Hey John that's an easy one to answer. That is the band Eclipse with Russ Painter, Tony Zaccaglin and Mike Deakins. They always played at the drop-in when I was at Hawthorne Intermediate.
YES!!! You are Correct....Thanks Lori, and thanks to Lyle Tucker, HHS77 for the picture.
---

Name: John Baker () on Wednesday, July 25, 2001 at 23:12:14
E-Mail: john@cougartown.com
Class: 1962
City and State: Lomita, CA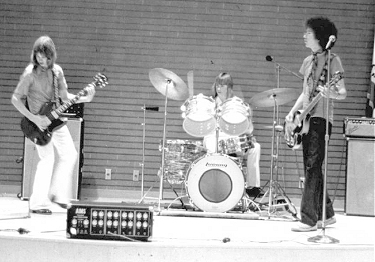 Message: Can anyone name the Group and the Participants?


---

Name: michelle brown () on Wednesday, July 25, 2001 at 23:06:27
E-Mail: Tinkerbellcat@home.com
Maiden: brown
Class: 1981
City and State: Arlington tx
Message: Iam loking froe a classmate name SCOTT HOPKINS! he is in my class of 1981. I like to get hold of hime. HE was a good friend of my. I saw Scott at my 20 reunion so i hope somone can help me frind Scott. IF anyone dose frind Scott my Ads is 4412 Steeplewood Arlington Tx 76016. Thank you! Classsmate Michelle Brown

---

Name: Chuck () on Wednesday, July 25, 2001 at 21:19:22
E-Mail: chasmccain@aol.com
Class: 65
City and State: Scottsdale, AZ
Message: Hey Donald Paul and Brudder How come I wasn't invited to your golf outing?

---

Name: Judy DeGrazia-Blomsterberg () on Wednesday, July 25, 2001 at 21:05:01
E-Mail: JUDYWUDY@att.net
Maiden: Gordo-Red-WhereAreYou??
Class: 64
City and State: Torrance, CA
Message: Well Rowdy Myrna Bell.. How come we haven't heard from your brothers, Gordon and Tom, for Prom Night.. I "promise" not to say a word if Gordon brings his home brew. Let's see.. how did that go again.. Grape juice, sugar, yeast-- put it all in a sparkletts bottle til it fizzes.. Voila!! GORDO RED!!
And now, let me tell you that we just got LENORA MILLS PULS '67 in on the Prom Night fun.. Just a little over 3 weeks and we're there.. I was going through some early Cougar newspapers for the Prom and I found a great pic of DAN DYE..GARY MYKANNEN, LES JOHNSON, GEORGE REA AND KENNY UMSTED "all in pom pom girl dresses!! looks like the kissing booth is out Dan. I'm shocked!! Now, it's time to try on my prom dress again.. Janny just loves the way I've sewn in the velcro.. Judy in disguise..
Kenny Umsted......now there's a name out of the past. KENNY,GORDON, and TOM, where are you??!!
---

Name: Bob Jensen () on Wednesday, July 25, 2001 at 16:55:46
E-Mail: robertjensen@satco-inc.com
Class: 71
City and State: Los Angeles, CA
Message: Just drove past HHS and I was very impressed! All of the buildings are being painted a light color and all of the parking lots have been removed and redesigned! They must be getting ready for the PROM! See you there!
Hey Bob, I'm going by there tomorrow. I'll take a look. Thanks.....
---

Name: Myrna () on Wednesday, July 25, 2001 at 14:51:26
E-Mail: mybizz@onemain.com
Maiden: Bell
Class: 66
City and State: Coalinga, CA


Message: Hey Guys - you have worked hard and I want you to know I appreciate what you're doing. I look forward to the Prom - Jim does too, as long as there is food (and it sounds very promising to me!), and drinks available. Hey Gordon - send in your money!!!!!
Yeah Gordon, send in your money.....
---

Name: John Baker () on Wednesday, July 25, 2001 at 13:31:14
E-Mail: john@cougartown.com
Class: 62
City and State: Lomita, CA


Message: Lately I've been getting email from lots of Cougars asking if there're Prom Tickets still available. The answer is YES, we still have Prom Tickets.
Please go to the Prom Tickets Page and fill out the appropriate form BEFORE sending your money. The form is needed for badges, security, door prizes, etc. Please do not miss this function if at all possible. I know you'll have a wonderful time.
Whether you're going to the Prom or not, if want a Memory Book, they're 16 dollars now, but on Prom Night they go to 20 dollars. Please go to the Memory Book page and sign up now if you want to save the 4 bucks.
Thanks Cougs.....

---

Name: PAUL CLARK () on Wednesday, July 25, 2001 at 13:18:02
E-Mail: clarkrealty@cs.com
Class: 67
City and State: hawthorne, ca

Message: For those who have requested the names of the golfers, here is the list.
seated-MIKE WADMAN '66
KNEELING [L-R] BOB PARISI 67, DARWIN SCHUSSLER 66, KURT PETTLON 67, JIM SCHROEDER 66, BART GRAVES 66
STANDING [L-R] KEN SLAUGHTER 66, JIM SLOEY 66, CURT SATTER 67, WOODY MCCAIN 67, RONNIE JONES 66, JASON ASATO-NOT HHS, JOE ALDRIDGE 67, DENNIS HIGGINS 68, PAT BECKETT 66, CHRIS HOOD 71, JOHN ABRAHAM 66, RAY [NOT HHS], JIM MOHRMAN 66, TIM HOOD 67, PAUL CLARK 67, DAVE HOBART 66, DAN PUETZ 66, SANDY DURKO 66, ROSS BRADFIELD 66

---

Name: Paco () on Wednesday, July 25, 2001 at 13:12:43
E-Mail: doo4usc@aol.com
Class: 61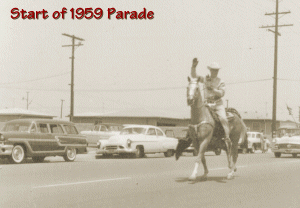 Message: I went to the Orange County fair over the weekend as I've done for many years and it brought back memories of the 1959 Hawthorne fair...I was picked with a couple of other "Hawthorne National Middle League" All-Stars to ride in the Parade, I was very excited. We wove through town and finally came to the fair grounds where we went into the "Big top", where we had a booth. The queen that year was Bonni McDowell, she could've been queen every year, I forget what we had to do but all the baseball players had to sell something, candy maybe, anyway we competed with other organizations to pick the queen and we won. That afternoon Bill Welsh and his camera crew were interviewing people in their booths, all the tinkers, tailors and candle... Well here they came, Bonni the queen and Bill Welch, Bill said "Oh , here are the Little leaguers that sponsered you", well here came Paco, correcting ol' Bill several times "Middle Bill, Middle" I don't think Bill ever got it. My girl friend at the time, Sandy Peppers, said I looked cute on TV. Geez 42 years ago, Bonni are you out there?

---

Name: Loraine Weber () on Tuesday, July 24, 2001 at 22:57:55
E-Mail: pvartist@msn.com
Maiden: Shue

Class: 64
City and State: Palos Verdes Estates, CA
Message: Hey John Baker, Are you mailing the tickets to us or are we to pick them up at the Prom? Loraine
Hi Loraine, Tickets, along with badges, will be handled at the door.
---

Name: JOYCE TITCHENER () on Tuesday, July 24, 2001 at 22:27:09
E-Mail: jetlady@qwest.net
Maiden: CUIPER,JOYCE ELAINE
Class: 57

City and State: meza. az.
Message: wondering where MRS. RHODES, OFFICE LIBRARY TEACHER HAS GONE, SHE WAS ONE OF MY FAVOITE TEACHERS. I KNOW SHE WAS OLDER AND HAS PROBABLY PASSED AWAY. JUST HAVE HER IN MY THOUGHTS...

---

Name: ruth watson () on Tuesday, July 24, 2001 at 17:04:20
E-Mail: ruth_watson@customchrome.com
Maiden: kara
Class: 64
City and State: morgan hill, CA 95037


Message: Judywudy: I'd be happy with chip and dip at Prom Nite. Just to be together with old friends and to be able to make new friends at the upcoming Prom Nite Extravaganza is great for me, my hubby and sister Tess. Keep up the good work! We'll have a good time and leave the rest to chance!

---

Name: Doris () on Tuesday, July 24, 2001 at 15:32:46
E-Mail: raydori@mindspring.com
Maiden: Donaldson
Class: '57
City and State: Twin Falls, ID


Message: Just want Judy-Wudy and JB2 to know how tickled I am that we are going to have a "sit-down dinner" at the Prom! Adds a little more atmosphere. In fact, while I'm at it, a HUGE THANKS to the whole planning team of Prom Nite 2001!!! Hard, hard tedious work and much appreciated by me and I'm sure a whole lot more Cougs!
Thanks Doris, Yes, lots of work, but lots of quality people behind the scenes too. This will be a memorable event.
---

Name: Patti Smith () on Monday, July 23, 2001 at 22:11:30
E-Mail: GrnidL80@mediaone.net
Class: 68
City and State: Cypress, CA


Message: Judy, I hate to say it, but I liked the idea of the stations much better. People could choose what they liked...or didn't have a problem with...that way.
....and who said we wouldn't be able to please everyone?

---

Name: elizabethestrada () on Monday, July 23, 2001 at 19:44:45
E-Mail: dzlizzy219@aol.com
Class: 69
Message: Oh, Judy, Sounds yummy. And can we have brussel sprouts with that too?
NO BRUSSEL SPROUTS ON PROM NIGHT!!!
---

Name: YAMMA LAMMA () on Monday, July 23, 2001 at 18:11:08
Maiden: DING DONG
Message: Sorry Hootiehootie -- I screwed up! Shoulda dedicated the pink message to Dan Johnson! DAN!!! pinkpinkpink etc. Yur legaleze is better than most attornees!!

---

Name: Matt Peterson () on Monday, July 23, 2001 at 14:41:44
E-Mail: mattpete6@yahoo.com
Class: 74
City and State: El Dorado Hills, CA
Message: I hope everyone is well. I just want to update everyone on where they can view the "Toast to Yost" photos. First some can be seen under Paco's Pics. Thanks a million Paco! Next Don Bakos has other photos at his website located at http://members.home.net/scdoctor/hawthorne/ToastToYost. Finally Nedra Yost has some photos at her website at http://www.toastyost.homestead.com/Index.html. Enjoy the photos.
Thanks Matt, These URLS will be listed on the Reunion Page.
---

Name: Ron Reinhoodson () on Monday, July 23, 2001 at 13:02:35
E-Mail: r_reinholdson@juno.com
Class: 65
City and State: Claremont, CA


Message: Dave Wagner, where are you. Your email no longer works.
Cougs, please look on the Alumni List once in a while to see if your email address is up to date. I've been known to accidently erase email addresses too and without it, there's absolutely no way your friends can contact you.
---

Name: YAMMA LAMMA () on Monday, July 23, 2001 at 11:45:41
E-Mail: ifyawannabehappyfortherestofyurlife
Maiden: DING DONG
Class: nevermakeaprettywomanyurwife
Message: Just wanna say, don't mistake Dammayamma for one of us Ding Dong girls cuz ain't NO relation! 28days, 27 nites till -- well! till whut!!?? RIGHT! PROM NITE 2001!!! Cain't hardly wait! BTW, Hootiehootie -- pink -- PINK -- PiNk -- pInK --- pinkpinkpink, etc!!! You an atty too? My condolences! EWWWIE!!!

---

Name: John Baker () on Monday, July 23, 2001 at 11:08:14
E-Mail: john@cougartown.com
Class: 62

Message:A special thanks to all who showed up for Tri Tip Wars at my place on Saturday. Tri Tip Wars was started a couple of years ago, and was last held at Mom B's house in 1000 Oaks. This year it was Janet and my turn to host the event and was a fun day for all.
A special thanks to Janet for all her help in preparing this day; from planting flowers to helping me paint the back fence, to making her famous salad, other side dishes, and for helping me clean up. You are the BEST!! Also thanks to Harry Plotkin and Kathy Brooks, Mom B and her very special Key Lime Pie, Sharon Bierman Branigan, husband Mike, and son Mikey; Patty Valencia, son Peter, and daughter Allie, and Jan and Judy for making the day so much fun. Also showing up a little later were Bob and Karen Fraser and Tom Shelley.
It was a fun day for all, and just the Bierman families way of getting together for some good food, drinks, and friendship. OH, Mike Branigan won the Tri Tip War with his great Garlic Tri Tip and wife Sharon's super Cilantro topping. Thanks to all and next time it's Sue and Darryl's turn to host the event........I can't wait.

---

Name: damayamma () on Monday, July 23, 2001 at 09:49:56
E-Mail: make7upYOURS
Class: YES
Message: About all of this lawyer stuff, you know we have had Cruise night, Pink's Night, Prom Night, Lets schedule something like Drag the Blvd. with Attorney Night, round them up, tie a bungie cord to their feet, off you go. We could time it, to see how fast a Vet. could really go etc. great fun, NO? or behind the Dairy Night. Structured just about like the Drag night with the attorneys without a bungie cord. What are your thoughts out there in Cougarland about attorneys writing in and taking up this air time form other Cougs. Heck I hope they aren't billing JB for their time. Great job on this site JB.

---

Name: Betty Rodriguez () on Monday, July 23, 2001 at 08:17:16
E-Mail: tombetty@kelp.net
Maiden: Kean
Class: 69
City and State: Lake Elsinore, CA

Message: Elizabeth-
Wow, what a memory! Remember the dime toss with all the Coca Cola and 7Up glassware? Our parents never had to buy glasses! My daughter brought home one of those a few weeks ago from a yard sale, but its written in French! We went to the Orange County Fair over the weekend with our kids - so much fun. (It's easier on the feet than the LA County Fair). Love all those cute baby cows and goats. . . .
Betty

---

Name: Jan Brown () on Monday, July 23, 2001 at 02:30:32
E-Mail: lazyginger.1@netzero.net
Maiden: Dorris
Class: '63
City and State: Jonesboro, Arkansas


Message: First thing I would like to say is "Great job you are doing John, I know I'm speaking for a lot of people when I say "Thank you ! for bringing the "Happy Memories from the past ever present"
(2) I received an email from a person I did a class project on, back in '62 or '63 who after the project was finish we kept in touch, because she moved a way..she got my email address and sent an email and I deleted the letter by mistake. If she or anyone knows of her, please contact me again or send her email address PLEASE! Her name is Susie (Susan) Ostrom .It would be appreciated so very much.
(3) Would love to see more feedback from the class of "63...where are you class of '63? Again "Thanks John" for a great website! Coug-girl of '63...Jan
P.S. Would love to hear from any of you out there that might remember me, especially my own classmates!!!!!!!
Hi Jan, You are welcome for the website. Hope you find your friend.
---
If you have comments or suggestions, please email me at jb1@cougartown.com