Page 410

Hawthorne Time and
Temperature

Home | 60's Slang | Alumni List | Car Talk | Cougar News | Feedback | Hangouts | Memories
Recollections | Reunions | Street Scene | Teachers | Tributes | Vietnam | What's New | Keyword Search
early 70's stuff...... Bobby Russell
---
<!-+++++++++++++++++++++++++++++++++++++++++++++++++++++++++++++++++++++++++++++++++++++++++++ +++++++++++++++++++++++++++++++++++++++++++++++++++++++++++++++++++++++++++++++++++++++++++++->

---

---
<!-++++++++++++++++++++++++++++++++++++ADD BELOW THIS LINE++++++++++++++++++++++++++++++++++++ +++++++++++++++++++++++++++++++++++++++++++++++++++++++++++++++++++++++++++++++++++++++++++++
Name: Sharon MacDonald () on Thursday, July 12, 2001 at 10:15:48
E-Mail: rmac@genevaonline.com
Maiden: Badger
Class: 63
City and State: Burlington, Wisconsin


Message: Cindy, Gestetner was always a big player in the mimeo machine business but not one of the earliest. Actually it was our good friend Thomas Alva Edison. Now the purple color ... it is the color that allows the most copies to be made from a master. The smell is a bonus!
Off to Iola for the weekend to the Krause Publications Old Car Show. Will take my digital and try to get some shots of the classics.
Thanks Sharon, and say hi to Tom E. for us. Didn't he invent electricity too?

---

Name: Judy Richter () on Thursday, July 12, 2001 at 01:32:22
E-Mail: momsagran@aol.com
Maiden: Sharp
Class: 1962
City and State: Post Falls, Idaho


Message: I haven't checked into Cougartown in a number of months. How is everyone from the classes of 1961 and 1962 doing? Drop me a email if you remember me. Judy
Hi Judy, I remember you. Hope all's well after 39 years out of HHS.
---

Name: Lori Padelford () on Thursday, July 12, 2001 at 00:12:15
E-Mail: Tiredafterthereunionandwanttogototheriver
Message: John, I know why the 81 people are pouring in here this week. It must have been the Cougartown Tshirt I wore to the picnic. LOL Actually a lot of people were asking me where to get one, and you know I directed them here.
Thanks Lori, Actually Tshirt sales are way off. It might be time to add something new.
---

Name: Lanny Harris () on Wednesday, July 11, 2001 at 21:32:53
E-Mail: fourwindspub@juno.com
Class: '62
City and State: Salt Lake City, Ut

Message: Well John, One night Danny Kieffer and I were in Danny's VW and somehow got some dudes in a '58 vette ticked off at us. They started to chase us down Hawthorne Blvd. during high traffic (Must'a been Friday night). With DK at the wheel that vette never had a chance. He drove like Indianapolis through that traffic. I looked back to see the vette way back there trying to get through it and to us. Didn't happen. Back in '60 Wayne Brasheres and I talked someone into buying us a half pint of Bicardi (?) dark rum from a liquor store down in Lawndale. We were heading North on Hawthorne when the Hawthorne Heat pulled us over, made us get out and spread-eagle, went through that car with a fine tooth comb. I mean they pulled my back seat out, took my spare tire out, checked everything but found nothing. They put the car back together, brushed us off and appologized for getting us mixed up with some other blue '51 chevy. After we were well on our way we opened the glove compartment and saw the Rum still there untouched. We threw it out at the nearest trash can. I got religion that night! Wished I could make the Prom, Judy. Maybe a cruise night next summer when I plan to be down to Hawthorne. Lanny
Nope, I never did any of that......not me boy, uh-uh!!

Where is Dan K anyway?? Didn't he have a T bucket at one time?
---

Name: Petey () on Wednesday, July 11, 2001 at 18:50:55
E-Mail: konniesmith@home.com
Maiden: Smith
Class: 1972
City and State: Salem, Oregon


Message: Chris Knight you won't believe this but I was just looking at that very photo not 10 minutes ago. You definitely have my vote! I hope you win the Grand Prize!
I don't believe it.

---

Name: Doris () on Wednesday, July 11, 2001 at 17:31:25
E-Mail: raydori@mindspring.com
Maiden: Donaldson
Class: '57
City and State: Twin Falls, ID


Message: HEY! Good to see Jude, of the "JakenJude", posting! Incidentally, Jake ... good luck with your BS ... oh? "Back stuff"!! When is this to take place? Will it be done in Twin Falls or in Boise? Anyway, GOOD LUCK! I'll be thinking of you, neighbor!
I hope you will still be coming to the Prom

---

Name: Cindy Colby () on Wednesday, July 11, 2001 at 17:19:05
E-Mail: cindycolby@att.net
Maiden: Maxson
Class: 63
City and State: Laguna Hills, CA


Message: To Sharon Mac Donald: Question #1 I don't know how to spell it but it sounds like Gistetner, but I don't know why that good smelling purple ink was used.

---

Name: Penny Prouty () on Wednesday, July 11, 2001 at 17:00:22
E-Mail: penny_prouty@usw.salvationarmy.org
Maiden: Penny Prouty
Class: 1962
City and State: Torrance, CA


Message: Has anyone heard an update on the rerun of the Tribute to Brian Wilson? The last I heard, was that the program was due to air again tonite (and I had requested a friend to tape it for me). I thought it was to be shown on TNT

---

Name: Matt Peterson () on Wednesday, July 11, 2001 at 16:01:52
E-Mail: mattpete6@yahoo.com
Class: 74
City and State: El Dorado Hills, CA


Message: Just a reminder to all wrestlers and scorekeepers. The Toast to Yost Reunion is this Saturday at the Lakes Golf Course Restaurant in El Segundo. It should be lots of fun.

---

Name: Chris Knight () on Wednesday, July 11, 2001 at 15:28:55
E-Mail: artzlady@unnet.com
Maiden: Fall
Class: 71
City and State: Boyne City, MI


Message: Good news - one of your fellow Cougars may be finally getting her 5 minutes of fame !! I submitted a couple of photos to the magazine "Birds and Blooms" after they asked subscribers to send in some of their favorite snap shots of birds, butterflies or flowers. I am not a professional photographer but I do take a lot of pictures of that nature to use as resource material for my watercolor paintings.
The same day that I received the magazine in the mail I also received notice that one of my shots was entered into the photo competition in that Aug/Sept issue! If you are a subscriber to this beautiful magazine and like my photo, a vote for a fellow Cougar would be appreciated! It is on page 41 and is the # 3 photo (hens and chicks). If you are not a subscriber you can still check it out on line at www.birdsandblooms.com under the photo contest page. Wish me luck !
Chris
I just voted for Chris's photo. If you want to vote too, please click here to get to the voting page.
---

Name: EL/IDA () on Wednesday, July 11, 2001 at 12:32:54
E-Mail: I-DY-HO
Maiden: YOU KNOW
Class: 60/61
City and State: THETWOOFUSARESTILLINTHETEENAGEBLISS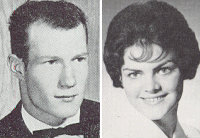 Message: It's hard to start anything on this keyboard after reading about Walter Holt's tragedy.
Walter... There aren't any words that will take the pain away... Please believe that our hearts go out to you and your family. It takes time Walter...your time, and yours alone. God Bless you!
Jake N Jude! MAY THE COUGAR BE WITH YOU!

---

Name: Lori Padelford () on Wednesday, July 11, 2001 at 01:09:56
E-Mail: Desilulu4u@aol.com
Class: 81
Message: Hi Cougs! What a sad week in Ctown. Walter I am so sorry for your loss, my heart goes out to you and Sarah's family. On a lighter note I just wanted to thank all the people that attended the class of 81 reunion. We had a great time at the reunion and also at the picnic and could not have done it without all the people spreading the word about it to missing classmates. Carole Johnson, great to see you in here. Email me when you have a chance. Lori
Glad you had a successful reunion Lori. The 81ers have been pouring into Ctown this week. Don't be bashful now. Jump into feedback and get your feet wet. It's easy.
---

Name: Phyllis Charlton () on Wednesday, July 11, 2001 at 00:33:23
E-Mail: pacrac41@aol.com
Maiden: Phyllis Ann Welch
Class: 59
City and State: Scottsdale, AZ 85257-1143


Message: Recently found out about Cougartown.com from a high school friend, Maurine (Endicott) White; also from the Class of '59. Maurine visited us here last weekend and showed me the site. Looks like it's going to be fun to become involved and find out more about some of my classmates.
Hi Phyllis, Happy Birthday and welcome to Cougartown, where EVERYONE'S a Senior.... in high school that is.


Glad Maurine initiated you; feel free to join in anytime.
---

Name: Janet Burkett () on Tuesday, July 10, 2001 at 23:23:08
E-Mail: jmburkett@att.net
Maiden: Humphreys
Class: 62
City and State: Mission Viejo

Message: Walter, I like so many, send prayers your way. It is such a jolt when you think that, as the saying goes, there but for the Grace of God.....
I know many of us have traveled down that very same highway before. Now, I'm sure we'll always be just a little bit more aware and cautious, remembering your tragedy.
JB2

---

Name: Gary Lents () on Tuesday, July 10, 2001 at 22:10:52
E-Mail: glents@hotmail.com
Class: 67
City and State: Vista, CA
Message: Hey Cliff Rickson.....where is John Warner? Sorry for you Walter...and dang, I missed another golf game...Could someone help me out? I have a friend needing to make some contacts through classmates, and if someone could help (so they don't have to pay the stupid sign up fees), I would be very greatful. Please drop me an Email if you are a member there and willing to help out.
Unbelieveable.........
---

Name: Judejake () on Tuesday, July 10, 2001 at 22:01:29
E-Mail: jakejude@aol.com
Maiden: Kiester
Class: 61
City and State: Kuna, ID


Message: HE TOLD ME TO SAY SOMETHING ABOUT THE CAROMS CHAMP! ANYWAY HE HAS LEFT THE ROOM NOW AND I CAN SAY THAT HE WILL BE A LITTLE DISTANT FOR ABOUT A MONTH. HE IS HAVING BACK SURGERY ON 7-27 AND WILL BE IN THE HOSPITAL FOR ABOUT THREE TO FOUR DAYS. THE DR. GAVE HIM NO CHOICE THIS TIME AND SAID TO QUIT HURTING, THIS IS WHAT HE HAS TO DO. HE WON'T BE ABLE TO SIT FOR ANY LONG PERIOD OF TIME AND SO THIS IS GOING TO BE LEFT UP TO ME. I'M NOT NEAR AS CLEVER AS HE IS. YOU ALL WILL HAVE TO BE EASY WITH ME.
JOHN, I STILL LOVE THOSE FROGS AND CALL THEM JOHN'S LOVER FROGS. I STILL MARVEL AT THE WONDERFUL HOSPITALITY EVERYONE SHOWED US WHILE WE WERE IN CA. THESE STUPID REDNECKS YOU CAN NEVER COUNT ON.
ANYWAY, JAKE IS REALLY UPSET THAT HE HAS TO GO THRU THIS AND IS A LITTLE FRIGHTENED ABOUT THE WHOLE THING. TALK TO YOU LATER.
LOVE YA...JUDE
Thanks Judi, You fill in nicely for the carom champ. Too bad he can't play the REAL game.


I know of 2 people who didn't have back surgery, suffering for decades, only to have it done and wished they'd had it done years sooner. I'm betting this will be a blessing to Jake. So Jake, please climb into bed, roll over on your stomach and let the Dr. have his way with you. You'll be glad you did.
P.S. Say hello to "John and Janet Jumpup" for me. You two are always welcome.
---

Name: Kelley () on Tuesday, July 10, 2001 at 21:42:58
E-Mail: k.k.currie@att.net
Maiden: Currie
Class: 67
City and State: Coos Bay,Oregon
Message: Walter, I too am very sorry for your Loss of a Loved one. It is very hard and you will never forget her. As a friend always tells me when a friend or loved one moves on..."Remember the LOVE, Remember the LOVE."
We drove to Canada this week, saw some crazy, stupid driving. We're glad to be home safe and sound. If you Cougars haven't seen Canada, It's a must. Once again Walter, My heart is heavy for you. KC

---

Name: Judy DeGrazia-Blomsterberg () on Tuesday, July 10, 2001 at 21:03:00
E-Mail: JUDYWUDY@att.net
Maiden: StepRightUp&BuyYourTickets
Class: 64
City and State: Torrance, CA


Message: PROM NIGHT UPDATE: So, looks like I've got another HHS TEACHER for you now--MR. ARNOLD TENA -'63-97 - & I can't understand why Dan Dye keeps thinking that my DD Kissing booth is a joke.. I've even gotten some requests for a Betty Bell (BB) kissing booth for the fellas.. and I believe in giving the people what they want. As for Franz Russell.. I'm comin' after ya Franzie.. give in and buy your tickets and make life simple.. trust me..you won't like it if I have to get tough. Hey, I think I finally found the right job for Marsha Russell.. get in there girl and work your bros last good nerve.
Judy D.

---

Name: Maurine White () on Tuesday, July 10, 2001 at 20:34:14
E-Mail: maurinekwhite@hotmail.com
Maiden: Endicott
Class: 59
City and State: HB
Message: Nothing can diminish the sadness for some of our Cougars. Life can really throw some terrible stuff at us sometimes, and those of you going through this are in my thoughts at this time.

I spent the weekend in Scottsdale to attend the 35th wedding anniversary celebration of Phyllis Welch Charlton (class of '59) and her husband Ron (Inglewood class of '57). I think it's ok to say we also celebrated Phyllis' 60th birthday (anyone can do the math)! The party was given by her niece and her sister who traveled from Kansas. People also came from Manhattan Beach, San Francisco, Napa, Carmel, and other parts of Arizona. They had a Fiesta complete with pinatas for Ron and Phyllis to try and break. The party-goers took cover when Phyllis took aim at her pinata. When it was Ron's turn, he hit his pinata so hard it became a missile headed for the crowd. Needless to say we had a fantastic time. It is so great to get together with old friends. Phyllis and I got to catch up on today and yesterday and parted exhausted but looking forward to our next chance to visit. I'm hoping Phyllis will make it to the Prom Night. We also emailed other Cougar friends letting them know we wanted to see them in August too. Email has enabled such great communication, but nothing compares to a regular old visit with dear friends.
Happy Birthday Phyllis......
---

Name: Sheree () on Tuesday, July 10, 2001 at 20:23:35
E-Mail: sklingenhagen@aol.com
Maiden: Klingenhagen
Class: 1975
City and State: right now, Manhattan Beach, CA

Message: Hi to everyone! I have not been on line for a bit as my computer could not connect to aol and I could not get anyone to fix it. Anyway, I am currently staying at my boyfriends in Manhattan Beach recovering from yet another hip revision surgery. This time the foot on the surgery side was paralyzed as the syatic (hope I spelled that correctly) nerve was damaged. A nice side effect that wasn't supposed to happen. (I'm kidding about the nice part!) My hip dislocated on Saturday night and now I can't even sit in a regular chair nor drive so I am taking it very easy in MB. I will be catching up on the cougartown feedback a page a day or so but there is alot of reading to do and I must do it standing! I will be missing the prom night due to my complications but look forward to the pictures and feedback. Take care all, Sheree
Take it easy Sheree, We don't need you at the Prom doin the funky chicken when you should be resting the drumstick.

---

Name: Hootie & his other bro Hootie () on Tuesday, July 10, 2001 at 19:02:46
E-Mail: somethingsarebetterofflefttotheunknown.com
City and State: Once it was Inglewood
Message: Has anyone ever seen Paco HHS61 and Homer MSH61 in the same room at the same time? Could it be possible they are one in the same, like Clark Kent and Superman? Did Homer really attend Morningside? Then who is Roger Rabbit?

---

Name: Ingrid () on Tuesday, July 10, 2001 at 18:46:09
E-Mail: Jones
Maiden: Schulte
Class: 84
City and State: Temecula,CA
Message: I needed to express my thoughts to Walter Holt and his family. My prayers go out to you and your loved ones. I am so sorry to have read in the newspaper about the passing of Sarah. I too have lost a close friend 5 months ago on Highway 79. She was struck and killed head on by a suicidal person driving the opposite direction.
God's Blessings to you all.

---

Name: Kathy Frankforter () on Tuesday, July 10, 2001 at 18:23:54
E-Mail: kathy90277@earthlink.net
Maiden: Tom's wife
Class: 79
City and State: Redondo Beach, CA
Message: Yesterday, July 9th I was in here writing a short note to Walter regarding the loss of Sarah. Within a few minutes, I went to check my email and I was hit right smack in the face with some news that just set me back. A dear friend I went to high school with at (West High), died over the weekend. John died of a massive heart attack. He was 48 years old. We were both from the Class of 71' To make matters worse, yesterday was my birthday and I must tell you it wasn't a day to celebrate or be happy- So much sadness! His wife is just devastated. I felt like sharing with the Cougars, hope you don't mind John B. :}
No Kathy, I don't mind. I'm sorry for your loss as it's always hurts to lose a schoolmate. Does anyone have any good news?
---

Name: Cliff Rickson () on Tuesday, July 10, 2001 at 17:10:51
E-Mail: ynoino@aol.com
Class: 1967
City and State: St.Petersburg,Florida


Message: Greetings to all Cougars! Having moved to the other side of the country, Cougartown is just what the doctor ordered for this So.California transplant. Would love to get in touch with any old friends out there. John Warner's daughter is getting married on the 21st. I'll be there. All the best to everyone!
Hey Cliff, Glad Cougartown gets you a little closer to home. Keep on reconnecting.
---

Name: Dan Johnson () on Tuesday, July 10, 2001 at 16:04:38
E-Mail: wch1ispink@aol.com
Class: 77
City and State: Lost Angeles
Message: Carole Johnson, we were at HIS at the same time -- who'd you have for homeroom?

---

Name: Sharon MacDonald () on Tuesday, July 10, 2001 at 15:53:34
E-Mail: rmac@genevaonline.com
Maiden: Badger
Class: 63
City and State: Burlington, Wisconsin
Message: I was just reading Chris Prewitt's "Do You Remember" list and the listing for mimeograph machines reminded me of some research I did earlier this year for a presentation on imaging. Here are a couple of Mimeograph related questions ... 1. Who invented one of the early mimeograph machines? 2. Why is purple ink usually used? Now pick up your test paper and begin ... hey, stop sniffing the page, just answer the questions!
That stuff sure smelled good, didn't it? I have no idea as to the answers but I bet someone will. Thanks Sharon.....
---

Name: Carole Webb () on Tuesday, July 10, 2001 at 13:13:00
E-Mail: cjw825@aol.com
Message: My name used to be Carole Johnson. I graduated in 1977, but not from HHS. I love this website! It has brought back many memories & has helped me reconnect with old friends. I attended Ramona Elementary from 1967-71 and Hawthorne Intermediate from 71-73. Any old friends out there? I'd love to hear from you.
Hi Carole, The way this website is progressing, I think we'll have to add an auxiliary list for non-HHS people. Glad you're reconnecting.
---

Name: John Baker () on Tuesday, July 10, 2001 at 10:34:14
E-Mail: jb1@cougartown.com

Class: 62
Message: Is it my imagination, or do Homer Simpson and Howard Paco Duran HHS61 look related?

---

Name: Elizabeth Estrada () on Tuesday, July 10, 2001 at 10:02:41
E-Mail: dzlizzy219@aol.com
Class: 69
Message: I went to Martha's for breakfast this morning. For those of you who've been living out of the south bay for long, Martha's is a great little beachy restaurant on 22nd Street in Hermosa. Anyway, I saw a bumper sticker that made me think of our own John Baker. It said, "Vegetarian is an Indian word for lousy hunter" John, was that you at Martha's this morning?


I LOVE IT..... No, but I'm gettin' me one of those bumper stickers!! Thanks Liz.....

---

Name: Don Di Tomasso () on Tuesday, July 10, 2001 at 07:41:09
E-Mail: dond@ix.netcom.com
Class: 75
City and State: Lawndale, CA
Message: I dedicate this poem for Walter Holt and his beloved, Sarah:
Sometimes my life continues
In ways I do not wish
I anchor my soul with a loved one
That is sorely missed

I am reminded each day
That my heart is with me
Feelings unresolved...
Pain so near...
I continue to fear

But memories, I hold dear
As I remember smiles...
And demonstrations of a loving heart
May I see her again
Knowing that we are not truly apart

Hearts of compassion surround me...
I am not alone...
I will always remember a powerful love
As I continue my walk to my home...

**Walter, may you continue to receive the comfort and support that you need during this time of loss...

---

Name: Sherry Wingo () on Tuesday, July 10, 2001 at 00:27:59
E-Mail: dscwingo@pacbell.net
Maiden: Peppers
Class: 1964
City and State: Haw. Ca.
Message: Walter, I am truly sorry to hear of Sarah's passing. Our prayers are with you and her family.

---

Name: Bill Jensen () on Monday, July 9, 2001 at 23:08:51
E-Mail: jensenb@digilink.net
Maiden: Hot Planes, Hot Cars, & Hot Etc!!!
Class: 63
City and State: 90250


Message: For all you guys and gals out there who are into cars and planes, this Sunday (July. 15) is the third Sunday of the month. That means it's time for the monthly showing of old cars and planes at Bracket Field in La Verne. This is a small monthly showing of old cars and aircraft that takes place from about 10AM to 3PM. Anyone is welcome to attend or display their vehicle at no cost. This month should be great. This is because there is going to be a real P51 MUSTANG and replica WORLD WAR I VICKERS BOMBER. The airport is located just west of the LA fairground and Pomona raceway. If you are driving out there, take a left before entering the fairground and you will end up at the airport. There is a picnic area next to parking lot and aircraft ramp just East of the restaurant. This is where the event will take place. I plan to fly out there Sunday in my 1948 Stinson. So, if you are in the vicinity and have nothing better to do, drop by and say hello. PS. There will be BBQ'd Hot Dogs.
Thanks Bill, Sounds like a fun way to spend the day......
---
If you have comments or suggestions, please email me at jb1@cougartown.com