Page 382

Hawthorne Time and
Temperature

Home | 60's Slang | Alumni List | Car Talk | Cougar News | Feedback | Hangouts | Memories
Recollections | Reunions | Street Scene | Teachers | Tributes | Vietnam | What's New | Keyword Search
some 70's Silver Bullet music...... Bob Seger
---
<!-+++++++++++++++++++++++++++++++++++++++++++++++++++++++++++++++++++++++++++++++++++++++++++ +++++++++++++++++++++++++++++++++++++++++++++++++++++++++++++++++++++++++++++++++++++++++++++->

---

---
<!-++++++++++++++++++++++++++++++++++++ADD BELOW THIS LINE++++++++++++++++++++++++++++++++++++ +++++++++++++++++++++++++++++++++++++++++++++++++++++++++++++++++++++++++++++++++++++++++++++->
Name: Judy DeGrazia Blomsterberg () on Friday, March 30, 2001 at 08:14:18
E-Mail: JUDYWUDY@att.net
Maiden: cruisen'thruFosters
Class: 64
City and State: Torrance, CA

Message: Just one more week and we'll be "cruisin" Fosters again.. I remember the first time we did this. (about 19 months ago) John Baker made us sweat out hitting the first 100 pages.. he wouldn't set a date until we hit page 100 and then Cruise Night was on that following Saturday... those were the days when we'd take a week to fill up one lousy page...boy, haven't things changed? For those of you that need PROM NIGHT flyers for yourself or friends due to being "Internetless," I'll have some forms with me at Cruise Night..please feel free to help yourself and pass them on to your alumni friends that haven't gotten the word yet. These forms will allow you to purchase tickets via snail mail. I'm starting to feel like a traveling road minister now.. The only thing I haven't promised is prayers for your soul with every ticket purchase..but I will if I have to. Now, who gets that glow in the dark rosary?
Judy On a quest.

---

Name: Keith D. Jones () on Friday, March 30, 2001 at 04:15:44
E-Mail: cmi50@yahoo.com
Class: 76
City and State: Honolulu, HI

Message: You know everytime I come on this site I try to remember old memories. I have another one that I hope everyone can relate too. How many of you can remember the first movie you saw in a theater and your first drive-in. Was there ever a drive-in in Hawthorne. My first movie I saw was at the Loyola theater and it was The Sound Of Music which is still one of my favorites. I saw The Reluctant Astronaut at the Fox drive-in. Not sure of the years though. I figure somewhere around 1964 or 65'. Aloha
Hey Keith, My first movie was 1948; "The Boy with the Green Hair" at the Rex theatre in Hawthorne on the north side of the Broadway circle. I went with my dad.....
I haven't seen the Sound of Music yet.
---

Name: Dan Jordan () on Friday, March 30, 2001 at 00:06:58
E-Mail: TheBeachToys@aol.com
Message: For all of you early 60s Hawthorne Cougars. Now's your chance to relive the music of the fabulous Beach Boys, with the only tribute band that brings the look, sound and feel of Brian, Mike, Carl, Denny and Al to the stage. From the striped shirts and sansabelt slacks to songs that blasted from your car's radio, heck...they even wear "High Karate," "Old Spice," and "Aqua Velva." Check them out at: http://members.aol.com/thebeachtoys/SURF.html Available for parties, car shows, reunions and more! For more information call:(818)244-4361.
Thanks Dan Jordan.....you fill in nicely for our own Dan Johnson too.

---

Name: Bill Jensen () on Friday, March 30, 2001 at 00:02:48
E-Mail: jensenb@digilink.net
Maiden: Cruiser
Class: 63
City and State: Hawthorne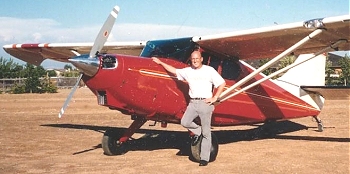 Message: Over the past weeks many people have written about their first cars, racers and favorite cruisers, which has made me excited about Cruise Night. I expect Cruise Night will bring some current favorites, modern and vintage .... and maybe a bike or two. I am anticipating a great evening. I wish I could bring my favorite cruiser out to Cruise Night, but the local and federal governments won't allow me. My current and all time favorite cruiser is a modified 1948 Stinson Aircraft. It's a bit of a sleeper, moderately fast and a super climber. Ray Smith, I took my first airplane ride out of Hawthorne and years later lessons at Hawthorne's Security Aviation.
"The Flying Cougar" Bill
Great lookin' airplane, Bill. Maybe you could strafe Fosters on Cruise Night. It could mean time in Leavenworth, but it would sure be fun for the Cruisers.

Thanks.....
---

Name: Mary Paiva () on Thursday, March 29, 2001 at 21:50:16
E-Mail: hearts105@home.com
Maiden: Castiglia
Class: 1958
City and State: Lakeport, CA

Message: Wow, this is great! Those were truly the greatest years. We just didn't know it at the time. It was great seeing some familiar faces. Janice Hall, yes, I remember National City competition. Lots of fun. Don't know what happened to Mr. Morgan, he married Frances his lady friend. Would like to try to locate Suzie Tribble, Sandy Kestner, Pat Leake. I keep in touch with Grace Hendrick (she lives in North Carolina) and of course Camille Saso (my cousin). My sister, Irene, (also lives in North Carolina) graduated in 1956. She was a song queen. I am enjoying the pictures, etc. Keep up the good work.
Hi Mary, Glad you too found Cougartown. Enjoy.....
---

Name: Cal Kappen () on Thursday, March 29, 2001 at 19:21:49
E-Mail: ekap4@home,com
Class: 59
City and State: El Cajon


Message: Maurine Endicott White try to make cruise night also. Lyman Moss, We are going to be known as TWA LLC for a while, until American can integrate us into their workforce. Wish you could come down for the reunion. I'll be at cruise night looking for Norm Vorhis in his new T-shirt. T-Timers Rule! Cal
Great, we'll see you here next Friday. Looks like there's going to be some late 50's early 60's people there for sure.
---

Name: Wayne Dickey () on Thursday, March 29, 2001 at 19:02:16
E-Mail: Impalawayne@aol.com
Class: 69
City and State: La Palma, Ca.


Message: Well it looks like the pause in feedback last weekend killed the accordian. But I'm back. Last night I picked it up and low and behold, I could still play. All of you people out there that did play, please come to Fosters and join me in a little "Beer Barrel Polka". Jim Fox, try to get a tuba, Artie Verduzco will bring the drums, John Tabor bring your trombone, Steve Ridings bring your Sax, Paul Anderson on the trumpet and John B. bring your polka shoes, and we'll have one hell of a night!!!!!!!
Hey Wayne, you and the boys practice up on "Surfin' Safari" and we'll see you there. I wonder what "Little Deuce Coupe" sounds like on the squeeze box....
---

Name: Maurine White () on Thursday, March 29, 2001 at 18:01:26
E-Mail: maurinekwhite@hotmail.com
Maiden: Endicott
Class: 59
City and State: Huntington Beach, CA


Message: Here is another '59er signing in. I, too, am really enjoying John Baker's website. I went to Ramona elementary with Cal Kappen, nice to see you're in touch with Cougartown. Someone was trying to send an e-mail to a Boeing address. Drop the "west" and it will go through. I, too, had that problem. I'm looking forward to the three class reunion April 7, and seeing old (change that to former) classmates! Most of us don't "feel" old yet!
Hi Maurine, Janet and I are going to the 59-60-61 reunion even though we graduated in 62. We'll be the young ones.

Incidentally, this reunion is open to all classes even though it's mainly the 59-60-61 groups. Someone said Al Jardine will be there too. It'll be nice for him to show up somewhere, where he won't be hounded by all the fans. See you there......
---

Name: Tami Roloff () on Thursday, March 29, 2001 at 12:16:32
E-Mail: tamiroloff@earthlink.net

Maiden: Groendyke
Class: 61
City and State: Mammoth Lakes, CA
Message: Fantastic site! Very creative, very enjoyable. I have called a number of Hawthorne High friends to visit your site. Thank you.
Thanks Tami, Glad you found us and are now back in Cougartown with all your old friends. Hope to see you on Prom Night 2001 at the Marriott in Manhattan Beach.
---

Name: Sharron Flowers () on Thursday, March 29, 2001 at 10:40:09
E-Mail: sharron.flowers@west.boeing.com
Maiden: Moss
Class: 57
City and State: Norco, CA.
Message: Doris: I put in my email address. It would be sharron.flowers@west.boeing.com. I have to look in my yearbook and see if we were in any classes together. Maybe shorthand with Mrs. Williams (Remember her) Sexy young thing that she was. Just wanted to respond to your message. Will come up with some other information soon I hope. Nice hearing from you.
Does anyone out there know what ever happened to Jack Venhous??
Sharron Moss Flowers

---

Name: Judy DeGrazia Blomsterberg () on Thursday, March 29, 2001 at 08:51:47
E-Mail: JUDYWUDY@att.net
Maiden: DAY-O DAAAYYYY -O
Class: 64
City and State: Torrance, CA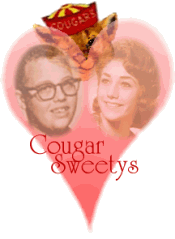 Message: If you want to get a good laugh this morning, go to PACO'S PICS and listen to the music.. somehow, Day-o just doesn't seem the same.. thanks Paco, you're always one step ahead of us. Paco's going to be one of our CT photographers for PROM NIGHT so we know we're in for a lot of "candid shots"..this is fair warning, be on your guard. The ROWDYS are getting ready for our annual Maui trip once more. Same problem as last year-only 5 more weeks to lose 50 lbs. We'll come back with lots of pics and this year Janny and I will be looking for a luau..we want to get up and really do this hula stuff.. then off to the road to Hana. Hey, this is starting to sound like a Bing Crosby/Bob Hope movie..
JDB.. The Rowdys in Hawaii

---

Name: Lyman Moss () on Thursday, March 29, 2001 at 07:51:40
Class: 59
City and State: Everett, Wa.

Message: Hey Tom Embry, you might not remember me but I think that we were in a Drafting class together. If I remember correctly you were working on a drawing of an Oldsmobile V8 engine. I could be wrong, anyway it is good to see that there are more 59ers checking in. Hi Cal Kappen, are you still with TWA or should I say American Airlines? Well I see that my sister Sharron Moss Flowers has finally checked in also, good to see all of your posts. Thanks John Baker for this website. It is so Boss.
Go Cougars.

---

Name: LynnDee Moore Conley () on Thursday, March 29, 2001 at 03:44:16


E-Mail: lynndee@planet.nl
Maiden: Moore
Class: 72
City and State: The Netherlands
Message: Great web site. Is there something similar for the 70's or the class of '72?
Hi LynnDee, Glad you found us. Look on the reunions page for more info.
---

Name: Norm Vorhis () on Wednesday, March 28, 2001 at 23:37:00
E-Mail: olds88coupe@yahoo.com
Class: 59
City and State: Monrovia Ca


Message: Car clubs? Geargrinders, Sidewinders, and Rod Riders. They are all still part of the So Cal Timing Association, and are still doing Bonneville, El Mirage, and Muroc. Not sure how old the Gear Grinders are, but they were part of the southbay scene. The Sidewinders were Charter members of SCTA in 1938. The Rod Riders were a part of the Russetta Timing Association, then SCTA. Hey, I just decided which t-shirt to wear to "Frosters". Ron Dokken: Where was, Lincoln and Imperial?

---

Name: THE EL () on Wednesday, March 28, 2001 at 20:16:40
E-Mail: I-DY-HO
Maiden: YOU KNOW
Class: SIX-OH
City and State: HEREWEARE!

Message: Bake, only 8 days and countin! A couple of other clubs were the SATAN'S CHERUBS and the ALADDINS or something like that. Royal thanks for the phone call last night. Looking forward to seeing all of you. I must make a correction on my last post, of which no one gives a rats probably but I do. I stated that I had been in only two accidents of which I was at fault. Wrongo, neither was my fault. I get noodle fingers on this keyboard sometimes and things just don't come out right. So y'all will be safe on those freeways when we come down. Just watch out for the big green John Deere with the crommie's. See ya soon. Oh... by the way, did any of you find the "peach"? MAY THE COUGAR BE WITH YOU. JAKE N JUDE.
How about the Sultans, and wasn't the Satans Cherubs a motorcycle club? Thanks Russ, see you in a week or so.
---

Name: Christine Baird () on Wednesday, March 28, 2001 at 18:03:24
E-Mail: carissa58@hotmail.com
Maiden: Penny
Class: 76
City and State: Round Rock Texas


Message: Okay, Okay, I'm getting the message from Judy that ya'll have messed me, ah, garsh, ain't I special?! ") Haven't time to do any catch up, but will try and do better about checking in. Will that do, John? Oh, just so you're in the know, I'm not blonde any more,....I'm a redhead!
CHRISTINE!! Where have you been girl?? Yes please check in at least every 2 or 3 months.

Thanks Christine, now if we could just find Alan Hauge......
---

Name: RAMMA LAMMA () on Wednesday, March 28, 2001 at 17:53:12
E-Mail: A-wop-bop-aloo-bop; alop-bamboo
Maiden: DING DONG
Class: tuttifrutti.com

Message: alrite! What's who dun with my sweet Bobby Boo!? Ain't like him to be gone so long! And i know he's ever bit as anxious to do the 12 sq inches of floor as I am. btw, did you uther Cougs see Bjork's dress at the Oscars? Well thet is the dress I've decided to have made for me. Yamma can go in an old multicolored sequined beaded tent dress if she wants to. Ima gunna use better taste and dress "down" a little. YUP! That's the dress fer me. Bjork! MOVE OVER! And whuts this about us Ding Dong sisters not acummin to Prom Nite John? Think agin! gotaguynamedboo heknowsjustwhattodo!

---

Name: Bob Jensen () on Wednesday, March 28, 2001 at 15:37:48
E-Mail: robertjensen@satco-inc.com
Class: 71
City and State: Los Angeles, California


Message: I stopped at Hawthorne Nursery today to pick up some azaleas that I had ordered from Janet Nakai. I asked her what year Hawthorne Nursery was started and she said ?my grandfather started in 1927?. It is still owned by the family. Perhaps it is the longest running business with the same ownership. I also told her about PROM NIGHT and she is interested. Judy, let's get her some material via the USPO.
Hi Bob, I knew it had been around for years. I guess we can say Hawthorne Nursery is the oldest business in Hawthorne. Thanks for letting us know....
---

Name: Doris () on Wednesday, March 28, 2001 at 10:30:42
E-Mail: raydori@micron.net
Maiden: Donaldson
Class: '57
City and State: Twin Falls, Idaho


Message: SHARRON MOSS FLOWERS: YES! I remember you! I can't quite figure out which class we must have been in together? I tried emailing you but it came back "undeliverable". Please email me at the address above. Glad you made it to FEEDBACK! doris

---

Name: Cal Kappen () on Tuesday, March 27, 2001 at 22:06:01
E-Mail: ekap4@home.com
Class: 59
City and State: El Cajon


Message: My older brother Kelly was a member of the T-Timers of Inglewood. If I remember right, the T had wings on each side. Kelly is retiring from the teaching staff at El Camino this semester. He worked with coach Sevier for many years. I would like to say goodluck to Kelly and have fun. You deserve it! Cal
Hey Kelly, Good luck in your retirement. I do remember the T-Timers too. Another one was the LA Roadsters which are still going strong.
Also, Chris Prewitt was searching the Net for T-Timers stuff and came across this page about Digger Dan Horan. Any of you old racers remember him from A&W?? Thanks Chris
---

Name: tom embry () on Tuesday, March 27, 2001 at 16:55:15


E-Mail: g-beret@msn.com
Class: 1959
City and State: frontenac, missouri
Message: This site is terrific! Thanks
Thanks Tom
---

Name: JudyMac () on Tuesday, March 27, 2001 at 13:59:31
E-Mail: douglasemmett.com
Class: 63
City and State: santa monica
Message: ['63, but not HHS 'tho]. Anyway, Bill Jensen, yes, I do remember the car clubs. Funny you should mention it, cuz I asked my brother [Terry McLean] over the weekend. His car club was the Idols...he had [still has] a '55 Chevy Pickup and he still has his Idols plate, which were mounted in the back windows of the cars or pickups. Are there any other "Idols" out there...!!

---

Name: JIM SLOEY () on Tuesday, March 27, 2001 at 11:49:27
E-Mail: itwasn'tmekarnacdegrazia.com
Class: 66
City and State: REDONDO BEACH, CA
Message: Judy, Judy, Judy! [Imagine Guber saying it] Judy, it was not I. John still thinks I am one of the yamma lamma ding dongs, and without saying anything derogatory, in case you are, I am not them either. John I believe, will attest that I am not the poet laureate that he wrongfully accused me of writing that poem. Incidentally I did not find it to be the world's worse as Baker did, and whoever wrote it should take a bow. It was a nice gesture and captured some of the essence of Cougartown. Whoever you are I apologize for Mr. Baker's harsh comment. And King John show some humility next time.
I am humbled....
---

Name: Judy DeGrazia Blomsterberg () on Tuesday, March 27, 2001 at 08:50:50
E-Mail: JUDYWUDY@att.net
Maiden: SLOEY-SLOEY-SLOEY
Class: 64
City and State: Torrance, CA


Message: Sloey, Sloey, Sloey.. How come everyone knows you so well by now that you can't even log onto CT under a fake name without 6 people going, "IT'S ONLY SLOEY AGAIN!" We miss seeing you and Deb, where ya been anyway? And, I see now and again that we get alumni that attended but didn't graduate, like JULIE SPENSER. If this applies to you, just remember that "all" the functions including PROM NITE on Aug 18th are open to anyone that has attended HHS. I'm even getting email from alumni from Leuzinger and other high schools wanting to attend PROM NITE because they hung around with an HHS group. The tickets sell to our own first and then I'll be offering them to others. So Julie.. if you want to get in on the action again, just buy your ticket and be there.. see how simple it can be to get right back into all this fun. Now, back to my pot of hot water on the stove..the Rit dye is almost ready for my nylons to go in.. then I'll have my regulation cocoa brown ready for the action.
Judy Wudy.. still on a quest & recruiting them in.

---

Name: Sharron Moss Flowers () on Tuesday, March 27, 2001 at 08:17:32
E-Mail: sharron.moss@west.boeing.com
Maiden: Moss
Class: '57


City and State: Norco, California
Message: Hi out there. I just recently decided to do a little reaching out to all of my classmates of 1957. I was only there one year, but was left with some very good memories. Those were the good years. I have worked at Boeing in Long Beach for 21 years and hope to for another 3 or 4. Hope to hear of someone who remembers me.

---

Name: Janice Rigney () on Monday, March 26, 2001 at 23:51:43
E-Mail: skippyk1@msn.com
Maiden: Hall
Class: 58
City and State: Lancaster, Ca.

Message: Have really enjoyed reading and remembering about the things when we were kids...To Camille Saso, wanted to say i remember the Gunga Din very well, my folks were very strict also and when they would go to meetings I would sneak out to the club and walk home (Imperial and Freeman) and pray I wouldn't get caught...I also remember Ray Cowans...My folks owned the Hall's Studio on Hawthorne Blvd....They took all of the senior pictures for years...A hi to Tom B., I remember very well Specke Saunders and Gerald Rapp, I took lessons from him and skated with Gerald a few times, after training with Specke my parents wouldn't sign the permission papers to skate in the derby but we had some good times...Still hope to hear from some band members from '56, '57 & '58, directed by Mr. Morgan, has anyone heard from him? We had some great times going to march in parades and fairs..Does anyone remember the trip to Capitol City, for a compation, we spent the night and the drill team was there also and we had a great time....Many fond memories are brought back from reading the Feedback, what a great job you have done John, thanks so much...Janice '58
Thanks Janice....
---

Name: Julie Spencer () on Monday, March 26, 2001 at 23:21:10
E-Mail: julez982001
Maiden: spencer
Class: 67
City and State: Cabool, Missouri
Message: I got sick and was unable to graduate but Hawthorne was my last high school and I love this page cause I lived in Hawthorne in my teen years and did the whole crusin scene and everything. My sister still lives in Hawthorne so in a way I still feel connected.

---

Name: Cindy Colby () on Monday, March 26, 2001 at 21:23:39
E-Mail: cindycolby@att.net
Maiden: Maxson
Class: 63
City and State: Laguna Hills, CA
Message: Hey John, Yes, that may have been the worlds worst poem but someone had to write it. My hat is off to (Sloey?) you are a better poet than I. Thanks for saying it, John is the best.
Thank you Cindy....
---

Name: YAMMA LAMMA () on Monday, March 26, 2001 at 20:35:39
E-Mail: imallshookup.com
Maiden: DING DONG
Class: waybackwhenandthensome
Message: OoomPahPah! OoomPahPah! Just couldn't resist John Boy! Eeewuuuie! Prom Nite 2001 -- only 4 months, 22 days and countin! Can't hardly wait. It would still be nice if all the boys and girls could do at least ONE number on thur squeaze boxes -- it would be so SPESHiAL!!!! Mmmm mm yay hay imallshookup!
Don't worry folks, Yamma, Ramma, and LeeRoy won't be there.......
---

Name: Tom Burroughs () on Monday, March 26, 2001 at 19:53:39
E-Mail: TB-Sande@webtv.net
Class: 1958
City and State: Prescott AZ
Message: Dang it, I hate when that happens!! This past Sat. afternoon while on the way to the Montclair Mall, with my grandson, took the Monte Vista off ramp off the 10 fwy. The light turned green & I slowly started my left turn & guess what? A guy in a 2001 new pickup ran the light & put the old Nomad in the body shop a while! Was able to drive it home! Nobody hurt & thats all that matters. We can fix & replace cars but not always possible with people. He said he had a red light but could not stop the truck? John I won`t need the parking place in front after all on cruise night! Won`t stop me from being there, I`ll just be on 2 wheels. Thanks for posting the car pics. Man what I would give to have that car back. Come to think of it I would love to go back & do that whole 50`s thing again. Same people same place. Thanks to you John & you Judy B we get pretty close. See ya on the 6th.
Hey Tom, Sorry about that. I guess you aren't going to the 59-60-61 reunion then? Janet and I are going and we're 62ers. You may as well go while you're here. It's Saturday night and it's California casual (slacks and a sport shirt).
---
If you have comments or suggestions, please email me at jb1@cougartown.com