Page 381

Hawthorne Time and
Temperature

Home | 60's Slang | Alumni List | Car Talk | Cougar News | Feedback | Hangouts | Memories
Recollections | Reunions | Street Scene | Teachers | Tributes | Vietnam | What's New | Keyword Search
An early 60's classic...... Marvin & Johnny
---
<!-+++++++++++++++++++++++++++++++++++++++++++++++++++++++++++++++++++++++++++++++++++++++++++ +++++++++++++++++++++++++++++++++++++++++++++++++++++++++++++++++++++++++++++++++++++++++++++->

---

---
<!-++++++++++++++++++++++++++++++++++++ADD BELOW THIS LINE++++++++++++++++++++++++++++++++++++ +++++++++++++++++++++++++++++++++++++++++++++++++++++++++++++++++++++++++++++++++++++++++++++->
Name: Mike Backus () on Monday, March 26, 2001 at 18:59:31
E-Mail: michael@backusstudio.com
Class: '74
City and State: Eugene, OR
Message: People talking about the Hawthorne Airport reminded me of something that one of my buddies and I used to do when we were going to Hawthorne Intermediate in the late '60s. Somewhere on the way home from school there was an Army Reserve or National Guard station that had a real WW2 anti aircraft gun. The firing mechanism had been removed, but the gun still rotated side to side and the barrel elevation could be adjusted with these big hand cranks. It even had the cool big round crosshair sights. The best thing about this gun was that it was positioned right next to Hawthorne Airport's flight path. Every day after school for weeks we tracked the Cessnas flying in and out of Hawthorne and pretended that we were shooting down Japanese Zeros and German Messerschmitts. It was huge fun for 13 year old boys. Finally one day we went to our 'playground' and found big locks and chains around the cranks for the gun. The barrel was pointed at the ground. While we were standing looking at the gun a Reserve officer came out in uniform. "Hey are you the kids that have been playing with this gun? We keep getting phone calls from pilots complaining that they're being tracked by our anti aircraft gun!" Whoops! I guess that would give you a funny feeling to look down and see that from the air.

---

Name: Howard "Paco Duran" () on Monday, March 26, 2001 at 16:36:25
E-Mail: doo4usc@aol.com
Class: 61
Message: Here's a silly little story, remembering back at what we did to our cars, I remember Gary Persinger wanted me to paint a name on his 51 Ford....So here's the story, Those who knew Gary knew he was rather tight, and in those days we would ride 2 in the front and if there was a 3rd he would ride in the back. Well one night there was Kenny Blomsterberg and myself and neither of us wanted to ride in the back so all 3 rode up front (a little crowded) and Gary being real tight, wanted gas money, I think we had 29 cents, so we pulled into the gas station the attendent ran over to us and asked "filler up?" and of course Gary said "No" just give me 29 cents worth and check the oil! Well the guy started laughing, and went and got a couple other guys and they all had a good laugh...Oh, Gary wanted me to name his car "The Taxi of Love"
Three guys riding around in the front seat with the name "Taxi Of Love" on the side??!! Not me......

---

Name: NO BAKER DIDNT WRITE THIS () on Monday, March 26, 2001 at 15:39:07
Message: ODE TO JOHN BAKER
THERE WAS A MAN WHOSE FOLKS NAMED HIM JOHN
WHO DECIDED HE NEEDED TO FIND SOME OLD FRIENDS,
HE LOOKED AND HE LOOKED BUT FOUND NARY A JUAN
WHEN HE DISCOVERED THE INTERNET AND ALL OF ITS TRENDS.
WELL HE CREATED A SITE TO FIND ALL THEM GUYS
FROM ROBIN TO JUAN, KEITH AND EVEN OLD LEEROY
GOOD STUFF, AND SAD STUFF, EVEN BOBBY JONES AND HIS LIES
ALL COUGARS ARE EQUAL, FREDDY DAYTON YOU'RE A JOY
WELL HE PUT IT TOGETHER AND HAD VARIOUS LOCALES ON HIS SITE
ALUMNI AND FEEDBACK IS WHERE WE ALL HANG AS A GROUP
EVERY COUGAR IS WELCOME WHETHER YOUR BIG OR YOU'RE SLIGHT
AND A PROM WE'LL ATTEND TO ASSEMBLE AS A TROOP
WE ARE THE COUGARS MIGHTY, MIGHTY COUGARS EVERYWHERE WE GO
WE HAVE DOCTORS AND LAWYERS AND TEACHERS GALORE
PEOPLE WANT TO KNOW WHO WE ARE SO WE TELL THEM WHAT WE KNOW
AND NOW WE HAVE COUGARTOWN AND SO MUCH MORE
WELL BAKER HE BE THE MAN WHO PUT THE WHOLE THING IN MOTION
WE'VE FOUND OUR FRIENDS AND FOUND OUT ABOUT OTHERS
ALL THIS FROM ONE OF OUR OWN AND A SIMPLE NOTION
WHATEVER HAPPENED TO WHATSHISNAME AND HIS BROTHERS
THANK YOU JOHN
Thanks Mr Sloey for the worlds worst poem.

You and Debby better make it to Prom Night too.
---

Name: Bill Jensen () on Monday, March 26, 2001 at 15:35:48
E-Mail: jensenb@digilink.net
Maiden: 50's Car Clubs
Class: 63
City and State: Hawthorne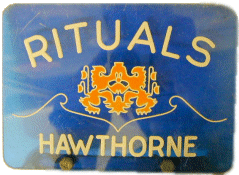 Message: Tom Burroughs' 51 Merc is cool indeed. I believe that the picture was taken in Palos Verdes. It appears that there is a Car Club plaque in the rear window. Does anyone remember the local car clubs of the fifties? If I remember correctly, the members displayed their club plaques in either the rear windows or under the license plates. It seems to me that one of the local clubs was the "Panics" and they were possibly out of the Hawthorne area. I believe another club was the "Ventures" and they may have been from Redondo? Does anyone remember these clubs or others of the time (50's)?


Yep, The picture was taken at Malaga Cove and the plaque in the back window of Tom's Mercury is the "Toucans". I also remember the Rituals Car Club with President, Bob Fraser. It looks like Bob got that Coat of Arms off a package of Pall Malls.


Of course there was Chevies Inc. They didn't have plaques, but had 2 side window decals. Then there was the Villagers Car Club and a few others that will come to the minds of other Cougs, I'm sure. Thanks Bill....
---

Name: Judy DeGrazia Blomsterberg () on Monday, March 26, 2001 at 10:05:22
E-Mail: JUDYWUDY@att.net
Maiden: shoptil'yadrop
Class: 64
City and State: Torrance, CA
Message: John Boy..Once more, we Rowdys are getting ready for

CRUISE NIGHT in Fosters on April 6th. You know all the pains Marsha Russell Hood and I go thru every time for these events. Ironing our bra in point~waxing~bleaching~large purple rollers to get that regulation teased hairdo~and we're Rite dying our nylons coco brown again.. We have our H.H.S. reputation to uphold. In between, I'll be sitting by my mailbox waiting for my PROM NITE ticket money to arrive. (how's that for sneaking in a subliminal message again) For the record, there's a great old Antique store in Westchester (next to Mervyn's & across from the old Loyola theater) that has great memorabilia from the 40's, 50's & 60's. Example: Does anyone remember when your mom wore a Holiday apron made out of see thru chiffon with a huge ruffled pocket or fringe..and girls, how about copper belts.. go take a look, it's worth the time. As for me, I'm still searching out my "Melmac" double sided bowls..it was the new age unbreakable dish set that looked sooo good with colored metal cups for your milk.. and now younger kids, Melmac is also where Alf is from. (I don't want those young whipper snappers correcting me later) Another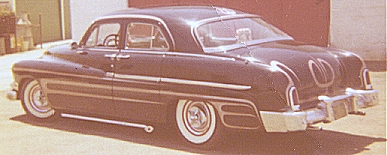 local "blast from the past" store is Memory Lanes Mall on Figueroa and Torrance Blvd., next to Super K-Mart.. Janny's into his old Jewel Tea dishes that his family used when he was a kid, half a decade ago. Pretty soon, my home will look like the 50's again.
Judy Wudy.. still taking tickets

This car was Tom Burroughs' 51 Merc, in 1957. It had a Joe Anderson paint job and the name on the side is "Witch Craft". Very cool Tom. By the way, can anyone tell where the picture at left was taken? It wasn't Hawthorne, but is was in the general area.
Hope to have a big turnout on Cruise Night even though it's on a Friday night this time. Alan Hauge has a new ride that he wants to show off, and hopefully Gary Nelson will show up in his 34 Roadster. I'll be there with Kermit, and maybe Wayne Dickey will bring his lowrider Impala. Who knows what Tom Burroughs and Dickey Norton will show up in. It's going to be a fun night for all and if you 59, 60, and 61ers want to round out the evening, Rich Sloan is having a pre-reunion mixer at the Cerritos Sheraton on Friday night from 8pm until ??, so make your plans to be there too.
---

Name: Bill Jensen () on Monday, March 26, 2001 at 01:17:44
E-Mail: jensenB@digilink.net
Maiden: Cougar
Class: 63
City and State: Scarlet and Gold

Message: I just checked out Hawthorne High School's web page that is apparently still under construction. The page is well done with short articles and pictures provided by the HHS Journalism Class. There is upcoming events, the March 14 Student Survey and an article on the Valentines Dance. The Student Survey especially caught my attention since the question was "What should the mascot and colors of the school be?" One student suggests that the mascot should be a Panther, and the colors should be blue, white, and black. Another says, "We should keep the Cougar and keep the colors the same, red and gold." I say its Scarlet and Gold. Furthermore, once a Cougar always a Cougar!
Here's Bill Jensen in the early 90's, at a friends house in Washington. This Cougar was owned by his friend's girlfriend. It looks like that's about as close as Bill wanted to get the the big cat.


About changing the mascot and colors of our HHS. I'm agin it!!! The Cougar and our colors have stood for decades, and are a part of the tradition and history of HHS. What purpose would be served by changing the Cougar to a Panther, or changing the colors from Scarlet and Gold to Black, Blue, and White? No purpose at all.....
---

Name: Dan Johnson () on Friday, March 23, 2001 at 13:54:04
E-Mail: wch1ispink@aol.com


Class: 77
City and State: New York Sit E
Message: Susan, I am not quirky. Yeah, I flew to NY to see a Steely Dan tribute band celebrate the induction of Steely Dan into the Rock n Roll Hall of Fame, but I am not quirky.
Somehow Rock and Roll and Steely Dan don't equate. I love'm though.
---

Name: Joe Webber () on Friday, March 23, 2001 at 13:53:56
E-Mail: jwebber@acuffrose.com
Class: 1970
City and State: Nashville TN

Message: Well,..guess I'll throw MY 2 cents in as well. I TOO started out on the accordion. Don't remember who my teacher was,..but only stopped because she moved. I was also on that Canada tour with the Hawthorne Youth Band that Charlie Fox mentioned.
Joe, Maybe YOU are why she moved.....

---

Name: Barbara Duran () on Friday, March 23, 2001 at 13:35:57

E-Mail: BJD2354@AOL.COM
Class: 72
City and State: El Segundo CA
Message: My brother Howard isn't the only one in our family that has nightmares of him playing the accordion!

---

Name: Bryan Ellerman () on Friday, March 23, 2001 at 13:30:29
E-Mail: bellerma@avtron.com
Class: 62
City and State: Akron, Ohio


Message: Although I haven't contributed to Cougartown feedback for sometime, all the talk of accordions forced me, with some reluctance (because of John's jokes) to share my early accordion experiences. Like Tom Burroughs, I took accordion lessons from Al Manfredi for about 8 years. I know most of you wonder how could anyone take 8 years worth of accordion lessons. I, unlike most, enjoyed it and yes, I still play the darn thing and yes, I still enjoy it. I am sure that will bring some joyous thoughts to some of you but it looks like I wasn't the only one who enjoyed playing the accordion but the only one who would admit it. All us accordion players need to stick together.
Going back a little, my first car was a 1951 Tan Chevy which terrorize HHS and next was a 1957 Chevy BelAir which terrorized Hawthorne Blvd.
John, wish I could be at the Foster's cruise night but it's a long haul from Akron. During one of my business trips to So. Cal. hope we can meet up. I stay in contact with Keith Pulcifer, Don Scheliga and Norm Greenfield thanks to you and your efforts with this webpage. Thanks Bryan
And yet ANOTHER Accordion player and his instrument walk out of the closet.


Accordions were the instrument of choice in the late 50's early 60's. I played the violin......well, let's say I took violin lessons for 6 years and played worse at the end of that stint than before I began. Sorry you can't make it to Cruise night Bryan, but why not plan on being here for Prom Night in August?
---

Name: walter holt () on Friday, March 23, 2001 at 13:21:56
Class: 66
City and State: Mission Viejo,CA
Message: Naw Al...We could call ourselves.. The World Accordion TO Garp Group...Have A good Weekend Cougs

---

Name: Al Rocca () on Friday, March 23, 2001 at 12:15:45
E-Mail: alrocca1@email.com
Class: 70
City and State: Mesa, AZ

Message: Hi Wayne, I remember when you played with Monty and the Crystals and practicing at Tim Awayan's house. I still see his brother Ish.
My question is: what's with all the accordian players?? I didn't realize that was the most popular instrument to play back then. Why would I know, I was just a drummer. Hey maybe you can get some of these old accordian players and take it on the road!! I have the perfect name "Wayne Dickey and the Polkaholics"
Have a good one...... Al (not an accordian player) Rocca

---

Name: Dan Dye () on Friday, March 23, 2001 at 12:03:45
E-Mail: DanADye@earthlink.net
Class: 62
City and State: Torrance, Californiee
Message: Accordion Lessions! Yes I also took lessions, but I didn't like it. Hawthorne Airport, I lived on 117th st., about 5 blk's north of the airport, we would walk or ride our bikes to 120th st and watch the planes take off and land, I found some old airplane tire tubes behind a hanger. Some were small, however I found one that was taller than I was, about 5 ft. high and 24 inches thick. I took it home , patched the tube. We used it like a trampoline, blocking dummy, to jump over, and through. We had it for years. I finally out grew it and gave it to my uncle, he used it to fish out of. Growing up was fun back in the olden days. Have a good weekend Cougars. Dan
Thanks Dan......
---

Name: Raymond Smith () on Friday, March 23, 2001 at 10:57:25
E-Mail: Kawabunganorth@Juno.com
Class: 1981
City and State: Portland,OR
Message: I want to thank Chris Prewitt for the websites infromation. Yeah, I can see myself spending the day on the sceen freaking out over the warbirds. I've been to many Chino Airshows back in the early 80's before moving up here to Oregon and sorely miss those Airplanes and I only get to hear/see about them thru a magazine called "Air Classic". And thanks to John Rout and Norm Vorhis for the infromation and stories. Put a smily

face on me hearing those memories(and yours too John). Man that flying wing (which is called the B-35 by the Air Force) must of really rattled the windows of the whole town.

---

Name: YAMMA LAMMA () on Friday, March 23, 2001 at 10:35:18
E-Mail: foundmythrill.com
Maiden: DING DONG
Class: onblueberryhill
Message: EEeuuuwwie! What's all this talk about squeeze boxes and polkas!!?? Yur gittin me all excited! Sur hope these boys bring the aacordians with em to PROM NITE 2001! Gonna be a hot time in the old town THAT night!
I think you're why sales for Prom Night have deminished. Folks, I hope you know that this is NOT what's going to be at Prom Night. Whoever this is, is just joking around. And to all the squeeze box players, it's accordION, not accordIAN.

---

Name: Judy DeGrazia Blomsterberg () on Friday, March 23, 2001 at 09:44:54
E-Mail: JUDYWUDY@att.net
Maiden: "BINGO!!"
Class: 64
City and State: Torrance, CA
Message: John boy.. please, please, please leave us with a PROM NITE song (hyperlink) before you close down CT for the weekend.. How about a TOMMY EDWARDS song, like "Talk to her please, Mr.Sun" or "Cherry Pie".. For anyone that's "old" and wants to join Janny and I, we'll be at the Haw. VFW for "BINGO" tonight AT 7:00.. (hey, I have to keep the boy entertained, don't I?) and then off to dinner. On CRUISE NITE-April 6th.. I'll be selling clippings from my brother, Andrew's, money tree.. I'll have some bucknuts to offer as proof.. great investment. Enjoy Oscar night and don't play any games that include "rocks".. Last note, I didn't take accordion lessons, but I did take piano lessons from Sister Miriam Cecil at St. Joe's.. I learned about the word "vex" from her.. nuf said.
Tilly Noodleman

---

Name: Donna Guy () on Friday, March 23, 2001 at 09:13:52
E-Mail: goodguys12@home.com
Maiden: Pilkington
Class: 61
City and State: Trabuco Canyon, Ca.
Message: Won't be able to go to the upcoming reunion so please say "hey" for me.
OK Donna.......
---

Name: Chris Prewitt () on Friday, March 23, 2001 at 01:08:15
E-Mail: cjprewitt@juno.com
Class: 1967
City and State: Fullerton, CA
Message: John, With all of these accordion players maybe we can plan an Octoberfest and also get Jim Fox out there with a tuba or Sousaphone. OOM-PA-PA and maybe some Roll out the Barrel (Beer Barrel Polka). Raymond Smith, Western Museum of Flight (Hawthorne) can be found at http://www.wmof.com/. If you are interested in the flying wing you might want to take a trip to the Fighter Jets Museum in Chino. The Planes of Fame Museum (Chino) can be found at: http://www.planesoffame.org/. There are many pictures of aircraft at both places. Careful if you like aircraft and go to any of these sites stay away from the link pages or you may tie up the phone line for hours. If you want to really want to get into all sorts of aircraft (including looking up "N" numbers etc. take a look at: http://www.landings.com/.

---

Name: Norm Vorhis () on Friday, March 23, 2001 at 01:05:39
E-Mail: olds88coupe@yahoo.com
Class: 59
City and State: Monrovia Ca
Message: Raymond Smith: It's still there. It was Airport Coffee Shop, now its Nat's Airport Coffee Shop. The Western Museum of Flight is at http://wmof.com/. I remember the family sitting in a 35 Plymouth on the dirt road that is now 120th watching a Wing land. Crenshaw used to be raised to the height of the runway, and the field to the east of the airport graded for a temporary runway extension. They used to remove the fence and stop traffic for the jets to land. The pilot had to be "Full Bird" or better.

---

Name: Bustios Juan () on Friday, March 23, 2001 at 00:48:49
E-Mail: mjbustios@aol
Class: 80
City and State: Torrance Ca.
Message: OH MAN! you fellow cougs realy no how to bring nightmares back to me.I also played the accordian I still to this day have my accordian I told my wife about my good ol playing days she couldnt stop laughing.me my brother Mike76 and sister Carmen78 what a trio,I told my wife that I'm keeping it so that our dauhters can play as a source of punishment what do you think good idea!

---

Name: John Rout () on Thursday, March 22, 2001 at 22:35:21
E-Mail: jmr812004@aol.com
Class: 63
City and State: Cerritos, CA
Message: John, nice picture of the Flying Wing. It reminds me of a time in 1954 when I was 10 years old. I lived on 118th Place between Prairie and Doty at the time and the guys (Brian White, HHS60, Gordan Darnell and Lyn Acord HHS63) and I would go on Friday nights to see the latest monster or sci fi movie. One Friday, we went to see one of my all time favorites, The War Of The Worlds. Early the next morning I rode my bike down Doty to 120th Street and arrived just as the Wing was coming in for a landing. Absolutely scared the living crap out of me! I barrelled home to tell my dad that the Martians had landed, described to him what I had seen, and he looked at me with that warm, fatherly expression and said, "YOU IDIOT!"
Yep, it was a noisy bird. If you haven't seen the other pictures of the wing, go here.
---

Name: Raymnd Smith () on Thursday, March 22, 2001 at 21:13:00
E-Mail: Kawabunganorth@Juno.com
Class: 1981
City and State: Portland, OR

Message: Ok, if this resteraunt is old in Hawthonre then will someone please clairify it for me? The Resteraunt I'm talking about is the one on Crenshaw Blvd on the corner of Hawthonre Airport (facing the takeoff). I remember going in there when my Dad was a pilot and we would have lunch there before going flying. Growing up by that airport gave me many a fantasies of becoming a pilot myself and pretending to be a World War 2 Ace (as Northrup made quite a few airplanes back then). I would of love to have seen their big bomber flying wing take off from there. Surely they would of had to overfly HHS. Then I guess the runway was too short for them. Is there a Airplane Museum at Hawthonre? I'm wondering how many of you took your first Airplane ride from Hawthonre? Mine was when I was about 5 yrs old and I remember looking out and seeing Paloes Verdes Pennisula. I didn't realize it would become my life long dream to be a pilot and I still fly from time to time when there's extra cash laying around.
Yes Ray, the Restaurant is still there as far as I know, and I did take my first airplane ride out of Hawthorne airport. My uncle was a pilot and flew for Stewart Airlines. They flew DC3's from Hawthorne.
The Flying Wing flew out of Hawthorne and I can still remember it flying right over our house on Cedar Av between 122nd and Broadway.
The Western Museum of Flight is the museum at Hawthorne Airport and is located on the corner of Prairie and 120th.
---

Name: Wayne Dickey () on Thursday, March 22, 2001 at 21:11:22
E-Mail: impalawayne@aol.com
Class: 69
City and State: La Palma, Ca.


Message: Well I am baffled to hear about all of you Cougars who had the honor of playing the accordion. How many of you still play? I can remember when my brother Tom and I were 6 or 7, our mother was a member of the Rebecca Club. She volunteered our services (accordion music). We only knew 2 songs by heart. Well everything went well and the club gave us each a dollar, which I still have today. So I figure when I can't work any more, you may be seeing me outside your local mall with my accordion on and my hat on the ground! Tom B. I have an extra one, so I will bring it to cruise night. Get your fingers loose.
You have an EXTRA ONE??!!
---

Name: Sharon () on Thursday, March 22, 2001 at 20:29:14
E-Mail: hawthornehigh66@aol.com
Maiden: Moore
Class: 1966
City and State: Long Beach


Message: To the Class of 1966, don't forget our Class Reunion is August 17, 2001 the night before the Prom. We have many people already registered for the reunion, but for those of you who have not yet registered for the Class of 1966 Reunion, go to www.goldenstatereunions.com. If you have a problem getting onto the site, e-mail me, Sharon Moore Leach, at hawthornehigh66@aol.com and give me your information. Golden State reunions has already mailed out invitations. If you didn't get one, it's because you have not yet contacted the site to and put in your mailing information. Remember we want to make this reunion a really big one. We also want to make the weekend of August 17, 18 and 19 really big. Many of us going to the reunion are going to the prom. So remember if you plan on attending both, you sign up for the prom here on Cougartown and send your check to John Baker. If you are going to the reunion, you have to sign up at www.goldenstatereunions.com. You can pay online at Golden State or you can send a check. The committee is working really hard on this reunion and we want to see everyone there. The Manhattan Beach Marriott will really be rocking on August 17 adn 18, so make sure you are a part of the festivities.
Sharon, if you have a Class of 66 missing list please email me. Lots of classes are having great luck finding their classmates with the missing list.

---
If you have comments or suggestions, please email me at jb1@cougartown.com