Page 370

Hawthorne Time and
Temperature

Home | 60's Slang | Alumni List | Car Talk | Cougar News | Feedback | Hangouts | Memories
Recollections | Reunions | Street Scene | Teachers | Tributes | Vietnam | What's New | Keyword Search
Here's one you haven't heard in a LONG time....... Jimmy Rodgers
---
<!-+++++++++++++++++++++++++++++++++++++++++++++++++++++++++++++++++++++++++++++++++++++++++++ +++++++++++++++++++++++++++++++++++++++++++++++++++++++++++++++++++++++++++++++++++++++++++++->

---

<!-++++++++++++++++++++++++++++++++++++ADD BELOW THIS LINE++++++++++++++++++++++++++++++++++++ +++++++++++++++++++++++++++++++++++++++++++++++++++++++++++++++++++++++++++++++++++++++++++++->
Name: Diane Smith () on Tuesday, March 6, 2001 at 23:20:53
Maiden: Lay
Class: 65
City and State: Victorville, CA


Message: Reading about Ben's market brought back so many memories of Leilani and I going there after school to buy one of those huge pickles! Thanks for the memories! Looking forward to prom night!
We'll see you there.
---

Name: Lori Padelford () on Tuesday, March 6, 2001 at 23:11:30
Class: 81
Message: Northrop is gone from Hawthorne. What is left is now Vought Aircraft. The only Northrop facility now is the West complex in El Segundo. As far as an old business in Hawthorne how about Rite Liquor on Inglewood Avenue.
Rite Liquor; another old Hawthorne business. How about A1 stationers on Hawthorne Bl. Is it still there?
---

Name: Blake () on Tuesday, March 6, 2001 at 22:32:11
E-Mail: withells@idirect.com
Class: 67
City and State: Toronto Can
Message: Question Cougs:
In 63 we moved to 138th pl in the 5200 block, west of the freeway, between Glasgow and Isis. There was a musician who lived on 138th st. There were many choice cars around, all the favorite Chevys plus some rods. Some years later I remember a neighbor of ours practicing in the garage. My dad asked the resident across the street how he could stand the noise he replied, "the last guy I complained about could buy and sell the whole block." I always thought it was one of the Wilsons. I know Scott Ferguson knew my neighbor but who was the celebrity who lived on 138th st.
Blake

---

Name: Judy DeGrazia Blomsterberg () on Tuesday, March 6, 2001 at 21:56:06
E-Mail: JUDYWUDY@att.net
Maiden: Leuzinger...at the Prom???
Class: 64
City and State: Torrance, CA
Message: Hey John Boy... Ya know that Leuzinger link you gave us last week in "what's new".. that morablia link connected me over to their feedback page.. (not as good as yours, but interesting)...so I went in & told anyone that had attended H.H.S about PROM NITE .. I've had a couple of emails wanting to know more.. Don't forget that some students attended several schools back then for many reasons. Now, headed by Bob & Bill Jensen, looks like some ROWDYS will be cruising to Bob's Big Boy in Toluca Lake this Friday night.. Janny always makes me get out of the car and hold the empty parking space while he circles the block.. hope I don't look "uncool"..and I really hope it doesn't rain. ugh. Nothing worse than a Jewish Princess holding her purse in the rain with wet hair while hogging a parking spot.
Tilly Noodleman
Judy (or Tilly), People have been asking me, are you Jewish or Catholic?
---

Name: Bob Jensen () on Tuesday, March 6, 2001 at 21:12:09
E-Mail: robertjensen@satco-inc.com
Class: 71
City and State: LA,CA
Message: One of the oldest businesses that I know of that is still being operated in Hawthorne is Northrop. It was originally Northrop Aircraft and moved to Hawthorne in 1939.
Good one Bob but Northrop is in the process of clearing out of Hawthorne. Dad hired on at Northrop in 1939 and worked straight through until 1969 and was never laid off. Try that today......
---

Name: Bill () on Tuesday, March 6, 2001 at 21:01:02
E-Mail: william.jensen@trw.com
Class: 63
City and State: Hawthorne
Message: John, Vic's Radio & TV on 138th and Hawthorne has been operating under the same name since 1939. I believe that Phillips Plumbing is about the oldest running family business and is located between 137 & 138 on Hawthorne. John Phillips started the business in 1947 and today it is operated by his children.
Two more great Hawthorne businesses.....Thanks Bill. Anyone else?
---

Name: Art La Mere () on Tuesday, March 6, 2001 at 20:58:33
E-Mail: artlamere@home.com
Class: 73
City and State: Bettendorf
Message: Ok I was just sitting here and was wondering, Do they still park down the middle of Hawthorne Bl. It has been quite sometime since I have been there. I can remember sitting in the middle with a group of friends because the A and W was no more. And is Buds Drug store still 135 and Hawthorne Bl.?
Yes you can park in the middle of Hawthorne Bl, but Buds Drugs is history.
---

Name: Art La Mere () on Tuesday, March 6, 2001 at 20:48:17
E-Mail: artlamere@home.com
Class: 73
City and State: Bettendorf Ia
Message: In reading the latest page in feedback, I saw the story from jack about the hobby shop Anna's. That was on the corner of 137st and Inglewood Ave. Growing up we would cross Ingelwood Ave and with 10 cents come away with a hand full of candy the penny candy.

---

Name: Dewey Storie () on Tuesday, March 6, 2001 at 20:22:46
Class: Maybe
Message: John, to answer your question "Does anyone EVER take a look at anything on this website besides the feedback page?" Yes! When I am on the road and have read everything on the feedback page and have nothing else to do I go to all the pages on CT just to see if I have missed anything ..I also found that if you hold down the right mouse button on the scrolling new arrivals on the alumni list it will stop and you can scroll back and ahead …ain't life on the road grand!
Dewey, I think it works with either mouse button.
---

Name: Keith D. Jones () on Tuesday, March 6, 2001 at 18:54:14
E-Mail: cmi50@yahoo.com
Class: 76
City and State: Honolulu, HI
Message: Steve, it was my uncle Bernie (Pasch) that owned and funded the Catalina. After not being able to cruise the Catalina Channel like he planned he went into business with Ensenada. After several million in restoration he took it down to Ensenada to turn it into a gambling ship. I was told the first year it was open as a dinner ship and dance club it was the hottest spot in Ensenada. But then the city decided not to do anymore with it and he backed out of funding it anymore and very soon after that he died. So the Catalina is sitting and sinking in the harbor. I was told that the city took it over and that all monies due from fees and other monies due that no one could touch it until all paid. Not sure how much though. I do know that there was a Save The Catalina fund setup by someone. But the costs would be way too much. I remember when my uncle bought it he had a huge party onboard with all the media a friends there. He graduated from the Naval Academy and always wanted a ship of his own. It was a historical landmark. He really wanted to get it going to Catalina again like the old days, but the Catalina Cruise Lines put a stop to it. He would always get mad at me for saying how's you boat? He said it wasn't a boat. A ship can carry a boat but a boat can't carry a ship. That is the difference. Never forget those words of wisdom. Other than that I'm sure the more experinced Cougs know more about it than me since I never cruise on it. KDJ
Keith, Click here to read all about it.
---

Name: Robin () on Tuesday, March 6, 2001 at 18:28:13
E-Mail: LeeroyandBeula.com
Maiden: Felderruster
Class: 60
City and State: RB,CA
Message: John the longest running "business" in Hawthorne has to be the one the Cockatoo used to have..Different people and a different location is all :o)...Seriously the Fosters we have Cruise Nights at has to be in the running ...Also I agree with Alan as hard as it is not to scream two words "EASY ACCESS"...Later Cougs
Fosters I didn't even think of. Great one Robin.....who's next??
---

Name: Bill Wadman () on Tuesday, March 6, 2001 at 18:27:40
E-Mail: 3scompany@lvcm.com
Class: 75
City and State: Las Vegas NV


Message: To the Kennedy family, so sorry to hear the passing of your father Joe, from the entire Wadman family, our thoughts and prayers are with you, you are all a part of our family and have all been a great support in our time of grief, we share in your pain and we love you. Billy john

---

Name: Kathy Zamora () on Tuesday, March 6, 2001 at 18:26:05
E-Mail: shawsmarine@earthlink.com
Maiden: Buzby
Class: 77
City and State: Hawthorne, CA

Message: As to the question of old businesses in Hawthorne, on the corner of Rosecrans Ave & Inglewood Ave is Shaw's Marine. It was part of California Material/Shaw's Sporting Goods/Shaw's Marine, est. 1946. The material portion and sporting goods has since closed but Shaw's Marine in still there. My husband (Miguel HHS77) and I purchased the business in 1993 from the Shaw family and still run it today.
Another candidate for oldest business name in Hawthorne. Thanks Kathy......
---

Name: Bonnie aka Bonita McCoy () on Tuesday, March 6, 2001 at 17:29:32
Maiden: McCoy
Class: 78
City and State: Playa Puerto Nuevo, Cali
Message: John, the longest running business I can think of in Hawthorne is the Luigi's restaurant located on Rosecrans Ave. west of the 405 fwy. Now mind you I was born in 1960, but my father tells me it was there way before I was born.
Good one, Thanks Bonnie......anyone else??
---

Name: Alan Nelson () on Tuesday, March 6, 2001 at 17:24:55
E-Mail: anelson@rraz.net
Class: '73
City and State: Parker, Az
Message: OK Cougars, from the tone of some recent posts, there appears to be some hostility toward each other, regarding the "Hot-Button" issue of guns. Before we take it any further, lets step back and remember who we are. We are COUGARS! We have different opinions on a wide variety of subjects. No good will come of us discussing this subject here. We will only alienate each other and make enemies out of friends. I have extremely strong feelings on the subject, but this isn't the place to be discussing them. I cannot convince "them" and "they" cannot convince me. Let's just agree to disagree and get on to the more important Cougartown Matters. Hug your kids. Teach them your values. And hope that tragedy does not befall them. Opinions are not worth fighting over.
I agree. If everyone thought the same way, it would be a pretty dull world. Let's leave the politics at home. Too many good friends and memories here.
---

Name: Raymond Smith () on Tuesday, March 6, 2001 at 17:07:20
E-Mail: Kawabunganorth@Juno.com
Class: 1981
City and State: Portland,Oregon
Message: I got to mention a few of my bike stories. I rode a million miles on my bike until I permanately got a real car at the age of 25. Heck, riding without using the handle bars for more than 5 miles and not stopping for lights was a challenge and I do enjoy riding my bike and thinking back on it I do miss it especially riding along the strand. (It was really cool when you had the right bike with pads on the handle bars and pegs on the wheel for foot comfort and your babe sitting on those handlebars!) It was great going to the beach not having to worry about parking let alone paying for parking. I had my bike somewhat modified to carry my board so I can go surfin' all day long. (But I was a bit tired going back home). One bike incident happen back in 1975 when I rode my ten speed with a good ol buddy on the handle bars. Bear in mind 10 speed wasn't comfortable on those handle bars let alone a place to put your feet on. While riding along the Hawthorne Airport his foot slipped and next thing you know I was 5 foot in the air(still on the bike seat) going over him and CRASH! His foot got stuck between the wheel and framewheel and almost busted his foot. The bike was total the frame being bent almost like a u. We had to think something fast for to tell my mother so we got our story straight and told my mother that some guy ran us off the road and I hit a fire hydrat. Finnally told my mom the truth 20 years later knowing I wouldn't get womped with the hot wheel track that was used for puninhment(don't ever buy those for swathing your kids). I never did get another ten speed because I hated them especially when your wheel gets in between the storm drain opening and again ya go flying. Now we're talking about candies and toys. I bought my first model airplane from a store on Imperial Hwy and Yukon and many a plane were test beds for Rocket bottles. Now I have over 600 model airplanes for my collection never to be "Blown Up". And the gun issue. I agreed we need to teach our kids what they can do to people and how to respect them but we're forgetting that the issue is still there. Kids who are made fun of has no way to express their hurt and anger. I too was made fun of by my hard of hearing being called names such as "Deaf Freak, Radar Man", and made fun of my speech. My mom gave me the loving tender care of talking to me and giving the words I sorely needed to just get through. Kids needs to be taught to respect every race, color and gender and especially handicapped! We need to inform our children all aspect of life and how one deal problems with tools they don't know how to use such as hurting, anger, and sorrow. I don't want my lil girl growing up making fun of people let alone being made fun of. We're not all perfect in this world but we as parent's needs to show our kids the overall picture of life. The world should get better, not worst.

---

Name: Bob Brophy () on Tuesday, March 6, 2001 at 17:06:23
E-Mail: amirish@att.net
City and State: Phoenix
Message: I don't add my two cents worth very often. I went to Serra and graduated in '63 but grew up in Hawthorne. As for gun control, it takes people to control an inaniment object such as a car, boat, skis, motorcycle or a gun. For some reason people would rather teach their kids how to steer a car and drive safely than to how to handle a gun. They think that just because the gun is locked up, that it is safe. We, as kids, found ways of taking our parents cars and they had locked them up. For those of us that were fortunate enough to have parents that taught us how to drive, they also taught us the importance of a gun. It is not a means to show aggression in a good society, it is a means for protection in a bad society. When you outlaw guns the only people who will have gun will be the outlaws, most of which will be good law abiding citizens. On a lighter note, we use to ride our bikes out to devils dips east of Western along the tracks. My first bike was a 26 inch Higgins. Try that out when you were 8 years old. I'm lucky I do have 2 kids. (ouch) Bob Brophy '63 Serra
By the way I did marry a Cougar that would have graduated in '65. Her name was Susan Crow. Don't know where she is today. If anyone knows, let me know.
thanks, Bob

---

Name: Steve Fraser () on Tuesday, March 6, 2001 at 15:57:05
E-Mail: sfraser53@hotmail.com
Class: 1966

Message: To Sloey, Keith and the rest of the Cougs who spent a glorius day on the SS Catalina....The Great White Steamship is now resting in the harbor of Ensenada, Mexico. As the story goes, it was towed down there to become a gambling casino, but the owners ran out of funds. So now it's in about 30 feet of water on a 40 degree list. It's now the Great White Elephant...See ya in August
Thanks Steve.....
---

Name: Laurie Kelleher () on Tuesday, March 6, 2001 at 15:21:36
E-Mail: lauriekelleher@hotmail.com
Maiden: Bednarski
Class: 74
City and State: New York, NY


Message: To all the "Guns don't kill, advocates". Go to Dateline NBC and read the article "In the line of fire: The Forgotten Victims", in case you missed it when it aired. Most of the victims that were killed, were killed by legal guns. And many by kids whose parents did teach them about guns and gun safety. Even a child of 8 knows how to unlock a cabinet. I don't think my child's safety should be in danger because you have some twisted views about the right to bear arms. And as for kids not having enough going on in their lives, speak for yourself. Althought myself and my daughter don't have very much money, she is extremely involved in dance and figure skating. We do so on scholarships and good old fashion doing without. There is plenty out there, go and find it for your kids. Children learn by example. Stop preaching to us on behalf of the NRA and realize that things in this country, in regards to guns, have gotten completely out of control.

---

Name: janice rigney () on Tuesday, March 6, 2001 at 15:14:36
E-Mail: skippy1@msn.com
Maiden: hall
Class: 58

City and State: lancaster, ca
Message: I just wanted to say hi to all those from the band in 1958, would love to see any of you at the prom night...I have been searching for Dorothy Jackson, would really love to hear from her....I hope to see more 1958 grads on the list soon....thanks, Janice (Hall) Rigney '58

---

Name: Jack Risner () on Tuesday, March 6, 2001 at 15:14:31
E-Mail: rencaj@netscape.net
Class: 74
City and State: Hailey, Id

Message: Over on Inglewood Ave around 131st or so used to be Anna Maries Toys and Hobby shop. THERE was a wonderland. Shelves and shelves of MatchBox cars and trucks. Big plastic suitcases with dividers to put all the cars in and lug everywhere. Anna Marie would always let us know when new releases were due. Plus she had models and paints and toys galore! I don't think she ever stocked any of the GI Joe stuff, though. I used to spend hours in that shop. There was another pretty cool hobby shop in the Gemco center at the end of Redondo Beach Blvd. east of El Camino. My brother Bob and I used to go there to get miniature models of tanks, halftracks and planes to play war. Bob used to build cool plane models and then string wire from one corner of the house to another (house layout was L shaped) and another string from the house to the detached garage. He would put teacup screws in the tops of the planes and then pour glue all over them and light them on fire and slide them down the strings. We had regular mid-air collisions right in our own back yard. As soon as we had it cleaned up and another 50 cents to a buck back for more models! I hope everyone has a chance to laugh today even if it is at ourselves (does everybody remember laughter?). The sun is shining gloriously today here in Idaho and I am going to go laugh under the trees. PEACE
Thanks Jack, Yes, the sun has been shining here in Lomita too. I hope it stays that way for a few more days.
---

Name: Susan Walling () on Tuesday, March 6, 2001 at 14:43:32
E-Mail: funds4kids@Yahoo.com
Maiden: Ciampa
Class: 77
City and State: Sonoma County
Message: OK Cougs, I can't pass up the opportunity say that in my opinion, the problem here is... KIDS HAVE EVERYTHING... that simply allow them to comfortably exist within the four walls of their bedrooms. Computers, internet access, T.V.s, VCR's, telephones, violent music and video games have become standard bedroom furnishings for most kids. They've been allowed to spend endless hours being parented by these objects. Churches, bikes, skateboards, beaches, garage bands, bowling alleys, parks, plunges, Boy Scouts, Girl Scouts and organized sports have NOT left the planet! It's true that the daily demands of life for all of us, coupled with the unreasonable amounts of homework our kids have, hardly allow any of us enough time to enjoy life and have great family experiences, but how many parents do you know that have simply decided to stop parenting their kids? When did it become acceptable to NOT be a parent, to not know WHAT your kids are doing? Sure we all 'got away' with some things that are better left unsaid, but we certainly weren't plotting school shooting rampages, murdering our neighbors or practicing our bomb making skills in our own bedrooms! It saddens me to think that most of our children and grandchildren will never experience the joys of riding their bike to the beach, saving their lunch money to spend at the corner store, racing through dirt lots while being chased by the property owner, grinding dirt clods on bike tires, rooting, hooting and hollering at their high school football game, or any of the other wonderful memories we have. It's time to get back to basics and be parents to our kids. Let's show them that the world is much more than the hostility, violence, despair, rage and senseless immorality that they are offered by media, music and the confines of their four walls. Let's get back to doing what generations before us have done, and done well..... PARENT OUR KIDS! Now, I'm off my soapbox and writing that check for Prom Night.
Darn tootin they need parenting. They also need to be responsible for their actions.
---

Name: LEEROY FELDERRUSTER () on Tuesday, March 6, 2001 at 13:56:56
E-Mail: leeroyfe@yahoo.com
City and State: manhaddan beechs
Message: HOWDY! WHODE Dale Craigs enywez? Knots mes dat fer shore! Ans asn fer dat guns talkins, wens i's wens ta HHS wez hads usn a rifel cubs two. Ain'ts nosebode takin betsy frum mes eder. spekelly dat Jones guys. The U Sn of A konstushun sez i's kans hab a guns and dagnabits i's gunna hab dem. Sory ta gits so riled
LEEROY FLEDERRUSTER
Yeah like we need LeeRoy packin' heat. This guy could get hurt running a trot line.
---

Name: Bob Poorman () on Tuesday, March 6, 2001 at 13:33:32
Class: 77
City and State: wayzata, MN

Message: Okay how about the store on the corner of Freeman and Imperial? Snappy's? Or am I confusing that name with one of my other sugar fix establishments?
Ron Dokken - Are you related to Dennis Eldredge?
No, it was, and I think still is, Snappys.
I asked this question long ago and never got any answer to it, but does anyone know what the longest running business name in Hawthorne would be? My guesses were, and still are, Phils Bike Shop (been around since at least 1950) and Pound Penny Market on Prairie Av. Can anyone think of any older businesses?
---

Name: Anita Young () on Tuesday, March 6, 2001 at 12:51:16
E-Mail: youngun39@yahoo.com or youngu39@care2.com
Maiden: Aceves
Class: 1978
City and State: Newberg, OR

Message: John Baker....ROTFL!!!! That Johnny and the Cream Puffs remark almost made me fall off my chair! Oh my God!!!! Good one! = )
Well, since I grew up on the heavily congested El Segundo Blvd. in an apartment, my candy haven was in the shopping mall area where Thrifimart was....Aloha Drugs! Every week when I got my allowance, me and my still childhood friend, Eva Hesselius, would go over there on our bikes and look at all that glorius candy they had and would have a "chocolate orgyfest!" God, if I were to eat as much candy now as I did then, not only would I weigh 300 lbs. plus, but would probably puke from now until Labor Day! I can't believe how much candy we girls could put away in one sitting! But they had a pretty good candy selection, too. Then, after being all hopped up on all that sugar and caffeine from the chocolate, we'd ride our bikes all over the HHS campus! Ah, those were the good old days!
Anita, I didn't mean to ignore your request. I will send your pics to you tomorrow and thanks for sharing.
---

Name: Mike Riley () on Tuesday, March 6, 2001 at 12:38:20
E-Mail: Mcriley@mtnhome.com
Class: 65
City and State: Moutain Home AR.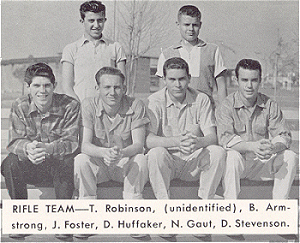 Message: All this talk about guns. Dose anyone remember guns in school when we were there??? [NO] There may have been a fight but no one would bring a gun to school. WHAT HAS CHANGED?? TV, Parents not Home, Movies. It is not the guns!! It's the PARENTS. Teach your kids right from wrong. Spend time with them. They need a home life more now than ever.
AMEN to that....
This is how times have changed. This is a legitimate picture out of the 55 El Molino. I guess these guys were allowed to carry their rifles across campus in the mid 50's. It was a different mind set.
---
If you have comments or suggestions, please email me at jb1@cougartown.com