Page 356

Hawthorne Time and
Temperature

Home | 60's Slang | Alumni List | Car Talk | Cougar News | Feedback | Hangouts | Memories
Recollections | Reunions | Street Scene | Teachers | Tributes | Vietnam | What's New | Keyword Search
In honor of Prom Night 2001....... Little Anthony
---
<!-+++++++++++++++++++++++++++++++++++++++++++++++++++++++++++++++++++++++++++++++++++++++++++ +++++++++++++++++++++++++++++++++++++++++++++++++++++++++++++++++++++++++++++++++++++++++++++->

---

<!-++++++++++++++++++++++++++++++++++++ADD BELOW THIS LINE++++++++++++++++++++++++++++++++++++ +++++++++++++++++++++++++++++++++++++++++++++++++++++++++++++++++++++++++++++++++++++++++++++->
Name: Mike Backus () on Thursday, February 8, 2001 at 11:23:20
E-Mail: michael@backusstudio.com
Class: '74
City and State: Buttcold, Oregon
Message: Here's a CougarCulture tip. If you've listened to "Little Deuce Coupe" and "Good Vibrations" as many times as you think you can stand, but still want a South Bay soundtrack, try Dick Dale. Originally Dick Dale and The Deltones, he was inventing the surf sound while "The Boys" were still in elementary school. He's best known for "Mirasou", which was in the soundtrack for "Pulp Fiction". I like his 1996 album "Calling Up Thunder". It's just the thing to get me moving on a cold, grey Oregon Winter morning. Have a great Thursday, Cougs!
Hey Mike, I think that's "Miserlou".......

---

Name: Marsha Hood () on Thursday, February 8, 2001 at 09:52:49
Maiden: Russell
Class: 64
City and State: Redondo Beach

Message: HAPPY BIRTHDAY JB2!!!!! Hey, I just got a call from JB1 and he invited the Rowdy's along for your birthday weekend, we are so excited. Judy, you and I are in charge of all the food, I thought we could start the evening with some nice colorful jello squares, marshmallow kabobs, rice krispie squares......and anything else that you would like to make??? I want this to be a special weekend for Pearly, I am always so impressed with the dinners that she has prepared for us, I want to reciprocate. JB1, let us know what time you will pick us up and how many days we are staying.
Happy Birthday to Pearl, Happy Birthday to Pearl,
Happy Birthday DEAR PEARLLLLLLL, Happy Birthday to you.
UHHHHhhhh....yeah, uh I'm sending a special Limo.........yeah, that's right, a LIMO and so be ready to go about 3am see. It's a uhhhh Special NIGHT Limo.....Yeah that's it, "A Night Limo".... so be ready.........and don't forget the S'mores
---

Name: Judy DeGrazia Blomsterberg () on Thursday, February 8, 2001 at 09:18:42
E-Mail: JUDYWUDY@att.net
Maiden: HerecomeARIZONA
Class: 64
City and State: Torrance, CA
Message: I'm a happy camper today..looks like we got another outta towner PROM NITE ticket sold from Phoenix, ARIZONA...Thanks MIKE COLBERN '73...(I wonder if he's just coming down to escape the Aug. heat).. either way, welcome back to the beach area. I keep looking for my buds, Mary Plater Vaughn and Jack Vaughn to check in from Phoenix.. Looks like I have more work to do in that area. If you're reading this Mary..get my room ready, I'm flying in. Save a seat at Miguel's for me.
Judy Wudy... Just getting started.

---

Name: Blake Withell () on Thursday, February 8, 2001 at 01:28:52
E-Mail: withells@idirect.com
Class: 67
City and State: Toronto,Canada

Message: I had my Cougartown T on the other day, showing it off for a friend, when my daughter noticed the "Be true to your school," logo on the front. Right now her high school in embroiled in a labor dispute and are withholding (extra curricular) activities. For the sake of a signature they can't participate in their Power Cheerleading quest. They are the only school in the district without a sports program, because the head of the phys ed dept is the union steward. BOOO.
So they have been practicing surreptitiously in church basements (since they cannot use the school). Their coaches Nat and Jake are dedicated private business persons, who donate their hearts and their time to the girls, and keep their skills honed to a fine edge waiting for the fog to lift so they can participate.
The coup de gras is that, this weekend they have to host a competition at their school but are not allowed to participate themselves. My daughter said boy, I wish I'd gone to your school. (Me too sweetie, me too.)
Special thanx to Nat and Jake. YEAAA...You don't know what you've got till it's gone. Thanks fellow Cougs for letting me vent. I wish the OL Coach was here!
Blake
Hey Blake, You're up awful late. Don't worry though, we'll send the Ol' Coach to straighten out those "Slug Canucks". I say the kids are worth much more than a labor dispute.
Hey you HOSERS.....GO TO WORK, AYE!!!
---

Name: Gary Lents () on Wednesday, February 7, 2001 at 22:42:13
E-Mail: glents@cybertelmail.net


Class: 67
City and State: vista
Message: We are hiring in several positions...if San Diego, North County appeals, contact me at glents@cybertelmail.net

---

Name: Walter Holt () on Wednesday, February 7, 2001 at 22:12:42
E-Mail: Yammaworeanitsybitsyteenieweenieyellowpolkadotbikini.com
Class: 66
City and State: Mission Viejo, CA


Message: Hola Yamma Miel....Acepta inverso a Cougartown Curtió uno, que perdimos usted. ¿Cómo estaba México ? Who put the Bomp in the Bomp Shu Bomp Shu Bomp...Who put The Yam In The Yamma Lamma Ding Dong...Well Babe Just been Sittin back Puttin some of our old Fav Tracks down on some plastic for us.(no more vinyl) an trying to keep myself busy an outta trouble till ya got back. But whoooeeee Countin The days til we cut some rug at The Prom Night 2001.... "Oh I know That the music's fine Like sparkling wine Go an have your fun Laugh and sing But while were apart Dont give your Heart to any one Cause dont forget whos's taking you home an in whos arms you gonna be So darlin Save the last dance for me"
Thank you Benny K
---

Name: Judy DeGrazia Blomsterberg () on Wednesday, February 7, 2001 at 21:38:16
E-Mail: JUDYWUDY@att.net
Maiden: howROWDYcan youget
Class: 64
City and State: Torrance, CA
Message: Hey Petey Smith.. How Rowdy of you to marry someone that has the same last name.. no need to change the monogrammed towels..your driver's lic. etc.. Hope he cooks.. CONGRATS.. Judy DeGrazia Blomsterberg.

---

Name: Cindy Colby () on Wednesday, February 7, 2001 at 21:33:31
E-Mail: cindymcolby@aol.com
Maiden: Maxson
Class: 63
City and State: Laguna Hills, CA


Message: Dennis Campbell, I have Martha Amour's phone number, if you e-mail me I will give it to you (with her permission). John, you are really great to go through the trouble to find my picture, it really surprised me, thanks.
I've looked in the 63 senior pics and it wasn't there. Last night the light went on and I looked for your Junior picture. I may be ignert but that don't mean I'm slow.

---

Name: Judy DeGrazia Blomsterberg () on Wednesday, February 7, 2001 at 21:26:59
E-Mail: JUDYWUDY@att.net
Maiden: onlygettingbetter-year-after-year
Class: 64
City and State: Torrance, CA


Message: Hey... looks what's going on here..!! Another ROWDY BIRTHDAY..for one of the original ROWDYS. (the one that cooks) Happy Birthday JANET BURKETT..!! aka Pearly Burkowitz.. Sheriff John sings Happy Birthday to ya!! Hope you & John B. have a romantic time in.... now let's see, where did John say he was taking you??? That's right, he wouldn't tell the rest of the ROWDYS.. (wonder why) When ya get home we'll all go out a break some bread, drink some Thunderbird & pee in a sink. (God, I love these celebrations) Now, looks like we have another PROM NITE ticket sold to another outta stater: PEGGY CONLON OUELLET '66 coming from Sumner, Washington.. GO WASHINGTON.. For Sharon Moore Leach.. I know kid, isn't TAKE ME BACK a great song.. who knows, maybe a couple of old lovers that broke up in high school will meet again at PROM NITE and dance to that tune.. and thennnnnn - VOILA!! We'll get our "love points" in for 2001.. Marsha Russell and I did our part in the year 2000.. someone else's turn. (hey, this ain't easy..I say um as I see um)
Judy Wudy... singing happy birthday Pearl

---

Name: John Baker () on Wednesday, February 7, 2001 at 19:35:14
E-Mail: john14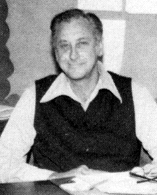 Class: 62
City and State: Little Hill
Message:Here's a guy you Dana people should recognize right off the bat. He's a pretty good man and was an outstanding teacher/mentor to lots of West-siders. Who is he?
Thanks to Delia Yawnick Garza for the picture.

---

Name: Kelley () on Wednesday, February 7, 2001 at 19:31:19
E-Mail: k.k.currie@att.net
Maiden: Currie
Class: 67
City and State: Oregon


Message: Did I fail to mention that our very own Konnie Smith is now Mrs. Konnie Smith. She was married Jan.25th to Mr.Darcy Smith. And if that's confusing, Konnie is Petey. Congratulations My Woof. Has anyone seen my brother?
Congrats Konnie and it's really nice of your new hubby to take your last name. He must be a real giver.


Now the "Duke of Boss" is another story.
---

Name: Mike Backus () on Wednesday, February 7, 2001 at 18:46:20
E-Mail: michael@backusstudio.com
Class: '74
City and State: Eugene, OR

Message: Thanks a lot Patty (V5)! Oh yeah, this is the most fun I've had in a long time. /:-` I wonder who wrote that stuff about men and women not fighting?

---

Name: Patty Valencia () on Wednesday, February 7, 2001 at 18:26:28
E-Mail: Pvalencia2@aol.com
Class: 1974
City and State: PVE


Message: Hey gotta love the early 70's feedback. What a relief to see so many peeps signing back in. Or for the first time - wow. Wade G and Tammi T.?! Welcome! I've been forwarding feedback to George Key (or 'Jorge Llave' which evidently is his millennium handle) cuz he can't access the site - John. Hint Hint. Mike, you have got to be enjoying the cartoon scandal. I mean really, men and women aren't meant to battle each other?

Well, back to the Girl Scout cookie sales.
Patty, When you say he can't access the website, has he tried getting on other than through the HOME page?
---

Name: JIM SLOEY () on Wednesday, February 7, 2001 at 18:13:36
E-Mail: funfunfuncauseitsourt-birdnow.com
Class: 66
City and State: REDONDO BEACH, CA
Message: Well we are really excited about our 35th reunion. After all these years, we hope everyone who possibly can be there will attend. After 35 years there are no more in or out crowd or whatever. It will be great to see everybody. If anyone has an address, (Schroeder- LEE and Stevenson) please forward them to our Chairperson Sharon Moore Leach or me or any of the other committee members. And Sharon is doing a great job with this as is her able assistants Karen Hare, Becky Slaughter and Mary Kean. Karen gets a little bossy but its usually ok. LOL! Anyway we are looking for a great time. SLOEY

---

Name: YAMMA LAMMA () on Wednesday, February 7, 2001 at 17:45:10
E-Mail: I'mtanalloverandunderandaroundandaroundand.com
Maiden: DING DONG
Class: oughtoneandidon'tmeaninthiscentury
Message: WALTER HONEY! I'm baaaaccck! Eeeewie! Lots of posts from lots of new-to-me Cougs. Took me til today to catch up with all the pages of posts. Great trip, good to be home; Bobby Boo - Ramma Lamma asked me to tell you she'd post soon. She's gotta lotta work to catch up on. Are we ever gonna look good in our shimmery a-line dresses (I prefer "A-line" rather than "tent" John!) come Prom time - That's One Summer Night -- Prom Nite 2001. You musta missed me Walter Honey; I didn't find a whole lot of posts from you. Hope so cuz I shore missed you! Your little ole Yamma Lamma!! By the way, John - did you hear from Greenpeace? See any beached whales up your way?
Yeah they got a bounce all right. A navy sub thought it was in hot pursuit of a Russian Carrier, but instead it "Pinged" itself right up on the beach at Ensenada. You two have to lose about a 10th of a ton by Prom Night.
---

Name: Bonnie McCoy () on Wednesday, February 7, 2001 at 17:00:51
Maiden: McCoy
Class: 78
City and State: Newport Beach, CA


Message: To Cindy Whittaker: There are lots of great paying admin. assistant jobs at the company I work for, which is Conexant (formerly Rockwell) and they just split into two companies. The new one is called MindSpeed and both are located in Newport Beach, although I know you'd prefer something in the South Bay, they provide excellent benefits to their employees. If you're interested, please email your resume to me at bonita.roberts@conexant.com
This is great. Maybe a "Cougs Helping Cougs" page is in order. Thanks Bonnie
---

Name: Dennis Campbell () on Wednesday, February 7, 2001 at 16:07:16
E-Mail: Campbell901@cs.com
Class: 61
City and State: Mission Viejo, Ca.


Message: Cindy Colby,
I lived across the street for the Arias family for many years. I just saw Ronnie's mother a few weeks back. Regarding Martha Amour I have not heard from her in about a year. Good to see she is still kicking. Martha's brother Dave, Ronnie, and I use to cruise Hawthorne Boulevard in Ronnie's Old Packard "El Dillinger" back in late 50's and early 60's. Oh what a time we had for sure…..... A&W here we come. Hey one day we even got Al Jardine to come along with us that was before the BB days. If you hear from Martha again please pass along my e-mail address. Hope to see you at the Prom in August.

---

Name: Sharon () on Wednesday, February 7, 2001 at 15:33:46
E-Mail: hawthornehigh66@aol.com
Maiden: Moore
Class: 1966
City and State: Long Beach, CA
Message: Thanks Judy Wudy, I clicked on Little Anthony's Take Me Back, and now all that's going through my mind is that song. All I can remember is a couple of phrases and I keep singing them over, and over, and over, and over again. If you don't watch it I'm going to put a link for It's A Small World and drive everyone nuts. Speaking of Prom and reunions, the class of 1966 is getting a big response. It is going to be a rocking weekend at the Marriott. Hope we don't get thrown out!

---

Name: Cindy () on Wednesday, February 7, 2001 at 15:05:39
E-Mail: Whittaker
Maiden: Whittaker
Class: 1976
City and State: Gig Harbor WA
Message: John, aren't these Cougars the coolest people you know? I really appreciate the responses I'm getting from my post asking about jobs in the CA area! Hey, I'm even getting fix-up emails from a certain mom out there for her son up here in WA (don't worry "Mom" I won't say who you are!). I'm getting my resume updated to send out so I'll be replying soon! Thanks you guys, you're the best! Hey Sharon B -- I can vouch for you that the chemicals didn't affect YOUR brain ... ummm okay ... much. But then I was hanging out with you pre-high school and I'm pretty sure you hadn't started mixing chemicals with your gray matter then! Not in grade school right?

---

Name: Mike Backus () on Wednesday, February 7, 2001 at 12:56:07
E-Mail: michael@backusstudio.com
Class: '74
City and State: Eugene, OR

Message: Tennis, Women, and Other Reasons For Living My "Battle Of The Sexes" cartoon has me thinking about my roots in tennis for some reason. Certainly my romance with tennis started while I was at HHS. It makes me think of that scene from "The Great Gatsby" where Gatsby stands in his blue collar neighborhood and looks at the lights across the river in the rich part of town, imagining lavish parties and beautiful women. In a very adolescent and, in hindsight, melodramatic way I did the same thing with Holly Glen in Hawthorne. I seemed to have a tragic tendency to become infatuated with the girls who lived waaaaaaay across town. If I could manage to find one a year or two older than me (In high school? Get real!) with a boyfriend in college, that was perfect for me. The makings of a romantic tragedy of epic proportions. Mixed in with all of this other psychological abuse was tennis. Tennis is a sport that is virtually impossible to play without considerable practice. In my first attempt to impress the unfortunate object of my affections during my sophomore year, I agreed to hit with a member of the HHS JV men's tennis team. I could do this. I'd played baseball for years. A baseball bat is a skinny little stick. A tennis racquet is a big ol' trampoline on a stick. Lots of surface area. Looks easy! I found at least one similarity between tennis and baseball; if you watch the ball and swing as hard as you can, you'll hit the ball clean out of the park. Which is what I did. Thus ended my high school tennis career. My infatuation with the idea of tennis endured, however. When the girls that I was ogling on the tennis team began talking about the King/ Riggs match in the Fall of '73, my choice was clear; root for Billie Jean or be banished forever. I became a fan of women's tennis. In a recent glib comment on the events surrounding my 1973 cartoon I said that Billie Jean "narrowly' beat Bobby Riggs. That's an opinion. She won 6-4, 6-3, 6-3. That's a fact. That means that Billie Jean broke Riggs only once in the first set, and twice in each of the two following sets. Please draw your own conclusions. But be careful. If that was a butt kicking, what would you call the William's sisters 6-1, 6-2 loss to Karsten Braasch right after he got blown out in the first round of men's play at the 1997 Australian Open? It doesn't leave much room for charity, does it?

---

Name: Kathleen Griffin () on Wednesday, February 7, 2001 at 10:15:14
E-Mail: Spirithart@yahoo.com
Maiden: Nix
Class: 74
City and State: San Pedro, CA


Message: Hi everyone, I've been lurking and haven't had anything to "contribute". Cindy Whittaker, If you have any experience with Computers, their Applications, and Customer Service I sure could use your resume. A security clearance would also be a plus. Send it to Kathleen.A.Griffin@trw.com
Anyone else out there that might be looking for a "Help Desk" job please send me your resume's as well. I'm moving into software development and need someone to take my place here in Carson.
Thanks!

---

Name: Judy DeGrazia Blomsterberg () on Wednesday, February 7, 2001 at 09:24:58
E-Mail: JUDYWUDY@att.net
Maiden: PROM NITE AUG 18, 2001
Class: 64
City and State: Torrance, CA

Message: Wow!! Since I see so many new people checking into CT for the first time.. I have to start my chant again.. "PROM NITE-AUG 18th, 2001. Everyone's invited" If you haven't figured it out.. The Manhattan Bch Marriott will play stomping grounds for 3 events in Aug.. 1970-73 reunion on Aug 11---- 1966 reunion on Aug 17---- then the Grand Finale' PROM NITE on Aug 18. We just got another "outta towner" to buy her ticket..thanks Karla Clark '64, for coming all the way from Olympia, Washington. BTW..I didn't see a ticket bought by JakeJude --& Alan Hauge yet..what gives..??? How often do we see this many alumni in one place within a week's span!!!! (boy, this is getting tougher and tougher) Remember that until your check is received, your ticket is not bought.. if you've sent your completed form to John Baker-that's just the first half. "SHOW ME THE MONEY!!!" It's a good thing I'm Italian.. I know exactly how to work your last good nerve.. Now, I might have to put another song in to get you going here.. how about Take me Back by Little Anthony John... Where's Ivan..gotta dance.
Judy DeGrazia-Blomsterberg.. On a quest.

---

Name: Jim Peppers () on Wednesday, February 7, 2001 at 04:17:11
E-Mail: peppers@acs.gr
Class: 61
City and State: Athens, Greece


Message: Dear Nadine, Frankie, Kendal, et al Haven't had access to internet since I came back from Spain. I have a new e-mail address and I check in every other day. Catch me at peppers@acs.gr
Hope to hear from you. Will be getting back to this site on Friday and will have more time to write.

---

Name: JIM SLOEY () on Wednesday, February 7, 2001 at 00:29:29
E-Mail: timetogetoutofctowntheokiesarestartingtotakeover.com
Class: 66/84
City and State: REDONDO BEACH, CA

Message: Well we finally get Burroughs calmed down and quiet and what happens, we get more OKIES showing up! Geez Greasby didn't you go to Leuzinger? And Callahan don't encourage these people!!! Wade hope all is well with you and your family and remember this is the year of the Husker! Cornhusker. But in all fairness Wade, you had way to much class to be an OKIE! So we adopted you! Hope to hear from you! Best always!!! Sloey

---

Name: Cindy Colby () on Tuesday, February 6, 2001 at 21:36:11
E-Mail: cindymcolby@aol.com
Maiden: Maxson
Class: 63
City and State: Laguna Hills, CA


Message: Ronnie Arias, how funny you should show up at this time, Martha Amour and I were just talking about you last week, we were wondering where you were, Martha lives in Las Vegas. E-mail me and I will put you in touch with her, her e-mail is down for the time being.
Hey Ronald E. I see you're trying to add your non-email address to the list. You need an email address first. Thanks John B
---

Name: Cindy Colby () on Tuesday, February 6, 2001 at 21:33:18
E-Mail: cindymcolby@aol.com
Maiden: Maxson
Class: 63
City and State: Laguna Hills, CA
Message: Cindy Whittaker, if you don't have your heart set on Redondo Beach, I work for Fluor Corporation in Aliso Viejo, we do most of the staffing for their projects. Contact me maybe I can help.

---

Name: Sherman Berman () on Tuesday, February 6, 2001 at 19:34:32
E-Mail: srbranigan.srb@verizon.net
Class: 76
City and State: TO,CA


Message: Oh Alan, yes, it's true; we were once blondes. Now we are still blondes, but with a little help from our friends at Clairol. The bleach does seep into the brain and that's where the rot begins. Nature takes it from there.

---

Name: Reuel Callahan () on Tuesday, February 6, 2001 at 18:20:03
E-Mail: Reuelcallahan@aol.com
Class: 65
City and State: Westlake Village, Ca.

Message: Wade Greasby, great to see your feedback on Cougartown. What a coincidence I always see Stacey but today I looked up and there was Stacey and Leslie, and now I see your feedback. WOW! Haven't heard from you in years so this was a very pleasant surprise. How about them SOONERS? YES!
John once again Cougartown has come though. Thanks John.
Hey I love it too. Glad you guys have found each other again......
---

Name: Sharon Stowe () on Tuesday, February 6, 2001 at 15:59:38
E-Mail: stowe37@aol.com
Maiden: Ritch
Class: 72

Message: I'm not martyring anyone John. Lighten up!
ss
I just meant that the Riggs-BJK match wasn't, in any way, a cause for women to unite. I saw it as the tennis version of WWF Smack Down.
---
If you have comments or suggestions, please email me at jb1@cougartown.com