Page 305

Hawthorne Time and
Temperature

Home | 60's Slang | Alumni List | Car Talk | Cougar News | Feedback | Hangouts | Memories
Recollections | Reunions | Street Scene | Teachers | Tributes | Vietnam | What's New | Keyword Search
"More Early R&R" "The Coasters"
---
<!-+++++++++++++++++++++++++++++++++++++++++++++++++++++++++++++++++++++++++++++++++++++++++++ +++++++++++++++++++++++++++++++++++++++++++++++++++++++++++++++++++++++++++++++++++++++++++++->

---

---
<!-++++++++++++++++++++++++++++++++++++ADD BELOW THIS LINE++++++++++++++++++++++++++++++++++++ +++++++++++++++++++++++++++++++++++++++++++++++++++++++++++++++++++++++++++++++++++++++++++++->
Name: Linda Farrow () on Monday, September 25, 2000 at 12:04:25
E-Mail: Linda.Farrow@trw.com
Maiden: Elia
Class: 82
City and State: Redondo Beach, Ca
Message: Just wanted to let everyone know what a blast I had at the Brian Wilson show last night at the Hollywood Bowl. He was great and I give him so much credit for coming back on stage. His band played wonderfully. I did shed a few tears too when he played the song dedicated to Carl Wilson and everyone who has lost a loved one, the tears were rolling. Van Dyke Park was great too.
Meeting Brian....I was so nervous! thank god my daugher Kasey was there to help me out. He loved the Cougartown shirt we got him, and thank you John for all your help getting it in time for his show. We went back stage immediately after his last song, Love and Mercy, and were the first ones back there. We walked in and he was playing the piano he looked great sitting there doing what he does. It all went so fast but we had our pictures taken with him while my arms were around him I felt him shaking allot. He seems very nervous and shy around people. My daughter gave him a huge hug and I thought that was so sweet. We let him know that everyone supports him and glad that he is back on stage again. And man is he tall!
Yeah he's tall, but can he still throw a "Jump Pass"?
Thanks Linda for the report on the BW (Sunday Edition) Concert. Glad he liked the Tshirt too. Now if we can get him to wear it on stage to promote Cougartown, then we've got something.

---

Name: Patti Smith () on Monday, September 25, 2000 at 12:04:08
E-Mail: GrnidL80@mediaone.net
Maiden: Smith
Class: 68
City and State: Cypress, CA
Message: Such sad news this morning - two Cougars lost to this world. My thoughts and heartfelt sympathies to the families and friends of Diane and Joyce.

---

Name: Paco () on Monday, September 25, 2000 at 12:01:17
Maiden: Ref's
Class: 61
Message: RoJo, Looks like those flaming Ducks smothered the "Teddy's"
Where's Tommy Prothro when we need him?
---

Name: Lori Padelford () on Monday, September 25, 2000 at 11:33:09
E-Mail: Desilulu4u@aol.com
Class: 81
Message: For those of you that knew Dianne Libertini, I understand that there will be a service Tuesday, Sept. 26 at 7:00 at St. Katherine's Church In Torrance on Redondo Beach Blvd. My thoughts and prayers are with Dianne's friends and family at this time. I am sorry for your loss.

---

Name: Anita Young () on Monday, September 25, 2000 at 09:56:40
E-Mail: amyinor@webtv.net or youngun39@yahoo.com
Maiden: Aceves
Class: 1978
City and State: Newberg, OR
Message: Oh no, Bill, say it isn't so? Not another HHS alumnus gone. Diane Libertini was in my graduating class. I did not know her well, but had a few classes with her. I remember her smile and her laugh. She was always laughing about something and her laugh was infectious. I remember her being a real sweetheart. Such a shame at such a young age. Bill, I am so sorry for your loss and my heart goes out to you and her family and loved one's. Diane....you are going to be missed.

---

Name: Ellen Coffman () on Monday, September 25, 2000 at 09:41:18
E-Mail: dmwjeb@midwest.net
Message: Was referred by a friend and sister of Peggy Sams and Joyce Sams. Your site is very good. Found it had a lot of information.
Thanks Ellen
---

Name: Maureen Trott () on Monday, September 25, 2000 at 08:33:23
E-Mail: MoMo90250@aol.com
Maiden: Trott
Class: 1964
City and State: Hawthorne, CA
Message: Good morning everyone! I'm afraid I have some sad news to report this morning. Cougartown has lost one of it's members, and the class of 1964 has lost one of its classmates. Sunday morning at about 5:40 AM Joyce McCarroll Kirby lost her battle for life, and has now joined a much better place. She fought till the bitter end, but it was just not to be. She will be missed by many friends and especially by me, for I had been friends with Joyce since kindergarden. We had just rekindled our friendship about 3 or 4 years ago. She is definitely one of the truest friends I will ever have. My thoughts and prayers go out to her Mom, her two children, Cami and Matt and to her brother Richard and all other family members. As I find out the particulars of the arrangements, I will let cougartown know. We love you Joyce. Your Friend Always, Mo
Very sad news. If anyone wants to know more about Joyce's arrangements, please email Mo and she'll fill you in. Thanks Mo......
---

Name: SCOTT ALAN MARTIN () on Monday, September 25, 2000 at 08:12:03
E-Mail: scottm@c2i.net
Class: 1984
City and State: norway
Message: Hello. Im looking for someone that knows me. :-) send me a message ( e-mail or icq 32937603 ) Im living in Norway... Regards,Scott A Martin

---

Name: Bill Wadman () on Monday, September 25, 2000 at 01:58:40
E-Mail: 3scompany@lvcm.com
Class: 75
City and State: Las Vegas NV.
Message: My lifetime friend and someone who will always be my girl, Diane Libertini, passed away last Thursday. She will be forever in my thoughts, my love for her will be endless.

---

Name: John Baker () on Monday, September 25, 2000 at 01:24:33
E-Mail: jb1@cougartown.com
Class: 1962
City and State: Lomita, CA

Message:
Here's another picture of "The Beach" as it was affectionately called. Lions Drag Strip or LADS was a fixture in Long Beach from the mid 50's to the "Last Drag Race" December 2, 1971.
What a great place to take a date on a Saturday night......$1.00 to get in the gate and great hot dogs too. The smell of Nitro Methane still permeates my senses as does the ear tickling sensation from a full throttle AA/Fuel Dragster. My hearing is gone today, not from rock and roll, but from "Fuelers" at Lions, however I wouldn't exchange that experience for any in my life.

---

Name: John Baker () on Monday, September 25, 2000 at 01:24:33
E-Mail: jb1@cougartown.com
Class: 1962
City and State: Lomita, CA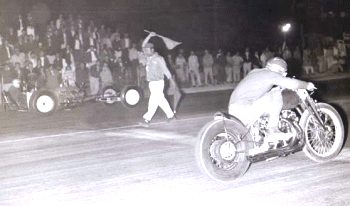 Message:
Here's a picture of Early Lions Dragstrip (pre Christmas tree). This was taken in 1959 or 1960. Do any of you old "diggers" remember starting with a flag.......I do.

---

Name: Mom B (Beverly Bierman) () on Sunday, September 24, 2000 at 00:03:15
E-Mail: gonore@aol.com
Message:Hi John,
The Wilson concert was wonderful. The Santa Barbara Bowl is a great place and I intend to attend more often. Old and constructed with walls made of large rock. The bottom is on the lawn and we were in the first tier up so our seats were great.
The concert started with a selection of Wilson music played by the Santa Barbara Symphony. This group, which I am sure was handpicked for the instruments that Brian wanted, was conducted by a young black man hailing from the village of Naples Florida where I graduated High School. I recognized some of the selections but not all. After about 30 minutes or so the band came out followed by Brian. He sat at a high swivel chair in front to a box about four foot x four foot with a lip of about 5 inches so I was unable to see what was on the table itself but I did see a Teleprompter which is the same type used by the politicians. His eyes seemed glued to that spot. His first selection was the first song that he ever wrote, Surfin, followed by several of the familiar offerings. By the way, he got a very long standing ovation when he came on stage with a lot of yelling and screaming. I confess, I joined the crowd. After about an hour, the symphony returned and it was Pet Sounds time. Intermission after which he returned with the old songs that we all know and love. He did include a song that he wrote for Carl and said it was a happy song not a sad one but I cried anyway! When he left the stage and they turned off the lights I knew he was coming back because he left off too many oldies but it required about 10 minutes of yelling and clapping. Entertainers must love that sound as they manipulate us so well. More songs and left again. More yelling and hollering and he returned with his six string or what ever it is and played a couple and sang a couple more and finally said good night so of course there was no more yelling and clapping. :o) I was surprised at the strength of his voice which of course is not as good as it once was but believe me, he is loved or at least he was there, in front of 4500 people. I am glad that he seems to have gotten himself together. I do wonder at the irony, he is the one who survived!
By the way, his musicians and backup singers are great. They all do double duty singing and playing except for one girl. Also, we had rain or shine tickets and we lucked out as it was raining both going and coming till just south of Santa Barbara. It was beautiful there. Even saw a beautiful falling star during the show.
And that was the night that was!
Love and hope you had a great weekend also!!!!
Beverly
Well it sounds like the BW concert went off as planned. I sincerely hope that Linda Farrow got the Cougartown Tshirt to Brian with no trouble. Janet and I went to the Greek on Saturday night to see Chicago, and they did another superb job of entertaining. Thanks for the update Beverly and we'll see you at Homecoming.
---

Name: Kathy Hubbard Hansen () on Friday, September 22, 2000 at 16:58:34
E-Mail: khansen77@aol.com
Message: Don Johnson, Thanks for your message.
You probably had me briefly for Astronomy while preparing for 6th Grade Camp. Uninspired unit I'm afraid...so I hope you don't remember. But, hey, I was a new teacher...and I knew VERY LITTLE about the subject! I believe Mr. Brent's class went to camp with Miss Wels(c?)h's class. They were buddies.
I thought I remembered Mrs. Fenton as being a 4th grade teacher, but I'm probably wrong.
Do you remember Ida Faye Hurt...taught 5th? I think she lived in her classroom. I'm not kidding! I would sometimes arrive very early if I had a lot to do, and I would find her there...with her hair in rollers! She was a crazy woman. She scared me!!! :-)
Do you know if Ron Brent is still around? Still alive? And how about Donna Wels(c?)h? I haven't been in contact with either of them in years!
Do you remember Dennis Drozdowski, Karen Kissel or Lori Lancaster? Their names really stand out in my mind. Have any of your classmates died? Sad question, but my class already had two deaths by our ten year reunion. Both drug related. Any serve time in jail? Any big success stories? I'd love to know anything you can tell me.

---

Name: Petey () on Friday, September 22, 2000 at 16:21:25
E-Mail: konniesmith@home.com
Maiden: notcurrieorgravesorgrabbit.com
Class: 1972
City and State: Salem,Oregon
Message: First let me say Kelley has my vote on best butt. Thanks to Steve Stevenson I was voted "the one most likely to NEVER fall out of a chair".Thanks again Stevie. Crazy Craig was everyones friend, and everyone this side of the pier knew him. Craig was just tall that's all. One more thing GO DUCKS GO DUCKS GO DUCKS GO FIREMAN!

---

Name: Paco () on Friday, September 22, 2000 at 14:56:13
Maiden: Kelly
Class: 61


Message: I bet Mike Wood remembers the "Crazy Guy", along with other surfers from the late 50's and early 60's. Norm Steiner, you and Robt. Lanphere should know him.. Hint:Gremmie

---

Name: THE MICK () on Friday, September 22, 2000 at 14:07:37
E-Mail: GMYKKANEN_MDM@HOTMAIL.COM
Class: 63
City and State: BREA


Message: THE CHARACTER IN THE BEACH PICTURE IS CRAZY CRAIG CALDWELL. HE IS NO LONGER WITH US.
Hey Gar', Yep, absolutely correct and you win an all expenses paid by you trip to 26th St. in beautiful Manhattan Beach Ca. Where you'll stay on the sunny beach in the life guard tower until they kick you out. Oh, and not meaning any disrespect but Crazy Craig was NEVER with us.


Thanks for playing our game.
---

Name: Lyman Moss () on Friday, September 22, 2000 at 13:30:33
E-Mail: Lyman.Moss@PSS.Boeing.com
Class: 59
City and State: Everett, Washington
Message: Hey Roho, Are you referring to the University of Washington DAWGS? If so, they are my favorite team also. They will be number one in the PAC 10 (I hope).
Take care.
Go Cougar/Dawgs
Uhhhh, I think that's Seņor Rojo to you, Lyman.

---

Name: John Baker () on Friday, September 22, 2000 at 12:58:44

E-Mail: jb1@cougartown.com
Class: 62
City and State: Lomita, CA
Message:Here's a "crazy guy" out of the past. Does anyone remember this character from the beach area?

---

Name: Bill Jensen () on Friday, September 22, 2000 at 12:55:22
E-Mail: william.jensen@trw.com
Class: 63
City and State: Hawthorne
Message: CT Help! I am trying to locate Jerry Phillips class of 63. He had two sisters and a brother that graduated from Hawthorne. I have not been able to locate any of them. The family had a machine shop, Phillips Drilling, that was located in Lawndale during the sixties on Compton Ave. (Now Marine) near Prairie. I lost track of him a few years after his marriage. I remember his wedding day very well (June 10 1972), although I missed the wedding ceremony. I was at Gardena Memorial Hospital while my second daughter was being born. My brother Bob made the wedding and provided the necessary chauffeur service with his black 39 Buick sedan. Jerry Phillips, where are you?
Thanks WJ

---

Name: Kell () on Friday, September 22, 2000 at 12:40:49
E-Mail: bigkell50@yahoo.com
Maiden: cur
Message: Liz was that fireman our neighbor Ray G. Just kidding, but wow that would have been something to see!!!!!!!

---

Name: Myrna () on Friday, September 22, 2000 at 11:27:49
E-Mail: mybizz@thegrid.net
Maiden: Bell
Class: 66
City and State: Coalinga, CA
Message: Thanks JB2 and others who have e-mailed me info on Paris and London. Brave??? Not sure about that - do know that this trip has been "on the books" for nearly three years but the dates were just confirmed. Still working through this, but I WILL PERSEVERE, after all, I AM A COUGAR!!!!!!!

---

Name: Dan Johnson () on Friday, September 22, 2000 at 11:27:01
E-Mail: wch1ispink@aol.com
Class: 77
City and State: Hermosa Beach
Message: Hey Mailander -- saw Almost Famous last night. I'm sure I saw you in the film among a pack of journalists trying to interview Robert Plant at the Riot House on the Sunset Strip. Oh, and by the way, Which One's Pink? returns this Saturday to the Pitcher House in Hermosa Beach (142 PCH) for a 10:30 show. (Gary, Mrs Hutchinson was mean to me -- she punished me in front of the class on my 9th birthday -- a scar I still bear to this day).
Is he talking to Jimmy yet?

---

Name: Joyce Chance () on Friday, September 22, 2000 at 09:59:48
E-Mail: chancesR@pacbell.net
Maiden: Savisky
Class: '62
City and State: Anaheim,Ca.
Message: Hey Chris Prewitt, That was me on the back of the Harley on Brookhurst last night trying to get your attention! I saw your CT license plate frame and wondered if I knew this person, and sure enough I did! But I don't think you recognized me. You live in Fullerton, don't you? There is a really great Car & Bike show every Thursday night at Giovannis on the corner of Imperial & Harbor. I'm not sure if that is still Fullerton or Brea.
C-Ya' Joyce

---

Name: Linda () on Friday, September 22, 2000 at 09:43:05
E-Mail: Linda.Farrow@trw.com
Maiden: Elia
Class: 82
City and State: Redondo Beach, Ca
Message: John just wondering what is going on with the Cougartown shirt that I need for Sunday. Any information yet?? Linda

---

Name: Luis G. Rivera () on Friday, September 22, 2000 at 04:06:41
E-Mail: luisgrivera@aol.com
Class: 91
City and State: gardena, ca.
Message: whats up! wish i was back in school, dont you. one more year till reunion. cant wait

---

Name: Loretta Cuiper () on Friday, September 22, 2000 at 01:58:30
E-Mail: LCuiper@Aol.com
Maiden: Morelli
Class: 52
City and State: Hawthorne, Ca
Message: Pattie Smith, A big Thank you, We'll talk to you later on details and see you at the party.. big Thanks again for being a Coug

---

Name: g lents () on Friday, September 22, 2000 at 00:58:30
E-Mail: glents3030@aol.com
Message: AOL/Earthlink/Juno.....!!! Get DSL, I have both, AOL and a Covad system, and can help if you want speed....Email me if you are serious. Liz, forget the Bruins, Ducks and whoever...Go Firemen! U..S..A, U..S..A!....oops sorry, another sports thang!!!

---

Name: Patti Smith () on Friday, September 22, 2000 at 00:46:28
E-Mail: GrnidL80@mediaone.net
Maiden: Smith
Class: 68
City and State: Cypress, CA
Message: Okay, gang, you still need a portable stereo for the Stick n Stein? You got it!! I'll be happy to bring mine. No prob -- anything for Cougs!!
Hey Patti, Thanks loads. See Loretta, saved again by a Coug......
---

Name: Janet Burkett () on Friday, September 22, 2000 at 00:11:41
E-Mail: jmburkett@att.com
Maiden: Humphreys
Class: 62
City and State: Mission Viejo, Ca
Message: Myrna....the Forum Hotel in London, (it's close to Harrods!) and the Victor Hugo in Paris.
Are you serious, you're going NEXT week and you don't have reservations??? Brave woman!
Looking forward to seeing everyone at Home Coming!
JB2

---

Name: Derek Barraza () on Thursday, September 21, 2000 at 23:59:12
E-Mail: Derek@HawthorneHigh1980.com
Class: 1980
City and State: Long Beach, CA
Message: Debbie - Thanks for the kind words. It sure was fun seeing everyone at the 20 year. We will definitely have cheesecake for the 25th! The pictures are a week late! I called the photolab twice this week. At first, they could not find the pictures! Now, they found them and will have them to me by Monday 9/25. Whew! I did receive back the proofs (of Cindy & I) from Worthington Reunion Photographers. Hopefully, all those in attendance that posed for photos also received their proofs this week. Check our web next week for the scans from our reunion!
Yours in Cougartown,
Derek

---

Name: ROJO () on Thursday, September 21, 2000 at 20:50:12
E-Mail: I-DY-HO
Maiden: YOU KNOW
Class: 6-OH
City and State: LANDOFTHEBRAVE
Message: Kingy, do you need some more music for the Stick and Stein? I would love to submit another potpourri of oldies for the archieves of C-TOWN. Do you still have the tape I sent you? I'd like to record that just for posterity. That is the only copy in the world of C-TOWN. Maybe you could send it back and I'll make us both a CD of it. Trust me John, it will come back. The tape and a new CD! If you don't need old stuff, I'm sure there's other people with their music out there. I'd be obliged if needed. MTCBWY! Jake N Jude!
Hey Russ, I think someone sucked the good CD. I haven't seen it, but will check the other place. Yes, I would love some more Oldies. It's getting close to Stick and Stein night too. Can anyone out there loan us their CD/tape player with movable speakers? Thanks........
---

Name: Elizabeth Estrada () on Thursday, September 21, 2000 at 20:38:40
E-Mail: dzlizzy219@aol.com
Class: 69
City and State: Redondo Beach
Message: I need some help here.....Does anybody know of a very handsome fireman from Hawthorne who used to moonlight as ............a ....male stripper? This was about 10 years ago...He had dark hair and blue eyes. He'd show up at parties in full fireman uniform...yellow hat and jacket with ax in hand..He put soot on his face to make him look like he's just put out a fire. He'd come in claiming there was a 911 call that there was a fire but then put on his music and started dancing. He had great moves.....off came the jacket....the shirt....boots.....belt.....but he left his hat on....and well...you can imagine our smiles....Anyway...He's tall and I think his name started with an M or hmmmm. Man, could he dance. Anyway, if anyone knows this man.....please forward any information to me as soon as possible. I think I have a job for him...Oh, and he went to Hawthorne High. Thanks, the goddess

---

Name: ROJO () on Thursday, September 21, 2000 at 20:05:24
E-Mail: I-DY-HO
Maiden: YOU KNOW
Class: SIX-0
City and State: HOME OF THE KAVEMEN
Message: John I thought eschew was a sneeze, by a lovely lady. As opposed to "Hershey" by some foul male? Anyway SJS could probably beat Penn St this year playing with eight men. The dogs are in for trouble this weekend. By the way, I thought you rooted for the BRUINS except when they played the dogs? Another note football fans, there's going to be a heavenly light display this weekend in the northwest. It happens once every other year. It's fantastic. Flaming Ducks falling from the sky and it's amazing, they only make one sound after they hit the ground. Almost like compressed air being squeezed out of a tight orifice. And on to the other subject of Earthlink. So you feel it's better than the Aol stuff huh? And I'll ask why, as some of the other Cougs might want to know also. Or am I being out of line and we should talk in the e-mail world? A LUGGIE? Thats what you did to dogs who were chasing you on your bike. Thats another story for a rainy day. MTCBWY! Jake N Jude.
Russ, Troy is my team, but I pull for the "Yogis" unless they're playing the house that Mix built.
If you want Internet access, go with an Internet service provider. In my opinion, AOL is a glorified BBS that allows you to access the Internet through their service. If someone's having problems accessing Cougartown, 90% of the time it's an AOLer or a Web TV person.
---

Name: Dan Johnson () on Thursday, September 21, 2000 at 14:24:23
E-Mail: wch1ispink@aol.com
Class: 77
City and State: HHS
Message: I went to Eucalyptus, but your name doesn't look too familiar. I had Mrs. Hutchinson in 4th grade, and Mr. Brent in 6th. I think my 5th grade teacher was Mrs. Fenton or Felton, but I'm not sure at this vantage point.

---

Name: Paco () on Thursday, September 21, 2000 at 14:18:56
Maiden: Hackett
Class: 61
Message: No More Loogies! Let's get back to Kells backside!

---
If you have comments or suggestions, please email me at jb1@cougartown.com