Page 293
Home | 60's Slang | Alumni List | Car Talk | Cougar News | Feedback | Hangouts | Memories
Recollections | Reunions | Street Scene | Teachers | Tributes | Vietnam | What's New | Keyword Search
"More Early R&R" "The Beach Boys"
---
<!-+++++++++++++++++++++++++++++++++++++++++++++++++++++++++++++++++++++++++++++++++++++++++++ +++++++++++++++++++++++++++++++++++++++++++++++++++++++++++++++++++++++++++++++++++++++++++++->

---

---
<!-++++++++++++++++++++++++++++++++++++ADD BELOW THIS LINE++++++++++++++++++++++++++++++++++++ +++++++++++++++++++++++++++++++++++++++++++++++++++++++++++++++++++++++++++++++++++++++++++++->
Name: Carl Rilling () on Friday, September 1, 2000 at 16:10:27
E-Mail: cycleist@earthlink.net
Class: 59
City and State: Oregon City

Message: To Joe Mailander. go to www.yahoo.com.au. Go to regions cities till you get a page that has A B C D E F etc. Click on N. Then in the search box put in Narabine then hit search. You will get "all over manhatten, down......Have fun I think there is about 12 sites. Maybe Brian Wilson can add some light about Narabine..
everybody's gone surfin'--------surfin' USA..........must mean UnderSide of Australia
---

Name: Robin () on Friday, September 1, 2000 at 14:34:20
E-Mail: Neverhavelunchwithtwoattorneys.com
Maiden: Butch (oops sorry Liz)
Class: 60
City and State: Haggertys, CA
Message: JB you missed one full tilt boogie lunch.(BTW thanks Jimbo) It wouldn't have lasted 3 hrs but it took 45 min for the two council to decide what the proper pronunciation of the dish we were ordering...A lot of old HHS memories thrown around and I might add great ones..And after 40 years Steve finally came clean as to why he threw to Jake in the infamous 14-12 victory over SamoHi.........He was forced to, as all the d-backs and safetys were pounding Al Geverink (they must have watched the films from earlier in the season)...Jake was always wide open on the old criss cross play, and Coach Hal gave Steve the green light, despite how many El Rojo had dropped all year...(just funnin Russ, dont get your shorts in a wad bud :o) anyway a great time, thanks again Jim and Steve.....Hey cuz Kell..you be careful body whompin girl...I'm sure you remember 40 yrs ago this coming Monday your, and many other Cougs, uncle Robin (us Hoodys called him Dad :o) broke his neck on a shore break at 22nd in Hermosa at the family gig...That is my worst surf story John...The best is probably in spring of 65 when after a winter of skiing in Mammoth I purchased a $36.35 round trip Greyhound ticket to Matzatlan and $14.00 to fly the 9'8" 23" hipped Weber....Stayed there for months and never found a better place anywhere than Cannons beach...a goofyfooters dream (Cottons on a good day came in second if you didn't mind anti-aircraft fire over your head) ...so I came home to the LA bus station, called my Mom to pick me up and she said she didn't know if she could...There was some kind of riots going on. :o)..Oblivious to it all ,it was a bit overwhelming to see 133rd St armed and ready "just in case they moved down El Segundo Blvd"...Ok Cougs...drive carefully this weekend ..its a zoo out there...and last item...Is my brother Chris (Hoody-1) a jeanyuss or what? He answered Keiths Gidget question before it was asked! Have a great weekend Cougs and later skaters...:o)
Hey great stuff Robin. I'm just glad you didn't tell the Great White story. I know everytime Bobby Darin does Mack the Knife, the opening line sends chills right down your baggies. Or when Dean Martin comes on and sings,
When an Eel jumps right out,
and he bites off your snout,
"That's A Moray"
Thanks Robin boy.....and Jake, we all know it wasn't the prettiest touchdown in HHS history, but they all count as 6 points.
---

Name: Paco () on Friday, September 1, 2000 at 13:48:46
E-Mail: doo4usc@aol.com
Maiden: Hackett
Class: 61
City and State: Lake Forest Ca
Message: I just saw the ole Kahuna this morning....
you paddle out-turn around and raise-and baby-that's all there is to the coastline craze you've gotta- catch a wa.......
---

Name: Michael Dragoo () on Friday, September 1, 2000 at 12:31:38
E-Mail: magoo@syix.com
Class: 59
City and State: Colusa, CA
Message: John,
Here is a little more light on the San Onofre/Trestles surfing history. The area loosely known as San Onofre had its access points controlled by the Marines at Camp Pendleton until 1972. The President at the time, Nixon, gifted a large portion of the beach and some of the access to the state of California for a park. There was, however, a group of people that had a pre-existing agreement with the U.S. Marines that gave them exclusive use of the beach. Those people were the San Onofre Surf Club members. The Surf Club members were obviously upset with the sudden influx of strangers and outsiders into their mellow world of surf and sun. I was a park ranger assigned to nearby San Clemente State Beach at the time and I remember how difficult the transition was for these people. When I transferred to northern California in 1978 I thought that the transition to open public use had been complete but I see that according to Ron Reinholdson (65) the turf war still smolders. BTW, that tall wire security fence around Nixons summer home at Cottons point was wired with miniature video cameras and sound. For any of you that were modest and chose to change clothes back behind the dunes near that fence and the RR tracks, well, you put on quite a show for the bored Secret Service guys inside.
Hey Mike, Thanks for the info....
---

Name: Dale Hahlbeck Jr. (A Rio Man) () on Friday, September 1, 2000 at 10:15:14
E-Mail: kewldaad41@aol.com
Maiden: Parker Dam Bartender
Class: 75
City and State: Rio Bar and Grill
Message: Thirsty? Hungry? I be at the Rio Bar and Grill Sat-Monday Labor Day weekend. Stop in and say hi ya'll or in Alex talk "Cowabunga" come get a Cowa burger man!
OCT 7th 25 reunion 1975 but I know some 76ers are coming....how bout some 74ers????
Just come! Dinner, dancing, and I will be your MC (Raffles can be rigged for the right price ya know!) Rock Steady ya'll
H1
Sounds great for all the River Rats out there. Janet and I are heading for the Mariposa County Fair this weekend. The big event of the weekend is the demolition derby. Yep, DD used to be the number one Redneck event in the world until someone invented Monster Trucks.
All you 75ers out there, please make plans to be at your reunion. I say make plans to be at the Homecoming game on October 6th and the party at the Stick and Stein afterwards, then the next day, it's reunion time. It'll make a great weekend package. Thanks Dale, and try to stay cool.
---

Name: Keith Jones () on Friday, September 1, 2000 at 01:12:38
E-Mail: cmi50@yahoo.com
Class: 76
City and State: Las Vegas, NV
Message: Hello all. Back in LA. Anyone around the Trabuco Canyon area (Rancho Santa Margarita) come by the Gold's Gym in Dove Canyon. Our Grand Opening is now Sat. Nov. 4. Arnold Schwarzeneggar just moved about a mile away (bought a 133 acres place from William Lyons)and heard he came in on Saturday. We'll be opening 4 next year in Orange County so stay tuned and all HHS Alumni get the Cougar discount. Jimbo getting Purely Hawaiian going, just ordered the sun tan lotion today. Stay tuned for that too. Here is a question. How did the name "Gidget" come about. I heard it last night and thought it was neat.
"G" irl M "idget"??
---

Name: Alan Nelson () on Friday, September 1, 2000 at 00:21:37
E-Mail: anelson@rraz.net
Class: '73
City and State: Parker, Az
Message: "Kahuna" is the Hawaiian word for "High Priest". It was related to surfers, because only the Hawaiian priests and elders were allowed to "wave slide" in ancient times. (Take notes, there will be a test later.)

---

Name: Gary Swafford () on Thursday, August 31, 2000 at 23:32:17
E-Mail: hook@icx.net
Class: 80
City and State: Athens, Tn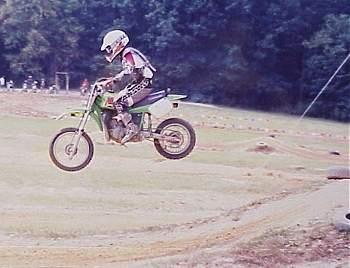 Message: I was looking forward to the Class Of 80 Reunion last weekend but decided to stay home instead. My 12 year old son was racing in the Tennessee State Motocross Championship Series (65cc class) and the final race was the same night as the reunion. The points were very close and he had to ride his butt off to keep the lead. It was a tough choice, but I think I made the right one. I got to see him win the championship. It was one of the greatest moments of my life. He is not the fastest kid on the track but consistency made him the best. I even dusted off my riding gear and raced that night (the OLD and SLOW class) :) I would like to hear how the reunion went, how many people showed, who was there. I am sorry I missed it. Maybe next time. Hello to all that remember me.
Hey Gary, Congrats to your son on the points win. Family comes first. Yeah, class of 80, how did it go??
---

Name: Kelley () on Thursday, August 31, 2000 at 22:28:42
E-Mail: bigkell50@yahoo.com
Maiden: cur
Class: 67
City and State: coos bay,ore by the ocean
Message: surfer nickname how about big kahuna, that's what i call my boss. Makes her feel important and she has no idea what it means or where it comes from. Yes we call body surfing, body whomping, if you ever got pounded by an over head wave you'd know why. I got to ride boogie boards the year i spent in o'side, they are a gas. but i indeed prefer the body not the board. I was at a contest while in o'side, man has that sport changed. It is so beautiful. I'll be down in oct. and without a doubt this ole gal will be doing her thing. never miss a chance when i'm in the south bay. Glad your daughter is coming home Liz. I'll get to see her. she was but a pup when i last saw her. last but not least. Oregon, CA, Wa Cougars lets make this picnic out of sight, Please come and share stories and fun.
Yes Cougs, anyone that can make it, please give this Oregon reunion a shot. I know you'll have a great time.
---

Name: Ron Reinholdson () on Thursday, August 31, 2000 at 21:57:22
E-Mail: r_reinholdson@juno.com
Class: 65
City and State: Claremont, CA


Message: Trestles is alive and surfable--legally. There is just no place nearby where you can park, unless you are a marine. And even then you have about a half mile walk. Most people access Cotton's Point, Upper Trestles, and Lower Trestles (the best of the three) from the parking lot designated for Trestles. It's next to Carl's Jr in San Clemente and there is about a 1.5 mile walk to Lowers. Alternate route is to park at San Onofre State Beach--surf area, not camping area--and walk up the beach past Church's, also an excellent break, to Lowers, once again about a 1.5 mile walk. The current turf war there has nothing to do with the Marines. It's the short boarders, who think they own the place vs. the long boarders, who have been surfing there since before short boards were even thought of.
I think Ron's a long boarder.....
---

Name: Frank A. Romano () on Thursday, August 31, 2000 at 21:09:21
E-Mail: fromano@lvcm.com
Class: 1961
City and State: Las Vegas, NV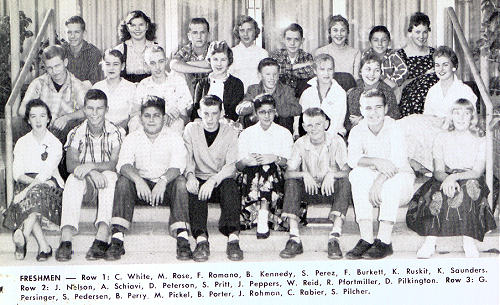 Message: I didn't notice the Birthday Gala picture parade JB....was C.B. a no show? Oh, before I forget, the "ALL YOU CAN EAT SUSHI RESTAURANT" that you asked about does have a Gardena location just check your local book. I figure since the three hour lunch bunch have you signed up for the next event, a stop like that could save a buck or two. Look at it this way. How many times can anyone say "SUPER SIZE" at a Sushi Bar. Heck the more I think about that the funnier it gets. Imagine a talent like John Candy doing that stand up. Russ, until tonight when I viewed your photo I had forgotten how close on the tops of ones head the flat top was cut too. What's kinda scary, is now the barber doesn't have cut there anymore, and the haircut is 20X's more expensive. If I had only thought about that. I would have just waited. RCG, Frank
Hey Frank, Not sure who CB is. Yes, I'll look that "Bait Shop" up in my local phone book......thanks. BTW, here's Frank's freshman picture and he shows no signs of a flat top in 1958. Anyone else look familiar here?
---

Name: Goddess () on Thursday, August 31, 2000 at 20:29:39
Class: 69
Message: Nope. It's not Moon Doggie....and it's not Bud from Father Knows Best either......Keep 'em coming.
I know what it is.....
---

Name: Dennis Noday () on Thursday, August 31, 2000 at 20:06:20
E-Mail: nodayjaz1@aol.com
Class: 1966
City and State: Ft.Lauderdale,FL


Message: I will be performing with the Alan Yankee Big Band on Sept 10 at the Irvine Marriott (airport) in a Tribute to Stan Kenton, featuring Kenton Alumni. I would love to see all my friends from the band and everyone else who loves big bands!!
I love this Site! Dennis Noday

---

Name: CHRIS HOOD () on Thursday, August 31, 2000 at 19:31:02
Maiden: TRUBBLEMAKA
City and State: OR.
Message: JUST A CLUE TO LIZZY'S ??? WAXED IN THE FRONT AND FLAT ON TOP...AND GIRL MIDGET SPELLS GIDGET...GEE THIS BEING NICE THING IS PRETTY EASY JB.
Are you trying to cause trouble young man??!!
---

Name: Pat Bagby () on Thursday, August 31, 2000 at 19:23:52
E-Mail: disc0pat@aol.com
Maiden: Kavanaugh
Class: '64
City and State: New Yawk


Message: I have to comment on two of the recent postings. One asked who would nickname their kid "Moondoggie"? Well, I didn't have to. One of my sons was in a fraternity here in NYC and his frat name became Moondoggie. The reason? He was from California, so OF COURSE he must be a surfer named Moondoggie. The second comment refers to Sheriff John. Yes, that was an LA original. One of our fellow '64 Cougs was even a kid guest on it (Bob Curran). I must have been really impressed by this as a kid because I saw him at a reunion years ago, and blurted out, "Oh, you were on Sheriff John and you got to wear the engineer's hat and everything!" Can a female be a dweeb, because that's the look he gave me? Sorry Bob, for bringing that up, LOL.

---

Name: Sharon Leach () on Thursday, August 31, 2000 at 18:19:12
E-Mail: slleng
Maiden: Moore
Class: 1966
City and State: Long Beach
Message: Elizabeth, was the nick name Bud, after the Father Knows Best series. Alan, the nick name Moon-doggie came from the film Gidget. Sandra Dee played Gidget and James Darren played Moon-doggie. I know this because when I was about 10 or 11 years old I'm sure I saw the film at least 50 or more times and my friends and I used to act the entire movie out in our backyard.

---

Name: JIM SLOEY () on Thursday, August 31, 2000 at 17:56:30
E-Mail: everybodyshouldbeasluckyasiwastodayatlunch.com
Class: 66/84
City and State: REDONDO BEACH, CA
Message: Just back from a 3 hour lunch and another HHS reunion with two people I admire alot. I felt like a kid listening to Mr. Andersen and Mr. Hood talking about Hawthorne, their classmates, (Jake, your name was mentioned more than once) their era and their lives. Great experience for me and I am sure it was for them. Missed you John,
be a coug!
Sloey
Glad you guys had a good lunch. I'll make it next time as it was my turn to buy THIS time.
---

Name: joseph mailander () on Thursday, August 31, 2000 at 17:29:23
E-Mail: joseph.mailander@uboc.com
Class: 1975
City and State: landlocked in hollywood


Message: Alan, that message on surfspots, particularly the stuff on Trestles (which last I checked was undergoing some kind of turf war/surf war with the jarhea--er, Marines) was awe-inspiring! I have been trying to return the favor by locating Australia's Narabine, but so far no luck. Thanks so much, I hope I can return the favor.
V5 darling, how's Haggerty's? It appears you live near the fabled spot, if memory serves. Any surfer stories?
--Mailander, landlocked in Los Feliz
I think Robin and Marsha live closer to Haggerty's than Patty. Robin or Marsha, any surfin' stories??
---

Name: PAT BUSH () on Thursday, August 31, 2000 at 17:06:55
E-Mail: pwbush@aol.com
Class: 80
City and State: BUENA PARK
Message: Great stuff about the past & I was just thinking about when the last time I saw a group of kids on a patch of grass any where, a school or park playing a game of whiffle ball, tackle the man with the ball or any other games that we played. And you know what I can't. I drive by places all the time that are empty & think WOW that would have been a great place to have a game. BOY TIMES HAVE CHANGED

---

Name: Alan Nelson () on Thursday, August 31, 2000 at 14:37:04
E-Mail: anelson@rraz.net
Class: '73
City and State: Parker, Az
Message: To answer Elizabeth about surfer nicknames, the only one that comes to mind is "Moon-doggie." The name was originally given to Frankie Avalon in the Beach Blanket Bingo movies of the early 60's. Now for more surfer trivia, what was Annette's nick-name in those movies.
Hey Alan, I don't know of many families that nicknamed their children "Moon-doggie".

I think Annette was Delores, but they called her Dee Dee.
---

Name: Sherry Wingo () on Thursday, August 31, 2000 at 14:30:09
E-Mail: dscwingo@pacbell.net
Maiden: Peppers


Class: 1964
City and State: Haw. Ca.
Message: Dennis Kilroy your feedback was great. I especially liked the part about the lunch thermos. It always broke!

---

Name: Linda Reynolds () on Thursday, August 31, 2000 at 12:00:30
E-Mail: linrey@yahoo.com
Maiden: Jones
Class: 62
City and State: Chatsworth, CA


Message: We have just returned from a houseboat trip in central California and I wasn't here to wish you a happy birthday John Boy. I imagine as one gets on in years, these birthday wishes from friends are very important. I only hope in 10 years when I turn 56 that someone will remember me.........
I hope it was a happy. Love yaaaaaaaaaaa,
Linda
Thank you Linda for the BD wishes. I think in 10 years you'll actually be in the triple digits won't you??

---

Name: Dennis Kilroy () on Thursday, August 31, 2000 at 12:00:03
E-Mail: Cabledude1@aol.com
Class: 77
City and State: yes
Message: Dear John and Classmates, I read feedback everyday, but never take the time to add to the discussions. So I will try and do better. I friend sent this to me and it reminded me of being a kid and growing up in Hawthorne.
Let's go back....... Close your eyes.....and go back........ Before the Internet or the MAC, Before semi automatics and crack Before chronic and indo Before SEGA or Super Nintendo
Way back........ I'm talkin' bout hide and go seek at dusk. Sittin' on the porch, hot bread and butter. the ice cream man, Simon Says, Kick the Can, Red light, Green light.
Lunch Boxes with a Thermos...that broke, chocolate milk, lunch tickets, penny candy from the corner store, Hopscotch, butterscotch, skates with keys, Jacks, kickball, dodgeball, Dixie peach and Bonnie Doon socks, Mother May I?
Hula Hoops and Sunflower Seeds, wax lips and mustaches, Mary Janes, saddle shoes and Coke bottles with the names of cities on the bottom, running through the sprinkler, circle pins, bobby pins, Mickey Mouse Club, Crusader Rabbit, Rocky & Bulwinkle, Fran & Ollie, Spin & Marty..all in black & white.
Catchin' lightening bugs in a jar, playin sling shot. When around the corner seemed far away, and going downtown seemed like going somewhere. Bedtime, climbing trees, making forts... coasters from orange crates and an old skate, Backyard Shows, Lemonade Stands, Cops and Robbers, Cowboys and Indians, sittin on the curb, staring at clouds, jumpin down the steps, jumping on the bed. Pillow fights, "company", ribbon candy, angel hair on the Christmas tree, Mary Martin as "Peter Pan", Jackie Gleason as "the poor soul", white gloves, walking to church, walking to the library.
Being tickled to death Running till you were out of breath Laughing so hard that your stomach hurt
Being tired from playin'.... Remember that?
Not steppin' on a crack...or you'll break your mother's back... paper chains at Christmas, silhouettes of Lincoln and Washington.... the smell of paste, buck bags, and Evening in Paris.......
Crowding around in a circle around the 'after school fight', then running when the teacher came. What about the girl that had the big bubbly handwriting... who dotted her "i's" with hearts??
Bob parties, slam books, The Stroll, popcorn balls, sock hops & hay rides.
Remember when...When there were two types of sneakers for girls and boys (Keds & PF Flyer) and the only time you wore them at school, was for "gym"....with those great red and white gym uniforms.
When it took five minutes for the TV to warm up. When nearly everyone's mom was at home when the kids got there.
When nobody owned a purebred dog. When a quarter was a decent allowance, and another quarter a huge bonus.
When you'd reach into a muddy gutter for a penny. When girls neither dated nor kissed until late high school, if then.
When your mom wore nylons that came in two pieces. When all of your male teachers wore neckties and female teachers had their hair done, everyday and wore high heels. When you got your windshield cleaned, oil checked, and gas pumped, without asking, for free, every time. And, you didn't pay for air. And, you got trading stamps to boot!
When laundry detergent had free glasses, dishes or towels hidden inside the box. When any parent could discipline any kid, or feed him or use him to carry groceries, and nobody, not even the kid, thought a thing of it.
When pizza wasn't delivered......and chicken was......
When it was considered a great privilege to be taken out to dinner at a real restaurant with your parents.
When they threatened to keep kids back a grade if they failed ... and did!
When being sent to the principal's office was nothing compared to the fate that awaited a misbehaving student at home.
When the worst thing you could do at school was smoke in the bathrooms, flunk a test, or chew gum.
And the prom was in the gym and you danced to an orchestra, and all the girls wore pastel gowns and the boys wore white dinner jackets and paid for dinner.
When a 57 Chevy was everyone's dream car.....to cruise the strip, peel out, lay rubber or watch submarine races, and people went steady and girls wore a class ring with an inch of wrapped dental floss coated with pastel frost nail polish so it would fit her finger.
And.......with all our progress......don't you just wish......just once......you could slip back in time and savor the slower pace.......and share it with a child of the 80's and 90's...........
So share this with someone who can still remember Nancy Drew, The Hardy Boys, Trixie Belden, Laurel & Hardy, Howdy Doody and The Peanut Gallery.......The Lone Ranger, Nellie Belle, Roy and Dale, Trigger and Buttermilk.........as well as the sound of a rotary mower on Saturday Morning and summers filled with bike rides, treasure hunts, baseball games, bowling and visits to the local public pool.........
So even though I was a DANA DOLPHIN I remember when life was simple.
Like the Song goes by No Doubt " All I wanted was a simple life", we just did not know it then.
Take Care
DPK
I'm going against the rules and posting a basic Internet FWD here. I receive this at least once a week. It is pretty cool too, and now it's been posted. Thanks Dennis
---
If you have comments or suggestions, please email me at jb1@cougartown.com