Page 292
Home | 60's Slang | Alumni List | Car Talk | Cougar News | Feedback | Hangouts | Memories
Recollections | Reunions | Street Scene | Teachers | Tributes | Vietnam | What's New | Keyword Search
"More Early R&R" "The Beach Boys"
---
<!-+++++++++++++++++++++++++++++++++++++++++++++++++++++++++++++++++++++++++++++++++++++++++++ +++++++++++++++++++++++++++++++++++++++++++++++++++++++++++++++++++++++++++++++++++++++++++++->

---

---
<!-++++++++++++++++++++++++++++++++++++ADD BELOW THIS LINE++++++++++++++++++++++++++++++++++++ +++++++++++++++++++++++++++++++++++++++++++++++++++++++++++++++++++++++++++++++++++++++++++++->
Name: Sherry Ward () on Thursday, August 31, 2000 at 11:45:19
E-Mail: ecomroad@icx.net
Maiden: Rout
Class: 65
City and State: Birthplace of the atomic bomb


Message: Wow! I love the surfing stories! Great memories. However, back in the sixties (when we rode our camels to the beach), we used to call body surfing "body womping". Does anyone else remember some of the fun expressions we had for our surfing adventures?

---

Name: Dan () on Thursday, August 31, 2000 at 11:34:46
E-Mail: Johnson
Class: 77
City and State: HHS


Message: Remember when body surfers didn't have to compete with the Boogie Boards? Those things just started coming on line in the late 70s. Before that, all you needed was yourself (although a pair of Churchills didn't hurt for some added speed.

---

Name: Elizabeth Estrada () on Thursday, August 31, 2000 at 11:27:36
E-Mail: dzlizzy219@aol.com
Class: 69
City and State: redondo beach

Message: O.K. Cougars of all ages. Here's a question I've just been burning to ask. In the 50's and 60's there were numerous young fellas whose families had nicknamed them with the same tag. Here are three who come to mind, Dennis Higgins,'67 and Robin Hood,'60 and surfer dude and paper boy, Robert Lanphere,'67? What was that very popular nickname and where did it come from?
I'm off to San Francisco to bring my daughter back to the South Bay to live. I'm happy!!! : )
Later Cougs
I know what it was, but I don't know where it came from.
---

Name: Anita Young () on Thursday, August 31, 2000 at 00:40:12
E-Mail: amyinor@webtv.net or youngun39@yahoo.com
Maiden: Aceves
Class: 1978
City and State: Newsomething, ORmaybe

Message: As for surfing....I remember reading a long while back about Kelley Currie talking about body slamming ( ie: extreme body surfing) at 26 when she hung there. And then, also, I remember seeing Gina Black Peck saying that she and her friends didn't do that, that they were too busy looking good and laying out....who said you couldn't do both!?
Me and my beach pals, mostly Margaret Silveira and sometimes Lauren Bryan, would body surf either 26 or Manhattan Beach pier. Margaret actually got me to try a board a few times, one time I almost got hit right in the middle of my forehead, and that was enough for me! She kept on going....I have no idea if she was braver than me, or just insane! We always got guys to lend us their wetsuits (the smaller guys) to body surf, though. As small as the poor excuses for bikinis were that we used to wear, there was no way in God's creation you could get one of those things to stay on when you were doing some killer body surfing! Those were some really fun times! Yo Kel!
KILLER Body Surfing??!!

---

Name: Theresa Hoffman () on Wednesday, August 30, 2000 at 23:36:31
E-Mail: teshoffman@aol.com
Maiden: Abbott
Class: '75
City and State: Bowling Green KY
Message: Looking for Dana schoolmates ... I went on to Lennox High and all my friends went to Hawthorne.
Thanks Theresa, be a Lancer girl......By the way, Lennox High has a website in case you didn't know it. I don't want to run you off, but click here to view it.
---

Name: Alan Nelson () on Wednesday, August 30, 2000 at 23:12:54
E-Mail: anelson@rraz.net
Class: '73
City and State: Parker, Az


Message: Surfin USA! I always wondered why they had Narabine, Australia in that song. The last time I checked Waimea Bay (Hawaii) WAS in the US of A. When I was just a young pier rat, I made it my life's ambition to surf every spot in the song. With the exception of that particular spot in Australia, I met my goal in 1977 when I got to surf Waimea and Sunset, courtesy of the US Coast Guard. Again when I lived on the Island '84-'86. Although I didn't get to Narabine, I came close when I hit some tasty waves outside of Sydney. As a matter of fact, I never have been able to find out where "Narabine" is, nor did any of the "blokes" I met down under ever hear of it, other than in the song. Maybe it was poetic license, and just fit in. I remember one trip we made to Trestles, where we sneaked in through the creek before daylight. When we paddled into the line up, we were met by an armed Coast Guard Cutter that forced us back onto the beach, into the waiting arms of the Marine MPs, who escorted us back to our cars parked under the I-5 overpass. It seemed Tricky Dick was in town, and the Secret Service thought that a bunch of harmless surfers posed a threat to National Security. Little did I know then, that 15 years later I would be assigned to that very same Cutter. Swami's was so called, due to the temple that's on the bluff in Encinitas, that looked like a scene out of Arabian nights. Some of the places, like Doheny and Stanley's in Santa Cruz, have been turned into Marinas. In my opinion a waste of good coastline, and classic point breaks. COWABUNGA Dudes!
VERY interesting Alan.....Thanks for the surfin' tour.
---

Name: Reuel Callahan () on Wednesday, August 30, 2000 at 22:38:01
E-Mail: Reuelcallahan@aol,com
Class: 65
City and State: Westlake Village, Ca.

Message: John, Welcome back and the way I am reading it you guys had a great time. Congraulations.
I have one to share with everyone. In my Freshman year I tried out for "C" Basketball and got cut by coach Walker. My P.E. Coach was Coach Erlinger (who was the Varsity coach). Anyway after I got cut, Coach was real sorry for me (4"8" and 90 Lbs.), so he offered me the job as Varsity Manager. Well guess who was on the team. Gary Myk, Ron Peterson and several others. That experience really gave me my ego back and I never had the chance to say thanks to those guys but thanks a lot guys.
Always a COUG!
Better late than never eh Reuel......
---

Name: Kelley () on Wednesday, August 30, 2000 at 21:58:01
E-Mail: bigkell50@yahoo.com
Maiden: currie
Class: 67
City and State: coos bay,ore by the ocean


Message: Well, I always wondered why I had first period PE when I was a Freshman, swimming at that. It must have been because I went to Haw Inter. and never changed for PE ,so I got the double whammy. It was a little difficult playing basketball in a dress. I never really thought of it until now. First time I ever ditched school and got caught was in 8th grade, taking roll during PE, when my name was called and I didn't answer some chick says I saw kelley walking to school this morning. going the wrong way. Well shall i say more. Mom, teacher, principal, the whole nine yards were knocking at Sandy Ditchs' door. This was with Sue Kiester. poped at PE

---

Name: w.sloey () on Wednesday, August 30, 2000 at 21:56:38
E-Mail: wsloey@aol.com
Maiden: weallwentbothwaysididn'tkickbutisnappedtheballtotheguythatdid
Class: 69
City and State: ecc village

Message: JB, we are all glad to hear you had a good time this weekend, you really deserve it, however to shine the light on Ron Mix being an HISer, he lived on Sundale, 1 block east of the boundary for RHD. I'll never forget his words to me as I was growing up on Felton. "Little Will," he said "If you can swing it, go to RHD". I never surfed as we had some guy down the street (121st) that had a scar from his lower back all the way around to the right pectorial, he was older than all of us and said that he was bitten by a shark in the local waters. Thats when I really felt lucky to have met Ron Mix.......the rest is history. Cya Bill
Hey Bill, Nice to have another Sloey join in once in a while, and to clarify, I never said Ron Mix went to HIS. Your big brother was reading off the who's who of Dana, and I said, "You left out the NFL Hall member, Ron Mix". As for sharks scaring off an HISer, it would never happen. If HIS'er Dennis Wilson would've never gone in the water and braved the shark infested waters of 26th St, then the Beach Boys would've never been born. Thats when I really felt lucky to have met Dennis Wilson.......the rest is history.

---

Name: Christine Baird () on Wednesday, August 30, 2000 at 21:22:43
E-Mail: carissa58@58.com
Maiden: Penny
Class: 76
City and State: Round Rock, TX
Message: This question is open to ALL... I recently played the Sheriff Johns Birthday song for my husband and he said he never heard of the song or Sheriff John. Imagine my surprise!? The question is.... Is Sheriff John unique to California? Thanks
Yes, Sheriff John was an LA show that aired on KTTV Channel 11.
---

Name: Estrada () on Wednesday, August 30, 2000 at 20:55:17
Message: To Joseph Mailander....Hagerty's Cove is down to the very south side of Redondo Beach all the way to the bottom of the PV cliff.....Good surf.

---

Name: EL SUPERIOR(TO "his") () on Wednesday, August 30, 2000 at 20:17:30
E-Mail: I-DY-HO
Maiden: BOTH WAYS(NOT AS IN ACDC)
Class: THE WORLD
City and State: BEST THERE EVER WAS

Message: Hey Bake Man, I'm still laughin hard at that "Dick, Henry" stuff. Too much fun!!!!. And to Ray Smith pg 291. How do you think your work ethic was learned on those football fields of HHS? Most of us we're offense and defense. You put your best athletes on the field at all times. By the way I "punted also"! But DICK HENRY KICKS A... MAY THE COUGAR BE WITH YOU! JAKE N JUDE.
Hey Russ, It's "Dick Hank" and they "Yank"

---

Name: Irene Fernandez () on Wednesday, August 30, 2000 at 19:05:07
E-Mail: nanairene@hotmail.com
Maiden: Callahan
Class: 60
City and State: LA, Calif.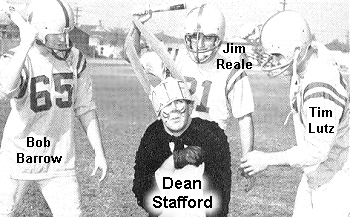 Message: ROJO & JUDE, Glad you made contact with John B. Do you ever hear from Steve Anderson since he, like John, doesn't use the computer? I also remember all our great games and pep rallies. Do you remember Dean Stafford dressing up like a rabbit. I think it was Dean!! Brian W., Don't know if you remember me, we doubled with Jerry Daquila the night of our Junior Prom at the Hollywood Park Turf Club followed by dinner at the Ambassador Hotel. I saw Jerry a couple of years ago, he did not remember and I can't remember who he took so after 41 years I guess the memory does start to go!! Just Kidding, I'm just glad to see another member of the class of "60" joining this great website!! To the Class of "80" thanks for letting me join your picnic on Sunday. It was great seeing Craig's (my son) friends from HHS and meeting your families. Chat with you all later and Robin glad to see you back!! Irene

---

Name: Raymond Smith () on Wednesday, August 30, 2000 at 14:34:15
E-Mail: Kawabunganorth@Juno.com
Class: 1981
City and State: Portland, OR
Message: Hey there John. Glad you had a great time at Morro Bay. I've spent many a weekend there and it's great and very relaxing which I'm sure you two had (but we'll know for sure in 9 months, HA!) Just kidding. You know you got me a thinking about HIS vs. Dana and I just want to brag my 2 cents worth. You see in football of 4 years in HHS I played every team whether it's offense, defense, or special teams. I never left the field except for half-times or when the game was over(or got temporary hurt). I just got a kick out of (I was also the punter) playing the game! Now I just wondered if there was any da dana inmates, I mean classmates that had the same strength? I can't recall anyone matching what I did. I do believe alot of the "Good Ones" came from HIS maybe because we had to run like heck to home to get out of our stinking clothes??? Maybe coach Sweeney jumped started me but just, ya know, bragging......
Hey Ray, Ahhhh, good old Coach Sweeney. How long did he work at HIS anyway?
---

Name: Elizabeth Castanon () on Wednesday, August 30, 2000 at 14:22:47
E-Mail: lizcastanon6@hotmail.com
Maiden: Cary
Class: 1973
City and State: Amarillo Tx
Message: Hi CT, It has been a while since I have checked in. I have a lot of feedback to get caught up on. Happy Birthday John!!!! Our back alley was hit by a lightning bolt about a month and a half ago. It took out our power, phones, and killed my modem. Oh well, "I'm Baack!!!!!" Catch you all down the way a bit...gotta cook some tortillas for the Big Taco...Liz

---

Name: Anita Young () on Wednesday, August 30, 2000 at 13:52:25
E-Mail: amyinor@webtv.net or youngun39@yahoo.com
Maiden: Aceves
Class: 1978
City and State: Newoldburgers, ORwhat
Message: Hey, one of my CA buds just e-mailed me and asked me if it was O.K. for CA Cougs to come to the Pac NW reunion? She has friends in P-town she can stay with....my answer to that is....HECK YEAH!!!!!!! Hey, any Coug function, I thought, meant it was for ALL US COUGS, not just the one's in the general area. So, if any of you CA, or ID or anywhere else want to come up here and get stupid with us all at Mike's house, well then, be our guest! We'd love to see your smiling mug up here, man! We are a friendly and wiley bunch up here!
And, John....did you see the very nice article and pics in August's National Geographic on Big Sur? The pics, as usual, were awesome, too! You and Janet were just around that area, recently. Lucky you guys!
Liz...how could you offend any of us? You are too cool and fun, woman! Keep up the fun stuff, kiddo!

---

Name: joseph mailander () on Wednesday, August 30, 2000 at 12:59:53
E-Mail: joseph.mailander@uboc.com
Class: 75
City and State: Los Angeles, CA
Message: Hey, John, I haven't been in the HHS jungle for a while and something came up I hope we can start a discussion on. I'm in a listserv group at myevents.com and we were talking about Surfin' USA. Here are the surf spots that I can remember from that song:
Del Mar
Haggerty's
Swami's
Santa Cruz
Redondo Beach, LA
La Jolla
Ventura County Line
San Onofre
Sunset
Trestles
Manhattan
(also, of course, Austrailia's Narrabine, and Hawiamia Bay--but those are a tad farflung).
Anybody have any surf anecdotes or descriptions of any of these spots, immortalized by Brian and company? I've been to Trestles, County Line, and Sunset (and of course Manhattan and Redondo) and went to Santa Cruz with Fowler once. But now I can't really remember where Haggerty's was, although I'm thinking it was somewhere in Malibu. Hoping the alumni network can come up with some experiences here regarding any of these spots. best--joseph sans thesarus
Hey joseph, I think you named them all except down Doheny way and Pacific Palisades. Can anyone come up with any more?
YES, we need Surfin' Stories.....Cmon Cougs, I know there has to be some beach bum anecdotes floating around in the old G matter. Thanks JM for jacking up the IQ of the Feedback page. Please join in anytime.
---

Name: Elizabeth Estrada () on Wednesday, August 30, 2000 at 11:42:12
E-Mail: dzlizzy219@aol.com
Class: 69
City and State: Redondo Beach, CA
Message: Welcome back John and Janet. Sounds like you had a weekend to put in the memory book. Life is good. Ain't it?
To Kathy Hamler, Yes, someone did mention Pat Burris some pages back. One of my sisters had a crush on him and when I read his name a few memories were stirred. He played "Kick the Can" with the 133rd Street Gang. Cutie Pie he was. So, where is that hunk?
To Robin Hood, Thank God your back! We missed you. Went to the show with sisters Linda (the cutest one) and Sharon and Mom E. Discovered that the girl Mom was trying to get you to remember at Cruise Night was Kathy Reed not Kathy Barnes. And it was your buddy B. Wilson who had the crush on her, not you. Sharon straightened it all out. Didn't want you to think your memory is any worse than it actually is.
And, finally, to John Abraham (another 133rd Street member) and Bart Graves, Sister Linda sends her love....she's not a computer person but I try to keep her abreast of the action....She has a soft spot in her heart for the two of you.
Thats all folks....and if I offended anyone with this message ....well, I guess it's just a gift.
The Goddess
Now THAT'S funny.... Yes, we had a memory book weekend Liz, Thanks.....
---

Name: Dewey Storie () on Wednesday, August 30, 2000 at 06:37:44
E-Mail: Dewey Storie
Class: 74
City and State: Canoga Park,CA
Message: Jack Risner, sorry it's taken me so long to respond, hahaha I haven't burned up any Corvairs lately but hey that was a one of kind car it that was a Danny Petty special, it came with the built-in fire pit. As far as being a strong character, I was just trying to keep things lively!

---

Name: Judy DeGrazia Blomsterberg () on Tuesday, August 29, 2000 at 22:21:03
E-Mail: JUDYWUDY@att.net
Maiden: TillyNoodlemanwithafallfur
Class: 64
City and State: Torrance, CA
Message: Well John Boy... the rush is over.. you're officially 56 years old now. Time to grow up and act like a senior citizen.. no more bike rides.. no more eating spicy foods or drinking tequila.. get out the pink flamingos and place them in your front yard ...and whatever you do.. don't even think about returning to Hawaii ~~~ "NOT!" Each year is only gonna get better bunky.. Hey, I even cooked tonight. See, we "can" change.. I hope we get to go to another WINE COUNTRY WEEKEND and perhaps have our PROM NIGHT next summer.. (are you reading this Janet B??) I didn't make it to my prom with Janny in high school, but it's never too late.. let's talk. Now, back to boiling that trout & lima bean casserole... & I'm off like a prom dress.
Judy Wudy.. aka Sheudy
Wine Country Weekend was a kick and I see no reason to cancel that trip. Also Prom Night sounds like a total kick in the pants. We'll leave that one up to you. Also Homecoming is coming up October 6th although I haven't heard from HHS, as they aren't back in session yet. Nevertheless, make your plans as I talked with the owner of the Stick and Stein, and we are planning the party after the game.
---

Name: Bob Stinson () on Tuesday, August 29, 2000 at 22:16:09
E-Mail: haytown3@gateway.net
Class: 81
City and State: Hawthorne
Message: I came across a web site that might be fun for anyone who ever surfed or hung out in the northern part of Manhattan Beach, also known as El-Porto. It is www.elporto.com. In the late 70's early 80's, 40th street was the place to be for a good number of Hawthorne beachcombers. A time when The Knack, and Supertramp's "Breakfast in America" ruled the airwaves. The web site has multiple live cams, and other neat stuff. It might be fun for Cougar alumni who have moved to other parts of the country to check out their old stomping grounds. A big hello to all my old El-Porto buddies, Shannon Keys, Jeff Vrana, Dieter Buehler, Tony Portegies, Brian Devlin, Larry Ramirez, James Mckee, John Gerten, all '81 grads. For those of you who have the 1981 El Molino (vol. 29) you can catch James Mckee surfing El-Porto on page #27.
John, thanks for the forum.
Hey Bob, Thanks for another view of our South Bay area. I'll check it out.
---

Name: Kelley () on Tuesday, August 29, 2000 at 22:05:33
E-Mail: bigkell50@yahoo.com
Maiden: Currie
Class: 67
City and State: Coos Bay, OR
Message: Hi everyone, I just heard from Debe Schweikert, anyway she is a 67 class grad. and would love to come to the reunion, problem is she lives in Washington and would like to ride down with someone, any takers?

---

Name: EL ROJO () on Tuesday, August 29, 2000 at 21:24:38
E-Mail: I-DY-HO
Maiden: YOU SHOULD KNOW BY NOW
Class: DANA,WEKICKEDASSANDTYOOKNOLIPhisdogs.COM
City and State: LIVIN, IN LOVE
Message: Irene Fernandez Callahan, thanks for the inquiry about John B.. Got ahold of his wife and things are progressing well. Thank you again. But John is like Steve Andersen, computer illiterate. Whoa... what a flash back! Hey MYK, and BRIAN, all on one page? Well i'll be a Coug!!!Hello to both of you long lost souls. Good shot Gary, about those "his" twerpes! The only reason Coach Sevier let them on the team was so he could live his daily dream and watch the suckers bleed when they ran into DANAS ELITE! But then again all they could ever do was run.com!!! Except Steve Andersen!:) He was so ugly, we never had to worry about him getting sacked. Their linebackers would look at him and just fall down.:) But it made for good press for the DANA GUYS when we would get his butt out of trouble. Come on MYK, put some more in here. By the way John BAKER, at this point in life, i'll take the Mickey Wood at Q.B. (you do realize that they shared duties, he and STEVE A. in that CIF season) for your football game! I'm sure Mike has still got the swivel hip moves that he always had. Mike, by the way, we hope the hip surgery went. Well JB I wish we could be there. I would even let Andersen throw a couple to this DANA star. I'll bring my PomPom's. Robin don't wear your thong if we have to do cheer's. MAY THE COUGAR BE WITH YOU! JUKE N JUDE!
Hey thanks Russ for that blow by blow of our early QB situation. It's not often that we find a Dana Dinosaur that can still talk the talk, although walking the walk has given way to limping the limp. Thanks, and we love you man, even if you did deck the halls of Dick Hank Dana.
---

Name: Ray Nelson () on Tuesday, August 29, 2000 at 20:37:39
E-Mail: prnelson@prodigy.net
Class: 1973
City and State: Fayetteville, Ga (Billy Goat Acres)
Message: John,
You old goat --- Happy Birthday!!!!
Ray
Hey Ray, Thank you........
---

Name: Linda Dietrich () on Tuesday, August 29, 2000 at 20:36:44
E-Mail: leonard-linda@juno.com
Maiden: Dawson
Class: 69
City and State: Kansas City, MO
Message: Dear John, Just want to wish you a belated Birthday from your fellow Cougars back here in Kansas City, the Dietrich's and the Kristof's. Looks like it was one special week end to remember. Hope you have many more of the same.
We love you guy!!
Thanks Linda.....
---

Name: Robin () on Tuesday, August 29, 2000 at 17:18:30
E-Mail: Danawasjustanother4letterword.com
Maiden: First Hoody
Class: MCMLX
City and State: RB,CA.

Message: Hay Jonn comma Welll I gaught me a nu compewtur an do I luvit period Eye jus kudant wayte two sho tha voyse rekognishun it hass period Ewe doent evun half to tipe comma jusst tawk an tha tiping iss dun four u period Bet nun ov thoughse daynah peepole hav evun hurd abowtit period Leeeroye tolled me howe hee likt hiss an imm justa fewl four kutting egge teknallogie period laytur coogs
Hey Boy......glad you're with computer again. That brother of yours is up here saying all kinds of things and is frankly ticking a few people off.
Was he always a trouble maker, or was he groomed by you right from the start?


Yes, Voice recognition software has come a long way since the old days. A secretary (executive asst) nowadays, barely has to skim over it to make it readable. Thanks Hoody for being there on Friday. It's always a gas dude.
---
If you have comments or suggestions, please email me at jb1@cougartown.com