Page 278
Home | 60's Slang | Alumni List | Car Talk | Cougar News | Feedback | Hangouts | Memories
Recollections | Reunions | Street Scene | Teachers | Tributes | Vietnam | What's New | Keyword Search
"More Early R&R" "The Gentrys"
---
<!-+++++++++++++++++++++++++++++++++++++++++++++++++++++++++++++++++++++++++++++++++++++++++++ +++++++++++++++++++++++++++++++++++++++++++++++++++++++++++++++++++++++++++++++++++++++++++++->

---

---
<!-++++++++++++++++++++++++++++++++++++ADD BELOW THIS LINE++++++++++++++++++++++++++++++++++++ +++++++++++++++++++++++++++++++++++++++++++++++++++++++++++++++++++++++++++++++++++++++++++++->
Name: Louise St.George () on Wednesday, August 2, 2000 at 11:09:50
E-Mail: louise@cmaintl.com
Class: 77
City and State: Lancaster, CA
Message: I can't believe "Cruz Night" will be held at Foster's in Hawthorne. I worked there my junior year "76". My pal Debbie Lynch got me the job- boy did we have a good time together I got fired for giving away free food and also leaving early to go to a Hawthorne High football game. What were they thinking?? That work would actually come before a game, I think not!! Will really try to make it that night just to relive the fun times. To El Rojo I don't know the sheriff you talk about in Lancaster, but my nephew Aaron St.George son of Renee St.George (my sister class of "74) just became a Sheriff!! Mr.John, since I'm having such a good time with CougarTown, I want to join. Where do I sign up and send the monies??? Have a great day everyone... :}
Thanks Louise, Glad you're having fun. Click here to join, and send the money to the address at the bottom of that page.
---

Name: Karen Fraser () on Wednesday, August 2, 2000 at 10:48:18
E-Mail: krafalski@lcmhs.org
Maiden: Bob Fraser
Class: 60
City and State: Hawthorne,Ca.90250
Message: Hi all, Yes, the oldies game is a lot of fun and I'm honored to be "queen" but I don't know how to act. Maybe I could just be a princess for a while. It is always so great to start my day out with a laugh by reading feedback. Hey,John, what did you do to my husband's face yesterday ? See you all Saturday.
How about "The Dutchess of Earl" or "Queen Creole" or maybe "The artist formerly known as Princess"??


Yes, and thanks for loaning me Bob to help move some things from the old place. Bob kissed the corner of a cabinet with his chin and, well.......I didn't charge him for getting blood all over the place.

Thanks Bob for the help.
---

Name: HOODY1 () on Wednesday, August 2, 2000 at 10:26:36
E-Mail: KINDERANDGENTLER
Maiden: SHOOOCKEMUP
Class: 71
City and State: COOS BAYNIA
Message: BUTCHY-ADDRESS EUGENE OR? THOUGHT YOU WERE A SO.CAL.BOY. IS THE POOL HEATED AND CLEAN OR UP FOR SALE... PLEASE DONT SAY WHICH POOL. COUSINS ENTER AND SIGN IN PLEASE.

---

Name: Gina Peck () on Wednesday, August 2, 2000 at 10:04:23
E-Mail: rjpeck@pacbell.net
Maiden: Black
Class: 80
City and State: Los Angeles, CA
Message: Speaking of cakes with saws in them....I actually did that once! I was working at Parsons in Pasadena, and my boss would travel to Saudi quite often. Well, you know you can't drink alcohol over there, it's against the law. But, he did have some wine while visiting friends in the American enclave and had a little fender bender on the way home that night. HE WAS ARRESTED!!! You can not imagine a Saudi Arabian jail. First, your friends or relatives must bring your food, water, toilet paper, soap, etc. Poor Bob had no relatives and no one knew he had been arrested. Some nice man in jail had his son bring extra for Bob. It was a nightmare!! Three days until we found him (you don't get to make a phone call there) and then they kept moving him to different jails. During one move, the officer handcuffed him and put him face down in the back seat, drove to the officer's home, had dinner with his family (with Bob still face down on the back seat of the car) and then moved him to a different jail. Keep in mind it was 110 in the shade. When we finally got him home, and it was questionable as to releasing him at all, he was 20 lbs lighter and worse for wear. However I was 20 lbs heavier from worry, you see. We had a luncheon for him and I got a sheet cake and bought a new file of course, wrapped it plastic wrap and slid it into the cake. You should have seen his face when he cut the cake and the knife hit the file!!! I think he still carries that file with him when he travels! He called it the good luck charm.
On another subject, please don't use the words Slaughter and Hare in the same sentence again. It makes my stomach queezy. You know I just got an Angora bunny!

---

Name: Judy DeGrazia Blomsterberg () on Wednesday, August 2, 2000 at 09:56:02
E-Mail: JUDYWUDY@att.net
Maiden: Storytime
Class: 64
City and State: Torrance, CA
Message: Funny Story... speaking of venting in CT. Last year at this time the fellas were making some pretty ugly jokes in CT about the ROWDYS.. something about how we'd hafta go to Omar the tent maker to get our cheerleader outfits at this stage of the game (I can't figure that out.. we all still weigh the same and have the same girlish figures we did when we were 16) So.. to get even, we gals decided to "shun" CT and vowed to stay away from feedback for as long as it took till the fellas came to their senses.. and apologize. (Rowdy punishment can be cruel) Well, 3 weeks went by and we stuck to our guns.. but about the end of the 3rd week we couldn't stand it anymore...we got so lonely we went back in like nothin' happened.. to this day John Baker can't place the time or our absence.. So much for punishment in CT.. Bet you don't even remember, do ya Robin, Sloey, or Baker...?? We just figured there's always something too great happening in CT to pay attention to the small stuff... Now.. back to getting ready for CRUISE NIGHT. Hey Tommy Burroughs.. I'm holding you to that hamburger and fries you promised to buy me.. (where's that tent maker, Omar) Judy Wudy BACKFIRED
I didn't say anything because I was just enjoying the 3 week peace and quiet.


On another note, Get Well President Gerald Ford.
---

Name: Anita Young () on Wednesday, August 2, 2000 at 09:39:59
E-Mail: amyinor@webtv.net or youngun39@yahoo.com
Maiden: Aceves
Class: 1978
City and State: Newberg, OR
Message: I just thought up of a fun game we can do in here. Kind of like the "Name Game" song that was popular in the early 60's.
Since Judy Wudy Shudy is married to Janny Wanny Chicken Fanny, I think a good rhyming thing to add to Judy Wudy Shudy is Shake Your Booty...so, what do you get when you cross Judy Wudy Shudy Shake Your Booty with Janny Wanny Chicken Fanny? Could get interesting!
And To Lupi....congratulations auntie! My brother, Mikie, knew ( knows?) Humberto. I'll have to let him know so he can be in touch. He is going to be so jealous that he got 2 girls at once. Mike and Ilona, his wife, always wanted at least one girl and they have 2 boys. Mike was in shock when I had my little girl, Cassie. Have fun with those two, auntie! They'll melt your heart away.
And as for Hood's: I'll take Bryon or Randy any day. But then hey, they are a different Hood altogether now, aren't they?

---

Name: LEEROY FELDERRUSTER () on Wednesday, August 2, 2000 at 09:30:23
E-Mail: leeroyfe@yahoo.com
Class: 1955
City and State: manhaddan beechs
Message: Wats shes callin a shudy? Dats anita sum fun. Dat Judys pecel dont be funnin her, she beed reel nice ta mese and Beulah las times wese had ise kreme. My grannefew splained to mese that she tinks i be one of dem folks shes sed. Welp i's aint nobody sept LEEROY FELDERRUSTER and Beulah back Saterdys! LEEROY FELDERRUSTER
Now see, that's what happens when you don't do your homework. Thanks LeeRoy for that in depth report.
---

Name: Wayne Dickey () on Wednesday, August 2, 2000 at 09:22:25
E-Mail: Impalawayne@aol.com
Class: 69
City and State: La Palma, Calif.


Message: Lupi, tell your brother congratulations on the set of twins. Dennis Zumwalt! what a blast from the past. Tried your email, but it didn't go through. If you are truly still around, come to Fosters this Saturday and show yourself. Barry Smith bring your Viper. Sandy Neff, Tom Orth, John Crotty, Trish Sokol, Jeanie Burk, Donna Van Douris (before 9:30), Frank and Valerie Lucio, Pauline, Betty, and last but not least, The Goddess, and Zorro. For those who care, I'm bringing Artie ("the Fonz") Verduzco. See you all at Fosters.

---

Name: Lisa () on Wednesday, August 2, 2000 at 08:31:35
E-Mail: ledsea123@aol.com
Maiden: Graham
Class: 67
City and State: Ramona

Message: Chris, I have more than one Hero in my life. You were so kind to me when I was so sick in Bandon, and I thank you. Gina, no that is not what I was referring to when I wrote wear the world like a loose garment, but then again a sheet can be about as loose as you can get. I think I would wear my sheet with a belt and a lot of jewelry. Kell now what are you doing with your hair - don't tell me you are using aqua net? Remember Kelley the razor blades can cause split ends, and we can't have that. To all my friends - Hello. Lisa

---

Name: Greg Jones () on Wednesday, August 2, 2000 at 01:56:48
E-Mail: gjones1052@aol.com
Class: 1973
City and State: Hawthorne, CA


Message: Hey, Liz Castanon, just because you're in Amarillo don't think that your missing anything. Keep these words in mind; maybe you can guess where they're from.
I wanna go home with the armadillo
Good country music from Amarilla and Abilene
The freindliest people and the prettiest women
You've ever seen!

---

Name: Robin () on Wednesday, August 2, 2000 at 00:40:09
E-Mail: RHood10542@aol.com
Maiden: Woody Mc Cain
Class: Jakes
City and State: Eugene, OR

Message: Jimbo: Get the details worked out on the 66' reunion and we will be there! Jake...we dont need a 40th reunion...we're too young!...Anita and Letsbenice2eachother:...take a chill pill guys..This is as civil as the Hoodys get, and this forum wasn't meant to be Mr Rogers...Kell..never seen your hair ratted in your 50+ yrs (but then I was a kid).....What Tilly said...la la la la la la la ....Karen Fraser:...you da girl!...Zumwalt...you could bring em....Chris...I told you there were fragile egos....and yeah...where is the rest of the cousins?...JB ..I see a cake or two at Cruise Night the sequel to the sequel 3....BTW...Did the Mammal really fish the lake last weekend?...later cougs..:o)
Hey Robin, Yeah Dennis tried to fish the lake, as he brought his trusty Indian gill net and slung it out there one time. The Mission Viejo Fish and Game Pigs were on us like Sitting Bull on Custer. They asked him for his license and he said "License!!! I don't need no stinkin' License". That's when they slung the net over his head and dragged him into their boat and headed for land as he was yelling expletives and stuff about Wounded Knee, lying pale eyes speak with forked tongue, and the plight of the poor down trodden.......well you get the picture. Anyway, the party was pretty much over at that point. Maybe we can bake him a Heavenly Cake with a hacksaw in it. Be a Coug boy......
---

Name: Lupi Perkins () on Wednesday, August 2, 2000 at 00:08:22
E-Mail: perkisassy@yahoo.com
Maiden: Dominguez
Class: 69
City and State: Hawthorne, Ca.

Message: I want to congratulate my brother Humberto (74) and his wife Amy on the birth of their daughters Rachel and Juliana Dominguez born today in Chicago and delivered by another former Cougar Dr. Mark Morrison also from the class of 74. I'll miss Fosters this time around because I'm heading out Sat. to help with the girls. Hope you all have lots of fun and I'll be thinking of you.
Hey Aunt Lupi, Congratulations on the new baby girls. Have a great time yourself and we'll see you next time around.
---

Name: Anita Young () on Tuesday, August 1, 2000 at 23:49:07
E-Mail: amyinor@webtv.net or youngun39@yahoo.com
Maiden: Aceves
Class: 1978
City and State: Newberg, OR
Message: Judy Wudy Shudy, hell no, not mad at you my dear, oh contraire, I don't see you in here insulting people you don't know, you're a kick in the pants and then some. And I am all for meeting old buds...I've met a few since I've logged on a lot of them just recently, in fact. I've even made some new and very interesting ones' in here.
And, as for your girlfriend being queen of the oldies...you go girl! I have several on-line buds I've made in some BB's lately that are DJ's and let me tell ya, those women blow everyone in the rooms away with not only their musical acumen, but hey, do they know the music biz and have some juicy stories to tell! Women and Music....we rock baby!

---

Name: Sherry Wingo () on Tuesday, August 1, 2000 at 23:12:30
E-Mail: dscwingo@pacbell.net
Maiden: Peppers
Class: 1964
City and State: Haw. Ca.


Message: Anyone wondering about the Oldies But Goodies game check around Christmas time at department stores. I found mine a few years ago at Mervyns. It's square and resembles the Oldies But Goodies album covers. It cost about $10.00.

---

Name: Judy DeGrazia Blomsterberg () on Tuesday, August 1, 2000 at 22:01:53
E-Mail: REDONDO612@aol.com
Maiden: Breakin' the spell
Class: 64
City and State: Torrance, CA
Message: Hey EL ROJO.. "THE OLDIES GAME" ..answering your question.. "THE OLDIES GAME - ART LABOE" It's a great game we all play now and again to test how well we know our DOO WOP~ROCK & ROLL ~THE ARTISTS~AND THE YEAR. We all played it at John Rout's BBQ last weekend and Rowdy Karen Fraser shot all the fellas down bigtime. Karen Fraser, The Queen of the Oldies...long may she live. John Rout, my Janny Blomsterberg and John Baker were all runners up. Great game.. We got it on the internet through AMAZON.COM (auction item) All you need is a small group of friends and a boombox.. Also, do you drive an SUV because a few months ago I saw one on Inglewood Ave and Manhattan Bch Blvd that had license plate JAKEJUD.. ???? Hope to meet you soon or at CRUISE NIGHT Sat. night... now back to my la la la la la ing... Judy D. aka Sheudy.
Yeah, I've got to say the Karen just whipped us like POW's on Saturday night. Karen, You are the "Queen of the Oldies Game".
---

Name: Judy DeGrazia Blomsterberg () on Tuesday, August 1, 2000 at 21:49:35
E-Mail: JUDYWUDY@att.net
Maiden: lalalalalalalalalalalalalalaaaa
Class: 64
City and State: LA LA LAND..


Message: Oh please Anita Young ~ Allow me to say something on behalf of all your well thought out feedback... here goes.....
Instructions: (insert fingers in ears)...
la la la la la la la la la la la la la la la la la la la la la la la la la la la la la la la la la la la la la la la la la la la la la la la laaa... oh ya.. LA LA LAAA..
Whatever happened to loggin' on to find old friends..make new ones....have a laugh, talk about ol' HHS and the fun we all had back then.. & making new memories. Now...I'm off like a la la prom dress.
Judy DeGrazia Blomsterberg.. THE ROWDYS
Now~who's mad at me!!!!
Well I'm not mad, but I'm pretty peeved......
---

Name: JIM SLOEY () on Tuesday, August 1, 2000 at 21:45:53
E-Mail: soareyoureadyforsomeclassof66reunioncommitteemeetingshuh.com
Class: 66/84
City and State: wahoo, ne
Message: ok class of 66 we missed the 30 year reunion because we all fell asleep at the switch. So Sharon Moore Leach is putting together a committee to begin the plans for AUGUST SEPTEMBER OCTOBER, 2001 reunion. What we would first like to do is get some folks to volunteer to help, if enough of us do a little then a few won't have to do much. [famous quote, free ice cream from Baker to first person who names the speaker] Therefore you may email the underling to the Chairwoman, at sloeylaw@msn.com with your note to put you on the list to help. We shall then formulate what where when how and maybe who and certainly if. Could be an exciting event and of course we are all older, and etc etc but who cares, let friendship begun stay true to the end, Jeannette McClain don't bother to email. You are on the list along with Karen 'Angel' Hare and both Slaughters and Hare's weekend guest. Anyone else? Cheezewhiz? Let's make it a great renewal of old friendships!
SLOEY
ANY COUGAR IS WELCOME AT THE CLASS OF 66 REUNION!!!

---

Name: Gina Black Peck () on Tuesday, August 1, 2000 at 20:15:21
E-Mail: rjpeck@pacbell.net
Maiden: Black
Class: 80
City and State: Los Angeles, CA
Message: Lisa Graham...wear the world like a loose garment....you mean, like the SHEET LADY???

---

Name: Kell () on Tuesday, August 1, 2000 at 20:07:22
E-Mail: wowwhenthefamilygetonlinetheygetalittlepumpedup.com
Maiden: not Hood!!!!!!!
Class: 67
City and State: coos bay,ore by the ocean
Message: Hey, my hair may be ratted but hoody please don't tell everyone I'm packin. I won't be invited to the Oregon Cougar picnic!
Anita, everything is cool. Chris has always been a little young for his age!
Man, Robin a Darrel, didn't know about that one. Now if we could only get Steve and Chuck on here it would be the closest thing to a family reunion we've had. Thanks John for bringing the Cousins back together.
No problem, and just where has SF and CC been lately Hmmmmm???
---

Name: Chris Hood () on Tuesday, August 1, 2000 at 19:21:32
E-Mail: runforcover
Maiden: footinmouth
Class: none at all
City and State: better not say
Message: He said I killed his bird...I was hurt...surgery?

---

Name: EL ROJO () on Tuesday, August 1, 2000 at 18:34:36
E-Mail: I-DY-HO
Maiden: YOU KNOW
Class: 6OOOHOHOHO
City and State: PLEASANT TOWN, USA.COM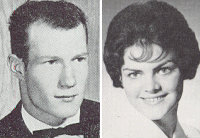 Message: JudyWudy... OK, whats this "oldies record game"? You don't want to share? Whats up? Louise St George, I had a really good bud who was a deputy sheriff in Lancaster in the early 70's by the name of Don Alford. His wife's name was Judy. Ever hear of him? Cindy Trotter, I spoke to Mary Sloan the other day and as of mid last week, there's nothing going as far as reunions this year for the class of "60".com. Rich was unavailable due to fishing disease. MAY THE COUGAR BE WITH YOU. JAKENJUDE!

---

Name: Letsbnice2eachother () on Tuesday, August 1, 2000 at 15:49:16
Maiden: wasateennowgrownup
Class: ALL
City and State: Everywhere, USA
Message: To Hoody1: Your Mother should have told you: "If you don't have anything nice to say, then don't say anything at all!" All your derogatory comments to fellow cougars were in very poor taste. You must not have much self respect. I feel very sorry for you.
Letsbnice2eachother, Now what the heck did Chris say that was so derogatory??!! He's talking to his own brother, and just joking at that. Cmon Cougs......lighten up
---

Name: Anita Young () on Tuesday, August 1, 2000 at 15:22:41
E-Mail: amyinor@webtv.net or youngun39@yahoo.com
Maiden: Aceves
Class: 1978
City and State: Newberg, OR
Message: This is to Hoody-1, which I guess by the year this person graduated and that I've had to deal with before is Kelley Currie's cousin Chris. Hey, picking on a person who's recovering from surgery? You won't soon win a humanitarian award, I can tell ya that right now. And, I don't see you ridiculing anyone else who posts frequently in here. If you have a problem with me, Chris, be a man and for God's sake, have the guts to use your "real" name instead of a jokey one when you have a problem with someone. Why hide?
ANOTHER Cat Fight??? Uhhh, I think he was just joshin' ya' Anita.

---

Name: Myk Baumgardner () on Tuesday, August 1, 2000 at 14:44:12
E-Mail: santarusty@excite.com
Class: 1962
City and State: Del Norte, CO

Message: Great pictures. Damn we look old. Sorry I wasn't there. I didn't know when it was until today. Little late, huh??? I will definitely be at the next one, now that I am on THE LIST. Thanks to all the people for putting this together. It's Terrific!!! See you all in 2002. By the way, I changed my name to Rusty Allen about 15 yrs ago, just a whim, not on the lam. With a cop for a dad it wouldn't be cool to be wanted. Good thing my wife Chris wants me though. If anyone wants to talk over old times or what ever, E-mail me.
Thanks again for the great Cougartown stuff.
Hey Mickey, or Myk, or Rusty Allen......or whatever you're going by now, thanks for checking in and we'll see you at our next reunion in 02.
---

Name: HOODY-1 () on Tuesday, August 1, 2000 at 14:04:04
E-Mail: THEDAMMBIRDJUMPED
Maiden: ESAD
Class: 71
City and State: CB,OR.
Message: John, you won't have to worry about not seeing Robin, he'll soon appear every monday night with Dennis Miller at about 1200 feet with advertising flashing across his back. Hoody congrats on the new bride, first it only took you 40 years to get over Carol Hess...(prom queen?) and well every other Carol...lets see now... Carol, Cheryl, Darrel... even I've lost count; and second, you got one to say I do to more than, I do windows, floors and toilets. I still claim the damm bird jumped from the top perch...suicide..too many cannibus seeds. As for me and Frank Gifford, at least the plumbing still works, seen yours lately without a mirror? Lisa! I thought I was your hero. Anita, Jello is good, but turn your computer off for at least 5 minuts a day or it will soon be pouring out your ears. P.S. Kell's been ratting her hair again, I think shes packin. John, Kell, Pete thanks for the help, a computer nerd I'm not, nerd?

---

Name: Diana Calabro () on Tuesday, August 1, 2000 at 11:23:46
E-Mail: joe_diana@yahoo.com
Maiden: Thompson

Class: 1961
City and State: Hawthorne,Ca.
Message: Dan Johnson, Sorry, I never worked for GD & C, I also have three daughters they never worked here, sorry.

---

Name: Millie Roberts () on Tuesday, August 1, 2000 at 08:59:47
E-Mail: snooks@tcsn.net
Maiden: Roberts
Class: 58

Message:Hi everyone,
I am really hoping to see a lot of you all, out there Saturday, August 5th at Cruise Night. I realize that I haven't exactly been there, for all the other activities down through the years . . . actually, didn't know about them! But, I'm with the program now; and I really want to see my classmates at Fosters Freeze, this week. Actually, I'm hoping that we can get organized and get a reunion going for our class?! How long has it been since we have all seen each other?!
See ya Saturday night, Millie Roberts
Class of '58

---

Name: KAREN () on Tuesday, August 1, 2000 at 08:58:22
E-Mail: karen.h.kusumi@boeing.com
Maiden: HARE
Class: 66
City and State: Anaheim, Ca


Message: RYAN, HAPPY BIRTHDAY, HAVE A WONDERFUL DAY AND TAKE IT EASY AT SHARKEYS TONIGHT. GARY MYK, I HAVE BEEN TRYING TO E-MAIL YOU AND IT KEEPS COMING BACK, IS YOUR E-MAIL CORRECT?
Yes Ryan, Have a great day. I just got the info that Gary's email address is wrong. It's gmykkanen_mdm@hotmail.com
Try that one Karen and we'll see you on Cruise Night.
---

Name: Dale Hahlbeck Jr. () on Tuesday, August 1, 2000 at 08:52:03
E-Mail: KewlDaad41@aol.com
Maiden: "The Incredible Mr. Limpit"
Class: '75
City and State: Yorba Linda CA


Message: YIKES! My senior pic and those LIPS! That is why I had to grow a moustache.......to answer some questions e-mailed to me lately YES I am the son of Dale SR. and Madeleine (Short) Hahlbeck. Yes I am the brother of Valerie and Sheri Hahlbeck. Yes I am still alive! sheesh, I was bound to slow down sometime : ) Hey, anyone knows what is up with the Marazzo sisters Bonnie and Sheree?? Not Marazzi, Lisa is working in El Segundo at a saloon, I mean beauty salon with Teri Manos. I mean the drill team ladies I lost touch a few years back....
Thanks Karen Kirstich for the update on her brother Mike. I will try to contact him and try to cheer the boy up a bit.
See you all on August 5th, and Patty Valencia (V4 or 5) I lost track, can I borrow your phone to call V6 again?? ttfn Rock Steady ya'll H1

---
If you have comments or suggestions, please email me at jb1@cougartown.com